I descended to a whole new low in my parenting a little while ago. In a moment of paternal virtue, I offered an expedition to a local pottery painting shop to my elementary-aged daughter, For a brief moment, I was indeed "Super Dad!" And then came my spectacular fall from grace.
Sitting at the table, working together with great artisanal dexterity on a new bowl for our dog, I literally fell asleep. Twenty minutes later I found myself with her coat around my shoulders ("Dad, I thought you might be cold") and Olivia on my cell phone with my wife, asking for advice on how to wake me up. The pottery shop, crowded with kids and super moms, appeared to have gone very quiet. Perhaps it was an attempt to let me sleep?
My falling asleep at the (pottery) wheel was a wake-up call of another type. There is something terribly wrong here. There is a crazy kind of busyness in my life that is just not working! Where do I go with this problem? What does faith have to teach me?
Well, you can't make the case that Jesus does not know what it is to work absurdly hard and be exhausted. In Luke chapter 4, we observe Jesus pulling an "all-nighter." We are told that "When the sun was setting" (verse 40) people came to him for healing and then we are told "And when it was day, he departed…" (verse 42), the inference being that He had worked through the night. But by light of the dawn, Jesus stopped what he was going and went to a deserted place to pray. Not surprisingly, the crowds followed. At which point, Jesus ostensibly said to them, "No." Luke records "…[the people] would have kept Him from leaving them, but He said to them, 'I must preach the good news of the kingdom of God to the other towns as well; for I was sent for this purpose.'" (verse 42b-43). Jesus said "no" that morning to a lot of hurting people, who genuinely needed Him and who had, literally, followed Him into the desert for their healing.
Can we chalk Jesus' "no" up to exhaustion? Here we see evidence that Jesus' guidance was from His Father and not from circumstances alone. The Father evidently told Him, "It's time to move on. I want you to go to Judea and preach there." The Father said "No" so Jesus said "No."
What would my life look if I got my guidance from my heavenly Father and not just from my circumstances, no matter how apparently urgent those circumstances appeared? What if Jesus' rescue plan for me from my state of "crazy busyness" — has a lot to do with my learning to say "no" to a whole lot of good things so that I can be freed up to say "yes" to the most important things? If so, how would I know the difference?
In our crazy busy lives making time to reconnect with the Father will no doubt feel counterintuitive. Perhaps it feels like God has just added yet another to-do to your long list! But if we are to allow God to break the hold that "crazy busy" has over us, this is where we must start. We are invited to bring our unmanageable lives to the Father — and tell Him the truth about how we are doing. I fell asleep in a pottery painting shop with my eight-year old daughter! I confess the extent of my problem and my incapacity to fix it on my own! This step is humbling, but crucial. We must acknowledge before Him that we are powerless to throw off our crazy busy lives, that our own guidance system has crashed! This place of confession is where we start. If not, we are simply going to come back to the place where all we can do is try harder… which will bring us back to the same end, but in a deeper pit.
What will I discover in this place of reconnection and confession? Jesus clearly knew what exhaustion felt like. And He knows each one of us so well. He knows of what we are made and where our particular breaking point is. "For He knows our frame; He remembers that we are dust." (Psalm 103:14). I was recently convicted by this verse from Psalm 127: "It is in vain that you rise up early and go late to rest, eating the bread of anxious toil…" So, what is the Lord's response? To berate us? The Psalm continues with His response, "…for He gives to His beloved sleep." (Psalms 127:2). We expect condemnation, but what we find is mercy and compassion.
Jesus said, "Come to Me, all you who are weary and burdened, and I will give you rest. Take My yoke upon you and learn from Me, for I am gentle and humble in heart, and you will find rest for your souls." (Matthew 11:28-29). In other words, "I know you are weary. I know what got you here…I long for you to come to Me…And actually, if you will only ask Me, I will lift the burden of your self-propelled life and give you power to break the cycle of crazy-busyness." He is the one who provides the strength and power to us in all our weakness.
– cross walk
Pakistan, November 12, 2017: Five Pakistani Christian families were forced to flee their homes after teenager from one of the families was accused of blasphemy.
According to reports the families from the village of Sukheki in the Punjab province went into hiding last Friday after a fake Facebook page that resembled a news channel accused Sonu Arshad, 18, of blasphemy.
The account posted a picture of Arshad and asked local Muslims to "burn his church and give him the death penalty."
The post angered the local Muslim community who formed a mob after Friday prayers, forcing the police to take control of the matter to prevent it getting out of hand.
Police have launched an investigation into who setup the Facebook page.
– claas
Nigeria, November 16, 2017: The ongoing killings and rape of Christian men, women and children in Nigeria at the hands of Fulani herdsmen deserve to be called "ethnic cleansing," two prominent persecution watchdog groups argue.
The report, compiled by Open Doors International and Voice of the Martyrs Canada and released earlier in November, listed the increasingly violent crimes against Christians by Fulani herdsmen in Nigeria's central state of Benue, including gang rapes of girls and torture of boys.
One table in the report detailed the extremely disturbing attacks carried out specifically against Christian children in the past few years. In one instance in August 2015, a 13-year-old girl is said to have been gang raped and abandoned in the bush for hours before a local vigilante group rescued her.
Another account states that a 10-year-old boy was captured and tortured in September 2016, where he was "whipped severely with different sizes of cane and was abandoned in a shallow pit," before being discovered and rushed to a clinic.
Witnesses to the violence have revealed that the Muslim herdsmen have abducted, raped, and carried out other forms of assault on women and children. Other eyewitnesses claimed that the herdsmen once disemboweled a pregnant woman to make sure that both she and her baby were killed.
"On the few occasions, when men are captured, it has been reported that their limbs are cut off and they are then shot in the presence of their family. Sometimes, the family members are made to run and are then shot at; those lucky enough to escape the bullets are pursued," the report explained.
The authors of the report insisted that the data gathered "gives clear indications of ethnic cleansing based on religious affiliation."
"That this should be taken seriously can be seen in the threats made public in October 2017," they added, pointing to Fulani promises to "defend their rights and lifestyle" after Nigeria recently passed an anti-grazing law.
The report continued, "The current atmosphere suggests that the indications of ethnic cleansing based on religious affiliation are likely to become increasingly evident through further attacks targeting Christian communities."
There have been several violent waves against believers carried out by the Islamic herdsmen this past year, including one nine-day period in October where 48 Christians were massacred.
The herdsmen reportedly broke through doors and destroyed churches and houses as they sought to kill more believers.
"These attacks are being carried out daily. Every blessed day we witness the invasion, killing of our people, and the destruction of their houses," said Moses Tsohu, a Zanwrua village leader and member of the Evangelical Church Winning All, at the time.
The report explained that Benue is largely a Christian state and serves as a buffer between the Muslim majority north and Christian majority south.
Christians have found themselves targeted because they are in the way of Fulani grazing routes. The watchdog groups noted that the Muslim herdsmen have a specific desire to dominate Christian territories.
While the report pointed out that there are complex socio-political factors also behind the conflict, the persecution of Christians at the hands of the herdsmen cannot be ignored.
"This position is substantiated by different sets of data collected, namely on the killing of Christians, on the destruction of their properties, on the burning of churches, and on gender-based atrocities against Christian women and children that has left so many traumatized," it described.
The watchdog groups called on both state and the federal governments to recognize that "the Islamic agenda" is at the root of the violence, and said that strategies to counter extremism need to be set in motion.
"The governments should promote the principle of unity of the Nigerian Republic and avoid promoting the supremacy of one religion (i.e. Islam) over and above other religions. Again, the relevant institutions must promote the rule of law," the groups declared in their conclusion.
"All incidents where Hausa-Fulani Muslim herdsmen have carried out atrocities against indigenous Christian communities must be investigated and prosecutions made. The culture of impunity must be brought to an end."
– christian post
U.S., November 17, 2017: The National Geographic Museum in Washington, D.C. on Wednesday opened a 3-D virtual tour into one of Christianity's holiest sites, the "tomb of Christ" located at the Church of the Holy Sepulchre in Jerusalem.
The immersive 3-D exhibit, called "Tomb of Christ: The Church of the Holy Sepulchre Experience," is said to combine "rich storytelling and archaeological expertise with innovative technology" to offer people a glimpse into what some believe to be the ancient tomb where Jesus' body was laid after the Crucifixion.
The church recently underwent significant renovations, and National Geographic explorer Corey Jaskolski was part of the team that created a 3-D record of the tomb using LIDAR scans, high-resolution photos and video.
The restoration last year led to some notable finds, such as what archaeologists believe could be the original limestone bed where Jesus was laid on.
"I'm absolutely amazed. My knees are shaking a little bit because I wasn't expecting this," Fredrik Hiebert of National Geographic said at the time.
"We can't say 100 percent, but it appears to be visible proof that the location of the tomb has not shifted through time, something that scientists and historians have wondered for decades."
National Geographic, which said its latest exhibit will be open until fall 2018 in Washington, listed five main experiences awaiting visitors who come to see the "Tomb of Christ."
It noted that visitors will learn all about the historic renovation at the site in Jerusalem, which also revealed part of the bedrock from the original cave where Jesus is said to have been buried before His resurrection.
Next it promised guests a look into the Edicule, which is the ornate shrine within the Church of the Holy Sepulchre that encompasses the remains of the rock-cut tomb.
"Scientists exposed the original surface of the tomb and found the limestone burial bed where Christian tradition says the body of Jesus Christ was laid. When you visit the exhibition, you'll be able to virtually experience what it was like to explore this iconic plan and view newly revealed cave calls that haven't been seen in centuries," the article on WTOP stated.
Thirdly, it noted that the cutting-edge technology that documented the restoration will be put on display:
"The exhibition also includes an interactive feature that allows you to test the ground-penetrating radar and see the laser scanners used to record and preserve this important archaeological site."
It added: "Through this cutting-edge experience, you can learn how these types of technology could be used to preserve the world's treasured cultural sites and artifacts of human history before they succumb to time or disaster."
The exhibit also offers a 3-D headset which allows visitors to "leave Washington, D.C. behind and embark on a journey to the heart of Jerusalem, where you can virtually walk around inside the Church of the Holy Sepulchre, the holiest site in Christianity."
Finally, National Geographic said that people will have a "rare opportunity to bridge space and time" by being one of the millions to experience the 19th century church in Jerusalem's Old City.
There were fears in May 2016 before the start of the restoration that the holy site was "on the verge of collapse" due to age.
Members of the Greek Orthodox, Roman Catholic and Armenian Orthodox churches all came together to help fund the $3.4 million project, with donors including world leaders such as King Abdullah of Jordan.
– christian post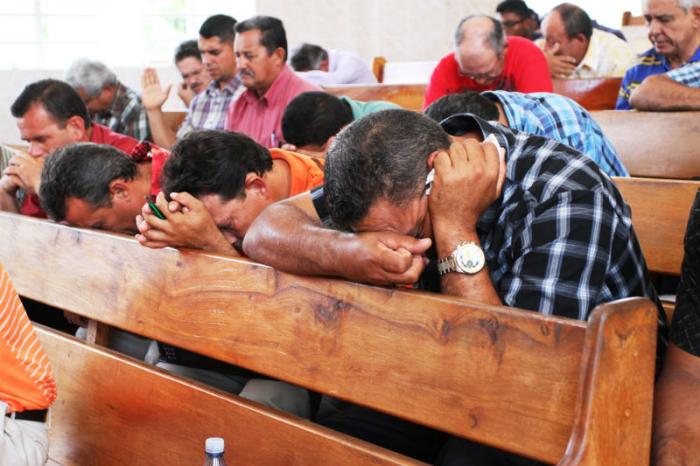 Calcutta, November 17, 2017: A national colloquium of Catholic missionaries in Calcutta on Thursday heard an assertion tinged with anguish: "We have a right to be present and that very right is being challenged."
Father George Thadathil, who was moderating a discussion on "the Future of Christian Higher Education and Contemporary Transitions in India", was underscoring the rights the Constitution guaranteed to the minorities.
"In 1817, when the Hindoo College (now Presidency University) was started, there was a huge rush of the elite of the time that was looking for what was coming from the West…. And there was a lot of anxiety: 'What's happening to all these young people going to this new college?'"
The missionaries too felt similar anxiety then, wondering if the objective behind bringing in western education was to override "traditional ethos and culture".
Two hundred years on, "we are on the reverse side of the same picture", Father Thadathil said. "Is it again upsetting the kind of ethos and tradition that India wants to preserve?"
The colloquium was held at the auditorium of Don Bosco School, Park Circus, to mark the 80th year of Salesian College, Sonada, Darjeeling.
Several speakers expressed their anguish at the sense of anxiety and apprehension that has crept into the country in the past three years.
"The situation is changing very fast…. In the last three years, we have come across certain changes which we could never think of before," said Valson Thampu, former principal of St. Stephen's College, Delhi.
"We are passing through a stage when we need to be extremely circumspect. We can't afford to stay static. We have to be cautious about the challenges. And we must understand our greatest challenge is to survive," Thampu added.
Six speakers participated in the colloquium and almost all of them expressed dissatisfaction with the way the minorities were not being allowed to enjoy the rights granted to them in the Constitution.
Sister Christina Coutino, principal of Loreto College, Calcutta, said rights guaranteed by the Constitution were being breached. "There has been breach of ideals enshrined in our Constitution. Such as the Articles 29 and 30."
Article 29 protects minorities from discrimination in admission to any institution receiving aid from the state and grants minorities the right to conserve their own distinct language, script or culture. Article 30 gives minorities the right to establish and administer educational institutions.
"Christians are known… for their social responsibilities, in education, health and social services, and in their mission to transform persons to better," Sister Coutino added.
Archbishop of Calcutta Thomas D'Souza said "the identity of Christian education should be clear."
"Like Mother Teresa had no confusion about her mission: to work for the poorest of poor."
– telegraph india
India, November 16, 2017: A Catholic bishop has sought protection for the Christian community in the central Indian state of Madhya Pradesh after Hindu nationalists marched through the streets waving burning torches and denouncing missionaries.
The marchers on Nov. 10 accused Sagar district authorities of not acting upon complaints they filed against missionaries for violating a law that restricts religious conversions. They said if the administration failed to act within two weeks, they would start an indefinite strike in front of a Catholic-run orphanage in the area.
Ucanews.com reported the trouble in Sagar started in September after government officials evicted a Catholic priest working in the orphanage and closed a 20-year-old mission following a dispute over the land title. Church leaders say the government action was instigated by Hindu groups.
The leaders of the fundamentalist religious awakening co-ordination committee, which organized the march, told media that the church's social services and work in education and health care are all a facade to convert gullible people to Christianity.
The protesters said they were working with the government for a national law against religious conversions and to check missionary activities. Madhya Pradesh and five other Indian states already have laws that make religious conversion through allurement and force illegal.
"We are under tremendous pressure," said Bishop Anthony Chirayath of Sagar, who submitted a memorandum to district officials and the state chief minister and governor seeking their intervention for the protection of Christians.
Ucanews.com reported the bishop wanted the administration to take immediate steps to end this "false and malicious campaign" in the media that projects Christians as "out to convert Hindus, violating laws."
The facts disproved the propaganda, he said. Sagar has some 300,000 people. But since its beginning in 1986, the diocese has only 1,000 Catholics.
"Our number has not grown in years. Still, we are accused of converting people," he said.
The district has only 5,000 Christians among its 2.3 million people, 92 percent of whom are Hindus. In the predominantly Hindu state, Christians form less than 1 percent of the 72 million population.
Christian leaders say the state, run by the pro-Hindu Bharatiya Janata Party, has been tacitly supporting violence against Christians orchestrated by Hindu nationalists, pushing to establish a Hindu-only nation in India.
Missionaries in the diocese say the campaign by hardline Hindu activists has made their work increasingly difficult as villagers view them as criminals.
– catholic register
India, November 16, 2017: The beating that ended Pehlu Khan's life in April was captured on video.
A group of men hit the 55-year-old man, threw him to the ground and stepped on him in the northwestern Indian state of Rajasthan. He asked them to stop but they refused.
As the beating continued, people nearby were stealing Khan's cows. They took the cows to a nearby Hindu-run shelter that accepts stolen cows and sells them. Cow theft and sales have brought money to needy Hindu communities in rural areas.
About 14 percent of the 1.3 billion people living in India are Muslim. Public attacks on the Muslim population have raised concerns about the direction the country is taking. The attackers are mostly nationalistic Hindus who helped Narendra Modi win the office of prime minister in 2014. They are working as private militias in the cow stealing operations.
Modi has worked since becoming prime minister to persuade the world that India is a good place for foreign investment. But, the violent crime clashes with this image. His strongest supporters are now seen as shaping India through violence and religious discrimination. But public demands that Modi stop the crime have gone unanswered. Many wonder if Modi has enough influence over his supporters to make them stop.
States that Modi's Bharatiya Janata Party, or BJP, governs are reported to have had a notable increase in the stealing of cows from Muslims.
There is no official record on the number of cows stolen from Muslims since 2014. But Reuters news service says it spoke to two main northern Indian groups of cow thieves, called cow protectors there. Reuters reports they said they had stolen about 190,000 cows since Modi's election. Sometimes they stole them in the presence of police, the groups' leadership reportedly said. Reuters reports the groups also said Muslims were the victims in almost every case.
It is difficult to put value on the stolen cows. Prices go as high as $385 for young healthy animals. That is a lot of money in India, where some 270 million people live on less than $2 a day.
Hindus view cows as holy animals. The killing of cows for meat is illegal in most of India. Dinesh Patil is a district head of the Bajrang Dal group in the southwestern state of Maharashtra. The group is closely linked to the Rashtriya Swayamsevak Sangh, or RSS, a major nationalist Hindu organization.
Patil told Reuters, "Everyone in this world is born Hindu. They are turned into Muslims when they are circumcised and Christians when they are baptized."
The RSS argues that foreign intervention by Muslims and then Christians has polluted India's purity for more than one thousand years. The RSS helped create Modi's political party. The prime minister first attended the group's meetings as a child.
Patil said that the Bajrang Dal took almost every one of the 1,700 cows at the center he manages from, in his words, "Muslim slaughterers."
Sudhanshu Trivedi is a national spokesman for the ruling BJP. He said his party expects anyone with knowledge of illegal acts, such as cow slaughter, to tell the police. He added that in cases where cows were taken, it was because their owners had broken laws.
"It is not redistribution of wealth. It is just stopping of illegal activities," he said.
Modi's office directed Reuters to the Home Ministry for comments on this issue. The ministry said it is "not correct" that cow stealing has risen on Modi's watch. Also, it said it is "preposterous" to suggest that Hindus are organizing to steal and redistribute cattle.
Some people have taken the law into their own hands "in the name of protecting the cows," the ministry noted in a written statement. But, it said, "the Government is committed to protecting the legal rights of all citizens, including minorities in India."
The Supreme Court has also dealt with the issue. In September, the court ruled that central and state governments must deploy police to prevent cow theft and related violence.
Some Hindu activists seem to ignore Modi's calls to end the attacks. One group of cow protectors, known as Bharatiya Gau Raksha Dal, claims 10,000 members mostly in western and northern Indian states. Pawan Pandit, a part-time computer program engineer, is their leader. He said the prime minister's condemnation of what he called "anti-social activities" did not move the group to stop.
"The cow protection movement totally belonged to the BJP before 2014," Pandit added. "Now groups like ours have the momentum."
He said militias operating under his cow protection group captured as many as 60,000 cows in the three years before Modi came to office. Since 2014, Pandit noted, the group has taken more than 100,000 cows, often working with police.
– voa
One of the biggest complaints from parents and teenagers alike is that there is often little or no communication between the two groups. Perhaps you're like one discouraged mom who said to me, "I've tried to talk with my daughter but she just shuts me down. I've tried everything to let her know I care but she just won't let me in any more." Or maybe you're like the frustrated dad who told me the only thing his son would ever say to him was "you just don't understand." In such cases teens and parents alike are hurting. Parents would love to know how to talk to their kids and most teens would love for that to happen; they simply think their parents are out of touch. The good news is there is something that can be done to keep the lines of communication open between you and your teenager.
First, show genuine interest in your teen's life. Often a teenager will perceive his parent to be too busy to really talk. The times that conversations do occur, your son or daughter might think you're preoccupied even though you think you're talking. Your one word responses or grunts say to your teen that you do indeed have other things on your mind. Make sure you're actually listening and engaging. Speak with understanding. Ask questions. Be interested in what your daughter is even if you have no interest in it at all. Make every effort to ask heart-felt questions and get wrapped-up in what your child is wrapped-up in at a given moment.
Second, be truly empathetic with your teen. Your daughter may be trying to open up or tell you something really important in her life. If you respond with opinions that don't seem connected to her world, if you spit out platitudes or orders without seeming to empathize, if you don't seem to take into account every factor weighing on your child's heart, or if you tend to give advice on the go, your child will get the impression that you want her to do certain things but you're not really interested in what she's going through. When she feels that, she'll begin to shut down more and more. You have to identify with what she's feeling even if you don't completely understand why she would feel the way she does.
Third, don't give your teen the third degree. Even when your son has done something wrong you still want to communicate and not do anything to shut him down. Sometimes we can approach our kids like prosecutors cross-examining a hostile witness; and they feel that way too. Rather than pelting your son with questions like "what did you do; who was with you; don't you know better; haven't we taught you better; what were you thinking; how could you do such a thing; have you lost your mind; can I get some answers; and the like, try a more biblical approach. Gently ask your teen what happened and give him time to explain in his own words. Let him know you love him no matter what, that you've been through similar struggles, and that you really want to help. Help him to clarify what his motives were and talk about how to think biblically about them. Help him to understand all the reasons not to do what he's done. Your teen needs to see you as a parent but he also needs to know that you are there to help by pointing him to Christ and not simply trying to come down on him.
Fourth, hear your teen's heart. Understand what your teen is trying to say to you. Part of that is making sure you and she mean the same things with the words you are using. Ask clarifying questions. Say things like, "do you mean . . . ?" Not only will she appreciate it but you won't be talking past each other. You have to hear your teen's heart. She can't always say it like you would say it or even the way you would like her to say it. But she is saying something and you can work to get it. Realize the dynamic works in both directions as well. In other words, you might say, "I never thought you could be capable of doing such a thing. I might have thought it about your brother, but not you." If you say that more than once, particularly if some time has gone by, she might interpret that to mean you don't love her or that you don't forgive her. Translation is just as important as what you say.
Fifth, be ready to talk when your teenager is. Hectic schedules keep teens and parents separated. Your son may be ready to talk just when you were ready to read the paper or even go to bed. You might prefer to wait but the schedule may not allow it, your son may misinterpret your putting him off, he may seek an answer elsewhere, or he may not be in the mood to talk later and your opportunity will be gone forever. Rest in God's providence and count those late night conversations as blessings, not inconveniences.
These are just a few tips. But, putting these into practice will help you and your teen to stay connected and maintain a relationship that can actually get better over time.
– cross walk
Philippine, November 13, 2017: Suspected supporters of an Islamist militant group desecrated a Catholic chapel in the southern Philippine region of Mindanao in the evening of Nov. 10.
Authorities said they are still looking into the identities of the perpetrators who tried to set fire to the chapel in the village of Labo-Labo in Shariff Aguak town.
Police said they are considering reports that supporters of the Bangsamoro Islamic Freedom Fighters (BIFF) were behind the incident.
In June this year, BIFF gunmen also desecrated a chapel in the neighboring province of North Cotabato.
Witnesses said the still unidentified men poured gasoline on religious images and icons on the altar of the San Isidro de Labrador chapel about nine in the evening. Some "antique religious icons" were damaged by fire, the Philippine Star reported.
Oblate Father Eliseo Mercado Jr. who formerly served at the chapel during his early years as a priest, condemned the desecration.
He said the attack was "the work of few extremists that need to be rooted out."
The priest recalled that even during the height of the Moro rebellion in the 1970s "Muslim rebels respected places of worship in the area."
Town official Anwar Emblawa said the incident was intended "to disrupt the harmonious relationship between Muslims and Christians" in the municipality.
"This is the first time this kind of desecration at a Catholic place of worship has happened in our town," said Emblawa.
"We will not allow this incident to destroy the rapport between Muslims and Christians in our locality," he said.
Governor Esmael Mangudadatu of Maguindanao described the attempt to burn the chapel as "un-Islamic" as he ordered policemen to find the perpetrators.
"Islam teaches respect for religions and worship sites. Islam teaches religious tolerance. We have a principle in our religion that says there is no compulsion in religion," said the governor.
In May, Islamic State-inspired gunmen burned the St. Mary's Cathedral in Marawi at the start of what later became a five-month terrorist occupation of the city that displaced about 400,000 people.
– ucan
Egypt, November 15, 2017: A top U.N. lawyer has given the Egyptian government one week to stop the closing of Coptic churches and begin re-opening the ones that have already been closed, as Christian leaders continue crying out against persecution.
Joseph Malak, fellow of U.N. high commissioner for Minority Affairs, sent an official warning to Prime Minister Sherif Ismail, as well as the ministries of interior, local development, parliamentarian affairs, and the governor of Alexandria, calling for an end to the crackdown on churches, Egypt Independent reported.
"Malak…resorted to Egypt's 2013 Constitution and Law 80 of 2016 pertaining to building churches as well as ministerial decree no 199 of 2017 on the formation of a commission for regulating the statues of existing churches, which says that all existing churches in Egypt are licensed," read the translation from al-Masry al-Youm newspaper.
"According to Malak's demands, governors will be committed to reopen all churches across Egypt that have been closed, including in Minya, Sohag and Alexandria," it continued.
The government in the southern province of Minya has closed down four churches this past month.
The Coptic Orthodox Archbishop of Minya said in October that he at first tried to be silent over the issue, but then realized such a stance is not helping.
"We stayed silent for two weeks after the closure of a church hoping that the officials would do the job they were assigned to do by the state. However, this silence has led to something worse, as if prayer is a crime the Copts should be punished for. The Coptic Christians go to the neighboring villages to perform their prayers," Bishop Macarius said in a statement then.
"What happened within two weeks, hasn't happen over years; churches are closed, the Coptic Christians are being attacked and their property destroyed, and there is no deterrent. The bargaining and the balance are usually used under the name of peaceful coexistence. The Copts always pay the price of this coexistence, not the aggressors."
The government had in the past vowed to protect Christians from extremist Islamic attacks, but believers have been complaining for months now that not enough is being done to ensure their safety.
Christian families have also said that they are "suffering" due to neglect.
Naguib Gobrial, attorney for the Orthodox Church and Coptic Christian activist, told Egyptian Streets that another church was closed down last week in Shubra district, with worshipers prevented from praying.
"El-Minya governorate has an abundance of extremists, and the security bodies fail to curb them. These extremists almost control the church building law," Gobrial said.
Gobrial also accused the governor of el-Minya of delaying the renewal of a church in Al-Galaa village, after extremists approached him with a list of demands, such as preventing a cross from being placed at the top of the church, and preventing the church bell from ringing.
– christian post