In 1926, the Neiman Marcus Company started publishing an annual catalog of unusual Christmas gifts; but for a number of years, the publication attracted little attention. Then in 1959, the Marcus brothers decided to generate publicity with eye-popping gifts for the person with everything. That year they offered a Black Angus steer, to be delivered either on the hoof or in steaks with a silver-plated outdoor cooker. Each year since, the gifts have become more extravagant. Last year's catalog included a $1.7 million trip to send six passengers 63 miles above the Earth via Virgin Galactic's SpaceShipTwo; or, for a mere $139,000, you could give your friend a limited-edition BMW convertible.
But Christmas can get out of hand even if you aren't a Neiman Marcus fan. The stress and strain on our schedules and budgets isn't what God intends; and I want to humbly suggest that if the holidays leave you worse for wear, you need to heed Henry David Thoreau's famous dictum: "Simplify! Simplify!"
Set a spending cap for yourself, and covenant not to spend more than a certain amount for any one gift, no matter who it's for. Reduce your gift list. Even one less person can be a significant savings of time, money, and energy.
Cut back on your schedule. You don't have to attend every party or accept every invitation. Sit down with your December calendar and reserve some evenings for peace and quiet. (The secret words are: "I'm sorry; my schedule won't allow it.")
Don't worry if your decorations aren't all up. Less is more. You can vary from year to year which ones to use.
Take time for your devotions during the season. Keep a journal of your daily Bible reading, and select thirty-one people during the month to receive a special gift of prayer. You might compose a special prayer for each one, jot it on a Christmas card, and tell them it's your heartfelt gift for them this season.
Remember, it's possible to slow down when we have to. If you're clipping along at 70 mph on the freeway and come to a construction zone, you have to slow down whether you like it or not. If you're working 70 hours a week and come down with the flu, you have to slow down long enough to recover.
How much better to slow down by choice! Manage the season instead of letting it manage you. We can't do it all, so we have to tackle the important things and leave the rest in God's hands. It's His agenda we should fulfill, and His burdens are light.
In the Dick Francis novel, Under Orders, the main character, Sid Halley, meets a political friend inside the complex of the British Parliament Building in London. Here's the way he put it: I arrived at the Peers' Entrance at one o'clock exactly . . . . The tones of Big Ben were still ringing in my ears as I stepped into the revolving door, a time-warp portal rotating me from the hustle and bustle of twenty-first century London on the outside to the sedate world of nineteenth-century quiet and formality on the inside . . . .
We all need a portal through which we can find a quieter life, at least occasionally. For too many of us, Christmas is a nightmarish revolving door in which we're spinning faster and faster. But the wiser among us find it a sort of time-warp portal, rotating us from the hustle and bustle of twenty-first century life to the sedate world of a quieter time.
So this year, slow down, look up, breathe deeply, spend less—and simplify, simplify! This is the way of Christmas.
– cross walk
Manila, December 11, 2017: At least a thousand people joined the funeral march for Father Marcelito Paez, a 72-year-old Catholic priest murdered on Dec. 4 on the main Philippine island of Luzon.
The activist priest was ambushed four hours after facilitating the release of a political prisoner.
More than 100 priests conducted the mass with two Filipino bishops – San Jose Bishop Roberto Mallari and Cabanatuan Bishop Sofronio Bancud – presiding at the Eucharistic celebration.
Archbishop Gabriele Giordano Caccia, the Papal Nuncio, attended the mass at the Saint Joseph Cathedral in San Jose, in the province of Nueva Ecija.
He did not give any message and priests billed his presence as "a silent form of solidarity and prayer".
Tears flowed as mourners lined up to pay their last respects to Fr. Paez, a retired priest who was a national board member and Central Luzon coordinator for the Rural Missionaries of the Philippines.
He was buried in the Sto. Niño Cemetery in San Jose.
Fr. Paez's casket was placed on the floor to symbolize his life as a temporary gift from god.
Peers of the priest said it also symbolized Fr. Paez's humility and decades of service to the poorest Filipinos.
The bishops wore red and violet stoles to proclaim the priest's "martyrdom".
Bishop Mallari said that Father Paez's, when gravely wounded, told one of his assailants, "I am a priest," prompting a retreat by the man preparing to give him the final shot.
"Father Paez, like a shepherd, vowed to die first before harm reached his flock," the bishop said.
He did not retreat from danger.
Fr. Paez's death, the bishop said, should prompt clergy and laity to question the meaning of his sacrifice in terms of both personal change and change within the church.
"How do we rise to the challenges of the times?" Bishop Mallari asked.
The bishop added that Fr. Paez's example should inspire others to stand up against repression.
Bishop Bancud described Fr. Paez as a "revolutionary" whose love for his homeland ran deep.
Archbishop Socrates Villegas of Lingayen-Dagupan, in a message, expressed shock that such barbaric acts against priests still happened.
The attack on Fr. Paez spoke of degradation into a "culture of violence."
"People do not nail innocent people to the cross anymore," Archbishop Villega said.
"They are shot by the forces of darkness."
"On the one hand, I wanted to cry for justice and retribution and yet in my heart there was also the impulse to pray for his killers that God may forgive them for what they have done," Villegas added.
Balanga Bishop Ruperto Cruz Santos said Fr. Paez looked after lost sheep at the fringes of society oppressed by a system of inequality.
"He retired from active ministry but not from his mission and he continued to serve those who sought his help," he added.
– ucan
U.S., December 11, 2017: National Religious Broadcasters has launched an online effort seeking to highlight what it says is censorship of Christian and conservative speech by online media giants such as Facebook, Twitter, Google and Apple.
"It is unacceptable for these titans to discriminate against users just because their viewpoints are not congruent with ideas popular in Silicon Valley," said Jerry A. Johnson, NRB's president & CEO, on Thursday when announcing the Internet Freedom Watch initiative.
The website for the initiative, which documents cases of alleged censorship, states that "chillingly, a growing censorship of Christian and politically conservative viewpoints on the internet is happening in America and across the globe."
"Major players in Silicon Valley with enormous influence over what is seen on the internet and on social media platforms are suppressing viewpoints that run counter to their preferred ideologies."
NRB is calling on hearings in Congress to address the "severe problem of viewpoint censorship on the internet."
The initiative has been praised by Sen. Ted Cruz (R-Texas), who in a panel discussion at the National Press Club in Washington, D.C., on Thursday said that every day more Americans are "getting their political news not from pieces of paper, not from their televisions, but online from social media."
"One of the biggest shifts that has occurred in recent years is the locus of power in media is no longer New York City. It's Silicon Valley," Cruz said. "And Silicon Valley has the ability to put a thumb on the scale in a far more subtle and insidious way."
He alleged that Google search results often suppress conservative views, while liberal articles that support the views of the tech companies "magically bubble to the top."
Johnson further called on social media platforms "to afford their users nothing less than the free speech and free exercise of religion rights embodied in the First Amendment as interpreted by the U.S. Supreme Court."
Ralph Reed, chairman and CEO of Century Strategies, said that "it is critical for Christians and others of faith to be able to share their faith in an unfettered way without fear of persecution, harassment, blocking or discrimination."
While the social media giants have faced various accusations over the years of suppressing free speech when it comes to conservatives, they have consistently denied that that is the case.
YouTube for instance enacted a new advertiser-friendly strategy in March that gives more control to brands over where their ads show up on the online video sharing platform. Supporters of President Donald Trump have complained that their videos have been unfairly demonetized.
A YouTube spokesperson explained to The Christian Post in September that "we asked creators across the platform to appeal any video that they felt was incorrectly classified by our automated systems. No system is perfect and every appeal helps our systems get smarter over time."
"Sometimes our systems get it wrong, which is why we've posted several blogs and in-product notices suggesting creators appeal if they feel we made a mistake," the spokesperson added.
"Channels of all types — gamers, vloggers, political channels on the right and left — have successfully appealed demonetizations."
In September, conservative climate change blog Watts Up With That posted a research report claiming that "Google Search is found to be biased in favor of left/liberal domains and against conservative domains with a confidence of 95 percent."
The report also positioned that while certain "conservative domains are blacklisted," the good standing of "hard-Left domains" in search results "raises suspicions that they have been hand-picked for prominent placement."
A Google spokesman told CP, however, that Google has "never re-ranked search results to manipulate political or user sentiment."
"We always strive to provide our users with the most useful, authoritative and relevant answers to their queries," the Google representative added.
In July, millions of Catholics worldwide were affected after Facebook suddenly closed more than two dozen Catholic pages, some that have massive followings.
Facebook restored the pages following an outcry, and blamed a "spam detection tool" for the error.
– christian post
Iraq, December 10, 2017: Iraq declared Saturday that its territory is now "fully liberated" from the Islamic State, overlooking warnings by allies that the terror group still poses a threat to the country in the form of guerrilla warfare.
"Honourable Iraqis: your land has been completely liberated. The dream of liberation is now a reality," Iraqi Prime Minister Haider al-Abadi said in a televised address Saturday, according to Reuters. "We have accomplished a very difficult mission. Our heroes have reached the final strongholds of Daesh and purified it. The Iraqi flag flies high today over all Iraqi lands."
Islamic State is also known as Daesh, IS, ISIS or ISIL.
Al-Abadi declared Dec. 10 a national holiday to be celebrated every year.
Brett McGurk, the U.S. Special Presidential Envoy to the international coalition that has been supporting Iraq's fight against IS, congratulated al-Abadi and the Iraqi people "on this significant achievement, which many thought impossible."
"We honour the sacrifices of the Iraqi people, its security forces, and the Kurdish Peshmerga, and admire the unity in their ranks that had made this day possible," McGurk added.
The announcement by al-Abadi means an end to the Iraqi military's war with IS. However, British Prime Minister Theresa May, while congratulating the Iraqi prime minister and the people of his country "on this historic moment," warned that the threat is far from over.
"We must be clear, however, that whilst Daesh is failing, they are not yet defeated. They still pose a threat to Iraq, including from over the Syrian border," she said, according to Independent.
Numerous IS fighters in Mosul fled to the border so that they can regroup later.
"IS was defeated militarily in Iraq but not eliminated," Abu Mahdi al-Muhandis, a commander in the Hashed al-Shaabi militia, was quoted as saying. "It is still present in some places and its members are trying to infiltrate civilians and villages. IS has changed its method."
A coalition spokesman was quoted as saying, "As ISIS continues to lose land, influence, funding streams and conventional capabilities, we expect them to return to their terrorist roots by conducting high-profile attacks on helpless civilians such as those we've already seen in Nasiriyah, Ramadi, and elsewhere over the past weeks."
The U.S. State Department issued a statement, applauding the Iraqi government but also saying, "The United States joins the Government of Iraq in stressing that Iraq's liberation does not mean the fight against terrorism, and even against ISIS, in Iraq is over. The United States, along with the Global Coalition to Defeat ISIS, will continue to partner with the Iraqi Security Forces, advising, training, and equipping them."
Meanwhile, U.S. Vice President Mike Pence met with Chaldean Archbishop of Erbil Bashar Warda last week to discuss how the U.S. government can best help the recovering Iraqi Christian community in the aftermath of the Islamic State.
In a statement, the 48-year-old Warda explained that he and the vice president had a "substantial discussion."
"I updated him on the situation facing our people and expressed our hope that peace would soon come to Nineveh," Warda, who said in an AFP interview recently that there are as many as 20,000 Christian families who still need help returning home.
Iranian influence is now present in Nineveh towns once mostly populated by Christians before IS took over, and has prevented some from returning to their homes.
Amir Yaqu, a Christian man from the once predominantly Christian town of Bartella who has yet to return to his home village even though it's been more than a year after its liberation from IS, told the pro-Kurdish news outlet Rudaw last month that he has not returned home because the situation in his hometown of Bartella has not improved due to the presence of Shia militias and Iranian influences.
"Bartella and Hamdania are our [Christians'] historic places. ISIS came and destroyed our churches in the name of Islam. We waited for three years until ISIS militants were gone. We thought life would go back to normal after ISIS. Now our situation is even worse," Yaqu was quoted as saying.
Bartella, which was once home to about 40,000 Christians, was liberated from IS in October 2016. However, human rights advocates have warned that Iran has funded the opening of a school, mosque and library in the once predominantly Christian town. The new school in Bartella was named after Iran's Ayatollah Khomeini.
Al-Abadi has said he will keep close ties with both the U.S. and Iran. "What we are telling everyone, including our Iranian neighbors and the U.S., who have become our friends by supporting us in our fight against Daesh, is that we welcome your support, we would like to work with you, both of you, but please don't bring your trouble inside Iraq," he told The Wall Street Journal in October. "To impose something on us, this is something very unacceptable."
A senior U.S. official responded at the time that Iran's actions will determine U.S. involvement. "We have no intention of conducting a campaign against Iran in Iraq. But it will really be up to the groups that may or may not be under the control of the prime minister," the official said, referring to Iran-backed Shiite militias. "What will happen will depend upon the actions of the proxies of Iran inside Iraq."
– christian post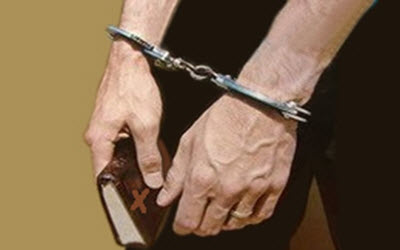 Mathura, December 11, 2017: Seven Christian preachers were arrested for allegedly carrying out forcible conversions in a village in the city of Mathura, Northern India.
The group of missionaries were nabbed on Dec. 4 and are facing years of imprisonment for the offense. They were produced in court on Dec. 5 and were incarcerated in judicial custody for 14 days.
According to some of the residents of the village, the missionaries actively worked in the area for about a month. They distributed Bibles to the residents, although no one listened to what they were saying.
The missionaries allegedly became aggressive last Monday night and tried to convert some families forcibly. According to one accuser, the pastors reverted to violence when the locals refused to accept the content of their speeches.
After getting a call from one of the residents of the village, police arrived and arrested the seven missionaries. The preachers were charged under section 295A of the Indian Penal Code.
However, according to the family of one of the arrested pastors, Stanley Jacobs, the allegations that the missionaries are facing stem from anger from the residents who refuse to accept that their family members have converted to Christianity.
They said that a couple living in the village had recently converted to Christianity. However, the conversions upset the family members of the couple, inevitably leading to a confrontation between the two sides.
While the missionaries were holding a house church service, a number of local residents stormed into the house and began throwing abuse toward the preachers. Afterwards, the police arrived and arrested the pastors.
The British Asian Christian Association in India are working to help the accused pastors and their families.
"We will do what we can for these Pastors," said Naresh Paul, lead officer of British Asian Christian Association in India. "I have counseled a few of the families and I am going to visit them and see what other support we can offer including support for legal fees. However, there are wives and children who await news daily fearful of what will happen to the patriarch of their family. It is simply a devastating situation."
– christian today
Madhya Pradesh, December 11, 2017: Local politicians and activists in Madhya Pradesh's Sagar district have accused Christian campaigners of promising education and jobs to poor and illiterate villagers to lure them to convert, an allegation dismissed by the church and the district administration.
Since laws governing conversion are cumbersome and require prior notification, it is said that many villagers are 'unofficially' embracing Christianity without bothering to inform the administration.
Sagar district Congress president, Heera Singh Rajput, said instances of conversions could be found in more than 50 villages.
"There was no conversion when Congress was in power in the state. But the situation in Bundelkhand has worsened because of misrule by BJP," Rajput alleged.
He said that desperate villagers, deprived of proper education and employment, were proving to be easy prey for Christian proselytisers.
Even the local BJP MLA, Pradeep Laria, feels the same. "An organised racket is behind this. People don't submit applications before undergoing conversions officially as it suits them and also benefits those behind it as the administration will not have any ground to take action against them," Laria explained.
"We came to know about unofficial conversions recently and are trying to become the voice of poor people to stop such activities," said activist, Kapil Rajesh Rai.
Both the district administration and the church say the allegations are baseless.
"Minority community institutions have been operating in the area for the past 140 years and are providing employment, quality education and health facilities to people. This might be a reason why a section of the people is attracted towards them, but I don't see any conversion," insisted Alok Kumar Singh, the district collector.
As per the Madhya Pradesh religious conversion law, one has to take permission from the district collector to change his or her religion. But Singh said no such application has been received.
Father Leo Cornelio, the archbishop of Bhopal, accused local politicians of orchestrating a campaign against them. "Our God taught us to help others, so we are helping people. But there are some who are out to malign us," he said.
Amid the claims and counter-claims, some members of the Christian community, including the bishop in Sagar, have sought police protection. Father Alex of the church in Shampura said his community was being wrongly targeted.
"The government has failed to provide even a road to our village. Now there are people who are questioning our social work to misguide people," he said.
Notwithstanding the heat the issue has generated, some families in villages such as Khajuria, Bandri, Shayampura and Badlo close to national highway 26 admit to observing Christian rituals, despite not officially converting.
Draupadi Ahiwar of Bandri said she never dared to dream of educating her children with her meagre income as a beedi worker. "But a church member told me my life will change if I start praying to 'Prabhu'. I have started it for the past few months. I am happy now as from the next year, my children will go to a convent school," Ahiwar said.
Ashish Yadav of Khajuria put things in a perspective. "We Hindus at times go to the 'mazhar' and the 'dargah' to pray. Does it mean we have converted to Islam?"
– hindustan times
New Delhi, December 11, 2017: The Red Cross is faced with a "real challenge" following the Rohingya refugee crisis triggered by violence in Myanmar's Rakhine State, a senior official of the international humanitarian organisation has said.
"The specificity of the situation is that only the Red Cross and Red Crescent movement is allowed to work in Rakhine State as humanitarian help," Christine Beerli, Vice President of the International Committee of the Red Cross (ICRC), told IANS in an interview.
"So, it is a real challenge because the needs are big, the situation is tense," said Beerli, who was here to attend the International Conference on Certain Conventional Weapons.
More than 625,000 Rohingyas have fled to neighbouring Bangladesh since violence erupted in Rakhine late in August.
The minority Rohingya community does not enjoy citizenship in Myanmar and is sparingly given refugee status in Bangladesh.
Human rights monitors accused Myanmar's military of atrocities against the minority population during its clearance operations following Rohingya militants' August 25 attacks on multiple government posts.
Last month, however, Bangladesh Foreign Minister Abul Hassan Mahmood Ali and Minister for the Office of the State Counsellor of Myanmar Kyaw Tint Swe signed a memorandum of understanding (MoU) in Nay Pyi Taw for the return of these refugees.
India has maintained that the issue should be handled in a humane manner, development activities should be initiated in Rakhine and conditions should be created for the safe and secure return of the refugees to their homes. New Delhi has also sent relief material for the refugees in both Rakhine and Bangladesh.
Stating that the Red Cross was working on both sides of the border between Myanmar and Bangladesh, Beerli said that "we try really to do as a movement the best we can".
"For a long time they (the Rohingya refugees) were in a certain sense caught in no man's land," she stated. "One of my colleagues told me how he was there and helped in food distribution, and how we can help these people in this situation."
Beerli said that with the Cox's Bazar refugee camp filled up with over 600,000 people, the Red Cross has found itself in a difficult situation.
"Nobody knows exactly how it will go on. You hear a lot of different opinions and we have to see if it will be possible for these people to go back," she said.
Stating that the Red Cross would never influence these people, the ICRC Vice President said that it was for them to decide "in their free will to go wherever they want to go or stay where they want to work".
"We are just helping and looking that they survive and they are not caught in a bad situation," she said.
Asked if the Red Cross was talking with the authorities in Myanmar, Beerli said that her organisation has been talking with all the parties in the midst of this problematic situation.
"We are not a political institution… The definitive solutions have always to be found by the politicians. Peace can only be made by the politicians. We are humanitarians."
Asked about India's role in the current scenario, Beerli declined to comment, but said that India as a neighbour was well aware of the situation in Myanmar.
"We are working together with the Indian Red Cross and we are happy to have them as partner," she said.
While the Red Cross is working with 80 foreign staff and 546 local staff in Myanmar, there are 21 foreign staff and 68 local staff in Bangladesh.
– ians
One Trick to Inject Encouragement into Your Family
Whether in coaching sports or business leadership, the principle is well known that people progress best when leaders encourage more than criticize. We can see this in our homes as well.
However, life can be discouraging for our children. It can seem like we are always correcting them. Things often don't go their way. In addition, family squabbling between siblings can also deflate the atmosphere in our homes.
What if I told you about one simple trick to change the tone of your house? My wife and and I practiced this consistently around our family dinners, and it often provided a much needed boost.
The Pumpkin or The Red Plate?
As the leaders of our homes, we have the power to make it fundamentally an encouraging place or a discouraging place. In the late 1980s, when I was a computer programmer, our team used a quirky little object as a means of motivation—"The Pumpkin." This small ceramic pumpkin sat in the cubicle of the last person who had messed up. Even though it was given out in fun, it still sent a message that the team was focused on mistakes. So when a more encouraging manager took over our team, The Pumpkin was the first thing to go in the trash!
Some of us parent with The Pumpkin in mind—primarily thinking about and reminding our children of the day's failures. While there is certainly a place for correcting the negative, how much better to "catch" our children doing something right? And so our family adopted the tradition of The Red Plate.
Around the time we were raising our children, many families were buying a red plate that had the words printed on it, "You are special."
Liking the idea (but not wanting to spend the money) we bought our own red plate and bowl. The red plate came out at special times to celebrate a family member.
Why is The Red Plate so Powerful?
1. It gives you a way to highlight something that might go unnoticed.
We did use the plate on occasions we all celebrate, like birthdays; but more often we used it to highlight one child who had been especially loving or kind or had studied hard. Rather than rewarding outcomes, we tried to reward godly character.
2. It contributes a positive tone to your house.
Rather than focusing on correction, it moved our focus to affirmation. We were trying to be a happy family, catching others in the act of doing something right.
3. It teaches your other children to rejoice with those that rejoice.
The Red Plate turned the attention to one special family member and created a sense of family identity. We wanted the other children to have an "All for one and one for all" mentality. The Red Plate was a way to actively train this attitude.
4. It gives direction to your dinner time discussions.
The Red Plate given by Mom allows the whole family to report to Dad what the recipient did. And Dad should be the chief affirmation officer. This gives him a chance for the whole family to hear his praise. (And it is really encouraging when Mom gives it to Dad or Dad gives it to Mom!)
So, if you want to really improve your home team's success by shifting to a higher encouragement to correction ratio, why not begin with your own red plate tradition and start celebrating each other?
You'll only be sorry you didn't start earlier.
– cross walk
Italy, December 7, 2017: The magical realm of Narnia is the setting of C. S. Lewis' beloved children's book The Lion, the Witch and the Wardrobe. There, four children discover a land of talking animals, mythological creatures, the White Witch, and "the Great Lion:" Aslan.
This Narnia is fictional, but more than 2,000 years ago, when Romans ruled the civilized world, Narnia was a real-life city on the Italian peninsula – and it still exists today.
The ancient hill-town of Narnia, now called Narni, lies in the central Italian region of Umbria, about 50 miles north of Rome. In the city, you can see remnants of the town's extensive history, from its pre-Roman identity as Nequinum, to antique and medieval Narnia, to the present Narni.
Lewis, author of The Chronicles of Narnia, never visited Narni, but he likely knew about the ancient Narnia from reading Roman history, where it is named by such famous writers as Tacitus, Livy, and Pliny the Elder.
In 2009, the town received confirmation of Lewis' knowledge of the place when the Christian author's biographer and former personal secretary, Walter Hooper, gifted Narni's local historian, Giuseppe Fortunati, a copy of a Latin atlas owned by Lewis, on which the Belfast-born author had underlined the town named "Narnia."
Hooper also relayed that Lewis had told him the name on the atlas had inspired him in the writing of his Chronicles. And while the two places aren't the same – it very rarely snows in Narni, for example – there are connections between the imaginary realm and the real-life city that can still be seen today.
One of these connections is the presence of a large stone table, which recalls the stone table in The Lion, the Witch and the Wardrobe, upon which the lion Aslan, a representation of Christ in the book, sacrifices himself to save Edmund, one of the four children in the story.
Found near the Via Flaminia, an ancient road which leads from Rome to the Adriatic Sea, and which also passes by Narni, stands an ancient stone table believed to date from pre-Roman times, and to have been a place of animal, and possibly even human, sacrifice.
The town was founded around 1,000 years before Christ by the Osco-Umbrian people as Nequinum. It was conquered by the Roman Republic in the 4th century BC, and its name was changed to Narnia, after the nearby Nar River.
"Nar," Fortunati told EWTN, "means 'water that flows,'" noting that this may also be a reason why Lewis chose the name for his imaginary land, since "water is the source of life."
The Diocese of Narni was established in the 4th century; in the 20th, it was united with a nearby diocese, and is now part of the Diocese of Terni-Narni-Amelia.
Around 1930, during repair work on a road, workers discovered a statue of a lion dating from the Roman era, when it was common for the emperor always to have a statue of a lion "guarding" his tent at camp, Fortunati said.
The figure of a lion had also been adopted by the Jewish religion. The Lion of Judah became a symbol of the Hebrew tribe of Judah, the first association found in the Book of Genesis, chapter 49, where Jacob blesses his son Judah, calling him "a lion's cub."
In Christianity, the Lion of Judah represents Christ, as in the Book of Revelation it says, "Weep not; behold, the Lion of the tribe of Judah, the Root of David, has conquered…"
Fortunati pointed out how it is difficult not to make the connection between the lion statue and other lion symbols found in Narni, and Aslan from the Chronicles of Narnia.
Lewis himself confirmed the connection in a letter he wrote to a child reader in 1961. He said he was inspired to make the figure of Christ a lion in the stories for two reasons: because the lion is supposed to be the king of the beasts, and because Christ is called "the Lion of Judah" in the Bible.
Another link between the real and fictional towns can be found in the real-life Lucia of Narnia. In the Chronicles of Narnia, Lucy Pevensie is the youngest child of four siblings, and she is the one who first sees the fantastical land and believes.
Bl. Lucy Brocadelli of Narni was a mystic who lived from the end of the 15th to the mid-16th century and who was born in the city. She was known as a very pious child, and from a young age is said to have seen visions of the Blessed Virgin Mary, the Child Jesus, and other saints, particularly St. Dominic.
Her first vision was at the age of 5, and at 12 years old she made a private vow of virginity, deciding to join the Dominicans. As a young teen she was married off by her uncle to a family friend, Pietro, the count of Milan, though they lived as brother and sister at her request.
She continued to experience visions throughout her life, and was particularly dedicated to the poor, including making them bread with the help of saints who visited her. By the age of 18 she had separated from her husband, then becoming a Dominican tertiary. Her husband eventually joined the Franciscans.
She became the prioress of a convent and is one of only a few female saints to have ever received the stigmata. Shunned and mistreated by other sisters for her strange experiences, she spent the last forty years of her life locked up in isolation by a successor prioress.
She died in 1544, and her body was discovered to be incorrupt a few years after that. She was beatified in 1710 by Clement XI. In 1935 her remains were returned to her home town of Narni and interred in the cathedral.
Today around 20,000 people live in Narni; if you visit you will find the town's Romanesque cathedral, a late-medieval fortress called the Rocca, the old town square, and a plaque marking the "Center of Italy," among other sites.
Also scattered around the city you'll find images of lions and of Bl. Lucia of Narnia, reminders of its connection to the mythical land of C.S. Lewis' imagination and his beloved stories.
– cna
Pakistan, December 01, 2017: A 7-year-old child was killed and two others injured in an explosion outside the gates of the Christian Colony in Chaman Friday evening, Balochistan police officials told DawnNews.
The injured were rushed to the Chaman Hospital for medical treatment.
"The blast smashed windows in nearby homes," SHO Gul Mohammad said, adding that the explosion was caused by a hand grenade lobbed near the colony's gates.
Police and Frontier Corps personnel reached the spot and an investigation went underway.
This is the third deadly attack reported in the country amidst celebrations of Eid Miladun Nabi.
It was preceded by an attack on an educational institute in Peshawar and a landmine explosion targeting soldiers posted in South Waziristan agency.
– dawn