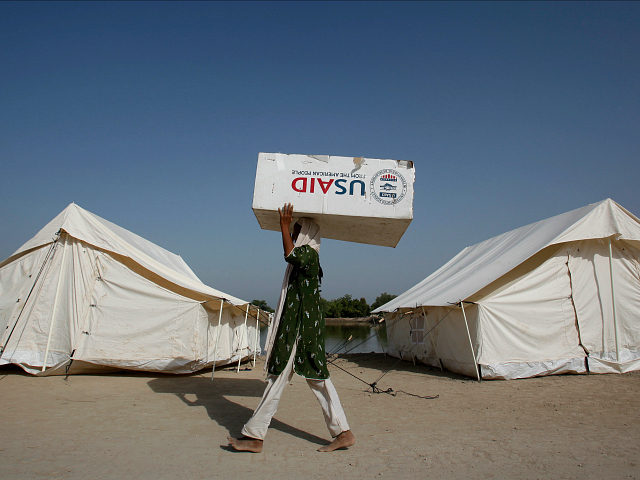 U.S., January 16, 2018: US promised help appears finally to be on the way to thousands of desperate Christian, Yazidi and other minority refugees in northern Iraq, more than two months after Vice President Mike Pence October 25 promise to "stop funding ineffective relief efforts at the United Nations" and "provide support directly to persecuted communities through USAID."
According to a report by George Russell for Foxnews.com, after some complicated negotiation between the Trump administration and the U.N., USAID has announced a revamp of its announced $150 million contribution to a projected $420 million Funding Facility for Stabilization in Iraq (FFS) — which is disbursed through the United Nations Development Program (UNDP) — to specifically "address the needs of vulnerable religious and ethnic minorities communities" in Iraq's northerly Ninevah province.
A $55 million slice of a $75 million USAID payment already forwarded to the UNDP fund is to be especially aimed at "those who have been victims of atrocities by ISIS," the release declares.
The USAID announcement represented the outcome of an elaborate bureaucratic process that revved up after Vice President Pence personally intervened to promise some measure of relief to the savagely battered Christian and other minority populations, which were murdered, plundered and expelled from their millennia-old homelands by radical Islamists between 2015 and the ostensible defeat of ISIS in the past year.
One of the agency's top officials, USAID Counselor Tom Staal, subsequently told Fox News that the $55 million was "specifically for minorities," and that new agreements with UNDP even mentioned "specific towns" where the money was to be spent.
Whether the U.N. agency will get another $75 million promised for its stabilization fund "will depend on UNDP's success in putting in place additional accountability, transparency, and due-diligence measures for the FFS," as USAID declared in a press release.
USAID is far and away the biggest contributor to the stabilization fund, handing over more than $115 million in 2016 out of $315 million actually donated.
Previously, the UN had insisted it was administering its relief aid in "an impartial manner on the basis of greatest need," according to a spokesperson for UN Secretary General António Guterres some weeks ago.
But critics instead found that the "needs blind" approach was leaving the minority communities in the lurch and forcing desperate refugees to choose flight from their ancestral homelands if they hoped to survive.
In fact, when examined closely on the ground, the religious minority recovery needs, critics charged, have been scandalously scanted or ignored in the U.N. reconstruction efforts.
Pence's call for change and criticism of U.N. action galvanized a variety of bureaucratic actions, including a whirlwind, five-day trip to the suffering region by USAID counselor Staal, the agency's highest ranking career foreign service officer.
Staal told Fox News he met directly with Iraqi government officials as well as religious and community leaders in the Ninevah area — roughly 100 people in all — and even attended the rededication of a 3rd Century Christian church that had been ravaged by ISIS.
The trip was followed by a flurry of meetings at the White House and on Capitol Hill that added further to the aid package. Above and beyond the refocusing the $150 million, another $10 million to $10.5 million of emergency humanitarian assistance had been sent to the beleaguered communities, Staal said, for supplies such as food and blankets for refugees still living in hand-to-mouth conditions.
Atop that, $10 million in State Department in discretionary funding aimed at such things as combating the effects of gender-based violence resulting from ISIS horrifying campaign of rape and kidnapping of sex slaves from the Christian and Yazidi populations.
Staal also said that a variety of new oversight procedures have been put in place by USAID in a written contract to ensure that UNDP does its job effectively.
They include the US hiring of "third-party" — non UN — oversight of the agency's work, and an arrangement that gives the U.S. agency's Inspector General access to UNDP's books, in addition to "more frequent, detailed reporting" on the agency's work and progress.
In addition, he said, UNDP had added its own independent oversight and had banned sub-contracting on the Ninevah projects, meaning that all contractors would report directly to the U.N. agency.
For its part, UNDP told Fox News through a spokesperson that it already has "strong oversight over all contracts to ensure that all funds are spent transparently and with full value for money."
The UNDP spokesperson also declared that $37 million is currently "being channeled through UNDP to stabilization projects in high priority minority communities. In coming weeks, this will increase to more than $56 million" — a number more or less the same as the amount of rechanneled U.S. aid.
– global christian news
Jammu, January 18, 2018: A church, two shops and a tractor belonging to the minority Christian community were set ablaze by a mob at Sial village in Rajouri district on Tuesday evening after a Hindu family alleged foul play in the death of their daughter who, they said, was being pressured by her husband to convert to Christianity.
Seema Devi (25) died on Monday in Jalandhar. Her husband Rinku (30) was arrested on Tuesday after he brought the body to the Rajouri village. Inquest proceedings under Section 174 CrPC — invoked when circumstances around a death raise reasonable suspicion — have started.
Seema's family said that when she married Rinku 15 months ago, they were unaware that the groom was Christian. Rinku was a worker in a vegetable mandi in Jalandhar. "We came to know about it (that Rinku was Christian) last month when Rinku took Seema to Jalandhar to attend Christmas prayers," said Seema's uncle Joginder.
He said that after returning from the prayers "she seemed unwell and kept silent". Her parents offered to take her to a doctor, but Rinku and his family did not agree and took her to a local church, saying she would be cured through prayers. On January 8, the two went to Jalandhar, where Seema died, Joginder said.
When Rinku returned to Sial with Seema's body, her family said they noticed blue marks on her body, Joginder said. Police Tuesday took the body for post-mortem.
Sial is a pre-dominantly Hindu village with less than half a dozen Christian families. When Seema's body was brought to Sial, people in large numbers gathered and many tried to link her death to alleged pressure to convert to Christianity. The family cremated her body on the premises of the local church. Later, the church was razed by a mob, sources said.
The mob also set ablaze two shops belonging to the minority community and a tractor. They attacked Rinku's house, but the police intervened then. Nearly two dozen people were injured. Subdivisional magistrate, Sunderbani, Kartar Singh, said: "We offered to start a magisterial inquiry, but they (the family) did not insist.''
– indian express
India, January 16, 2018: It's more dangerous now than ever before to be a Christian in India.
Open Doors has officially released its 2018 World Watch List, and India ranks number 11 out of the top 50 countries where Christian persecution is at its worst.
"Persecution of Christians is rising in India. More than ever before, the growth of radical Hinduism in the nation is fueling violent attacks, with even greater impunity for attackers as the government sides with radical groups," the organization wrote in its report.
Pastor Joseph D'Souza, who works tirelessly for human rights in India told CBN News Hindu extremists are spreading dangerous propaganda against Christians in the country.
"The propaganda that continues to go on which is absolutely not correct that Christians are involved in false and forced conversions. Nothing of that sort is happening," he explained.
"The propaganda that somehow Christians are working against India, against the interests of India by trying to be Christians, is propelling this. And a lack of control of these groups that seem to commit crimes and attack minorities with impunity," he continued.
D'Souza said radical Hindu extremists aren't just targeting India's Christians, but anyone who does not adhere to their ideology.
"It's not just related to the Christians. It's also related to the Muslims, Dalits, and now also Hindus," he said.
The situation is especially hard for Dalits — people who rank the lowest in India's caste system and are considered "untouchable."
"India cannot continue with a caste system," D'Souza said. "While many Dalits have found freedom and dignity through Christian work and education and spiritual work, the problem is not over."
Despite the growing persecution of Muslims, Dalits, Hindus, and Christians, D'Souza said God is still at work in India.
"Persecution has never stopped the growth of the church. In fact, when we are attacked, when we are persecuted, we become stronger," he said. "They're standing strong and they're not recounting."
– cbn news
Madhya Pradesh, January 18, 2018: Hundreds of policemen were deployed to guard two Catholic educational institutions in India's Madhya Pradesh state this week amid alleged threats from Hindu hardliners.
The move came as the Madhya Pradesh Catholic Diocesan Schools' Association sought protection from the state high court for all its educational institutions following threats against them by Akhil Bharatiya Vidyarthi Parishad (ABVP), the student body of the ruling pro-Hindu Bharatiya Janata Party.
Church officials say the group is trying to whip up hostility against the Christian institutions for not allowing its members onto their campuses to perform Hindu rites and other activities.
Police were sent to guard St. Mary's College in Vidisha on Jan. 15 after the ABVP set a Jan. 16 deadline for college authorities to allow its members to conduct Hindu prayers inside the college grounds.
Police foiled a previous bid on Jan. 4.
"The government provided full security to the college," said college director Father Shaju Devassy.
Policemen were also sent to guard St. Joseph Convent School in Jhabua Diocese after ABVP activists threatened to storm it after accusing the school of disciplining several students for shouting patriotic slogans.
Hindu hardliners are accused of trying to establish a Hindu only state by using extreme nationalism as a major tactic.
Father Rockey Shah, the Jhabua Diocesan public relations officer, told ucanews.com the ABVP was "cooking up allegations" in an attempt to portray Christians as non-patriotic for political reasons.
Church officials say ABVP threats are not about prayer or patriotism but an overt attempt to take control of the schools in violation of a constitutional provision that allows minorities like Christians to own and manage educational institutions.
– ucan
China, January 17, 2018: A court in Lincang (southern Yunnan) sentenced a group of Christians up to 13 years in prison for belonging to an apocalyptic sect that the authorities deem an illegal "cult".
One of them, Ju Dianhong received a 13-year sentence for leading the sect, recruiting new followers, carrying out missionary work, and spreading rumours about an imminent apocalypse.
Ju said she will appeal her sentence, noting that she had never heard of the sect, nor does she know the meaning of the word "cult".
She explained that she only believes in and prays to Jesus Christ and has never harmed anyone or acted against the principles of the Bible.
The sect in question is that of the Three Grades of Servants, an underground pseudo-Protestant group founded in Henan. It claims to have millions of followers, especially in the countryside.
The sect was founded by one Xu Shuangfu, who was sentenced to death in 2006 for killing members of another competing sect and stealing millions from his followers.
However, at the time, Xu's daughter, Baiyin, said that her father had signed a confession that had been extorted under torture.
Along with Ju Dianhong, five other people were convicted, their sentences ranging from four to ten years in jail.
According to ChinaAid, at least 200 members of the group were arrested in Yunnan and 40 are waiting to be indicted and prosecuted.
Even though Chinese law guarantees defendants the right to legal counsel, the authorities have tried to intimidate the accused's lawyers by threatening to review (and suspend) their license to practice.
Still, one of the lawyers, Xiao Yunyang, said that he and his colleagues will continue to defend their clients.
According to scholars at the Chinese Academy of Social Sciences, sects are spreading in the countryside because they meet an immediate religious need in a society that officially professes atheism.
At the same time, group support and help fill a gap left by a government that does not provide people with proper social services.
– asia news
Egypt, January 16, 2018: Islamic militants who shot and killed a man on Saturday in Egypt because of his cross tattoo have pledged to kill more people belonging to the nation's beleaguered Christian community, a friend of the deceased believer has said.
Friends and family of Bassem Herz Attallah, who was shot dead by a group of three gunmen in Sinai on Saturday, have shared details about how and why their loved one was murdered in the streets of Al Arish last weekend.
Milad Wasfi, a close friend of Attallah who spoke with the persecution news outlet World Watch Monitor, explained that he first did not believe the news when he was told that Attallah had been killed on Jan. 13.
Upon hearing the news, Wasfi said that he tried to call Attallah on the phone. However, it wasn't Attallah who answered the other end of the line.
"The terrorists answered me and said they belong to State of Sinai and promised to kill more Copts before they put down the phone," Wasfi was quoted as saying.
Attallah's murder comes as over 100 Christians have been killed since December 2016 thanks to a series of bombings and killings targeting the Coptic Christian community, according to the Associated Press.
Some of the attacks and bombings against Christians over the last year-plus were claimed by Islamic State affiliates in Sinai. Thousands of Christians in Al Arish and other areas of Sinai fled their homes last year after a string of murders carried out against Christians in the town caused many to fear for their own lives.
Attallah and his 38-year-old brother, Osama, were among those Christians who fled Al Arish last year before returning last September, World Watch Monitor reported.
According to World Watch Monitor, Attallah was walking with Osama and their neighbor, Mohamed, while on his way from work when the men encountered the militants.
"We thought they were policemen because they weren't masked … They were wearing black jackets," Osama told World Watch Monitor. "They approached us and asked Bassem to show them the wrist of his right hand, and when they saw the tattoo of the cross, they asked him: 'Are you Christian?' Bassem answered 'Yes, I am Christian,' and repeated that again in a loud voice."
According to Osama, the militants then asked Mohamed his name and asked them to show him his wrist. When it was revealed that Mohammed did not have a cross tattoo, Osama said that Mohammed was allowed to leave.
The militants did the same for Osama. But since Osama has a common name and doesn't have a cross tattoo, Osama surmises that the militants believed he was not a Christian and did not know that he was Attallah's brother.
"They fired two shots on the ground close to my legs and asked me to leave," Osama explained. "And then they shot Bassem in the head. I could not believe what happened to my brother. He fell on the ground in front of me and I was unable to do anything."
Osama had the tough task of going home to tell his mother what had happened to her son.
"We lost a person dear to our hearts. My brother Bassem was a very good and kind man. He had a strong relationship with God," Osama said. "He was always reading in the Bible, praying and going to the church. He was loved by all people."
Because of the increase in the persecution Coptic Christians have seen over the last year, Egypt has jumped up to the 17th worst nation in the world when it comes to Christian persecution, according to Open Doors USA's 2018 World Watch List. In the 2017 report, Egypt ranked No. 21.
The United States Commission on International Religious Freedom last year recommended that the U.S. State Department designate Egypt as a "Tier 2" country of concern for religious freedom, a designation that signifies countries where Christians are persecuted but government inaction isn't serious enough for the country to be designated a "country of particular concern."
Attallah's murder comes about two weeks after two other Coptic Christians were shot to death in Giza. Prior to that, 11 people were killed during an attack on a Christian church and Christian-owned business in Cairo.
– christian post
Most readers of this site will share my angst about biblical illiteracy. I think we sometimes assume, though, that this illiteracy is simply a problem in the broadest sweep of cultural Christianity. It is there, to be sure. That's why Christian bookstores (or their digital equivalents) don't sell many books on the meaning of justification in Galatians, but tons of books with diet tips from Ezekiel or channeled messages from heaven. The problem, though, is far bigger than that.
I've never really known how to identify the scope of the biblical illiteracy facing us until I read this past weekend a sentence that perfectly articulated what I had noticed, in David Nienhuis' very helpful new book A Concise Guide to Reading the New Testament(Baker). Speaking of the students in his college New Testament classes, Nienhuis writes that they struggle with the biblical material "because they have been trained to be Bible quoters, not Bible readers."
He is exactly right.
Nienhuis locates part of the problem in the way higher criticism has sought to remove the Bible from the terrain of the church to the alleged expertise of those able to discern the "original context" in ways novel to the reading of the church through the ages. But the problem goes beyond this, he notes. The problem is also the way the Bible is used in churches.
"Some of my students attend popular non-denominational churches led by entrepreneurial leaders who claim to be 'Bible believing' and strive to offer sermons that are 'relevant' for successful Christian living," he writes. "Unfortunately, in too many cases, this formula results in a preacher appealing to a short text of Scripture, out of context, in order to support a predetermined set of 'biblical principles' to guide the congregants' daily lives. The only Bible these students encounter, sadly, is the version that is carefully distilled according to the theological and ideological concerns that have shaped the spiritual formation of the lead pastor."
I would say the problem goes far beyond non-denominational churches, or even entrepreneurial churches, as biblical interpretation in American evangelicalism tends to be trickle-down, from the entrepreneurial ministry pioneers to everyone else.
Here's the end-result according to Nienhuis: "They have the capacity to recall a relevant biblical text in support of a particular doctrinal point, or in opposition to a hot spot in the cultural wars, or in hope of emotional support when times get tough. They approach the Bible as a sort of reference book, a collection of useful God-quotes that can be looked up as one would locate words in a dictionary or an entry in an encyclopedia."
He continues: "What they are not trained to do is to read a biblical book from beginning to end, to trace its narrative arc, to discern its main themes, and to wonder how it shapes our faith lives today."
This is not a matter of the educated versus the uneducated. The same problem exists among both. I have noticed people who were experts in the grammar of the Hebrew and Greek Bibles who didn't really get the flow of the old, old story. If the Bible, though, is God's Word, and it is, we must raise up people who don't merely believe the Bible but also who know what it says.
The answer is not easy. Part of the problem is what Nienhuis mentions, the modeling of the use of Scripture in some teaching and preaching. Part of the problem is the larger cultural question of whether the distracted, fragmented modern mind any longer has the attention span to read a text (meaning a literary text, as opposed to a text message). And part of the problem is that in order to train people to read their Bibles, the church must be gathered more than just an hour or two a week. To engage with a narrative requires (pardon this metaphor, my paedobaptist friends) not just a sprinkling but an immersion in the text.
– cross walk
I suppose some parents realize intuitively it's time to give up driving for the good of humanity. I've met very few adult children who have had that experience. Most have horror stories of watching an aging parent weave down the road, leaving dents in parking lots and mailboxes. Some have had accidents leaving others injured.
If you are in this situation of knowing it's time for your aging parent to stop driving but you're getting pushback, I have advice that comes from personal experience that might help fill the gap between what you see and what they feel. This is about keeping the neighborhood children and pets safe while at the same time honoring your father or mother.
Taking the keys from your parent is one of the hardest things you can ever attempt. It's the triple backflip off the high dive of relationships. Here are a few things to consider as you leap into this process.
Set the Right Goal
The goal seems simple. It's your job to take the keys and keep everyone safe. However, this isn't the goal. Your main goal is to love well. Keep that at the center of all your actions, decision making, and communication as you move forward. If you are motivated by love for your parent, it will be easier for them to accept what is being presented. (And this is never easy.)
Pray for Wisdom
It sounds like a given—and a spiritual cliché—but it's important. How many times have you rushed to solve a problem without fully bathing it in prayer? Invite God to walk alongside you in this decision. Ask for wisdom and guidance and an ability for your parent to see what you see. James 1:5 exhorts us to ask God for wisdom and expect him to answer. When you begin to pray for your parent, your heart will change toward them.
Think like Atticus
Atticus Finch told his daughter, Scout, "You never really understand a person until you consider things from his point of view . . . until you climb into his skin and walk around in it." If you think like your parent, you'll realize the depth of this decision and the weight it carries. Imagine yourself handing over the car keys. This will rob your parent of their independence and dignity in a tangible way. Showing empathy for your parent will help them see your goal is love.
Find the Whisperer
Without divulging family secrets, there was one person in our family who was recognized as "The Parent Whisperer." This was the child, for whatever reason, the parent listened to and trusted. Sometimes this child isn't in the daily orb of the parent's life. Perhaps this is the person who broaches the topic and leads the parent toward truth.
Find the Friend
There may be someone outside the family, someone your parent respects and trusts, who can step in and have a conversation. "I saw you driving the other day and it concerned me. I wouldn't want anything bad to happen to you or someone else." If this person (perhaps a pastor) has this come up in the natural flow of a conversation, it will add to the reality that things in life are changing.
Celebrate Pushback
The last thing you want your parent to do is shut down and give up. You want them fighting for their rights and their dignity. So if you don't get abject acquiescence, celebrate. Your parent has real life inside that's struggling to the surface. Remember, you're looking in the mirror of your own reality.
Emphasize Reality
One elderly woman called her grandson to report she had driven off the road and needed help. She had purchased ice cream at the store and it was melting. The only problem was, he was three states away. Help your parent see the reality of the situation in a kind but firm way. The family can't be driving hundreds of miles to rescue the vanilla swirl.
Problem Solve
One of the huge hurdles of every parent is not being a "bother." The last thing anyone wants is to be a burden, particularly when your parent feels they have the ability to drive themselves. Express that you understand this and help strategize a way your parent could be helped while helping someone else. Perhaps a person in the neighborhood who has lost a job could be hired for a small fee. Express your own desire to be there and help because you love spending time with the parent—and remind them of all the years they gave to you. This is your turn to reciprocate.
These are simply guidelines I hope will help. There are so many different situations and complications I haven't addressed. But if you keep the main guideline to show and express love to your parent and to honor them as you walk through this difficult time, you may not only keep the communication lines open, you might see the relationship grow stronger.
– cross walk
Belgium, January 15, 2018: Roman Catholic Church representatives are warning that Belgium's controversial euthanasia law is being abused, with patients being killed without the proper legal checks.
Auxiliary Bishop Jean Kockerols of Mechelen-Brussels told Catholic News Service last week that it is not only the Church that is expressing its concerns, but doctors and medical professionals as well.
He pointed out that Federal Euthanasia Control and Evaluation Commission has failed to refer a single case of suspected abuse of the law for investigation.
"It's shocking that, 15 years since its creation, this commission has not referred a single file to prosecutors or condemned a single doctor," the Belgian church's Cathobel news agency said in a report.
"It is acting as judge and jury, and not fulfilling its role. It isn't broadening application of the law, but violating it."
It shared of one incident where a commission member resigned after a dementia patient was killed without consent, but the person's case was not referred to prosecutors.
Other complaints centered around the family of a 38-year autism sufferer, whose life was ended without the required documentation.
Health Ministry data reveals that euthanasia deaths are increasing by 27 percent annually in Belgium, where the practice has been legal since 2002.
Kockerols stated, "We're against euthanasia in every form, and the Church's official position is well known."
The bishop said that he is glad to see that debate in Belgian society over euthanasia practices is increasing.
"Even if there's little chance for now of legal changes, the Church can work on a moral and pastoral level with medical staff and support critical voices," Kockerols continued.
"We've been discussing tougher application of church rules to those who endorse euthanasia. But we also have to be prudent, considering each situation with its nuances."
Despite the Catholic Church's stated opposition to euthanasia, some groups, such as the Brothers of Charity, have been under fire for reportedly offering the practice at all 15 of its psychiatric hospital centers.
Pope Francis ordered an end to the arrangement when he found out about it in August 2017.
Rene Stockman, the charity's superior general, who delivered the letter from Francis at the time, said that "this is the very first time a Christian organization states that euthanasia is an ordinary medical practice that falls under the physician's therapeutic freedom."
"This is disloyal, outrageous and unacceptable," Stockman added.
The Brothers of Charity later explained that patients who request to die are granted such permission only if they are in a state of "unbearable suffering," though it did not reveal whether such procedures had actually been performed.
– christian post
Egypt, January 15, 2018: Three masked gunmen reportedly shot dead a Coptic Christian man in the latest attack on believers in Egypt's North Sinai. No group has claimed responsibility yet.
The Associated Press reported on Sunday that the victim of Saturday's attack is 35-year-old Bassem Attallah, though few other details were made available by security officials, who spoke anonymously.
The attack is said to have borne "the hallmarks of Islamic State militants," who have killed hundreds of Christians in various attacks across the country in the last several years.
The turn of the New Year has seen the attacks continue, with two Copts losing their lives on New Year's morning in the town of Giza.
The two victims were brothers, who were killed during an attack on their friend's liquor store by a masked gunman on the back of a motorcycle taxi with a rifle.
The brothers, Ashraf and Adel Azar, who own a parts store located near the liquor store, were apparently helping the store's owner transfer boxes of liquor from his vehicle when the assault occurred.
The store owner survived, while the gunman fled the scene and remains at large. Local residents attempted to help the Christians, but the two brothers died from their wounds on the way to a hospital.
Just days earlier, nine people were slaughtered in two terror attacks in Cairo, targeting Christians. Armed gunmen on a motorcycle opened fire on people outside a church south of Cairo, while an hour later a Coptic-owned shop in the same area also came under fire.
Mostafa, an auto-rickshaw driver who was near the Marmina church, described the attack:
"Dozens of people ran to the church entrance to see the source of the shooting. I saw the terrorist lying on the floor bleeding as policemen surrounded him. He had a beard and had a big [armor] belt around him."
Still, a heavy security presence deployed at the 2,626 churches in Egypt allowed believers to celebrate Christmas, both on Dec. 25 and Jan. 7, when Copts mark the holiday, relatively in peace.
The head of the Coptic Church, Pope Tawadros II, led midnight mass at a cathedral in Cairo, which was attended by President Abdel Fattah al Sisi.
Sisi was reportedly cheered by believers as he entered the cathedral, though he has also faced criticism by other Christians for failing to stop the attacks and guarantee the safety of all citizens in the country.
IS has been killing Christians, among others, as part of its operations in Egypt these past couple of years.
IS is also said to be behind the mass bombing of Al Rawdah mosque in Bir Al-Abed in November, where over 300 Islamic worshipers were killed.
– christian post