U.S., November 17, 2017: The National Geographic Museum in Washington, D.C. on Wednesday opened a 3-D virtual tour into one of Christianity's holiest sites, the "tomb of Christ" located at the Church of the Holy Sepulchre in Jerusalem.
The immersive 3-D exhibit, called "Tomb of Christ: The Church of the Holy Sepulchre Experience," is said to combine "rich storytelling and archaeological expertise with innovative technology" to offer people a glimpse into what some believe to be the ancient tomb where Jesus' body was laid after the Crucifixion.
The church recently underwent significant renovations, and National Geographic explorer Corey Jaskolski was part of the team that created a 3-D record of the tomb using LIDAR scans, high-resolution photos and video.
The restoration last year led to some notable finds, such as what archaeologists believe could be the original limestone bed where Jesus was laid on.
"I'm absolutely amazed. My knees are shaking a little bit because I wasn't expecting this," Fredrik Hiebert of National Geographic said at the time.
"We can't say 100 percent, but it appears to be visible proof that the location of the tomb has not shifted through time, something that scientists and historians have wondered for decades."
National Geographic, which said its latest exhibit will be open until fall 2018 in Washington, listed five main experiences awaiting visitors who come to see the "Tomb of Christ."
It noted that visitors will learn all about the historic renovation at the site in Jerusalem, which also revealed part of the bedrock from the original cave where Jesus is said to have been buried before His resurrection.
Next it promised guests a look into the Edicule, which is the ornate shrine within the Church of the Holy Sepulchre that encompasses the remains of the rock-cut tomb.
"Scientists exposed the original surface of the tomb and found the limestone burial bed where Christian tradition says the body of Jesus Christ was laid. When you visit the exhibition, you'll be able to virtually experience what it was like to explore this iconic plan and view newly revealed cave calls that haven't been seen in centuries," the article on WTOP stated.
Thirdly, it noted that the cutting-edge technology that documented the restoration will be put on display:
"The exhibition also includes an interactive feature that allows you to test the ground-penetrating radar and see the laser scanners used to record and preserve this important archaeological site."
It added: "Through this cutting-edge experience, you can learn how these types of technology could be used to preserve the world's treasured cultural sites and artifacts of human history before they succumb to time or disaster."
The exhibit also offers a 3-D headset which allows visitors to "leave Washington, D.C. behind and embark on a journey to the heart of Jerusalem, where you can virtually walk around inside the Church of the Holy Sepulchre, the holiest site in Christianity."
Finally, National Geographic said that people will have a "rare opportunity to bridge space and time" by being one of the millions to experience the 19th century church in Jerusalem's Old City.
There were fears in May 2016 before the start of the restoration that the holy site was "on the verge of collapse" due to age.
Members of the Greek Orthodox, Roman Catholic and Armenian Orthodox churches all came together to help fund the $3.4 million project, with donors including world leaders such as King Abdullah of Jordan.
– christian post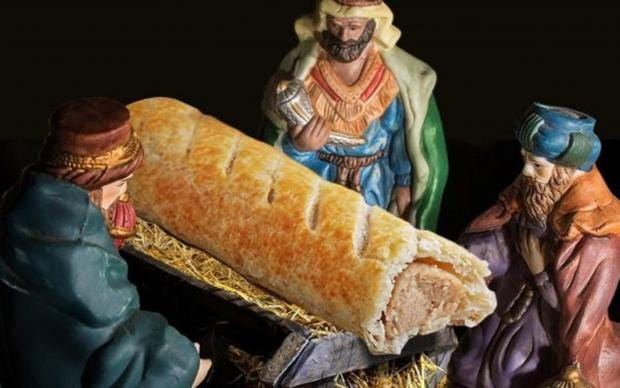 UK, November 15, 2017: The image of Jesus Christ deserves to be revered and respected, but not everybody does so. This year, British bakery chain Greggs is facing a backlash after releasing an advent calendar which replaced the baby Jesus in the manger with a sausage roll.
It is among many festive pictures featured in the calendar, according to Metro. There are sweet pastries hanging from a Christmas tree, a Greggs shop inside a snow globe, and Santa Claus with flakes on his beard.
There is even what should be a sweet scene from the Nativity. There's only one problem – the image of Jesus is nowhere to be seen, because cradled in the manger and surrounded by the three wise men is a sausage roll.
Instead of making people laugh, as the picture probably intended, people have been hugely offended by the image and have taken to Twitter to express their displeasure.
"Out of interest, do you think the people at Greggs understand that Jesus was Jewish and serving up a pork sausage roll in the manger is unbelievably inappropriate?" said Beth Rosenberg.
"I'm no prude, but equating Jesus, a Jew, to a sausage roll really is deeply offensive on all sorts of levels," James Mather added.
But some saw the funny side of the slip.
"This is appalling… this is outrageous… as a Jew I strongly… ooh, Greggs sausage roll," jested food writer Jay Rayner.
"I don't know any Christians who are upset about Greggs' sausage roll baby Jesus. I think people are more upset by unhealthy dietary options being promoted," said another.
For its part, Greggs issued an apology over the image and clarified that it "did not mean to cause offense." A spokesperson told The Sun: "We're really sorry to have caused any offence, this was never our intention."
– christian post
U.S., November 15, 2017: During a recent interview for Sony Pictures Animation's Christmas film, "The Star," actress Gina Rodriguez said she believes God put this role in her path just as He did with her hit TV series, "Jane the Virgin."
"If we're going to talk about faith, I definitely believe God put all of this in my path," Rodriguez told The Christian Post. "Because to be able to play Jane the Virgin and then to have this opportunity."
Rodriguez' role in "Jane the Virgin" draws from the biblical storyline of the immaculate conception and the virtue of saving one's virginity for marriage with a twist so that it can reach the telenovela audience. Although it's not a Christian show, the actress said she sees a pattern in the roles God has given her to play.
Commenting on her latest film role, the 33-year-old Chicago native said, "Playing the role was incredible! It's truly an honor, it's definitely a blessing, and it was a lot of fun. It's rich in love and joy and happiness and faith and I get to have my nieces and nephews in the theater. There's just too many blessings to count in this one."
"The Star" hits theaters nationwide on Nov. 17. the film is the first faith-based animated film since 1998's "Prince of Egypt." It tells the story of the first Christmas through the perspective of the animals that traveled with Mary and Joseph to Bethlehem and witnessed Jesus' birth.
Although "The Star" is an animated film, the family-friendly film can be enjoyed by both kids and adults alike.
There's a quote in the film that gives Rodriguez chills — "Just because God has a plan doesn't mean it's going to be easy."
"I live my life that way, I'm very aware that life is difficult and it isn't going to be easy and there's something in my heart that revels in those moments to see the triumph that I can bring in those difficult times," the Golden Globe winner stated.
As seen by the predominately female cast in her hit show "Jane the Virgin," Rodriguez is big on celebrating women and says "The Star" shows Mary in all her strength.
"Mary, in nativity stories, is seldom portrayed as a woman of strength and power," Rodriguez pointed out. "What's beautiful about being a millennial in this day and age, is that we are finally celebrating the strength of women, and we're coming together and we're making sure that women are uplifted and women are recognized for their strength and their power in this world and how much we contribute to this world."
"As much as it is intimidating to play the Virgin Mary, seldom are we told how strong Mary is, and so finally we are!" Rodriguez concluded.
The movie offers many timely lessons and Bo's (the donkey) quest for a greater purpose will inspire many. The telling of the birth of the King of Kings will also serve as a reminder for viewers in the midst of much unrest in the world, that Jesus is still the hope of the world.
"The Star" was directed by Academy Award-nominated writer/director Tim Reckart ("Head Over Heels") and produced by DeVon Franklin ("Miracles From Heaven").
Along with Rodriguez playing Mary (mother of Jesus), "The Star" features Steven Yeun ("The Walking Dead") as Bo the donkey, singer Kelly Clarkson as Leah the horse, Anthony Anderson as Zach the goat, comedian Gabriel Iglesias as Rufus the dog, Kris Kristofferson as the Old Donkey, Zachary Levi as Joseph, Oprah Winfrey as Deborah, Tyler Perry as Cyrus and Tracy Morgan as Felix.
– christian post
U.S., November 3, 2017: When Barronelle Stutzman took a stand for her Christian beliefs four-and-a-half years ago, she never imagined that she would eventually be appealing to the US Supreme Court to defend her decision.
But that's exactly what happened.
"This was never on my bucket list," Barronelle told CNA.
The 72-year-old grandmother is the owner of Arlene's Flowers in Richland, Washington, and is currently involved in a lawsuit involving a customer of nearly 10 years, Rob Ingersoll.
Barronelle knew Rob was gay from the beginning. "It was never an issue," she said. She enjoyed working with him, and said he would pick out creative vases and containers, and would come in with flower requests for birthdays, anniversaries, and other special occasions.
"I loved doing arrangements for Rob, because I got to think outside of the box, and do something special for him."
But when Rob came in and told Barronelle that he had gotten engaged to his boyfriend, she took him by the hand and explained that she believed marriage to be a sign of the relationship between Christ and the Church, and so she could not do the floral arrangements for a same-sex wedding.
Initially, Rob said that he understood and asked if she could recommend another florist, which she did.
Later, however, his partner posted a message on social media about Barronelle declining to take part in the wedding, and it went viral. Soon, she was informed that she was being sued by the Washington State attorney general and the ACLU. Today, more than four years later, Barronelle is waiting to hear whether the US Supreme Court will take her case.
And while the actual damages being sought by the couple are only around $7 – the mileage cost of driving to another florist – Barronelle could be responsible for more than $1 million in legal fees to nearly a dozen ACLU lawyers opposing her in the case.
Barronelle, who is Southern Baptist, spoke at a Nov. 1 panel discussion in New York City, hosted by ADF International, the global branch of the non-profit legal group that is representing her in court.
The panel discussed Australia's ongoing marriage referendum and the threats to religious freedom that accompany a redefinition of marriage to include same-sex couples.
"Because I have a belief that is marriage is between one man and a woman, we could possibly lose everything we own, everything we've saved for our kids and grandkids," Barronelle said.
She explained that while the decision to decline a same-sex wedding was difficult, it was the only way she could stay true to her beliefs. For her, weddings are much more than simply a job – they're a deeply personal labor of love, and she pours her heart and soul into her work.
"I spend months – sometimes years – with the bride and groom. I get to know them personally, what they want to convey, what the bride wants, what her vision is. There's so much personal involvement in this."
At the wedding, Barronelle will often help greet guests and calm nervous parents. "When we get the bride down the aisle, then I know I've done my job," she said.
With floral arrangements for weddings being such a personal endeavor, she knew that she would be betraying her relationship with Christ if she participated in a same-sex wedding ceremony.
Over the last four-and-a-half years, Barronelle has received an outpouring of support – customers coming in to offer a kind word or a hug, strangers telling her they are praying for her family, and messages of encouragement from 68 countries.
But she's also received death threats. She's had to install a security system and change her route to work.
"Even today, were very aware of people who come in who might do us harm," she said.
Also hard, she said, has been losing her relationship with Rob. She said she misses him and harbors no anger against him.
"I can tell you that if Rob walked into my store today, I would hug him, catch up on his life, and I would wait on him for another 10 years if he'd let me."
She also has a message for her fellow Americans: stand up for religious freedom, before it's too late.
"Don't think this cannot happen to you," she said. "I never thought that we would have a government that would come in and tell you what to think, what to do, what to say, what to create – and if you don't do it, you'll be totally destroyed."
"If we don't stand now, there will be nothing to stand for."
– cna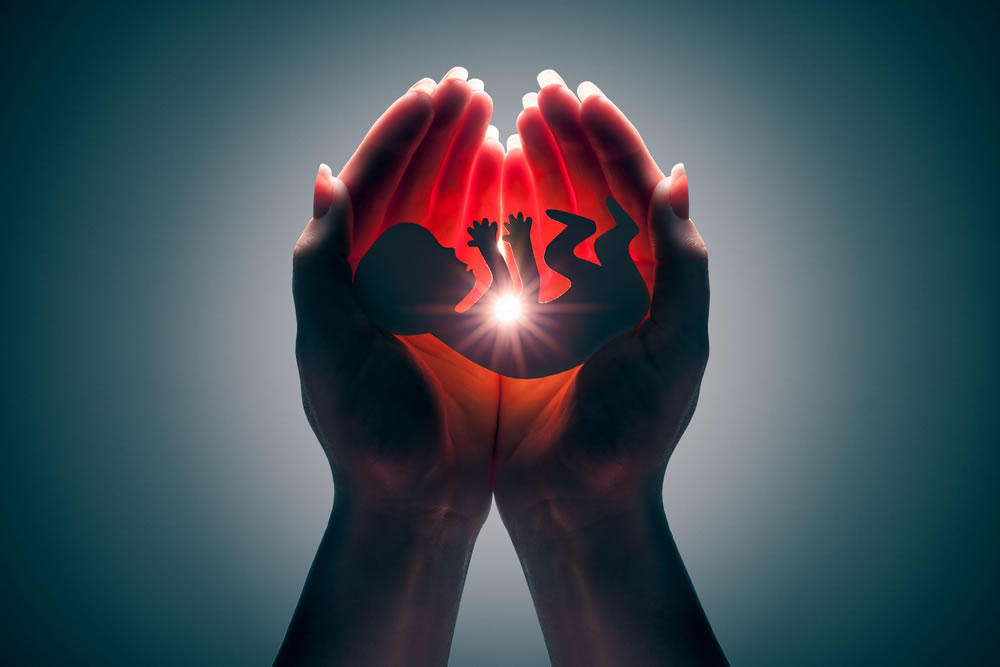 U.S., November 1, 2017: Planned Parenthood has sparked another heated debate over its controversial relationship with the black community after an arm of the abortion giant suggested Tuesday that black women are better off having abortions than carrying a pregnancy to full term in America.
"If you're a Black woman in America, it's statistically safer to have an abortion than to carry a pregnancy to term or give birth #ScaryStats," Planned Parenthood Black Community wrote on Twitter.
"Between 1998-2015, 16.1mil women accessed abortion care, 108 died. Btwn 2011–'13, BW accounted for 43.5 deaths of every 100,000 live births," it further noted, citing CDC statistics showing black women having the highest maternal mortality rates in America.
Planned Parenthood Black Community describes itself as the arm of the abortion rights group that "works toward robust and flourishing African-American communities by partnering with institutions serving African Americans. In collaboration with our partners, PP Black Community seeks to create health equity and prosperity and reduce health disparities, especially around reproductive health."
Many critics blasted the organization's messaging as "vile."
"Disgusting. To encourage ppl like me to end our future children's lives instead of empowering us to grow healthy human beings. Vile," wrote Antonia Okafor, political commentator and CEO and co-founder of the #emPOWERed movement.
Sebastian Gorka, former special assistant to President Donald Trump who resigned from his White House post in August, also slammed Planned Parenthood.
"Planned Parenthood now DIRECTLY targeting unborn Black American children. Just like their founder white supremacist eugenicist M. Sanger," Gorka wrote Tuesday.
Meanwhile, Sanithia Williams, an OB/GYN who is also an abortion provider, responded: "It's true. It's safer to have an abortion than give birth for ALL women. Instead of more Ab laws we need to focus on making birth safer!!"
The Christian Post reached out to Planned Parenthood offices in both New York City and Washington, D.C., on Wednesday for an explanation of the tweet but no one was available.
Planned Parenthood Black Community replied to critics of their messaging on Twitter and dismissed them as "trolls."
"Us: Black moms are dying in child-birth. Also, abortions are medically safe. Anti-abortion trolls: *screams genocide* *sets web on fire*," the group said in a tweet. Attached to the tweet was also a snide GIF of popular female rapper Cardi B who was once a stripper with the words "I feel so damn powerful."
Much of the controversy around Planned Parenthood founder Margaret Sanger's relationship with the black community is said to be driven by a 1939 letter in which she targeted black leaders, particularly preachers, to help tamp down suspicions.
"We do not want word to go out that we want to exterminate the Negro population, and the minister is the man who can straighten out that idea if it ever occurs to any of their more rebellious members," she wrote.
– christian post
Vatican City, October 31, 2017: The Reformation anniversary gives us a renewed impetus to work for reconciliation, said a statement released jointly Tuesday by the Pontifical Council for Promoting Christian Unity and the Lutheran World Federation.
"We recognize that while the past cannot be changed, its influence upon us today can be transformed to become a stimulus for growing communion, and a sign of hope for the world to overcome division and fragmentation," it said Oct. 31.
"Again, it has become clear that what we have in common is far more than that which still divides us."
The statement was released to mark the end of the year of common commemoration of the 500th anniversary of the Reformation.
The Pontifical Council for Promoting Christian Unity is the Roman Curia's office for ecumenism, while the Lutheran World Federation is the largest communion of Lutheran ecclesial communities. In the US, the Lutheran World Federation includes the Evangelical Lutheran Church in America, but neither the Missouri nor Wisconsin Synods.
The common commemoration was opened last year with an ecumenical prayer service between Lutherans and Catholics at the Lutheran cathedral in Lund, Sweden during the Pope's Oct. 31-Nov. 1, 2016 visit.
During the service, Catholics and Lutherans read out five joint ecumenical commitments, including the commitment to always begin from a perspective of unity. Pope Francis and Munib Younan, then-president of the Lutheran World Federation and Lutheran bishop of Jordan and the Holy Land, also signed a joint statement.
Quoting the 2016 declaration between Pope Francis and Younan, this year's statement acknowledged the pain of disunity, particularly that caused by the inability to share in the Eucharist.
"We acknowledge our joint pastoral responsibility to respond to the spiritual thirst and hunger of our people to be one in Christ. We long for this wound in the Body of Christ to be healed. This is the goal of our ecumenical endeavors, which we wish to advance, also by renewing our commitment to theological dialogue," the statement declared.
The new statement also emphasized the commitment to continue this journey toward unity "guided by God's Spirit…according to the will of our Lord Jesus Christ."
With God's help, we hope to continue to seek "substantial consensus" on issues pertaining to the Church, Eucharist, and ministry, it said. "With deep joy and gratitude we trust 'that He who has begun a good work in [us] will complete it until the day of Jesus Christ'."
They gave thanksgiving for the spiritual and theological gifts received through the Reformation, as well as the need to ask forgiveness for failures and the ways in which "Christians have wounded the Body of Christ and offended each other" over the past 500 years.
One positive effect of the past year's common commemoration has been viewing the Reformation with an ecumenical perspective for the first time, it concluded.
"In the face of so many blessings along the way, we raise our hearts in praise of the Triune God for the mercy we receive."
– cna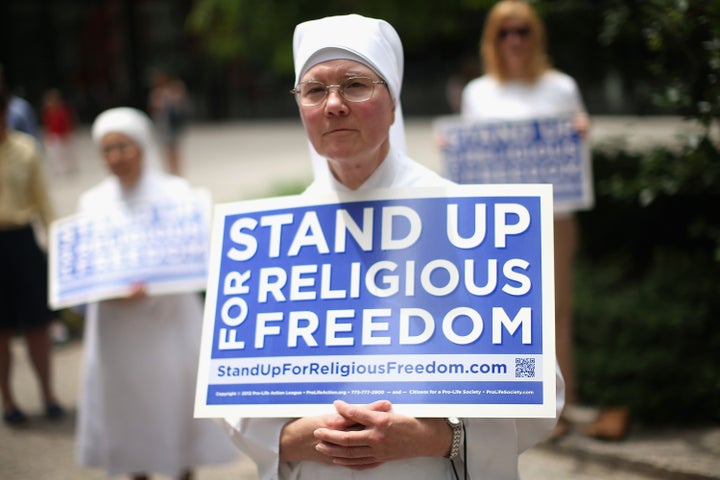 Italy, Oct 28, 2017: In 2003, British Prime Minister Tony Blair was asked about his faith during a magazine interview.  As Blair began to offer an answer, he was interrupted, cut off by Alastair Campbell, the prime minister's director of strategy and communications.
"We don't do God," Campbell said. " I'm sorry."
Campbell seemed to know, in the not-so-distant past of European politics, that any public mention of religion was a serious taboo.
This week, as top ecclesial and political leaders gather in Rome to discuss the future and identity of Europe, Vatican Secretary for Relations with the States Archbishop Paul Gallagher said that religion is no longer a forbidden subject in European politics.
"The days when you could say 'we don't do religion' are over," Gallagher said.
"Many diplomatic services throughout Europe and elsewhere are now running courses, literally accelerated courses to make up time on religion," he said, explaining that political leaders are beginning to recognize that "the world is a very religious place."
Increase in religious affiliation worldwide continues to grow around the world, he said, explaining that this fact "brings with it a very big responsibility for believers."
"I think we have to take that responsibility very seriously, and make sure that religion is making a positive contribution, and that religion, and if you want to say even the Catholic religion, is a part of the solution and not the problem."
Archbishop Gallagher spoke alongside German Cardinal Reinhard Marx at an Oct. 27 press conference on a major conference titled "(Re)Thinking Europe: A Christian Contribution to the Future of the European Project," taking place in Rome this week, drawing hundreds of high-level European Church and political leaders.
Running Oct. 27-29, the conference is organized by the Commission of the Bishops' Conferences of the European Community (COMECE) in partnership with the Holy See, and will consist of a joint, constructive reflection on the challenges facing Europe.
Some 350 participants from 28 delegations representing all E.U. countries are in attendance, including high-level E.U. politicians and Catholic hierarchy, academics, ambassadors, representatives of different Catholic organizations and movements, as well as from other Christian delegations.
Responding to a question posed by CNA on the role religion can play in Europe given its Christian roots, Pope Francis' continuous call to go back to those roots, and the growing presence of Islam, Gallagher said he believes there is a growing awareness and recognition in the world of "the positive things religion does."
Although Europe continues to grapple with a high influx of migrants, Gallagher said,"I think we have to stick to principles.  If we believe in religions freedom, then it is valid for a Hindu, for a Muslim or anybody, as it's valid for a Christian."
The archbishop also said that, in his view, there is "often a great degree of misinformation and 'scaremongering' of the sizes of the Islamic communities around Europe." The Pew Research Center estimates that Muslims constituted 6% of Europe's population in 2010.
While Europe works to carve out a path forward, Gallagher said he believes religions will play "a positive role." This, he said, is first of all because "we do recognize that some of the liberal, secularist thought that was part of much of our societies, is not in good health either."
He said we have to "combat a lot of political correctness that exists within Europe," as well as the tendency "to kick religion into the private sphere and not to allow it to be part of the public debate."
"This is something which we obviously have to work on, and it is a work in progress," he said.
Also weighing in on the issue, Cardinal Marx, Archbishop of Munich, President of the COMECE and Coordinator of the Vatican's Council for the Economy, noted that 20 years ago many people thought "religion would disappear" from society.
"That was the common conviction of many sociologists and politicians, that society will progress and religion will disappear; secularism." However, "that's not the case."
"Religions will be very important for the 21st century," he said, explaining that a key question conference participants will have to ask themselves on the role of religions is: "will they be an instrument of peace and dialogue, or of confrontation?"
For Christians in particular, the Second Vatican Council said the People of God, the Church, are "a sacrament of unity for all human beings," and not just those inside the Church.
"We are not only for us, and the Pope is underlining this," Marx said. "We are not narcissistic, inside ourselves, we are part of a solution for all human beings."
"I do not see that the Church is 'less interesting' in the public world," he said, and stressed the need to continue pursuing a dialogue with Islam, which he noted isn't new to Europe.
"So for the future, I think the Catholic Church has to play a very important role to find ways of dialogue, ways of relating to this religion, which is very important for the 21st century and Europe," he said.
The cardinal said his greatest fear moving forward is not so much that religion will be ignored or eradicated, but that "it will be instrumentalized for other reasons, for political reasons. That will be perhaps the great fear for the 21st century."
– cna
U.S., October 24, 2017: The growing problem of teen suicide is one that should be met with prayer and efforts to help young people develop healthy use of social media, said Archbishop Samuel Aquila of Denver in a recent column.
"Suicide by teens in Colorado is tragically on the rise," Archbishop Aquila said in an Oct. 24 column for the Denver Catholic.
"In 2014 there were 50 students who took their own life, but in 2015 the toll rose to 72 and remained elevated with 68 in 2016," he noted, pointing to several local middle school and high school students who committed suicide at the beginning of this school year.
As the community struggles to make sense of these increasing tragedies, it is important to address the role of social media and its effect on teens' sense of self-worth and struggle with suicidal thoughts, he said.
While the teenage years have "always been a time of uncertainty, as physiological and emotional development takes place," the archbishop said, the pervasive influence of social media in today's world adds a new dimension to adolescence in the 21st century.
"Bullying has always existed, and it always attacks the basic dignity of another human being through demeaning the person. But when we crossed the threshold in 2012 of more than 50 percent of Americans owning a smartphone, bullies gained access to their peers on a scale never seen before."
With studies showing that 3 in 4 teens use Snapchat and Instagram daily, these bullies have access to "a virtual megaphone," around-the-clock availability, and a greater level of anonymity than in previous generations, he said.
"The introduction of these apps has also led to a new phenomenon in which about six percent of teens resort to 'digital self-harm' by posting anonymous hateful messages about themselves for their friends to see," the archbishop continued. "This allows them to get attention from their friends while also airing their internal feelings."
The problem is not just local. Data from recent government surveys indicate a huge spike in rates of adolescent depression and related mental health issues. And a new study in the journal Clinical Psychological Science shows a correlation between social media use and mental health problems among teenagers.
To counter this alarming trend, Archbishop Aquila asked the faithful of the archdiocese to pray for "those who are despairing and are searching for their true identity."
"As Catholics, we need to be people who bring our experience of encountering Jesus' love in prayer, the sacraments, and authentic community with others to those who are awash in the digital realm," he said.
The archbishop also pointed to the words of Pope Francis in his 2014 message for World Communications Day: "It is not enough to be passersby on the digital highways, simply 'connected;' connections need to grow into true encounters. We cannot live apart, closed in on ourselves. We need to love and to be loved. We need tenderness."
Archbishop Aquila pointed to some signs of hope in the culture, particularly an "Offline October" petition in which 1,600 students pledged to delete their social media apps for a month, with the hope that "morale and confidence will be boosted" by doing so.
Efforts such as the Offline October pledge can help today's young people remember that their identity is not rooted in online interactions, the archbishop said.
"The most important thing that we can do for those who are consumed with their online existence is to persistently, lovingly show them that they are a son or daughter of God the Father, and that this is what matters most," he stressed.
– cna
U.S., October 25, 2017: Popular actor Kevin Sorbo and his wife, Sam, are gearing up to release their new faith-based film, "Let There Be Light," and Sam says that like the atheist in the film, she hopes everyone comes to the "knowledge of a loving God" after seeing the movie.
Sorbo directed and starred in "Let There Be Light" along with his wife, who plays the leading female role. The script was originally written by Sam, who said her inspiration behind the movie came from "God."
"Let There Be Light" hits theaters Oct. 27 and follows the story of Dr. Sol Harkens (Kevin Sorbo of "Hercules: The Legendary Journeys," "God's Not Dead") who has never known faith. "After suffering the traumatic loss of his youngest son to cancer, he heads down a path of darkness. Distancing himself from his ex-wife Katy (Sam Sorbo of "Twenty Dollars"), and their two remaining sons, Sol turns to alcohol to numb his pain. Soon his bad habits catch up to him and Sol is involved in a serious car accident that leaves him dead for four minutes before he is resuscitated. What Sol experiences during this time changes his outlook on life and brings him closer to his family and faith."
Sam Sorbo admitted that she could relate to the atheism of the character in her film because she too was once an avid nonbeliever.
"I was agnostic when I was really young. I was raised with this idea that God is only for weak people that need that crutch. There's nothing wrong with that, if you're weak and you need a crutch, that's an okay crutch to have," she told The Christian Post. "I was also raised as a Jew so I went to Jewish Sunday School and I quit that when I was 12 because I wasn't learning anything. For me, I was interested in knowledge and that's not what this Sunday school that I attended was about."
Sorbo began her search for a higher being as a teenager because once she started working and could support herself, she sought to find the meaning and purpose of life. That quest eventually led her to faith in Jesus Christ and she now wants to spread the hope of her faith through her work.
"Society in the anti-church crowd has this idea that somehow church will solve all your problems. Like somehow if you believe in Jesus then you'll be carefree, and that of course, as Christians, we know that nothing can be further from the truth. In fact, Christ promises that there will be times of trial and times of struggle," the Pittsburgh native shared.
"In this film, you have somebody that struggling from a traumatic event, a grief-stricken event and he decides to go at it alone, that's what that looks like," she explained of the atheist approach. "And then you have his wife, who's a Christian, who decides to walk with her loving Savior and that grief looks a lot different when you rely on God."
"Life looks a lot different when you can understand and rely on your knowledge of a Supreme Being of God the Father, a loving God, not just some disjointed spirit in the sky. No, a loving God who has an interest in you, who knew you when you were in your mother's womb. That kind of God."
In "Let There Be Light," the entire Sorbo family plays a role, which was suggested by the movie's co-writer, Dan Gordon. Along with the couple, their two sons, Braeden and Shane, are also featured on the silver screen. Sam Sorbo maintained that her boys, however, were not at all shown any favoritism. They had to audition for the part.
"I didn't want to compromise the movie in any way, so I wasn't going to hire my kids and have them turn in mediocre performances. I'm too much of a purist for that. But they auditioned and they actually blew me away," the proud mom gushed.
The 51-year-old revealed that her sons have been taking acting lessons for years but she had no idea how much improvement they had actually made until their audition.
"I was more than happy to cast them and then I discovered how much money we saved," she laughingly testified. "I didn't have to get them separate living arrangements, I didn't have to fly their parents in. So we saved a lot of money, which was a benefit."
It turns out that on the first day of filming, due to inclement weather, they actually had to shoot their sons' scene before anything else in the film. To their surprise, the kids knew all of their lines and that set the tone for the rest of the cast and crew.
"The attitude on set was like, 'Oh, this is a serious thing, they're taking this seriously. This is for real,'" she described.
Sam Sorbo has been an outspoken advocate for homeschooling and she said that's one of the ways to ensure a godly future for the next generation.
"I'm trying to convince the world not to do public school. Public school is against Christianity," she declared. "Why? Because when they removed the Bible from public schools, they did not remove religion. Therefore, they're teaching a different religion in school than Christianity. You can't have two competing religions; you have to pick one. So they're forcing Christian children to pick their religion. This is what's happening in our schools today."
The actress said parents wonder why their children are having problems with morals and are turning to atheism. But what they do not realize is that it's because of the learning institution many people are putting their children in.
"They're not being taught morals in public school and they're being indoctrinated in the anti-moral, the amoral, humanist, secular belief system, which holds that children are an accident of nature. You try telling a child that he's an accident of nature, you're devaluing him and at the same time, you're telling him survival of the fittest. Darwin!" she explained.
She poked fun at the fact that people do not want their kids to bully others but then allow them to learn how to look out only for themselves in this world.
"If you're raising your child with the understanding that survival of the fittest is the way of the land, then you'd have to answer to me, what's wrong with what ISIS is doing? What's wrong with the attack that just happened in Vegas?" she posed, adding that it's all because of what is taught. "Survival of the fittest! Do not send children to an institution for eight hours of a day, unless it's a Christian institution."
In addition to the book about this new film, the actress has written two books on the subject of homeschooling and parenting — They're Your Kids and Teach From Love, a devotional and a book that chronicles her family's experience with homeschooling.
Ultimately, she said she wants her movie to offer believers and nonbelievers alike the takeaway of "the knowledge of a loving God."
"My hope for this movie is that people open themselves up to the light of the world," she concluded.
Produced by Fox News political commentator Sean Hannity, "Let There Be Light" hits theaters nationwide on Friday. For more information, visit the movie's website.
– christian post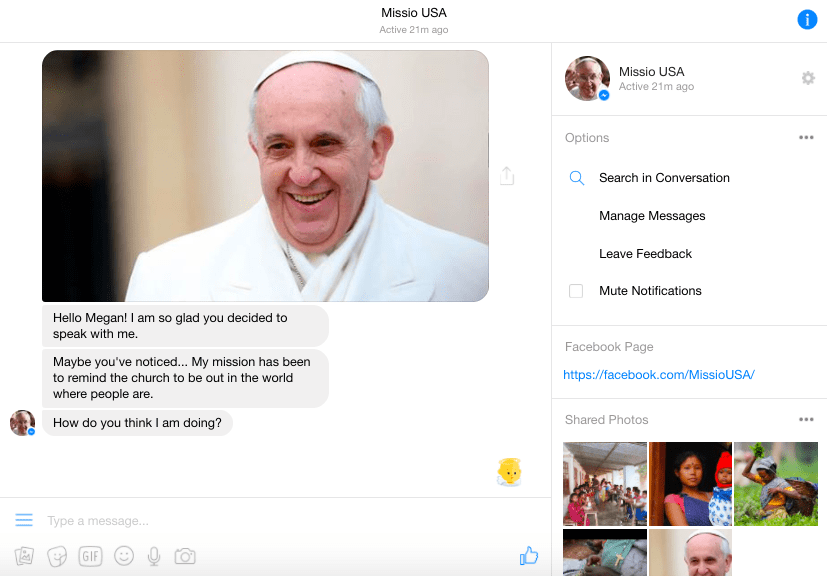 Vatican City, October 24, 2017: An initiative from the Vatican this month is inviting people to virtually connect with Pope Francis and learn more about Church missions and how to support them.
MissioBot is an automatic chat system on Facebook Messenger, which helps guide users through a chat experience with words from Pope Francis. Through any computer or smart phone with the Facebook Messenger app, users can learn about mission projects around the world.
The participant then has the opportunity to pray for particular intentions or donate to specific causes, such as orphans or victims of famine. People will also be able to click on "Papal Wisdom" to receive snippets of advice from Pope Francis.
MissioBot is available for the entire month of October in commemoration of World Mission Sunday, Oct. 22.
In a press conference on Saturday, Cardinal Fernando Filoni, head of the Congregation for the Evangelization of Peoples, emphasized that mission work is an essential aspect of the Christian faith.
"In the Christian faith, there is a pulse that gives life to the body. If the pulse stops, we enter into crisis, shock," said Cardinal Filoni, adding that the pulse of faith is mission work.
Every Christian is called to be a missionary in some way, he said, pointing to Saint Francis Xavier, who spread the Gospel by traveling to Japan, and Saint Therese of the Child Jesus, who supported missionaries through prayer.
World Mission Sunday was begun in 1926 by the Congregation for Divine Worship and is now promoted by the Congregation for the Evangelization of Peoples and the Pontifical Mission Societies.
The Pope's message for the 91st World Mission Day was published by the Vatican earlier this year. Pope Francis said that World Mission Day "is a good opportunity for enabling the missionary heart of Christian communities to join in prayer, testimony of life and communion of goods, in responding to the vast and pressing needs of evangelization."
– cna