U.S., September 19, 2017: Have compassion and empathy: especially for those dealing with struggles which are different than yours.
This is the message Dan Mattson hopes all believers will take from his book, which encourages a new sense of compassion for those who have same-sex attractions.
"I'd encourage them to have compassion and empathy," Mattson said of his message to believers. "Maybe they can't empathize, but they can have compassion."
In his book, "Why I Don't Call Myself Gay," Mattson discusses his objection to the use of the term "gay" – as well as the term "straight" – in reference to human sexuality.
The Church's traditional view of sexuality – which does not define persons by their attractions – presents a fuller vision of human identity and life, he said. Taken alongside other teachings on suffering and chastity more broadly, this vision for sexuality leads to true happiness for all persons, including those who experience same-sex attractions.
His writings have gained the support of Archbishop Jose Gomez of Los Angeles and Cardinal Robert Sarah, prefect of the Congregation for Divine Worship and the Discipline of Sacraments, who wrote the foreword for the book and mentioned his support for the book in a recent op-ed in the Wall Street Journal.
Mattson encouraged those who experience same-sex attractions, along with their family and friends, to have faith in the Church and the Gospel. "Have confidence that the Church is the place for all of (your) loved ones, on any teaching on these issues of such contention these days," he said. "It's the source where we're going to find freedom and true joy. We really have to believe that chastity is the Good News."
He also encouraged people with loved ones experiencing these attractions "to journey along with them, accompany them in love." He advised family to "listen to their story" before talking about morality. "Trust that God, in the fullness of time, is going to bring this person back, but equip yourself with good ways to talk about the Church's teaching as Good News and trust that God will give the opportunity and give you that chance to help bring them home."
Mattson explained that he wrote the book as a way of making sense of his own experiences with same-sex attraction, and questions he had when he was younger. "Hopefully it will help some other people who love God and want to follow him," he offered.
He said that, in his experience, the modern way of talking about sexuality in which people are considered as either "gay" or "straight" misses the context the Church provides, which looks at a person as a whole. The same element of Church teaching which deals with sexuality also says "that we all have challenges to growth," Mattson explained. "Well, this is a challenge to growth for me, but the Catechism tells me what to do and the Church is there to guide me, just like everyone else."
One of the challenges to growth that Mattson hopes his experience can illuminate is the challenge of loneliness – "a fundamental question that anyone with same-sex attraction has to ask."
He explained that readers of all backgrounds have offered that they found his testimony to the experience of loneliness fruitful and enlightening, and said that the struggles of loneliness faced by those with same-sex attraction can help others who may be single or widowed or divorced facing the same battle.
"I have found that I write quite a bit about friendship and how good, healthy friendships have helped me, but also I've come to realize that loneliness can be a gift we can enter into," he said.
= cna
U.S., September 19, 2017: Parents of students at a California public charter school have voiced their objections to children being taught lessons on transgender identity and a kindergarten teacher re-introducing a male pupil as a girl without notifying them first.
"To teach my kid that biologically this boy was born a boy and to teach him that now he's a girl is very confusing and I feel that it's a lie," parent Chelsea McQuistan told Fox 40 on Monday.
The Rocklin Academy Gateway School board meeting, which heard from parents, teachers and stakeholders about the controversial transgender lessons in question, reportedly attracted such a large crowd that it had to be moved to the Rocklin Events Center.
Some parents have been raising concerns over the teacher reading from books about being transgender, and reintroducing a male student as a girl to the class.
The parents said they should have been informed beforehand of the planned lessons.
Chad Clark, another parent, said at the school board meeting: "There should be an 'opt out' procedure in there by me, from the teachers, on what is going on in the classroom. We get notifications about parking and everything under the sun. This shouldn't be an issue. We should receive emails. We should receive something from them."
Others who supported the teaching of transgender lessons argued that the "cycle of fear and hatred" must end.
"Those others who aren't like me … that cycle has to be broken somewhere," one of the supporters, who wasn't named, told the board, according to ABC 10. "And the best place to start that process is with our youngest children so they don't ever learn to hate."
Elizabeth Ashford, spokesperson for Rocklin Academy Gateway School, has further argued that gender identity is part of a protected class of characteristics that include religion, race, ethnicity, disability.
"So, it is definitely an environment where the school's trying to make it an equal environment and a safe environment for all students," Ashford said.
As The Christian Post reported back in August, the teacher read from I am Jazz and The Red Crayon, two children's books that teach children aged 4 to 8 about transgender identity.
Conservative voices, such as Jonathan Keller, president of the California Family Council, told LifeSiteNews that the teacher had "put on this more-or-less transition ceremony" for the transitioning child.
Rocklin Academy rejected that a "ceremony" or "celebration" of a student's gender transition had taken place, though it admitted that a kindergartner's transition did indeed occur at school.
"The gender transition of the student had occurred before the day the book was read. Whether or not this book was read, the topic itself would have come up. The school has neither encouraged nor discouraged the transition of any student. When a student does transition, we will comply with all state and federal laws," the statement read.
Days later, Rocklin Academy sent another statement to CP concerning the controversy over its decision to send a first grade student to the principal's office for not referring to her biologically male transgender classmate as a female, by stressing that state and federal law oblige it to respond in such a way.
"State (CA Education Code Section 220) and federal law (Title IX) creates many classes of people that are protected from discrimination under the law. Religion, nationality, and gender are among the protected classes. Schools that receive state and federal funds — including all California charter schools — are required to abide by these laws," the school said.
"In practical terms, this means Rocklin Academy is required by the law to call students by their preferred gender. The school has a legal responsibility to prevent or stop harassment of protected classes."
- christian post
U.S., September 16, 2017: A Wisconsin church was vandalized with anti-Christian and sexually explicit graffiti during LGBT Pride last weekend.
Cornerstone Community Church and other businesses in La Crosse, Wisconsin, were attacked by vandals who spray-painted message on the buildings' walls and windows using red spray paint.
"Vandals spray painted an orange sun and circle, male anatomy, 'Love 4 NOT H8,' 'Love' and 'LGBTQ' in an umbrella and an upside down cross," the La Cross Tribune reported on Wednesday.
"In the same alley, 'Sinners' was written in spray paint next to a derogatory hand sign, 'I'M GAY,' and 'Femme F. The Church' with an upside down cross and flower on the wall of the Cornerstone Community Church."
The Christian Post reached out to Cornerstone Community Church for comment and will update this article with any response we receive.
Other businesses atttacked by the vandals include the Cavalier Theater, and Sequel Resale Shop and Credit Bureau Data.
Jason LaCourse, owner of the Cavalier Theater, told CP that the graffiti was discovered on Sept. 9 and as of Thursday was still on the buildings.
As to possible motives, LaCourse noted that there was a "Pride weekend happening in town," but also that the theater and church are located near many bars and a University of Wisconsin campus.
"On weekend nights there's a steady parade of students walking past my building on their way home after being downtown. There is quite often behaviors that happen in that alley that are fitting to college students being drunk," said LaCourse.
"I would guess somebody who was taking part in Pride weekend got emotionally charged from celebrating and wanted to share their slogans via spray-painted messages."
LaCourse told CP that graffiti incidents in the area have been so problematic that "a few years ago a city ordinance was passed to curb this activity."
"It's not the business that is being targeted as much as the alley is dark and conducive to such behavior," LaCourse suggested, speaking about his theater, not the church.
Founded in 1997 and affiliated with Converge Great Lakes and the Willow Creek Association, Cornerstone's Statement of Faith identifies the Bible as the "sole basis of our belief."
"We believe that Scripture in its entirety originated with God, and that it was written under His inspiration. Scripture thus at one and the same time speaks with the authority of God and reflects the backgrounds, styles, and vocabularies of the human authors," the statement reads in part.
"We hold that the Scriptures are infallible and inerrant in the original manuscripts. They are the unique, full, and final authority on all matters of faith and practice and there are no other writings similarly inspired by God."
- christian post
U.K., September 15, 2017: Only 6 percent of British adults are practicing Christians, a new survey commissioned by the Church of England has found, defining the term as those who read the Bible, pray, and attend church on a regular basis.
The ComRes survey found that the reported decline of Christian believers in the U.K. might be even steeper than suggested, as 55 percent of the faithful admitted they never read the Bible. Another 33 percent said they never attend church, while 29 percent said they never pray.
The poll interviewed 8,150 adults in the U.K. between March 17 and March 31, and summarized in its findings that close to half, or 51 percent of adults, identified as Christians.
Rachel Jordan, the Church of England's National Mission and Evangelism adviser, said in an article for The Telegraph on Thursday that the results convey "a real sense of the scale of the task ahead."
"There are lots of surveys out there which measure how many people nominally identify as Christians," Jordan added.
"But we, as a group of leaders across denominations committed to evangelism, wanted to devise a measure which shows us who the most committed people are — those who themselves might be willing to take on the task of spreading the Good News of Jesus in His country."
She said there is "no point being woolly" when it comes to defining a practicing Christian, adding that it wouldn't help with evangelism.
"We are really happy when people in this country chose to affiliate with us, identifying as both Christian and Church of England even if in practice they don't always choose to join in our churches," Jordan continued.
"But this does show that we need to do more to connect with those people and explore ways to draw them into the wider church community."
Survey data from NatCen's British Social Attitudes earlier in September put the non-religious population in the U.K. even higher, at 53 percent.
The data noted that only 15 percent of respondents would describe themselves as Anglicans. What is more, 71 percent of young people aged 18–24 said they follow no religion.
The Bishop of Liverpool, the Rt. Rev. Paul Bayes, said in a statement sent to The Christian Post at the time that "God remains relevant," however.
"The Church remains relevant. We in the Church, and all who love the Church, need to keep finding ways to show and tell those who say they have 'no religion' that faith — faith in the God who loves them still — can make that life-transforming difference for them and for the world," Bayes said.
- christian post
U.S., September 13, 2017: An interfaith gathering of religious leaders will sign a historic declaration for human rights and religious freedom authored by the King of Bahrain Hamad bin Isa Al Khalifa at a signing ceremony in Los Angeles Wednesday evening.
Religious leaders of all stripes — Muslims, Christians, Jews and others — will gather at The Beverly Wilshire Hotel Wednesday night to commemorate the official release of the "The Kingdom of Bahrain Declaration" at an event that will be attended by the Sunni king's son, Prince Nasser bin Hamad Al Khalifa.
Composed by King Hamad and signed on July 3, the "Bahrain Declaration" calls for an end to religious extremism and calls for greater religious tolerance in not only the Middle East but across the globe.
"For hundreds of years, different religious groups have lived harmoniously, side by side, in the Kingdom of Bahrain, fully practicing the tenets of their respective faiths in blessed, peaceful coexistence with each other," the declaration, which was obtained by The Christian Post, reads. "We humbly offer the centuries-old traditional Bahraini way of life as an example to inspire others around these principles."
The declaration's section on "religious faith and expression" explains that while religion is most often used for good, religion "is too frequently used as a divine sanction to spread hate and dissension." The declaration condemns any kind of religious teaching that incites violence or terror.
"We declare that when extremist clergy preach hatred, violence and seek to sow the seeds of discord, that they are inciting the desecration of the name of God," the declaration asserts.
The declaration's second section argues that "God instructs us to exercise the divine gift of freedom of choice."
"[T]herefore we declare that compelled religion cannot bring a person into a meaningful relationship with God," it adds. "Therefore, we unequivocally reject compelled observance. Furthermore, we declare that every individual has the freedom to practice their religion, providing they do no harm to others, respect the laws of the land, and accept responsibility, spiritually and materially, for their choices."
In a section titled "The Determination of God's Will," the declaration states that "all enlightened religions reject invoking His name to legitimize violence against innocent people."
"This is a clear desecration of His name, rather than a fulfillment of His will," the declaration reads. "We, therefore, declare that any act that is found morally repugnant by the vast majority of mankind and is insulting to our collective moral conscience cannot be part of God's revealed will."
"We call upon all good people of Faith to disown practices such as the sowing of terror, the encouragement of extremism and radicalization, suicide bombing, promotion of sexual slavery, and the abuse of women and children," the declaration adds.
Expected to sign the statement during the ceremony are the Rev. Johnnie Moore, an author, human rights activist and former vice president of communications at Liberty University; Rabbi Marvin Hier, the founder and dean of the Jewish human rights organization Simon Wiesenthal Center and Museum of Tolerance in Los Angeles; and Prince Nasser.
"One thing that I have learned today is that if our pace is to change one person at a time, so let it be so," Nasser said during a press conference Wednesday afternoon at the Museum of Tolerance in Los Angeles. "Let's change one person at a time, the world is actually gaining one person at a time, and this is the way we do it. It's just a consistency and we put in place a vision and plan and we just work hard. This whole new world needs hope, needs people like us to take things forward. With forgiveness and tolerance, this world is going to be a much better world."
Moore, who is an evangelical public relations professional an informal advisor to the Donald Trump administration, spoke at the press conference directly after the prince and said that hundreds of other leading religious figures from Christian, Sunni, Shia, Ahmadi, Jewish, Hindu and Baha'i faiths who have come from all over the world are expected to attend the signing ceremony Wednesday night.
Expected attendees include popular California evangelist Greg Laurie and Bishop Joseph D'Souza, the president of the All India Christian Council. Each leader in attendance will be invited to sign the declaration at the end of the night.
"What you will hear be announced tonight is a historic document. This is not an insignificant document. This is not words thrown arbitrarily on paper. These are words that have meaning baked into them. Every single part of that document says something strong," explained Moore, who's also a senior adviser to CP. "If this document is lived out in the world we are living in today, the world will change drastically. In a time when the worst of religion is on grand display, making countless of millions of people's lives miserable, today, we will highlight the best of faith, as demonstrated by the diversity in this room and the [prince's] words you just heard."
The release of the "Bahrain Declaration" comes in the same year that Bahrain, which is attached by a bridge to Saudi Arabia, was labeled by the United States Commission on International Religious Freedom as a "Tier 2″ country for the first time. USCIRF's "Tier 2″ recommendation highlights nations "in which the [religious freedom] violations engaged in or tolerated by the government are serious."
Bahrain is also listed as the No. 48 worst country in the world when it comes to Christian persecution on Open Doors USA's 2017 World Watch List.
In its 2017 annual report, USCIRF claimed that Bahrain has "deteriorating" religious freedom conditions and cited a "sharp increase in the number of interrogations, arrests, convictions, and arbitrary detentions of Shia Muslim clerics, mostly on unfounded and unsubstantiated charges."
The report also stated that some Shia clerics were denied access to certain mosques and banned from conducting Friday prayers. The report added that there was continued "discrimination against Shia Muslims in government employment and other public and social services."
"No nation is perfect, but my perspective on Bahrain isn't based upon speculation. I went there, and assessed the situation myself," Moore told CP when asked about the criticisms of Bahrain.
"What I find particularly curious is that many of those most critical of Bahrain normally fit into one or both categories: either they haven't been to Bahrain themselves or they are far less critical of [the Shia nation of] Iran than they are of Bahrain. Isn't that strange?" Moore asserted. "Bahrain's critics have far less criticism for Iran than they do for Bahrain. Curious, isn't it? It seems to me that there's something more sinister afoot. Of course, some believe Iran would love to use surrogates to agitate a nation connected by a bridge to Saudi Arabia."
Moore added that even Bahrain's critics should be willing to praise the declaration for an "encouraging step in the right direction."
"After all, the declaration represents a promise to protect religious freedom," he added. "The words in the declaration are clear and they are strong. But just watch, Bahrain's critics won't praise this statement on religious freedom for it isn't actually about religious freedom to them. It's about something else all together."
"Anyone that has a question about Bahrain ought to just do what I did and go over there and see it for themselves," Moore concluded. "What I found was amazing, and I'm proud to tell their story."
- christian post
Australia, September 11, 2017: The mother of a 12-year-old Australian boy admitted that she fed him hormones for two years after he expressed a desire to "transition" to a girl, but then the boy changed his mind and said he would now like to go back to his biological sex.
An episode of "60 Minutes Australia" features the boy, identified as Patrick Mitchell, and his mother, identified as Alison.
"You wish you could just change everything about you, you just see any girl and you say I'd kill to be like that," he said in the show, according to Independent.
"When he was young he would dress up in girls' clothes," Patrick's mother recalled. "At one stage he did say to me, could he be taken to the doctor to be changed into a girl."
Patrick added, "I felt like I was on the right path to becoming a girl."
The boy heard the word "trans" for the first time when he was seven.
"Because I'd always identified with girls I thought, well, this makes sense, I probably am a girl," Now To Love quotes Patrick as saying. "When everyone went to sleep I'd stay up late researching trans people and potential surgeries that I could have to make me look more feminine."
The doctors diagnosed him with "gender dysphoria," the condition of feeling one's emotional and psychological identity as male or female to be opposite to one's biological sex.
However, early this year, a female tutor referred to him as "one of the girls" during a lesson, and "I began to realize I was actually comfortable in my body. Every day I just felt better … I was experiencing discomfort in my gender … but that's no longer the case."
Patrick told his mother about it. "He looked me in the eye and said, 'I'm just not sure that I am a girl,'" the mother recalled. She agreed to help him revert to his biological sex, and he will now undergo a surgery to remove excess breast tissue.
A 2017 report, titled "Growing Pains: Problems with Puberty Suppression in Treating Gender Dysphoria" and written by Paul W. Hruz, Lawrence S. Mayer, Paul R. McHugh, noted that a prominent treatment approach today is called "gender-affirming," where the therapist accepts, rather than challenges, the patient's self-understanding as being the opposite sex.
"Gender-affirming models of treatment are sometimes applied even to very young children. Often, the gender-affirming approach is followed in later youth and adulthood by hormonal and surgical interventions intended to make patients' appearances align more closely with their gender identity than their biological sex. In order to improve the success of the physical changes, interventions at younger ages are increasingly being recommended," they observed while cautioning against the dangers of medical interventions.
Such treatments as puberty blocking hormones are still in their experimental stages and to expose children to such treatments is to endanger them, they stressed.
The scholars also noted that gender dysphoria in children does not often persist into adulthood.
In biological males, persistence of gender dysphoria has ranged from 2.2 to 30 percent, and in biological females, persistence has ranged from 12 to 50 percent, according to the American Psychiatric Association.
- christian post
Rome, September 12, 2017: Bones that allegedly belong to St. Peter, one of Jesus Christ's apostles, who is also considered by Roman Catholics to be the first pope, have been uncovered at a 1,000-year-old church in Rome.
The Telegraph reported on Monday that a worker found the bones inside clay pots at the Church of Santa Maria in Cappella in the district of Trastevere.
The pots were apparently buried beneath a large marble slab near the medieval altar of the church, which has been closed for 35 years due to damage.
"There were two clay pots which were inscribed with the names of early popes – Peter, Felix, Callixtus and Cornelius. I'm not an archaeologist but I understood immediately that they were very old," the workman told Rai Uno, an Italian television channel. "Looking at them, I felt very emotional."
Peter is known for having denied Christ three times in the Bible, before repenting, and later on being crucified upside down in Rome in the first century as a Christian martyr.
The Vatican said that it will wait for a DNA comparison between the newly discovered relics and other bones of St. Peter under its care before it comments on the issue.
The Telegraph suggested that the reason the bones may have been kept at the Santa Maria church is due to internal power struggles in the Catholic Church during Pope Urban II's reign in the 11th century.
"While Urban was generally recognized as the legitimate pope, he faced a challenge from an anti-pope, Clement III, who had set up a rival power base in Rome, backed by the Holy Roman Emperor Henry IV," the article stated.
"The church in Trastevere was closely linked to Pope Urban and may have been seen by him as a secure place in which to hide the bones."
Pope Francis publicly unveiled other bone fragments believed to belong to Peter back in 2013, which were forensically examined in the 1960s and showed that they came from a man in his early sixties who lived in the first century.
Those remains are believed to have been interred in a tomb on Vatican Hill following Peter's death, with St. Peter's Basilica eventually being built over it.
Excavations following World War II under the basilica found a funerary monument with a casket built in honor of Peter and a Greek engraving reading "Peter is here," which contained the relics.
A team of archaeologists announced in August that they may have found Peter's home in a lost Roman imperial city off of the Sea of Galilee, where the apostles Philip and Andrew also lived.
The Kinneret College researchers said at the time that the city of Julias was built as part of the town of Bethsaida, mentioned in John 1:44 as the hometown of the three apostles.
Haaretz cautioned that there are "three candidates for Julias," however, including two earlier discovered sites by Galilee.
- christian post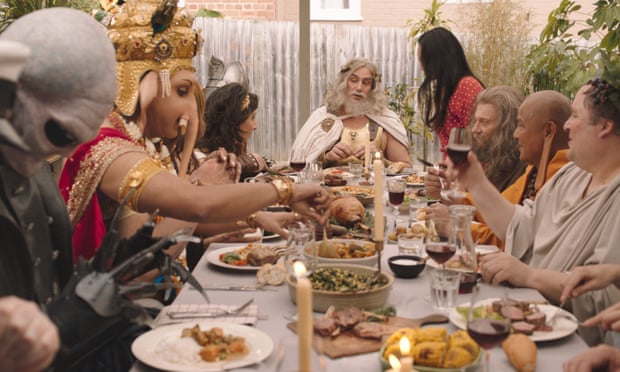 Australia, September 6, 2017: A spring lamb campaign full of deities feasting on meat and making religious jokes has been condemned by Hindu and Anglican representatives as insensitive and disrespectful.
Created by the Monkeys, the television commercial plays on the idea that anyone can enjoy lamb no matter their background, religious beliefs or dietary requirements and was designed to be playful but not offensive.
The Hindu Council of Australia called for the ad to be banned, saying it was a "crude and deplorable attempt by Meat and Livestock Australia to use images of Ganesha to promote lamb consumption".
Balesh Dhankhar, a spokesman for the Hindu Council of Australia, said the ad had angered a large number of Hindus in Australia.
The council said Ganesha celebrations were in full swing and it was a special time for the Hindu community in Australia.
Melbourne Anglican bishop Philip Huggins said Anglicans shared the disappointment and anger of Australia's Hindu community.
The Advertising Standards Board had received 30 complaints about the ad by Wednesday, a spokeswoman told Guardian Australia.
The advertiser would be asked for its response to the complaints and a meeting to discuss banning the ad would be held within a fortnight, she said.
If the ad was deemed to have breached the self-regulatory code of ethics for advertising it would be withdrawn.
The US-based president of the Universal Society of Hinduism, Rajan Zed, said linking the highly revered Lord Ganesha with meat was disrespectful and called on Meat and Livestock Australia to withdraw the ad and apologise.
Lord Ganesha was "meant to be worshipped in temples or home shrines and not to be used in selling lamb meat for mercantile greed," Zed said, as news of the offending commercial was reported in the Indian press.
Huggins said the advertisement not only portrayed the vegetarian Hindu God Ganesha eating meat, but put "Jesus Christ at the same table as L Ron Hubbard and trivialises one of Jesus's most beautiful miracles".
"The advertisement is cleverly disrespectful," he said. "It seems that for an ad to stand out there has to be some bizarre or shocking component. Otherwise the fear is it will not be noticed."
The ad features Scientology founder Hubbard dining with gods, goddesses and prophets including Aphrodite, Zeus and Buddha during which Jesus performs a "reverse miracle" by turning wine into water so a Grecian goddess who is "designated driver" can safely drive home.
Hubbard jokes that he gave up a meal with celebrity Scientology adherent Tom Cruise to attend.
Huggins said he risked drawing attention to the ad but he could not ignore the insulting portrayal.
It is not the first time the industry has offended sections of the community. In recent years vegans and Indigenous groups have complained of being mocked and degraded by the campaign to sell more lamb.
The only major religious figure to be absent from the table is the prophet Muhammad who excuses himself from the occasion by telephone because he has to pick up a child from daycare.
A 2016 Australia Day ad, starring SBS newsreader Lee Lin Chin was cleared by the Advertising Standards Bureau despite attracting more than 600 complaints.
The group marketing manager at Meat & Livestock Australia, Andrew Howie, said the campaign was designed to "push the creative boundaries".
"In this latest campaign we are showing no matter your beliefs, background or persuasion, the one thing we can all come together and unite over is lamb," he said.
- the guardian
U.K, September 5, 2017: The decline of Christianity in the UK has reached record proportions according to new statistics released this week by the British Social Attitudes Survey. People with religious faith are outnumbered in Britain in the widest gap recorded by the annual study.
The proportion of Britons declaring they have no religion has risen from 48 per dent in 2015 to 53 per cent last year.
The first Social Attitudes Survey in 1983 found that 69 per cent of the 3000 surveyed declared a religious faith. Since then there has been steady decline to 49 per cent in 2009 and 47 per cent today.
In particular young people, aged between 18 and 24,  are most likely to declare that they have no religion. In 2015, 62 per cent of young people said they had no religion and this increased to 71 per cent last year. But those without no religion are in a minority among older age groups.
The Church of England Bishop of Chelmsford, the Rt Rev Stephen Cottrell said he was troubled by the decline but called on the church to continue to share its teachings on "justice and peace".
"We will get on with living and sharing that vision with a few dozen people, a few thousand people, or a few million people."
The Church of England takes a particular 'hit' in the survey. The proportion of people describing themselves as 'Anglican' (Church of England) had dropped from 30 per cent in 200- to 15 per cent last year and only three per cent of 18-24 year-olds.
But the Bishop of Liverpool, Paul Bayes, claimed to welcome the fact that people were more "honest" and said they had no religion "rather than casually saying they are C of E".
There is better news for the Roman Catholic Church with the proportion of Catholics remaining stable between eight and 12 per cent from 1983 to 2016. Other Christian groups have held their own unchanged at 17 per cent.
Secularists called for a rethink on the Establishment of the Church of England in the British constitution. The National Secular Society said Bishops should no longer be included in the House of Lords, the second chamber of Parliament.
- global christian news
U.S., September 8, 2017: The Trump administration has outlined its support for Christian baker Jack Phillips, who declined to make a cake for a gay wedding, and his Masterpiece Cakeshop in Colorado in a friend-of-the-court brief to the U.S. Supreme Court.
"Forcing Phillips to create expression for and participate in a ceremony that violates his sincerely held religious beliefs invades his First Amendment rights," Acting Solicitor General Jeff Wall wrote for the Justice Department, according to CNN.
"The government may not enact content-based laws commanding a speaker to engage in protected expression: An artist cannot be forced to paint, a musician cannot be forced to play, and a poet cannot be forced to write."
The brief was filed Thursday, following several other friend-of-the-court briefs, including one from the Billy Graham Evangelistic Association. Masterpiece Cakeshop v. Colorado Civil Rights Commission is a major religious liberty case that is being closely watched by both sides of the same-sex marriage debate.
Phillips is challenging lower court decisions that found him guilty of discriminating against same-sex couple Dave Mullins and Charlie Craig in 2012, when he refused to make a cake for their wedding.
The Supreme Court announced in June that it will hear the Christian baker's appeal. Alliance Defending Freedom lawyers filed their opening brief on behalf of Phillips last week.
Justice Department spokesperson Lauren Ehrsam said in relation to the filing that the "First Amendment protects the right of free expression for all Americans."
The American Civil Liberties Union, which is representing the same-sex couple, slammed the decision to file the brief.
"This Justice Department has already made its hostility to the rights of LGBT people and so many others crystal clear," said Louise Melling, ACLU's deputy legal director.
"But this brief was shocking, even for this administration. What the Trump Administration is advocating for is nothing short of a constitutional right to discriminate."
Attorney General Ken Paxton also led a 20-state coalition in filing an amicus brief to the Supreme Court in support of Phillips, highlighting the artist's "constitutionally-protected right to religious liberty."
"The Supreme Court has the opportunity to affirm that the First Amendment contains robust protections for people who choose to operate their businesses consistent with their faith," Paxton said.
"The owner of Masterpiece Cakeshop should be allowed to choose what he will or won't create without fear of being unjustly punished by the government."
Texas joined in the amicus brief along with the attorneys general of Alabama, Arizona, Arkansas, Idaho, Kentucky, Louisiana, Missouri, Montana, Nebraska, Nevada, North Dakota, Oklahoma, South Carolina, South Dakota, Tennessee, Utah, West Virginia and Wisconsin, and Governor LePage of Maine.
The ADF brief last week noted that Phillips has relied on his Christian faith to guide his work for decades.
"Those beliefs inspire him to love and serve people from all walks of life, but he can only create cakes that are consistent with the tenets of his faith. His decisions on whether to design a specific custom cake have never focused on who the customer is, but on what the custom cake will express or celebrate," ADF said.
Over the last two decades as a baker in Colorado, Phillips has also declined to make Halloween cakes, anti-American cakes, adult-themed cakes, and cakes containing alcohol, among others.
- christian post