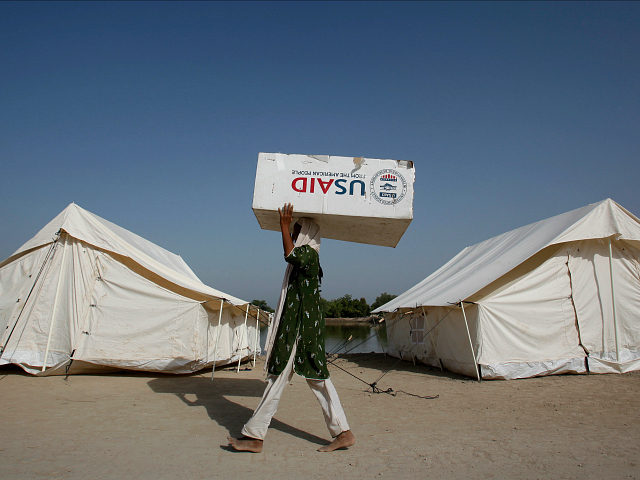 U.S., January 16, 2018: US promised help appears finally to be on the way to thousands of desperate Christian, Yazidi and other minority refugees in northern Iraq, more than two months after Vice President Mike Pence October 25 promise to "stop funding ineffective relief efforts at the United Nations" and "provide support directly to persecuted communities through USAID."
According to a report by George Russell for Foxnews.com, after some complicated negotiation between the Trump administration and the U.N., USAID has announced a revamp of its announced $150 million contribution to a projected $420 million Funding Facility for Stabilization in Iraq (FFS) — which is disbursed through the United Nations Development Program (UNDP) — to specifically "address the needs of vulnerable religious and ethnic minorities communities" in Iraq's northerly Ninevah province.
A $55 million slice of a $75 million USAID payment already forwarded to the UNDP fund is to be especially aimed at "those who have been victims of atrocities by ISIS," the release declares.
The USAID announcement represented the outcome of an elaborate bureaucratic process that revved up after Vice President Pence personally intervened to promise some measure of relief to the savagely battered Christian and other minority populations, which were murdered, plundered and expelled from their millennia-old homelands by radical Islamists between 2015 and the ostensible defeat of ISIS in the past year.
One of the agency's top officials, USAID Counselor Tom Staal, subsequently told Fox News that the $55 million was "specifically for minorities," and that new agreements with UNDP even mentioned "specific towns" where the money was to be spent.
Whether the U.N. agency will get another $75 million promised for its stabilization fund "will depend on UNDP's success in putting in place additional accountability, transparency, and due-diligence measures for the FFS," as USAID declared in a press release.
USAID is far and away the biggest contributor to the stabilization fund, handing over more than $115 million in 2016 out of $315 million actually donated.
Previously, the UN had insisted it was administering its relief aid in "an impartial manner on the basis of greatest need," according to a spokesperson for UN Secretary General António Guterres some weeks ago.
But critics instead found that the "needs blind" approach was leaving the minority communities in the lurch and forcing desperate refugees to choose flight from their ancestral homelands if they hoped to survive.
In fact, when examined closely on the ground, the religious minority recovery needs, critics charged, have been scandalously scanted or ignored in the U.N. reconstruction efforts.
Pence's call for change and criticism of U.N. action galvanized a variety of bureaucratic actions, including a whirlwind, five-day trip to the suffering region by USAID counselor Staal, the agency's highest ranking career foreign service officer.
Staal told Fox News he met directly with Iraqi government officials as well as religious and community leaders in the Ninevah area — roughly 100 people in all — and even attended the rededication of a 3rd Century Christian church that had been ravaged by ISIS.
The trip was followed by a flurry of meetings at the White House and on Capitol Hill that added further to the aid package. Above and beyond the refocusing the $150 million, another $10 million to $10.5 million of emergency humanitarian assistance had been sent to the beleaguered communities, Staal said, for supplies such as food and blankets for refugees still living in hand-to-mouth conditions.
Atop that, $10 million in State Department in discretionary funding aimed at such things as combating the effects of gender-based violence resulting from ISIS horrifying campaign of rape and kidnapping of sex slaves from the Christian and Yazidi populations.
Staal also said that a variety of new oversight procedures have been put in place by USAID in a written contract to ensure that UNDP does its job effectively.
They include the US hiring of "third-party" — non UN — oversight of the agency's work, and an arrangement that gives the U.S. agency's Inspector General access to UNDP's books, in addition to "more frequent, detailed reporting" on the agency's work and progress.
In addition, he said, UNDP had added its own independent oversight and had banned sub-contracting on the Ninevah projects, meaning that all contractors would report directly to the U.N. agency.
For its part, UNDP told Fox News through a spokesperson that it already has "strong oversight over all contracts to ensure that all funds are spent transparently and with full value for money."
The UNDP spokesperson also declared that $37 million is currently "being channeled through UNDP to stabilization projects in high priority minority communities. In coming weeks, this will increase to more than $56 million" — a number more or less the same as the amount of rechanneled U.S. aid.
– global christian news
Belgium, January 15, 2018: Roman Catholic Church representatives are warning that Belgium's controversial euthanasia law is being abused, with patients being killed without the proper legal checks.
Auxiliary Bishop Jean Kockerols of Mechelen-Brussels told Catholic News Service last week that it is not only the Church that is expressing its concerns, but doctors and medical professionals as well.
He pointed out that Federal Euthanasia Control and Evaluation Commission has failed to refer a single case of suspected abuse of the law for investigation.
"It's shocking that, 15 years since its creation, this commission has not referred a single file to prosecutors or condemned a single doctor," the Belgian church's Cathobel news agency said in a report.
"It is acting as judge and jury, and not fulfilling its role. It isn't broadening application of the law, but violating it."
It shared of one incident where a commission member resigned after a dementia patient was killed without consent, but the person's case was not referred to prosecutors.
Other complaints centered around the family of a 38-year autism sufferer, whose life was ended without the required documentation.
Health Ministry data reveals that euthanasia deaths are increasing by 27 percent annually in Belgium, where the practice has been legal since 2002.
Kockerols stated, "We're against euthanasia in every form, and the Church's official position is well known."
The bishop said that he is glad to see that debate in Belgian society over euthanasia practices is increasing.
"Even if there's little chance for now of legal changes, the Church can work on a moral and pastoral level with medical staff and support critical voices," Kockerols continued.
"We've been discussing tougher application of church rules to those who endorse euthanasia. But we also have to be prudent, considering each situation with its nuances."
Despite the Catholic Church's stated opposition to euthanasia, some groups, such as the Brothers of Charity, have been under fire for reportedly offering the practice at all 15 of its psychiatric hospital centers.
Pope Francis ordered an end to the arrangement when he found out about it in August 2017.
Rene Stockman, the charity's superior general, who delivered the letter from Francis at the time, said that "this is the very first time a Christian organization states that euthanasia is an ordinary medical practice that falls under the physician's therapeutic freedom."
"This is disloyal, outrageous and unacceptable," Stockman added.
The Brothers of Charity later explained that patients who request to die are granted such permission only if they are in a state of "unbearable suffering," though it did not reveal whether such procedures had actually been performed.
– christian post
U.K., January 14, 2018: After the Church of England's #GodWithUs Advent and Christmas social media campaign reached 6.8 million people, the denomination is now bringing together 50 Christians with experience in digital communications to pool ideas for new apps, websites and more social media campaigns. Suggestions from only two of them will be selected.
The contestants, who have been drawn from all over Britain, will put forward their suggestions to a high-level panel of judges on Feb. 24, according to Anglican News, which said the panelists "have been chosen for their knowledge of digital, creativity and understanding of the breadth and depth of the Church of England."
The objective is "to ensure the Church of England is a growing Church for all people and all places," Adrian Harris, head of digital communications, said.
"We're delighted with the combined knowledge and experience our judging panel brings to Church of England Digital Labs," Harris added. "I'm really excited to hear the creative ideas on the day that will help us develop our digital evangelism and discipleship offering."
The panelists include James Poulter from the LEGO Group, BBC senior digital producer Lynda Davies, the Dean of Winchester, Catherine Ogle, and the artist and theologian Siku.
#GodWithUs, the theme of the Church of England's 2017 Christmas campaign, was designed to share a Christian message with the public, encourage people to attend their local church for a service or event in December, and to encourage people to take part in its Your Christmas Journey reflections.
"Thanks to the collaboration across local churches, dioceses and national church bodies, the campaign had a reach of 6.8 million," Harris said. "Some people may have seen the content more than once, but our research suggests this overall figure is due to our targeted social media advertising and the appeal of the Your Christmas Journey reflections course."
According to data released by the Church of England last year, an average of 930,000 people, 14 percent of whom were children, attended weekly worship services during October 2016.
The smallest 25 percent of churches reported no children attended on average.
Church of England spokesperson Anna McCrum told The Christian Post at the time that the denomination does have a way to reach children, as it educates approximately 1 million youths in about 4,700 schools.
"These pupils are from all faiths and none and the provision of education is for the common good. Our pupils take part in collective worship and are educated in a Christian environment," explained McCrum.
A survey commissioned by the Church of England found last year that only 6 percent of British adults are practicing Christians.
The ComRes survey found that the reported decline of Christian believers in the U.K. might be even steeper than suggested, as 55 percent of the faithful admitted they never read the Bible. Another 33 percent said they never attend church, while 29 percent said they never pray.
– christian post
U.S., January 11, 2018: A Boulder abortion clinic is accused of malpractice, after allegedly leaving nearly two inches of a fetus' skull inside a patient's uterus during a late-term abortion, apparently forcing a patient to undergo a hysterectomy.
Jennifer and Jason DeBuhr filed a lawsuit against Dr. Warren Hern and the Boulder Abortion Clinic in 2015, according to the Denver Post. The botched abortion, and subsequent hysterectomy, left the couple unable to conceive a baby.
"The harm that Dr. Hern caused is reflective of the general nature of carelessness for patients that abortionists hold," said Matt Lamb, a spokesperson for Students for Life.
Terry Dougherty, the couple's attorney, said Hern allegedly failed to inform the couple of the procedure's risks. Additionally, he said the doctor had failed to inspect the fetal remains to confirm the completion of the process, according to the Lincoln Journal-Star.
"Abortion is never safe, because at a minimum it ends the life of a preborn baby," Lamb said.
The clinic's attorney, Cook Olson, has denied the accusations.
DeBuhr traveled to Boulder from Southeast Nebraska in December 2013, for an abortion during the 25th week pregnancy. A prenatal MRI had shown that her unborn child was missing a portion of his brain, and would likely live less than a year, according to court records.
Although DeBuhr says that she was not advised of any complications in the procedure, a 2014 ultrasound discovered that a 4 centimeter-long skull fragment was embedded in the wall of her uterus.
In 2016, Hern was the subject of a congressional investigation into the practices of late-term abortionists. The panel requested information on any infants who were born alive at his clinic and the babies' records thereafter. According to the Denver Post, Hern refused to provide any of the requested documentation, calling the panel a "witchhunt."
The Journal-Star reported that the lawsuit began Monday and is expected to last 10 days.
– cna
U.S, January 11, 2018: California's legislature is considering a bill that, if enacted, would compel student health centers at the state's public colleges to provide abortion pills to female students by 2022.
Known as Senate Bill 320, the Senate Education Committee voted to approve the proposed legislation on Wednesday, which would affect all the campuses of the University of California and California State University.
"More than 400,000 students classified as female are educated at California's public university campuses, and it is central to the mission of California's public university student health centers to minimize the negative impact of health concerns on students' studies and to facilitate retention and graduation," argued the bill.
"The state has an interest in ensuring that every pregnant person in California who wants to have an abortion can obtain access to that care as easily and as early in pregnancy as possible."
The bill calls for the State Treasurer to establish and oversee a Medication Abortion Implementation Fund that will provide public colleges with grants for abortion-inducing drugs.
Senator Connie Leyva, author of SB 320, also called the "College Student Right to Access Act," said in a statement released Wednesday that the Committee's vote of approval helps "to improve the academic success of students."
"SB 320 ensures that university students are able to receive comprehensive health care services on campus—which includes receiving safe medication abortion services without needless delays or obstacles," stated Leyva.
"Students should not have to travel long distances, pay out of pocket or even miss class or work responsibilities in order to receive health care that can be provided at an on-campus facility that is specifically designed for student health care."
Having passed the Education Committee, SB 320 will next head to the Senate Appropriations Committee for further consideration.
Pro-life groups are strongly opposed to the bill, with Californians for Life Director Wynette Sills telling the Sacramento Bee that SB 320 is built on a belief that abortion access is out of reach for students the state colleges.
"There is no lack of access," said Sills, noting that the average distance from an abortion clinic to a California state campus is six miles.
"Sen. Leyva's bill is all about abortion, abortion and more abortion rather than addressing the needs of housing and scholarships and adjustable exam schedules and all of those concerns that a young woman would have."
Sills also told the Sacramento Bee that Leyva and others w98ant to improve access, then they should ask abortion clinics "to pay for Uber rides from campus or ask them to stay open late into the evening or ask them to stay open on Saturdays" instead of "creating a legislative mandate upon our university systems that are poorly equipped."
"These student health centers are basically first aid centers with oftentimes just the basic medical infrastructure," added Sills.
– christian post
U.S., January 9, 2018: Facebook has unpublished the Facebook page associated with the pre-denominational Christian ministry "Warriors for Christ," an organization that opposes homosexuality and abortion, on grounds that it violated its community standards on bullying and hate speech.
Warriors for Christ, a West Virginia-based ministry that stands unapologetically opposed to all sinful behavior, no longer has access to its main Facebook page that had over 225,000 followers.
The main Warriors for Christ Facebook page, which is often used to post memes that lash out against society's embrace of things like LGBT rights and abortion, and is used to facilitate the organization's video ministry led by Pastor Rich Penkoski, was initially removed by the social media giant on Dec. 29.
Although the Facebook page was reinstated on Jan. 2 after an online petition was launched calling for Facebook to republish the page, Facebook administrators again took the Warriors for Christ page down last Friday.
Penkoski said in an interview with The Christian Post on Monday that his organization's Christian beliefs are being censored by Facebook because a number of LGBT activists who follow Warriors for Christ on social media had lodged complaints.
"We can't even use the term 'LGBT' in any context whatsoever or else it immediately gets flagged and banned. If we type those four letters out in our page, it gets removed," Penkoski said.
As there have been a number of Warriors for Christ's Facebook posts and videos that have been removed by Facebook, Penkoski said that other posts that have been removed included ones that displayed the organization's opposition to abortion.
"We count our posts on the page. Out of 3,000 posts, less than 3 percent had to with LGBT issues," Penkoski explained, adding that the majority of the counseling work his ministry does is to help reconcile marriages impacted by adultery.
"Yet, homosexuality is the focus that everyone keeps talking about with us. We talk about abortion. We talk about adultery. We talk about fornication. Nobody ever talks about that stuff," he added. "When Facebook pulled our page [for the first time], we were actually counseling with a young woman who was suicidal."
While Penkoski said he did not receive an explanation the first time the page was unpublished on Dec. 29, he says he did receive an email from Facebook explaining why the page was removed on Jan. 5 and left with no way to appeal the decision.
"Your Page 'Warriors for Christ' has been removed for violating our Terms of Use. A Facebook Page is a distinct presence used solely for business or promotional purposes. Among other things, Pages that are hateful, threatening or obscene are not allowed," the email reads. "We also take down Pages that attack an individual or group, or that are set up by an unauthorised individual. If your Page was removed for any of the above reasons, it will not be reinstated. Continued misuse of Facebook's features could result in the permanent loss of your account."
CP contacted Facebook for comment on the removal of Warriors for Christ's page, but was pointed in the direction of Facebook's policies on bullying and hate speech.
"We don't tolerate bullying or harassment. We allow you to speak freely on matters and people of public interest, but remove content that appears to purposefully target private individuals with the intention of degrading or shaming them," the policy on bullying reads.
The Facebook policy on hate speech states that content is removed if it "attacks" people based on their race, ethnicity, national origin, religious affiliation, sexual orientation, sex, gender and gender identity.
The hate speech policy further calls out pages that "identify and shame private individuals," and repeatedly target other people with unwanted friend requests or messages.
Penkoski told CP that the Warriors for Christ page does not target private individuals.
"These are not violations of community standards," Penkoski said of the posts removed by Facebook. "Facebook may not like it but it is not a violation of anything. It is not hurtful. It is not obscene. It's not attacking. It's not threatening. We are Christians. We don't do that."
Penkoski has himself been threatened and even been forced to move homes for the sake of his family's safety after the Warriors for Christ Facebook page made headlines last June for announcing that any person who posted an LGBT rainbow flag emoji on the page would be banned from the page.
"We specifically ask Facebook, what exact standards of yours did we violate? People have seen what has happened to us with the death threats and everything else. That's actual hate speech — calling for the death of someone else. I don't care who does it. If you are Christian or not, that is hate speech," Penkoski asserted. "We have never done anything close to that. In fact, we have stated emphatically that we don't want harm to come to anybody, whether they agree with us or not. Our job is to preach the truth because we want people to live better lives."
Last Monday, Penkoski informed CP that the organization lost access to its lesser-known youth ministry Facebook page and the Facebook page of its affiliate in Australia. However, Warriors for Christ regained access to those two pages later on Wednesday evening.
Warriors for Christ is now operating mainly on Facebook via its old youth ministry page. That page only has a reach of nearly 6,000 followers.
Over 2,100 people have signed onto the Change.org petition calling for the Warriors for Christ Facebook page to be reinstated.
Penkoski is one of the founders of the new Christian social media alternative launched last year called SocialCross.org. The platform was inspired by Penkoski's own personal suspensions from Facebook for posting about his opposition to the LGBT agenda. Over 12,000 users have joined the site.
– christian post
France, January 7, 2018: French intelligence agents allegedly changed the date in a document in an attempt to remove evidence about their blunders that allowed Islamic State supporters to kill French priest Rev. Jacques Hamel inside his parish in 2016.
French prosecutors have opened a criminal inquiry into the allegation that the agents post-dated a document as a cover-up, according to The Times, which quoted French news website Médiapart as saying the agents were more concerned about their careers than tracing terrorists.
The inquiry will be conducted by the "police of the police," Inspection Generale de la Police Nationale, according to Sputnik News, which also said a lawyer representing some of the attack survivors has reportedly asked to declassify all the documents related to the case.
On July 26, 2016, Islamic State jihadists Adel Kermiche and Abdel-Malik Petitjean stormed the church in Saint-Étienne-du-Rouvray in Normandy and slit the throat of the 85-year-old priest. The two were shot dead by police as they left.
Five days before the killing, an agent from the Paris Police Prefecture Intelligence Unit stumbled upon a message in the encrypted channel Telegram in which someone boasted that "I haven't been uncovered."
The sender of the message, with the username @Jayyed, was later identified as Kermiche, who also posted a video on the channel saying he had given lessons in a mosque in the town in Normandy advising his followers to "go into a church and take out everyone."
The agent informed senior officials about Kermiche, advising they inform the General Direction of Interior Security, the French chief intelligence agency. This information was not sent.
After the church incident, the agent was asked to post-date his notes and erase the browser history on his computer. However, the document with the original date on it wasn't deleted from one of the computer files.
The slaying of the priest shook all of France, including many in the Muslim community.
Hamel's church had donated land to Muslims to build a mosque, a senior Catholic cleric said days after the priest was murdered.
"Church authorities facilitated the giving of land beside his church to local Muslims to build a mosque, and they were given use of the parish hall and other facilities during Ramadan," Father Mark Ephrem Nolan, prior of the Benedictine Monastery of the Holy Cross near Rostrevor, said, referring to the Church of the Gambetta, where Hamel served.
– christian post
U.S., January 3, 2018: A Facebook-based Catholic fundraising campaign suffered "critical" delays in the key donation period between Thanksgiving and Christmas, and Facebook's new scrutiny of ads aimed at religious audiences is to blame, one social media expert has charged.
Matthew Meeks served as an advisor to a fundraising initiative of the Virginia-based Mater Ecclesiae Fund for Vocations. The fund, founded in 2004, aims to help aspiring Catholic priests, nuns and monks who face heavy student loan burdens.
Meeks told CNA that new Facebook policies for ad approval created delays that "caused us to miss the bulk of Giving Tuesday, a day where the Fund for Vocations had planned to kick off a campaign through the Christmas season."
The Mater Ecclesiae Fund "experienced significant issues with Facebook from the beginning of the campaign," Meeks told CNA. "For one, the ad platform took more than 24 hours for the ads to be approved. The fund received a message that the content of the ads potentially violated Facebook's discrimination rules regarding the exclusion of race, religion, sexuality, etc. for housing ads. This was neither a housing ad nor were they excluding a race or religion from receipt of the ads."
Meeks said the ad campaign intentionally targeted Catholic Facebook users, since they were most likely to support such the fund. The campaign ads promoted a video telling the vocation story of a religious sister who has received aid from the Fund for Vocations.
"Once the ads went live, the Fund for Vocations received word from numerous people that they were unable to share the video in the advertisement, citing that the 'feature was unavailable,'" Meeks said. "Finally, the ads received 2,555 direct clicks, 105,408 in impressions, 50,000 in reach and not a single penny in donations."
CNA sought comment from Facebook, which initially requested additional information about the campaign, but subsequently stopped responding to inquiries.
Facebook has faced increased public scrutiny amid claims that ad campaigns backed by the Russian government used Facebook and other social media to increase religious and political tensions in the U.S. ahead of the 2016 elections.
In late October, Facebook announced that it was testing changes to its ad targeting system that could cause delays in some advertising campaigns.
"Ad sets that use targeting terms related to social, religious or political issues may require additional review before your ads start running," Rob Goldman, Facebook vice-president of ads, said Oct. 27. "If your ad set contains targeting terms related to these topics, your campaign may take longer to start running, or you can adjust your detailed targeting elections."
On Oct. 2, Facebook vice-president of global public policy Joel Kaplan said the company was taking "aggressive steps" to strengthen both automated and manual review of "improper ads."
In a Nov. 27 statement, Goldman said "we don't want advertising to be used for hate or discrimination, and our policies reflect that." He said Facebook reviews ads based on content, targeting, landing page, and the identity of the advertiser.
"We may not always get it right, but our goal is to prevent and remove content that violates our policies without censoring public discourse," Goldman added.
Meeks told CNA that Facebook "needs to equally treat religious organizations as it would any other advertiser on the platform."
"Religious ads on the platform are part of a larger issue and should not be unfairly scrutinized and delayed," he said. Doing so gives an "unfair advantage" to non-religious campaigns, and hinders religious use of an important tool for advertising and communication.
"Given that Facebook and Google now account for 65 percent or more of all digital ad spending, being blocked from the platform or experiencing delays on the platform due to increased scrutiny of religious organizations on the platform is a critical loss," Meeks said.
Another recent change to the Facebook algorithm limits the organic reach of Facebook pages, forcing brands to buy ads for greater exposure. Such action, he charged, is "effectively squeezing religion off the platform."
The vocations fund is reassessing its strategy, "as they no longer trust the Facebook platform to deliver going forward," Meeks added.
In September 2017, the Daily Beast reported that an imposter account traced back to the Russian government impersonated a Muslim group and promoted political rallies aimed at Muslim audiences. The account appeared to be impersonating the United Muslims of America, a 30-year-old California-based group in the midst of a reorganization.
The fake Facebook page posted apolitical content, promoted positive portrayals of Muslims and debunked some anti-Muslim claims. However, at strategic moments, it also promoted disinformation.
Russian-backed groups simultaneously used other accounts to foment anti-Muslim sentiment.
Facebook has shared ads appearing to come from the Russia-based Internet Research Agency with Congress. Kaplan said the company had found more than 3,000 ads apparently from the agency that ran between 2015 and 2017, many of which appeared "to amplify racial and social divisions."
In July 2017, more than 25 Catholic Facebook pages in English, Portuguese and Spanish were blocked without explanation, then restored the pages within hours. A Facebook spokesperson apologized and blamed "a malfunction of the spam detection mechanism in our platform."
In 2016 the social media network faced allegations that its news curators were manipulating its trending news section to favor certain stories and disfavor others, especially politically conservative stories.
Facebook founder Mark Zuckerberg denied the allegations, but met with several conservative leaders and the company later moved to an automated system.
– cna
Israel, January 2, 2018: Archaeologists in Israel said on Monday that a rare 2,700-year-old clay seal discovered bearing ancient Hebrew script and belonging to a governor of Jerusalem corresponds to a number of accounts in the Bible.
The Times of Israel reported that the clay seal impression was found as researchers were combing through dust collected from a First Temple structure not far from the Western Wall, where excavation work has been going on since 2005.
"This is the first time that such an impression was found in an authorized excavation. It supports the biblical rendering of the existence of a governor of the city in Jerusalem 2,700 years ago," said site excavator Shlomit Weksler-Bdolah.
Jerusalem Mayor Nir Barkat, who was presented with the "Belonging to the governor of the city" inscription, added: "It is very overwhelming to receive greetings from First Temple-period Jerusalem. This shows that already 2,700 years ago, Jerusalem, the capital of Israel, was a strong and central city."
A couple of instances in the Bible talk about king-appointed governors of Jerusalem, including in 2 Kings, where Joshua is referenced in the position, and then in 2 Chronicles, which says that Masseiah was governor during the reign of Josiah.
The latest excavations have provided insights into Jerusalem's Second Temple and Roman periods, with another six seals uncovered in a large Iron Age building.
"The seal impression had been attached to an important transport and served as some sort of logo, or as a tiny souvenir, which was sent on behalf of the governor of the city," Weksler-Bdolah noted in an Israel Antiquities Authority release.
Researchers at Jerusalem's Har Hotzvim technology park first spotted the seal impression a year ago, leading to close analysis.
Beside the inscription, the seal also bears an image of two figures wearing striped garments who are facing each other.
Hebrew University professor Tallay Ornan and Tel Aviv University professor Benjamin Sass explained in their observations that "above a double line are two standing men, facing each other in a mirror-like manner. Their heads are depicted as large dots, lacking any details. The hands facing outward are dropped down, and the hands facing inward are raised. Each of the figures is wearing a striped, knee-length garment."
Barkat used the recent discovery to highlight Israel's claim over Jerusalem, stating that the city has been "continually populated by the Jewish people for more than 3,000 years."
"Today we have the privilege to encounter another one of the long chain of persons and leaders that built and developed the city. We are grateful to be living in a city with such a magnificent past, and are obligated to ensure its strength for generations to come, as we daily do," the mayor added.
Back in September, archaeologists discovered dozens of seals with "biblical-type" names at an excavation at Jerusalem's city of David.
The seals and impressions were written in ancient Hebrew, and gave new evidence for the theory that Israelites fleeing the Assyrians in 586 B.C. found refuge in the southern kingdom of Judah.
– christian post
U.S., December 25, 2017: Christmas is celebrated by Christians in different ways around the world — some honor the birth of Jesus Christ on different dates; some observe the holiday by featuring giant Christmas trees, markets, and Nativity plays; while others are forced to celebrate in the deep secrecy under the most oppressive regimes.
It remains one of the holiest of days for believers, marking the birth of Jesus Christ, the Savior of the world, and is a day for faith and family, bringing hope to believers in many corners of the globe where they might not have much cause to celebrate otherwise.
Some traditions, such as the elaborately ornamented Nativity scenes in Italy, go back 800 years, while in other places, like in Russia, Christians have only been able to resume their Christmas celebrations in recent decades after nearly a century of being suppressed.
Here are six countries where Christians mark Christmas in different ways, including the town of Jesus' birth:
1. Egypt
Coptic Christians in Egypt make up only a minority, around 10 percent of the population, but have longstanding Christmas traditions, such as the Feast of the Nativity.
The Copts observe the month of "Kiahk," starting from Nov. 25 through Jan. 6, where they fast and eat a vegan diet, not eating anything made from animals.
As Bishop Angaelos, general bishop of the Coptic Orthodox Church in the United Kingdom, explains, 40 of the 43 days of the Advent fast signify the period of time that Moses waited to receive the Word of God in the form of the Ten Commandments.
The other three days commemorate the number of days Egyptian Christians fasted for the miraculous moving of Muqattam mountain over 1,000 years ago.
Throughout the month of Kiahk, all liturgical and worship hymns lead up to the birth of Christ.
Like other Eastern and Oriental Orthodox Churches, Christmas Day for Copts falls on Jan. 7, with believers going to church for a special liturgy on Coptic Christmas Eve, which is midnight on Jan. 6.
"Family and friends congregate around the Eucharist, the most tangible manifestation of our Lord's sacrifice to, and love for, mankind to fully appreciate and receive the Word Himself," Angaelos explains.
"The liturgical service is then followed by a fellowship meal where the faithful break their fast and continue to rejoice in the Nativity in a spirit of joy and love."
2. Italy
Italy begins its Christmas season with the religious Feast of the Immaculate Conception on Dec. 8, which is also a national holiday where Catholics celebrate the conception of Mary.
The Castel Sant'Angelo museum in Rome fires off a cannon to mark the start of festivities, which includes parades, bonfires and fireworks.
Nativity Scenes, which are used in many Western countries and worldwide as representations of Jesus' birth, are especially popular in cities like Naples. The tradition of the crib scene is believed to have originated in the 13th century when St. Francis of Assisi asked a local villager to create a manger to help re-enact the Nativity. It has played a huge role in Italian Christmas art and decorations ever since.
The Vatican hosts a full Advent and Christmas calendar, lighting its Christmas tree early on in December, with a midnight Mass at in St. Peter's Basilica on Christmas Eve serving as one of the highlights.
After delivering the homily on the meaning of Christmas on Christmas Eve, the pope then delivers his annual Christmas message on Christmas Day at noon, sending out his traditional blessing to Rome and the world.
3. Mexico
Mexican Christmas celebrations are often centered around Las Posadas, with nine days of observance counted down from Dec. 16 through Christmas Eve.
The tradition, which is also popular elsewhere in Latin America, is based on Mary and Joseph's journey to Bethlehem and their search for a place to stay before the birth of Jesus, with "posada" meaning "inn" or "shelter" in Spanish.
The Posadas celebrations include Christmas carols, with people acting out the roles of Mary and Joseph in different homes each night during the nine days.
The get-togethers include Bible reading and prayer, with guests breaking pinatas and children given candy.
In Mexico the holiday continues through Jan. 6, marking El Dia de los Reyes, the day of the kings or the wise men, which is when children receive their gifts.
4. Russia
In accordance with the Julian calendar, the Russian Orthodox Church celebrates Christmas on Jan. 7. While the religious holiday is not as popular as New Year's Eve celebrations, it is growing in a country where it was banned for most of the 20th century due to Communism.
Two important meals are observed by practicing Orthodox Christians, one on Christmas Eve, which consists of 12 meatless dishes, representing the 12 apostles.
"Kutya is a concoction of grains and poppy seeds sweetened with honey, which serves as one of the main dishes of the Christmas feast. Vegetarian-style borsch or solyanka, a salty stew, may also be served along with salads, sauerkraut, dried fruit, potatoes, and beans," Tripsavvy.com explains.
Midnight mass at Christmas Eve is attended by prominent figures, including President Vladimir Putin in recent years.
Meat is allowed to be consumed during the big Christmas Day celebrations, including side dishes such as aspic, stuffed pies, and various deserts.
5. North Korea
Although in total secrecy, Christians find a way to mark the birth of Christ even in North Korea, the country that has been ranked as the most oppressive place for believers in the world for 15 straight years by major watchdog groups, such as Open Doors USA.
As South Korea's National Intelligence Service reported in December, leader Kim Jong Un has prohibited any gatherings involving singing or alcohol in a measure to ban anything that could be suggestive of celebration.
Open Doors explained that despite the heavy oppression and careful monitoring by authorities, in a country where simply owning a Bible could get one sent to a prison camp, Christians do manage to gather and celebrate Christmas in remote areas.
"Christmas is mainly celebrated in the heart of the Christian," said Brother Simon, who coordinates the work of Open Doors in North Korea, in 2007.
"Only if the whole family has turned to Christ is it possible to have something like a real gathering. For fear of retribution it is necessary to keep your faith hidden from the neighbors."
On rare occasions, as many as 60 or 70 North Koreans may gather together at secret locations in the mountains for service, the watchdog group added.
6. Bethlehem, Israel
Some of the biggest Christmas celebrations fittingly take place in the Israeli town of Bethlehem, where the Bible says Jesus was born.
In past years the big influx of tourists to the town has brought in over 100,000 people to mark the birth of Christ.
Multiple services and processions are led by various Christian denominations, including Catholic, Protestant, Greek Orthodox, Ethiopian, Armenian and others. The town's streets are strung with Christmas lights, with Christmas plays, markets and trees adding festivity to the scene.
The main processions pass through the world-famous Basilica of the Nativity, which is believed to be the site of Jesus' birth.
As Abu Batrous Naameh, a priest from the Syrian Orthodox Church, said last year, "celebrating Christmas in Bethlehem allows one not only to reconnect to the time of the birth of Jesus, but also the place."
"We consider this day as if it were the same day, 2016 years ago, and remember Jesus, who sacrificed himself," Naameh said, according to Jerusalem Post, adding that "the new year is an opportunity to make a pledge for peace with all people around the world and in the Holy Land."
– christian post