Pakistan, August 18, 2017: A Christian who was arrested for the lynching deaths of two men mistaken as terrorists in the aftermath of deadly suicide attacks on two churches in Pakistan's Punjab province has died in prison.
At least 15 people were killed and scores of others were injured when Taliban's bombers blew themselves up during Sunday Mass at two churches — one Catholic, the other Protestant — in Lahore in 2015. The attack led to mob violence and the killing two men mistaken by protestors as terrorists.
Inderyas Masih, 36, one of 42 Christians, rounded up police, put on trial under stringent terrorism laws and was convicted, was found dead Aug. 13 in jail. Church people maintain that most of those in prison were arbitrarily arrested were not even identified in the camera which filmed the lynching incident.
Masih's family has for long denied his involvement in the killing. "My uncle was in another city the day the Taliban attacked our churches. He was arrested by plain-clothes police men 15-days later," Shazeel Anjum, Masih's nephew told ucanews. com.
Police claimed the basis for Masih's arrest and conviction was because he owned a T-shirt like what which was seen being used by someone in a news report of the lynching.
"We had been circling the hospital and police station for days to get the dead body. We even heard some police constables joking who's next?" said Anjum.
Police say Masih succumbed to tuberculosis.
- ucan
China, August 18, 2017: China is pushing back against the U.S. State Department's annual religious freedom report that highlights the Communist government's persecution of Christians and religious minorities, stating that the U.S. needs to solve its own problems with white supremacist violence.
Bob Fu, president of persecution watchdog group China Aid, told The Christian Post, however, that China is "incorrect" in drawing a comparison between the two issues.
"The Chinese government is directly responsible for their abuses, while the U.S. government is not necessarily responsible for racism," Fu said in an email on Thursday.
"In Charlottesville, racism occurred because a group of white nationalist individuals who are not affiliated with the government acted on their prejudices, and many U.S. officials went on to condemn their actions, demonstrating that this is not a human rights abuse that can be tied to the government," he continued.
"China, on the other hand, implements local and national policies that specifically target specific groups of people and even goes so far as to hold official conferences about how to properly execute these policies. This denotes a direct government responsibility for the abuses."
The 2016 International Religious Freedom Report, released earlier this week, provided an update on the religious freedom situation in 199 countries around the world.
It criticized China for a number of reported human rights abuses, such as one incident in April 2016 in Zhumadian, Henan province, where the pastor of an unregistered church and his wife were buried alive while trying to save their church from government-ordered demolition. While the pastor survived, his wife, Ding Cuimei, died.
Chinese Foreign Ministry spokeswoman Hua Chunying argued in her response on Wednesday that China protects religious freedom.
"The so-called U.S. report ignores the facts, confuses right and wrong and makes wanton criticism of China's religious freedom situation," she said, according to Reuters, adding that America is not "perfect" either.
State news agency Xinhua further commented on the violence at last weekend's rally between white nationalist socialists and Antifa counter-protesters in Charlottesville — in which one protester was killed by a man who plowed his car into a crowd and two police officers who were killed when their helicopter crashed — by suggesting that the U.S. is better off dealing with its own problems first.
"Against the backdrop of the recent clash between white supremacists and their opponents, the U.S. accusations against China simply lay bare the double standard it employs," Xinhua argued.
"The violence highlighted the danger of racism, which is a serious problem in a still divided U.S. society," it added.
"Despite its self-proclaimed role as the world's human rights champion, the fact is the world's sole superpower is far from becoming a respected role model in this regard."
The violence in Charlottesville stemmed from a "Unite the Right" rally  — which included white supremacists, members of the KKK, and white nationalist socialist groups — held to protest the removal of a Robert E. Lee statue in Emancipation Park. The event was organized by Jason Kessler, a man who used to be an Obama supporter and an Occupy Wall Street alt-left activist before joining alt-right groups.
The rally participants clashed with Antifa counter-protesters in several scattered street fights. Twenty-year-old Nazi sympathizer James Fields was charged with murder after plowing his car into the counter-protesters, killing 32-year-old Heather Heyer, and injuring 19 others. Fields is believed to have been at the rally with a group called Vanguard America, a self-proclaimed anti-Semitic national socialist group.
Fu told CP that unlike China, however, the U.S. is not trying to deny its problems.
"Another key difference is that America does not attempt to cover up catastrophic events within the country, and our allowance of worldwide reporting on occurrences like Charlottesville is how China knows of the racial tensions in America in the first place," he said.
"In the meantime, news of China's human rights abuses is often given to foreign reporters by individuals who risk a great deal of safety to share the information," he added.
"Additionally, when race-driven violence occurs, U.S. officials are typically quick to publicly denounce them, while Chinese officials insist that their human rights abuses do not occur, despite plenty of eyewitness evidence to the contrary."
Other reports have also exposed the significant levels of religious persecution in China, such as a Freedom House initiative released in March.
Freedom House said at the time that 100 million people, belonging to various faith groups, including Roman Catholics and Protestant Christians, face "moderate" or "high" levels of persecution under the Communist Party.
"A Taoist disciple joins the order without knowing when he will be admitted to priesthood. Dozens of Christians are barred from celebrating Christmas together. Tibetan monks are forced to learn reinterpretations of Buddhist doctrine during a 'patriotic reeducation' session," the report said in its examples of persecution.
"A Uighur Muslim farmer is sentenced to nine years in prison for praying in a field. And a 45-year-old father in northeastern China dies in custody days after being detained for practicing Falun Gong."
- christian post
Kazakhstan, August 16, 2017: An orthodox priest has been accused of violating the 'Law on Religious Activities and Religious Associations" by holding religious meetings in unregistered places.
Vladimir Vorontsov, rector of the parish of the Nativity of the Most Holy Mother of God, went on trial in Merke, a town in Jambyl Region, southern Kazakhstan.
An anonymous source had reported him to the police, saying that the clergyman with children and some parents was taking part in a Sunday school prayer at a camp in the mountains.
On 2 August, officials from the local government, police and National Security Committee (NSC) travelled to the camp for an inspection.
Initially, the authorities laid charges against Fr Vorontsov for extremism, illegal detention of minors, and smuggling religious literature.
Officials tried to interrogate the children, and only a phone call from the deputy head of the regional administration convinced them to stop and leave, allowing camp participants to continue their vacation.
However, two days later, Fr Vorontsov was notified that he was in breach of administrative rules and on 6 August he was summoned to appear before a court to respond to charges of holding religious meetings in inappropriate places.
Under Kazakh law, religious functions must be held in a place of worship. For religious minorities (Protestants, Hare Krishna, certain Muslim groups), this means, for example, fines and administrative detention for praying in private dwellings.
However, this is the first time that such a measure is applied to a representative of the Orthodox Church, the second largest religious denomination in Kazakhstan.
The regional Religious Affairs administration summoned Orthodox clergy to appear before them on 10 August to discuss the case. "The conversation was tense," Vorontsov said.
Department chief "Omarov treated us as guilty subordinates. The Religious Affairs administration did nothing to resolve this situation, to reconcile."
In an interview with Esquire.kz, Fr Vorontsov said that the authorities did not like the fact that he had set up a Sunday school and opposed the felling of some ancient trees.
At the same timer, Vorontsov noted that the incident was not a case of "national and religious oppression", but a wrong interpretation of the law. "I still trust the laws of my country," the clergyman said.
Orthodox Christians are the second largest religious community in the country after Muslims who follow the Hanafi school.
The country has 3,464 places of worship: 2,550 are mosques, 294 Orthodox churches, and 198 Catholic churches.
Recently, Kazakhstan has tightened controls on religions to counter the rise of radicalism.
- asia news
Pakistan, August 16, 2017: Pakistan's Christians have taken to streets to protest the death of Indaryas Ghulam, a 38-year-old Christian who died in mysterious circumstances whilst in police custody in Lahore Jail.
The death occurred on Sunday, on the eve of the country's 70th independence anniversary.
Ghulam was one of 42 Christians arrested on charges of lynching two Muslims suspected of taking part in the Taliban attack against two churches in Youhanabad (Lahore district) on 15 March 2015 that left 19 people dead and more than 70 wounded.
He was also one the prisoners whom Prosecutor Syed Anees Shah had tried to bribe, promising release in exchange of reneging Christ. He could have saved his life, but decided to bear witness to his faith onto death.
Ghulam, who had been sentenced to death by hanging for his alleged involvement in the beating of the two Muslims, had always maintained his innocence.
News about his death came from the British Pakistani Christian Association (BPCA).
The prison administration attributed his death to poor health; he had tuberculosis. But his wife Shabana and daughter Shumir, who saw the body, said that he had burns and cuts everywhere, clear signs of torture and of the brutality to which he had been subjected.
What is more, they add that although he was severely ill, he never received adequate medical care behind the bars.
"Indaryas Ghulam is a Christian martyr, whose sacrifice must remind all of us of the need to strive for justice," said BPCA president Wilson Chowdhry. "Although he was innocent and endured atrocious sufferings, he chose death in lieu of the freedom offered in exchange for conversion to Islam."
"His brave example and that of so many other innocent push us to oppose the tyranny of Islamists in Pakistan and focus on how the [Christian] minority lives in the country."
According to activists who took to the streets, "it is difficult to celebrate independence, since it has created a nation with double standards in politics, law and everyday life, a nation in which Christians are second class".
They also complain that Ghulam is not the first Christian to die under torture in police custody. Four others died before him. The first was Robert Danish, killed in September 2009; followed by Qamar David, assassinated in March 2011; Zubair Rashid, in March 2015; and Liaquat Masih, who died in January 2016.
- asia news
North Korea, August 14, 2017: Rev. Hyeon Soo Lim, the Christian pastor who last week was freed and returned home to Canada, revealed what he had to suffer through at the North Korean labor camp where he was held.
"During the winter, I had to dig holes that measured one meter wide and one meter deep," Lim said on Sunday upon his return to Light Korean Presbyterian Church in Mississauga, Ontario.
"The ground was frozen. The mud was so hard that it took two days to dig one hole. It was incredibly challenging. My upper body was sweating. My fingers and toes were frostbitten," he recalled, according to The Globe and Mail.
As Reuters reported, Lim was held for more than two years in North Korea after originally being sentenced to hard labor for life in December 2015, accused of attempting to overthrow Kim Jon Un's regime.
Lim spoke before his church on Sunday for the first time since his release. He thanked the Canadian government for its assistance, including National Security Adviser Daniel Jean, who visited North Korea to ask for his freedom.
"It's a miracle for me to be here today," the pastor said in Korean. "I always knew Canada was a very warm and compassionate nation, but through my ordeal I really began to grasp that very deeply."
Lim further revealed that he suffered from "overwhelming loneliness" while in prison, explaining that he ate 2,757 meals in isolation and worshiped alone for 130 Sundays.
Additionally, he read more than 100 books and watched many propaganda films about North Korea's history, which he said allowed him to "grasp and gain a deeper understanding of the 70-year history that formed the nation."
The pastor was made to confess to "indescribable treason" back in 2015 for writing biblical phrases and the name of his church on sacks of food, which the government said represented efforts to try and overthrow the Kim regime.
Senior Pastor Jason Noh said that he was not sure what Lim's role at the church will now be, but said that the congregation's "prayers were answered."
"It was incredible. We've been waiting for this moment to come. I had tears of joy," Noh said.
"He's been alone, praying and planning for the past two and a half years. He's a visionary. There are a lot of things he wants to do," he added.
Persecution watchdog groups have long described North Korea as the worst persecutor of Christians in the world, outlawing and punishing any expression of faith.
"Essentially, North Korea is the most oppressive regime in the world; it is certainly the most closed, isolated country in the world. It's a regime that stands accused by the U.N.'s own Commission of Inquiry of crimes against humanity," Benedict Rogers, East Asia Team Leader at Christian Solidarity Worldwide, told The Christian Post in an interview in March.
"Those crimes against humanity include the incarceration of 100,000 to 200,000 prisoners, who are jailed because of political crimes, and are subjected to the worst forms of torture, slave labor, denial of medical care, sexual violence, and in some instances execution."
- christian post
North Korea, August 12, 2017: A Canadian pastor who was imprisoned in North Korea for more than two years quietly returned to his home in a Toronto suburb on Saturday following a long journey on a private government jet via Japan.
Hyeon Soo Lim, formerly the senior pastor at one of Canada's largest churches, had disappeared on a mission to North Korea in early 2015. He was sentenced to hard labor for life in December 2015 on charges of attempting to overthrow the Pyongyang regime.
News of his release surfaced on Wednesday, when North Korea's KCNA news agency said Lim was being let go on humanitarian grounds, suggesting his health was poor.
The announcement came amid heightened tensions between Washington and Pyongyang, though authorities have not said there is any connection between his release and efforts to defuse the standoff over North Korea's nuclear program.
The pastor's son James Lim said his dad was happy to be back home in Canada, stopping for coffee and a donut at Canada's popular Tim Horton's coffee chain on his way home from the airport.
The family asked the public to respect their privacy, allowing him to rest for a day and catch up with family before appearing in public on Sunday to attend services at his church.
James Lim said his dad was in "good health," but noted that the family planned to arrange for extended medical attention, including checkups.
"He is doing very well, considering everything he has gone through," he said.
The family thanked the Canadian government for helping secure his Lim's release. They declined to provide details on negotiations with the North Koreans.
"It's a delicate dance. There's a lot of complexity to it," James Lim said.
He added that getting the pastor home took on increased urgency in June, following the death of Otto Warmbier, an American student who died days after being released from a North Korean prison in a coma.
The Canadian government issued a statement saying it joined Lim's family and congregation in celebrating his homecoming.
"Canada has been actively engaged on Mr. Lim's case at all levels, and we will continue to support him and his family now that he has returned," the statement said.
- christian post
Uzbekistan, July 30, 2017: "Last Sunday (30 July) we were raided. There were 27 of us, over 30 policemen. From my house we were all put on a bus and taken to police office. We were threatened and demanded to write explanations. The sisters [women] were [strip] searched all to their underwear. They took away three cell phones. For four-and-a-half hours we were kept there on the floor. My wife and I now face charges for possessing one children's Bible, 32 sheets of the worship songs in Russian and Uzbek and one notepad with entries. Please pray for us and please pass on to friends." – a letter from the pastor of a house church sent to Barnabas Fund on 2 August.
Believers in Uzbekistan – officially a secular state – can face heavy fines if they are gathered for worship in a private home and/or are found to have Christian literature. Government restrictions require churches to register but make it practically impossible for them do so, particularly Uzbek-language (i.e. ethnic Uzbek) congregations, which comprise converts from Islam and their children. Even in registered churches it is forbidden to have worship and teaching in the Uzbek language.
- barnabas persecution update
North Korea, August 9, 2017: North Korea freed a Canadian pastor serving a life sentence on humanitarian grounds, the official KCNA news agency said on Wednesday, just hours after the United States warned it would counter any threat from the North with "fire and fury."
There was no clear connection between the release of Hyeon Soo Lim and the heightened rhetoric between Washington and Pyongyang. Canadian officials said on Tuesday a delegation led by the country's national security adviser had gone to North Korea to discuss Lim's case.
Lim, who served in one of the largest churches in Canada, had been sentenced to hard labor for life in December 2015 after North Korea accused him of attempting to overthrow the regime.
"Strategically, North Korea perhaps hopes to engender some goodwill from Canada as tensions rise," said Charles Burton, a former Canadian diplomat in China. "They hope that Canada presents some moderating influence on the Trump administration.
"(But) I do not think it is directly connected to the tensions the U.S. president has ratcheted up. North Korea is concerned he would die in prison."
KCNA said Lim had been released on "sick bail" by the country's Central Court for humanitarian reasons.
Lim, accompanied by his wife and son, is expected to return to Canada on Thursday and will be hospitalized on arrival at his wife's request, a source familiar with the matter said.
"So far, it has been confirmed that government officials and a doctor are accompanying Reverend Lim," said the source, speaking on condition of anonymity because they were not authorized to speak to media.
Lim's family had become more concerned for his welfare since the death in June of American student Otto Warmbier, who had been held in North Korea for 17 months. Warmbier, sentenced last year to 15 years' hard labor for trying to steal a propaganda item from his hotel, died in a Cincinnati hospital days after being released in a coma. The circumstances of his death remain unclear.
Canadian Senator Yonah Martin, who advocated for Lim's release, said Lim was hospitalized during his imprisonment.
"They were sending medication but there was a question as to whether he was actually receiving it in the way he should," he said.
Canadian Prime Minister Justin Trudeau's office did not comment on Wednesday.
North Korea has in the past attracted the attention of Washington and visits by high-profile Americans with the detention and release of U.S. citizens.
North Korea is still holding three Americans. The U.S. State Department said last week it would ban U.S. nationals from traveling to the isolated country from September.
Lim's Toronto-area church has said he visited the North more than 100 times since 1997 and helped set up an orphanage and nursing home. Last year, Lim told CNN he spent eight hours a day digging holes at a labor camp where he had not seen any other prisoners.
On Wednesday, North Korea said it was considering plans for a missile strike on the U.S. Pacific territory of Guam, just hours after President Donald Trump, unhappy with Pyongyang's nuclear weapons program, told the North that any threat to the United States would be met with "fire and fury."
- christian post
Tajikistan, August 9, 2017: A pastor of the Korean Christian Sunmin Sunbogym (Good News of Grace) Church in northern Tajikistan was sentenced to three years in prison on a charge of extremism.
Local news media report that the clergyman's sentence was issued in late July but it became known only now.
It is reported that 42-year-old Bakhrom Kholmatov was arrested on 10 April of this year in Khujand after an inspection of a Protestant church with Korean roots.
Tajikistan authorities maintain that the Sunmin Sunbogym Christian centre does not have official registration and therefore its activity on the territory of the country is illegal.
However, the church's website notes that the centre was officially registered in 2009 with the Committee for Religious Affairs of Tajikistan.
Sunmin Sunbogym has been in the central Asian nation since 1993. Before the adoption of a new law on religious activity, it operated as a missionary organisation.
At present, more than 70 non-Muslim centres and organisations are active in Tajikistan.
Recently, Tajikistan has been subjected to criticism for infringing the rights of believers. The US Commission on International Religious Freedom considers Tajikistan a "country of particular concern" with respect to freedom of religion.
According to the authors of the report, Tajikistan continues to persecute its citizens on religious grounds.
- asia news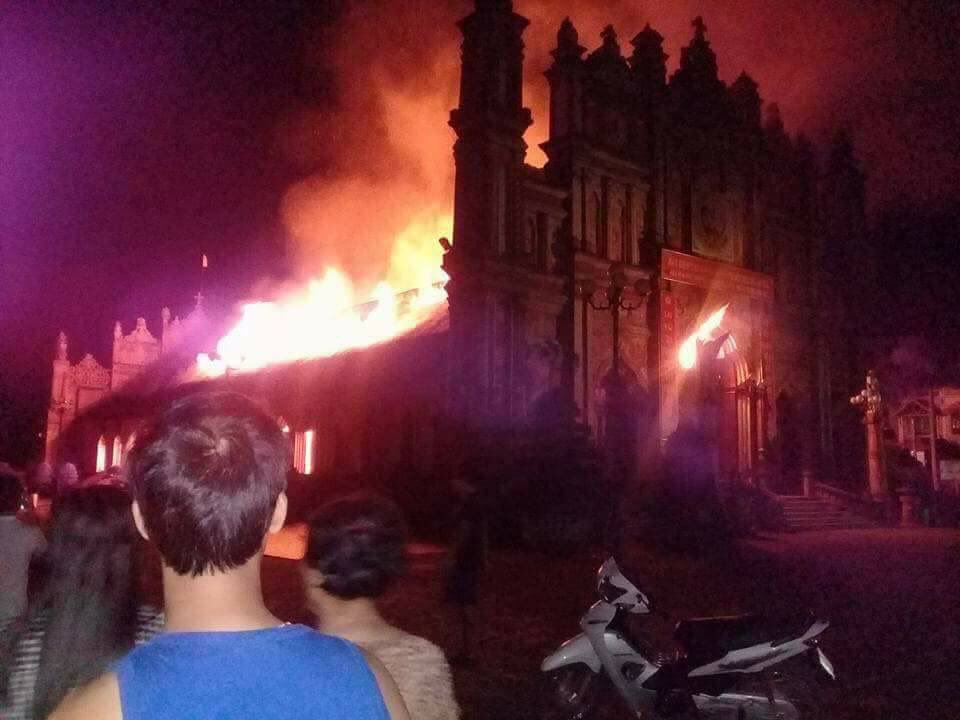 Vietnam, August 8, 2017: Catholics in a northern diocese of Vietnam were shocked to see a fire destroying one of the oldest churches in the country.
In the early hours of Aug. 6, firefighters failed to put out the fire, which devastated the wooden interior and the tiled roof of the Trung Lao Church, leaving only the walls intact. Nobody was injured.
The church, designated as Mary Mother of God in Bui Chu Diocese, is based at Trung Dong Commune in Nam Dinh Province.
Dominican Sister Doan Thi Chuyen said local Catholics discovered the fire, which started in the sanctuary, at about 11 pm on Aug. 5. The fire quickly swept through the whole church. Sister Chuyen said four fire engines from the district only came to the scene after the church had been on fire for several hours. The nun said local people were very sad about the loss.
The 800-square-meter church, completed in the late 1890s, has Gothic, Spanish and Vietnamese architectural influences. Its walls and wooden roof were carved with floral patterns.
Father Joseph Nguyen Van Toanh, head of Bui Chu Diocese's Communications Committee, said the old church was precious. He said an electrical short circuit was a possible cause of the blaze. Local Catholics needed to console one another at a difficult time, he added.
Sister Chuyen said the diocese is seen as the cradle of Catholicism in northern Vietnam. Most old churches have interiors, including altars, made of wood, so they are highly flammable. She warned that other churches would be vulnerable if they did not have adequate firefighting equipment and fire prevention measures.
- ucan