Pakistan, Februray 13, 2018: A court in Pakistan has given custody of a 12-year-old Christian girl, who was abducted by a Muslim and forced into an Islamic marriage, back to her parents.
The order was handed down by the Islamabad High Court last Thursday, according to the Pakistani English newspaper Dawn.
The outlet reports that the ruling came after the unnamed girl, who was born in May 2005, was unable to convince the court that she had willingly converted to Islam.
According to court documents, the girl gave a Muslim name when she was first asked to state her name in the courtroom. Additionally, the girl explained that she had only embraced Islam "for the purpose of marriage only."
The girl reportedly declared that Jesus was her prophet. She was not able to name any other prophet — including the Muslim Prophet, Muhammad — when asked to do so.
Justice Shaukat Aziz Siddiqui wrote in the court order that he wasn't sold on the claim that the girl had embraced Islam and married on her own free will. The justice argued that it is more likely that the girl's conversion and marriage to the man was a "result of inducement and compulsion."
"How the girl has become Muslim when she does not know even about Prophet Muhammad?" the court ruling asks, according to PakistanToday.
According to Dawn, the judge explained that it appears that the Muslim man and his father plotted to abduct the girl.
Siddiqui directed police investigators to review the matter. The judge also ruled that the validity of the girl's marriage to the man was questionable and needed to be resolved in family court. Upon conclusion of the hearing, the girl agreed to return home to her parents.
"I am constrained to observe that this sort of act of abduction and taking [the] shelter of Islam is totally uncalled for and unacceptable," Siddiqui wrote, according to Dawn.
The judge also declared that everyone in Pakistan — Muslims and Christians alike — have equal protections under the nation's constitution.
However, that principle is not applied consistently across the nation.
Pakistan ranks as the fifth worst country in the world when it comes to Christian persecution, according to Open Doors USA's 2018 World Watch List.
A 2014 report by the NGO Movement of Solidarity and Peace estimates that between 100 to 700 Christian girls in Pakistan are abducted, assaulted and forced into marriage every year.
Additionally, Muslims who have abducted Christian girls and women and forced them into marriages have, in many cases in the past, been treated a level of impunity by local authorities.
However, Pakistan passed a law last year that increases punishments for those who force minor children and religious minority women into marriages.
Last April, Fouzia Bibi, a Christian mother of three who was abducted and forced into an Islamic marriage with her boss, was granted freedom and a divorce by a family court in Lahore.
The ruling came nearly two years after Bibi was first abducted. It also came after her family was previously pressured by local authorities to return Bibi to the Muslim boss' home after she had escaped.
If Bibi's family didn't return her to the Muslim man, members of her family could have been arrested, the London-based British Pakistani Christian Association reported at the time.
– christian post
Vietnam, February 12, 2018: A Vietnamese man, who was brutally beaten and banished from his village because he converted to Christianity, hopes to one day return and share the Gospel with his oppressors.
The Christian persecution advocacy organization Open Doors recently shared the story of Vang Atu, a 28-year-old father to two children. A practicing animist, Vang, along with the other members of his village in Vietnam, once worshiped different spirits asking for luck, wealth, good health and food.
After embracing Christianity in 2013, Vang completely abandoned his animistic beliefs and devoted himself to evangelizing other villagers. Before long, at least four families — including three members of his own family — began to follow Jesus. However, it wasn't long before Vang began to experience backlash for his newfound faith.
"On April 17, 2016, me and other believers in my village were having a prayer gathering at my house," he told Open Doors. "Later that day, the local authorities knew about it and prohibited us from worshiping together. The first time they went to my house they didn't say anything. But an hour later, they came and told us to stop the worship or else they will destroy my house."
Without warning, Vang was attacked by four villagers, led by one of his brothers.
"My brother took a club, it was about one and a half meters long, and used it to hit me on my arms," Vang recalled. "I raised my arm to block it. Blood dripped all over me. Now, my arm is fractured. My arm's bone cracked and then the other people started destroying my house."
Threatening death, village leaders then forced Vang and his family to move out from their village.
"If I continue to live there, something will happen to me," he said. "With what they said, I decided I must move to Central Vietnam."
Weeks after the incident, Vang Atu, with other persecuted believers, traveled to Central Vietnam and met Pastor Trang, a pastor supported by Open Doors. The ministry provided a house for Vang and his family, where he currently lives.
"I thank God for everything," Vang said. "I now have a house to live in."
Though he's now able to freely practice his faith in Central Vietnam, Vang dreams of one day returning to his village to preach the Word of God to his oppressors. Open Doors is calling on Christians to pray for Vang's situation and for his spiritual growth.
"Pray that I will never give up in believing in Jesus until I meet Him in Heaven," he said.
Vietnam is ranked no. 18 on Open Doors' World Watch List of countries where Christians face the most severe persecution for their faith and has a Christian population of about 8 million.
While the majority of Vietnam's more than 94 million people practice Buddhism, more than 1 million practice the Cao Dai or Hoa Hao faiths. Smaller numbers are Khmer Krom Buddhist, Muslim (including ethnic Cham Muslims), Baha'i, Mormon, and Falun Gong, as well as several local religions or other forms of traditional worship.
Converts to Christianity from Buddhist or ethnic-animist backgrounds face the strongest persecution, which comes not only from the authorities, but also from families, friends and neighbors," an Open Doors factsheet on Vietnam states. "Protestant Christian believers tend to gather in house-churches, and their members face discrimination at various levels of society."
– christian post
Pakistan, February 8, 2018: The Pakistan government this month unveiled an historic fatwa (religious ruling) condemning Islamic extremism and vigilante "blasphemy" attacks, in a potentially positive development for the country's minority Christian community.
By issuing the fatwa with the support of 1,829 religious leaders – who are signatories to the document officially released on 16 January – the Pakistani government is addressing extremism from a religious perspective.
The fatwa declares that terrorist activity against the state, and in particular suicide bombings, are haram (forbidden under Islamic law). It also states: "We believe that spreading sectarian hatred, armed sectarian conflict and imposition of one's religious ideologies by force are contrary to the Shariah/teachings of Islam."
There is a "religious obligation" to confront "evil" extremist ideology, according to the Fatwa.
The notion of "extremism" in the context of the ruling is defined as views deemed to be outside the body of mainstream Islam – this differs from typical Western definitions, which define "extremism" in relation to issues such as democracy, human rights and freedom of religion.
The document also says it is "unacceptable in Islam" that any group "takes [the] law into its own hands, [and] declares people infidels" – a statement which is understood to refer to the country's controversial "blasphemy" laws.
Instead, the fatwa asserts that "Only the State has right to implement punishments on citizens."
Some of the most vocal opponents of politicians who have proposed changes to the "blasphemy" laws are among the signatories to the fatwa. But it remains to be seen whether their support of the religious ruling will result in real and lasting change to the treatment of Christians and others accused of "blasphemy", or reduce the number of spurious allegations.
This fatwa is based on the teaching of classical Islam that only the proper Islamic ruler can declare jihad or enforce punishments, such as the death penalty for apostasy and blasphemy. However, classical Islam still holds all of these as articles of faith.
– global christian news
China, February 05, 2018: Over 100 Christians in China's northwest province of Xinjiang have been indefinitely detained in overcrowded "re-education" camps, where they are subject to "brainwashing" on communism.
Detentions in these camps – also known as "mind-transformation centres" – have increased since the country held its 19th Communist Party Congress in October 2017.
Human Rights Watch (HRW) reports that authorities claim the detainees have "extremist" or "politically incorrect" views, such as excessive praying or accessing banned websites.
The Christians are being held alongside around 120,000 Muslims, who the authorities have increased their crackdown against. Most of the Christian inmates have a Muslim background, and have been caught up in the crackdown.
According to sources, the conditions in the camps are appalling: rooms which once held eight inmates now crowded with 14 people, and detainees must lie on their sides, because of the lack of room.
A local Christian revealed that members of his church have been sent to camps, some being held for a month, half a year or even longer, which has torn apart Christian families. "The teacher in the school is paying special attention to my children after the authorities told the school about my husband," said a Christian woman whose husband is in detention.
Authorities claim the camps are just schools that teach Chinese language and Chinese norms, but HRW has warned that they are modern "brainwashing" institutions.
Another Christian woman added: "I don't know where my husband is right now, but I believe that God still uses him in prisons or camps."
Xinjiang is home to the majority of China's 10 million Muslims – mainly ethnic Uighurs. It is a volatile province, with a history of ethnic uprisings and anti-government violence. In 2016, the Chinese government installed Communist hardliner, Chen Quanguo, as the party secretary of Xinjiang. He has increased a series of repressive policies, like increased surveillance and armed troops, which he also used during his previous role as party secretary of the Tibet Anonymous Region. The authorities claim it is an integral part of their wider policy of "extremism eradication."
– global christian news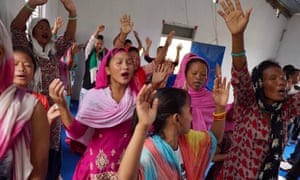 Nepal, February 3, 2018: Nepal is known for its ancient history and breathtaking mountain peaks. But the South Asian nation not only debuted this year on Open Doors World Watch List of nations where Christians face the most persecution for their faith, it also landed as high as the No. 25 spot.
Why?
The key is to understand that although the government presents Nepal as a secular country, it's practically run by Hindu forces, said Pastor Bharat Giri, a full-time Christian minister of 24 years, who is now the chairman of a political party seeking to inspire and encourage Christians to stand up for their rights.
"We are dominated by India," Giri told The Christian Post, explaining that the injustice, negligence of people's needs, corruption, and human rights abuses affecting minority religious groups are on the rise.
"They are promoting only the Hindu people," he explained, noting that the minority Christians, Muslims, and Buddhists in the country are often left behind.
One of the major factors behind Nepal's deteriorating religious freedom rights has been legislation signed into law in October 2017 that criminalizes religious conversion. Giri said that it's heavily used to punish those who decide they want to become Christians.
C.B. Gahatraj, general secretary of the Federation of National Christians in Nepal, and other Christian leaders have demanded that the clause against evangelism be struck down, declaring that believers are not "vote banks" that can be lied to by politicians.
Giri spoke of several cases where Christians have suffered the consequences of anti-evangelism sentiment, even before the passage of the law last year.
"One-and-a-half years ago, in one district, Christians were giving out Christian tracts. And because of that, they were put in jail for nine months," he said, noting that the group of six to nine Christians was released, but the case is still going on.
Six months ago in East Nepal, there was another Christian woman who was "taking care of children, the poor children. She did not have money," the pastor said.
She was pressured by the government to come with the children to Kathmandu, the capital, but then she was arrested, charged with converting others to Christianity, and jailed for three months.
The woman was released after the initial jail period, but the court has now announced that she will have to spend three years in prison for the crime of religious conversions.
Not only that, but those who helped her and the poor children have also found themselves in serious trouble.
"I met this morning with one of the pastors in Kathmandu who was helping feed the children, and he was also told that he would be going to prison for one year," Giri said.
He noted several other incidents across the country where Christians are ending up in jail simply for their beliefs, arguing that believers can be accused by anyone at any time and end up behind bars.
"The whole justice system, the judges are Hindu," he said.
Other religious minorities have also been affected — Buddhists who eat cow meat have been jailed for killing an ox, which offended Hindu sensitives that deem cows to be sacred.
"They say this is a secular country, but they are continuously pushing people to jail" for their religious beliefs, Giri shared.
As CP reported in a separate exclusive interview last year, another major problem facing believers in Nepal is severe restrictions when it comes to burial rights. Unless they have the money, many believers are unable to bury their loved ones in accordance to Christian practices.
Gahatraj said at the time that Hindus sometimes force Christians to dig up the remains of their loves ones if they are buried in land where they are not allowed.
"If Christians refuse to dig out the bodies of their relatives, in some cases Hindu radicals have themselves dug out the bodies, and taken the bodies to the Christian relatives' home, and in other cases have just left the dead bodies on the streets," Gahatraj said of the gruesome consequences.
Giri confirmed that the government "doesn't allow us the land."
"Some areas where the local leaders are gracious, some parts of the land are given" to Christians to use for burial.
But when Christians do not receive such generosity, or they have no money to pay for land, then they have to either burn the bodies, or pay money to forest workers who arrange for the bodies to be buried in the forests.
There are widely different estimates on the number of Christians living in Nepal. Monitoring groups such as Open Doors put the number at around 403,000 out of 28.5 million people, though Giri said that exact data is hard to come by.
He estimates that today there are about 1.5 to 2 million followers of Christ in the country.
The problem, he said, is that for a variety of reasons, they are failing to stand up for their rights and respond to the intensity of the persecution.
"Christian people, in the name of forgiveness, are not rising up," Giri noted.
Some Christian leaders, on the other hand, receive certain benefits from the government, which keeps them quiet, he suggested.
That is why a year-and-a-half ago, the AP Messiah Party was formed, aiming to be the voice of Christians before the government.
"We are trying to convince people that if one day God allows us to be in parliament, then we will see changes in Nepal," Giri said.
As a small party, it faces challenges, such as a lack of resources, but it is looking to explain to others that it can offer an alternative to the established political parties, which Giri said are still in the "18th century" when it comes to human rights.
Giri himself has been advised to not speak on the topic of Christian persecution, but when it comes to the risks for his safety, he said: "I know my Jesus and the Word of God. Without God's Word, even the boar cannot fall down on the ground. I am dependent on God."
The World Watch List
Open Doors USA, which could not confirm in a separate interview with CP whether Nepal is the highest-ever debutant on the World Watch List, still described the country as "landing stunningly" all the way up to No. 25, due to religious nationalism spilling in from India.
David Curry, CEO and president of Open Doors, explained that the high-number debut of Nepal is significant, and is a "direct result of them adapting a similar mindset to nationalist Hindu philosophy that is justifying restriction of Christian rights."
Curry said that his organization does have ministry partners in the area, and that they are navigating day by day "the new era" for Christians there.
"The Church is trying to adjust quickly to how they can practice their faith peacefully," he said.
He offered that it would not be wrong to say that there is a strong movement of Christian faith in Nepal, which is one of the reasons pushing the government to tighten restrictions on non-Hindu faiths.
The government often accuses Christians of being propped up by foreign forces, but the Open Doors CEO disputed the claim.
"There are millions of Christians in India and a significant local indigenous church in Nepal that love their country, and they want to have the right to practice their own private faith," he said.
One particular focus of the latest Open Doors report, released in January, has been the rapes and severe sexual attacks Christian women around the world have suffered, specifically for their faith in Christ.
Open Doors documented 2,260 such cases throughout 2017, though Curry said that the numbers include only those brave enough to speak out about their experience, and cases where it could be proven that the assaults they suffered was because of their religious beliefs.
While attacks happen all over the world, they are especially prominent in Hindu majority and Islamic majority cultures.
"What you see in Islamic cultures is they attack Christian communities by raping the women and forcing them into marriage. You see this in northern Nigeria, you see this in other parts with Boko Haram," Curry said, referring to the Nigerian terror group that has been targeting believers.
He said that Islamic radicals try to find "twisted justification" for their treatment of women through their belief in a holy war against nonbelievers.
Curry said he doesn't know how Hindu theology would interpret such issues, but said that as attacks are "on the rise, it is something to watch."
He warned that governments that allow the mistreatment of Christians can often expect other human rights atrocities to take place as well.
India, whose cultural politics are affecting Nepal, has seen many cases of violence against Christians go unpunished — 645 to be exact, according to Curry.
One specific example he recalled was the story of a nun working to help poor people at a medical clinic in the South Asian country, but was told by extremists that they didn't want her doing work in Jesus' name.
"And then they raped her, and everything kicked into place — the justice system, the police force, all of them sympathizing with the extremists. They overlooked or shredded evidence, and the attackers were acquitted, and it was a great injustice," he lamented.
As for what the U.S. and other Western governments can do to tackle religious persecution around the world, he pointed to U.S. President Donald Trump's announcement earlier in January that he would suspend security aid to Pakistan until the country starts cracking down on extremist factions.
"The government has the right to say, 'If we are going to do business together, if we are going to be partners in the international community, we expect you to uphold basic human rights,'" Curry said.
– christian post
China, February 1, 2018: Fourteen Christian house church leaders who are part of the Middle Eastern evangelism network have been abducted by government security agents in China.
ChinaAid reported on Wednesday that the Christians, who weren't named, are being held captive at an undisclosed location by state authorities in the coastal Zhejiang province.
"This massive, enforced disappearance of 14 peaceful church leaders shows the Communist Party has no regard to rule of law and its citizens' religious freedom rights," said ChinaAid President Bob Fu.
The group, which monitors the crackdown on churches and arrest of Christians and human rights activists in China, said the Communist government continues to deny believers religious freedoms and basic human rights.
"ChinaAid urges international leaders to speak out against this blatant abuse against religious freedom and human rights, and calls on China to immediately and unconditionally release these innocent Christians," the group declared.
Back in January, Christians shared their fears that the persecution could get worse following the government's destruction of an evangelical megachurch in the northern Shanxi province.
Chinese military police detonated explosives inside the Golden Lampstand Church in Linfen, destroying the house of worship which was owned by the Christians who worshiped there.
A video of the demolition was shared worldwide, showing the moment the church collapsed.
"My heart was sad to see this demolition and now I worry about more churches being demolished, even my own," a local pastor who wasn't named said at the time. "This church was built in 2008, there's no reason for them to destroy it now."
A Catholic church was also destroyed in a similar fashion in December, while at least 1,200 church rooftop crosses have been forcefully removed in Zhejiang province since 2015.
Chinese authorities have been known to raid worship services and detain dozens of Christians at once, such as what happened to 13 believers in Guangdong province in November.
Police officers raided Qingcaodi Church, a small house church in Jingmen, with believers seeing their Bibles and other church-owned material confiscated.
Chinese lawyers who have stood up for Christians have also been persecuted. Several attorneys who sought to represent 40 Christians who were arrested over "cult" activities last year were told in January that their legal certifications could be taken away.
Xiao Yunyan, one of the lawyers under government review, vowed that he and his colleagues will continue representing the Christians, with the lawyers working on a contingency plan.
China is listed No. 43 on Open Doors USA's World Watch List, which states that church life is heavily controlled by the government.
The watchdog group explains that Christians are "hedged in by authorities," since at 100 million strong, they are the largest social group that is not controlled by the state.
– christian post
Vietnam, January 29, 2018: The Mass celebrated on 23 January in Song Ngọc parish, in the diocese of Vinh, has been declared "illegal" by the People's Committee of Quỳnh Ngọc, a municipality in the north-central province of Nghệ An.
In an official note, the authorities censure the vicar and the parish's pastoral committee, ordering Fr Nguyễn Đình Thục and his parishioners to "register all their religious activities" in accordance with a local bylaw (N.08/UBND).
Last week, the vicar had invited about 20 priests from the diocese to celebrate Mass in the parish. During the service, priests and faithful prayed for the victims of the environmental disaster at a plant owned by the Formosa Plastics Group.
They also mentioned in their prayers prisoners of conscience, like Hoàng Đức Bìnhe and Nguyễn Nam Phong, and called for peace in all Vietnamese families.
At the same time, parishioners prayed that local authorities be able to distinguish between what is right and what is wrong, and that the government behave in a fair way towards those who are committed to the peace of the nation.
Local authorities have been trying for a long time to stifle the religious life of the local community, which has fought for social rights and justice in the country, speaking out on behalf of dissidents who disagree with the government.
The People's Committee of Quỳnh Ngọc sent the document on the afternoon of 23 January 2018, and Fr Thục and the Song Ngọc Parish Pastoral Committee of parish celebrated Mass with many participants and parishioners.
In their note, local authorities cite the new Law on Belief and Religion that came into effect on 1st January 2018. They cited Article 43 to say that "Religious organizations, dependent religious organisations, […] or religious organisations which have been granted the certificates of registration of religious activities have a duty to provide in writing the lists of annual religious activities at least 30 days after being recognised, approved or granted a certificate of registration of religious activity as prescribed" by the government.
Some officials claim that Song Ngọc parish has not yet informed the People's Committee of its programme. As a result, they view the Mass celebrated by the community as contravening the provisions of the new law on religious freedom. By contrast, for local Catholics, "Article 43 is an expedient to obstruct the religious activities of the parish and of the faithful."
The community has often been the victim of sometimes violent interference and pressure from the authorities through pro-government militant groups, as well as smear campaigns, such as the one against Fr Thuc.
Article 2, paragraph 10 of the law backs the parishioners of Song Ngọc, thus highlighting the its inconsistencies.
According to this provision, "Religious activities are to express religious beliefs, catechism practice, practicing canon law and religious rituals. So, the participation in the Mass of believers, communion and prayer together are 'religious activities' that take place every day, every hour in the country." Thus, such practices in themselves already comply with the law of the state.
Before Vietnam's parliament passed its new controversial legislation, the country's religious leaders contributed to the discussions with their opinions in order to protect religious freedom, a principle recognised in the 2013 Constitution.
Starting in June 2017, organisations, legal experts and believers of various faiths shared their views with the Speaker and Members of the National Assembly. The Catholic Bishops' Conference of Vietnam also made an important contribution.
Yet, critics note that the authorities "simply pretended to listen to the advice offered to improve the bill". Believers and rights activists complain that the government later ignored the views expressed by religious organisations. This has allowed local authorities "to apply the Law on Belief and Religion as they please".
– asia news
Indonesia, January, 2018: An Indonesian Christian was publicly flogged on Friday (Jan 19) for selling alcohol in conservative Aceh province, a violation of Islamic law, as a crowd of onlookers including children jeered.
Jono Simbolon grimaced in pain when a masked religious officer lashed his back with a rattan stick on a makeshift stage outside a mosque in the provincial capital Banda Aceh.
He is only the third non-Muslim to suffer a public whipping since Aceh, on Sumatra island, began implementing Islamic law after it was granted special autonomy in 2001 – an attempt by the central government to quell a long-running separatist insurgency.
"This is our government's commitment to enforcing Islamic law," said Banda Aceh mayor Aminullah Usman.
"If there is a violation (of the law) immediately report it to the sharia police and we will carry out a punishment like today's caning," he said, referring to religious authorities.
A doctor checked on Simbolon's condition after 10 strokes before the flogging continued.
He was one of 10 people – eight men and two women – caned after Friday prayers for offences including pimping, prostitution and gambling.
One unmarried couple received 20 strokes each for being too physically close to each other – seen as a prelude to banned pre-marital sex.
Simbolon was arrested in October and sentenced to 36 lashes for selling illegal alcohol.
About 98 per cent of Aceh's five million residents are Muslims subject to religious law, known locally as Qanun.
Non-Muslims who have committed an offence that violates both national and religious laws – such as selling bootleg liquor – can choose to be prosecuted under either system.
"(Simbolon) is a Christian but he decided to bow to Qanun," chief prosecutor Erwin Desman said, adding that the man may have chosen a flogging to avoid a lengthy criminal prosecution.
Aceh is the only province in Indonesia, the world's most populous Muslim-majority country, which implements Islamic law, or Sharia.
Last year, two gay men who admitted having sex were flogged in Aceh, with each receiving 100 strokes of the cane, drawing heavy criticism from rights groups.
Gay sex is not illegal in the rest of Indonesia, which mainly follows a criminal code inherited from former colonial ruler the Netherlands.
– afp
China, January 24, 2018: Authorities near Lincang city in the southwestern Yunnan province jailed six Protestant Christians on 18 January for up to 13 years, accusing them of "using an evil cult to organize to undermine law enforcement."
The Yun County People's Court handed out a 13-year jail sentence to Ju Dianhong; 12 years to Liang Qin; and four years to Yang Shunxiang. Shorter sentences were given to Zhang Hongyan, Zi Huimei and Zhang Shaoca.
They were accused of being part of a controversial group called the Three Grades of Servants, which the government has been cracking down on. The accused have denied being members, and have said they will appeal the sentences. Almost 200 Christians in the province have been detained and falsely accused of being members of the group.
During her trial, Ju told the court: "I am a Protestant Christian believer, and I believe in Jesus. None of my evangelism has contravened any of the principles in the Bible, and my beliefs do not constitute an evil cult."
Authorities are now turning their attentions to the detainees' defence lawyers. Their licences to practice law will be subject to review on suspicion of "illegally" defending their clients.
– global christian news
Islamabad, January 22, 2018: Pakistan's northwestern Khyber Pakhtunkhwa province has allowed six Christian churches to reopen, some two weeks after their forced closure over alleged security threats, minority representatives said.
The home-based churches are in Abbottabad, the city where Al Qaeda chief Osama bin Laden was found and killed in a raid by U.S. Navy Seal commandos in 2011.
The surprise ban, which came shortly after the U.S. placed Pakistan on a special watch list for severe violation of religious freedom, angered minority leaders and rights activists who called the move discriminatory.
The ban was overturned by Khyber Pakhtunkhwa Speaker Asad Qaiser when the matter was taken up by opposition lawmakers in the provincial assembly.
"All churches have got verbal permission to reopen and worship according to their religious faith and beliefs. We are expecting to get a written order soon," Pastor Christopher Shakar said in a statement.
"We are grateful to everyone for being with us when we were facing difficulties to worship our Lord. God has proven once again he is always with us."
According to the pastor, Sunday Mass was also held at the churches.
Basharat Khokhar, a minority rights activist, had condemned the Khyber Pakhtunkhwa government for its prejudicial behavior toward religious minorities.
"On one hand, the government wants to pay billions of rupees to Muslim clerics, while on the other hand it is shutting down Christian worship places," Khokhar said.
On Jan. 18, Khyber Pakhtunkhwa Chief Minister Pervez Khattak approved a plan to provide a monthly stipend of 10,000 rupees (US$100) to thousands of Muslim prayer leaders in a scheme that will cost 3 billion rupees.
Father Arshad Nayer, a local Catholic priest, said the government "would give a bad message to minorities" if it did not withdraw its decision to close the churches.
"Instead of providing security for the said churches, the administration has found it convenient to shut them down," he said.
A minority rights activist, requesting anonymity, said there are mosques in almost every street of the country.
"Can the federal or provincial governments dare to close a single mosque on the pretext of registration or security threats?" he questioned, adding that there are double standards when it comes to application of law in the Muslim-majority country.
– – ucan