Jammu, January 18, 2018: A church, two shops and a tractor belonging to the minority Christian community were set ablaze by a mob at Sial village in Rajouri district on Tuesday evening after a Hindu family alleged foul play in the death of their daughter who, they said, was being pressured by her husband to convert to Christianity.
Seema Devi (25) died on Monday in Jalandhar. Her husband Rinku (30) was arrested on Tuesday after he brought the body to the Rajouri village. Inquest proceedings under Section 174 CrPC — invoked when circumstances around a death raise reasonable suspicion — have started.
Seema's family said that when she married Rinku 15 months ago, they were unaware that the groom was Christian. Rinku was a worker in a vegetable mandi in Jalandhar. "We came to know about it (that Rinku was Christian) last month when Rinku took Seema to Jalandhar to attend Christmas prayers," said Seema's uncle Joginder.
He said that after returning from the prayers "she seemed unwell and kept silent". Her parents offered to take her to a doctor, but Rinku and his family did not agree and took her to a local church, saying she would be cured through prayers. On January 8, the two went to Jalandhar, where Seema died, Joginder said.
When Rinku returned to Sial with Seema's body, her family said they noticed blue marks on her body, Joginder said. Police Tuesday took the body for post-mortem.
Sial is a pre-dominantly Hindu village with less than half a dozen Christian families. When Seema's body was brought to Sial, people in large numbers gathered and many tried to link her death to alleged pressure to convert to Christianity. The family cremated her body on the premises of the local church. Later, the church was razed by a mob, sources said.
The mob also set ablaze two shops belonging to the minority community and a tractor. They attacked Rinku's house, but the police intervened then. Nearly two dozen people were injured. Subdivisional magistrate, Sunderbani, Kartar Singh, said: "We offered to start a magisterial inquiry, but they (the family) did not insist.''
– indian express
India, January 16, 2018: It's more dangerous now than ever before to be a Christian in India.
Open Doors has officially released its 2018 World Watch List, and India ranks number 11 out of the top 50 countries where Christian persecution is at its worst.
"Persecution of Christians is rising in India. More than ever before, the growth of radical Hinduism in the nation is fueling violent attacks, with even greater impunity for attackers as the government sides with radical groups," the organization wrote in its report.
Pastor Joseph D'Souza, who works tirelessly for human rights in India told CBN News Hindu extremists are spreading dangerous propaganda against Christians in the country.
"The propaganda that continues to go on which is absolutely not correct that Christians are involved in false and forced conversions. Nothing of that sort is happening," he explained.
"The propaganda that somehow Christians are working against India, against the interests of India by trying to be Christians, is propelling this. And a lack of control of these groups that seem to commit crimes and attack minorities with impunity," he continued.
D'Souza said radical Hindu extremists aren't just targeting India's Christians, but anyone who does not adhere to their ideology.
"It's not just related to the Christians. It's also related to the Muslims, Dalits, and now also Hindus," he said.
The situation is especially hard for Dalits — people who rank the lowest in India's caste system and are considered "untouchable."
"India cannot continue with a caste system," D'Souza said. "While many Dalits have found freedom and dignity through Christian work and education and spiritual work, the problem is not over."
Despite the growing persecution of Muslims, Dalits, Hindus, and Christians, D'Souza said God is still at work in India.
"Persecution has never stopped the growth of the church. In fact, when we are attacked, when we are persecuted, we become stronger," he said. "They're standing strong and they're not recounting."
– cbn news
Madhya Pradesh, January 18, 2018: Hundreds of policemen were deployed to guard two Catholic educational institutions in India's Madhya Pradesh state this week amid alleged threats from Hindu hardliners.
The move came as the Madhya Pradesh Catholic Diocesan Schools' Association sought protection from the state high court for all its educational institutions following threats against them by Akhil Bharatiya Vidyarthi Parishad (ABVP), the student body of the ruling pro-Hindu Bharatiya Janata Party.
Church officials say the group is trying to whip up hostility against the Christian institutions for not allowing its members onto their campuses to perform Hindu rites and other activities.
Police were sent to guard St. Mary's College in Vidisha on Jan. 15 after the ABVP set a Jan. 16 deadline for college authorities to allow its members to conduct Hindu prayers inside the college grounds.
Police foiled a previous bid on Jan. 4.
"The government provided full security to the college," said college director Father Shaju Devassy.
Policemen were also sent to guard St. Joseph Convent School in Jhabua Diocese after ABVP activists threatened to storm it after accusing the school of disciplining several students for shouting patriotic slogans.
Hindu hardliners are accused of trying to establish a Hindu only state by using extreme nationalism as a major tactic.
Father Rockey Shah, the Jhabua Diocesan public relations officer, told ucanews.com the ABVP was "cooking up allegations" in an attempt to portray Christians as non-patriotic for political reasons.
Church officials say ABVP threats are not about prayer or patriotism but an overt attempt to take control of the schools in violation of a constitutional provision that allows minorities like Christians to own and manage educational institutions.
– ucan
Jharkhand, January 15, 2018: An Indian pastor says he was attacked by Hindu extremists who dragged him out onto the streets, beat him, and threatened to kill him unless he renounced Jesus Christ for a Hindu monkey deity.
"In those moments when they were kicking and beating me, I felt that even if I die now, the Lord will make the ministry I leave behind fruitful," Pastor Karma Oraon told Morning Star News in an article published Monday.
"We are just a few gathering in the name of Jesus. He is our strength."
The attack occurred while in Harmu village of Ranchi District, Jharkhand state, on Christmas Eve, when 16 or so Hindu radicals attacked a prayer meeting the 34-year-old pastor was leading with others.
The attackers started shouting "Praise Bajrang Bali," referring to the monkey god Hanuman.
"They forcefully dragged me outside when we were in the middle of meditating on the Word of God," the pastor explained. "They spewed many words in extreme foul language and beat me on my chest repeatedly."
The pastor was physically and verbally abused, with the radicals tearing up his national identification card.
"They slapped me and said, 'You are Oraon? Tell us what you must do, being an Oraon? You should follow the Adivasi [indigenous] religion or this foreign religion?'" he said.
"They told me, 'Immediately you should give up Christianity and embrace Sarnaism/Sarna [indigenous religions) — if you don't, you will be brutally murdered."
The pastor's small flock was also told that they and their families will be killed if they practice Christianity and refuse to embrace the indigenous religion.
One of the witnesses, 21-year-old Chotu Munda, was also beaten when he tried to rescue Oraon.
When he later went to report the incident to the police, the officers refused to even register the case.
The pastor has been driven out of the village, but has not lost his faith in Jesus.
"I never had an experience of opposition when I preached Gospel or visited families to pray for the sick. But I seek inspiration from my Lord; people have crossed every limit to humiliate Him and crucify Him, but He patiently bore their torture for my sake, for my sins," Oraon said.
"I strongly feel the presence of my Lord Jesus in all this. Had He not granted the strength to endure, I could have never overcome from what happened."
Morning Star News reported of other cases of violence against Christians in Jharkhand state, with 60 radicals storming a house church on Christmas Day in Behratoli village, trying to force a group of 16 Christians to renounce their religion.
Major church leaders in India had asked the government to provide additional security at houses of worship over Christmas time, given the increased threats that believers face.
Cardinal Baselios Cleemis, president of Catholic Bishops' Conference of India, spoke with Rajnath Singh, the interior minister, earlier in December.
"The minister assured us that immediate action would be taken to bring the culprits to justice and ensure the safety of the community," Cleemis said at the time.
Still, he said that many in the minority Christian community in India are "losing confidence in the government," with attacks continuing to rise against them.
– christian post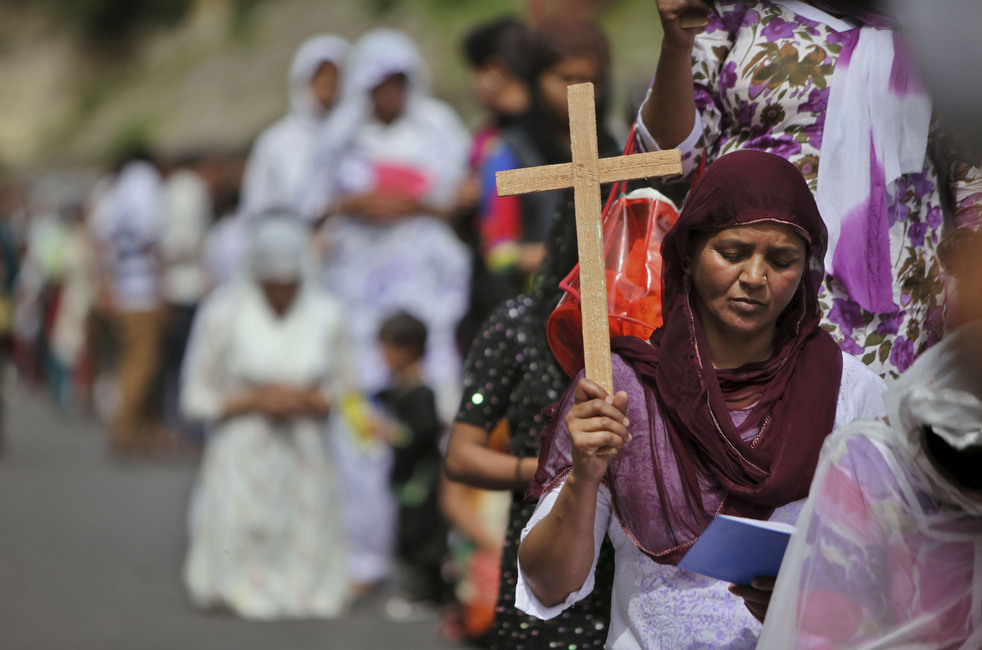 Jammu, January 15, 2018: Seemadevi from Sehal village was a new believer from Rajput family suddenly she became Mad and she was brought to Church for Prayer .Evangelist and Believers of Sehal Church Prayed for her earnestly but there was little improvement . Some of their relatives insisted them to take Jalandhar (Punjab) for Prayer and Treatment when she was attended Pastor Ankur Nirula (Independent Pastor) meeting she was recovered few day but suddenly within 4 days again her condition became worst and she has died in Jalandhar itself.
Since Parents of Seemadevi are fanatics, from the beginning itself they used to oppose Christianity and many time insisted her daughter not to worship Christian God. Now Parents of Seemadevi claming that because of her acceptance to Christianity only their daughter has died.
More than 300 RSS People has came with 3 Minibus and to attack Our Church and Believers as we heard that they have broken our Sehal Church and they are Planning to set fire along with all the Rajput Believers having seen the situation Some of the believers are run away from house and hiding themselves in Jungle to rescue their lives. As RSS People are demanding that tomorrow they are going to bury the dead body along with her husband Rinku Kumar also(husband of Seemadevi one who has accepted Christ).
Now we have high level meeting with Jammu Local CNI Church committee and Ex MLC and IG with the help of them we made phone call to District Collector (Rajouri),SSP and SP Police (Rajouri)they have assured us to take care the Believers, Church and the situation .
By the Grace of God Superintendent promised us to provide possible help, now situation are under control ,Police has been deployed surrounding the Village for the protection of our Church and Believers. By seeing the situation I have asked Missionary (Bro.Jeewer Joeswa Family and Evangelist Govinda family to Mooved from Nowshera to Jammu now they are about to reach Jammu.
– persecution.in
Rajasthan, January 15, 2018: On 15th January 2:30pm local social welfare office staff and some police men came a raided the Kota based Emmanuel Mission office and later ceased the office saying that the ministry is not cooperating with them. The police then asked all the staff to leave the office and took photocopies of many files.
This harassment is happening in spite of the Rajasthan high court and Supreme Court's written permission to operate the mission as before. The government department is unnecessarily creating problems for the mission work. The department sometimes take the children from Immanuel orphanage and make unwarranted public statement in the media to harass and stop the mission work. The officials have ceased the missions head office without any no prior notice or information. The officials have not even given a show cause notice or have asked for any documents or explanation and unilaterally ceased the office.
Emmanuel Mission was founded by late Bishop M A Thomas and are into humanitarian activities.
– persecution.in
New Delhi, January 13, 2018: The Rashtriya Swayamsevak Sangh, under the leadership of Indresh Kumar, member of RSS' National Executive, has been attempting to rewrite the constitution of the National Council of YMCAs of India in cahoots with the office bearers of the Council.
The Council was one of the organisers of the United Christmas & New Year Celebrations held on January 9, 2018, at the NDMC Convention Hall, where Kumar was the chief guest and Archbishop Anil J Couto was one of the guests of honour.
This was not the only time Kumar and the office bearers of the Council had been collaborating. In Feb 2017, the Council organised an event with RSS affiliates – Gau Raksha Manch, Muslim Rashtriya Manch, Dharma Sanskriti Manch, Himalaya Pariwar, Rashtriya Ekta Mission, Jai Bharat Manch and Yuva Abhivakthi Manch – to promote culture of oneness, peace, unity and development. At this event Kumar was the chief guest and Lebi Philip Mathew, President of the Council, was one of the special guests.
– national herald india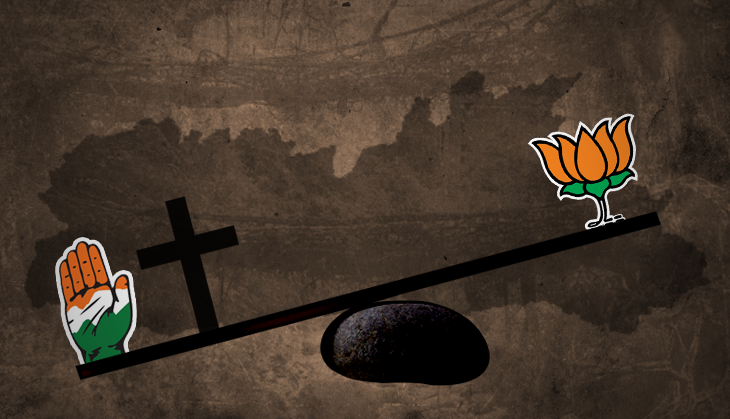 Meghalaya, January 13, 2018: The Bharatiya Janata Party has successfully managed to make inroads into the Congress bastions in the North East, having won Assam and Manipur and conducting a political coup in Arunachal Pradesh. However, its juggernaut might hit a roadblock in poll-bound Meghalaya. Here the Christian community, which forms over 70% of the state's population, is apprehensive about the BJP due to the attack on minorities in other parts of the country, in particular the attack on carol singers in Madhya Pradesh and the violence by cow vigilantes across India.
Christians feel the BJP could try to saffronise the state by interfering in their food habits and pushing their Hindutva agenda. Dominic Jala, Archbishop of the Roman Catholic Archdiocese of Shillong, pointed how there is a growing sense of unease amongst the Christians regarding the BJP.
The Archbishop's view
"What makes our people worried is the rise of the persistence of attacks on minorities as individuals or as institutions in some parts of our country. In Meghalaya, they have adopted a language that seeks to keep these incidents behind an assurance that nothing of the sort will happen in our state. This may be true. But we cannot ignore the persistence of anti-minority incidents. Our people will be the best judge," Jala said.
There is also a considerable fear amongst the Christians that if voted to power, BJP and RSS would push forward its Hindutva agenda and try to convert Christians into Hindus. Responding to this, the Archbishop pointed how the Church does not call Meghalaya a Christian State and will also not envisage a time where it becomes a Hindu state.
"India, North East India and Meghalaya for that matter, are all marked by diversities. Any attempt to flatten out differences by a kind of imposition of one culture and one language theories is an act of violence against our own heritage. It only reminds one of a leader in Europe who tried to do that between the two World Wars – and with what consequences! The Church stands by the dignity of every single human person. It respects and protects the integrity of every culture," he added.
He, however, claimed that the Catholic Church remains completely apolitical and keeps out of party politics as a policy. He informed how few members of the Catholic community have joined the BJP and, probably, will stand as candidates in the upcoming polls.
"We do not interfere in their personal choice. It is up to our people to accept them or reject them. They are wise enough to make a choice," he said.
Another religious head of the Christians concurs with the Archbishop Jala and said that he shares the worries of many who interpret the attempt of the BJP to capture power in all the states in order to carry out their own agenda which are connected to a particular religious leaning. Articulating fears of his community, he said that BJP coming to power in most of the states could lead to an attempt being made to change the Constitution of India, by removing, for instance, the definition of our country as a "secular" entity.
"There will certainly be a number of legislations and acts that will be passed which will greatly hamper our own freedom to work for the development of our people all over the country through our educational and social involvement. I do not see this kind of discourse coming up in the political discussions here. It looks as if BJP is harping only on attacks on religious persons and institutions and on the question of food habits of our people," he said.
He goes on to add that as Church leaders, they have the task of exhorting their people to exercise their franchise and keep reminding them that what we need are legislators who are concerned about the development of our people in a true and concrete way – and not only through speeches given during election campaigns. "We certainly will remind our people that we need legislators who will stand by the Constitution of India and ensure that all people, no matter what their race or creed or caste may be, have freedom to be what they are without any interference from any force, government or otherwise."
BJP's calculations
Prof K Debbarma, who heads the political science department at the North-Eastern Hill University in Shillong, is of the opinion that there is no denying the fact that BJP is trying to gain a foothold in the region and will succeed in winning some seats. According to Debbarma, the election campaign is at a very nascent stage and only when it gains momentum, can one predict who could emerge as favourite to win.
"A lot would depend on what issues these parties raise and what their manifesto says. However, I do not think that BJP would be able to form government on its own. Though other regional parties have distanced themselves from BJP but the likelihood of them having a post poll understanding cannot be ruled out. Therefore, it remains crucial whether the people of the state see through this strategy of the BJP," he pointed.
He does add that no political party would cross the majority figure and the next government in the state would be a coalition government. However, he does not rule out the possibility of BJP forming the government with the help of allies like it did in Manipur and Arunachal Pradesh.
"If you look at the number of Congress MLAs joining BJP, it shouldn't come as a surprise if BJP manages to win over independents and even Congress lawmakers once the results are announced. A repeat of Manipur and Goa can certainly happen in Meghalaya too," Debbarma warned.
However, BJP leaders remain confident of forming the government in the state with a "three-fourth majority". A BJP leader from the North East said that the people of the state are fed up of the Congress government and are looking forward to change. On the question of Christians being wary of voting for BJP, he reminded how the party is in power in Nagaland and Manipur where Christians are in significant numbers.
According to him, Church would not interfere in politics and certainly not side with the Congress. "Religion won't be a factor in these elections. It would be all about development. Christians are smart enough to know what BJP is fighting for. Moreover, regional parties like National People's Party (NPP), United Democratic Party, among others are part of BJP's North East Democratic Alliance and will help BJP form government in the state."
On the issue of Congress regaining power in the state, he just laughed it off and said how the Congress is imploding in the state with central leadership busy with other issues. "When their leader should be campaigning in Shillong, he is going to Bahrain. Moreover, did you notice how Congress leaders are joining BJP in droves. Such is the state of the party that it might run out of candidates even before the polls are announced," he added.
According to him, many other senior leaders are waiting to leave Congress to join BJP which he said offered them hope. Since December last year, seven Congress leaders, including senior leaders, have joined BJP and its allies bringing the party's tally down to 23 from 30. In fact, a day after five Congress MLAs resigned to join NDA partner NPP, party president Rahul Gandhi replaced state chief DD Lapang with Celstine Lyngdoh. However, that didn't improve Congress' position and senior leader and former health minister AL Hek joined BJP.
Meanwhile, Congress remains confident of securing yet another term in Meghalaya and is banking on Christians to support the party. In fact, much of the party's campaign would be around BJP's divisive agenda and how minorities have come under attack ever since BJP came to power at the Center. It is also hoping that good governance will come to its rescue in the poll bound state.
Christians hold the key to who rules Meghalaya and the odds seem to be stacked in Congress' favour. However, if the party repeats what happened in Manipur and Goa, it will be a reminder of how things have remained the same even with Rahul taking over the reins of the party.
– catch news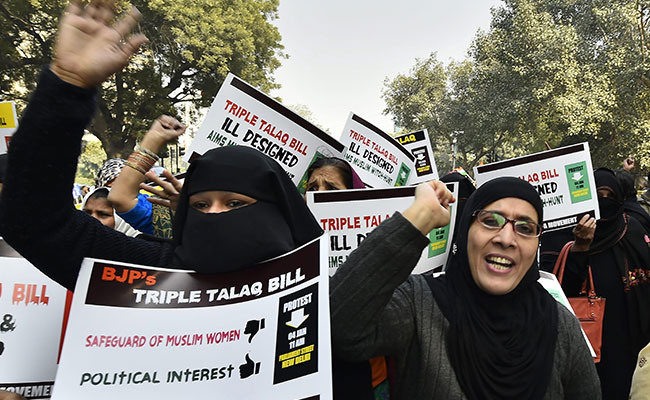 New Delhi, January 13, 2018: The triple talaq bill, unilaterally drafted and brought by the Narendra Modi government, is politically motivated, feels the Muslim intelligentsia cutting across sectarian lines and schools of thought — but they are happy that the controversy has created awareness in the public mind about the evils of the practice.
Is the saffron party indeed serious about addressing the root issue of the social evil called instant divorce, and wants it stopped, or is it indulging in political posturing? The latter, say an overwhelming majority of stakeholders — from "fundamentalists" to liberals, Islamic clerics and women rights activists.
They think that the bill in its present form cannot stand judicial scrutiny.
"It's an atrocious piece of legislation which is against the constitution because it discriminates on the basis of religion," Irfan Ali Engineer, Director, Centre for Study of Society and Secularism, Mumbai, told IANS.
Irfan, son of acclaimed reformist-writer and social activist Asghar Ali Engineer, and a petitioner in the Shayara Bano case, explained: "It is discriminatory on the ground that if a Muslim man divorces his wife in a particular way, he would be jailed. But if a man of other religion abandons his wife, there is no legal action against him."
He said there is "no doubt" the legislation is "politically motivated".
Jamat-e-Islami Hind General Secretary Mohammed Salim Engineer said he could not understand the objective of this legislation.
"If the said bill had held three talaqs (divorces) as one, it would have made some sense. Which would mean that a divorce will not take place no matter how many times a man utters the word 'talaq' in one sitting, and which is in consonance with several schools of Islamic jurisprudence," he said.
All India Muslim Majlis-e-Mushawarat Chairman Navaid Hamid had a similar view: "This bill is clearly faulty. In many Muslim sects, talaq pronounced thrice is treated as only one talaq. But this bill would hold a person of any sect guilty no matter if as per his belief irrevocable talaq has not happened."
The government moved the Muslim Women (Protection of Rights on Marriage) Bill — which proposes a three-year jail term for a man pronouncing irrevocable triple talaq — in the Lok Sabha on December 28 last year and got it passed the same day despite opposition's pleas to send it to a parliamentary committee. However, the Bill was stalled in the Rajya Sabha where the BJP and allies are in a minority. The government has said it is open to "suggestions" if these are "reasonable".
Yasmin of Awaz-e-Niswaan, a women rights collective and an intervener in the triple talaq case, said that she and other activists had welcomed the Supreme Court's August 22, 2017, decision to ban the triple talaq but the legislation brought by the government serves no purpose other than "furthering the BJP's agenda".
"We are against criminalistion of talaq. The Domestic Violence Act and the Section 498A of IPC are already in place to deal with any atrocities or violence against women, and which equally apply to Muslim women. So there is no need for a separate law… It looks like a conspiracy," Yasmin told IANS.
Other women's bodies such as Bebaak Collective and the All India Democratic Women's Association (AIDWA) have publicly slammed the triple talaq legislation for its flaws and inherent contradictions.
Interestingly, the Muslim organisations that are against banning the triple talaq, activists and women bodies which wanted it banned and the opposition parties in Parliament have expressed concerns over the consequences of sending a man to jail for as long as three years.
Who will provide for the woman in her husband's absence? Shouldn't the government form a corpus for such women's financial assistance/pension? Will the marriage remain intact even after the husband is jailed purportedly on the complaint of the wife? Are women's rights safeguarded through this law in cases of other forms of divorce?
These are some of the questions raised by the critics of the bill and the political opposition inside Parliament. The government hardly attempted to assuage such tangible apprehensions and mostly resorted to an abstract emotional appeal that "the bill gives Muslim women their rights and dignity".
Shia cleric Maulana Kalbe Sadiq, who is opposed to instant divorce and wants it abolished, could not find a reason to justify the penal provision in the bill.
"In Shias, there no such thing as talaq-e-biddat. The penal provision is not right, but so is not talaq-e-biddat. Even our Sunni brothers say that this is sinful," he said.
The All India Muslim Personal Law Board (AIMPLB), the most vocal body in matters pertaining to Muslim Personal Laws, has already denounced the Modi government's attempt to "encroach through this bill upon the Muslims' fundamental rights guaranteed in the Constitution" and has termed the bill as uncalled for and unnecessary after the Supreme Court ruling has rendered triple talaq as null and void.
"In case your government considers it necessary to enact a law in this respect, consultations must be held with AIMPLB and such Muslim women organisations which are true representatives of Muslim women," the AIMPLB has said in a letter to Prime Minister Modi.
The plea highlights the general grouse — that nobody was consulted while drafting the bill. Let alone the hardline Muslim clerics, even the liberal opinions including those of various women bodies, were not sought by the government.
People like Irfan Engineer feel that a law is required to address the issue, but it should be "comprehensive".
"We need a comprehensive legislation, one that safeguards the rights of women in case of divorce, but at the same time it should not make the divorce process cumbersome and unendingly long," he opined.
However, amid the heat of discussion on tripel talaq, Zafarul Islam Khan, Editor of fortnightly Milli Gazette, sees something positive in the whole discourse.
"One benefit of this entire brouhaha has been that common people have got some awareness about the evil of triple talaq. Also, clerics have started accepting that triple talaq is wrong and it should be weeded out. In fact, all of us want this practice banished," Khan said.
He also advised the Muslims to "not react" to and "ignore" the bill. "Because provoking Muslims to polarise the society precisely seems to be BJP's objective," he added.
– tcn
Bhopal, January 12, 2018: A court in central India has sentenced a Catholic priest and a nun to two months each in jail for defying a court order to reinstate two students their school expelled two years ago.
The district court in Ujjain town of Madhya Pradesh state also asked Father Sebastian Mullamangalam, the then manager of St. Paul Convent School, and school principal Sister Archana to pay 1 million rupees (US$16,000) compensation to the students.
The court's Jan. 6 order, made public three days later, also requires them to pay legal compensation to the state of US$3,200.
The court, however, has kept its order in abeyance for a month to help the convicts appeal against the order in a higher court, failing which they will have to accept the sentence.
Church officials have removed the accused priest and nun from the school and appointed new officials but maintained they committed no offence.
The school is accused of illegally terminating three students at the end of academic year 2015, with a remark in their transfer certificate that their parents' "behavior was not good."
The school's counsel, Arun Kannan, told ucanews.com that parents were "continuously harassing the school by leveling false allegations against it" such as financial exploitation of students.
The parents opposed the termination through the district child welfare committee, which ruled in favor of the students. But the school appealed against it in a court, which ruled in favor of the school, forcing one of the parents, Devendra Maheshwari, to appeal in the district court.
The court in April 21016 asked the school to reinstate the students, saying they cannot be punished for their parents' behavior. It also directed the school to admit the students "as per the law, if they approach it," according to Kannan.
But Maheshwari, whose son and daughter were among the three terminated, accused school authorities of non-compliance with the court order and pressed for the maximum punishment.
Kannan said the complainant did not approach the school and the students could not be admitted. He said the school has a strong case and will be exonerated of all charges in a higher court.
The school's new manager, Jacob Nirappel, said the pair plan to appeal the sentence and hope to be freed from all charges. The school comes under Ujjain Diocese.
Madhya Pradesh, where the pro-Hindu Bharatiya Janata Party has been in power for the past 15 years, has a history of anti-Christian violence that Christian leaders allege happens with the tacit support of the administration.
Christians are a tiny minority who form less than one percent of the state's 72 million people, but Hindu groups who support making India a solely Hindu nation target them, Christian leaders say.
The state witnessed 21 violent attacks on Christians and hundreds of cases of harassment, threats and intimidation at the hands of Hindu groups from January to November 2017, according to data published by voluntary group Alliance Defending Freedom.
– ucan