United States, February 18, 2018: According to a recent study, wedding bells are not ringing for the majority of younger adults in the United States, while marriage rates for older adults have increased over the past 50 years.
The study, conducted by the Institute for Family Studies, showed that only 48.6 percent of adults in the U.S. between the ages of 18-64 are currently married – marking an all-time low, according to the most recent census data from IPUMS-USA.
"The short-term fluctuation in the number of new marriages and divorces is closely related to changes in the economy and other factors," stated Wendy Wang, a director of research at IFS.
"In the long run, with the passing of older generations, we are heading to an age when marriage will no longer be the institution that a majority of adults live in," Wang continued.
According to the research, there are a number of different factors playing into this decline. More couples are marrying later, or have decided to live with their significant other instead of getting married. Additionally, the number of never-married adults in this age group rose from 26 percent in 1990 to 36 percent in 2016.
The study also found that individuals who are under the age of 35 and those without a college education are more prone to staying unmarried.
"Marriage remains the norm for those with a college education," Wang noted.
In addition, the decline in marriage for young adults was seen across the board, from varying racial and ethnic groups, and included both men and women.
One positive trend from the decline pointed to a lower divorce rate, which reached a record low of 2.1 million in 2016. For those adults who are married, the chance of divorce is now lower.
"Although a smaller share of adults is married today, among those who are married, the good news is that their likelihood of divorce is also lower," Wang said.
On the other hand, marriage for adults in their retired years, 65 and older, is seeing a slight increase, rising from 36 percent to 45 percent in 2016.
Factors such as longer life expectancies, particularly among men, were a major contributor in the increase of marriage for older adults. While older men previously outnumbered women among married adults in their age group, the gap has become more narrow in recent years. Today, for every 100 married men above the age of 65, there are 80 married women – compared to 64 women in 1960.
The study also noted that the divorce rate among this age group has roughly remained the same – around 3 new divorces per 1,000 married adults since 2008.
In the future, Wang is predicting that the gap between married and non-married younger adults will most likely continue to grow.
"The gap between married adults and those who are not married, aligning with the class divide in the U.S., is likely to deepen in the near future."
– cna
U.S., February 21, 2018: Billy Graham died Wednesday at the age of 99. The world renowned evangelist, who has been listed on Gallup's most admired list 61 times since 1955 — more than any other person — passed away peacefully at his home in Montreat, North Carolina, after struggling with various health problems linked to his advanced age.
In a statement to The Christian Post, Will Graham, the grandson of Billy Graham (whose full name is William Franklin Graham Jr.) and the son of Franklin Graham, said:
"My grandfather once said, 'One day you'll hear that Billy Graham has died. Don't you believe it. On that day I'll be more alive than ever before! I've just changed addresses.' My friends, today my grandfather moved from the land of the dead to the land of the living," Will Graham declared.
"We mourn that he is no longer with us physically here on earth, but we don't grieve as those who have no hope. My grandfather invested his entire life in sharing the promise of eternity through Jesus Christ, and today he had the opportunity to realize that hope himself, kneeling before his Savior and hearing the words, 'Well done, good and faithful servant.' My family appreciates your prayers now and in the days ahead."
Last week, Graham's daughter, Anne Graham Lotz, gave an update on her father's health during a conference at Moody Bible Institute.
"I'm not sure he knows that I'm here. He doesn't track like he used to, but his mind is still clear," she said.
"He can't see; he has a hard time seeing because of macular degeneration," she continued. "He's fairly deaf, I have to use a microphone and he wears a headset for me to speak to him. He's not mobile."
Since Billy Graham preached his last sermon on Nov. 7, 2013, for "My Hope America With Billy Graham," a nationwide movement to expose Americans to the message of salvation in Jesus Christ, he appeared to have let go of life and be more ready than ever to go to Heaven, his family observed.
"On November 7, he (Billy Graham) finished his race and up until that time, God had protected his health and gave him supernatural strength, and now, the only thing left is for him to come home," said Will Graham to Assist News in December 2013. "God has removed his hand of protection and old age has set in."
Meanwhile, Franklin Graham told The Christian Post that he had "never seen him (Billy Graham) this weak in all of my life, so I know he'd appreciate your prayers."
Despite his weakened state, Graham was working on a book up until the time of his death. Graham's last book was published in October 2013 and titled, The Reason for My Hope: Salvation. In total, Graham had written 32 books, including his autobiography Just As I Am (1997), Nearing Home (2011), and Angels: God's Secret Agents (1975), which sold 1 million copies within 90 days.
Billy Graham was born Nov. 7, 1918, in Charlotte, N.C., and raised on a dairy farm. He graduated from Wheaton College in Wheaton, Ill. – home of the Billy Graham Center Museum and where he met his wife, Ruth McCue Bell, the daughter of a missionary surgeon to China. They were married for over 60 years until Ruth's death in 2007.
Graham, a Southern Baptist, has preached the Gospel to more people in live audiences than anyone else in history. The Billy Graham Evangelistic Association estimates that he has preached live to nearly 215 million people in more than 185 countries and territories, and hundreds of millions of more people through television, video, film and webcasts. He has led hundreds of thousands of individuals to make personal decisions to commit their lives to Jesus Christ, according to BGEA.
He is also known as the "pastor to presidents," having met every U.S. president since World War II through Barack Obama. For his 95th birthday celebration, President Bill Clinton was among the 700 guests that included Sarah Palin, Donald Trump, Rupert Murdoch and Rick Warren. And for the dedication of the Billy Graham Library in Charlotte, N.C., in 2007, three former U.S. presidents came to share the momentous event with him: George H.W. Bush, Jimmy Carter and Bill Clinton.
"Every life Billy Graham ever touched – including people who never became president, never spoke at a crusade – is better because he was a good and faithful servant of the two most important commandments (to love God with all your heart and to love your neighbor as yourself)," said Clinton in his speech during the dedication ceremony on May 31, 2007.
Clinton, who has shared that he attended Graham's 1959 Little Rock, Ark., crusade, also had said during the 2007 dedication ceremony, "When he (Graham) prays with you in the Oval Office or the upstairs of the White House, you feel that he's praying for you, not the president."
For Graham's 95th birthday in 2013, several megachurch pastors gave tributes to the evangelist during interviews with The Christian Post at the Resurgence conference.
Rick Warren of Saddleback Church in Southern California and author of the bestseller The Purpose Driven Life, had told CP that Billy Graham was among his mentors.
"One of the things that a lot of people don't know about Billy Graham is that he was also an encouragers to pastors," Warren shared. "One time in Amsterdam he brought in 12,000 evangelists from all around the world. I had written a Bible study methods and Billy had brought a book for every one of those evangelists and had me come in and teach it.
"He was first and foremost an encourager," Warren remembers fondly.
Billy Graham is survived by his five children – Virginia, Anne Morrow, Ruth Bell, William Franklin, III, and Nelson Edman – 19 grandchildren and numerous great-grandchildren.
– christian post
Italy, February 14, 2018: A major rocket launch by entrepreneur Elon Musk's aerospace company, SpaceX, on Feb. 6 has been hailed as a major step toward cheaper and more frequent spaceflight – and the eventual population of Mars.
In the face of such unexplored terrain, how should Catholics respond?
While "this kind of expansion is in its infancy, and full exploration of space is a long way off… this is the time to start thinking about and planning for these things," Jesuit Br. Robert Macke told CNA.
Curator of the meteorite collection at the Vatican Observatory, and holding a PhD in physics, Br. Macke said technological progressions such as the SpaceX rocket do not change how we relate to God, but "as with any new development in technology or the way things are done, the main question for persons of faith regards how it is to be used."
The question we need to ask is if the technology is being used "in a way that is just, and compatible with moral theology and ethics," he said, raising the importance of Catholic social teaching in the future of space travel.
While it is still too early to see how it will be used, "one aspect to keep an eye on is whether such technology, accessible to the private sector, further divides the rich and the poor; those who can go to and exploit the resources of space, and those who will never have that chance."
According to the SpaceX website, the Falcon Heavy is the most powerful operational rocket by a factor of two. It lifted off from the Kennedy Space Center in Florida on Feb. 6 at 3:45 p.m. ET and has the capacity to lift into orbit nearly 64 metric tons (141,000 lbs) – a mass greater than a 737 jetliner loaded with passengers, crew, luggage and fuel, the website says.
The rocket carried and released into orbit a Tesla Roadster, complete with a mannequin driver called "Starman," decked out in astronaut gear.
The luxury sports car is worth $100,000, and according to the website whereisroadster.com – which is tracking the convertible's up-to-the-second location – on Feb. 13 at 5:50:14 it was 1,245,8587 miles from earth (and quickly increasing).
The same website tracks that at that time, the car had exceeded its 36,000-mile warranty 231.4 times "while driving around the Sun" at a speed of approximately 55,479 miles/hour.
The development of commercial enterprises, such as the Falcon Heavy, is a necessary first step to "widespread space travel and colonization," Br. Macke said, but he stressed that whether they are on earth or Mars, human nature remains the same.
"As more people are in space, they will not cease to be people. They will form a complex society with all of the good and bad aspects of any modern culture," he said. This includes good things, such as economic growth and new technologies.
But it could also have some negative consequences, he noted, especially environmental ones.
"As we have learned from the age of exploration on Earth, when we introduce invasive species in a new environment, they often take over and overwhelm the area. Microbes and bacteria that hitch a ride on spacecraft may become invasive on Mars or other planets, and if there is any native life, it may be overwhelmed and lost."
Governmental space programs have protocols in place to minimize the number of microbes and other earth-based contaminants that could reach other planets on spacecraft, he said, and there are international laws in place to which private corporations must adhere.
But increasing the amount of space travel will also increase the risk of contamination. For example, the Tesla Roadster wasn't fully sterilized, Macke said. Because it won't land on Mars, it is not subject to the same laws.
– cna
South Korea, February 9, 2018: Catholic Olympic gold-medalist Yuna Kim lit the torch at the Opening Ceremony for the 2018 Olympic Games in Pyeongchang, South Korea on Feb. 9.
The Korean skating sensation has long expressed a desire to use her public role to share the light of Christ by witnessing to her Catholic faith in international competitions and performances.
Kim was honored as the final torch bearer to light the Olympic cauldron for this year's games, after two athletes from the inter-Korean women's hockey team, one skater from North Korea and another from the South, passed the flame along.
After making the sign of the cross as she stepped onto the ice to win gold in the 2010 Vancouver Games with a record-breaking score, Kim teamed up with Korean bishops for a national rosary campaign. Kim was seen wearing a rosary ring, which her fans had previously mistaken for an engagement ring, during her silver-medal performance at the 2014 Sochi Games.
The Olympian converted to the Catholic faith alongside her mother in 2008 after they came in contact with local nuns and Catholic organizations through her personal physician – also a Catholic – who was treating her for knee injuries.
At her baptism, Kim took the name "Stella" after Mary, Star of the Sea, and told a diocesan paper that during the baptismal rite she "felt an enormous consolation in my heart" and promised God to continue to "pray always," especially before competitions.
Kim has also been active in using her position as an opportunity for charitable works, volunteering and donating funds to Catholic Hospitals, universities, and other charitable organizations, and working alongside the Catholic bishops in Korea as a spokeswoman for Catholic charities in Seoul.
In 2012, Kim donated hundreds of thousands of dollars to Salesian of Don Bosco to help support the missionary brothers in South Sudan and to establish Catholic Schools throughout the war-torn country, meeting with Salesian brothers in Seoul to personally deliver the gift.
She told Korean press that while visiting Africa in 2011 she "felt the need to help out children there," and wanted "to offer what little support I can" to those in Africa.
Kim is now retired from competitive skating, but the 27-year-old has served as an ambassador for the 2018 Winter Olympics in her home country of Korea. She delivered the original presentation to the International Olympic Committee seven years ago, pitching South Korea as a potential host country, and has been present at most of the official events leading up to the games. She delivered a speech to the United Nations in 2017 advocating for the "Olympic truce" resolution.
Pope Francis said earlier this week that he is praying for the people of the Korean Peninsula during the Olympic games, "The traditional Olympic truce this year becomes especially important: delegations from the two Koreas will march together under a single flag and compete as one team. This fact gives hope for a world in which conflicts can be resolved peacefully through dialogue and mutual respect."
– cna
Roman, February 7, 2018: The Roman Colosseum will be illuminated by red lights later this month to draw attention to the persecution of Christians around the world, and especially in Syria and Iraq.
On Saturday, Feb. 24, at 6 p.m. the Colosseum will be spotlighted in red, to represent the blood of Christians who have been wounded or lost their lives due to religious persecution.
Simultaneously, in Syria and Iraq, prominent churches will be illuminated with red lights. In Aleppo, the St. Elijah Maronite Cathedral will be lighted, and in Mosul, the Church of St. Paul, where this past Dec. 24, the first Mass was celebrated after the city's liberation from ISIS.
The event, sponsored by Aid to the Church in Need (ACN), follows a similar initiative last year, which lit-up London's Parliament building in red, as well as the Basilica of the Sacred Heart in Paris and the cathedral in Manila, Philippines. In 2016, the famous Trevi Fountain in Rome was lit.
Alessandro Monteduro, director of ACN, told journalists Feb. 7 that the "illumination [of the Colosseum] will have two symbolic figures: Asia Bibi, the Pakistani Christian condemned to death for blasphemy and whose umpteenth judgment is expected to revoke the sentence; and Rebecca, a girl kidnapped by Boko Haram along with her two children when she was pregnant with a third."
"One of the children was killed," he said, "she lost the baby she was carrying, and then became pregnant after one of the many brutalities she was subjected to by her captors."
Once she was freed and reunited with her husband, she decided she "could not hate those who caused her so much pain," Monteduro said.
Aid to the Church in Need released a biennial report on anti-Christian persecution Oct. 12, 2017, detailing how Christianity is "the world's most oppressed faith community," and how anti-Christian persecution in the worst regions has reached "a new peak."
The report reviewed 13 countries, and concluded that in all but one, the situation for Christians was worse in overall terms for the period 2015-2017 than during the prior two years.
"The one exception is Saudi Arabia, where the situation was already so bad it could scarcely get any worse," the report said.
China, Eritrea, Iraq, Nigeria, North Korea, Pakistan, Saudi Arabia, Sudan, and Syria were ranked "extreme" in the scale of anti-Christian persecution. Egypt, India, and Iran were rated "high to extreme," while Turkey was rated "moderate to high."
The Middle East is a major focus for the report.
"Governments in the West and the U.N. failed to offer Christians in countries such as Iraq and Syria the emergency help they needed as genocide got underway," the report said. "If Christian organizations and other institutions had not filled the gap, the Christian presence could already have disappeared in Iraq and other parts of the Middle East."
The exodus of Christians from Iraq has been "very severe." Christians in the country now may number as few as 150,000, a decline from 275,000 in mid-2015. By spring 2017 there were some signs of hope, with the defeat of the Islamic State group and the return of some Christians to their homes on the Nineveh Plains.
The departure of Christians from Syria has also threatened the survival of their communities in the country, including historic Christian centers like Aleppo, ACN said. Syrian Christians there suffer threats of forced conversion and extortion. One Chaldean bishop in the country estimates the Christian population to be at 500,000, down from 1.2 million before the war.
Many Christians in the region fear going to official refugee camps, due to concerns about rape and other violence, according to the report.
ACN also discussed the genocide committed in Syrian and Iraq by the Islamic State and other militants. While ISIS and other groups have lost their major strongholds, ACN said that many Christian groups are threatened with extinction and would likely not survive another attack.
– cna
Vatican, February 6, 2018: Describing a world marked by signs of "the end of time," including false prophets and cold hearts, Pope Francis on Tuesday urged Catholics to use Lent to counteract this "great tribulation" through prayer, almsgiving and fasting.
In his annual message for Lent, released by the Vatican on Tuesday, Francis quoted a line from Christ in the Gospel of Matthew: "Because of the increase of iniquity, the love of many will grow cold."
Those words, the pope said, come as Jesus is describing the end-times, in which "false prophets would lead people astray, and the love that is the core of the Gospel would grow cold in the hearts of many."
Those false prophets, Francis said, come either in the form of "snake charmers," "who manipulate human emotions in order to enslave others and lead them where they would have them go," or "charlatans," "who offer easy and immediate solutions to suffering that soon prove utterly useless."
In either case, he said, the false prophets lead people to mistake false sources of happiness for real ones – which, he said, is a strategy typical of the devil.
"In order to confound the human heart, the devil, who is 'a liar and the father of lies,' has always presented evil as good, falsehood as truth," the pope said.
"How many of God's children are mesmerized by momentary pleasures, mistaking them for true happiness!" he said. "How many men and women live entranced by the dream of wealth, which only makes them slaves to profit and petty interests!"
"How many young people are taken in by the panacea of drugs, of disposable relationships, of easy but dishonest gains! How many more are ensnared in a thoroughly "virtual" existence, in which relationships appear quick and straightforward, only to prove meaningless!" the pope said.
In addition to deceit, Francis said hearts grown cold to the practice of charity are also a sign of the great tribulation.
"In his description of hell, Dante Alighieri pictures the devil seated on a throne of ice in frozen and loveless isolation," he said.
The pope said lust for wealth is the usual form a cold heart takes.
"More than anything else, what destroys charity is greed for money, 'the root of all evil'," he said.
"All this leads to violence against anyone we think is a threat to our own 'certainties': the unborn child, the elderly and infirm, the migrant, the alien among us, or our neighbor who does not live up to our expectations," he said.
The consequences of a cold heart, Francis said, extend to both the earth and to violence.
"The earth is poisoned by refuse, discarded out of carelessness or for self-interest," he said. "The seas, themselves polluted, engulf the remains of countless shipwrecked victims of forced migration. The heavens, which in God's plan, were created to sing his praises, are rent by engines raining down implements of death."
In response, Francis extolled the merits of prayer, giving alms and fasting.
"I would also hope that, even in our daily encounters with those who beg for our assistance, we would see such requests as coming from God himself," he said. "When we give alms, we share in God's providential care for each of his children."
"Fasting wakes us up," the pope said. "It makes us more attentive to God and our neighbor. It revives our desire to obey God, who alone is capable of satisfying our hunger."
Pope Francis also recommended the "24 Hours for the Lord" initiative, in which at least one church is open for 24 consecutive hours in each diocese around the world for both Eucharistic adoration and sacramental confession.
Cardinal Peter Turkson, who heads the Vatican's Dicastery for Promoting Integral Human Development, described the message as "prophetic" in a Vatican news conference on Tuesday morning.
Responding to a question about the pope's references to violence in the message, Turkson said during the news conference that his office is trying to promote a broader vision of non-violence.
"I'd say, step by step, non-violence has to be more than rhetoric against war and physical violence, but a project of promoting the dignity of the person," he said.
"When a person doesn't have enough to eat, that's a form of violence. Where there's exclusion and inequality in a city, that's a form of violence. When there's not respect for the dignity of the person, that's violence," he said.
Lent this year begins on Feb. 14 and runs through March 29, Holy Thursday. Easter in 2018 falls on April 1.
– crux now
Netherland, February 1, 2018: The Netherlands has euthanized a 29-year-old woman who was not diagnosed with a physical disease but was suffering psychologically, an example of the growing allowances for what is being called "dignified death."
The Dutch woman, Aurelia Brouwers, died by physician assisted suicide last Friday. Dutch media reports indicate that she chose death, arguing that she had a right to a "dignified death" after living with severe psychological issues since her childhood.
"I think that after such a rotten life I am entitled to a dignified death," Brouwers told Dutch media outlet RTL. "[P]eople who have a serious illness get a chance for a worthy ending, so why is it so difficult for people who are psychologically out?"
"Every second is torture, I'm so trapped in my head, those demons are not going away, I've been so devoured by my psychiatric illnesses that I'm completely broken, and I fought against that," she said.
Approximately 9 percent of requests for euthanasia because of psychological suffering are reportedly honored in the Netherlands and it is also rare for the government to approve it for people younger than 30 but such cases are indeed happening.
Matthew Eppinette, executive director of the California-based Center for Bioethics and Culture, commented to The Christian Post on Thursday that though he did not want to diminish Brouwers' real suffering, it's worth questioning where this ends.
"Who, ultimately, can say to someone, your suffering doesn't quite qualify for assisted suicide?" Eppinette asked.
"If only you were suffering a little more or suffering in a slightly different way … Indeed, what we have seen over and over is an ever-expanding category of what kinds of suffering and what kinds of distress qualify as worthy of assisted suicide and euthanasia."
He noted that while some may call this kind of slippery slope argument a fallacy, the truth is that upon closer review, "the slope is covered in a sheet of ice."
"The better, safer, more human and humane course is to draw a bright line that says no one helps anyone commit suicide, full stop. Human beings are not isolated, completely independent, fully autonomous individuals. We are dependent on one another in many ways. None of us are as independent as we imagine ourselves to be. There is genuine virtue in recognizing our shared dependence: it allows us to better care for one another, and it provides the means for us to allow ourselves to be cared for by others (which can be a very difficult thing)."
Assisted suicide for mental illnesses also undermines all efforts at suicide prevention in society, he went on to say, which endangers people who can be helped and might otherwise make significant improvements or fully recover.
Similarly, Andrew Walker of the Ethics & Religious Liberty Commission, the policy arm of the Southern Baptist Convention, noted in National Review Wednesday that advocates who favor euthanasia often fail to acknowledge how euthanasia laws wind up loosening as time passes and how the tight restrictions regarding the conditions and ages of eligible people for euthanasia start to disappear.
"Where euthanasia is legalized, the justification for its use expands over time," he said.
Physician-assisted suicide is legal in several states in America, including its most populous one.
"In the first year of California's End of Life Option Act," Walker continued, "111 individuals ended their lives under its stipulations. If California follows global trends, more and more Californians will commit state-sanctioned suicide."
Last March, talk of expanding the right to die for anyone 75 or older, even if they are in good health, appeared in the Netherlands when Alexander Pechtold, leader of the progressive Dutch political party D66, told reporters that he favors an incremental approach in liberalizing euthanasia laws and that he regards it as the "the next step for our civilization." He maintained that political support for euthanizing completely healthy people exists and said he hopes that eventually people younger than 75 can opt to end their lives whenever they so choose.
In February 2017, a group of over 220 doctors took out an ad in Dutch newspaper NRC to express their refusal to administer euthanasia drugs to those suffering from advanced dementia since such people cannot give verbal consent to it. In a detailed article in NRC in June, Boudewijn Chabot, a psychogeriatrician who is supportive of assisted suicide, said that the practice of euthanasia "is out of control," noting the erosion of important legal constraints over time.
"I do not see how we get the genie back into the bottle. It would be a lot if we recognize that he is gone," Chabot said.
– christian post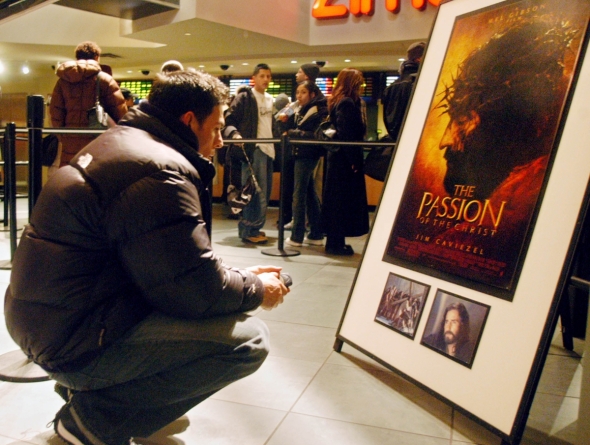 U.S., January 31, 2018: Mel Gibson's sequel to The Passion of the Christ will "shock the audience", its leading actor Jim Caviezel has claimed.
Caviezel, who played Jesus Christ in the 2004 film, confirmed in an interview with USA Today that he is on board to reprise the role in Gibson's long-awaited sequel.
The 49-year-old actor was tight-lipped about details for the project. "There are things that I cannot say that will shock the audience," he said. "I won't tell you how [Gibson is] going to go about it… But I'll tell you this much, the film he's going to do is going to be the biggest film in history. It's that good."
Caviezel, who also appears in the forthcoming film Paul, Apostle of Christ, added: "Braveheart, that's a film that took a long time to be able to crack. The same thing for Passion. And the same thing for this. He's finally got it. So that is coming."
The sequel, The Passion of the Christ: Resurrection, has been in the works for several years. Gibson first revealed the title of the film in 2016, explaining at the time that it will not be a straightforward "chronological telling" of Christ's resurrection.
Sections of the film will take place "in another realm", the director said, and will explore Christ's experiences in the three days between the crucifixion and the resurrection.
"You're going all over the place," Gibson added. "What happened in three days?… I'm not sure, but it's worth thinking about. Get your imagination going."
Oscar-nominated screenwriter Randall Wallace, who worked with Gibson on 1995's Braveheart, will write the script. "The evangelical community considers The Passion the biggest movie ever out of Hollywood, and they kept telling us that they think a sequel will be even bigger," Wallace told the Hollywood Reporter in 2016.
– telegraph
U.S., January 27, 2018: In a recent study, teenage girls were found to feel powerless when asked for a nude image of themselves from young men, most often saying they felt trapped, bombarded, coerced, and confused when confronted with "sexting" requests.
Perhaps even more alarming is that most of the young women in the study reported that the pressure to sext was normal and accepted boys' aggressive behavior as acceptable. Even more, the only negative language the girls used was not against their male counterparts – but instead to describe themselves or other girls.
The study, "What Should I Do?: Young Women's Reported Dilemmas With Nude Photographs," was conducted by Sara E. Thomas, a doctoral student at Northwestern University, and was published by Springer Science and Business Media in December 2017. The study looked at 7,000 stories from girls who posted their experience on the online platform "A Thin Line."
Of the 7,000 experiences, Thomas focused on 462 stories in which girls reported sexting, sending nude photos, and related experiences from the years 2010-2016. The average age of the girls was 15.
Thomas noted the study's limitations, saying that the shared experiences were the result of an anonymous online platform, which neglects to include important information such as the girls' demographic backgrounds and may not be indicative of all young women's experiences. Most of the girls were also adolescent and there was no information given about the male counterparts who reportedly pressured the girls into sexting.
However, the study is able to highlight a number of adolescent girls' struggles when faced with requests for nude photos, most of whom reported that they did not want to send the images. Also noteworthy was the most common reaction among the girls when asked for photos: "What should I do?"
"Teenage girls know the potential risks and are disinclined to [sext], yet they continue to share their images anyway. They struggle to say no," said Thomas, in an interview with Northwestern Now.
Thomas also noted that the girls seem to be ill-equipped with the resources and tools necessary to face pressured requests from young men.
Of the girls who sent nude photos, "more than 90 percent…engaged in what could be considered unwanted but consensual sexting to either prove their affections or avoid reproach or conflict with their partners," the study reported.
The study also noted that none of the girls who sent nude photos felt relieved or good about their choice. In addition, 40 percent of the stories said their nude photos were sent to unintended audiences. One girl reported that her nude image ended up on the personal phones of over 300 people.
"It appears that a desire for status, love or pressure from boys to be 'good girlfriends,' threats, anger or relational consequences compel them to consider sending photographs," the study said of the girls who were asked to send nude images.
Of the girls who refused, 31 percent said there were repercussions for not engaging in sexting or sending nude images, such as "having the boy get angry, break up with them, or make more requests despite their refusal."
In addition, a number of the girls expressed a level of normalcy in being asked to provide nude images or engage in sexting. They also did not describe their male counterparts as blameworthy, but instead described themselves as "weak," "pathetic," having "ridiculously low self-esteem," or a "horrible person."
When not describing themselves, the girls sometimes used negative language against other girls, calling those who did not send nude images "prudes."
Thomas concluded that her study was "not meant to suggest that all young women struggle with immediate day to day pressures, to represent all young women as victims of coercive tactics, or to represent all young men as coercive or threatening."
"Rather, it is the aim of this study to explore the struggles young women experience and to elaborate on our current understanding of young women's dilemmas as they develop romantic and sexual relationships in this digital era."
Thomas also added that young women need support and information on how to navigate pressuring situations from males, while there is also an overwhelming need for males to act with respect and boundary acceptance.
– cna
New Zealand, January 25, 2018: Christians in New Zealand are planning to hold a rally outside the country's Parliament building to urge the speaker of the House to reinstate the name of Jesus Christ in the Parliamentary prayer after it was removed last year.
"At the beginning of the new Parliament, on the first business day, it always begins with a prayer and the name of Jesus Christ was deleted from that prayer. Many of us have made submissions to Parliament to reinstate the prayer," Pastor Rasik Ranchord of Abundant Life Church said in a statement on Wednesday.
Christians have said they will gather on Jan. 30 in Wellington at the Parliament building, when the House sits for the first time in the year.
Jesus for New Zealand spokesperson Pastor Ross Smith of Celebration Church Wellington explained that the gathering is not a protest, but a movement aimed at bringing believers together.
"We feel that the Church does not have a voice in this change and we are here to change that," Smith said.
"Numbers speak to Parliament and this rally may be the only way to keep Jesus in the prayer, that is why we are calling for all Christians to be a part of this movement."
The controversy stems from a decision announced in November, when Speaker of the House Trevor Mallard began using a new prayer at the start of every sessions that removed references to Jesus, and Queen Elizabeth.
While the original version of the prayer used the phrase "Jesus Christ our Lord," and the new version still references "Almighty God," Christ's name is missing from the latest text.
Christianity has been on a major decline in the country, with national census data from 2013 revealing that less than half, or 48.9 percent of the population, identify themselves as Christians.
The country's 37-year-old Prime Minister, Jacinda Ardern, is an agnostic, and was sworn in at a non-religious ceremony in October. She's also the youngest woman to lead the nation.
Ardern has said that she was raised as a Mormon, but left the LDS Church in her early 20s when she could not reconcile supporting her gay friends with the religion's conservative positions on marriage.
Mullard meanwhile told rally organizers that he would consider their request to bring back Jesus' name to the prayer over the holidays, but has not yet revealed his decision.
Pastor Merita Lau Young of Hosanna World Outreach Center said believers need to make it clear how important their faith is.
"We need to walk to the talk," Young said. "Jesus is alive and well in our life and the community, Parliament and our nation Aotearoa need to know that."
– christian post