Iraq, September 6, 2017: The liberation of Mosul was heralded as a new era for Iraqi Christians who could go back to their homes following the defeat of ISIS.
However, this much-publicized triumph overshadowed a significant defeat that seems to shed a more realistic light on the fate of Christians in Iraq.
The capital Baghdad was, meanwhile, witnessing the permanent closure of eight churches. After a delegation from the Catholic Church regional authority visited those churches and following investigations that showed that attendance, if any, kept dropping in the past seven years, the Chaldean Catholic Patriarchate announced that the churches will be closed for good. While such decision seemed to have made a lot of sense, it leaves little space for optimism as far Iraq's Christian community is involved.
Journalist Elsy Melkonian argues that Baghdad is different from Mosul, where the latter was occupied by ISIS, hence placing Christians under a direct threat that forced them to leave. For Melkonian, the remarkable decline in the number of Christians in Baghdad can be attributed to other reasons.
"It is not related to ISIS, but to the fact that Christians have generally become targeted by different militias since 2003," Melkonian wrote. "They always kidnap Christians and ask for ransom and at times they would just kill the kidnapped person right away."
This led many to flee Baghdad whether to other parts of Iraq or to other countries, she added. Melkonian said that violence against Christians continues till the present time and was especially demonstrated in the case of an old Christian woman who lives alone in Baghdad. In the first week of August, this woman was brutally beaten by a group of armed men and robbed. "This was a message for Iraqi Christians who fled to Kurdistan or Lebanon or other neighboring areas never to come back,"
Melkonian quoted William Warda, coordinator Alliance of Iraqi Minorities Network, as saying. Warda added that Iraqi Christians who still live in Baghdad are under a lot of economic and social pressure. "For example, shop owners have to regularly pay money to armed groups in return for protection," he said. "Christian girls are also not capable of walking alone in several neighborhoods in Baghdad." The state, meanwhile, is incapable of securing the capital and protecting its minorities.
Kaldo Oghanna, member of the central committee of the Assyrian Democratic Movement, said that the decline in the number of Christians in Baghdad has been taking place since 2003, before which they constituted 20% of the capital's population.
"Even though Baghdad has always been better than other parts of Iraq security-wise between 2003 and 2010, Christians remained the weak link that was targeted by different extremist groups," he said. "The real turning point was the Our Lady of Salvation Church massacre in October 2010."
According to Oghanna, this massacre drove a large number of Iraqi Christians to flee to Kurdistan or to the Nineveh Plain, having to flee the latter in 2014 when it was invaded by ISIS, while others made it to Western countries. "Christians realized that Baghdad is no longer a suitable place for them and that one group or another is always sending them a message to stay away."
'An easy target'
Journalist Sandra Elliot said that after the US invasion of Iraq in 2003, the main conflict in Baghdad was between Sunni and Shiite groups then starting 2005, Sunni extremist groups started targeting Christians in different neighborhoods across the capital. "It was commonplace for Christians to receive envelopes containing bullets and a threat from nearby extremists," she wrote. "Messages promising bloodshed and death drove thousands of Christians from their homes in these neighborhoods." Elliot explains that Christians were an easy target because most of them were unarmed and "with no help from a crumbling government, they had no choice but to flee their homes."
Journalist Fadi Kamal Yusuf argued that the decision of the Chaldean Catholic Patriarchate came too late that it negatively affected the cause. "Churches have been empty of worshippers for years and the church should've taken such a step as soon as it noticed the decline in the number of Christians in the capital because then it would have alerted everyone to the problem," he wrote.
"Now it is pointless and the issue is just a news story that no one paid attention to and the church can no longer ask people to stay." For Yusuf, taking this step now will most likely lead to the migration of more Christians from the capital because they would feel they there is very few of them left already, but in the past they could have united to overcome the threats facing them and to keep the churches open.
"And very soon we will be hearing of more churches in Baghdad closing their doors especially that many of the ones that are still open are located in neighborhoods where Christian presence is remarkably dwindling." Yusuf added that lack of religious will is also coupled with lack of political will to protect the remaining Christians in Baghdad and the rest of Iraq. "Both religious and political authorities need to make use of the liberation of the Nineveh Plain, which received both regional and international attention, in order to give Iraqi Christians hope in going back to their homes. Otherwise, more churches will close and Christians will disappear from Iraq."
- al arabiya
Egypt, September 18, 2017: A court in Egypt has sentenced to death seven people over links to the Islamic State terror group in northwest Egypt and over the February 2015 beheading of 21 Egyptian Christians in Libya.
The seven were accused of being members of an Islamic State cell in Marsa Matruh and of planning attacks after having received military training at jihadist camps in Libya and Syria, AFP quoted judicial officials as saying. Three of them were sentenced to death in absentia.
The newswire added that an unspecified number of those condemned were accused of having taken part in the beheadings.
The death sentence will now be reviewed by Egypt's mufti.
Thirteen others are on trial in the same case, and rulings for them are scheduled to be delivered on Nov. 25.
An affiliate of Islamic State, which also known as IS, ISIS, ISIL or Daesh, in North Sinai started an insurgency after the military's ouster in 2013 of Islamist president Mohamed Morsi.
IS released a video of the 2015 beheadings, titled "A Message Signed With Blood to the Nation of the Cross." Despite the horrific actions of the jihadists, the minority Coptic community in Egypt has been emboldened by the example the 21 men set in the video in their refusal to deny Christ.
As International Christian Concern reported at the two-year anniversary of the beheadings in February, relatives of the men, who were kidnapped in separate incidents in Libya throughout December 2014 and January 2015, have been honoring the memories of their loved ones.
One widow said at the time that her husband "kept the faith, and was martyred in the name of Christ. His faith was very strong. I'm proud of him. He has lifted our heads up and honored us and all the Christians."
The children of the 21 Christians have also said that they are "proud" of the courage their fathers showed the world by refusing to renounce their faith.
Numerous Coptic Christians cross over to Libya in search of work despite knowing that they will face severe persecution, including death.
The Sunday Times recently quoted a Coptic Christian as saying, "We know it is more likely we will die than live in Libya but we don't have a choice… More and more people are going to Libya because of the economic crisis here. You can't get work, you can't make money in Egypt. We are aware of the dangers, particularly as Christians."
In July, at least 22 Egyptian migrants were found dead in the Libyan wilderness. According to the Libyan Red Crescent, they died from heat and starvation.
A Libya intelligence report estimates that about 700 IS terrorists have re-grouped in the valleys and desert areas south of the city of Bani Walid, and another 3,000 terrorist fighters from different groups, including al-Qaeda, are operating in the country.
- christian post
Egypt, September 18, 2017: An Egyptian man has shared horrifying details about how Egyptian authorities are aiding networks of abductors who get paid by Islamic extremists to kidnap unsuspecting Coptic Christian girls, convert them to Islam and marry them off to Muslim men.
In an interview with World Watch Monitor, a former Muslim man known only by the letter "G" admitted that he used to work alongside a Salafist network of kidnappers before he left the Islamic faith.
G explained that although networks like the one that he was involved in have been around since the 1970s, they have now reached an all-time high during the era of Egypt President Abdel Fattah el-Sisi.
According to G, the kidnappers receive "large amounts of money" from "Islamisation organisations" for carrying out the dirty deed of kidnapping innocent Christian girls so that they can be converted to Islam and married off.
The value of the reward for kidnapping a girl is greater when that girl is from a family of greater social standing or the "daughter of a priest," he added.
"The Salafist group I knew rented apartments in different areas of Egypt to hide kidnapped Coptic girls," G was quoted as saying. "There, they put them under pressure and threaten them to convert to Islam. And once they reach the legal age, a specially arranged Islamic representative comes in to make the conversion official, issue a certificate and accordingly, they change their ID."
Although abductions are illegal, G asserted that kidnappers are often aided by police officers in various ways in exchange for a piece of the financial reward.
"In some cases, police provide the kidnappers with drugs they seize. The drugs are then given to the girls to weaken their resistance as they put them under pressure," G explained. "I even know of cases in which police offered help to beat up the girls to make them recite the Islamic creed."
In a number of instances, G said, kidnappers would deceive Christian girls in order to abduct them.
"A Muslim boy tells a Christian girl he loves her and wants to convert to Christianity for her," G said. "They start a romantic relationship until one day they decide to 'escape' together. What the girls don't know is that they are actually being kidnapped. Most of the time they will not marry their kidnapper, but someone else."
G recalled one girl who was blackmailed into marrying one of her captors.
"I remember a Coptic Christian girl from a rich, well-known family in Minya," G stated. "She was kidnapped by five Muslim men. They held her in a house, stripped her and filmed her naked. In the video, one of them also undressed. They threatened to make the video public if the girl wouldn't marry him."
G stated that if all goes according to plan, girls are "forced into marriage with a strict Muslim." He added that some girls are shipped off to Saudi Arabia and forced to work as domestic slaves.
"Their husbands don't love them, they just marry her to make her a Muslim. She will be hit and humiliated. And if she tries to escape, or convert back to her original religion, she will be killed," G continued. "The most shocking thing is some girls find out that they are a second wife and are treated like animals. Some are sent to Saudi Arabia and the Gulf to work as domestic servants and they are exploited sexually and are seriously physically abused."
World Watch Monitor reports that one Christian girl who was kidnapped and forced into Islamic marriage is a 16-year-old named Marylin from the Minya province, who was lulled in and kidnapped by the "love" deception this past June. Videos have emerged online showing her forced conversion.
"Marilyn was seduced by a recruit of a Salafi organisation. She was involved in a love affair; he was then able to convince her to run away with him," an anonymous researcher told World Watch Monitor. "Marilyn isn't 18 yet. So even if she had agreed to go with Taha, in our law, this is clearly a case of kidnapping a minor."
Although Marylin's parents turned to the police for help, very little help was found.
"I filed a report in two police stations, and I gave the names of the kidnappers and the place where they hid my daughter," Marylin's father, Medhat Saad Edward, told World Watch Monitor. "But the police haven't arrested them. They didn't even get in touch with Taha's brother, who lives in the village and is in touch with Taha."
Boutros Khalaf, the family priest, told World Watch Monitor that the prosecution dropped Marilyn's case on Aug. 14.
"We've done everything we could to get our girl back. We even sent a complaint to President Sisi, the interior minister and many other important people," the priest said. "Her family lives in bitterness and pain, and we don't know what to do anymore."
According to G, "[k]idnappers of Christian girls rarely get arrested or brought to the prosecution."
"For instance, the police don't report it as a kidnap but say the girl 'went missing,'" G explained. "This way they cover up the crimes of those they see as their 'Muslim brothers.'"
Ebram Louis, an Egyptian human rights activist, told World Watch Monitor in 2014 that the police often don't act on Christian families' reports of kidnapping "because they are afraid of the militant groups."
"The police have not helped the families of the kidnapped girls at all," Louis stressed. "Moreover, some police officers told the families not to search for their kidnapped daughters, as they converted to the right religion."
The researcher who spoke with World Watch Monitor noted that kidnappings in Egypt occur on an almost daily basis.
"There is also a state of terror, panic and fear among all the Christians in our village. They worry about their children. No father will allow his daughter to walk on the street alone anymore," Khalaf stated. "He goes with her or sends her mother or brother to accompany her."
Egypt ranks as the 21st worst country in the world when it comes to persecution of Christians, Open Doors USA's 2017 World Watch List states.
This is not the first time Egyptian authorities have been accused of inaction.
Earlier this year when hundreds of Christian families in the Sinai town of El-Arish fled the region after a number of Christians were murdered within a short time span, fleeing Christians expressed outrage that authorities responded apathetically to the security concern of Christians.
- christian post
Australia, September 14, 2017: An Australian politician who has raised concerns about the impact on freedom of religion of attempts to redefine marriage says she has been subjected to bigotry worse than racism.
Karina Okotel, a Vice President of the Federal Liberal Party and who is of Sri Lankan heritage, says she has occasionally been subjected to racism in Australia. However, the "bigotry", "discrimination" and "hate" she has experienced recently, due to her having opposed attempts to redefine marriage, have been "far worse." She says, "I have even been told to go back to my own country, which is difficult given that I was born in Australia. However, the discrim­ination and hate I have faced, just by querying whether we should be legalising same-sex marriage, has been like nothing I have experienced before."
She revealed that after she had raised concerns about how redefining marriage might affect freedom of religion, she had been refused service and received insulting comments based on her ethnicity. She has also raised concerns about the longer term impact of this hate campaign on freedom of speech in Australia, saying, "I wonder what life will be like for my own kids should they form a view that supports traditional marriage. To protect them, will I have to caution them to keep their views to themselves, not to ask questions and not speak up?"
Gay rights activists have long campaigned against discrimination and incitement of hatred against those identifying themselves as LGBT. It is therefore particularly disturbing that those who raise questions about the LGBT ideological agenda are now being subjected to similar intolerance, discrimination and hatred. What is happening in Australia is not new. When the UK similarly debated  redefining marriage in 2012-13, politicians, church leaders and ordinary Christians who voiced disagreement with it were subjected to a hate campaign which included death threats and huge amounts of abuse, much of it of a particularly vile and sometimes racist nature.
The question raised by Karina Okotel, as to whether in future she would have to advise her children to stay quiet about their views on marriage for their own protection, is a particularly important and disturbing one. It is the sort of comment we hear said by parents in countries such as Pakistan, where anyone voicing dissent with Islamic ideology or beliefs risks being accused of blasphemy. Of course, the consequences of doing so in Australia do not compare in any sense with those in Pakistan. However, the fact that Mrs Okotel and others have been subjected to such a level of hatred and discrimination that she has felt it necessary to raise these concerns, should ring alarm bells.
- barnabas persecution update
Israel, September 14, 2017: Interior Minister Ayre Dery has said that he will make sure that African asylum seekers who refuse to leave for Uganda or Rwanda are unable to work in Israel.
"If successful, the new policy will enforce a full work ban on any Eritrean asylum seeker who receives a deportation notice but refuses to leave. This law will essentially legalize starvation and homelessness as a punishment for our simply being in Israel." – reported a Barnabas Fund project partner.
This announcement came just a few days after the Israeli Supreme Court amended a law which would automatically sentence any Eritrean who refuses to leave to indefinite imprisonment in Saharonim prison. Now the Eritreans can only be sentenced to a maximum of two months in prison. The project partner told Barnabas, "Arbitrary imprisonment is so common for the Eritrean people that another two months is not enough to break our spirits."
About 40,000 African refugees currently live in Israel, mainly Eritreans with a smaller number of Sudanese. Israeli government policy towards them was already harsh, and the planned new work ban for those who refuse to leave will make their lives all but unendurable.
- barnabas persecution update
China, September 14, 2017: Chinese authorities arrested a pastor to stop him from traveling to Hong Kong to attend a Christian training conference, the legal aid organization China Aid reports.
The organization, which was founded by Chinese-American Pastor Bob Fu and reports on human rights abuses committed by the Chinese communist government, reports that pastor Wang Yi was prevented from traveling to the Three-Fold Vision Training Conference in Hong Kong on Tuesday morning.
Yi, who pastors the Autumn Rain Blessing Church, and his wife, Jiang Rong, left from the city of Chengdu in the Sichuan province around 6 a.m. on Tuesday to attend the conference. However, they were reportedly followed by police officers and Wang was intercepted by numerous government personnel when he went through customs.
According to China Aid, government officials detained Wang and took him to the Dongpo Police Station in the Qingyang district. Wang was detained for about an hour before he was allowed to return home, while his wife was allowed to travel to Hong Kong.
"During his time in custody, he asked the officials to provide a document explaining their decision to disallow him from attending the conference," the China Aid report reads. "They replied that they didn't have anything in writing, since this command came from top-level officials. They also could not tell him how long his ban on traveling to Hong Kong would persist."
According to China Aid, the government officials blocking of Wang from traveling into Hong Kong, which is its own special administrative region separate from the Chinese government, is similar to the regieme's pattern of preventing religious leaders from traveling overseas to take part in religious meetings.
"Prohibitions on Chinese Christians attending religious conferences abroad are becoming more frequent, triggered by the Communist Party's fear that other nations are using non-Chinese belief systems to infiltrate the country," China Aid explains. "Revisions to China's Regulations on Religious Affairs, expected to take effect in February, emphasize the country's intent to continue preventing its citizens from traveling abroad to receive theological training."
Although Wang was prevented from attending the meeting, he reportedly submitted a letter that was read at the conference.
China Aid notes that in 2015, the same conference that Wang tried to attend this week was attended by over 1,800 people despite the fact that government officials prevented 100 from attending.
According to Open Doors USA's 2017 World Watch List, China ranks as one of the top-50 worst countries in the world when it comes to Christian persecution.
In August, a Chinese official pushed back against the United States State Department's criticism of China's atrocious human rights and religious freedom record in its 2017 religious freedom report. The Chinese official implied that the U.S. should worry about its own social issues.
"The so-called U.S. report ignores the facts, confuses right and wrong and makes wanton criticism of China's religious freedom situation," Hua Chunying, China's Foreign Ministry spokeswoman, said during a news conference. "China is resolutely opposed to this and has lodged solemn representations with the U.S. side."
"Everyone has seen that the facts prove the United States is not totally perfect," she added. "We urge the United States to respect the facts and properly manage its own affairs, and stop using the wrong means of the so-called religious freedom issue to interfere in the internal affairs of other countries."
Even though China's Foreign Ministry argues that the U.S. is confusing the facts about the religious freedom situation in China, the facts show that the Chinese government has been anything but friendly to many Chinese Christians, house churches and democracy activists, whether that be through the demolition of churches, the systemic arrest of dozens of worshipping Christians or the prevention of Christian leaders from attending religious conferences.
"As Christians are the largest social force in China not controlled by the Communist Party, there are increasing efforts to bring them under state control," an Open Doors fact sheet explains. "Historical Christian communities (including government-controlled churches) and non-traditional Protestant Christian communities are monitored and limited in their freedom of religion, the communities of converts to Christianity very small groups of Christian converts from Muslim or Tibetan background — are particularly targeted."
- christian post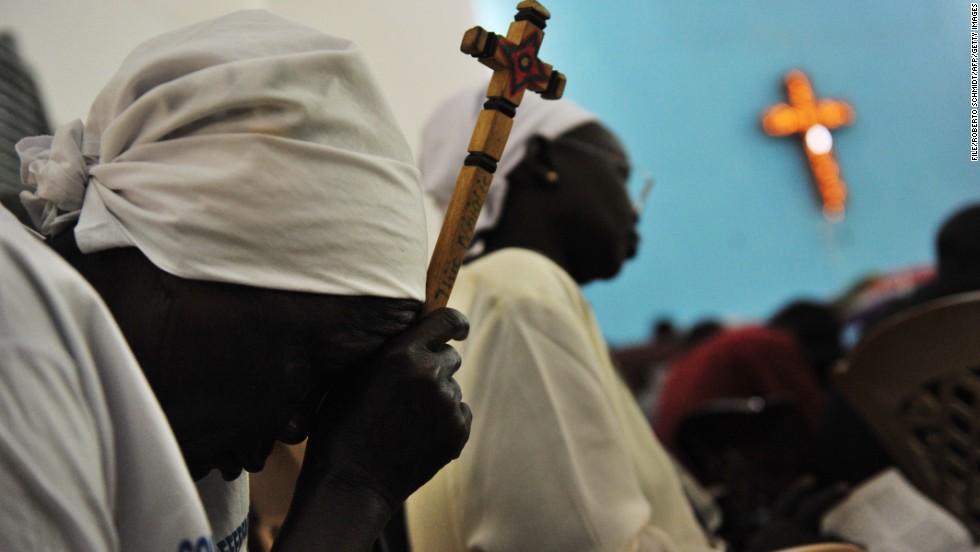 Sudan, September 7, 2017: Christian children in Sudanese refugee camps are being denied food unless their recite Islamic prayers, a Roman Catholic charity reports.
An Aid to the Church in Need worker said that the children from South Sudan are in a "terrible situation" at the camps in neighboring Sudan.
"We have heard stories where children are conditioned to say Islamic prayers before [being] given food. This is not right. These children are Christian. They should be respected for that," said the ACN source, who chose to remain anonymous.
The contact estimated that as many as 700,000 South Sudanese Christians are refugees in Sudan.
"The majority are left in camps, some in a very terrible situation. They are confined in those places. They are not allowed to go further north to the cities," the source added.
ACN added that the refugees who've fled South Sudan's ongoing civil war need government assistance to survive, but monthly food parcels for a whole family barely last over two weeks.
What is more, the Islam-dominated government of Sudan has reportedly been hampering church agencies.
"The government knows very well that the Church is the body in the world that supports enormously the needy around the world. The Muslim community have a charity, so the Christians have a charity, so that possibility should be given so that the people are supported," the contact said.
He compared the suffering refugees to the young Jesus Christ who fled with his parents to Egypt as a child.
"We call on humanity to have heart for refugees," the source urged.
"Refugees should be given genuine respect, dignity and their rights should be respected.
Seven Christian pastors were arrested last month in Sudan after they were forced by the government to hand over denominational leadership, other reports said.
A government-appointed committee apparently tried to seize leadership of the Sudanese Church of Christ, a reformed denomination, from the pastors, which led to the arrest of SCOC Moderator the Rev. Ayoub Mattan and SCOC's head of missions, Kuwa Shamaal.
The church leaders have insisted that the government's request for them to step down goes against SCOC's constitution, which states that a committee has to be elected every three years.
Despite the rising tide of persecution against Christians, the Anglican Communion was able to officially open its 39th and newest province in Sudan in July.
The Most Rev. Justin Welby, Archbishop of Canterbury presided over the ceremony in Khartoum, where the Most Rev. Ezekiel Kumir Kondo was installed as the province's leader.
"I thank the province of Sudan for the honor of being here at your birth. Like all births, it comes with responsibility — it is for the Christians to make this province work and for those outside to serve, pray and to love this new province," Welby said at the time.
- christian post
Nigeria, September 12, 2017: At least 20 Christians, including nine children, were massacred and killed by Fulani herdsmen during an attack on a Nigerian village last week, human rights watchdog organizations are reporting.
International Christian Concern, a U.S.-based non-denominational advocacy group, announced in a press release shared with The Christian Post on Monday that 19 members of the Salama Baptist Church in the village of Ancha in the Plateau state were killed by Fulani herdsman in last Thursday's attack, while one of the deceased was a member of a Methodist church. At least five other Christians were also injured in the assault and were taken to the hospital for treatment.
The organization noted that the attack left one entire family with no surviving members.
According to Morning Star News, an independent Christian organization dedicated to reporting on human rights abuses around the world, police believe the attack was an act of revenge after a Fulani boy who resided in the village was beheaded in a nearby village.
John Bulus, church secretary of Salama Baptist Church in Ancha, told Morning Star News that those killed during last week's massacre came from three different households in the 50-home village. Among those killed, he said, were children aged from three months old to 17.
According to Bulus, the children killed in the attack are 3-month-old Azumi Monday, 3-year-old Lami Monday, 5-year-old Aveh Ishaya, 6-year-old Emmanuel Sunday, 7-year-old Deba John, 8-year-old Ishaya Sunday, 9-year-old Sati Ishaya, 10-year-old Ayo John and 17-year-old Friday John.
The adults killed in the attack are 18-year-old Bala Ishaya, 19-year-old Sei Musa, 20-year-old Tona Monday, 21-year-old Musa Ishaya, 40-year-old Ishaya Ahmadu, 40-year-old Lami Ishaya, 45-year-old Laraba Bulus, 48-year-old Kande Ahmadu, 50-year-old Bulus Rohun, 75-year-old Gada Oda and 80-year-old Ahmadu Rohun.
"My heart is terribly heavy. I haven't been able to sleep," Salama Baptist Church pastor Rev. Nanchwat Laven told ICC. "I was called [on the phone] at about 12:00 midnight when the Fulani militia came into the village."
Bulus said that he was awoken when he heard gunshots. He went outside to see what was going on. Bulus said that he noticed three people carrying guns and they began to shoot at him.
"One of them ran after me into the house, and he stood by the door to my room without entering the room or shooting, and after a few minutes he went out to join his colleagues outside," Bulus was quoted as saying. "And just as I was thinking about what to do, I heard sporadic gunshots all over the village. They were shooting everywhere in the village and this lasted for about 25 minutes."
Bulus contended that the slain Fulani boy believed to be the reason behind the attack was actually beheaded in another village.
"The village where they claim one of them was killed over a year ago is not part of our village, and we have never had any misunderstanding with them in the past," Bulus said.
Bulus informed Morning Star News that there was a Fulani settlement just a few kilometers outside Ancha village and that he recognized some of the assailants. After hearing of the death of the Fulani child in the nearby village, the herdsmen moved away from where they were camped.
"We never knew that these same Fulanis would return to attack us, as there is nothing that warrants an attack on us," Bulus said.
According to Morning Star News, some villagers believe that the Fulani men were accompanied by Islamic terrorists.
"We didn't have a quarrel. Some of the herdsmen [would] come into [the] village and relax among the villagers, sometimes way into late evening, when the local vigilante would advise them to go home," Laven told ICC. "Of course we have had issues from time to time with the herdsmen letting their cattle graze into our farms and destroy our crops."
According to ICC, Fulani militants have attacked over 20 Christian villages, destroyed hundreds of Christian properties and killed over 200 Christians between October 2016 and September 2017.
Plateau Police Commissioner Peter Ogunyanwo told the media that no arrests have been made in connection to the massacre.
"We are investigating the matter, but from our findings so far, the attack was carried out by Fulani herdsmen to avenge the killing of a young boy," Ogunyanwo said, according to Morning Star News.
The prevalence of attacks on Christians by Fulani herdsmen and Islamic terrorists groups like Boko Haram are a large reason why Nigeria ranks as the 12th worst country in the world when it comes to Christian persecution, according to Open Doors USA's 2017 World Watch List.
"The Nigerian government needs to hold the Fulani militants accountable for their actions," ICC Regional Manager Nathan Johnson said in a statement. "Allowing them to commit these atrocities with impunity is putting many Nigerian lives at risk and shows that they do not truly value all of their citizens. We hope that the government can take effective action to demilitarize and stabilize the Fulani militants and stop the senseless killing of so many Christian farmers."
- christian post
Iran, September 8, 2017: Christian school children in two towns in Iran have been told they must study Islam or leave school, a leading Christian persecution watchdog has reported.
According to a report from Christian Solidarity Worldwide, second generation Christian children in the cities of Rasht and Shiraz whose families belong to the Church of Iran house church denomination have been told by school officials that they must learn Shia Islam or be kicked out of school.
According to CSW, which is accredited by the United Nations, the children are by law allowed to opt out of being taught Islam and receive religious instruction designed by Christians. However, their families' requests for them to be taught Christian religious instruction has been denied.
"Until recently, their families were able to present a signed letter from the denomination that exempted them from studying Shia Islam," the CSW release explains. "However, the authorities are now rejecting this letter on the grounds that the Church is an 'illegal organisation,' and are insisting the children either agree to study Islam, or go home."
Sources within the denomination who have knowledge of the situation told CSW "the message is clear: convert or leave."
CSW's Chief Executive Mervyn Thomas explained in a statement that the education of "many children will be unduly interrupted until their parents agree for them to study a religion different to their own."
"Education is a basic right which Iran has undertaken to guarantee to all of its citizens," Thomas stressed. "Children should not be victimised in an effort to penalise their parents for exercising the right to adopt a religion of their choice."
According to CSW, Article 30 of the Iranian Constitution requires the government to provide free education for all children. CSW argues that the action of school officials in Rasht and Shiraz "deprives children who are currently in primary and secondary school of education unless they agree to religious instruction that does not conform with their own faith."
Iran is also party to the International Covenant on Civil and Political Rights, which has been in force since 1976. Article 18 of that covenant states that parents and guardians have the right to "ensure the religious and moral education of their children in conformity with their own convictions."
"Since education is the responsibility of central government, we urge the Special Rapporteur on the right to education and other key international human rights experts to make urgent representations with President Rouhani, with a view to ensuring the country fulfils its national and international obligations to respect the right of the child to education, and particularly to religious education commensurate with the convictions and beliefs of their parents," Thomas' statement adds.
Iran, which is a 99 percent Muslim nation, ranks as the eighth worst country in the world when it comes to Christian persecution, according to Open Doors USA's 2017 World Watch List.
Last month, it was reported that about 500 Christian converts in Iran have fled the country and are now living as refugees in Turkey because of the fear of persecution at the hands of Iranian authorities.
"I changed my religion because I did not see anything in Islam. Whatever I saw was wrong," one convert who traveled to Turkey told the Kurdish news site Rudaw. "It is a fact that the government of Iran is an Islamic one, yet our youth are getting executed. In Iraq [it's] the same."
Also in August, it was reported that a judge who sentenced pastor Yousef Nadarkhani and three other Christians to 10 years in prison on charges of acting against national security has demanded that they no longer recognize Jesus Christ as their Lord and Savior.
BosNews cited a local church source who said that ahead of the four Christians' appeal hearing on Oct. 4, the head of the 26th Branch of the Islamic Revolutionary Court in Tehran, Judge Mashallah Ahmadzadeh, ordered the men to stop believing that Jesus is Lord.
Considering that most Muslims believe Jesus was only a prophet, the Christian belief that Christ was the son and image of God is blasphemous, according to the judge.
According to the United States Commission on International Religious Freedom, Nadarkhani and the three others were charged with "acting against national security" in June. Judge Ahmadzadeh accused the Church of receiving about $650,000 from the British government on an annual basis. Nadarkhani and the three others were later given 10-year-sentences in early July.
According to BosNews, court documents indicate that the judge linked the harsher sentences for the four Christians to their theological belief of Christ.
"According to the verdict, the very point is that the Church of Iran is saying that Jesus is God and Lord," Church of Iran council member Firouz Khandjani told BosNews. "In other words, this verdict is against all Christians."
Four other Christian converts were later handed 10-year prison prison sentences from Judge Ahmadzadeh "in a trial completely lacking due process" in July.
"In less than two months, since June 2017, Judge Mashallah Ahmadzadeh of Branch 26 of the Revolutionary Court in Tehran has issued long prison sentences to at least 11 Christian converts and the former leader of the Assyrian Pentecostal Church in Iran," the New York-based Center for Human Rights in Iran said in a report.
- christian post
Nigeria, September 9, 2017: The National Christian Elders Forum (NCEF) has issued a press release, on 6 September denouncing the federal government's 'Jihad' against Christians and the church in Nigeria.
In the press statement, 'Jihad in Nigeria: Burying the Head in Sand', Solomon Asemota, a Senior Advocate of Nigeria and Chairman, of the forum, condemned "the jihad that has been launched in Nigeria by Islamists of Northern Nigeria." In July, the forum raised a similar charge but the accusation did not receive any response by the Nigerian government apart from criticism by northern Muslim groups.
The forum said it has become necessary for them to speak out against a silent but strategic "stealth Jihad" against Christians because, "some Nigerians are not able to distinguish the difference between Truth and Propaganda," and when Nigerians speak out the truth, they are "criminalized" and their criticism described as "hate speech".
The Christian forum alleged that there are attempts "by some Nigerian Muslim leaders to deny the reality of the ongoing jihad in the nation". The group pointed out that in his video of 2012, the leader of Boko Haram,; Abubakar Shekau said, "This war is not political. It is religious. It is between Muslims and unbelievers (arna or 'Christians')."
The forum pointed out that "In 1989, Islam in Africa Organization (IAO) held a Conference in Abuja… released a Communiqué tagged Abuja Declarations 1989," and called on member nations, "To eradicate in all its forms and ramifications all non-Muslim religions in member nations. Such religions shall include Christianity, Ahmadiyya and other tribal religions." (In the original Declaration, the word Christianity was underlined.)" according to the Christian Elders said.
The Christian forum pointed out that, "In a 154 page Research Report conducted by Arne Mulder in 2015, the researcher affirmed that over 13,000 Christian places of worship (Churches) have been destroyed in Northern Nigeria as at December 2014. Under what condition do Muslim insurgents destroy Churches if not Jihad?"
Solomon  Asemota listed discrimination against Christians including the replacement of top Christian government officers by Muslims. "Every key and sensitive position in National Security is held by Muslims from the North, in outright violation of Section 14 (3) of the 1999 Constitution."
The Christian elders declared that, "to transform Nigeria from a country to a nation requires a Truth and Reconciliation Commission to enable those responsible for abusing the country have the opportunity of confessing and ask for forgiveness.  The rots are too bulky to be swept under the carpet."
They called for the "Restructuring of the Nation to comply with True Fiscal Federalism. As an immediate step, the repudiation of the 1999 Constitution with its conflicting dual National ideology of Democracy and Sharia should be effected and as an immediate alternative, a return to the 1963 Republican Constitution of the founding Fathers of Nigeria." Because, the group says, "the Republican Constitution of 1963 was unilaterally scrapped by the Military and not by a National Referendum," they said.
- global christian news