Democratic Republic of Congo, Februray 14, 2018: As many as 3 million people are in urgent need of help in the Kasai region of the Democratic Republic of Congo, including many Christians whose family members have been murdered, Catholic relief groups have said.
"This is a truly disastrous humanitarian emergency," said Jean-Pierre Pokavu of Caritas Congo. "The needs are enormous."
Caritas, a confederation of numerous Catholic relief organizations, said in a report this week that over 3 million people are starving because of the growing humanitarian crisis, including 400,000 children who are suffering severe acute malnutrition.
Christians and regular civilians have been caught up in a complex web of ethnic and political violence that has gripped the country for years, with the war between the government of President Joseph Kabila and opposition forces leaving entire villages burned down, and multiple planting seasons missed.
Denise Ndekenya is one widow who shared her horrific loss with Caritas, explaining that she had five children with her husband.
"Now I only have two children left," the woman said, explaining that most of her family was murdered, with her husband decapitated, after militia attacked her village in April 2017.
Ndekenya was transported to a hospital with her two children following the attack, but she knew that staying in the region was too dangerous, and so she set off on a long journey through the country, finally arriving at St. Augustine's parish near Tshikapa.
"What am I going to do now?" the woman asks. "I feel such sorrow."
The violence, including the deaths of 3,000 victims, has led to nearly one-and-a-half million people fleeing Kasai in 2017.
The war has been particularly hard on children, who are widely recruited to fight for militias.
"They have lost absolutely everything," Juliette Maquart of Caritas Belgium said about the refugees attempting to return to Karitas.
"Their homes don't exist anymore, they have been looted and burned, along with clinics and schools."
Frontpage magazine has also reported on the "horrific plight" of Congolese Christians, many who have been targeted with violence for calling for free and fair elections in the country.
"At least seven civilians, including children, were fatally shot during peaceful demonstrations, called for by the Catholic Church, on New Year's Eve. The government prepared for the protests by blocking the internet and setting up roadblocks and checkpoints throughout the capital, Kinshasa. Citizens wearing visible religious symbols like crosses were barred at the checkpoints and ordered to return home," the article said.
"As thousands of the faithful heeded the church's call to march after mass on Dec. 31, 2017, Bibles and rosaries in hand, Congolese security forces moved in, opening fire on kneeling protesters while they sang hymns and deploying tear gas in churches," it added.
"In one Kinshasa parish, the police used more than six rounds of tear gas to target children and elderly worshipers taking shelter in the sanctuary. They ransacked the church searching for valuables to steal, and even attempted to set fire to a statue of the Virgin Mary."
Earlier this month, Pope Francis announced that there will soon be a special day of prayer and fasting for peace, focusing on the violence in DR Congo and South Sudan.
"Our Heavenly Father always listens to His children who cry out to Him in pain and anguish," Francis said, according to Catholic News Agency.
The pontiff issued a "heartfelt appeal" for people to "hear this cry and, each one according to their own conscience, before God, ask ourselves: 'What can I do to make peace?'"
– christian post
Nigeria, February 12, 2018: U.S. President Donald Trump and his counterpart, Muhammadu Buhari of Nigeria, have been told that at least 16,000 Christians have been killed in Nigeria since June 2015, many of them victims of radical Islamic violence.
The International Society for Civil Liberties & the Rule of Law submitted a petition to Buhari last week, where the civil society organization urged the president to "wake up from [his] slumber" and protect the millions of endangered Christians in Nigeria.
The "Christians at Crossroads in Nigeria" letter, shared online by Elombah.com, said that 16,000 people, mostly Christians, have been killed since Buhari took office in 2015, including the 5,800 victims of Boko Haram and Fulani herdsmen, based on Intersociety's investigation.
Intersociety, which sent a copy of the letter to Trump and United Nations Secretary General Antonio Gutteres, said that the 30 million or so Christians in Northern Nigeria have for decades suffered discrimination and violent attacks at the hands of radical terror groups.
"The estimated 16,000 deaths are specifically composed of 2,050 victims of direct State violence, 7,950 victims of police custody or captivity killings through racial profiling and unprofessional crime detection management, 2,050 victims of Boko Haram insurgency and 3,750 victims of terror Fulani Herdsmen killings," the group calculated, noting that hundreds of churches have also been destroyed.
Buhari vowed to defeat Boko Haram when he came to power, and although authorities said on a number of occasions throughout 2017 that the radical Islamic group is being successfully driven out of the country, bombing and kidnapping attacks continue.
"In the months of December 2017 and January 2018 alone not less than 350 mostly Christians were killed by Fulani Herdsmen and Boko Haram in the States of Adamawa, Taraba, Borno, Benue and Southern Kaduna," the report said.
"In January 2018 alone, not less than 250 defenseless citizens composed of mostly Christians were killed in the above named States."
Intersociety pointed out that despite Buhari's promises, attacks against Christians have increased by 62 percent since June 2015, and blamed the government for doing "little to nothing" in terms of bringing those responsible to justice.
The group declared:
"We hereby strongly call on Mr. President to put an end to slaughtering of thousands of defenseless Christians on annual basis by terror Fulani Herdsmen in Northern Nigeria and proscribe the Miyetti Allah Cattle Breeders Association of Nigeria as well as fish out their leaders and culpable elements and charge them for manslaughter and culpable homicide, respectively, among other felonies committed against the State of Nigeria and its population.
"Mr. President must wake up from Mr. President's slumber and discharge Mr. President's sworn constitutional duties and functions courageously and impartially so as to prevent a situation where millions of the threatened and endangered Christians in Nigeria will be forced to take recourse to self-defense and other self-help mechanisms to prevent their Christian religion and practices going the way of their counterparts in Lebanon, Asyut in Egypt and Turkey and other parts of Middle East."
The Christian Association of Nigerian-Americans has also been increasingly critical of Buhari, and warned in a statement last week that the country is fast becoming "rudderless."
"CANAN commiserate with the recent victims of the Herdsmen massacre in several states in Nigeria particularly in Benue and Nasarawa. We pray that God will console the families of those who lost their lives in this dastard acts, and further states as follows," the group said, and outlined several grievances it has with the Buhari administration.
It accused government officials of inaction and refusing to provide the necessary support to protect Christian communities, but it also warned that the conflict should not be seen as one between regular Muslims and Christians.
"This is an isolated incident orchestrated by criminal herdsmen. To this end we should all rally support for the victims as injury to one is injury to all," CANAN said.
– christian post
Iran, February 7, 2018: The government of Iran is so concerned about the rising Christian population that it has spent millions of dollars cracking down on Christian converts, including threatening believers with prison and death. But that has not stopped Christianity's growth, a ministry said.
Missions group Elam Ministries told Mohabat News on Monday that more Iranians are choosing to convert to the Christian faith, which has led to the government spending millions on Islamic propaganda and on jailing members of the underground church.
Christian materials and books are also being routinely confiscated. Publishing Christian materials and even worshiping Jesus is resulting in "imprisonment, and more likely, death."
Still, "church leaders believe that millions can be added to the church in the next few years — such is the spiritual hunger that exists and the disillusionment with the Islamic regime," Mohabat News reported.
"If we remain faithful to our calling, our conviction is that it is possible to see the nation transformed within our lifetime. Because Iran is a strategic gateway nation, the growing church in Iran will impact Muslim nations across the Islamic world."
Calculating the exact numbers of believers in Iran is difficult, as they have to hide their faith in public. Elam Ministries estimates that there may be around 360,000 Christians in Iran today, compared to only 500 Christians in 1979.
Open Doors USA estimates a Christian population closer to 800,000.
Behrang Masoumi, an Elam team member who is training Iranian believers in ministry, said that he was shocked to discover that one of his own relatives had been a secret follower of Jesus for five years.
The ministry shared several other instances of Iranians turning to Christ despite the dangers in the Islamic country, as well as making the decision publicly overseas.
Ayatollah Alavi Boroujerdi, a leading Islamic seminary official, admitted in August 2017 that there are "accurate reports indicating that the youth are becoming Christians in Qom and attending house churches."
Wahid Khorasani, another ayatollah, condemned Iranian government officials "for their negligence in preparing counteracting strategies to stop the spread of Christianity."
The New York-based Center for Human Rights in Iran has also reported that Christians are being targeted in Iran, as part of officials' attempts to suppress the faith.
In one instance last Christmas Eve, five Christian men attending a house service were arrested, and authorities have provided no information on whether they are still alive.
Government agents reportedly confiscated books, CDs, laptops, and a satellite receiver during the raid, and later raided and threatened the neighbors of the Christians.
"The good news for Iranians is that despite the government's concerted efforts to the contrary, Christianity continues to grow. And, even under the most oppressive conditions Christianity is still viewed by many as 'the religion of freedom,' and love," Mohabat News reported.
"Why? Because of what Christian converts repeatedly claim: 'In Islam, we always lived in fear. Fear God, fear of sin, fear of punishment. However, Christ is a God of love.'"
– christian post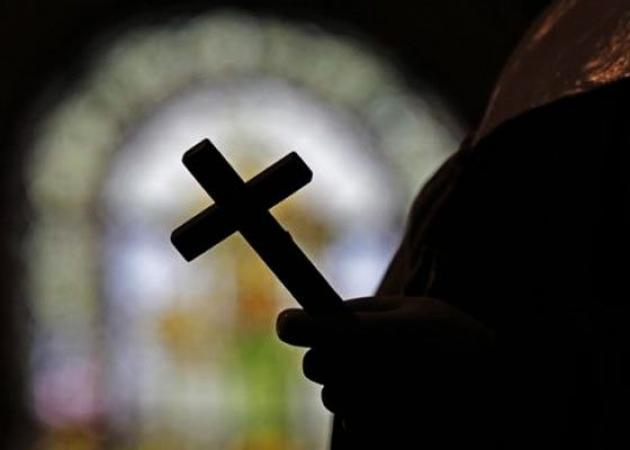 Germany, February 05, 2018: German police recorded 97 hate crimes against Christians in 2017, fourteen of which were "violent anti-Christian crimes" among asylum seekers and refugees.
Christian asylum seekers and refugees have reported being abused and even attacked for their faith.
"Many Christian refugees repeatedly asked for separate accommodation, after there was more and more violence against them from Muslim refugees", a Christian charity spokesperson told reporters, "But the [German] authorities and government did not react."
European governments have shown scant regard for the particular plight of Christian refugees and asylum seekers. Last year, UK government officials attempted to block access to statistics which demonstrated that the UK government and the UN were were discriminating against Christians and other minorities in their refugee programmes, while Christian converts seeking asylum in Austria have been asked "absurdly difficult questions" to "prove" their conversion by officials.
Anti-Christian hate crimes were specifically recorded for the first time in Germany in 2017.
– global christian news
Myanmar, February 1, 2018: Mass graves where Rohingya Muslims refugees have been buried in Myanmar reveal the shocking extent of the genocide that has been taking place, an investigative report has found.
"The faces of the men half-buried in the mass graves had been burned away by acid or blasted by bullets," began an Associated Press report documenting the graves on Thursday.
The Associated Press said it carried out multiple interviews with more than two dozen survivors at a Bangladesh refugee camp, revealing at least five mass graves containing Rohingya victims previously unreported.
"It was a mixed-up jumble of corpses piled on top of each other," a firewood collector named Kadir said. "I felt such sorrow for them."
The revelations dispute the Myanmar government's claims that a genocide is not taking place.
Reports of Rohingya fleeing for their lives in Myanmar began in August, with as many as 620,000 people attempting to escape torture and rape in the first three months of the escalation of the crisis.
The U.N. has said that reports of men, women and children being killed and burned appear to be ethnic cleansing.
Several survivors described the horrors they've been through in The Associated Press report, with some providing further details on the mass graves.
"There were so many bodies in so many different places," said Mohammad Lalmia, a 20-year-old farmer. "They couldn't hide all the death."
A 45-year-old mother said that when her husband went missing as a result of being hunted down by Myanmar soldiers, she searched for him in the graves at Gu Dar Pyin's northern entrance, despite the risks to her safety.
"There were dead bodies everywhere, bones and body parts, all decomposing, so I couldn't tell which one was my husband," Rohima Khatu recalled. "I was weeping while I was there. I was crying loudly, 'Where did you go? Where did you go?'"
Samaritan's Purse has been one of the Christian organizations assisting the Rohingya in camps in Bangladesh, providing supplies and vital medical help at a long-term Christian hospital in Malumghat.
Ken Isaacs, vice president of programs and government relations at Samaritan's Purse, told The Christian Post in November that the Muslim refugees are "grateful" to receive help from the Christian humanitarian organization.
"I think that there is always an openness for the Gospel. I think that in closed populations, you need to be respectful, and you don't want to be alienating. But people respond to love and they feel love, and if that love is a genuine love, a Christ-driven love, they will see it, and they will have questions. These things open doors that no man can shut," Isaacs added about sharing the Gospel with refugees.
Samaritan's Purse President Franklin Graham meanwhile visited Rohingya refugees at the Kutupalong camp in southern Bangladesh on Wednesday, seeking to share with them the hope of Jesus Christ.
"He sees your suffering. We pray that He will intervene for you. I come from America. I'm a Christian. But we care for you. We love you. We want to be able to tell the world what is happening here," Graham told the suffering people.
The humanitarian group said that hundreds of thousands of refugees are living in "appalling conditions," but have little choice but to stay at the camps, fearful they will be killed if they return to Myanmar.
– christian post
Iran, January 31, 2018: The wife of the former Assyrian Pentecostal Church leader in Iran has been sentenced to five years in prison, allegedly for endangering national security. But human rights advocates have said she is being punished for praying with other Christians.
The Center for Human Rights in Iran reported on Monday that Judge Mashallah Ahmadzadeh of Branch 26 of the Revolutionary Court in Tehran handed down earlier in January a five-year sentence to Shamiram Isavi, the wife of Victor Bet Tamraz.
"As far as we know, and based on Mrs. Isavi's own statements, no evidence has been presented in the case to show that she was engaged in spying or disturbing national security. She has denied all the charges," Kiarash Alipour, a spokesman for Article 18, a U.K.-based organization focusing on Christians in Iran, told the group.
"Mrs. Isavi explained during the interrogation that when the Assyrian Pentecostal Church was shut down, she attended home churches and prayed with fellow Christians and discussed the Holy Book," Alipour said. "It's astonishing that a country's national security could be threatened by a gathering of Christian believers."
Officials claimed that Isavi was "acting against national security" through her efforts in organizing house churches, which is not allowed in Iran, as well as attending Christian seminars abroad.
Tamraz was arrested with Isavi and their son, Ramin, along with 12 other Christian converts, back in December 2014 in Tehran. The pastor and two of the converts were given 10-year prison sentences, while another convert was punished with 15 years.
The Iranian government, which in recent months has faced public anti-corruption protests, has not relented in its crackdown on Christians in 2018, continuing with the arrests and punishments it carried out in 2017.
Iranian agencies such as Mohabat News reported in October that believers have also been told by authorities that they will be beaten for their faith in Jesus Christ, or be forced to leave the country.
The U.S. Commission on International Religious Freedom named Iran among the five worst countries in the world in August when it comes to blasphemy laws and its treatment of minorities, while Open Doors USA recently listed the Islamic nation at No.10 on its World Watch List.
Bishop Sibo Sarkisian, the Armenian-Orthodox Bishop of Tehran, recently stirred controversy by claiming that Christians "enjoy complete freedom" in Iran.
Sarkisian said last year that Christians are "not being persecuted in any way," and that the only restrictions are on sharing their faith publicly.
Mohabat News responded to the claim by highlighting that evangelism is a biblical mandate for Christians everywhere regardless of denomination, and prohibiting the practice restricts an essential part of the faith.
CHRI pointed out that the challenges for Christians in Iran remain significant, with Judge Ahmadzadeh having sentenced at least 16 converts to prison terms from five to 15 years since March of last year.
– christian post
Cuba, January 25, 2018: Details have emerged about the arrest and imprisonment of a Cuban Christian rights activist who was sentenced to three-and-a-half years in prison late last year after authorities raided his home and confiscated Bibles and crucifixes.
Misael Diaz Paseiro, a dissident who is a member of the Orlando Zapata Tamayo Civic Resistance Front, was arrested in November and charged with "pre-criminal social dangerousness" by the Communist government, according to the watchdog NGO Christian Solidarity Worldwide.
Paseiro's arrest came after state security agents raided his home on Oct. 22 and confiscated two Bibles, several crucifixes and five rosaries. According to CSW, it was on Nov. 4 that Paseiro was beaten by "political police."
"Misael, in addition to being a counter-revolutionary, you are also a Christian," CSW quoted a police official as telling Paseiro. "You should look at us, we are revolutionaries and we don't believe in your God. Our god is Fidel Castro."
Paseiro was initially denied basic rights in prison, such as access to a Bible and visits from a priest. Paseiro's mistreatment led his wife, Ariana López Roque, to go on a 19-day hunger strike.
During López Roque's hunger strike, CSW reports that police officials prevented a pastor from going to their home to provide counsel. Pastor Bárbaro Guevara tried to visit López Roque twice but was physically blocked from doing so.
López Roque has since ended her hunger strike after receiving assurances that her husband's rights will be respected in prison, according to CSW.
As the government agents who beat Paseiro reportedly told him that the deceased revolutionary and brutal dictator Castor was their God, Cuban pastor and rights activist Mario Barroso told The Christian Post on Thursday that it is not uncommon for people in Cuba to invoke the name of Castro.
Barroso, a missionary who's been arrested many times by the Cuban government who came to the United States as a refugee with his family in 2016, told CP that invoking the name Castro as a deity is the "strategy of some people in Cuba to cover crimes and corruption."
"Invoking Fidel Castro in Cuba helps cover acts of corruption and even crimes. This proves that the followers of [Castro as a God] are not really so adept as Fidel himself but rather at the benefits that are covered by invoking him," Barroso explained. "Deep down they are imitating Fidel with this behavior since Fidel Castro was like that too: an opportunist, a blackmailer. So the believers in Fidel Castro act in the image and likeness of their god, Fidel. They are faithful followers of the evil example of their god."
"There may be 5 percent of those who claim to have Fidel Castro as god who really adore him," Barroso added. "The other 95 percent is just opportunists who imitate Fidel's bad example."
The news of Paseiro's detention comes as a new CSW report on Cuba released this month relays that there were as many as 325 religious freedom violations in the island nation in 2017.
Although the 325 figure is lower than the number of religious freedom violations that CSW reported in 2015 and 2016, it still continues an increasing trend in violations since 2011, the organization reports.
"CSW is deeply concerned by the growing number and severity of [religious freedom] violations reported by a wide variety of denominations and religious groups, which seem to show that the government is attempting to tighten its control over the activities and membership of religious groups," the CSW report reads. "Many of the documented violations were in line with the types of violations seen in previous years — for example the use of temporary arbitrary detention, harassment of church leaders, and attacks on property rights."
"It appears, however, that the government is now also diversifying its tactics by threatening activists and religious leaders with trumped up criminal charges, arbitrarily preventing them from traveling out of the country and targeting their children," the report continued. "It is essential that the European Union, the United States, and other governments in dialogue with Cuba use their positions to press for improvements to religious freedom and the general human rights situation in the country."
– christian post
Ouaka, January 24, 2018: Militia in the Ouaka region of the Central African Republic have threatened to attack a church offering shelter to refugees.
Around 15,000 people were displaced by violent attacks in Ouaka in mid-December. Many of those displaced sought shelter on the site of a Church and a separate health centre in the town of Ipply, around 220 miles north of the capital Bangui. Armed rebels, thought to be Seleka splinter groups, have threatened to attack the church site. The health centre has already been targeted, prompting around 7,000 of those displaced to flee into the bush.
A ceasefire between the government and 14 rebel groups agreed in June 2017 has failed to bring an end to violence in the country, which has been ravaged by conflict since Seleka Islamist groups temporarily overthrew the government in 2013. Despite the deployment of a U.N. peacekeeping force, Christians communities continue to be targeted and have also been caught up in confrontations between Seleka-linked rebel groups and "anti-balaka" militia.
– barnabas persecution update
Ethiopia, January 23, 2018: Ethiopian police have killed at least five people, at the annual Timket Festival, Ethiopian Orthodox celebration of Epiphany, in Weldiya in the Amhara region on Saturday, January 20.
Reports say 18 other people were injured. Witness accounts say during the festival, the crowd started singing anti-government songs and police officers used live ammunition to disperse the crowd. The next day, January 21, hundreds of people still took to the streets blocking roads and forcing businesses to close, to denounce the killings.
Anti-government protesters demanded political and economic reforms and called for an end to state corruption and human rights abuses.
The protest in Waldiya comes after the Ethiopian government released hundreds of political prisoners from jail on Wednesday 17 January. Observers hoped the release of activists, including a prominent opposition leader Merera Gudina, was an indication of the government's change in response to human rights abuses. The killings at the Waldiya festival seems to indicate the opposite.
In an incident in 2016, dozens of people were killed in a stampede after police fired tear gas and rubber bullets at a crowd when a similar anti-government chant and protest.
Activists in Ethiopia are demanding respect for human rights and equal distribution of wealth in order to improve the country's poorest regions.
– global christian news
Nigeria, January 20, 2018: Security forces in Nigeria have arrested a Christian university student in the central state of Nasarawa for converting from Islam to Christianity. They also arrested the man who had taken her to a local church.
Detectives from the Department of State Security Services arrested Nabila Umar Sanda, a 19-year-old student at Bingham University, from the house of a church leader, Jeremiah Datim, and also held her 33-year-old Christian friend, Simput Dafup, who had introduced Nabila to Datim, according to World Watch Monitor.
The officials "stormed my house, assaulted my wife, daughter and 8-month-old baby, and took Nabila away," Datim was quoted as saying.
Dafup was arrested separately, but in a similar fashion.
Simut Dafup's mother, Lydia, recalled, "The men who stormed my son's premises, heavily armed, in five Hilux vehicles, blocked everywhere and assaulted even passers-by."
She added, "It has become so worrisome for me to let you know about this, because, as I speak with you now, I don't know where my son is. Nobody has contacted me or any member of the family as to his whereabouts."
"Miss Nabila told me she is 19 years old and therefore free to choose a religion for herself," Datim said. "After I met Miss Nabila for the first time … I interacted with her and asked her a lot of questions about both the Christian faith and Islamic faith. Nabila clearly said that she had made up her mind to join the Christian faith and was willing to be a Christian no matter what obstacles were placed on her way."
The university is owned by one of Nigeria's major churches, Evangelical Church Winning All.
Christians are routinely persecuted in some parts of Nigeria.
At the unveiling of the 2018 World Watch List earlier this month, Open Doors USA CEO David Curry said there were over 2,260 cases of Christian women and girls who were either raped, assaulted or forced into Islamic marriages during the organization's 2017 reporting period.
"In Nigeria, which is No. 14 on the World Watch List, there was a 14-year-old girl this year who was walking to school — the picture of innocence," he said. "As she walked to school, she was kidnapped and taken from her family by a Muslim extremist living in the northern tribal region. She was forced into marriage."
Curry said that after the child was taken from her family, the extremist kidnapper agreed to sell the girl.
"A deal was cut with the tribal leader under Sharia law to sell this 14-year-old girl, Habiba, for $160," Curry explained. "Do you believe this is unique? It's not."
A Christian mother and three of her daughters in Nigeria's in Kano state recently faced various forms of abuse for their refusal to convert to Islam and follow in the footsteps of the father, who became a Muslim for a government position.
"They summoned me and demanded I withdraw my daughter from the Christian school, bring her back to the village, and hand her over to them. Since I was helpless, I did as instructed by them and brought my daughter back to them," the mother said, according to Morning Star News.
The mother and oldest daughter were arrested in March 2017, but local Christian leaders managed to bail them out.
Two of her other young daughters, aged six and 15, have also been harassed for their faith.
– christian post