Pakistan, November 12, 2017: Five Pakistani Christian families were forced to flee their homes after teenager from one of the families was accused of blasphemy.
According to reports the families from the village of Sukheki in the Punjab province went into hiding last Friday after a fake Facebook page that resembled a news channel accused Sonu Arshad, 18, of blasphemy.
The account posted a picture of Arshad and asked local Muslims to "burn his church and give him the death penalty."
The post angered the local Muslim community who formed a mob after Friday prayers, forcing the police to take control of the matter to prevent it getting out of hand.
Police have launched an investigation into who setup the Facebook page.
– claas
Philippine, November 13, 2017: Suspected supporters of an Islamist militant group desecrated a Catholic chapel in the southern Philippine region of Mindanao in the evening of Nov. 10.
Authorities said they are still looking into the identities of the perpetrators who tried to set fire to the chapel in the village of Labo-Labo in Shariff Aguak town.
Police said they are considering reports that supporters of the Bangsamoro Islamic Freedom Fighters (BIFF) were behind the incident.
In June this year, BIFF gunmen also desecrated a chapel in the neighboring province of North Cotabato.
Witnesses said the still unidentified men poured gasoline on religious images and icons on the altar of the San Isidro de Labrador chapel about nine in the evening. Some "antique religious icons" were damaged by fire, the Philippine Star reported.
Oblate Father Eliseo Mercado Jr. who formerly served at the chapel during his early years as a priest, condemned the desecration.
He said the attack was "the work of few extremists that need to be rooted out."
The priest recalled that even during the height of the Moro rebellion in the 1970s "Muslim rebels respected places of worship in the area."
Town official Anwar Emblawa said the incident was intended "to disrupt the harmonious relationship between Muslims and Christians" in the municipality.
"This is the first time this kind of desecration at a Catholic place of worship has happened in our town," said Emblawa.
"We will not allow this incident to destroy the rapport between Muslims and Christians in our locality," he said.
Governor Esmael Mangudadatu of Maguindanao described the attempt to burn the chapel as "un-Islamic" as he ordered policemen to find the perpetrators.
"Islam teaches respect for religions and worship sites. Islam teaches religious tolerance. We have a principle in our religion that says there is no compulsion in religion," said the governor.
In May, Islamic State-inspired gunmen burned the St. Mary's Cathedral in Marawi at the start of what later became a five-month terrorist occupation of the city that displaced about 400,000 people.
– ucan
China, November 14, 2017: Thousands of villagers in southeastern China have reportedly been called to replace their posters of Jesus Christ and other religious imagery with photographs of Chinese President Xi Jinping if they want assistance with poverty and illness relief.
The South China Morning Post reported that the suggestion by Chinese authorities to replace posters of Jesus with Xi hearkens back to the "personality cult" era of Chairman Mao Zedong, the founder of the People's Republic of China.
It noted that Xi has made it his target to end poverty by 2020, with government officials visiting Christian families in poverty-stricken towns to convince them to fall in line with the Communist Party's policies as a way to solve their material problems.
Qi Yan, chairman of the Huangjinbu people's congress, explained the government's initiative: "Many poor households have plunged into poverty because of illness in the family. Some resorted to believing in Jesus to cure their illnesses."
"But we tried to tell them that getting ill is a physical thing and that the people who can really help them are the Communist Party and General Secretary Xi."
Qi further called Christians "ignorant" for believing that God is their savior.
The Huangjinbu township distributed more than 1,000 portraits of Xi, with several families reportedly choosing to hang them in their homes.
The official later insisted that the Communist Party has not been saying that all religious icons need to be taken down, and claimed that it supports the freedom of belief.
One resident of another township in Yugan revealed that officials have been urging believers to remove religious artifacts from their homes as well.
"Some families put up gospel couplets on their front doors during the Lunar New Year, some also hang paintings of the cross. But they've all been torn down," the resident said.
He added that some believers did not do so voluntarily.
"They all have their belief and, of course, they didn't want to take them down. But there is no way out. If they don't agree to do so, they won't be given their quota from the poverty-relief fund," the man said.
The Communist Party held its 19th National Party Congress in October, which did not present a clear successor to Xi, meaning the president is set to rule for years to come.
Moreover, Xi's name and ideology was enshrined into the Constitution, elevating him to the level of Mao.
Bob Fu, president of persecution watchdog China Aid, which documents the increasing crackdown of Christians in the country, told The Christian Post in a phone interview at the time that the developments can only be concerning for believers.
Fu noted that the "clear signal" from the week-long congress is that the atheistic party will seek to "exert total control over all areas of life" of Chinese citizens, including churches.
UCANews, a Catholic news source reporting from Asia, noted that Chinese propaganda is lionizing Xi as a "fearless nationalist leader, a strongman who can restore China to its 'rightful place' in the world and particularly the region."
"As well as upgrading Xi's image, there has been the crushing of perceived enemies. These are usually groups or people who simply want to change the system to be more inclusive and look after citizens and their rights, nothing more," it added.
– christian post
Islamabad, November 3, 2017: In Pakistan, Christian prisoners are denied the consolation of faith offered by chaplains denounces The World Watch Monitor, granted permission to visit detainees in prisons across the country. The Rev. Maurice Shahbaz, director of the Prison Mission Society of Pakistan, says he has been trying to get consent for visits to prisoners by missionaries, evangelicals, and pastors for more than a year. This would allow Christians, already discriminated against by cell companions because of their faith, to have at least the consolation of faith.
Tariq Mehmood Khan Babar, deputy general inspector, says the ban on imam visits to detainees dates back to early 2015, in conjunction with the approval of the National Action Plan. This is the terrorism prevention plan launched by Islamabad following the Taliban massacre at the Peshawar military school in December 2014, which resulted in the deaths of 132 children. If at first the goal was to eradicate Islamic extremism that could be filtered from the outside into prisons, the end result was a general restriction on the freedom of worship of all prisoners.
Pastor Shahbaz reports that the discontinuation of visits was decreed in early 2016, when "former chief inspector Mian Farooq Nazir imposed a ban on religious leaders and teachers to access prisons and visit prisons" . This decision also has an effect on the duration of detention, since a 1978 law provides for a reduction in the penalty for passing school examinations, which are no longer allowed.
The situation of Christian prisoners in Pakistan, an Islamic majority country, is tenuous. Most of them reveal maltreatment because of their religion. They complain that the behavior of other prisoners and guards changes as soon as they discover they are Christian. From that moment on, they are treated like "untouchables" and forced to consider degrading tasks such as cleaning the bathrooms.
Not only, given the bureaucratic length of the judicial system, Christians are likely to remain behind bars for long periods of time, especially if they are accused of blasphemy, which is punished with the death penalty in Pakistan. Activists argue that these complaints are often made for personal revenge or to protect the interests of the accusers. Human rights defenders add that the most pivotal question is that courts take years to verify the veracity of the facts and, if verified, to drop charges. Meanwhile, prisoners are languishing in cells.
One of them, Yousuf Sodagar, a social worker, remembers: "I was wrongfully imprisoned in 1993. I asked the prison inspector to allow prisoners to pray together. At first we were given two moments of worship, then one. When I later met the superintendent of the prisons in the district of Kasur, he told me that Christians would have to pray in a decent way and with the music turned down."
– asia news
Pakistan, November 1, 2017: Pakistani authorities have been accused of failing to protect a 17-year-old Christian girl who for years has been sexually harassed and stalked by a Muslim man who threatened to throw acid on her.
The British Pakistani Christian Association said Tuesday that the girl, Samina Iqbal from the town of Rawalpindi, has been heckled since 2013 by a man 10 years her senior who is trying to get her to marry him.
Iqbal said the man has been "accosting her daily on her way to school."
From her account, according to BPCA, he would often block her path and demand that she speak with him and marry him.
The marriage proposals at the time went against Pakistani law, which states that a bride should be at least 16 years of age, BPCA noted.
The teenager explained that the man would wait for her every day on her way to school.
"For Samina, however, the chance of meeting with him filled her with fear and dread, so much so that often she would stay at home and cry her day away having lost all hope," BPCA added, noting that the man would also sit outside her house and yell her name.
After family talks with the man failed, Iqbal stopped attending school and did not leave her home for an entire year, becoming seriously ill and depressed.
The BPCA said the suspect has even pulled a dagger and chased away a police officer who wanted to talk to him about the case.
The watchdog group said that police have failed to deal with the man despite his threats, including one instance in which he threatened to throw acid on Iqbal.
The ongoing harassment has forced the Christian teenager to leave her job and see a number of opportunities for a better life cut off.
"It's sad to hear how this Christian girl has lost her ambitions and dreams of a brighter future, because fear of an impending and looming attack has left her so disheveled. Samina should have the freedom to live as she wants and this man should be punished. He has left her without an education and has destroyed a promising career," said BPCA Officer Mehwish Bhatti.
Wilson Chowdhry, chairman of the BPCA, added: "Once again the police services provided in Pakistan are brought to disrepute simply for failing comply with their own protocol. The indiscipline and lack of empathy shown for Samina and her family is indicative of the low value placed on Christian lives."
"Sexual harassment is not new to Pakistani authorities, nor is the blatant ignoring of submitted complaints which actually follows a very usual pattern," he said.
"Our lead officer will be raising this new sexual harassment case with senior police officials and we hope to get a crime registered, however it should not be the duty of NGO's to galvanize police response."
The watchdog group has started a fund to support Iqbal's family.
Hundreds of Christian girls are kidnapped and forced into Islamic marriage each year in Pakistan.
Several cases have made international news in the past couple of years, including one from April 2016 when five Christian girls were taken from their parents and forced to convert to Islam.
"In April in the area of Kasur alone, five Christian girls were kidnapped and converted to Islam and forced to marry their captors. These girls are denied the legal protection of individual rights," Sardar Mushtaq Gill, a lawyer with Legal Evangelical Association Development in Pakistan, said at the time.
Christians in Pakistan reported in July 2016 of a father seeking justice for his 16-year-old Christian daughter who was sexually assaulted by Muslim attackers in Sheikhupura, Punjab.
Other groups, such as International Christian Concern, have warned that authorities too often side with rapists in such cases.
"There are many such instances of persecution of Christians at the hands of Muslims in Pakistan, with little reaction or justice from the authorities," ICC has said.
– christian post
Vietnam, October 31, 2017: Violent attacks by Hội Cờ Đỏ (Red Flag) militants against the Catholic community in Nghệ An province continue unabated.
On Sunday, about 700 pro-government hooligans riding motorcycles stormed Sơn Hải, a town in Quỳnh Lưu district.
After sowing terror among residents, they threateningly set up a camp near the Văn Thai chapel in Song Ngọc parish (Vinh diocese), where they shouted insults at the parish priest.
The Red Flag militants also described Fr JB. Nguyễn Đình Thục, vicar in Song Ngọc; Fr Anton Đặng Hữu Nam, vicar in Phú Yên; and Vinh Bishop Mgr Phaolô (Paul) Nguyễn Thái Hợp as "reactionary enemies".
Clergymen and their churches have led the efforts to help fishing communities get compensation from the Formosa Plastics Group, a Taiwanese-based company responsible for Vietnam's worst environmental disaster.
In April 2016, a massive discharge of toxic sewage from a plant in Ha Tinh province killed about 115 tonnes of fish and left millions of people, including fishermen, without a job in the four coastal provinces most affected by the disaster.
The two vicars have taken a stance for the rights of the local residents, backing their protests and legal action against the authorities for failing to deliver compensation to the victims.
Since the start of the year, Vietnam's central government and Quynh Lưu district have mobilised a large number of media in a campaign of false accusations against the two clergymen.
In early May, the authorities in Quỳnh Lưu organised a series of rallies and demonstrations against the two priests. The protesters, recruited by the local government, have even demanded that Fr Nam be sentenced to 20 years in prison or even death.
Ever since it was founded, the Red Flag group has tried with direct action to prevent protests and petitions against the Formosa Group. The group has even slammed the priests who provided legal aid to the victims of the disaster.
"It is possible that they will continue to attack the faithful and damage their property," said Fr JB. Nguyễn Đình Thục. "If they commit such acts of violence, it is clear that they are protected by the local government. This is also the way Communists silence peaceful voices of dissent".
Their goal is to restrain "Catholics from protesting against Formosa and to get rid of 'Catholic enemies,'" Fr Anton Đặng Hữu Nam told Radio Free Asia.
Yesterday, 300 thugs surrounded Fr Dominic Pham Xuan Ke and Fr Joseph Nguyễn Ngọc Ngữ, two priests who went to the Diem My People's Committee to report attacks.
On 4 September, about 20 Red Flag militants in civilian clothes but armed with guns, sticks and pepper spray broke into Thọ Hòa parish church, Xuan Loc district.
They wanted to confront the parish priest, Fr Nguyễn Như Tân, over a Facebook post in which he said he hoped to see political reform in the country.
In the same month, thugs gathered in the town of Diễn Mỹ where they beat up the faithful of Đông Kiều parish. In April, hooligans attacked the Catholic community in Văn Thai.
Red Flags thugs often carry out their attacks at night, throwing stones and shouting at Catholic homes, creating an atmosphere of terror and violence.
They have repeatedly beat up Catholics with sticks, destroying their personal belongings like motorcycles, furniture, and other items. This has caused great hardship for many families, who already live in precarious conditions.
Local police have repeatedly stood idly by watching these actions. Law enforcement have failed to take action to protect people. "Plainclothes police and communist security agents are in the Red Flags group," many Văn Thai residents told AsiaNews.
The group also tried unsuccessfully to isolate the community by preventing exchanges with non-Catholics.
"Attackers act with the utmost impunity," some residents said. "complaints and petitions filed after the attacks have been ignored by local authorities. "
"The [Red Flag] group was set up to fight people and all those who struggled to protect the environment," said Tuyết Lan, a government official. "This is why Vietnamese Catholics fight, protesting against Formosa. By contrast, local authorities persecute and imprison their own people. The provincial government has told these gangsters to behave this way."
"We reiterate that this is a plot to carry out violent provocations and suppress parishioners in the Catholic community of Văn Thai," said Fr JB. Nguyễn Đình Thục, who has repeatedly called on the authorities to investigate the violence. "As a result, we protest all the dangerous plans that are intended to divide Catholics from non-Catholics. "
Finally, the clergyman calls "on the government to respect and enforce Vietnam's laws, as well as protect the lives and properties of its citizens."
Indeed, "Every protest by the faithful against the group's provocations, even if it is in self-defence, is very dangerous. Therefore, the government must be held fully accountable for all the situations that cause damage and disturbance in the area".
– asia news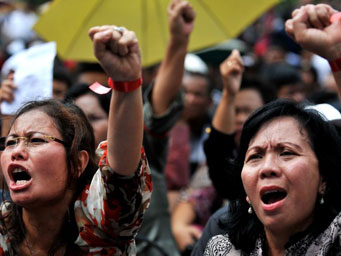 Indonesia, October 24, 2017: Organizers of an open-air prayer service in Indonesia to mark the 500th anniversary of the Protestant Reformation were forced to cancel the event following pressure from Muslim hardliners who accused them of plotting plot to convert Muslims to Christianity.
Observers said the case was another example of growing intolerance in the country.
The service was to be held on Oct. 20 at the Kridosono football stadium in Yogyakarta and to be led by Stephen Tong, head of the Reformed Evangelical Church of Indonesia, whose members are mainly Indonesian Chinese.
However, the event was scrapped after the Forum Ukhuwah Islamiyah (FUI), an arm of the Indonesian Ulema Council, wrote to stadium officials calling on them not to allow the gathering, saying it was an attempt to Christianize Muslims.
They also threatened to disrupt the event if it went ahead.
Organizers later canceled the gathering saying they wanted to avoid unwanted repercussions against Christians.
"For the shake of interreligious harmony … and to avoid acts of intolerance, the committee decided to call off the national prayer service to mark 500 years of Reformation," the Reformed Evangelical Church of Indonesia said in a statement.
Ahmad Mursyidi from the FUI said his organization strictly opposes such events in public places.
"It had the potential to become an arena of apostasy under the guise of mass healing," he told ucanews on Oct. 23.
However, the organizers scoffed at Ahmad's claim, saying that Rev. Tong has never led any healing services, only prayer services.
Police rejected the claim that hardliner pressure forced the cancellation of the service.
Yogyakarta police spokesman Yulianto said it did not go ahead because organizers did not have a permit to stage the event.
Organizers however said approval had been sought and granted in May from local authorities and police.
The service was supposed to be one of 17 major events to be held in Indonesian cities to mark 500 years since the Reformation began in October 1517, which resulted in the split with Rome by Protestants.
The cancellation of the service was the second time a major Christian gathering has been called off in less than a year. In December last year, a Christmas service in Bandung, West Java, also to be led by Rev Tong was stopped by hardliners.
Achmad Nurcholish, a Muslim scholar, said the latest case is proof that intolerance remains a threat to interfaith harmony.
"It's a sign that in our society it is difficult to accept people of different beliefs," he said. He also accused the government of not taking tough action against people who spread hatred against other religions.
"Acts of intolerance will continue unless the government pays serious attention to it," he said.
Bonar Tigor Naipospos, deputy director of the Setara Institute for Democracy and Peace said intolerant groups always use apostasy allegations to prevent activities of minority groups.
"Unfortunately, local governments back them by canceling such events under the pretext of maintaining security," he said.
– ucan
Pakistan, October 26, 2017: 12-year-old Christian girl was kidnapped, raped and tortured with cigarette butts by three Muslim men in Sheikhupura, Punjab (Pakistan).
Reacting to the latest case of anti-Christian violence, activists, Catholics and Muslims spoke to AsiaNews to condemn it in no uncertain terms.
The girl's name is Meshal, a six grader. Her mother told a Pakistani television channel that she went to the police to file a complaint, but the agents refuse to file the case or start a criminal investigation. Punjab Chief Minister Mian Mohammad Shahbaz Sharif was informed of the incident today.
Activist Shahid Anwar condemns "this brutal act of persecution of a [member of a] religious minority. In Pakistan, girls are often taken, raped and converted by force. The competent authorities did not take any action."
For the girl, "things are twice as bad. First, because she belongs to a religious minority. Secondly, because she is a woman. What is more, when minors go to police to file complaints, they are not treated the same way as other citizens, and their complaints are not taken seriously."
"Minorities are vulnerable and marginalised, so they are easy targets," said Benish Patras, coordinator of the National Justice and Peace Commission. "Local authorities and institutions must investigate and register the charges against perpetrators. The government must also ensure the application of laws against honour crimes and rape."
"Our country has no good reputation when it comes to the defence of minority rights," said Muhammad Aamir Kakkazai, an Islamic writer and researcher. "Poor people have no rights and minorities are even worse. They suffer discrimination at all levels of society, from the state to private employment. They are victims of intolerant attitudes even in public."
Like writer Farahnaz Ispahani, who in her book 'Purifying the Land of the Pure' refers to the example of Mohammad Ali Jinnah, the founding father of Pakistan who envisioned a modern secular country in which everyone would enjoy religious freedom, Kakkazai said: "According to Ispahani, the religious lobby hijacked Jinnah's Pakistan. [What happened] is not tolerable in a modern society. The Punjab government must take strong action against the perpetrators."
– asia news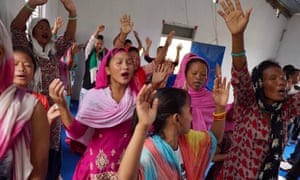 Nepal, October 25, 2017: A law that makes evangelism and religious conversion punishable by up to five years in prison has been signed into law by Nepal's President Bidhya Devi Bhandari.
Lawmakers first passed the bill on 8 August. Human rights activists had called for the bill to be amended before it was approved. But anyone convicted under the new law, including foreign visitors, could face up to five years iin prison for seeking to convert a person or "undermine the religion, faith or belief that any caste, ethnic group or community has been observing since sanatan [eternal] times."
Anyone who "hurts religious sentiment" also faces up to two years in prison and 2,000 rupee fine. The constitution establishes Nepal as a secular country with 81.3% population as Hindu, 9.0% Buddhist, 4.4% Muslim, 3.0% Kiratist (indigenous ethnic religion), 1.4% Christian, 0.2% Sikhs, 0.1% Jains and 0.6% follow other religions or no religion according to the 2011 census.
Church leader Pastor Tanka Subedi had this to say of the situation "We are deeply saddened that this bill is now law. Our appeals to the president and other policy makers to amend this have been ignored. Nepali government have taken a regressive step as this law severely restricts our freedom of expression and our freedom of religion or belief."
The constitution establishes Nepal as a secular country with 81.3 per cent population as Hindu, 9.0 per cent Buddhist, 4.4 per cent Muslim, 3.0 per cent Kiratist (indigenous ethnic religion), 1.4 per cent Christian, 0.2 per cent Sikhs, 0.1 per cent Jains and 0.6 per cent follow other religions or no religion according to the 2011 census.
– global christian news
Philippines, October 24, 2017: The leader of the ISIS in the Philippines, Isnilon Hapilon, is dead. The city his forces seized, Marawi, on the island of Mindanao, is back in government hands after months of scorched-earth combat.
But the Islamic State in Iraq and Syria's (ISIS) influence in the Philippines is far from over, and communities on Mindanao are bracing for the next battles.
"I don't like to fight. But this is our land and we will not let them take this like they destroyed Marawi," said a veteran Christian militia fighter who goes by the nom de guerre Commander Ilangilang. (She named herself after the tree blossoms that bloom densely around her home town.) She says it is only a matter of time before the black flag of ISIS flutters in the mountainous periphery on the outskirts of Kauran, the farming community where she grew up and where she talked to the New York Times journalists recently, about 145km south of Marawi.
"That's why I have these," she said, gently tapping her .45-caliber pistol and a separate revolver, both holstered loosely around her thin waist.
The commander said she picked up her first gun when she was 13, in the early 1970s, and her family was embroiled in fighting Muslim separatist rebels in the area.
That separatist movement, and the sectarian and political resentment that drove it, never really went away. It evolved into Muslim militant groups that fought the government for decades, and in recent years proved to be fertile ground for the ISIS ideology and recruiters, as that Middle East-based movement sought to extend its influence around the globe.
That the old and resilient militant cells here are now being strengthened by the brand and resources of the group's international network has people worried all over Mindanao – including even some of the Muslim militants whose former comrades joined ISIS.
In a twist that would have been unimaginable even after they signed a peace deal with the Philippine government three years ago, members of the Moro Islamic Liberation Front, or MILF, are now leading their former enemies in the army against what some believe could become the next big ISIS uprising.
They are fighting in the forbidding marshlands of the town of Datu Salibo, about 210km drive south from Marawi.
Local Islamist groups claiming to represent ISIS have been trying to recruit the young with promises of cash and adventure, according to Commander Asiong. He is the self-appointed spokesman for the same Christian militia unit that Ilangilang belongs to: Red God's Army.
Asiong, 60, a former soldier turned community leader, said that even with the militants in Marawi defeated, ISIS' reach on Mindanao has spread. It has been aided by operatives in the Middle East who have posted well-produced videos of the so-called religious war, he said, and particularly by how the ISIS loyalists in Marawi managed to fight off the government for months.
His years of army service, spent fighting Muslim militants, have left him with deep scars in his neck and torso, and his left leg was all but cut away to save it after several bullets hit him there.
"They can regroup, join other IS allied groups here," he said, using the initials for ISIS. "While we have guns, our community is no match for them. So we pray that the government finishes them in Marawi. If not, there is nothing we can do except to protect ourselves and fight to the death. We will defend our land until troops arrive."
(On Monday, the Philippine defence secretary declared an end to the fighting in Marawi, saying that the "last group of stragglers" in the siege there had been killed.)
Asiong and Ilangilang spoke to journalists for The New York Times over goat meat stew in Asiong's hut. As we talked, the sound of explosions kept coming across the distance – mortar fire from an army camp targeting local rebels in a swampy region miles away.
On Christmas Day two years ago, a breakaway faction from the MILF called the Bangsamoro Islamic Freedom Fighters, or BIFF, attacked several areas, including Kauran, and killed 11 Christian farmers, Asiong said.
While BIFF says it is not officially affiliated with the ISIS loyalists who fought in Marawi, the local authorities think otherwise.
The rebel force has welcomed the Marawi offensive and has helped divert the army's attention by attacking nearby civilian communities. In June, as heavy fighting was going on in Marawi, BIFF militants briefly held more than 30 students in the remote town of Pigkawayan, about 80km south, forcing the military to spread its forces even more thinly.
A spokesman for the group, Abu Misry Mama, said in a brief telephone interview: "The fighting in Marawi is a good distraction. All I can say is, they do not belong to our group, which continues to fight for a separate homeland. But the enemy of my enemy is my friend." Another of those militant friends, a group that has explicitly pledged loyalty to ISIS, is fighting government and MILF forces in the marshlands near Datu Salibo.
The ISIS militants here are headed by the militant commander Abu Turaipe and are believed to number a few hundred. He was once allied with MILF, but broke away in protest over the peace deal with the government.
The swamp battle with the ISIS militants has been going on since August, but has gotten little press coverage, largely because the area is inaccessible and much of the attention has been focused on Marawi.
Von al Haq, the MILF's military commander, said that his fighters were "swimming while attacking, because the swamp waters are very deep". But the MILF and army alliance has slowly been winning, and in one offensive last month reported that it had recovered at least 20 improvised bombs and a number of black ISIS flags.
Nassrolah Gani, a 35-year-old police officer whose unit is helping the military in recovering casualties from the crocodile-infested marshland, said his men would be easily lost in the swamps were it not for their MILF guides.
Boots get sucked off by the mud, and thorny bushes are a natural impediment to moving faster. Their assault rifles often get wet, making them less reliable.
"It's an open mostly flat marshland, where you are open to sniper fire," Gani said. "When you enter the swamps, you've already dug your own grave." Gani said the latest intelligence data they received indicated that there were several Malaysian fighters who had joined Abu Turaipe's group.
Whether they had escaped from Marawi to this new front was hard to tell, but he believes their presence has bolstered the enemy force.
"We used to fight the MILF, but they are now fighting alongside us. So what is the bigger enemy? It is the Daesh-inspired groups," he added, using another name for ISIS.
Rommel Banlaoi, a security analyst who heads the Philippine Institute for Peace, Violence and Terrorism Research, says that other southern cities are at increased risk of attack by energised ISIS loyalists.
"They have won the battle strategically, as they have proven how long they can endure the fight against government forces," he said, adding that the Marawi battle will stand as an example of "martyrdom that can inspire others."
After the spectacle of the Marawi siege, more foreign fighters will be attuned to the fight on Mindanao, where past government efforts had aimed at ousting Muslims in favour of the Christian majority.
"Mindanao will continue to suffer the challenges of armed conflicts and violence because of many issues associated with the struggle of the people there for self-determination" being advocated by the Muslim forces, Banlaoi said. "It has simply become the new land of jihad."
– straits times