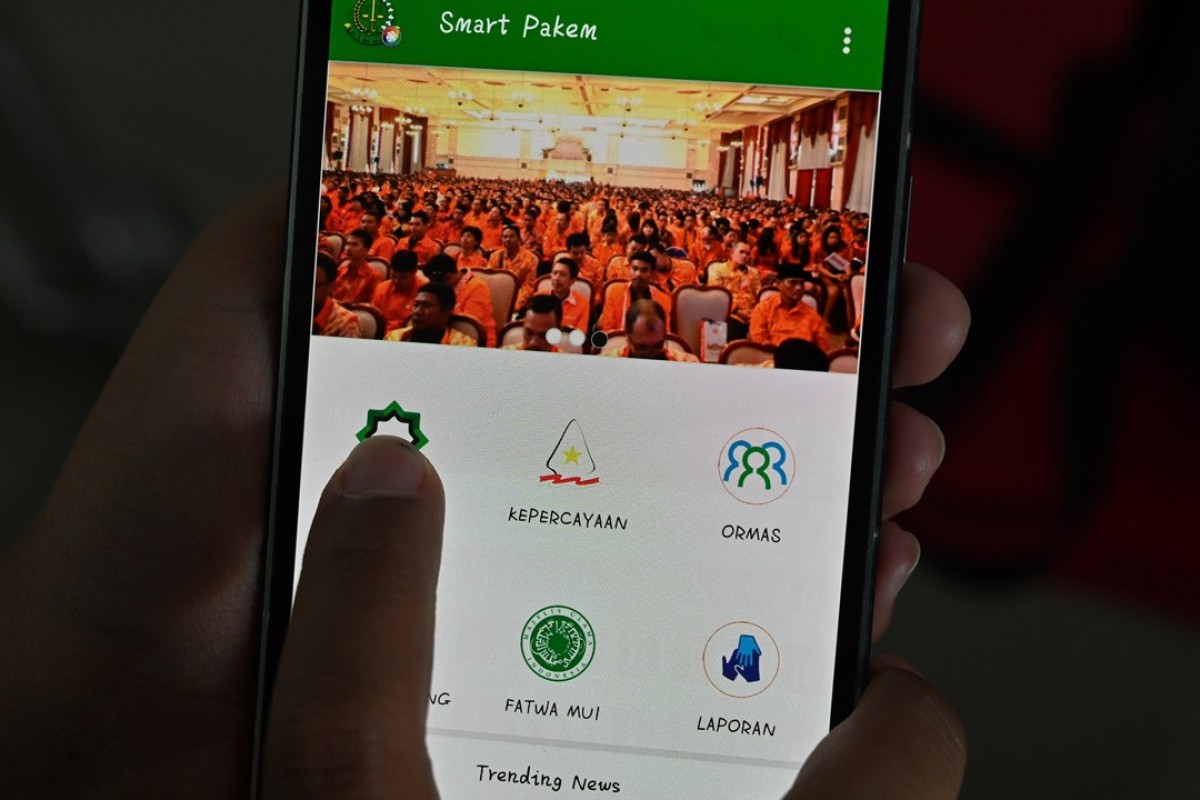 Indonesia, December 6, 2018: Misguided or "heretical" beliefs can be reported instantly in a new mobile phone app, "Smart Pakam", created by the Indonesia government.
The App is described as a tool to educate Muslims on misguided beliefs and enable them to instantly report possible violations. Users are encouraged to report beliefs ambiguously described as "harmful," and can upload photos as evidence.
The app was created by the government body Bakor Pakem – The Coordinating Board for Monitoring Mystical Beliefs in Society – a powerful influence in the Indonesian legal system. According to Human Rights Watch, 100 per cent of those reported to the body have been convicted of "blasphemy", "defamation" or other charges.
The country's minority faith communities, particularly Christians and Ahmadiyyah Muslims have raised concerns that the app could violate religious freedoms and cause profound divisions in society.
­Amiruddin Al-Rahab, a commissioner at Indonesia's National Commission on Human Rights commented in local news sources, "It is contradictory to the government's desire to create a culture of mutual respect and tolerance, which is why I have asked the government and the attorney general to take it down."
Mr ­Al-Rahab warned of serious potential consequences including social disintegration, persecution, violence and discrimination.
Christians make up at least 15 per cent of the population of Indonesia. Until a generation ago, Muslims and Christians lived peaceably as equals, but since the 1980s the role of Islam in public life has dramatically increased. The Christian former governor of Jakarta, "Ahok" Tjahaha Purnama, was sentenced to two years in jail for blasphemy following accusations by Islamists in 2016.
– global christian news
Pakistan, December 3, 2018: A group of advocates for religious freedom have formed a commission for the protection of minorities' rights in Pakistan, amid growing fears of intolerance toward religious minorities in the majority-Muslim country.
Local media reported that the new commission is comprised of professionals in human rights, law, and academics from various religious communities. Its aim is to encourage federal and provincial governments to honor constitutional religious freedom rights.
The Pakistani constitution establishes Islam as the state religion, but includes articles to protect the rights of freedom of religion and religious education. It also prohibits discrimination based on religion in relation to access to public places and provision of public services.
Despite this, "the government of Pakistan has not addressed the spread of sectarian or religiously motivated intolerant speech and has not prosecuted perpetrators of violent crimes against religious minorities," according to the U.S. Commission on International Religious Freedom.
Human rights activist Ibn Abdur Rehman, patron-in-chief of the new commission, said the body will be committed "to upholding rights of those people treated or declared as the minorities," but that it would be "all-inclusive in pursuing equality" in terms of religious freedom.
Chairman of the new body Peter Jacob told local media that with "rising intolerance in society, there was an urgent need of such a commission to protect minorities' rights." He said the Pakistani Supreme Court ordered the creation of a National Council for Minorities in June 2014, but successive governments had ignored this order.
In July, Pakistan elected Imran Kahn as it new president, a politician who has publicly supported laws imposing strict penalties for blasphemy against Islam – including desecrating a Quran or insulting Muhammad. Penalties for insulting Islam's chief prophet include fines, prison, and even the death penalty.
As CNA has previously reported, accusations of blasphemy are disproportionately leveled against religious minorities, and the laws are seen as a vehicle for religious intolerance or persecution. While Pakistan is 97 percent Muslim, 14 percent of blasphemy cases are brought against non-Muslims.
While no one has been formally executed for the crime in Pakistan, mob violence and killings have accompanied public accusations of blasphemy. This includes Servant of God Shahbaz Bhatti, a Catholic politician from Pakistan who was killed by the Taliban in 2011.
Bhatti, who served as Pakistan's Federal Minister for Minorities Affairs from 2008 until his death, was at the time the only Christian member of Pakistan's cabinet, and said he had dedicated his life to the "struggle for human equality, social justice, religious freedom, and to uplift and empower the religious minorities' communities," and that he accepted the post for the sake of the "oppressed, down-trodden and marginalized."
Bhatti had begun to receive death threats in 2009, but they increased in 2010, after he showed support for Asia Bibi, a Pakistani Christian woman who was sentenced to death for blasphemy in 2010, and who remained on death row until her acquittal by Pakistan's Supreme Court in October 2018.
– cna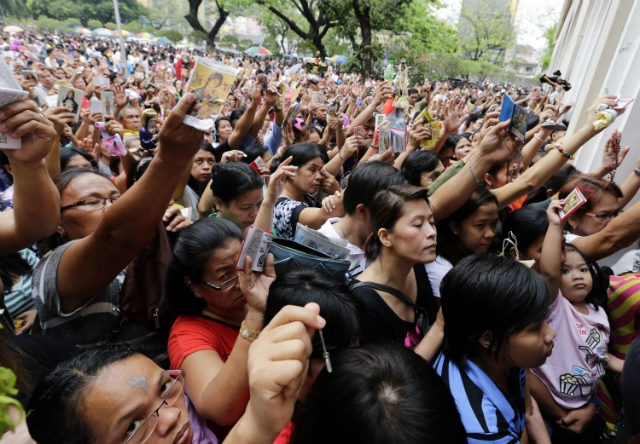 Manila, December 2, 2018: Philippine authorities have filed charges of kidnapping and human trafficking against 19 people, including four Protestant pastors, a congresswoman and a former legislator, for trying to rescue tribal children who were fleeing from a village that has been a target of military operations.
Among those accused of "transporting minors without parental permission" were pastors Edgar Ugal, Ryan Magpayo,and Jurie Jaime, of the United Church of Christ in the Philippines, and Eller Ordeza of the United Methodist Church.
Charges were also filed on Nov. 30 against Congresswoman France Castro of the ACT Teachers Party and former Congress member Saturnino Ocampo, both of whom were part of a "national solidarity mission" that aimed to investigate alleged military harassment of a tribal school.
The accused, who were all booked at Davao Police Regional Office in the southern city of Davao, were arrested on Nov. 29 after allegedly transporting 14 minors from the town of Talaingod in Davao del Norte province.
Reports reaching ucanews.com in Manila said the solidarity mission was stopped at a roadblock by men believed to be members of a paramilitary group known as Alamara that has been linked to attacks on tribal communities in the province.
Jeffrey Lozano, a Redemptorist missionary who was with those arrested, said the solidarity mission "only acted to rescue" tribal students and teachers who were forced to flee after members of the paramilitary group tried to close a tribal school.
"We came to aid the children and teachers who walked for five hours in heavy rain because the military attacked their school and tried to lock it down," Lozano told ucanews.
Police reports indicated that the group on board five vehicles were transporting the children to Compostela Valley province "without authority to do so."
Police added that the "successful rescue of 14 minors" was a result of its "continuous effort to implement" the anti-trafficking in persons law.
The minors were later placed under the custody of the local social welfare department while awaiting to be claimed by their parents.
The United Church of Christ condemned the "illegal arrest and trumped-up cases" filed against the pastors and other individuals "who were answering an emergency situation."
"This is very alarming and a call to all Christian churches to act," said Michael Salem, program coordinator of the church in Mindanao.
He said the church leadership is already conducting consultations "to determine the proper legal actions that we should take."
Human rights group Karapatan called on the government to immediately release all those arrested and drop the "trumped-up charges" against them.
In a statement, the group accused the government of using its "seeming endless arsenal of dirty tricks" against rights defenders and poor communities.
– ucan
Manila, November 29, 2018: Facades of Catholic churches and schools across the Philippines were bathed with red light on the evening of Nov. 28 to highlight the plight of persecuted Christians around the world.
It was part of the so-called 'Red Wednesday' campaign initiated by Aid to the Church in Need — a global Catholic group under the auspices of the pope that supports Christian communities suffering persecution.
In the capital, Manila, Father Teresito 'Chito' Soganub, who was previously abducted by Islamic militants, led the faithful in paying tribute to Christian martyrs.
In his homily, the priest said he was passionately supportive of the event because of his experience as a hostage.
Victims of persecution such as himself cried from their hearts and souls as well as their eyes.
"You cannot do anything except pray," he added.
He said that in the midst of a difficult situation, with the bullets flying around, it had been difficult to see the presence of God.
The priest added that he even tried to bargain with God during his almost 116-day captivity from May 23 to Sept. 26, 2017.
"I prayed hoping the Lord will grant my prayer," the priest said.
Father Soganub felt that he had failed when he was not freed, but later realized he was wrong to have reacted in that way.
"I could not see the presence of God because fear swallowed me, because imminent death and the trauma covered my eyes not to see the wonders of God and his protection," Father Soganub said.
Data provided by Aid to the Church in Need noted that more than 90,000 Christians were murdered worldwide in 2016, equivalent to one every six minutes.
The group noted that many people in the Philippines remain unaware of how difficult it is to practice the Christian faith in some Muslim-majority areas of the southern island of Mindanao.
The 'Red Wednesday' event sought to improve awareness among Filipino Christians of such issues.
The Catholic Bishops' Conference of the Philippines invited all churches and diocesan shrines across the country to illuminate their façades in red, the color of martyrdom in the Christian faith.
– ucan
Karachi, November 26, 2018: Pakistan has launched a crackdown on a religious group who paralyzed the country for three days after the acquittal of Catholic death row inmate Asia Bibi.
Bibi, a mother of five who had been held in solitary confinement on death row since 2010, had her blasphemy conviction overturned by the Supreme Court on Oct. 30.
The court's ruling sparked three days of violent protests led by Khadim Hussain Rizvi, the firebrand cleric and chief of Tehreek-e-Labbaik Pakistan (TLP), a politico-religious group known for its staunch support of draconian blasphemy laws.
The protests prompted the government to sign a controversial deal that drew condemnation from minority and human rights groups.
The Christian woman was eventually released on Nov. 8 in Multan and flown to Islamabad. Her whereabouts have been kept secret due to threats to her life and her family.
On Nov. 23, police, rangers and other law enforcement agencies detained Rizvi and hundreds of his followers in an undeclared crackdown against the group. The move sparked clashes between Rizvi's supporters and police in Lahore in which at least five people were injured.
Government spokesman Fawad Chaudhry said Rizvi was taken into protective custody after he announced plans to hold a rally in Rawalpindi.
"Khadim Hussain Rizvi has been taken into protective custody by police and shifted to a guesthouse. They insisted on coming to Rawalpindi and refused the government's proposal for alternative arrangements," Chaudhry said shortly after the arrests.
"The government did its best to convince them but they refused every offer and started to provoke violence. The public are requested to stay peaceful and calm. The law shall take its course and it cannot be left to individuals."
In a press statement on Nov. 25, TLP Karachi head Allama Razi Hussaini said the group was being punished for staging protests against Bibi's acquittal.
"Our more than 500 leaders and workers have been missing ever since the crackdown was launched by the police," Hussaini said.
He also condemned the house arrest of Islamic scholar Mufti Muneeb ur Rehman for his support of the TLP.
Bibi was sentenced to death in 2010 on charges of making derogatory remarks about the Prophet Muhammad during an argument with a Muslim farm worker.
Her lawyer Saiful Malook has fled Pakistan after threats to his life.
The raw video below shows TLP supporters clashing with police at Numaish Chowrangi in Karachi on Nov. 24. (Video courtesy of TLP media)
– ucan
China, November 22, 2018: Could China's 'social scoring' experiment which brings new surveillance and supervision to an already restricted society, also lead to further persecution of Christians.
Under the slogan, "once untrustworthy, always restricted" China's planned AI (artificial intelligence) controlled "social credit" system will bring a new depth of intervention into the lives of Chinese citizens, including Christians.
The Chinese government pilot schemes, in cities including Beijing and Shanghai, are underpinned by a vast network of advanced surveillance technology which uses face recognition to monitor location and track movement. Individuals' social "scores" are updated in live CCTV streams as they are going about their daily lives.
Those who break government rules or do not conform will be subject to a variety of punishments that range from the inconvenient – internet throttling and slower hotel checkouts – to the life changing, including flight bans and restrictions on loans and rent. Chinese Christians, who have seen a government crackdown on "house churches" and online Bible sales in the past year, could be facing an increasingly Orwellian future.
Based around a structure of reward and punishment, this system of "algorithmic governance" is a new, experimental means that a government can use to "regulate" its society. It is planned that all Chinese citizens will be scored on the system by 2020.
A points system grades citizens through an AI which monitors their purchases, internet activity and social media interactions. A swiftly expanding network of 300 million AI powered CCTV cameras observes movements, minor misdemeanours such as jaywalking or smoking in public and even facial expressions and body language.
Those found wanting are awarded lower scores alongside their family and known associates. The impact this could have on the social fabric is considerable. With one line of code, an individual could face the risk of being cut off from all their friends, colleagues and family.
In 2017 eleven million citizens were already placed on no fly lists with four million blocked from buying train tickets. Other punishments proposed as the scheme rolls out include bars on getting loans, renting a home and access to certain schools or jobs. Meanwhile high scorers will enjoy discounts on energy bills, fast-track checkouts and visa applications and enhanced matches on dating sites.
The expanding Social Credit system has the potential to severely affect the day-to-day existence of Christians and other minorities, especially if they are deemed to demonstrate "dissent". In September of 2018 the largest "house church" (unregistered church group) in Beijing was shut down by authorities as they refused the governments imposition of security cameras in their meeting place.
Authorities' heightened crackdown on Christians led 344 Chinese pastors to release a declaration on 12 September calling on authorities to allow full religious freedom. Their statement closed saying, "For the sake of the gospel, we are prepared to bear all losses – even the loss of our freedom and of our lives."
– global christian news
Jakarta, November 20, 2018: A prominent Christian politician accused of blasphemy says she is being targeted by conservative elements in Indonesian society for speaking out against Shariah and Gospel-based bylaws.
Grace Natalie, 36, a Protestant and founder of the Indonesian Solidarity Party (PSI), was reported to police on Nov.16 by a conservative Muslim organization.
She was accused of blasphemy for criticizing laws prohibiting so-called "immoral acts" such as gambling, drinking and socializing with members of the opposite sex in a speech at a party gathering in Tangerang, near Jakarta last week.
"The PSI will prevent injustice, discrimination, and all intolerant actions in this country. The PSI doesn't support Gospel and Sharia bylaws," she was quoted as telling the gathering.
Speaking to reporters on Nov. 19 in response to the allegation, the former TV journalist said, "The implementation of religion-based bylaws victimize women and I have become a victim as well for criticizing such regulations."
The National Commission on Violence Against Women says there are 421 discriminative regulations being implemented in 13 provinces, including in Manokwari district in Papua, which has a "Bible-based bylaw" banning alcohol and gambling.
Aceh province in Sumatra has implemented Shariah bylaws and many people, particularly women who breached the rules, have been caned in public.
According to conservative group the Indonesian Muslim Workers' Brotherhood, which lodged the blasphemy complaint, Natalie's speech was against the Quran
"Her comments appeared hostile [to Islam] and was considered hate speech against religion," the group's lawyer Eggy Sudjana said.
Plenty of other organizations dismissed the brotherhood's claim.
Rights group, the Setara Institute for Peace and Democracy said Natalie's speech was not blasphemy and police should not waste their time on what looks like a politically motivated complaint.
Many reported cases of blasphemy are politically motivated, the institute's executive director Hendardi told ucanews.
"Political interest is probably behind the majority of blasphemy accusations and the judicial process is influenced by political pressure through mass mobilization," said Hendardi who like many Indonesians only uses one name.
Petrus Selestinus, a Catholic lawyer, said the brotherhood quite clearly misunderstood the substance of Natalie's speech.
"Grace Natalie rejects religious bylaws because she wants society of discriminative regulations," he said.
– ucan
Pakistan, November 15, 2018: The conservative Islamist political alliance Muttahida Majlis-e-Amal (MMA) flooded the streets of Lahore on Thursday, demanding from the Supreme Court to reverse the acquittal of a Christian woman condemned to death for blasphemy.
Leaders of the Islamist conservative alliance Muttahida Majlis-e-Amal (MMA), took the stage to denounce the Supreme Court's decision to overturn the death conviction of Asia Bibi for blasphemy.
The president of the MMA alliance, Maulana Fazl-ur-Rehman, stated that "we will never hesitate to scarify lives to honour the Prophet," calling for the Supreme Court to revert its verdict "or this agitation will continue."
Asia Bibi was sentenced to death by hanging in 2010 for allegedly making derogatory remarks about the Prophet Muhammad during a dispute with co-workers.
The dispute arose after she was reprimanded for drinking water from her neighbours' glass because she's not a Muslim, reports say.
Bibi has denied the allegations but has spent most of the last eight years in solitary confinement. On November, Pakistan's Supreme Court overturned her conviction citing flimsy evidence.
– al masdar news
Vietnam, November 12, 2018: Rights groups have condemned a move by the Vietnamese government to put a well-known Catholic blogger and activist on trial for "affronting" the national flag, calling it a direct attack on her freedom to express her views.
Huynh Thuc Vy is due to stand trial on Nov. 22 for "insulting a national emblem under Article 276 of the penal code," according to an announcement by the People's Court of Buon Ho in Dak Lak province.
If convicted, Vy faces "re-education" for six months to three years in jail.
Vy, co-founder of Vietnamese Women for Human Rights, a domestic civil society group working for local women's rights, has been under house arrest since August after police detained her and confiscated her cell phone, laptop and camera.
She had previously refused to answer a police summons to face questioning.
Police wanted to talk to her about a picture she posted on Facebook in September 2017, which featured her and a national flag smeared with white paint.
The 33-year-old mother of one said she "sprayed paint on the flag to symbolize my freedom to express my views. This was part of a series of actions, highlighting my belief that all Vietnamese have the freedom to express their political views."
Vy said on Facebook that she is not concerned about the trial. "My health and business are the most important things now," said the dissident who earns a living as a coffee supplier.
Catholic priest and rights activist, Father Anthony Le Ngoc Thanh, accused the government of arbitrarily charging Vy because Article 276 was revoked in a 2015 amendment to the penal code.
"Vy's expressed her political views and did not violate the law because the constitution allows her the right to free speech," Father Thanh said.
He said it was grossly unjust to try her on such a charge.
Many football fans wrap national flags around their bottoms in public places and are not prosecuted, he said.
He said Vietnamese are not proud of this flag, which is a symbol of the sufferings endured by people since the country's reunification in 1975.
Many rights, civil society and religious groups and activists have said that the national flag connected with the communists-led revolution to take power is not chosen by the people.
"The state represented by the flag is a totalitarian party-ruled state which deprive civilians of all basic rights of freedom," they said in a petition. The people are forced to worship the flag so as to serve the tyrannical government, they added.
They condemned corrupt authorities accepting bribes allow companies to cause rampant pollution, police keep untold numbers of prisoners of conscience behind bars, publicly attacking rights activists and torturing them in detention centers.
They said Vy's act of tainting the one party-ruled government's flag aimed at not inciting viewers to use violence, causing riots or danger to public security.
"Her behavior only express the strongest disapproval of the government's failure of state management," they said adding that patriots must have a duty to protest against the government's wrong policies.
"We ask the government to annul the prosecution against Vy and to end crackdown on local dissidents," they said.
– ucan
Pakistan, November 5, 2018: Saiful Mulook, who defended Asia Bibi in a case that has led to the assassination of two Pakistani politicians, is hiding out in the Netherlands.
Islamist extremists have demanded the public execution of Asia Bibi, 47, who was acquitted after eight years on death row.
The Supreme Court overturned her conviction last week,claiming she was sentenced on weak evidence.
The mother-of-five is believed to still be trapped in a Pakistani prison for her own safety.
Now her lawyer has revealed United Nations staff urged him to leave Pakistan on Saturday following her acquittal.
Mr Mulook said: "I was put on a plane against my wishes. I am not happy to be without her. I would have been much happier if I was in the same place as her.
"But everybody said I was a prime target."
He told reporters he did not know whether his client had already been released from prison, or where she would want to seek asylum.
UN officials were refusing to reveal the details "for security reasons", he said.
Bibi was convicted in 2010 for allegedly making derogatory remarks about Islam during an argument with her neighbours.
Violent protests followed her acquittal as government officials agreed to try to stop her leaving the country.
Her husband Ashiq Masih has begged the UK, US or Canada to grant her asylum.
Mr Masih said: "I am requesting the prime minister of the UK help us and as far as possible grant us freedom."
Dutch politicians have said they support offering temporary shelter to Bibi if she flees there.
Mr Mulook said Italy had offered asylum to both Bibi and her family and his own family, but that they had not accepted the offer straightaway, as U.N. staff said they would make arrangements.
Islamists have shut down major cities in Pakistan with waves of demonstrations folowing the court's decision.
The demonstrators threatened to escalate the protests if she was allowed to leave the country.
Pakistan's authorities struck a deal with the hardline Tehreek-i-Labaik (TLP) party to quell the protests.
– express