Chhattisgarh, October 18, 2017: At least two Christians have been hospitalized and are in critical condition after a Hindu mob attacked and desecrated a church worship service in India Sunday, a leading Christian persecution watchdog group has reported.
International Christian Concern, a United States-based NGO devoted to advocating for persecuted Christians, has reported that a mob of about 300 Hindu radicals interrupted Sunday service at the Bastar for Christ Movement Church located in the Jasapara village in the Dantewada District of India's Chhattisgarh State.
Witnesses told ICC that the mob beat the men, women and children of the congregation and dragged them out of the building. The extremists allegedly demanded that the worshipers renounce their faith in Christ. But when the Christians refused to do so they were beaten with sticks.
The mob set fire to the church's furniture and also stripped some of the Christian women.
A total of nine worshipers were seriously injured.
According to ICC, Raju Sodi and Sangeetha Kartami injured their heads and hands and were rushed to a local hospital. They were later sent to a government-run hospital in Dantewada after they were deemed to be in critical condition.
Local police did not initially cooperate and refused to file a report about the altercation after being informed about the incident by the Christian community. In addition, local Christians told ICC that Hindu radicals had filed a police report against the Christian community before the attack occurred.
According to the organization, it took over 24 hours of protests held by the Christian community before the police department accepted the case, and it's unlikely that participants in the radical mob will be arrested and tried in court.
"The attack on Jaripara's Christians is inhuman and highly condemnable," an anonymous local pastor told ICC. "These attacks are popping up on the backdrop of the state elections that are nearing. The [Bharatiya Janata Party], who is in power in the state, makes it all the more easy for the Hindu radicals to carry on the hate campaign against religious minorities for the political gains."
As Open Doors USA ranks India as the 15th-worst nation in the world when it comes to Christian persecution, the organization has found that incidents of Christian persecution in India have skyrocketed in the last year.
According to Open Doors USA, there were over 410 incidents of Christians being harassed, threatened or attacked for their faith in the first six months of 2017. By comparison, there were a total of 441 incidents reported by Open Doors USA in for the entirety of 2016.
"When the Christians are beaten by the extremists, they receive injuries mostly on their heads or their vital body parts. The assaulters do not care if the person dies in the attack," a local partner told Open Doors USA in August. "They know that they will not be punished because the government (and hence the judiciary) will take their side. In most of the cases the assaulters go unpunished."
Open Doors notes that the increase in persecution in India "had never been so remarkable" and comes as Prime Minister Narendra Modi and the BJP are in power at the federal level. The BJP is largely considered the political arm of the Hindu nationalist organization Rashtriya Swayamsevak Sangh.
"The federal prime minister is part of the BJP and he categorically denies Christians or other minorities are being persecuted," Open Doors USA reports. "During a television show he said he has no knowledge of the burning of churches or other types of persecution."
ICC's Regional Manager William Stark said in a statement that attacks on Christians Indians and their churches are becoming "an almost daily occurrence." He stressed that Christians in India "feel like second-class citizens."
"Hindu radicals across the country seem to have been given a wide berth by local authorities to pursue their hate campaigns against Christians and other minorities. This inability or unwillingness to protect and enforce the rights of Christians must come to an end," Stark asserted. "While Article 25 of India's constitution guarantees full religious freedom for all citizens, the lack of India's enforcement of this freedom leaves Article 25 as just words on paper. India's leaders must do more to confront the issue of growing religious violence."
- christian post
New York City, October 18, 2017: India was among three countries rated "high to extreme" in persecuting Christians, says an international aid agency.
A report from Aid to the Church in Need (ACN) says anti-Christian persecution is "worse than at any time in history" and in many cases genocide and other crimes against humanity "now mean that the Church in core countries and regions faces the possibility of imminent wipe-out."
The agency provides emergency and pastoral relief in 140 countries. Its U.S. affiliate published the report titled "Persecuted and Forgotten?" covers the years 2015-2017.
Its contents are bleak, describing Christianity as "the world's most oppressed faith community." Anti-Christian persecution in the worst regions has reached "a new peak" and its impact is "only now beginning to be felt in all its horror."
"In 12 of the 13 countries reviewed, the situation for Christians was worse in overall terms in the period 2015–2017 than within the preceding two years," said the report's executive summary, released October 12.
Besides India, Egypt and Iran were rated "high to extreme" in the scale of anti-Christian persecution. However, India could find some consolation as nine other countries are rated higher than it. China, Eritrea, Iraq, Nigeria, North Korea, Pakistan, Saudi Arabia, Sudan, and Syria were ranked "extreme," while Turkey was rated "moderate to high."
Catholic News Agency quoting the reports noted that persecution has increased in India since 2014, with the rise of Prime Minister Narendra Modi's right-wing Hindu nationalist Bharatiya Janata Party. Like-minded groups frequently accuse Christians of forced conversion, a charge that local Christian leaders strongly deny.
An India-based Catholic group reported 365 serious anti-Christian atrocities in 2016, with 10 people killed and more than 500 clergy or church leaders attacked for their faith.
Some Christians have faced pressure to convert under threat of force, while others have been forced to take part in Hindu rituals and deny their faith.
John Pontifex, editor of the CAN report, commented that "In terms of the numbers of people involved, the gravity of the crimes committed and their impact, it is clear that the persecution of Christians is today worse than at any time in history. Not only are Christians more persecuted than any other faith group, but ever-increasing numbers are experiencing the very worst forms of persecution."
The report's ratings draw from analyses like the Pew Forum's Social Hostilities Index and Open Door's World Watch List, in addition to other factors and sources, including fact-finding trips.
In some countries the state is the principal persecutor, while in other countries social groups are culpable, while in still others a combination of both are responsible.
Among the Asian countries, North Korea Christians were subjected to forced starvation and abortion. Some Christians have been hung on crosses over fire, and others crushed by steamrollers. Protestants and Catholics are ranked among those least sympathetic to the state, which limits their access to food, education, and health care. Christianity is linked with American influence, and Christians are executed as spies.
In Pakistan, banned fundamentalist cells pose a great threat to Christians, but some charge that the government's failure to crack down on these groups worsens the problem of violence. On Easter Sunday 2016 as many as 24 Christians were killed in targeted violence in Lahore. A faction of the Pakistan Taliban claimed responsibility for the attack.
In China, church communities face increased hostility. Authorities in some provinces have removed crosses from some churches and destroyed church buildings. In some regions, Christmas trees and greeting cards have been banned.
President Xi Jinping has depicted Christianity as a means of "foreign infiltration" into China and has advocated more state control and targeting of unofficial churches. There are fears that China's 2016 announcement of categorization of citizens based on political, commercial, social and legal "credit," will create a system that disadvantages Christians in a way similar to North Korea.
The report's foreword was written by Melkite Archbishop Issam John Darwish of Zahlé. The Lebanese archdiocese is near the Syrian border and the prelate recounted the stories of Christian refugees fleeing the six-year-old Syrian civil war.
"Many refugees have told terrible stories of persecution: like the man whose brother, a priest, was kidnapped – and despite the family paying the ransom they killed the priest. They sent his family a box containing his severed wrist, tattooed with a cross, to show he was dead," the archbishop said.
The Middle East is a major focus for the report.
"Governments in the West and the U.N. failed to offer Christians in countries such as Iraq and Syria the emergency help they needed as genocide got underway," the report said. "If Christian organizations and other institutions had not filled the gap, the Christian presence could already have disappeared in Iraq and other parts of the Middle East."
The exodus of Christians from Iraq has been "very severe." Christians in the country now may number as few as 150,000, a decline from 275,000 in mid-2015. By spring 2017 there were some signs of hope, with the defeat of the Islamic State group and the return of some Christians to their homes on the Nineveh Plains.
However, the departure of Christians from Syria has also threatened the survival of their communities in the country, including historic Christian centers like Aleppo. Syrian Christians there suffer threats of forced conversion and extortion. One Chaldean bishop in the country estimates the Christian population to be at 500,000, down from 1.2 million before the war.
Many Christians in the region fear going to official refugee camps, due to concerns about rape and other violence.
The Islamic State group and other militants have committed genocide in Syria and Iraq. While Islamic State and other groups have been defeated in their major strongholds, many Christian groups are threatened with extinction and would not survive another attack.
In northern Nigeria, the radical Islamist group Boko Haram has engaged in genocide against Christians.
In Sudan, the government's pursuit of an extremist Islamist agenda led to orders to tear down Christian churches. Christians are arrested for alleged proselytism, and women face fines for wearing "obscene" or immodest dress. The government stripped citizenship rights of people with origins outside Sudan, leading many to leave for their ancestral homelands in South Sudan. Many had lived in their homes for three decades or more.
In January 2017 the U.S. put a six-month waiver on human rights sanctions against Sudan, on condition that the country improve its human rights and religious freedom record.
Christians in Egypt suffered a major suicide bombing attack in December 2016 and again on Palm Sunday in April 2017. Dozens were killed and more injured in both attacks, for which the Islamic State group claimed responsibility.
Saudi Arabia has come under criticism from western powers and the U.S. Commission on International Religious Freedom. However, President Donald Trump signed a $110 billion arms deal with the country, a deal which had been held up under the Obama administration due to human rights concerns. The Aid to the Church in Need report said sources in the country are supplying arms and finances to Sunni extremist groups including the Islamic State, known in the region as "Daesh."
"Given that Islamist groups such as Daesh are likely to be heavily reliant on undeclared external sources for weapons and intelligence, there is an urgent need to step up action to stop all entities collaborating with them," the report continued. "Persecuted Christians are among the many who stand to be beneficiaries of progress in this area."
Archbishop Darwish said it is imperative to help persecuted Christians.
"When the Christian families who have turned to us need the very basics for daily life – food, shelter and medical care – how can we refuse to help?" he asked, lamenting a lack of aid from the U.N. and other humanitarian organizations.
He praised Aid to the Church in Need's efforts to report anti-Christian persecution and aid those persecuted.
- matters india
India, October 18, 2017: There are no Muslim or Christian terrorists because terrorists are no more religious once they embrace terror, Tibetan spiritual leader the Dalai Lama said on Wednesday on his first visit to Manipur capital Imphal. People cease to be Muslim, Christian or any group the moment they became terrorists," the Dalai Lama, 82, said at a public reception here on the second day of a three-day visit to Manipur.
The spiritual leader, who has a string of public engagements in the northeastern state, also frowned at religious intolerance and called the continuing violence against the Muslims in Myanmar "unfortunate".
He made a distinction between preserving or practising religion and propagating it. The latter, he said, "is not good".
"India is historically a multi-religion nation. So different people, different communities have a different belief and they must preserve that. But no one religious group has the right to convert or propagate. That is wrong," the exiled spiritual leader said.
The Dalai Lama has lived in India since fleeing his homeland in 1959 and is hated by the Chinese Communist regime that has tried to prop up his successor.
Asked about the recent standoff between India and China over the Doklam issue, he said while such incidents may continue to happen, the two countries were unlikely to go to war because there would be no clear winners.
"India and China are great nations, none have the ability to defeat the other, both have to live beside each other, in border areas some problem, but I do not think this will ever become anything serious" he added.
Earlier in the day, the leader also said that he hoped to see an Asian Union, comprising India, Japan and China, some day. "I am an admirer of European Union, African Union and Malaysia Union. I dream of an Asian Union with India, Japan and China as members," he said.
- ndtv
Uttar Pradesh, October 16, 2017: A Christian teenager in northern India was jailed for 12 days after anti-Hindu comments appeared on a fake Facebook account in his name, sources said.
Sandeep Kumar, 18, christened Karan Anthony, was released on bail 12 days after being arrested on Aug. 23 and charged with posting anti-Hindu comments on Facebook in Uttar Pradesh state. The University of Allahabad student of agricultural sciences was arrested when members of the Hindu extremist Rudra Sena in his home area of Kasganj District filed a complaint with police.
"I did not make any posts on Facebook," Anthony told Morning Star News. "It was my good friend who falsely framed me by joining hands with Rudra Sena activists."
He said he has not used Facebook in months.
"Whenever I posted something about Jesus, my friend Sathin and other classmates started sending abusive comments," he said. "They were expressing hatred in vulgar language, and I did not like it. I deactivated Facebook immediately and never logged in after that incident."
The chief complainant, Sathin Gaur, was a former classmate and friend of Anthony, the Christian's father, pastor Shriniwas Gautam, told Morning Star News.
Kasganj District police registered a First Information Report (FIR) charging Anthony with "promoting enmity between classes" (section 153A of the Indian Penal Code), punishable by three years of prison and/or a fine, and "publishing or transmitting obscene material" (Section 67 of the Information Technology Act), punishable by imprisonment of up to three years and/or a fine of 500,000 rupees (US$7,725).
He was also charged with accessing a computer without the permission of the owner and doing so dishonestly or fraudulently (Section 66 of the Information Technology Act), punishable by up to three years and/or a fine of up to 500,000 rupees (US$7,725).
Attorney Suresh Sahu, who represented Anthony before the district's Criminal Magistrate Court, said police are continuing to investigate.
Anthony said he has long been a target of his Hindu friends because they know his father is a pastor.
"Before this Facebook row, they got me into trouble twice," he said. "They beat me severely, alleging, 'You are Christian, you are from low caste.'"
He had lost contact with his old high school friends after beginning university, he said. While in police custody, he said, he discovered a fake Facebook account had been set up with his name and photo.
"Somebody was using this account to post abusive, anti-Hindu content – I told the police it is not me," Anthony said. "I was not at all aware about the fake Facebook account. I was only focusing on my studies, and we have worship services on the campus also every morning and evening, so I was spending most of my time with Christian friends here and never felt the need to open a social media account."
The FIR lists the complainants as members of Hindu extremist groups Rudra Sena and Hindu Yuva Vahini, along with Hindu nationalist student political party presidents and vice-presidents, Pastor Gautam told Morning Star News. He added, "Karan Anthony for them is a Christian boy from lower castes, and now that he secured admission in an esteemed university, they are not happy with it."
Gaur signed the FIR along with Vaibhav Kumar, vice president of the Hindu Yuva Vahini (Vajpayee Nagar); Amar Dubey, Patiali vice president of the Rudra Sena; Vikas Pratap Singh, Patiali vice president of the Hindu Yuva Vahini; Amar Chauhan, president of the Rudra Sena in Patiali; Jacky Yadav, president of the Student Union in Patiali; and Rudra Sena members Ramendra Mishra, Rishab Shakya and Rohit Solanki.
The complainants badgered his mother into calling him back to his home village in Kasganj District, he said, where police took him into custody. He did not receive anything to eat the first two days, Anthony said.
"I knelt down and prayed a day after I was presented before the court," he said. "When I was in jail, every day I was spending time in prayer; the other prisoners did not understand what was going on, they asked me many questions like, 'What is this you are doing, why are you knelt, what are you murmuring?' It was an opportunity the Lord had given me to share the gospel with them."
The other inmates were happy to hear about Christ, he said, and they discussed Jesus daily.
"I felt so light, like all my burdens vanished at once," he said. "I even invited them to our church in Patiali town, Kasganj."
After 12 days in jail, he was weak and ill from malaria and typhoid, he said.
"I am praying every day for Sathin and the other complainants," Anthony told Morning Star News. "I have forgiven them. I want Sathin to recognize the Lord's love. Through all these hardships, the Lord is with me, and I want them to see this."
Local media have published false reports that his father and members of his family are guilty of forcible conversion, he added.
"Nobody tried to find out the truth," he said.
His father said he also has faced persecution, in his case for leading worship services in Kasganj villages.
"I too was beaten and arrested," Pastor Gautam said in tears. "They even stripped my wife and insulted her."
Anthony's brother, Kuldeep Kumar, said Anthony is a brilliant student and very friendly with all people.
"He shares with his friends about Jesus and His second coming," Kumar told Morning Star News. "He boldly shares his testimony. He will never abuse or pass any hurtful statements, neither on social media nor directly. He is a very good friend and brother."
Since Prime Minister Narendra Modi took power in May 2014, the hostile tone of his National Democratic Alliance government, led by the Hindu nationalist Bharatiya Janata Party (BJP), against non-Hindus has emboldened Hindu extremists in several parts of the country to attack Christians, religious rights advocates say.
India ranked 15th on Christian support organization Open Doors' 2017 World Watch List of the countries where Christians experience the most persecution.
- gospel herald
Kochi, October 17, 2017: A prayer campaign for seven 'innocent' Christians convicted in Kandhamal case and languishing in jail for nine years was launched on October 15 at Kochi at a seminar titled 'What happened in Kandhamal?'
Along with journalist Anto Akkara, who has been spearheading campaign for justice for Kandhamal's 'innocents', six participants from the Jesus Youth professional forum wearing white shirts held out posters of the prayer card around the digital screen displaying portraits of the seven convicts as the prayers were recited in both Malayalam and English.
"Faith must lead to action. Each Christian has a duty to raise one's voice and pray for the seven innocent Christians languishing in jail for nine years," urged Akkara, journalist author who has virtually proved the innocence of the Christians with his investigative book 'Who Killed Swami Laxmanananda?'
These innocent Christians – six of them illiterates – were arrested following the murder of Swami Laxmanananda Saraswati in Odisha's Kandhamal on August 23, 2008. They were convicted in 2013 for the murder touted as a Christian conspiracy.
Following the Hindu leader's mysterious murder, nearly 100 Christians had been killed and 300 churches and 6,000 Christian houses plundered and torched in unabated violence that continued for weeks. Hindu masses – most of them illiterate – had been incited to take revenge on the Christians after the slain Swami's body was paraded across Kandhamal for two days along zigzag routes.
A third judge of the trial court – after two judges had been transferred – sentenced the accused Christians to life imprisonment on the basis of a fabricated Christian conspiracy theory despite hardly any credible evidence brought before the court. In mid 2015, two top police officials – who had relied upon the same conspiracy theory to ensure the conviction of the accused – have testified before the Kandhamal judicial Inquiry commission that the allegations were false.
Yet, the hearing on the appeal of the innocent convicts has been repeatedly postponed in the Odisha High Court.
"Of the seven, one is a mentally challenged illiterate," pointed out the journalist who has made 24 trips to Kandhamal and launched an online signature campaign www.release7innocents.com for the release of the seven – Bhaskar Sunamajhi, Bijay Sanseth, Buddhadev Nayak, Durjo Sunamajhi, Gornath Chalanseth, Munda Badamajhi and Sanatan Badamajhi.
Each online signature, Akkara said, generates three instant e-mails messages to the Chief Justice of India, President of India and Chairman of the National Human Rights Commission of India.
"Christ has taught us to bear witness to the truth. Speak up for the voiceless. While innocents are languishing in jail, perpetrators behind Kandhamal fraud are holding high offices making a mockery of democracy, " pointed out the journalist author elaborating on the political conspiracy behind the Kandhamal fraud.
- ucan
India, October 13, 2017: You've heard us talk about Christian ministries being kicked out of India, including Compassion International earlier this year. A report from India Briefing last month shows that 24,000 NGOs have now lost their licenses under the Foreign Contribution Regulation Act in the last year. That is one-third of the NGOs that previously existed in India before the FCRA.
Many organizations lost their NGO status in India for simply not filing the proper paperwork. But the NGO reporting requirements have shifting demands and sometimes sudden deadlines. Ministries have shared it seems like these are hurdles meant to make it increasingly difficult for non-Hindu groups to stay in the country.
One of the high-profile cases was Compassion International whose license in India was revoked earlier this year. They were carrying out ministry to vulnerable children through local partners in the country.
The Voice of the Martyrs USA's Todd Nettleton explains, "Many of those local partners were rejected from a license to accept funding from outside the country. So what the Indian government basically did is cut off the flow of funds that were helping those Christian organizations do that ministry on the ground in India. Because of that, many of those organizations have had to stop the ministry. Many of the outside groups have had to stop funding ministry in India because that money is not allowed to be transferred into the country."
Since India's Prime Minister Narendra Modi took power in 2014, hostilities against Christians have nearly doubled. His background with radical Hindu nationalists and the RSS have emboldened those groups in their push to make India a totally Hindu nation.
So if Christian ministries are being systematically kicked out of India, who will carry on the spread of the Gospel?
Nettleton says, "Obviously the local Church is picking up that mantle and carrying it forward and sharing the Gospel. Thankfully, there is a great history of Christianity in India. There are churches and groups that have been operating for decades that are ready to pick that mantle up and carry it forward. But it is a challenge."
The challenge comes when the local Church has to sometimes carry on ministry initiatives that were supported by other churches and organizations outside the country. In that, we need to pray for God to bless these ministry initiatives, and even seek out other Christian ministries to support that are still able to send funds to India.
Christian ministries that are still in India have to be cautious with how obvious they are in their Gospel outreach to avoid the crosshairs of the FCRA. And accusations akin to anti-blasphemy under Section 295A of the Indian Penal Code are becoming more frequent. But they don't want to compromise the biblical message of hope in Christ just to stay in the country. So where is the balance?
"That is a challenging question for the different ministries to answer as they go forward," observes Nettleton. "[There is] that fine line of, well, we want to be able to stay in the country so we want to be careful about how we talk about what we do, but we also want to be representatives of Jesus Christ and we want to be inviting people into fellowship with Him. We're not going to compromise on that. So that's where that challenge comes in how you do the work on a day-to-day basis and how you talk about the work, both inside the country and to your donors and your supporters around the world."
In addition to praying for Christian ministries and the local Church in India, there's something else you can pray for.
"Maybe something we don't think about as much is praying for the persecutors. We want to encourage people to pray for even radical Hindu nationalists, people in the RSS to come to faith in Christ, to have an encounter with a Christian that shakes up their worldview. You know, when Christians respond to persecution with love and forgiveness, that really plants a seed of the Gospel in the heart and in the mind of the persecutor because it's not a human response, it's not a natural response. It's a supernatural response," says Nettleton.
"The only explanation is Jesus Christ is real and he is living and he empowers people to endure persecution with faith and with courage."
- mnn
Jharkhand, Octonber 13, 2017: In a small village in Jharkhand, food rations have been denied to 13 poor tribal families only because they are Christian. The right of the poor to food has been denied, utilizing the policies of conversion. The social boycott of people in extreme need is not just a question of human rights or a religious affair, but it wounds the soul of the individual deep inside.
The case occurred in the village of Rehaladag, in the administrative section of Pasarar, Latehar district. It is a small town of nearly 100 houses where tribes of different ethnicities live: Thakur, Sondik, Sa, Uroon and Bhuyian.
The families in question are of Uroon and Bhuyian origin and converted to Christianity. They hold the food card granted by the state to the deprived persons. Christians report that the problems began in September when the villagers asked them to pay a "tax" of 551 rupees [7 euros] to fund the Hindu festival of Durga Puja. Following their refusal, it was decided that Christians will no longer receive the government subsidies they are entitled to under the conditions of their extreme indigence.
Interviewed by BBC, Vinay, the official in charge of the distribution of food rations, said he had "received a written order with the ban on giving food to those who became Christian." When asked to clarify who had received the order, he replied: "All 20 people involved in the distribution."
In Jharkhand tribes account for 26.2% of the population. Of these, about 4.5% are Christians. The conversion of tribals has become the source of their social discrimination. To give a religious connotation to food subsidies, is a discreet discrimination that wants to create division and enmity among tribal groups. This is bad for the tribes themselves. On the contrary, they need to remain united and that they are not tricked by politics because of their conversion. Tribals must remain united to fight against acts that threaten their future, such as amendments to the Land Acquisition Act. Even the new anti-conversion law, wants to polarize them. Instead they have to resist the divisive forces that want to weaken them.
- asianews
Andhra Pradesh, October 15, 2017: Condemning the comments made by Swami Paripoornananda over Nobel Prize awardee Mother Teresa, members of United Christian Front and Christian Associations took out a procession from St. Paul Cathedral Church, Patamata here on Saturday.The rally was flagged off by Vijayawada Catholic Diocese Bishop Fr T Raja Rao in which around 2,000 Christians, Church of South India (Krishna-Godavari) CSI Diocese Bishop Govada Dyvasirvadam and Fr Muvvala Prasad participated. The rally passed through Benz Circle, Pinnamaneni Polyclinic Road and culminated into a meeting near Siddhartha College junction in Moghalrajpuram.
Bishop Fr T Raja Rao, along with other members cleansed the statue of Mother Teresa with milk and put a garland. Speaking on the occasion, Raja Rao strongly condemned the remarks made by Paripoornananda Swamy against Mother Teresa in an interview with a Telugu channel. The Christian community stressed that had it not been Mother Teresa, the condition of untouchables would have remained the same even today. "At least now, the Swamy should tender an open apology to the Christian community," demanded the bishop.
- new indian express
Kochi, October 11, 2017: In a historic move, Pope Francis has extended the administrative powers of the Syro-Malabar Church across India, removing restrictions imposed since the arrival of Portuguese missionaries in the 16th century.
Announcing the establishment of two new dioceses for the Eastern-rite church in an Oct. 9 letter to all India bishops, Pope Francis also authorized it to have pastoral powers across India, a move resisted by the majority Latin-rite bishops in the past.
"With this, the church gets the freedom and rights for pastoral care of its faithful anywhere in India and to engage in evangelization activities across the nation," Cardinal George Alencherry, the Major Archbishop of Syro-Malabar, said while announcing the papal decision.
The church of roughly 4 million Catholics based in the southern India Kerala state, will exercise these newly gained rights in unity with India's larger Latin-rite Church, and the smaller Eastern-rite Syro-Malankar Church, the cardinal said in a webcast from Rome.
Two new Eastern-rite dioceses in India's south — Shamshabad in Telangana state and Hosur in Tamil Nadu — were also announced.
The new diocese of Shamshabad covers all areas of India outside the existing Syro-Malabar dioceses, Cardinal Alencherry explained.
"This is a historic move," said Father Paul Thelakat, a senior priest of the church and its former spokesperson. "It removes administrative restrictions imposed on the church by Portuguese missionaries since the 16th century."
The church traces its faith back to St. Thomas the Apostle, who according to tradition evangelized the west Indian coast and maintained relations with churches in Syria. But Portuguese missionaries later "latinized" these Christians and restricted their activities to the Kerala region, Father Thelakat explained.
Emboldened by the teachings of the Second Vatican Council, which stressed the freedom and responsibility of Eastern-rite churches, the Kerala-based church's clergy began working in several places outside Kerala. They often faced resistance from Latin-rite bishops.
Latin-rite bishops, who head 132 of India's 175 dioceses, maintained that establishing Eastern-rite parishes and dioceses in their territory would confuse Hindus in northern India who would interpret it as division among Catholics.
However, Pope Francis' said in his letter that "overlapping jurisdictions should no longer be problematic, for the church has experienced them for some time, such as in Kerala."
Pope Francis said in a world where "large numbers of Christians are forced to migrate, overlapping jurisdictions have become customary and are increasingly effective tools for ensuring the pastoral care."
The letter added that the smaller Eastern-rite Syro-Malankara church already had provisions to provide "pastoral care for its faithful throughout the territory of India."
Syro-Malankara Church spokesperson Father Bovas Mathew told ucanews.com that the papal letter is a "milestone" in the mission history of India and had established beyond doubt the Eastern-rite churches right to evangelize.
With the additions, the Syro-Malabar Church has 34 dioceses in total, while the Syro-Malankara has 14 dioceses.
The papal announcement, made at the plenary of the heads of Eastern Churches, comes on the silver jubilee of Syro-Malabar Church becoming sui juris, or self-governing, in 1992. The church was given powers to decide on its liturgy and administration, including the election of bishops and establishment of dioceses.
Bishop Theodore Mascarenhas, secretary general of the Catholic Bishops' Conference of India, which covers all three rites, said the papal letter stressed the unity bishops needed to show.
"The bishops are of course happy because it is all done for the growth and mission of the church," said Bishop Mascarenhas.
- ucan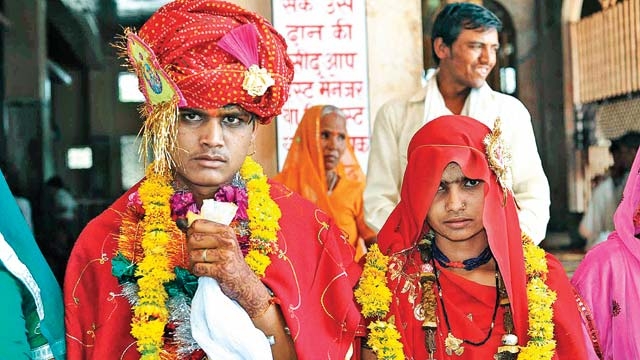 India, October 12, 2017: A  Christian charity has commended India's top court after ruling that having sexual intercourse with a wife under the age of 18 is rape.
It's a decision that activists have hailed as an important step towards ending child marriages.
Indian law says a woman must be at least 18 to marry and consent to sex, but there are exceptions and a man was permitted to have sex, even forcibly, with a girl as young as 15, as long as she was his wife.
The Supreme Court in New Delhi ruled on Wednesday that sexual intercourse with a girl younger than 18 is rape.
Mandy Marshall is the director of Restored, which is an international Christian domestic abuse education charity.
She told Premier this is could be the beginning for more rights for girls and women in the country.
She said: "It's bringing consistency in the laws within India.
"The child protection laws already prohibit an adult having sex with someone below the age of 18, but this new law actually recognises there's a lot of child marriage in India and wanting to make that unacceptable.
"It's a positive step in the right direction but there's a heck of a long way to go for changing the culture around child marriage in India."
According to the 2011 government census, the percentage of under-18 marriages in India was as high as 47 per cent.
The government estimates that child marriages in rural areas are three times higher than in urban centres.
Marshall added that although the law seems to be going in the right direction, a cultural change will take longer to happen.
She told Premier: "We've worked with Christian organisations in India that know it's a problem linked with poverty and status and illiteracy, and that needs to change.
"They see girls as a burden rather than seeing a child as precious and honoured in God's sight, and worth of dignity and respect as much as a boy child."
- premier