"My son was rushing back to break fast, but I could not even give him his last morsel"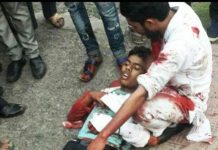 India, June 25, 2017 : A CPI(M) delegation comprising Polit Bureau members Brinda Karat, Md. Salim (M.P.) Surinder Malik (Haryana State Secretary), Asha Sharma (Delhi State Secretariat member) Satbir Singh and other local leaders went to the village of Khandavli in Haryana and met the family members of Junaid, Shakir, Hashim who were lynched by a criminal communal mob on the Delhi-Mathura local train two days ago.
The delegation assured the grieving family, father Jalaluddin and mother Saira and others of their support and solidarity against the heinous crime committed by communally motivated criminals against their sons. The delegation condoled the death of 15-year-old Junaid and expressed sorrow at the grievous injuries to Shakir and Hashim.
Saira, the mother, told the delegation that it was with a lot of sacrifice that she had brought up her sons and educated them. Junaid had just completed the course at the Madarsa in Surat, Gujarat and it was to celebrate that, that she had given him and his brothers 1500 rupees to buy new clothes.
She wept when she said that he was on roza fast and therefore he had not had even a drop of water the day he was killed. She said, "My son was rushing back to break fast, but I could not even give him his last morsel."
Not a single Government or ruling party functionary has contacted the family or expressed sorrow at what has happened. The brothers and father of the deceased Junaid were called to the Police station at several times but the police has arrested only one accused in the case.
Incident happened on June 23 when Junaid, Hashim, Shaqir and Mohsin were returning to their home after shopping for Eid from Sadar Bazar of Delhi. They were returning to Ballabhgarh of Haryana by Delhi-Mathura bound EMU express. According to the statement submitted by Hashim, fellow train passengers started abusing them as soon they boarded the train from Tughlaqabad. When the four Muslim guys resisted, they were beaten up. Meanwhile other train passengers joined the public beating of these four men.
Two persons from the mob took out knives and stabbed four of them. 16-year-old Junaid could not bear the beating and died on the spot. Two other victims are being treated at a hospital in Palwal.
Incident was motivated entirely by communal considerations because the mob threw the skull caps and grabbed beards of victims. Initial attackers incited other passengers to join them in the lynching. CPI(M) has alleged that if such incidents can occur in a crowded train, it is because the perpetrators are confident of political support and patronage.
Among the major demands made by CPI(M) are identification of the political connections of the criminals and appropriate action, compensation for the family and proper free treatment for injured Shakir and Hashim. CPI(M) has also said to organize protest for the same.
Meanwhile GRP superintendent Kamaleeep Goyal talked with media and told that Police has suspected four people who were the initial attackers in the case, although Goyal has refused to disclose the names of the accused. Police is also in pursuit of murder of weapon. Based on the complaints, police has added IPC section 298 to the case which is for uttering words with deliberate intent to wound religious feeling of any person.
– tcn