Punjab, June 28, 2016: Come election time and the political parties are ready to woo any vote bank in their fold and the sizeable Christian population in Punjab is on their radar ahead of 2017 assembly elections.
While the ruling SAD-BJP combine claims to have given sufficient representation to Christian community and have launched various welfare schemes for them, the opposition Congress rubbishes all claims and have instead appointed as many as five General Secretaries from the community in the team of Punjab Pradesh Congress Committee (PPCC) giving indication to the community of giving them larger representation, if voted to power.
One of the General Secretary, PPCC, Karam Masih told TOI on Sunday that Christians were not being given their due and the community felt alienated. He alleged that Christian leaders who were given plum posts by Akalis didn't have constitutional powers and were not doing enough to redress communities issues.
Karam Masih who was former Bishop of Delhi Diocese, Church of North India (CNI) is of view that the community votes will affect as many as 15 assembly seats in Punjab especially where Christians have more concentration including border districts of Amritsar, Ferozpur, Gurdaspur, Tarn Taran as well as Ludhiana.
While admitting that Christian leaders posted on significant positions were not empowered to tackle all the issues, Punjab State Minority Commission Chairman Nunawar Masih said the government was yet to frame procedures, rules and regulation of Commission. "I don't have much powers due to delay in framing of procedures etc, I can't even summon anyone, but I have met chief minister urging him to expedite the procedure," he said. Christian population was around 35 lakh with more than 20 lakh votes in the state, he said.
State president a prominent Christian body Jagat Ki Jyoti Society, Danie Masih, fumed that Christian population was resentful of construction of a crematorium near a Church in Gumtala and had approached the Commission but didn't help them.
However, eulogizing the ruling SAD-BJP government, Munawar Masih said government had provided benefits to Christian community under Shagun and Aata Dal scheme, besides he said Masihi Bhawan's were being constructed in Gurdaspur and Amritsar. "We have seven marriage registrars from the community" he said.
While stressing the unity among Christian community, former member of Punjab Subordinate Services Selection Board Kanwal Bakshi said that during last one month four meetings were held at various places at Gurdaspur, Patiala and Amritsar districts. "The unity among Christians would fetch rich dividends in socio-political sphere in Punjab especially in view of upcoming Vidhan Sabha elections," he said. He informed that Congress would hold two gatherings would be held at Gurdaspur and Ajnala in Amritsar in the months of July and August besides holding 'Masihi Adhikar Samelan's' in the state to consolidate Christian vote bank.
Moderator, CNI, Pardeep Kumar Samantaroy said Church advises people to elect leaders with clean image and those who were working for the community. He said political differences between people were a natural phenomena but the Community as whole should not be swayed by the allurements given to them during election time. "We have our own issues like reservation, more political representation, benefit of government schemes etc, they come first than just politics" he said.
– times of india
Bhopal, June 27, 2016: For nearly five decades, since his childhood, Madhukar Omkar was confined to his home because of his paralyzed legs. "Now I have got wings to fly," he says tapping a new tricycle he received a week ago.
Omkar was among 54 people with disabilities who were given free tricycles at a June 18 event at Karuna (Mercy) Hospital in Sendhwa, in the remote Barwani district of Madhya Pradesh state, central India. The initiative was part of an effort by the nuns of the Order of St. Augustine to bridge the gap between people with disabilities and mainstream society. The nuns funded the initiative in collaboration with the local Asha Gram Trust.
Fifty-year-old Omkar told ucanews.com that he was under the care of his younger brother, a casual laborer who struggles to feed his family. "The dream of a tricycle therefore remained a dream for a long time," until the nuns helped, he said.
"It is a new life for me as now I can move out of the home and see the world," he said.
Sister Julia Thundathil, who heads the St. Augustine Social Service Society (SASSS), said the nuns' work to integrate people with disabilities into mainstream society challenges the frequent treatment of disabled people "as a curse to families", forced to "live a life of neglect."
"They never get the attention they need. They can become skilled if we train them, identifying their abilities and skills. Unfortunately, their families keep them confined to their homes, much to their disappointment and frustration," she said. "So it is our responsibility to ensure that they too lead a dignified life like others."
Once they start to move around people like Omkar will find their own ways to be active in society, Sister Thandathil explained, and may also engage in income generating actives that can improve their dignity and self-worth.
Another beneficiary was a 25-year-old female college student and paraplegic named Savita Solanki. "I feel liberated now," Solanki said, explaining how she previously depended on others to shuttle her the two kilometer distance between her hostel and college. "I needed help to even get into an auto rickshaw," she told ucanews.com.
"Now I can go to college without assistance," she said. Solanki's father died when she was a child and her family "could not afford to buy a tricycle." She lives in Singuwa, a village, under the care of her two brothers, who work their half hectare farm in order to support their families.
Solanki's studies will culminate in her final examination on July 1, and her new transportation enables her to mark the occasion with worship. "I will go to the temple and offer prayers after the examination," she said.
Sub-divisional Magistrate M. L. Kanal opened the event to distribute the tricycles. He lauded the nuns' work for people with disabilities.
"Disabled people can achieve greater things if they take their disability as a challenge and not as an impairment," he said.
The district has a high number of disabled people, according to an SASSS survey. Libin Arresseril, the agency's program co-ordinator, said this is probably because of poverty and lack of easy access to medical care. The survey says some 20,000 disabled people live in the district of 1.4 million people.
In a bid to help them, SASSS has formed more than 150 self-help groups, which assist some 1,800 people with disabilities. In the next phase the goal is to extend assistance to all 20,000 disabled people in the district, Arresseril said.
Members of the self-help group visit families of each disabled person and talk to family members about the need to respect people with disabilities and accept them as "a blessing not a curse," he said. The SASSS has also appointed care workers to each family, to help them restore dignity to disabled people.
The nuns' initiative has also helped to form a disabled persons organization to bring them together to learn about their rights and responsibilities. "They will get special training for livelihood projects so that they don't have to depend on the mercy of others," Arresseril said.
The SASSS has so far trained more than 1,800 disabled people in spice and clothing production, tailoring and weaving, among other skills, helping each of them build confidence and earn an average of 300 rupees (US$5) each day.
"When people begin to accept disability as a gift, disabled people like Omkar will no longer be confined to their homes," Arresseril said.
– ucan
Mumbai, June 28, 2016: The Maharashtra state government in western India has awarded the Jewish community minority status, making them eligible for preferential access to state welfare schemes.
Jewish leaders welcomed the June 21 announcement, saying it was long overdue for the community.
India has some some 4,650 Jewish people with more than half of them living in Maharashtra
"We think it is a step, which the local [Jewish] community can gain a lot from," said Nimrod Assouline, Deputy Chief of Mission, Consulate-General of Israel, in Mumbai.
Jewish leader Rabbi Israel Kozlovsky of Mumbai said his community was "really very happy" with the decision.
"Although, we still don't know all the benefits of becoming a minority. These benefits are yet to be discussed with the authorities, but we are proud," said Rabbi Kozlovsky, who co-directs Chabad Lubavitch House of Mumbai along with his wife Chaya Kozlovsky.
The Chabad Lubavitch House is a Jewish community center that was targeted by Muslim extremists in the November 2008 terror attacks in Mumbai.
The Rabbi said Jewish people have been living in India for more than 2,000 years and that "it was time for us to be recognized as a minority."
Recorded history shows one of the earliest Jewish settlements was in Kerala before the time of Jesus, while some historians believe trading ties with go back to the time of Judea's King Solomon.
India had some 40,000 Jewish people when it became independent in 1947, living in scattered pockets in cities like Kochi, Kolkata, Chennai and Mumbai.
Hundreds have since migrated to Israel and elsewhere because of socio-political changes over the years.
Mumbai, the commercial capital of India, continues to be host to the largest active Jewish population in India, and has at least eight synagogues and communities in different parts of the city.
Maharashtra's decision makes it the second Indian state to declare Jewish people a minority community after West Bengal state in eastern India.
Rabbi Kozlovsky said the new status would help "conserve the uniqueness of our religion and benefit the community, especially in terms of education."
The new status entitles them to a reserved quota of places in universities and for school scholarships as well as similar schemes and multi-sectored development programs.
Minorities are also allowed to establish and manage educational institutions with a view to helping their people with state funding.
The new status also makes Jewish people eligible for certain concessions as the Indian constitution has provisions to protect and help "linguistic and religious" minorities who are numerically less in population.
– ucan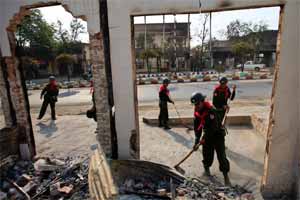 Thailand, June 24, 2016: Some 200 Buddhists stormed a mosque Thuye Tha Mein, Bago Province (north of Yangon), leaving the building partially destroyed. The fence of a nearby Muslim cemetery was also destroyed.
Scores of Muslim families were forced to seek refuge in the police station to escape the violence. The Muslim community is now living in fear of further reprisals.
The attack was caused by a dispute Thursday between neighbours over the building of an Islamic school.
"It started when a Muslim man and a Buddhist women started to argue and then people came to fight him," Hla Tint, the village administrator, said.
Around 70 Muslims, including children, sought shelter in a police station.
"We had to hide as some people were threatening to kill Muslims. The situation has never been like this before," said Tin Shwe OO, 29.
"I do not dare to stay at my house," he explained, adding that his family stayed at the small police station overnight.
The incident is a sign of rising tensions between Myanmar's Buddhist majority and minority Muslims.
Since 2012, sectarian violence has left at least 300 people dead and 140,000 displaced, most of them Rohingya Muslims from Rakhine State.
Since they are considered immigrants from Bangladesh, they are not citizens of Myanmar, and many live in isolation, locked up in refugee camps. Thousands try to escape each year to other countries of Southeast Asia.
For Burmese nationalists – starting with the monk Ma Ba Tha – fiercely object to the use of the term 'Rohingya', insisting that they should be called Bengali, to stress their status as illegal migrants.
Ensuring internal peace and respect for all religions is one of the biggest challenges Myanmar's new government under the National League for Democracy (NLD) has to face.
Myanmar's new foreign minister, NLD leader Aung San Suu Kyi, has been repeatedly criticised for not properly defending the Rohingya.
A few days ago the Dalai Lama said that the NLD leader "should speak more openly" about the difficulties the Muslim minority faces.
Meanwhile, the Nobel Peace Prize laureate arrived in Thailand yesterday for a three-day visit.
Today she will meet Prime Minister Payut Chan-o-cha, and will sign a pact to facilitate the regularisation of Myanmar immigrants working in Thailand.
Despite the rain, thousands of cheering people greeted her yesterday at Mahachai (near Bangkok). The NLD leader addressed some 500 migrant workers.
The fate of about 100,000 Rohingya fleeing persecution and living in nine refugee camps on the border between the two countries is one of the issues Ms Suu Kyi will discuss with Thailand's military government.
"We hope she will pressure the Thai government to have sympathy for us," said Ma Kout Shwe, a Myanmar steel-factory worker living in Thailand.
– asianews
Russia, June 27, 2016: On 23 June, Russia's State Duma approved a final draft of several anti-terrorist laws spearheaded by Irina Yarovaya, a Duma Member for the ruling United Russia party who chairs the lower house's Security Committee. The new legislation includes major limitations on religious freedom.
Among Russia's opposition media and human rights activists, these laws are seen as some of the "most repressive laws in post Soviet history".
Dubbed the 'Yarovaya law' after its main sponsor, the legislation provides for fines of up to one million rubles for people involved in missionary activities that violate the law.
The latter includes spreading religious beliefs outside of places of worship and locations, including cemeteries and educational facilities, historically used for religious services. Missionary activity is not permitted in private flats and homes.
Under the legislation, which now needs Senate approval and President Vladimir Putin's signature, anyone who engages in missionary activities on behalf of a religious group must be authorised and have a permit from their group.
This is seen as a de facto ban on public religious processions because every participant would de facto require a written permit.
Foreign nationals have the right to conduct missionary activities only in federal entities (for example, cities, regions) where of the Ministry of Justice has an office.
individuals who break the law could be fined from 5,000 to 50,000 rubles. Organisations could pay 100,000 to a million rubles.
Foreigners risk fines of 30,000 to 50,000 rubles, as well as expulsion from Russian territory.
Religious organisations that hand out written, audio or video material without a permit would also be punished.
For Tanya Lokshina, the Russia programme director for Human Rights Watch, the new legislation bans all religious activities outside authorised locations.
Some Protestant Churches in Russia wrote to Putin, complaining that Yarovaya's amendments to the "Law on freedom of conscience and religious organisations violate human rights and fundamental liberties with regard to religious freedom."
The letter was posted on Portal-Credo, a Russian-language religious website. In it, the Churches note that the Russian Constitution guarantees the right to disseminate freely religious beliefs and convictions.
"The proposed changes limit believers' religious private life," the signatories say (including Sergei Ryakhovsky, head of the Protestant Churches of Russia).
"The obligation on every believer to have a special permit to spread his or her beliefs, as well as hand out religious literature and material outside of places of worship and used structures is not only absurd and offensive, but also creates the basis for mass persecution of believers for violating these provisions," the letter goes on to say.
"Soviet history shows us how many people of different faiths have been persecuted for spreading the Word of God", Protestant leaders note. "This law brings us back to a shameful past."
The letter ends with a direct appeal to the head of the Kremlin. "Vladimir Vladimirovich [Putin], on behalf of thousands of evangelical Protestants, we ask you not to allow this repressive and unconstitutional law to be adopted."
Yarovaya's law entails imprisonment for "failure to report a crime" such as terrorist activities, coups or conspiracies against politicians.
It imposes life in prison for international terrorism and requires Russia's telecoms, text-messaging firms and social media companies to store records message content for up to six months.
– asianews
Noah's Ark : Everything I need to know, I learned from Noah's Ark.
ONE: Don't miss the boat.
TWO: Remember that we are all in the same boat!
THREE: Plan ahead. It wasn't raining when Noah built the Ark.

FOUR: Stay fit. When you're 65 years old, someone may ask you to do something really big.
FIVE: Don't listen to critics; just get on with the job that needs to be done.
SIX: Build your future on high ground.
SEVEN: For safety's sake, travel in pairs.
EIGHT: Speed isn't always an advantage. The snails were on board with the cheetahs.

NINE: When you're stressed, float awhile.
TEN: Remember, the Ark was built by amateurs; the Titanic by professionals.
ELEVEN: No matter the storm, there's always a rainbow waiting.
– fwd: ronald monteiro
Armenia, June 24, 2016: In a departure from his prepared text on Friday, Pope Francis used the magic word "genocide" in describing the suffering and loss of life of Armenians at the hands of the dying Ottoman Empire in the early 20th century. Invoking that term generally brings political and diplomatic protests from Turkey.
Suppose you're a pope on a foreign trip, and you know full well there's one word that pretty much everyone is waiting to hear you say. Also suppose you don't quite want to say it every time you open your mouth – either because you don't like having your linguistic choices dictated, or because of political and diplomatic fallout, or because you prefer another vocabulary, or for some other reason.
What do you do?
One option is to allow your hosts to use the word, over and over again, and then to have your official communications channels make sure everyone knows it's been said. Another is to wait for the right moment, and just go ahead and say it yourself.
On Friday in Armenia, Pope Francis did both.
Heading into his June 24-26 outing, Armenians were straining to hear Pope Francis use the word "genocide" with regard to their staggering losses in the early 20th century under the old Ottoman Empire. Many worried he might not do so after a recent comment on the present situation facing Christians in Iraq and Syria, in which Francis said he prefers the word "martyrdom" to "genocide."
Use of the term "genocide," of course, usually drives Turkey into cycles of objections and protest, claiming that what happened was part of a larger war rather than a consciously genocidal campaign of extermination. When Pope Francis used the term in the context of an anniversary ceremony last year, Turkey recalled its ambassador to the Vatican.
In two major addresses on Friday, one at Yerevan's Apostolic Cathedral and the other at the country's Presidential Palace, Francis clearly and repeatedly acknowledged the magnitude of the suffering Armenians endured.
He heard his hosts, Karekin II, Catholicos of All Armenians, head of the local Orthodox community that's basically the national church here, and Armenian President Serzh Sargysan, describe that carnage over and over again as a "genocide."
Karekin used the term "genocide" four times in the course of a brief welcoming address, while Sargysan used it three times, adding, "We simply want things to be called by their names."
Both speeches were provided in advance by Vatican press aides, in translation and at the same time the pope's talks were distributed – which doesn't quite make them official Vatican verbiage, but which does suggest the Vatican wanted people to know Francis wasn't running away from references to "genocide" either.
In an address to the political and diplomatic community in Yerevan on Friday evening, Francis recalled that last year was the centenary of the Armenian genocide – the "Metz Yeghérn," as Francis called it, literally meaning "great evil" or "great calamity," a term that for Armenians carries much the same resonance as Shoah does for Jews with regard to the Holocaust.
In a small but significant departure from his prepared text, Francis added a reference to the event as "that genocide," thereby using the key word his audience was waiting for him to deliver.
"Sadly, that tragedy was the first of the deplorable series of catastrophes of the past century, made possible by twisted racial, ideological or religious aims that darkened the minds of the tormentors even to the point of planning the annihilation of entire peoples," Francis said.
The pontiff also added, "It's so sad, that in this, as in the other two [genocides], the great international powers looked to the other side."
Earlier in the week, the pope's spokesman, Father Federico Lombardi, gave a briefing to reporters that studiously avoided using the word "genocide," insisting that Metz Yeghérn is "actually stronger."
"I'm free to use the word, the term that my Armenian brothers use, [and] I think everyone knows very well what it means," Lombardi said, pointing out that Francis will visit the official Armenian Genocide memorial on the hill of Tsitsernakaberd on Saturday precisely in order to recall the loss of life.
While there, Francis will deposit flowers and also meet a small group of descendants of Armenians who fled the slaughter in 1915 and were sheltered by Pope Benedict XV at Castel Gandolfo, the summer papal residence in the hills outside Rome.
On Friday night, Lombardi said he could not predict what Turkey's reaction may be to the pope's latest use of the term "genocide," but stressed that "the pope always speaks in the perspective of peace, reconciliation, and dialogue among different peoples, nations and cultures."
"There are many Armenians who have good relations with Turks, and many Turks have good relations with Armenia, people who desire peace and dialogue," he said.
The pope was especially strong on the impact of the suffering, which St. John Paul II and a former Armenian patriarch described in 2001 as "the first genocide of the 20th century."
"Having seen the pernicious effects to which hatred, prejudice and the untrammeled desire for dominion led in the last century, I express my lively hope that humanity will learn from those tragic experiences the need to act with responsibility and wisdom to avoid the danger of a return to such horrors," the pope said.
"May all join in striving to ensure that whenever conflicts emerge between nations, dialogue, the enduring and authentic quest of peace, cooperation between states and the constant commitment of international organizations will always prevail, with the aim of creating a climate of trust favorable for the achievement of lasting agreements," he said.
Indirectly, the pontiff also acknowledged that a major driving force for the violence unleashed by the Ottomans on their Armenian minority a century ago is because the Ottomans were Muslims and the Armenians are fiercely proud of their heritage as the world's first officially Christian nation.
"It is vitally important that all those who declare their faith in God join forces to isolate those who use religion to promote war, oppression and violent persecution, exploiting and manipulating the holy name of God," Francis said, in effect stipulating that the Armenians know that reality better than most.
Francis acknowledged that such anti-Christian persecution is hardly a finished tale.
"Today Christians in particular, perhaps even more than at the time of the first martyrs, in some places experience discrimination and persecution for the mere fact of professing their faith," he said.
"The Armenian people have experienced these situations firsthand; they have known suffering and pain; they have known persecution; they preserved not only the memory of past hurts, but also the spirit that has enabled them always to start over again," Francis told his hosts.
In his clinching line to the speech, Francis praised "the courage of the martyrs," a reference every Armenian would immediately recognize as, in part, a reference to their ancestors a century ago.
In other words, at the end of day one in Armenia no one could accuse Pope Francis of having come here and either avoiding or playing down the magnitude of the country's suffering, which is so much a part of the national consciousness, and he did once use the word that Armenians believe is the key symbol of sensitivity to their losses.
Yet the pope also did not go out of his way to invoke the word every chance he had, thereby also signaling sensitivity to Turkish attitudes.
It remains to be seen whether that will be enough to head off another diplomatic and political impasse with one of the world's most important Muslim powers, but at least this part is clear: Francis may not use the word "genocide" every time he talks about Armenia, but he has not put it on the shelf either.
– crux now
Panaji, June 26, 2016: Hindu Janjagruti Samiti (HJS) has called for a ban on cow slaughter in Goa and for legislations on the lines of those adopted by Maharashtra to punish those involved in such slaughter.
The organization, after seven days of deliberations at its 5th All India Hindu Convention at Ponda, also decided to pursue a beef ban across India, among other decisions.
BJP MLA from Telangana Raja Singh Thakur told mediapersons on Saturday, along with HJS members, that cows being openly slaughtered in Goa is a "matter of shame" for the entire nation, The Times of India reported.
"It is a stain on our conscience that cow slaughter takes place so openly across Goa and that this meat is even sent for sale outside the state. Amit Shahji had promised that if BJP comes to power, they will ban beef across the country. We will pursue the implementation of this promise. We have already written to the government in Goa about banning cow slaughter," Singh said.
Hindu Vidhidnya Parishad, Mumbai's national president Virendra Ichalkaranjikar said that HJS will also take up the issue of illegal encroachments on Moti Dongor in Margao and ask for preservation of the inquisition pillory at Old Goa as it is a heritage monument. HJS national spokesperson Ramesh Shinde said, that at the convention held this month in Ramnathi in Ponda, a common action programme was drawn.
"Under this plan, self-defence training will be organized at 93 places across states in the country," Shinde said.
– matters india
Bihar, June 26, 2016: For Zubaidah Bibi, every day is a struggle for survival. A reident of a remote village–Humajaan–in Chatra Distirct of Jaharkhand, Bibi is too old to work and this year due to droughts, the crops have also failed.
"Since last many years, due to droughts and less rains, our crops usually fail and we don't have another source of income leaving us with less or no ration at all," said Bibi.
The case of Shahzadi Khatoon from village Maigra in Gaya District of Bihar is no different. Her husband is a daily wager, toiling hard to provide his family with a two square meals.
Ramadan is a struggle for both husband and wife as due to fasting, it is very difficult to work, and the situation is made worse in the intense heat of Bihar, which could lead to heat strokes. "For people like us, the struggle for grains continues throughout the year and continues during Ramadan. When we barely make ends meet in other months, can you imagine what the situation is during Ramadan? We have zero savings, so we continue working even as we fast," says Khatoon.
Travelling west from Bihar to Uttar Pradesh, the situation goes more grim.
Hajra Begum from village Chaugawan of Bijnor District of UP, in her mid forties is physically handicapped and her husband was the only support for her all through these years, but he died some months ago.
"Being handicapped, I can't walk and earn. I am living a life in abject poverty. I totally rely on help from others, sometimes it come and sometimes it doesn't," says Hajra.
To provide all such families, a sigh of relief during the holy month of Ramadan, US based Indian Muslim relief and charities distributed monthly ration under its "Ramadan Feeding Program", among 2680 families in three states of Jaharkhand, Bihar and Uttar Pradesh.
The food grain packets were distributed among laborers, daily wagers, orphans, widows, poor and needy. A total of 1,380 families were covered in IMRC Ramadan feeding program in Barabanki, Deoria, Saharanpur, Aligarh and Siwan of Uttar Pradesh, whereas 1,300 families benefitted in bordering districts of Bihar and Jharkhand.
Now Zubaidah Bibi, Shahzadi Khatoon and Hajra Begum don't have to worry about food grains during the month of Ramadan.
"I feel a great sigh of relief. I can only say that Allah has come to my rescue. May Allah shower mercy on those who provided me with grains," said Hajra
Another widow Raisa Begum, a septuagenarian from village, Qasba Seohara of District Bijnor, U.P was in tears, when she received the IMRC grain packets. "She profusely thanked God and those, through whom God sent these packets of food to her. Her married daughter who is equally poor was also given ration for whole month of Ramadan," recalled IMRC UP Volunteer, Naushad Ansari.
While briefing about the process of identifying the beneficiary families and method of distributing food grains, IMRC Volunteer from Bihar, Abdul Wahid Nadvi said, "Before every Ramadan, IMRC conducts survey in various districts of Bihar and Jharkhand, where poor and needy families are identified. A week before distribution, the concerned IMRC volunteers handover tokens to the beneficiary families and the venue, time and date of distribution is also conveyed to them. Everything goes on in an organized manner so that the help percolates down to the persons and families who are in dire need."
Importantly, this year, IMRC "Ramadan Feeding Program" has been extended to 22 Indian states, where thousands of families have been provided with food grains for the whole month of Ramadan and in some states, the distribution is under process.
IMRC is also organising Iftar's in these three states, where more than 20,000 persons including labourers, widows, poor and needy are being served with hot meals.
– tcn
Mizoram, June 21, 2016: On International Yoga Day, Christian denominations in the northeastern state of Mizoram have called for Christians to abstain from the ancient Indian physical, mental, and spiritual discipline because it is related to "Hindu culture."
The Mizoram Kohhran Hruaitute Committee, that includes members from the Presbyterian Church, the Catholic Church, The Salvation Army and Baptist Church, called on its members to refrain from practicing Yoga.
We did not observe the day because we are Christians and yoga is from the Hindu religion," the Rev. P. C. Pachhunga, executive secretary of the Mizoram Presbyterian Church Synod, told ucanews.
The synod has around 1,000 local churches across the state. More than 85 percent of people in tribal-dominated Mizoram are Christians, mostly Presbyterians.
"People might be influenced by Hinduism if they practiced yoga," the Rev. Pachhunga said. "And they might start moving away from Christianity."
This June 21 is the 2nd International Yoga Day. The U.N. General Assembly declared it to be International Yoga Day last year after India proposed a resolution along with several other nations.
Since then thousands of students, elderly, youth and women take part in public yoga sessions across the country on this date, with preparations for the event running for over two weeks.
Indian Prime Minister Narendra Modi took part in a yoga session with over 30,000 enthusiasts in Chandigarh, northern India.
Father James Zodinliana, director of youth in the state's Aizawl Diocese voiced fears that the government has a hidden agenda behind promoting yoga. "They are slowly trying to make us Hindus by influencing us through yoga," he said.
India is ruled by the pro-Hindu Bharatiya Janata Party and is often accused of pushing a Hindu agenda.
The priest said that yoga is good for a person's health "but if we delve into its history and roots" it's steeped in Hindu religious philosophy.
"We cannot do yoga to attain salvation or eternal peace," he said. "Jesus is already giving us that. We don't have to follow any extra practice."
Last year's Yoga Day also ran into problems when some Muslims protested against chanting the word "om" which Hindus believe to be the sacred sound of creation.
Yoga, meaning "union" in Sanskrit, denotes harmony and perfection in whatever one does. The ascetic Indian discipline aims to achieve liberation of self and union with a higher power through intense concentration and deep meditation. Among its methods are "asanas" (prescribed postures) and controlled breathing.
– persecution.in