Pakistan, September 24, 2016: Christian and Muslim human rights activists have issued an appeal to the Indian and Pakistani governments to end growing tensions between the two countries over the contested region of Kashmir and solve their dispute in a peaceful way.
Speaking about the issue, Pakistan Human Rights Commission secretary general IA Rehman said that "This fit of lunacy must stop." For him, it is about time people in both countries exert pressure on their governments to stop the escalation.
The Pakistani activist spoke at a national conference entitled 'Democracy and human rights in Pakistan: Prospects and Challenges', organised by the Centre for Human Rights Education (CHRE) in Lahore, Punjab.
As part of the event, promoters handed out white scarves and ribbons to participants to tie around the wrist as a sign of peace.
Local Church leaders share this concern.  Mgr Joseph Arshad, bishop of Faisalabad and president of the Commission for Justice and Peace of the Pakistani Bishops' Conference, told AsiaNews that "We choose peace. The two countries are culturally close; they should sit down and talk. We need to take care of the human rights of all Kashmiris. Sure, it's a sensitive matter but war is not the solution. "
Relations between India and Pakistan alternate between periods of thaw and moments of open hostility. Since partition in 1947, the war of words between the two has never stopped and has intensified after 18 September when 18 Indian soldiers were killed in an attack on the Uri military base in the disputed Himalayan region of Kashmir.
New Delhi blames the attack – the deadliest in 15 years – on the Jaish-e-Mohammed jihadist group, an e organisation based in Pakistan, a country the Indian Home Minister Rajnath Singh has described as a "terrorist state".
Pakistani Foreign Ministry replied swiftly slamming India's "obvious attempt" to divert attention from human rights violations in the area.
The attack against the Indian army came in the aftermath of massive street protests following the death of Burhan Wani, a well-known separatist leader, who was killed by security forces.
Clashes in the past two months have left at least 90 civilians dead with more than 13,000 injured.
Participants in this morning's conference in Lahore analysed the attack of 18 September and the events that caused the rise in tension between the two governments.
For CHRE President Samson Salamat, a Christian, "white scarves reflect our desire for peace." Likewise, "dialogue is the only solution" to work out conflicts "between two nuclear powers" that endanger "millions of people". People, the activist noted, need "education, health and clean water."
Other speakers at the conference also called for a stop to the "war of words" between India and Pakistan. Salman Abid, regional director of the 'Strengthening Participatory Organisation', said that the perception of Pakistan in terms of human rights and democracy is "critical".
Hence, it is necessary to look at issues relating to social justice more closely and "counter belligerent slogans" that do not help the cause.
Calls for peace and dialogue between India and Pakistan have also appeared on social media. On Facebook, Muslim musician Taimur Rahman wrote, "Stop the sabre-rattling and emotional bullshit. We will not be manipulated into war with our neighbours. Share if you agree".
– asianews
Iraq, September 23, 2016: The Islamic State terror group has carried out a new series of mass executions of prisoners it considers traitors in a video released on Tuesday in Iraq, dubbed "Hell of the Apostates."
Heavy reported that the video was shot somewhere near Baghdad, the capital of Iraq, and like past IS videos shows scenes of graphic and horrific violence, mixed in with propaganda messages against Western leaders, such as President Barack Obama.
Parts of the video show armed IS fighters leading groups of blindfolded men to pre-dug graves, where they are executed by being shot in the head one by one.
Other segments depict intense fighting between IS jihadis and opposition forces. The radical group has been trying to keep hold of its captured territory across Iraq and Syria, but has faced heavy opposition in the form of U.S.-led airstrikes, and ground troops from regional forces.
The people executed by IS in the latest video are referred to as "sahwat," people who received assistance from the U.S. in the fight against IS' predecessor organization, al-Qaeda in Iraq.
IS accuses such people of "stabbing it in the back" for taking U.S. assistance and combating Islamic extremism, and has sought to punish and make an example out of them.
Heavy reports that the identities or allegiances of those executed is so far unclear.
The Associates Press and other news outlets have documented dozens of mass graves across Iraq and Syria that have been uncovered, showing that IS fighters have slaughtered thousands of people in their two-year reign of terror.
A big discovery in August identified at least 72 mass graves across newly liberated territory, revealing that many more graves containing great human rights atrocities likely lie within land still held by the jihadist group.
"There's been virtually no effort to systematically document the crimes perpetrated, to preserve the evidence, and to ensure that mass graves are identified and protected," warned Naomi Kikoler of the Holocaust Museum in Washington, D.C.
IS has targeted Christians, Yazidis, and people from several other minority groups that it deems as enemies, which both the U.S. and the U.N. have recognized as an ongoing genocide.
Ziad Awad, the editor of an online publication on Deir el-Zour called The Eye of the City, who is documenting the graves, added: "This is a drop in an ocean of mass graves expected to be discovered in the future in Syria."
– christian post
So you've finally done it. You've made family mealtimes a high priority in your household. But now you have a problem they didn't tell you about.
Cornell University found that family dinners five times a week prevent disordered eating. Columbia University found that this helps prevent smoking, drinking, and drug use in teens. Purdue University found that eight out of 10 parents highly value mealtime together—but only 33 percent of us actually do it.
Yes, the craziness of modern schedules is one reason this doesn't happen more often—working moms and dads and activities for kids of all ages. But another reason is that problem no one tells you about: Eating together as a family is not always a pleasant experience.
This is why my wife, April, insists that we not just have a meal plan for dinner—but that we have a conversation plan, too. Before, dinner with our nine children consisted of either shouted exclamations competing for attention or an exercise in absurdist one-upmanship: "What if our dog Lucy could fly?" and "What if you went to McDonalds drive-thru and Lucy handed you your food and barked?"
If we didn't change something, April would have fled the table.
I recently asked a group of Catholic moms and dads—with families of various sizes—how they structure their dinner conversations. My own family is already enjoying the fruits of their ideas. See if yours can, too.
Why plan at all?
Many parents said a plan for dinner conversation was not their style. Instead they shared informal rules like "no secrets at the table," "no business at the table" (arrange schedules and do homework checks at some other time), and "no singing at the table" (a rule that takes constant vigilance to enforce)—and even "no jokes at the table" (or often, "Enough already! No more jokes").
These are, essentially, dinner manners—and dinner manners are a form of family dinner management.
Dino Durando, the director of Family Life at the Kansas City-St. Joseph, Missouri Diocese, says Catholics have more to offer than just manners.
He kicks off his family dinner conversations at home. "I start with a story of how God did something great in my own day and then see where they go with it."
He identifies a kind of "theology of mealtime" or "spirituality of mealtime."
"The Catholic Church actually has a very rich theology of 'breaking bread' going back to our Jewish/ Hebrew roots and highlighted by religious life—think Compania de Jesus, those who break bread together," said Durando. "I think a rediscovery of the value of sharing food, life experiences, and faith together would help solve a lot of the family problems we face in our fractured and self-centered culture."
Yes, a plan helps you to keep conversation from devolving into shouting over each other, general silliness, or side conversations that ignore the rest of the people at the table.
But it can also help you build important virtues—human and spiritual—that serve you well. Three common questions asked of all present at the table help build human virtues:
Name one thing you learned today (to remind them they should be learning things).
What did you do this morning? (to help build memory).
What are your plans for tomorrow? (to build the planning habit).
Jake Frost of St. Paul, Minnesota, found these especially helpful for the six-year-old and four-year-old at his table.
"Sometimes one child might dominate the talking, or the kids' conversation can devolve into crazy kid talk between themselves—which can sometimes get them a little too wound-up and dinner gets lost as the antics ramp up," he said. "With the questions, though, everyone stayed at the table a little more and was a little more engaged, and I thought it was a pretty good dinner with those questions to give us a little direction."
The kids' answers revealed how large vacation loomed in his six-year-old's mind and how bad four-year-olds are at remembering what happened eight hours ago.
But they are good at inventing games. In answer to the question about her plans, his four-year-old said she planned on a "toy hunt."
"When asked what that is, she said that I would hide toys for her, and she would search for them," said Frost.
Self-Improvement Questions
Apart from those basic questions, families have many other strategies for dinnertime conversation. Several are impressive efforts at self-improvement.
Charlie Peitsch, a friend of ours in Atchison, Kansas, asks the basic "what did you do today" question but adds a question that puts the day in perspective: "I ask them to tell me how they were the best version of themselves that day," he said.
The question comes from the approach taken by Matthew Kelly in his book Rediscover Catholicism.
"You were born to become the-best-version-of-yourself," writes Kelly. "This is your essential purpose and the most important discovery you will ever make. . . . In every situation, simply ask yourself, 'Which of the options before me will help me become the-best-version-of-myself?'"
Bernie Sotola of Johns Creek, Georgia, has a great weekly tradition: "Every Sunday at dinner we share one thing we are grateful for and place it in a jar," he said. "At the end of the year we reflect on all our blessings."
Jeannie Aaron Conley of San Jose, California, does a daily version of that. "We do a take on the sports highlights and call it 'play of the day.' We let everyone share his or her favorite part of the day. The little kids eat it up, and the older kids come up with good examples for the younger ones."
Conley, who has five boys and three girls, said younger children typically identify "when mom picked me up for school" as their play of the day. "We've learned to ask, 'If you had a second play of the day, what would it be?' And they will say 'John letting me play with his toy' or 'learning about mosquitos' or 'visiting the fire station.'"
Dinner conversations are not just important to larger families, though.
Kathryn Brown of Blue Springs, Missouri, was an only child, and she remembers her dad, a medical scientist, leading conversations around the dinner table. "My dad talked about the projects he was working on at work. In order to do so, he had to explain the science behind them," she said. "I learned most of my science at the dinner table."
For information . . . or for fun
Some dinner conversation starters are not necessarily designed to improve the participants—but designed for them to get to know each other a little better.
Rachel Clark, a college sophomore from Pearland, Texas, says that at her family dinner table, "We go around and ask each person to tell his or her 'high and low.' The high was the best part of the day, while the low was the worst."
"Becoming an altar boy was a high," for one brother, she recalls. "Not receiving first Communion when his older brother did was a low. When friends or family visit, the visitor always ends up in the high category—at least so far."
What was her personal favorite high? "Getting marriage proposals from two boys I babysat for, both under the age of six, in one week was a funny high."
Several families also use a questioning technique that has become a Hoopes standby: "What's your favorite thing about the person to your left?"
The Hoopes family uses this as an anti-snark device. We employ it when the conversation gets too negative. It breaks the tension and hits the reset button on the table's conversation.
Kersti O'Farrell of Birmingham, Alabama, said, "I ask questions like: 'What would be in your zoo?' or 'Where would you build your castle?' It's contrived, but it does add some civility to an otherwise barbarous occasion."
Gwen Grundman in Front Royal, Virginia, said, "We usually talk philosophy, in between teaching basic manners. But when we get stuck, we also love our 'table talk questions'!" She says her family uses Table Topics Family Edition—one of several products available to promote dinnertime conversation.
Therese Rodriguez of Montgomery Village, Maryland, chooses fun when things get awkward at the dinner table. When her family is stuck for conversation, she and her husband require everyone to share a one-liner from a favorite movie scene.
The answer is "usually Barry Fitzgerald for old movies, or a song from musicals," she said. "The rest of the family falls right in line, no matter what else is going on."
"Ultimately," said Dino Durando, "the laity has a responsibility for making the most of this part of life for their family. How they do this in the particulars is up to them. Families eating together is a valuable and precious time that can be a moment of catechesis and authentic human development."
Exactly. And that's much better than a shouting match or an exercise in creative juvenilia.
– catholic digest
U.S., September 21, 2016: Modern-day imperialism. Harmful to women. A failed promise. These are the ways that leading Catholic scholars described contraception – and said the Church is right to warn against it.
"What women have discovered over the past 48 years is that we don't have a design flaw. Being a woman is good enough, and it's a wonderful thing," said Mary Rice Hasson, J.D., director of the Catholic Women's Forum at the Ethics and Public Policy Center.
Hasson was among a group of more than 500 Catholic scholars who signed a document supporting Church teaching against contraception, as expressed in Blessed Paul VI's 1968 encyclical Humanae Vitae.
The document, entitled "Affirmation of the Catholic Church's Teaching on the Gift of Sexuality," was released at a Sept. 20 press conference at The Catholic University of America in Washington, D.C.
It responded to a statement opposing Church teaching, released by the U.K.-based Wijngaards Institute. The 150 signatories of the dissenting statement argued that the Church has no reason for its teaching against contraception. They said that the use of birth control is sometimes "an ethical imperative" and that abortion-causing methods of contraception are sometimes acceptable.
Pope Paul VI's 1968 encyclical Humanae Vitae reaffirmed the traditional Christian rejection of contraception and said it applied to the birth control pill. If a married couple faces a just reason to avoid pregnancy, the Church teaches that they may do so through Natural Family Planning, a process that works with a woman's natural fertile cycles and abstaining from sexual activity during the times that she is fertile.
Hasson voiced gratitude for the Church's teaching, saying that it affirms women and does not treat their bodies as "broken."
"From a woman's perspective, contraception, abortion and the sexual revolution were held up to be a situation of promise, opportunity, of a way to move forward in equality," she said.
"And what we've found, not looking just through the eyes of faith, but our lived experience has shown that this is a false promise. In fact, women have proved to be hurt and more vulnerable by the consequences of the sex revolution and the promotion of contraception as the solution."
Rather than affirming women, Hasson said, contraception tells women that their fertility is a problem to be "fixed" through medical means.
In contrast, the Church's teaching protects and defends women, she said. "We are the future. Women have the support of the Church's teaching and it's been just a tremendous thing."
Hasson told CNA that both domestic and foreign organizations are "very coercive" in pushing contraceptive implements on lower-income women around the world, often without regard for women's relationship goals and at the cost of other forms of developmental support.
Religious studies professor John Grabowski of Catholic University of America agreed.
He told CNA that during his time serving on the Pontifical Council for the Family, he has heard people from around the world complain that "we are having these population, family planning services shoved down our throats, regardless of our convictions, our cultural values, our religious convictions."
In many cases, he said, funding is directly tied to acceptance of contraception and abortion programs. "It really is contraceptive imperialism."
Grabowki, who also signed the document supporting Church teaching, pointed out that every major Christian church agreed with Catholicism through the 20th century.
And today, he said, "there are many Catholic scholars, academics and intellectuals who support the Church's teaching, who recognize that the teaching is not the policy instituted by the Church 48 years ago, but represents the constant teaching of the Church from its beginning."
Grabowksi noted that when Pope Paul VI wrote Humanae Vitae, he "predicted that if contraception were to be widely implemented we could expect a number of things to come to pass: increasing infidelity, and the overall moral decline within society, a loss of respect for women on the part of men."
All of these things have come to pass, Grabowski said, charging that the Wijngaards Statement does not recognize "the fact that we have a wealth of data from the sciences and the social sciences demonstrating the real harm done to women, to relationships, to marriages and to the family. It's as if the sexual revolution hasn't happened."
He also pointed to the statement's failure to address the "unique contribution" of St. Pope John Paul II's Theology of the body, a work which he described as "such a rich resource in unpacking this teaching."
Statement organizer Janet Smith, an ethics professor at Sacred Heart Major Seminary in Detroit, noted that with just a few days' notice, the document in support of Church teaching had attracted more than triple the signatures of the dissenting statement.
She suggested that this is "an opportunity for us to show the world that there are many, many people who accept the Church's teaching on contraception."
Furthermore, she said, while all of the signatories hold advanced degrees, they are also largely people who are married with families.
By living out the Church's teachings on contraception and sexuality in their daily lives, many of the signatories are a living witness to the truth of the Church's position, she said. "They're not just accepting it on blind obedience."
– cna
Chhattisgarh, September 23, 2016: Christian families in the Indian state of Chhattisgarh have been ostracised by their village because they have refused to renounce their faith.
According to ucanews.com, the Gond tribal people of Barbattar village include 15 Christian families. Most of the 1,000 villagers practise their ancestral animist faith. However, the leader of the 60-strong Christian population, Mohan Netam, said their neighbours turned on them because "we refused to succumb to the village body's pressure" to abandon the faith. He said their lives have "become miserable" after the village governing body "banned us from collecting firewood or grazing our animals in the forest".
India's tribal people are outside the Hindu caste system and themselves face discrimination from nationalist Hindus. Violence and other forms of discrimination against Christians is increasing in the country, according to the most recent report of the US Commission on International Religious Freedom (USCIRF).
The commission said the situation had worsened under the rule of the right-wing Bharatiya Janata Party (BJP), which swept to power after a long period of Congress Party rule. USCIRF is now considering whether to designate India as a "country of particular concern," or CPC, for the high level of "systematic, ongoing, egregious violations of religious freedom" many Christians and others face.
– christian today
Hyderabad, September 23, 2016: Scores of social activists from around the country will study the impact of religion and culture on women's empowerment at a national consultation in Hyderabad, southern India.
The September 23-26 seminar at Montfort Social Institute, organized by five groups, aims to bring together women from different religious backgrounds, who are resolved to raise a common voice to demand rights within religions and the state, says a note from the organizers.
This consultation, they say, will explore the impact of religion and culture on women's empowerment from an Indian perspective. "We will delve further into religion and the culture of Islam, Hinduism, Christianity and Sikhism, and the dynamic interplay between scripture and tradition regarding customs and praxis particularly in the lives of women."
The participants will share their views on the call for a uniform civil code after they probe the structure of religion and power and study existing personal laws.
"As you know, we are living in times where rising communal tensions and the virulent divisiveness of our national politics weaken the democratic secular fabric of our nation, the price of which women ultimately have to bear," says a note from "Streevani" (voice of women), a Pune-based organization working for women's empowerment.
Its collaborators are Montfort Social Institute, Indian Christian Women's Movement, Indian Women Theologians Forum and Satyashodak (discernment).
The organizers note that women also face "excesses" from their own religion, considered the domain of a select few men.
Millennia-old traditions teach that men receive divine messages and transmit them while reserving to themselves the right to read, interpret and apply religious doctrines to the masses, the add.
They also regret that women have accepted the power of men over religion. "And if they were told that they are inferior, women believed in it because it had the force of religion and hence by default the force of God."
The consultation takes place in the backdrop of increasing protests by women against such practices. "It is with a rising consciousness, awareness and an innate confidence in themselves and as well as a strong belief in their own equality before God, that women have been raising questions which now are making men uncomfortable, especially the clergy who control religion and them," the note says.
Women, the organizers say, now question discrimination within their religion. "While Hindu women have recently questioned the restriction on women's entry into Sabarimala, Shani and Trimbakeshwar temples, Muslim women have questioned the decision of the trustees of the Haji Ali Dargah who have stopped women from entering the sanctum sanctorum."
Majority of Muslim women now want to ban triple talaq (divorce) while Bohra women campaign against the practice of female genital mutilation.
Christian women have demanded their rightful place in the decision making processes of the Church, particularly in matters pertaining to them and their lives.
"A common thread among these women is that they are firm believers, love their faith and at the same time demand complete restoration of fundamental human rights as enshrined in the values of their respective religions and within the Constitutional framework of the country," the note from organizers says.
– matters india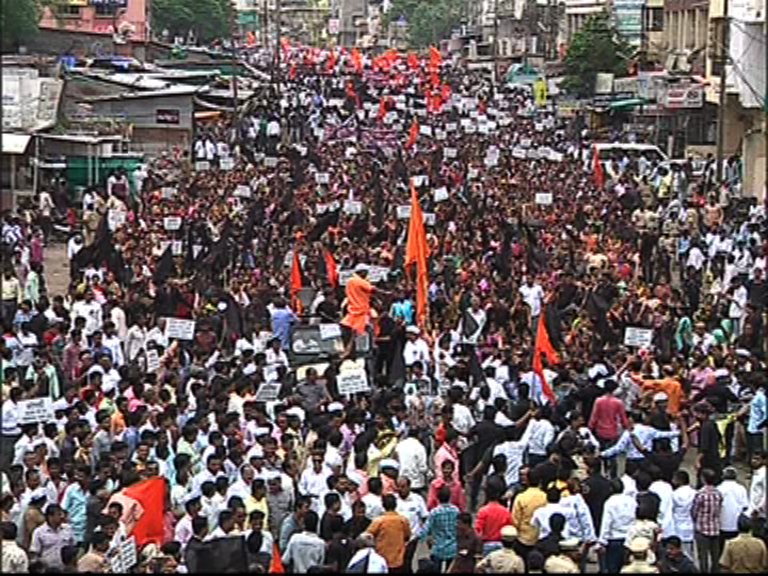 Maharashtra, September 23, 2016: Salgaon village in Dhule district of Khandesh region in Maharashtra witnessed the brutal killing of Schedule Caste Buddhist Dayaram Nyahale on Thursday. This killing has been linked to the 'Silent Morchas' (rally/protest) being organised by Marathas, a dominant caste group, all over the state demanding reservation and protesting against the SC/ST Prevention of Atrocities Act. Buddhists of Salgoan organised support and asked for the murder case to be filed under the the SC/ST Prevention of Atrocities Act. Social activist Garde, working on this case, told Twocircles.net, "Dayaram was killed by fascist forces. Whoever opposes what the Marathas are doing, is vulnerable in the present situation. Dayaram is an example."
On September 29, there was to be a Silent Morcha organised by Marathas who are dominant castes in Maharashtra. On the same day, Buddhist villagers were also going to organise another support rally in favour of the Act. Dayaram, the man murdered, was one of the organisers of the support rally and on the day of his murder, he was mobilising the youths of the village.
One of the residents of Salgaon (name redacted for security) said, "Yesterday, one of the members of Maratha Kranti Morcha listened to the fact that we are doing a counter rally and he became angry and gathered his colleagues". He also said, "They called Dayaram to the Sarpanch's house, tied a rope on his hands and feet and killed him".
"When Buddhists heard of the incident, we came together. We have all woken up now and want to see action taken against the criminals", said Vaibhav Gaikwad, one of the villagers who was protesting against the murder. protesters. He also said to TCN, "We demand the state deny the permission for such Silent Morchas. Such Morchas violate the constitutional rights of SC/ST peoples. We ask the administration to take action on the killers through the SC/ST Prevention of Atrocities Act and give them death penalty".
In the city of Dhule, there is now an ongoing Buddhist protest meeting by against the incident. People are giving in writing and speeches to the administration that the Silent Morchas are not really for the against the Reservation or the SC/S Prevention of Atrocities Act but an excuse to perpetrate violence on Buddhists peoples.
Late Dayaram's brother, Sanjay Nyahale said to a local newspaper, "I may die in the process but I will never give up trying to get justice for my brother Dayaram. He was a true follower of Babasaheb Ambedkar and that's why he got killed." In a statement given by the Sanjay Nyahale to the Tehsildar, it is written that, "Police are not doing their work. Taluka Police stations PI Sambhaji Patil looked at the complaint given and acted in by giving preference bias towards the Marathas".
– tcn
Pakistan, September 21, 2016: A drunken Muslim mob in Pakistan stormed the homes of Christians and beat men, women and children because they deemed the Christian residents to be "ritually impure."
As the systematic persecution of Christians in Pakistan continues to increase across the country and the situation shows no signs of improvement, the London-based charity British Pakistani Christian Association reports that a small group of Muslim men in the Faisalabad district physically beat at least seven Christians in the town of Samundri last Friday.
The inebriated men were reportedly being loud and obnoxious as they walked down the residential streets of Samundri. After a Christian woman asked them to quiet down and told them they were disturbing the peace in the neighborhood, they were enraged by "the audacity of 'ritually impure' Christians making demands on them," BPCA reports.
The drunk Muslim men gathered up at least a dozen of their friends and grabbed sticks, metal rods and other assorted weapons and returned to attack the Christian residents.
Upon returning to the neighborhood, the mob stormed the Christians' homes and indiscriminately beat them without regard for whether they were attacking men, women or children, according to BPCA.
Not only did the Muslim mob physically and verbally assault Christians, they also insulted Jesus Christ, even though He is also a prophet in the Quran.
Seven victims were injured in the attack, five of whom had to go to the hospital to receive treatment for their injuries.
Among those injured are 48-year-old Arif Masih, 40-year-old Parveen Akhtar, 42-year-old Akram Masih, 50-year-old Jamaal Masih, 35-year-old Sharifaan Bibi, 34-year-old Shahzad Masih and 35-year-old Zahid Masih.
"I had returned from work and we were enjoying some rest as we waited for our food to be prepared. A group of drunk Muslims came and were shouting loudly and saying lewd things to any young girls that were passing," Arif Masih told BPCA officer Kanwal Amar, who visited with the victims in the hospital and at their homes to provide counseling and support.
"My wife asked them to leave the area as they were disturbing locals and they started shouting obscenities at us, but left shortly after," Masih continued. "About and hour later they returned with a gang of around 15 people and started beating us with sticks and poles. They said all Christians should be killed. They said we were evil demons and made Pakistan impure. I thought I and my family would be killed. It was very frightening."
When Amar first arrived, he noticed that no report had been filed by police in response to the incident even though there were eyewitness accounts and visible injuries as evidence. Amar later visited the police station in Samundri with a couple local village leaders to urge police to seek justice for the abused Christians.
After providing overwhelming evidence, Deputy Superintendent Malik Shahid finally registered a police report.
As police have begun questioning suspects, BPCA reports that the severity of the injuries sustained by the Christians will determine the severity of the charges leveled against the Muslim men. However, there are no X-ray machines at Samundri hospital, which means that there will be a bit of a wait until results can come back from Faisalabad General Hospital.
"To many, this attack just seems to be an act of drunken violence. But the manner of the insults directed at these innocent Christians, evidences their lowly status," Armar said in a statement to BPCA. "I believe most Muslims in Pakistan hold a deep hatred for Christians that is easy to evoke just by a Christian being in their presence. Fear of an attack is an ever present fear in the minds of all Christians living here and our government is doing little to change this."
Pakistan ranks as the sixth worst country in the world when it comes to the persecution of Christians, according to Open Doors USA's World Watch List.
As Christians comprise only 4 million of the nation's 199 million total population, they are often victimized through accusations of blasphemy, bonded labor agreements, beatings and the systematic kidnapping and forced marriage of Christians girls.
The BPCA is instrumental in helping provide shelter, aid and other means of support to persecuted Christian families across Pakistan. The organization is also accepting online donations to fund their efforts.
The BPCA has also launched a petition calling on the British government and other foreign governments that give aid to Pakistan to have greater accountability for how their foreign aid dollars are being spent.
According to BPCA Chairman Wilson Chowdhry, the U.K. government gives Pakistan over £225 million that are meant to go to "holistic educational reform."
However, it was reported last month that The National Commission for Justice and Peace found that Pakistani school textbooks are filled with language that incites hatred towards Christians and religious minorities.
"The deep-rooted and festering malice towards Christians in Pakistan means that they are constantly living on the edge, waiting to be the next victims," Chowdhry said in a statement. "As a U.K. taxpayer, I am disgusted that Britain continues to fund Pakistan through foreign aid — especially the 225 million meant for holistic educational reform. The national curriculum in Pakistan continues to espouse hatred towards minorities, the result of which, is a worsening social pariah status for Christians in particular and other minorities."
– christian post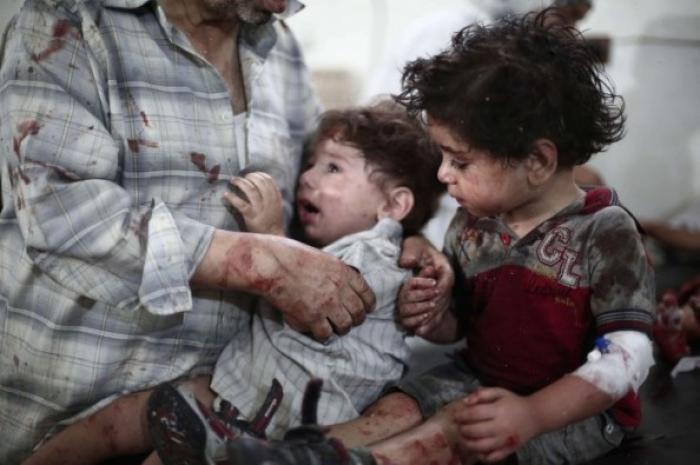 Iraq, September 22, 2016: Jihadis belonging to the Islamic State terrorist group have found yet another brutal way to execute their victims, this time torturing six boys to death by an using excruciatingly hot welding iron and rods.
According to a local source who spoke with Iraqi News on Tuesday, IS (also known as ISIS or ISIL) sentenced six boys in their Iraqi stronghold of Mosul to public executions after they were accused of being a part of a rival militant faction.
"The terrorist outfit executed six youths in Mosul. ISIS said that the youths belonged to a resistance faction," the unidentified source proclaimed.
"The youths were first handcuffed and then a welding machine and a welding rod was used to kill them," the source added. "The execution took place in Mosul in front of a large gathering."
The boys' executions come as IS leaders fear losing their largest Iraqi stronghold after Iraqi forces regained control of half of the jihadists' captured territory. U.S. President Obama has vowed that Iraqi forces, aided by a small U.S.-led coalition, will soon begin an offensive to liberate Mosul from IS.
As IS has brutally punished civilians in Mosul for talking about the advances of the Iraqi military, the source who spoke with Iraqi News said that the executions were carried out on the boys "in order to create a state of fear and panic among the people."
According to another local source who spoke with Iraqi News on Tuesday, IS also recently punished three boys because they were caught playing soccer.
– christian post
At the center of the Bible is the reality that, in God's economy, it is not the wealthy, the attractive, the influential or powerful who are welcomed into heaven and are used by Him. No, it is the least likely; those who are simply willing, and who believe.
The way God's Kingdom functions may seem upside down to many of us. The world's standards so easily infiltrate the way we think.
That is why it may surprise us "When God Uses Little People," as the title of Melissa Edgington's recent blog post puts it.
Little people may literally be "little people"–children, but this phrase can also apply more broadly to the people who feel like they are little in the world's eyes, the people who feel like they don't have a lot to offer God.
Those people, however, are whom God often chooses to serve others and accomplish His plans.
Pastor David Jeremiah notes, "God wants to take us down to the very depths of ourselves to teach us that if there is any power, it is the power that is in God, and not in us. God doesn't need to make us into performers or superstars in order to use us. Instead, He's looking for men and women who have hearts that say, 'Lord, I'm a nobody. I'm nothing without You. Will You use me?' When God finds such a heart, something extraordinary happens — that nobody is promoted to the ranks of God's nobility."
Children are often used as an example of this kind of trusting reliance on God. As adults, we are so often jaded and cynical and closed-off to how God is working. Children often tap into the key to true joy in Christ that adults often miss.
"Why is it that I don't tend to think that God will do enormous and miraculous things through children? Why do I insist on thinking that adults are more likely to have a clear understanding of who God is, when He obviously values the big faith that children are so good at maintaining?" Edginton asks.
Edgington shares the story of how an 11-year-old friend of her daughter's ministered to her family when they were having a difficult week. The girl wrote a thoughtful note to Edgington's daughter, Adelade, reminding her of God's goodness and loving-kindness. She also gave Adelade a chocolate bar.
This simple act of service and friendship blessed Adelade and made Edgington realize she was being prideful, thinking she knew whom God could use to do His work.
It has been said that the Christian life is filled with paradoxes, and nowhere is this more true than in 2 Corinthians 12:10 where the Apostle Paul says, "That's why I take pleasure in my weaknesses, and in the insults, hardships, persecutions, and troubles that I suffer for Christ. For when I am weak, then I am strong."
This is something the world rarely understands. The world didn't understand when God chose the little shepherd boy David as king, it didn't understand when he chose a teenage girl to be the mother of his only Son, and it often fails to understand how God is working today.
God's Kingdom is sometimes an upside down kingdom in the eyes of the world, but God takes delight in using "one little child, one homeless man, one stay-at-home mom, one unlikely source at a time," as Edgington says.
The only question is if we are willing to respond to His Spirit's prompting.
– cross walk