Indonesia, November 28, 2016: Indonesian police have arrested nine potential terrorists linked to the Islamic State who participated in the mass demonstrations against Basuki Tjahaja Purnama, known as "Ahok", governor of Jakarta, in order to generate chaos and violence. General Boy Rafly Amar confirmed the arrests last November 26: "[The] suspects were taken in Bekasi and West Jakarta, and their contacts with the Islamic State are certain."
November 4, nearly 100 thousand radical Islamists took to the streets to demand the condemnation of Ahok and the withdrawal of his candidacy for governor in elections in February 2017. The politician is accused of blasphemy against Islam will go to trial in the coming weeks. The protest, which resulted in violence, suffered the infiltration of political agitators with the aim of discrediting President Joko Widodo, an ally of the governor.
According to investigators, the project of the nine men was to steal weapons from officers during the march and fire on the crowd. The police, however, said the police spokesman, were not bearing arms that day.
Among those arrested were Saulihun, known as Abu Musaibah, a character that has favored the sending of Indonesian militants to Syria to fight with the Caliphate; Alwandi known as Aseng, who trained terrorists in a paramilitary barracks; Wahyu Widada and Ibu Aji Maulana, accused of working for the Islamic State as a bridge between Syria and Indonesia, preparing the advance of the caliphate in Southeast Asia.
Police said that there is no connection between these suspected terrorists and radical Islamic groups (such as the Islamic Defenders Front) who organized the march.
After these arrests the authorities are increasingly concerned ahead of the protests of the next December 2nd. The radical movements have announced plans to occupy the central streets of Jakarta during the Friday prayers. The agents have warned the organizers and the local inhabitants, since "it is likely that the event will be infiltrated by unknown persons ". Chief Inspector of Jakarta, General Mohammad Iriawan, said that the protest is not authorized by the authorities.
– asianews
For four days last July, my hometown of San Diego was invaded by thousands of superheroes, zombies, vampires, sci-fi and comic book characters, and more. A total of 130,000 fans attended the annual international Comic-Con event—most of them in costume.
I confess that I don't "get" Comic-Con. I'm not a huge fantasy-fiction fan. But I totally understand the delight and joy of participating in your chosen area of interest.
And that applies to an endless number of interests that all of us have. We shouldn't be ashamed to say that we love what we love! Whether it's sports, cooking, politics, quilting, gardening, travel, photography—the list goes on. I'm not writing to endorse any particular subject area or the amounts of time and money each area can absorb. But I do endorse and encourage what bubbles to the surface when we connect with the things we love: JOY!
Joy in pursuing our God-given desires
If you have seen the inspiring film Chariots of Fire, based on the life of Scottish missionary and Olympic runner Eric Liddell, you will probably remember these wonderful words that he spoke: "I believe that God made me for a purpose. But He also made me fast, and when I run, I feel His pleasure." He spoke those words as a response to being criticized for pursuing his interests in track and field before going to the mission field.
I believe we could easily substitute the word "joy" for "pleasure" in Liddell's statement without changing the meaning at all, for God takes joy and pleasure when His creation manifests its God-given purpose. And if God finds pleasure and joy when we excel in desires that honor Him, shouldn't we feel the same pleasure and joy? Of course we should.
I believe God created us with the potential for great pleasure and joy, and because of that, we have the right to rejoice! We even see joy ascribed to creation in Scripture: mountains skipping like rams (Psalm 114:4), stars singing together (Job 38:7), and rivers and trees clapping their hands (Psalm 98:8; Isaiah 55:12). Those are figures of speech. But where there is a metaphor, there is a connection to something that is real, and the actual fact is that the Creator infused His creation with joy. If the angels of God rejoice, should not we as well (Job 38:7; Luke 2:13-14; 15:10)?
Dear friend, I believe the experience most missing from the average Christian's life today is joy. I don't mean just laughter and hilarity, although there is plenty of room for more of that in the body of Christ. (Who knows how much healthier we'd be with a little, or lot, more laughter—Proverbs 17:22?) I also mean that deeper dimension of happiness—what we really mean when we talk about joy: that deep-seated conviction that God is in control, God is good, and therefore I have nothing to be downcast about.
If I could see you in action when you're pursuing your heartfelt desires, I imagine I would see your pleasure and joy in full form. And I would be right there, high-fiving you the whole time. It's a wonderful thing to see people rejoicing, isn't it?
We know how to do that part of rejoicing. But it's the other kind—rejoicing when we feel like crying or shouting—that we need to talk about. Remember: If God has built joy into His creation, then it's your right, as His child, to rejoice even when it doesn't seem natural.
Joy when life is a mess
Think for a moment about Paul in prison. The New Testament letter that talks more about joy than any other was written by Paul while he was under arrest. His setting was not as bad as in his final imprisonment in the dreaded Mamertine Prison in Rome, but it was bad enough. His house arrest, during which he wrote Philippians and three other letters, offered no happy ending so far as Paul knew. Even though he had food and clothing, and occasional visits from friends, he didn't know the outcome of his imprisonment. He could have been martyred any day. And yet he wrote over and over about joy.
Joy in prison where one's life was in the hands of a pagan Roman emperor? That's the kind of joy we need to cultivate.
Paul's perspective on joy was not something he discovered while in prison. Instead, it was a settled conviction that found expression. Here's how we know. Around A.D. 51, Paul wrote these two profound words to the Christians at Thessalonica who were experiencing persecution: "Rejoice always" (1 Thessalonians 5:16). It wasn't until 10 years later, in A.D. 61, that he wrote his letter to the Philippians in which joy is mentioned 14 times. In fact, he repeated to the Philippians, his ten-year-old admonition to the Thessalonians: "Rejoice in the Lord always. Again I will say, rejoice!" (Philippians 4:4). Joy was Paul's lifestyle.
How do we "rejoice always"?
But how? How do we "rejoice always"? The biblical answer is not surprising: It requires both an attitude and an action.
Attitude: We know from Galatians 5:22 that joy is a supernatural manifestation of Christ's life in us—part of the fruit of the Spirit. But it is up to us to be filled with the Spirit, to embrace the Spirit's work in every situation. Moment-by-moment in life, and especially in difficult moments, we must carry the conviction that God wants to release His joy in our lives.

Action: Part of walking by faith is… walking! Our responsibility is to act on what God has promised to provide. We need to act joyfully—giving testimony (both verbally and nonverbally) to our conviction that God is good, God is in control, and God will bring good out of every situation for His glory (Romans 8:28). I'm not talking about a veneer of joy; I'm talking about joy through and through. Even when there are tears, they are not tears of anger or frustration. Even when we experience grief, we can have joy because we know it's our right to rejoice.
I encourage you, with the apostle Paul, to "rejoice always." The circumstances of life may change our reasons for rejoicing, but they don't change our ability to rejoice in Christ.
– cross walk
U.S., November 26, 2016: Pro-Life Action League's National Director Joe Scheidler was holding the large poster of the aborted baby when the abortionist walked up and stood next to the image to record a 4-minute "prayer" on her cell phone that turned into a pro-abortion speech outside an abortion conference that was held at the Palmer House Hilton hotel in Chicago, Illinois, on Nov. 16.
The demonstrators were protesting the North American Forum on Family Planning conference hosted by Planned Parenthood and the Society for Family Planning that featured abortionists Deborah Nucatola and Deborah VanDerhei who were caught in undercover videos discussing the harvesting of aborted babies' body parts for profit in an investigation released by the Center for Medical Progress last year.
The abortionist seen praying in the video released by the Pro-Life Action League earlier this week claims to provide "Christ-like love" to pregnant women, and says she feels God's "spirit and guiding hand in my work" and "the support of thy spirit."
"I'm so grateful for the opportunity to be here [at the abortion conference]," she said, "and to ask for you to touch the hearts of those that in their pride fail to have compassion and truly live the example of Christ and to love all.
"And to reserve judgment and to humble themselves before Thee as the all seeing and all knowing and magnanimous and loving being. And I would hope that you would soften their hearts and help them [pro-life activists] to see the cruelty and the damage that their actions lead to," she said in the prayer.
Pro-life activist Matt Yonke who witnessed the abortionist's 4-minute rant said in his post on the Pro-Life Action League's blog that it was the strangest prayer he had ever heard. But he also urged fellow pro-life advocates to remember that the abortionist seen in the video is "a child of God in need of our prayers and help."
"I've been organizing pro-life street protests for over eight years, and I don't know if I've ever seen anything as strange as the abortionist praying on a public sidewalk that I saw last Monday," Yonke said.
"I hope that what we as pro-lifers could learn from it is to pray for our opposition without impugning their motives or pretending we can read their hearts, which, as this abortionist correctly pointed out, we cannot know."
– christian post
Kerala, November 25, 2016: Pope Francis, head of the Roman Catholic Church, is likely to visit India next year, a senior Catholic priest said on Thursday.
Archbishop-designate Joseph Kalathiparambil, who returned from Vatican on Thursday, said an indication in this regard was conveyed to him when he visited the Pope at his residence.
"What I understood is that the Pope wishes to visit India next year. An indication in this regard was given to me when I visited him at his residence at Santa Marta in Vatican," he said.
Kalathiparambil is set to take over as the Archbishop of Latin Archdiocese of Verapoly in Kerala on December 18.Earlier, there were reports that Pope Francis would "almost certainly" visit India but no dates were specified.
Kalathiparambil said he requested the Pope to visit Kerala and Verapoly Archdiocese, and his response was positive.
Pope John Paul II is the only Pope to have visited Kerala, where the Catholic community has a strong presence. He had visited India for the first time for 10 days in 1986, and again in November 1999, his 89th Apostolic visit outside Italy, for the occasion of solemnly promulgating in the Post Synodal Apostolic Exhortation "Ecclesia in Asia", in New Delhi.
During his India visit in 1986, Pope John Paul II had visited the state to beatify Sister Alphonsa and Kuriakose Elias Chavara popularly known as Chavara Achen.
Prior to appointment as the archbishop, Kalathiparambil was serving as the Secretary of the Vatican's Pontifical Council for the Pastoral Care of Migrants and Itinerant People after being called for the assignment by Pope Benedict XVI in February 2011.
The 64-year-old bishop replaces Archbishop Francis Kallarakal, who has retired.
– times of india
Kolkata, November 25, 2016: Eleven people have been arrested on suspicion of duping single women into selling their newborn babies and trafficking the infants inside biscuit containers to an adoption centre to be sold on to childless couples, police said on Wednesday.
A senior official from Crime Investigation Department (CID) in the eastern state of West Bengal said the arrests began on Monday after police raided a private nursing home and found two babies hidden in cardboard boxes in a locked medical storeroom.
Those arrested included the owner, midwives and other staff at the nursing home in Baduria, 80 km (50 miles) from Kolkata.
Police have also arrested court clerks suspected of making fake documentation for the children and the head of a charity which ran the adoption centre.
"The inquiry is underway and more information will be revealed only after some more progress is made," Bharat Lal Meena, Deputy Inspector General for the CID in West Bengal, told the Thomson Reuters Foundation.
Staff at the nursing home and the charity were not immediately available for comment.
Police said initial investigations indicated that unmarried girls and women who visited the clinic for an abortion were persuaded by staff to give birth and sell their babies.
The police did not give a price, but local news reports said the mothers were given 300,000 rupees ($4,380) for a boy and 100,000 rupees ($1,460) for a girl.
Babies were also stolen from women who delivered at the clinic, but who were told by staff that their children were stillborn. Some were even shown the bodies of stillborn babies preserved by the clinic to dupe parents, police said.
The babies, mostly newborns, were then smuggled in cartons used to store biscuits, and taken by road to an adoption centre 25 km (15 miles) away in Machlandapur, where they were sold on to childless couples.
"It was a well organized syndicate, incorporating all kinds of helping hands needed for the smuggling network," said another CID official, who did not wish to be identified because he is not authorised to speak to reporters.
The CID officer said more arrests were likely in the coming days.
Reports of human trafficking in India increased by 25 percent in 2015 compared to the previous year, with more than 40 percent of cases involving children being bought, sold and exploited as modern day slaves, government crime data shows.
The National Crime Records Bureau (NCRB) said there were 6,877 cases related to human trafficking last year against 5,466 in 2014, with the highest number of cases reported in the northeast state of Assam, followed by West Bengal state.
South Asia, with India at its centre, is one of the fastest-growing regions for human trafficking in the world.
Gangs sell thousands of victims into bonded labour every year or hire them out to exploitative bosses. Many women and girls are sold into brothels.
India, alone is home to 40 percent of the world's estimated 45.8 million slaves, according to a 2016 global slavery index published by the Australia-based Walk Free Foundation.
– thomson reuters foundation
New Delhi, November 26, 2016: Former Indian Prime Minister Manmohan Singh has slammed the economic measures of current prime minister Narendra Modi, who recalled 500 and 1000 rupees banknotes, terming it a "monumental failure of management".
In a rare public statement since losing the elections two years ago, Singh said that "the initiative can weaken and erode the trust of our people in the monetary and banking system ". Then he ruled: "It is legalized theft".
A Catholic AsiaNews source reports the tribulations of the Indian population, especially the poor and middle class, which for more than two weeks find themselves fighting every day in long queues at the counters of banks, without any money to buy food.
The decision to withdraw the most counterfeited banknotes has thrown millions of people to poverty and is likely to lead the country to revolt. At the beginning, the source continues, everyone "was excited, really everyone expected that the prime minister would eliminate the forgery market".
But then with every passing day everything crashed "due to largescale disorganization. For example, the day before yesterday [24 November] was the last day that some businesses, such as gas stations, were able to accept the old rupees. Now it is no longer possible, and every day new rules are imposed ".
The increase in tension, with numerous episodes of violence have so far resulted in 70 deaths.  It has also resulted in the "proliferation of video caricatures of protagonists, first of all the 63 big businessmen friends of the premier aided by the banks. There are cartoons of them intent on eating money. "
The irony of the social network however, cannot resolve the very real social concerns and accusations against Prime Minister Modi. "For days – the source continues- the parties have been waiting for him in Parliament but he hasn't shown up for the sessions. Modi is accused of wanting to change the country in a short time, but he realized that India was not ready. He wanted to turn us into a 'cashless economy' like America, ie economy based on credit cards. But this is not possible here. " Yet, the source concludes, "Modi was not rich, he comes from a family of humble origins and knows how the majority of the population live. Now everyone says that he has forgotten to live like ordinary people. "
Another accusation leveled at the prime minister, is to have underestimated how "it works India: many bankers have been suspended because they were caught stealing money. For example, out of a total of 10 million rupees given to banks to replace the old money, executives will pocket half. Modi wanted to close the door to counterfeiting, but did not understand the Indian mindset, which always finds new solutions to a closing a door, by opening another 100 gates ".
The source does not hide concerns for the next days. The leaders of 13 opposition parties have called upon the Indian people to hold a "day of rage" for next Monday [28 November]. "We do not exclude – he concludes – the possibility of violent demonstrations. Unfortunately, we have already seen them. Then Modi's attitude is  worsening the situation, branding those who protest as 'unpatriotic".
– asianews
Indonesia, November 26, 2016: Mounting street protests against the governor here are reviving painful memories for many of Indonesia's ethnic Chinese minority, a group that has long faced discrimination and persecution across much of Southeast Asia.
Less than two decades after hundreds of people died in racially charged rioting, the resurgent tension has left some ethnic Chinese—most of whom are Christian or Buddhist—wondering about their place in a society where hard-line Islamists are becoming increasingly organized and influential.
The consequences could affect everything from the investment climate to the more-inclusive culture and democracy that emerged after dictator Suharto's bloody downfall in 1998.
"I think it is never-ending, the discrimination," said Himawan Tjandra Kusnadi, a 46-year-old shopkeeper in Jakarta's Chinatown, a dense commercial area hit hard during that wave of violence. "We the Chinese are always afraid of riots because we are usually the victims."
The latest flashpoint revolves around Gov. Basuki Tjahaja Purnama, the most prominent ethnic Chinese politician, and a Christian, in the world's largest Muslim-majority country.
Crowds as large as 200,000 took to the streets in recent weeks to demand his prosecution—or worse—for alleged blasphemous comments made to supporters in September.
He has apologized for his comments but a police investigation last week named him as a suspect, and the case is expected to go to court in the coming weeks—potentially undermining his chances for re-election in February.
Ethnic Chinese make up less than 2% of Indonesia's population of 250 million, according to the 2010 census. Many descended from waves of 19th-century immigrants who came to work in the mines or on plantations. Others were traders or merchants.
Under Dutch colonial rule, they were treated differently from native populations. Over time, their economic muscle grew, stoking resentment. They often became political scapegoats, leading to racially charged clashes.
Today, many of the wealthiest Indonesians are ethnic Chinese. Some helped build their fortunes through close ties to Suharto. Most, though, are middle class or below.
They mix in Jakarta's Chinatown, or Glodok, where many buildings that were ransacked in 1998 remain shut up and apparently abandoned. Traders hawk electronics from small shops in narrow streets around a mall undergoing renovation. Further north, gated communities abut slums dotted with Chinese temples.
The governor, popularly known by his Chinese nickname Ahok, lives in a predominantly ethnic Chinese, gated community nearby. Some shops a few streets away were vandalized after the biggest march against him, on Nov. 4.
He was questioned again by police on Tuesday as they prepare a file for prosecutors. He faces up to five years in prison if convicted.
At risk is more than his political future, according to some Indonesia analysts. They fear the impact on the moderate, inclusive Indonesia that emerged after the fall of Suharto. In the transition to democracy, Chinese-Indonesians for the first time in decades were able to use their traditional names instead of Indonesian ones, speak their own language in schools and celebrate Chinese holidays.
"It seems to be a fundamental degradation of Indonesia's really good track record since 1999," said Doug Ramage, a Jakarta-based analyst with Bower Group Asia.
"It isn't just an attack on Ahok, but an attack on the secular constitution," said Christianto Wibisono, a Chinese-Indonesian economist.
President Joko Widodo, whose election in 2014 cleared the way for his then-deputy, Mr. Purnama, to become governor, has been meeting with political, security and religious leaders in an effort to control the situation.
His spokesman, Johan Budi, said the president has been emphasizing national unity and mutual respect for the country's ethnic and religious diversity.
"The president has stated that the security condition is stable and all citizens have no need to worry regarding their safety, including Chinese-Indonesians," he told The Wall Street Journal on Friday.
Three days earlier, Mr. Widodo sought to reassure investors about Indonesia's business climate.
"The political situation has been a little heated recently, but this is very normal around elections," he said in a speech. "There is no reason to be pessimistic."
Police as well as mainstream Muslim leaders have urged hard-line Islamist groups to call off another rally planned for Dec. 2 and respect the legal process.
Some ethnic Chinese say that, as a precaution, they have scheduled trips out of town or even out of the country to avoid the planned protests.
Alexander Ferry, a board member of the Jakarta branch of the Chinese-Indonesian Association, said community leaders have sent around a security circular in neighborhoods that could be targeted. He also said he has heard more reports of verbal abuse against ethnic Chinese over the past month, particularly through social media.
Adityo Yogiswara, a 25-year-old financial consultant and third-generation Chinese Indonesian, is Muslim himself. He says he doesn't fear being attacked, but worries the country could be taking a step back.
"Where the country is going is being decided," he said. "Whether we can be more like an open-minded country or not."
– wsj
Iraq, November 26, 2016: Iraq's foreign minister has said Islamic State is using civilians as human shields in the northern city of Mosul, which has slowed down forces in driving the terrorists out of their last major stronghold in that country.
Foreign Minister Ibrahim al-Jaafari said this week that 1,700 Islamic State fighters have been killed and 120 captured in the battle for Mosul, which began about one and half months ago, according to Al Arabiya.
About one third of the Nineveh province, whose capital is Mosul, has been liberated from Islamic State, a Sunni group that is also known as IS, ISIS, ISIL or Daesh, he added.
Around 62,000 residents have been able to flee the city. The number is far lower than expected, as 200,000 could have done so, according to reports. Those who remain the battle areas are now facing both danger and deprivation, according to Asharq Al-Awsat.
About the delay in recapturing the city, Maan al-Saadi, a commander with Iraq's elite Counter-Terrorism Service, was quoted as saying, "They are using car bombs, suicide bombers and civilians as human shields — this makes it difficult for us."
Iraqi military officials are now wondering if their initial strategy, which asked residents to stay in their homes and rise up against IS, was right, according to The New York Times, which said, "There has been no uprising, and civilians are dying at home, all of which is fueling concern that the campaign could become a quagmire."
In the battle for Mosul, about 100,000 U.S.-backed government and Kurdish forces are closing in on up to 6,000 IS fighters.
The ongoing fighting has made the jihadists nervous.
ISIS leader al-Baghdadi "has become intemperate," Reuters reported recently, based on text messages written by an informant inside the city.
"He has cut down on his movements and neglects his appearance," a message read. "He lives underground and has tunnels that stretch to different areas. He doesn't sleep without his suicide bomber vest so he can set it off if he's captured."
Baghdadi, who declared himself the caliph of portions of territories of Iraq and Syria about two years ago, has also become suspicious of people close to him, as defectors or informants are being regularly executed. "Sometimes he used to joke around," said another text message. "But now he no longer does."
The terror group uses brutal methods to torture and punish those who it considers to be its enemies, including Muslims who do not believe in its version of Islam. Christians and other minorities are among its main targets.
– christian post
How many words does it take to change your life? For most of us, it depends on which words we may be waiting for. "Marry me!" "I forgive you." "You have talent, kid." "The test results look good." One thing is for sure: Words have power to shape our destiny. The right word—one of life, love, or hope—can make all the difference.
In fewer than a dozen words one Sunday morning, my life was jarred awake. "You duped me, O Lord, and I let myself be duped." How strange it was to be entranced by something happening in church, of all places! As a teenager, sitting still for an hour was next to martyrdom.
Duped. Could you say that to God? Could you talk to God as frankly as that, in a tone that was nowhere near as reverent sounding as the prayers I was used to? For the first time in my life. "Duped" is what it said. What he said — the prophet Jeremiah. I copied the whole thing down on the back of my notebook, and for the next few weeks I sat in school and stared at the prophet's words until they were branded into my memory.
"But then it becomes like fire burning in my heart,/imprisoned in my bones;/I grow weary holding it in, /I cannot endure it." Jeremiah was talking about the gift of prophecy and how it affected him. If he didn't shout out God's word when it came to him, it gave him something like spiritual heartburn.
The whole passage from Jeremiah 20:7-9, became the first words from the Bible to claim me. They would not be the last. Because as a teenager, I already knew what withholding the truth could cost me. Not being true to myself felt every bit as bad as Jeremiah described it. I know now that Jeremiah first received his call to be a prophet when he was a teenager himself. He complains to God that he's "too young" to be drummed into divine service; in ancient Israel, you "counted" as an adult male at 20. The fierce passions of youth seep and seethe through Jeremiah's prophecies and into his prayers. And if he verged on being rude occasionally, well, that goes with the territory of being young.
Of course, when I had my epiphany of identification with Jeremiah's melodramatic outburst, I didn't know anything about him. Like most figures in the Bible, I knew the name and could place which Testament he appeared in, and that was about it.
But Jeremiah became my port of entry into wanting to know more. Still, if someone had used those two deadly words, "Bible study," to describe my interest, I would have gone screaming into the night from the notion. What is it those words convey that sounds so horrible? "Study" evokes memories of school, hard work, and misery to no purpose.
No one mistakes the multivitamin for the full pleasure and experience of a meal. To consume more than the basic nutrients of Scripture, we must engage these stories more personally and completely. Not because we have to, but because we're missing something wonderfully good if we don't.
I confess I'm a Bible junkie. I first tackled it cover-to-cover when I was 22. (They always tell you this is a bad approach, but I tend to be a kamikaze when I get it into my head to do something.) Afterward, I studied Scripture formally in theology school. Then it became my profession for the last 20 years as a religious educator and writer. All of this has made me acutely aware that most people think it must be just about the most boring thing you could do with your life, reading the Bible over and over again. When I tell people what I do for a living, their eyes glaze over — or worse, they become terrified that I might start talking about it. Horrors!
Admitting you're a Bible teacher is a great way to get strangers to stop talking to you on an airplane. But when I actually want to start such a conversation, I find I have to move in slowly, circling the subject of Scripture warily even when I'm addressing a church group. The scholar-to-scholar conversation can be all but incomprehensible, even to someone as invested in the subject as I am. But the devotional material can be soft, sentimental, and misleading in its use of a passage. My mission as a Bible teacher has therefore morphed into serving as a sort of universal translator between these two camps. I pledge to muddle through the scholarship so normal people don't have to. Then I look for simpler, more accessible ways to communicate the best of scholarly insights and to knit them to how you and I live and make choices.
Like I said at the beginning, I believe that words have power. And God's word above all has the power to create, heal, transform, and save. Just read the first story in Genesis: God brings a whole world into being on the power of words alone. "Let there be this, that, and the other," God says — and reality takes shape, one creature at a time. But when reality gets into trouble because of the sadness of sin, God speaks into the world once more, this time as a Word-Made-Flesh to liberate us. It's no accident either that the Church is born at the magnificent language feast of Pentecost, in which the Apostles are given words that everyone can understand no matter what tongue they speak, healing the pain of human division. Words have this kind of reconciling power because the word comes from God and unites us with God from the first hour. Can we still doubt that "God's word is alive," as the Letter to the Hebrews tells us, or that spending more time with the source of that divine word will bring us to better, fuller life?
As I speak to church groups around the country about the power of words to define and shape our lives, participants volunteer their own stories of how the right word at the right time saved them. As we share these stories, folks become aware of how words can be "sacramental"— that is, how they are the agents of grace and transformation. If mere human words and stories can rock our world at times — think how a novel or movie can touch your heart or make you see things from a whole new perspective!— how much more can the ancient stories of the Bible told and retold for thousands of years affect us? This is why the Church is the guardian of these stories and why we tell them regularly, seasonally, and cyclically throughout the Church year. The more we hear these stories, the deeper we can pierce the layers of their meaning. In each new season of our lives, too, the stories that have the most significance for us may not be the same ones. Just as we can never enter the same river twice, we hear a new story each time because we ourselves are not the same.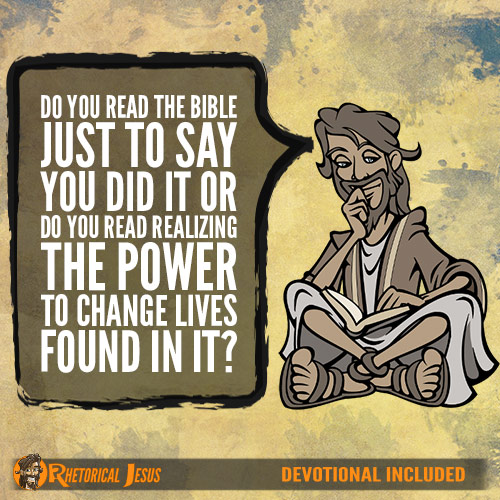 So while I first awakened to the power of Scripture through the young Jeremiah's earnest, honest words, these days I am energized more by hoary-headed Isaiah and his prophecies. I'm a little on the hoary side myself now, and so I have a greater appreciation for the guy whose prophetic career lasted the longest: through 40 years and four kingly reigns. Also, while I originally found myself magnetically drawn to Luke's Gospel for its strong words about social justice and its generous inclusion of women, I presently find Mark's breathless urgency more compelling.
Urgency made sense in Mark's generation; he was the first to write down the "Good News," and by doing so, he literally invented the Gospel format that others would imitate, moderate, and expand.
When folks are just wading into the Bible, I ask them to make lists of their favorite Bible stories; the top five Scripture personalities they'd most like to invite to dinner; the three they'd want to befriend for life. Jot those answers down on a bookmark and keep them in your Bible for just a year as you read along. I bet you'll discover that your lists evolve, as your relationship to this living word grows in warmth and depth. When's the best time to begin reading the Bible? To borrow one of Scripture's favorite words, now. Far from being merely a story about long ago, the word of God is always on the brink of doing something new.
– catholic digest
Chennai, November 25, 2016: The National Company Law Tribunal has removed all the directors and office bearers managing the country's largest protestant group – The Church of South India -and installed retired judge K Sampath in an interim order dismantling the power structure in a church administration ridden with alleged charges of misappropriation.
The church is already working to contest the order. Further proceedings in the case begin early next month. The Church of South India Trust Association, a Chennai-headquartered charity organisation registered as a Section 25 company, runs schools, hospitals and earns predominantly through rental income from lands left behind by Anglican philanthropists. It has been facing charges of alleged fraud and misappropriation of funds for about a decade now. The trust, garnering total revenue of nearly Rs 1,300 crore every year, runs 23 dioceses across 16,000 villages and claims a membership of well over 4 million people.
The Ministry of Corporate Affairs had in October engaged the Serious Fraud Investigation Office to probe into alleged balance-sheet irregularities.
Economic Times had first reported about the SFIO beginning its probe in July 2016. Even as the investigation picked up pace, a company petition was filed by church member John S Durai, seeking to remove all the directors of the trust. The petition claimed their election by the church governing council, the Synod, had made rule violations. A counter was filed by church member John S Durai, seeking to remove all the directors of the trust. The petition claimed their election by the church governing council, the Synod, had made rule violations. A counter was filed by the church challenging the grounds made in the company application some time back.
In a revised order two days back accessed by ET, Mohd Sharief Tariq, Member-Judicial at the corporate court, said: "Since the company petition is held maintainable in the given circumstances, there is an urgent need to regulate the affairs of the R1 company (Church of South India Trust Association). Thus I proceed to remove all the directors and managing committee including office bearers…"
The court has appointed retired Madras High Court judge K Sampath as chairman, who will recommend to the court on directors and office bearers.
"The erstwhile management committee is directed to hand over all the documents and books of accounts and other records of the R1 company to the Registry of this bench is a sealed cover within a week from the date of pronouncement of this order…" read the order.
The court said the other administrative members recommended by the chairman should "neither be chosen from the group of petitioner nor from the respondents."
Rev Dyvasirvadham, the moderator of the Synod, which is the administrative body of the church, said the structure of a 70-year-old institution has been disrupted unilaterally. He said the church had been serving in thousands of rural parishes, making accounting a serious difficulty in the absence of a solid reporting mechanism.He told Economic Times: "We respect the law of the land. But we are a democratically elected body. We will contest this order."
A similar litigation has reached the Madras HC. Church members from the Coimbatore diocese have obtained a stay on council elections on grounds that a poll slated mid-November should not be conducted when the serious fraud office is probing a financial scam.The final verdict on the case is expected soon.
– matters india