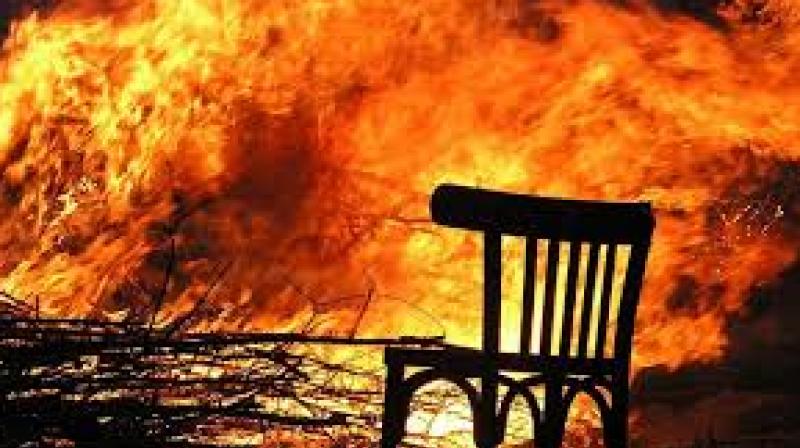 Pakistan, January 29, 2017: An anti-terrorism court in Pakistan has acquitted for lack of evidence 115 suspects accused of torching more than 100 houses of Christians at Joseph Colony in the city following an alleged blasphemy incident in 2013.
Judge Chaudhry Muhammad Azam yesterday accepted the arguments of defence and ordered acquittal of the suspects, observing that evidence presented by prosecution against the suspects was "insufficient" to convict them.
On March 8, 2013, thousands of protesters armed with sticks, clubs and stones ransacked Joseph Colony and set over 125 residential properties, shops as well as some motorcycles and rickshaws and a church on fire after a word was spread in the locality that a Christan had committed blasphemy.
A clash between police and the arsonists had also left a number of people injured but no casualty was reported.
During yesterday's hearing, defence lawyer Ghulam Murtaza argued that the prosecution had failed to provide a "single evidence" to establish the charges against his clients.
He said the prosecution had lingered the case for more than three years but could not come up with any solid evidence against the suspects. He requested the court to acquit the suspects because of want for proof.
A prosecution lawyer argued the evidence provided by the prosecution team is enough to convict the suspects.
"This incident not only spread a wave of terrorism in Lahore but also brought a bad to name to Pakistan," he said.
The judge, however, termed the evidence "insufficient" and acquitted all the suspects.
Hundreds of Christians were displaced following the incident. Initially police had booked more than 1,000 Muslims, 80 of them were nominated. Later, it arrested 115 suspects who were acquitted yesterday.
Police had also arrested a Christian, who was accused of blasphemy. A trial court had tried him under blasphemy charges and sentenced him to death in 2014.
Imran Shahid had accused Sawan Masih of making blasphemous remarks.
However, Dilawar Masih, who lost his house and shop in the attack, said, "Both Imran and Sawan are close friends and the former has made the allegation only to settle a personal score because they had quarrelled over some petty matter."
– india
You want your kids to fulfill every bit of their unique purpose in life. When you first hold your newborn, the future and its possibilities flash through your mind. Will she be a doctor? Will he be a lawyer? I want her to do well. I hope he is like his dad.
As your children grow, you are able to direct their dreams for a while. Life is good. Then something happens. All of a sudden, seemingly overnight, everything changes. The once amiable child is now a teenager and is no longer following your road map! He seems to have developed his own direction, forsaking what you had imagined for him. How did this happen?
As kids mature in the teen years, they begin searching on their own for meaning in life, a purpose for living, something that makes their life worth living. And that may not at all match what Mommy and Daddy thought it should be.
Why Am I Here?
One of the most important life questions your teen will begin asking and wrestling with is, "Why am I here?" or "What's my purpose on this Earth?"  Without a purpose, life becomes motion without meaning; trivial, petty, pointless, and founded upon whatever the culture offers up as the latest "must have" material thing or "must do" activity.
"The man without a purpose is like a ship without a rudder—a waif, a nothing, a no man." -Thomas Carlyle
Pastor Rick Warren calls this pursuit for meaning the drive for purpose. In his blockbuster book "The Purpose-Driven Life," Warren offers the answer; "You were made for a mission. You aren't here just to wander around lost. And you aren't here simply to live for yourself."
I grew up in a time and home where people believed that God had a plan for each of our lives. I was taught that each person is as unique as the fingerprints stamped on their digits, and that God wanted a personal relationship with me.  I learned that I was uniquely created, fearfully and wonderfully made, and that Christ died for "me." I was told that I was precious in God's sight.
So, why are kids so lost today? Are parents no longer passing on these same values to their children? I am convinced that if more kids knew their purpose, they'd have fewer struggles in the teen years. They'd feel a sense of meaning; they'd know where they are headed and concentrate on getting there.
When I look back at my own life, my work, and my happiness about fulfilling God's purpose for my life, I get excited all over again. It all started from a point in my life when I felt hopeless, lost, and not knowing where to turn. At that point I started asking questions about my own purpose in life, and I started listening to the answers God was giving me.
Showing Your Teen How to Find Their Life Purpose
"Between this day and the next you will give your life to something. The decision on what that will be will shape your destiny." -Rick Warren
A good place to begin the search for purpose is to understand that purpose is woven into every strand of the fabric of our lives. It has to do with God-given talents, the experiences in our life, and those things which give a person "goose bumps" or a tear to their eye when they think about them. Moreover, purpose has to do with using those talents to serve God and others, not one's self.
So, has your teen ever taken stock of their talents and gifts? Are they a great talker, or a great listener? Are they skilled at building things, or are they good with people? Is their talent more cerebral or more physical? I suggest they make a list of the things and activities that interest them and those in which they excel. There are a number of places on the Web that they can take online Spiritual Gifts Tests. They can also ask themselves, "What's the one thing that I do better than others?" This can clue them in to their God-given purpose.
The gifts God gives us need to be tested in fertile soil, so it's important for a teen to get a wide variety of experiences.  As they do so, certain talents will sprout and blossom, others will wilt and die. Through these new experiences, God will reveal more about who they are and how God has called them to serve Him and others. One experience can literally change their life.
Unlike the Field of Dreams premise "If you build it they will come," teenagers shouldn't get stuck on developing just one purpose, even if for the moment they are convinced it is their true purpose in life.  It is far better that they continue to experience new things. So, a better plan for finding life purpose is, "As they experience it, it will come to them."  And keep in mind that they may have difficulty finding their purpose in the classroom or from books. So a parent should provide plenty of "field experiences" for their teenager.
Take a Simple Life Purpose Exercise
For teens (or parents) who have already had many experiences in life, and are still confused about their purpose, here's a good exercise. Take out a blank sheet of paper and write at the top, "What is My Life Purpose?" Then, have them begin writing answers. They should write any answer that pops into their head. It could be a word or two, or a sentence. Repeat until they write the answer that makes them cry – obviously not a sad cry, but a joyful one. Yup, if it makes a tear come to their eye, then it's a sure bet that this is their purpose, or at least associated with their purpose. They should do it in private and without any accompanying music or other distractions. It may take 100 or even 200 lines of potential "purposes" to hit the one that makes a tear come to their eye, but encourage them to keep at it until they do.
Helen Keller said it best, "Many people have a wrong idea of what constitutes true happiness. It is not attained through self-gratification, but through fidelity to a worthy purpose."
When God begins revealing their purpose, remind your teen that it may not be reached tomorrow, next month or even in logical steps. Instead, they may need to take some initial steps to get there and there may be detours along the way. But knowing the destination will help them build strength and courage to get there – often much more than we might expect they'll have.
It's a Lifelong Journey
Finding purpose is a lifelong journey. God doesn't give all the details at once, nor does He promise it will be a smooth ride. Instead, He often provides just enough information to help us move another mile down the road. It helps us to trust Him as our Navigator. As you progress along the road of your life's purpose, pay attention to the road signs He provides along the way and listen to Him speak to you.
"The purpose of life is a life of purpose." -Robert Byrne
Nothing matters more than your teen knowing God's purpose for their life, and nothing can compensate for not knowing it. Knowing their purpose gives meaning to their life and each step along the way. It motivates them to prepare for their purpose, to save themselves for that purpose, and to avoid anything that might get in the way. Knowing their purpose simplifies their life and removes confusion.
On the other hand, without a clear purpose, they have no foundation on which to base decisions, allocate their time, and use their resources. Without a clear purpose, they'll keep changing directions, jobs, relationships, churches, or other externals—hoping each change will settle the confusion or fill the emptiness in their heart.
The Comfort of Knowing God's Purpose
Isn't it comforting to know that God has a bigger purpose for each of us? If you believe it, then step in front of a mirror and look for areas in your own life that need to grow. Perhaps you're not following your own heart in finding God's purpose in your life.  Aim this year to make some changes – with God's help.
"A life devoted to things is a dead life, a stump; a God-shaped life is a flourishing tree." -Proverbs 11:28(The Message)
As for me, I stand on His promises, I'm assured of His presence, I love His involvement, and I know beyond a shadow of a doubt that I am living in the center of His purpose for my life.
"What's my purpose?" is probably the most important and empowering question you or your teenager will ever ask in this lifetime. So help them uncover their talents, their strengths, their values, their passion. Help them experience new things and develop a plan – any plan, even if it is just a first step. Find ways for them to live life with intent. This New Year is a great time to help your teen – and maybe even you – begin a quest for purpose.
– cross walk
Egypt, January 26, 2017: Youssef Lamei, a 45-year-old Christian, was sitting outside his shop in Alexandria in the early hours of 3 January when a man crept up behind him and slit his throat whilst reportedly shouting "Allahu Akbar" [God is great]. The murder was recorded on CCTV. A suspect, 48-year-old Adel Suleiman, has been arrested. Youssef Lamei had run the shop, which sold alcohol amongst other things, for 40 years.
According to reports, Adel Suleiman said to investigators, "I told him several times not to sell the alcohol but he did not listen to me." Alcohol is forbidden to Muslims, according to sharia law. The national security department of Egypt confirmed that the murder was religiously motivated, saying, "The accused was not prompted by any political or criminal motives but had embraced takfiri thinking four years ago."
Takfir is an Islamic term for the act of declaring a person to be a non-Muslim, or unbeliever (kafir), thus making them a legitimate target of jihad i.e. making it permissible to kill them. It is used by Islamist groups to sanction violence, most often against other Muslims whom they consider insufficiently devout. Normally Christians are protected from violence under sharia law on condition they submit to a raft of humiliating dhimmi rules and restrictions. Adel Suleiman may have considered that selling alcohol broke these rules.
A few days later, on 6 January, when Christmas is celebrated in Egypt, Christian couple Gamal Sami, 60, and wife Nadia, 48, were found stabbed to death in their bed in the village of Tukh Dalakah, in the northern governorate of Monufia. According to police, two men known only as Mohammad M and Abd al-Aziz Q are being sought for the double murder. It is believed they did not know their victims. Nothing was stolen during the attack.
In the third attack, on 13 January, Christian surgeon Dr. Bassam Safouat Zaki was found dead in his home, also with stab wounds. He lived in Assuit, some 230 miles south of Cairo.
The vulnerability of Christians in Egypt was sharply brought home last year with a number of attacks on churches and individuals, including the suicide attack at a church service in Cairo in December that killed 27. The New Year has barely begun and already these three unprovoked attacks have taken place.
– barnabas persecution update
Indonesia, January 25, 2017: Catholics and Protestants need to unite if Christians are to resist a rise in intolerance and radicalism in Indonesia, church leaders have said.
Growing incidents of hate speech and opposition to the building of places of worship by Muslim hardliners as well as the blasphemy case against Jakarta's Christian governor Basuki Tjahaja Purnama have alarmed minority groups, including Christians.
Many believe the governor, popularly known as Ahok, is being targeted by hardliners because they don't want a Christian running the Muslim majority nation's capital.
To fight intolerance Catholics and Protestants must heal wounds caused by the split in Christianity hundreds of years ago, which is still affecting Christian ties worldwide, including Indonesia, according to Reverend Markus Priyono of the Bethel Tabernacle.
"Reconciliation is needed to heal these wounds," he told more than 700 Christians at a gathering organized by Semarang Catholic Archdiocese and the Union of Christian Churches to mark the Week of Prayer of Christian Unity, which ended on Jan. 25.
The Protestant pastor encouraged Christians to build mutual trust and respect for each other's uniqueness.
Echoing his views, Father Aloysius Budi Purnomo, head of Semarang Archdiocese's Interfaith Commission, said reconciliation among Christians is necessary before reaching out to people of other religions, as it will make a bigger impact.
"The ultimate goal is to strengthen ties [with Muslims]," he said.
Reverend Sediyoko of the Java Christian Church played down fears of Muslim radicalism.
He said if Christians unite they will be able to see that radicalism is not a threat to Christianity, but is God's instrument to strengthen bonds among Christians.
"Radicalism can be a medium of introspection for Christians," he said which we should counter not with violence but with love.
Christians comprise 6.3 percent or about 23 million of Indonesia's population of 238 million, according to a 2010 census, of which Protestants number 16.5 million and Catholics 6.9 million.
– ucan
New Delhi, January 27, 2017: Some 12,000 Indian Christians experienced persecution in 2016 including murder, detention, assault, rape and harassment but the pro-Hindu federal government ignores the problem, says a new report.
The "Indian Christian Persecution 2016" report, released by the Mumbai-based Catholic Secular Forum, claimed that 10 people were killed and over 500 members of the clergy or community leaders were attacked for their faith in 2016. In other forms of persecution, 394 Christians were detained or arrested, 145 were beaten assaulted or manhandled and 34 nuns and Christian women were raped, molested or beaten.
Chhattisgarh state in central India was the scene of the worst persecution. A Catholic nun was raped in the state capital, Raipur in June 2016 and two Christians were murdered.
The state has long been ruled by the pro-Hindu, Bharatiya Janata Party (BJP) which also came to power to form the federal government in 2014. Pro-Hindu groups took the BJP victory as a mandate to step up their campaign to create a Hindu-only India, which resulted in increasing incidents of violence against Christians, said Catholic Secular Forum secretary Joseph Dias.
"The concern is not about the BJP's political gain but its silence. The BJP government has been silent on various fringe elements and right-wing forces acting against Christians," Dias said.
"The Christian community is not only negligible in terms of numbers but has no political clout; the majority are economically and socially poor too," he said.
Dias, who has been publishing the annual report for the past seven years, said the situation was worsening. "There is no hope for justice and no deterrent to control the fringe elements," he said.
Although India has some 27 million Christians they live dispersed among a vast nation of 1.2 billion people, forming just 2.3 percent of the population. In most northern states, they number less than a hundred people.
Published studies show some 70 percent of Indian Christians come from tribal, Dalit and other disadvantaged groups.
The conversion bogey
Most attacks on priests and community leaders have occurred due to accusations of attempting to convert Hindus to Christianity. Currently, Orissa, Madhya Pradesh, Gujarat, Chhattisgarh and Himachal Pradesh states have laws that criminalizes religious conversions.
Top Hindu leaders publicly accused Christians, including St. Mother Teresa of Calcutta, of working to convert Hindus, which they said destroys Hindu culture and destabilizes society.
On June 18, 2016, BJP parliamentarian Yogi Adityanath accused Mother Teresa of trying to "Christianize India" and called her social work a cover for proselytism. His views were supported by fellow BJP parliamentarian Subramanian Swamy who said their opinion was not "isolated."
Mohan Bhagwat, the chief of Rashtriya Swayamsevak Sangh, an umbrella organization of Hindu groups wanting to make India a Hindu theocracy, also accused Mother Teresa of working to convert people to Christianity.
Dias said the government's silence and apathy to restrain such hate speech encourages fringe elements to continue with anti-Christian attitudes and actions.
The social poverty of Christians
The report also highlighted the unemployment rate among Christians which was one of the highest in the country, according to the National Sample Survey Organization.
In February 2016, the official survey said that the unemployment rate among Christians was 4.5 percent in villages and 5.9 percent in cities, higher than in other communities.
The report also objected to the government's move to bring in a Uniform Civil Code to replace the religion-based personal codes that govern matters such as marriage and inheritance. The move violates constitutional rights "to freedom of religion" it said.
Overall, the government gives the "impression that the BJP would like to control minorities and their property or institutions by weakening the authority of [their] religious leadership," the report said.
The situation of religious minorities, especially the Christian community, has also been an issue of concern at the global level.
The U.S. Commission for International Religious Freedom has retained India among Tier-2 Countries on religious freedom since 2009. The country has risen to 15th on the World Watch List, up from number 31 four years ago.
The watchdog estimated that a church was burnt down or a cleric beaten, on average, 10 times a week in India in 2016, a threefold increase on the previous year.
However, Dias also blamed the Indian church for not taking a strong stand against atrocities. "The church has to serve as a catalyst not only to bring all the Christian groups, rites and denominations together but also to promote inter-religious dialogue. It has failed on this front," Dias added.
– ucan
New Delhi, January 27, 2017: India and the United Arab Emirates have issued a strong warning to countries which support religion-inspired terrorism.
Their statement is thought to be a thinly-veiled attack on Pakistan.
A joint statement from the two governments described their "strong condemnation of and resolute opposition to terrorism in all its forms and manifestations, wherever committed and by whomever, and declared that there could be no justification for terrorism anywhere".
India and Pakistan have a long history of antagonism, while the UAE had five diplomats killed in Kandahar in Afghanistan earlier this month. Both countries are said to be very worried about the risk of attacks from Pakistani-inspired groups.
The statement from the two nations goes on to say: "The two sides condemn efforts, including by states, to use religion to justify, sustain and sponsor terrorism against other countries."
Indian state foreign minister Anwar Gargash said to journalists in Abu Dhabi: "There is a close relationship between extremism and terrorism. Not every extremist becomes a terrorist, but every terrorist is first an extremist."
Though the condemnation makes clear both countries are determined to fight radical Islamic terrorism such as that practised by ISIS, eyebrows may still be raised.
Since the election of President Narendra Modi, attacks against minority Christians and Muslims are reported to have risen. Meanwhile, Christian anti-persecution charity Open Doors says of the UAE that "religious and political freedom is severely restricted".
– christian today
New Delhi, January 20, 2017: Condemning head of RSS' communications department Manmohan Vaidya's call to abolish reservation, the Congress party on Friday said that BJP and RSS' "anti-Dalit position" stood exposed.
Congress also demanded an apology from Prime Minister Narendra Modi on this issue.
"BJP-RSS' anti-Dalit stands exposed once again with RSS' Prachar Parmukh, Manmohan Vaidya's call to abolish reservation. Congress strongly condemns such conspiratorial agenda against India's Dalits and poor to deny them the Constitutional guarantee of reservation," said Congress spokesperson Randeep Singh Surjewala.
"Such calls are regularly made by BJP-RSS leaders before the crucial elections to polarise the voters and garner votes on casteist lines," he added.
Surjewala recalling a similar a incident said: "Earlier also, BJP-RSS stood was exposed when RSS Sarsanghchalak Mohan Bhagwat called for review of reservation policy for backward classes and Scheduled Castes.
"Similiar was the statement made by former union minister of BJP C.P.Thakur and other leaders. Modi government has been surreptitiously following the RSS agenda through its actions and policies including systematic withdrawal of schemes for backward classes and by imposing budgetary cuts," he added.
"We call upon Prime Minister Narendra Modi to apologize and assure the nation that such conspiracies would be checked," said Surjewala.
Manmohan Vaidya, head of the RSS' communications department, sparked a row here on Friday, saying that no reservations should continue for a long time and that the reason behind the poor socio-economic status of the Muslims is because a vast majority of them belong to economically backward states.
– tcn
UK, January 26, 2017: The freedom to report both incidents of anti-Christian persecution and the ideology motivating such attacks is central to what Barnabas Fund and other organisations have done for many years. Yet those freedoms are now under threat, particularly in the UK, but also in other Western countries. This is a three-pronged attack.
First, although the press has been free from government regulation since 1694, there is now a serious possibility that the government will require all media outlets with multiple writers to sign up to a state sponsored press regulator. If they do not, in the event that they are sued, they will have to pay both their own and the complainant's legal costs, even if they win. In other words, they could be quickly bankrupted. To make matters worse, several senior figures of this new regulator, including its CEO, are reported to be strong supporters of a campaign to stop major brands advertising with the Daily Express and Daily Mail because of their alleged negative portrayal of religious minorities.
In fact, these two newspapers have repeatedly spoken out against Islamism and the persecution of Christians in Islamic countries – it was the Sunday Express front page, closely followed by the Daily Mail, that published the story Barnabas Fund first broke of archbishops from Syria and Iraq being denied UK visit visas to attend the consecration of the UK's first Syriac Orthodox cathedral.
The second threat (as Barnabas Fund reported last summer) comes from an agreement between the EU and Internet companies such as Facebook, Microsoft and Twitter to take down any internet posts within 24 hours if what were termed "civil society" groups claimed they constituted "hate speech". This effectively allowed lobby groups, including Islamists, to censor opinions they disagreed with by getting their members to mass report them. At the time the National Secular Society raised concerns that Facebook were censoring "atheist, secular and ex-Muslim content" after false "mass reporting" by "cyber Jihadists".
The third threat comes from hate crime legislation. In addition to investigating "hate crimes", which are criminal offences, police are also required to record "hate incidents". The Association of Chief Police Officers and the Crown Prosecution Service have told the police to investigate all "hate incidents" – stating that these are where any person claims that any action or words by anyone else were motivated by prejudice, even if they do not constitute a crime:
"A Hate Incident is any incident which the victim, or anyone else, thinks is based on someone's prejudice towards them because of their race, religion, sexual orientation, disability or because they are transgender."
In other words, it is an "opinion" reported to the police by anyone, however unconnected with the event, that some words or actions were allegedly motivated by prejudice, even though it was not a crime. Moreover, the person alleged to have said them cannot prevent the police logging it as a "hate incident". That is a blank cheque for Islamists to weaponise "hate speech" to censor any articles critical of Islam. Indeed, as we reported last week, Barnabas Fund recently told a government Select Committee that this misuse of hate speech laws potentially inhibits us from speaking about some of the main causes of anti-Christian persecution, including the treatment of Christians stipulated by sharia.
A fortnight ago, the irony of this bizarre situation came to light when it was revealed that police recorded a "hate incident" against Amber Rudd, the British Home Secretary, after someone complained about a speech she made at her party's annual conference in October. The person who complained later admitted that they had not even heard the speech, yet the police were still required to record it as a non-crime "hate incident".
– barnabas persecution update
"Above all, taking the shield of faith, wherewith ye shall be able to quench all the fiery darts of the wicked." Ephesians 6:16 (KJV)
God hasn't given us a weapon wherewith we can extinguish some of the enemy's darts–or even a majority of them. He gave us a shield that can extinguish all of them. He's given us the shield of faith.
And what is faith? According to The American Heritage Dictionary of the English Language, faith is "A confident belief in the truth, value, or trustworthiness of a person, idea, or thing."
Faith in the biblical sense is a confident belief in the trustworthiness of God and His Word. Far from a mere feeling we have to somehow muster up, it's a willful, deliberate choice to believe God and entrust each detail of our lives to Him. Note that faith is based on God and His Word–it's not a blind belief that whatever we want will happen, but rather a trust that He will lead, guide, and do all He says no matter what comes.
This month, as the darts of the wicked come at you, extinguish them with your shield of faith. No matter what form the attack takes, stop and entrust the situation to God, clinging to His Word and remembering that He is in charge. Let confidence in Him block the fear, anger, worry, and other darts thrown at you.
– christian perspective
U.S., January 26, 2017: A leading bishop expressed alarm and dismay on Wednesday following President Donald Trump's executive orders to increase immigrant detention centers and build a wall on the U.S.-Mexico border.
"Every day, my brother bishops and I witness the harmful effects of immigrant detention in our ministries. We experience the pain of severed families that struggle to maintain a semblance of normal family life. We see traumatized children in our schools and in our churches," said Bishop Joe Vasquez of Austin, Texas, chair of the U.S. bishops' Committee on Migration.
"The policies announced today will only further upend immigrant families."
President Trump issued multiple executive orders Wednesday on immigration.
He ordered a wall to be built on the U.S.-Mexico border. An estimated 650 miles of the 1,900 mile-long U.S.-Mexico border have a wall constructed currently.
"The purpose of this order is to direct executive departments and agencies to deploy all lawful means to secure the Nation's southern border, to prevent further illegal immigration into the United States, and to repatriate illegal aliens swiftly, consistently, and humanely," he said.
Saying that he is disheartened by Trump's decision to prioritize the wall, Bishop Vasquez added that it will "put immigrant lives needlessly in harm's way," could increase the risk of women and child migrants being trafficked, and "destabilizes the many vibrant and beautifully interconnected communities that live peacefully along the border."
Trump also ordered the construction of more immigrant detention facilities staffed with more lawyers and personnel to determine asylum claims, and said deportations and asylum hearings should be expedited.
The bishops have already spoken out about abuses of immigrants at detention centers, and Bishop Vasquez expressed "alarm" at Trump's proposals to build more detention centers and step up deportations.
"It will tear families apart and spark fear and panic in communities," he said.
"While we respect the right of the federal government to control our borders and ensure security for all Americans, we do not believe that a large scale escalation of immigrant detention and intensive increased use of enforcement in immigrant communities is the way to achieve those goals."
President Obama had previously set records for the number of deportations during his presidency, with over 2.5 million deportations of immigrants.
On Wednesday, Trump also called for "sanctuary cities" that harbor undocumented immigrants to be barred from federal funding.
"Aliens who illegally enter the United States without inspection or admission present a significant threat to national security and public safety," he stated.
"The recent surge of illegal immigration at the southern border with Mexico has placed a significant strain on Federal resources and overwhelmed agencies charged with border security and immigration enforcement, as well as the local communities into which many of the aliens are placed."
Responding to the announcement, Bishop Vasquez said, "We fear that the policies announced today will make it much more difficult for the vulnerable to access protection in our country."
"We will continue to support and stand in solidarity with immigrant families," he continued. "We remind our communities and our nation that these families have intrinsic value as children of God."
– cna