U.S., February 12, 2017: Pastor Greg Laurie of California's Harvest Fellowship Church spoke to his congregation about the importance of being prepared to answer difficult questions from nonbelievers. Pastor Jason Powell moderated a panel comprising of Pastor Laurie's son, Jonathan Laurie, and former Navy SEAL Chad Williams, who dealt with such questions.
In the beginning of his message Thursday night, Pastor Greg Laurie quoted 2 Timothy 2:15, "Be diligent to present yourself approved to God, a worker who does not need to be ashamed, rightly dividing the word of truth." And also 1 Peter 3:15, which reads, "But sanctify the Lord God in your hearts, and always be ready to give a defense to everyone who asks you a reason for the hope that is in you, with meekness and fear."
Apologetics, Laurie told the congregation, means giving a logical explanation. However, it's not all logic, as there's an element of faith involved in following Jesus, he cautioned.
We have to be "a witness, and not a prosecuting attorney," the pastor added.
When Pastor Powell, Pastor Jonathan and Williams were called to the stage to answer questions sent by church members, the first question posed was "why is there suffering and evil if God exists?"
Williams, who was last posted in Iraq and is author of SEAL of God, said we need to look at the flip side of the question. If evil exists, that's proof that there is God, he argued. If God doesn't exist, then no evil can happen, he explained.
"The reality is God doesn't want people to suffer," he said, adding that we should look at the price He was willing to pay at the cross.
Williams asked if we really want God to deal with evil, then "what if He starts with us?" God is being patient because of us, he explained, and continued that He will certainly judge one day in righteousness, as the Bible says.
Pastor Jonathan was asked if the Bible has changed over time.
Jonathan referred to the Dead Sea Scrolls, a collection of some 981 different manuscripts discovered between the 1940s and 2017 in 12 caves in the immediate vicinity of the Hellenistic-period Jewish settlement at Khirbet Qumran in the eastern Judaean Desert, the modern West Bank.
These manuscripts confirm that the Old Testament has been accurately preserved, he said.
Another question read, "Who made God?"
Pastor Powell briefly answered the question by saying it's a wrong question. He explained, it sounds like how much does the color orange weigh, or what does the music note "C" taste like?
God is from everlasting to everlasting, Pastor Jonathan added.
Another question read: "How can Christianity be true if there are so many religions?"
"I think that's how truth is by nature," Williams answered. Truth is not based on our own opinion or authority, but on the authority of Jesus, who says whoever is on the side of truth "listens to Me," he said.
If two plus two is four, it excludes all other possibilities, Williams added. "Jesus is the only way, and that's the truth."
"Was Jesus a real person?" asked another member. The Bible, a collection of 66 books, is the earliest source of history and includes eye witness accounts, all pointing to Jesus, Williams said.
Jonathan answered the following question: What does it mean when Jesus said "I and God are one?"
The Father, the Son and the Holy Spirit are one being, Jonathan explained. It's difficult for us to understand, but they are not "each other;" they are all unique, and have personalities of their own and yet they are one, he added.
– christian post
Israel, February 13, 2017: Nearly 20 months after Jewish extremists tried to burn down the Church of the Multiplication of the Loaves and Fishes in Tabgha on the Sea of Galilee, the site where Jesus Christ is believed to have fed the 5,000, the house of worship reopened on Sunday.
"We stand up for religious freedom because, as a people, we know very well what it means to suffer religious persecution," Israeli President Reuven Rivlin said in a statement, according to The Times of Israel.
"And we stand up for religious freedom because we are a democratic state — who believe in the rights for everyone to worship God according to their belief."
The restoration for the church, which was vandalized in a June 2015 fire, and cost almost $1 million to renovate, was honored by an interfaith meeting with Christian dignitaries.
"The last time I was here, we stood together and looked at the burned walls and the terrible graffiti," Rivlin added. "Today, I visit here again, and see the renewal of this historic, special, and holy place. I want to thank all the people who worked hard to restore this place, and to say clearly that hate cannot win."
Three Jewish extremists were indicted in the crime but have not yet been sentenced, according BBC News.
Israeli police said back in June 2015 that the attack was an act of religious and racial hatred. The Shin Bet security agency revealed that the men responsible follow an "extremist Jewish ideology" that believes "only someone who fights Christianity can call himself a Jew."
The arson stirred widespread condemnation in Israel, and also solidarity protests by non-Christian Israelis.
"This outrageous arson attack against the church is an attack on all of us," Israeli Prime Minister Netanyahu said at the time.
Matthew Gould, the British ambassador to Israel, further added that the arson was "a disgusting act of disrespect at one of Christianity's holiest sites."
The arsonists apparently filled up bottles with gasoline from a gas station in West Jerusalem on the night of June 17 before driving to the church where they poured gasoline on the doors and walls and lit the fuel.
They apparently spread gasoline on the door of the monks' living quarters, and poured a trail of gasoline to a yard outside, where they lit the fuel as well. The extremists also sprayed graffiti on the church walls, labeling it as a place of idol worship.
The fire caused serious damage to the bookshop and other buildings in the church complex, but it did not destroy the fifth century mosaic floors, which are its key archaeological feature.
– christian post
Pakistan, February 13, 2017: A new bill passed by the Pakistani Parliament earlier this week seeks to protect religious minorities, including Christians, from being killed in mob lynchings or endure forced conversions to Islam and forced marriages to Muslim husbands.
The bill, Criminal Laws (Amendment) Act 2016, is set to become law, pending presidential signature, Premier reported.
The amendments seek to increase maximum jail sentence for inciting sectarian violence, to outlaw mass lynchings, and to punish forced conversions and forced marriages of minor girls or women, something which Christians have suffered from for many years.
As Wilson Chowdhry, chairman of the British Pakistani Christian Association, told The Christian Post, however, there is skepticism that the new set of laws are not "simply lip service."
"There are already laws that could be implemented in cases of mob violence but they are rarely enacted, and when done so fail, due to frightened witnesses absenting themselves from court," he said.
Chowdhry pointed to the recent acquittal of all 115 suspects in the burning of more than 150 houses of Christians in 2013 over alleged blasphemy of the Islamic prophet Muhammad.
"It is the implementation of the laws that is the crux of the problem, with a lack of desire from police due to a rife bribery culture and animosity toward 'ritually impure' Christians," he added.
Some Christian groups have expressed hope that there will be positive change, however, such as Samuel Pyara, president of Bright Future Society.
"These measures were crucial to save our country," Pyara told Asia News. "Mob justice has become a part of people's mind-set. There was a great need to make it a punishable offense and we appreciate the government's action."
Sohail Ahmad Raza, director of the Interfaith Relations Minhaj ul Quran International, affirmed that the kidnappings and forced marriages of Christian and Hindu girls is clearly wrong.
"It is wrong morally, legally, socially as well as at a human level. Forced marriage is not allowed in Sharia law and results from illiteracy," Raza argued, adding, "Those who use mosque loudspeakers to incite hate and violence are simply insane and disturbed people."
Chowdhry told CP that some changes, such as the amendment to section 198 of the Pakistani Penal Code, do seem to provide more protections against Imams inciting hatred toward others, but again pointed out that existing laws already should have opposed violence.
"In my perception it is fear of taking on the religious leaders that is at the heart of the problem. This particular amendment might, however, force police and the courts to take action. But the sentencing and the fines seem too lenient with a maximum sentence of three years or a 500,000 rupee fine," he added.
As for the amendment to section 498B, which seeks to protect non-Muslims and children from forced marriages with harsher punishments, the BPCA chairman again did not believe it was enough to spark serious improvement.
"Considering the abuse of the existing laws I am reluctant to believe the changes will have much impact, due to prevalent immunity through systemic failures by the police and judiciary," he pointed out.
Chowdhry suggested that real action will have to be taken to improve the treatment of Christians and other minorities in Pakistan, beside passing or amending bills.
"Though small gains have been made, in reality I expect the situation faced by Christians and minorities in Pakistan to change very little after these amendments have been implemented," he said.
– christian post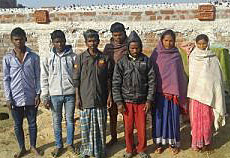 Jharkhand, February 10, 2017: A Christian man in India has died after he and his wife were forced to spend the night in a cold pond for refusing to deny Christ.
Bartu Urawn, 50, from Jharkhand state, survived the night, but has now died from illness which came on afterwards.
Other villagers in Kubuaa, Palamu disrtrict were upset that he had his wife had deserted their indigenous faith.
They were made to spend the 17 hours overnight in the pond as punishment with their hands tied, their son Beneswar Urawn told Morning Star News.
After Bartu emerged, he became ill and suffered two bouts of paralysis due to nerve damage.
Beneswar Urawn said: 'All throughout the night, they were in the cold water shivering, and I along with 15-20 villagers were witness to the brutality. The villagers kept asking my father if he is ready to forsake Christ and return to the Sarna fold. He reiterated every time, "I will not deny Christ … I will continue to believe till my last breath."'
Sarna means 'Religion of the Holy Woods' and involves animal sacrifice.
Urawn said his father was forced to eat some of the sacrificial meat and drink a fermented substance before his ordeal.
The son was also attacked and his drinking water polluted, it is alleged.
The family converted 10 years ago. The survivors fled to another village 21 miles away after the attack but have now returned to their homes.
Nine other families also converted 10 years ago, but seven families returned to their original faith under pressure from  other villagers.
India ranks at number 15 on the Open Doors' 2017 World Watch List of countries where Christians are most persecuted.
– morning star news
Arunachal Pradesh, February 13, 2017:: Junior minister for home affairs Kirren Rijiju has done it again and will get away with it, again. The noise he raised through a tweet about depleting Hindu population is a subject close to the heart of the RSS, the ruling BJP's ideological mentor and umbrella organisation of Hindu outfits in India.
Rijiju comes from Arunachal Pradesh and the RSS' concern has been about the growing influence of Christian missionaries in the northeast, whom it accuses of converting the tribal population to Christianity. A majority of RSS pracharaks are today deployed in the northeastern region, which shares boundaries with China besides Nepal and Bhutan.
Rijiju is making noises that the RSS and many in the BJP want to. As a junior minister, he gives a cushion to his seniors to maintain an arm's length from any serious controversy that his comments could trigger. The 45-year-old flamboyant minister and controversies go hand in hand.
The clean-shaven and glasses-wearing politician was in news recently for an alleged role in what is being claimed to be a Rs 450 crore scam in a hydropower project in his Arunchal Pradesh.
That did not come as surprise to many leaders in the BJP, who have seen him entering Parliament first in 2004 (then just 33), walk out of the party after losing the 2009 election, make a homecoming in 2012 and eventually getting a ministerial position after winning the 2014 Lok Sabha election.
He was full of energy, always wanting to indulge in politics of patronage to build a constituency for himself beyond the limits of his Lok Sabha boundaries.
He walked out in 2009 after realising that the BJP lacked organisation muscle in Arunchal to fulfill his chief ministerial ambition. He could not survive in the Congress either.
At the peak of negotiation with the BJP leadership in 2011, he had told the party to wake up to the "reality" of northeast politics and tune its strategy accordingly. The response from the BJP leadership was not encouraging, but Rijiju, then an advisor to chief minister Dorjee Khandu, was with few choices. He returned to the BJP.
Between 2004 and 2009 — his first stint as Lok Sabha MP — Rijiju caught eyeballs in the BJP and the RSS with his "nationalist" stand in the northeast. He was born in a village that came under Chinese occupation in the 1962 war.
The BJP had won both the Lok Sabha constituencies in Arunachal Pradesh in 2004, but Rijiju was far more flamboyant and extrovert than the other MP, Tapir Gao, to embrace Delhi. As an alumnus of Hansraj College in Delhi, he knew how to survive in the national capital.
Gao would often remain in the backdrop when Rijiju would address media on issues related to the northeast. "Gao was more committed to party and the ideology. But Rijiju was a smart politician," a BJP leader said.
He was a favourite of LK Advani, then leader of opposition, and Sushma Swaraj, but was never affiliated to any camp in the BJP. This helped him in 2014, too, when Modi decided to chose new faces to man ministries after a landslide victory.
Lady luck smiled on Rijiju as Gao lost the election. It would have been a difficult choice to choose between them for a ministerial job if both had won.
– hindustan times
Arunachal Pradesh, February 13, 2017: The Congress in Arunachal Pradesh has accused the ruling Bharatiya Janata Party (BJP) of pushing Hinduism, once again shinning the spotlight on conversions in the state that borders China.
The BJP came to power in Arunachal Pradesh – the second time in 12 years – in December after 33 of the 43 MLAs of the regional People's Party of Arunachal switched over.
State Congress general secretary Minkir Lollen said on Friday Prime Minister Narendra Modi's hidden agenda was to make Arunachal Pradesh a Hindu-majority state through ghar wapsi.
Ghar wapsi, the Hindi word for homecoming, is the name of a proselytizing campaign launched by some Hindu outfits to convert non-Hindus and "bringing them back into the fold of Hinduism".
"The indigenous tribes will be insisted upon to adopt Hindutva. The rich tradition and culture of the indigenous tribes of Arunachal Pradesh are at stake under BJP rule," he said.
The BJP hit back the next day, saying the Congress played a big role in changing the demography of the northeastern state.
"The Arunachal Pradesh Congress Committee has had a long history in being a catalyst for reducing the indigenous population, while BJP has always stood for policies that support preservation of indigenous practices, tradition and culture," state BJP chief Tapir Gao said.
War of faiths
The exchange has brought to fore the challenges faced by indigenous faiths such as Donyi-Polo and Rangfra primarily from Christian missionaries.
The followers of Donyi-Polo (Sun-Moon) belong to the Abotani group comprising tribes such as Apatani, Galo, Nyishi and Tagin.
Adherents of the Rangfra faith, a tribal variant of the Vaishnavism, are mainly the Tangsa tribal people.
The Vanavasi Kalyan Ashram, an affiliate of the Rashtriya Swayamsevak Sangh, the ideological parent of the BJP, has allegedly been promoting the indigenous faiths of Arunachal Pradesh.
But, many have converted to Christianity over the past three decades, allegedly because of costly and elaborate rituals. Census data say Arunachal Pradesh had no Christians in 1951. By 2001, Christians were the third largest religious group accounting for 18.7% of the state's population, behind Hindus (34.6%) and 'others', mostly Donyi-Polo (30.7%).
According to the 2011 census, Christianity is now the state's largest religion. Christians – bulk of them Roman Catholics – account for 30.26% of the state's 1.3 million people. Hindus were pushed to the second spot at 29.04%.
Though Arunachal Pradesh had 5.56% fewer Hindus in 2011 than in 2001, traditionalists were more worried by the 4.5% drop in the number of followers of Donyi-Polo and other indigenous faiths.
Arunachal was the third Indian state after Odisha (1967) and Madhya Pradesh (1968) to enact an anti-conversion law. The Arunachal Pradesh freedom of religion act of 1978 was aimed primarily at checking proselytization.
Chhattisgarh in 2000, Gujarat in 2003, Himachal Pradesh in 2007 and Rajasthan in 2008 also passed anti-conversion laws, prohibiting forced or money-induced conversions.
The Arunachal anti-conversion law, unlike in the other states, has been ineffective because its rules have not been framed.
There is speculation that the BJP government led by Pema Khandu might frame the rules to check missionary activities.
Checking conversion has been one of BJP's goals. In 2013, BJP leader Venkaiah Naidu had declared that his party would bring a nationwide anti-conversion law if elected to power.
The party needs a majority in the Rajya Sabha to do so.
– hindustan times
Admit it. You have lots of WHY questions for God.
Why am I going through this situation?
Why did You let that happen?
Why didn't You allow me to experience that blessing?
Although it is human nature to question and try to find the reasoning behind God's ways, I truly believe most of our "why" questions result from ignorance about Who God is or a lack of faith in what He is doing.
After more than 30 years of discipling women, I've come up with what I call "God's Top 10 Answers to Our 'Why' Questions." They are not in any particular order. But they are all based on Scripture and what it tells us of God's character. If He were to speak audibly perhaps His answers to your questions would be:
1. Trust Me. I have My reasons.
We don't really like this answer, because we want God to explain Himself. We want to see the reasons and exercise our option to agree or disagree with God. Yet God points out in Isaiah 55:8-9:
"For my thoughts are not your thoughts, neither are your ways my ways, declares the Lord. For as the heavens are higher than the earth, so are my ways higher than your ways and my thoughts than your thoughts" (ESV).
I can't help but feel that is God's way of saying "Because I said so." But like a loving parent, who may have said that to you when you were a child, He knows what He's doing and Scripture says His ways are perfect (Psalm 18:30) and therefore He never makes mistakes.
2. So you will grow.
In James 1:2-4, we are instructed: "Count it all joy, my brothers, when you meet trials of various kinds, for you know that the testing of your faith produces steadfastness. And let steadfastness have its full effect, that you may be perfect and complete, lacking in nothing." God wants you to be perfect and complete. So He will, at times, allow you to go through hardships to grow your character.
3. You never asked.
Because God knows all that we need we expect Him to give blessings that we haven't even asked for. Yet God wants the relationship. He wants you to ask, and keep coming back to ask again.  James 4:2 says: "…You do not have because you do not ask" (NIV). I know so many women who ask "Why won't God give me a husband?" but they've never really asked Him for one. They also ask "Why can't I have a baby?" but they haven't been asking God the same question. Sometimes He wants to work within us and to begin that work, we need to start the conversation.
4. You're asking for the wrong reasons.
"God, why can't I win the lottery?" "God why won't You give me this high-paying position?" "God why didn't you let me win that?" Yes, James 4:2 says "You do not have because you do not ask," but the next verse clarifies that statement further: "When you ask, you do not receive, because you ask with wrong motives, that you may spend what you get on your pleasures" (James 4:3). God will not be a party to our selfishness. So if you are asking for something for you, God's answer might be "You're being selfish." Try asking for something for Him. Or, try asking for something that Jesus would ask for (which is the literal meaning of praying for something "in Jesus' name") It puts a whole new spin on the equation. And it may eliminate your "why" question altogether.
5. So you'll rely on Me.
Without a job? Without a spouse? Without hope? Face it, when we don't have what we want or need, it makes us desperate. God wants to be the One we are desperate for and I believe He will allow whatever it takes to make us fully dependent on Him. Deuteronomy 13:4 commands us to "follow the Lord your God and fear Him; and you shall keep His commandments, listen to His voice, serve Him, and cling to Him." Nothing makes us cling to God more than when we are desperate for something.  Be desperate for Him. And He will become your answer.
6. Just Wait.
So often our "why" questions are premature. We get impatient because we can't see an end result, but God works on an entirely different timeline than we do. Psalm 84:11 says "no good thing does he withhold from those whose walk is blameless." So if you are walking uprightly and it seems like God is withholding something good, it either isn't truly good for you or it isn't time.
7. I have something better in mind.
Sometimes our "why" is because we believe God is giving us second best, or He's forgotten about us altogether. But Jesus said: "If you then, who are evil, know how to give good gifts to your children, how much more will your Father who is in heaven give good things to those who ask him!" (Matthew 7:11). Could God be waiting to give you something better than you've thought to ask for? I know it's difficult to endure something when you are hoping for something better. But keep your hope in God (not in what you're hoping from Him). He is far better than the most loving of earthly parents. He sees what's best for us eternally, not just temporally. And He is a God who loves to bless His children.
8. I'm protecting you.
The Psalmist said "My mouth will tell of your righteous deeds, of your saving acts all day long – though I know not how to relate them all" (Psalm 71:15, NIV, emphasis added). Do you believe that God is saving you all day long through what He brings in and out of your life? God may say "no" to save you from something hurtful or He might allows something you don't like because it's keeping you from something worse. God knows our weaknesses when it comes to temptation. He knows our tendency for failure when it comes to our relationships and He sees what's ahead and we don't. I remember the day I had to start praying "God, don't let me near this if I will prioritize it above You" or "God, please allow this but only if I will remain humble and give the glory to You." He protects us physically, as well as morally and spiritually and like any good Father, He knows what is best for His children.
9. I'm making you more like Jesus.
We love to quote Romans 8:28: "And we know that for those who love God all things work together for good, for those who are called according to his purpose" and then we look for the good so we can hold onto it. But I truly believe that verse, taken in context with the next verse tells us the "good" that God is constantly working on in terms of why He allows – and doesn't allow – what He does: "For those whom he foreknew he also predestined to be conformed to the image of his Son…" (verse 29). Sometimes the "why" is simply because God wants to make you, through your circumstances, more like His Son.
10. Because I love you.
God loves us too much to give us exactly what we want. I thought I wanted a certain man when I was in college, but God knew better. I thought I wanted at least three children, but God knew better. And today, instead of asking "Why couldn't I have these things?" I find myself, instead, saying "Thank You, Lord, for knowing what was best for me." God is loving. He is good. And if He "did not spare His own Son, but delivered Him over for us all, how will He not also with Him freely give us all things?" (Romans 8:32, NASB). If God has not delivered on something you wanted or has allowed something you don't understand, His answer might best be "Because I love you. And one day you will understand."
Can you trust this God upon whom you have piled your questions?
– cross walk
China, February 8, 2017: A Christian theme park opened during the spring festival in Changsha, Hunan province (where Mao Zedong was born), inside the Changsha Xingsha Ecological Park.
One of the highlights of the tourist site, which covers ​​15 hectares, is an 80-metre high church. The park is also home to the Hunan Bible Institute.
However, the opening of the park has sparked a wave of criticism because it was allegedly sponsored by the local government.
"Local governments should no longer use public resources for the propaganda and promotion of a religion," wrote Shan Renping on the Global Times, a paper close to the Communist Party's People's Daily.
"[R]eligious activities should take place at religious sites, and should not be extended to social settings," and "Christian activities should take place within the church, and not in public places. [. . .] Religion should neither be suppressed nor promoted, but should be dealt with in accordance with the law."
The opening of the "Christian" park has also fuelled a debate on Chinese social media, with conflicting opinions.
In a popular WeChat article by an account called 'Behind the Headlines', the author expresses his dismay at the fact that the Christian park should be opened in, of all places, the hometown of Mao, who was a convinced atheist.
Many Chinese Internet users believe that the country is a secular society and that the park's construction is not consistent with Changsha's revolutionary history.
One user on Sina Weibo, China's version of Twitter, wrote "the government should be alert to the penetration of religious ideas that contradict China's mainstream ideology, which might pose a threat to political security."
Some also wonder why China would use religion for economic reasons. For Zhang Yiwu, a professor and cultural scholar at Peking University, the answer lies in the fact that "Many local governments are struggling for progress during industrial transformation, and religion is being used for cultural and tourist development".
Others have come out in favour of the park as a form of religious freedom, wince no one is obliged to go there. One commentator complained that the widespread criticism was unfair, noting that "When there are mosques built, nobody dares to say anything, but when other religions make something, you open your mouths. It's not right."
– asianews
Israel, February 9, 2017: Israel's Hebrew University has announced the discovery of a cave in the Judean desert, the first of its kind in 60 years, which once housed the Dead Sea Scrolls, some of the oldest biblical texts in existence.
BBC News reported that the although storage jars, fragments of scroll wrapping, and other artifacts connected to the scrolls were found at the site, the ancient parchments themselves were missing, and are believed to have been looted by Bedouin people in the 1950s.
"Until now, it was accepted that Dead Sea Scrolls were found only in 11 caves at Qumran, but now there is no doubt that this is the 12th cave," said Oren Gutfeld, one of the leaders of the excavating team from the Hebrew University of Jerusalem.
"Although at the end of the day no scroll was found, and instead we 'only' found a piece of parchment rolled up in a jug that was being processed for writing, the findings indicate beyond any doubt that the cave contained scrolls that were stolen," he said.
The Dead Sea Scrolls were originally hidden in 11 caves — now believed to be 12, and maybe more following the latest discovery — approximately around 68 BCE, in order to protect them from Roman armies.
Since being discovered in a series of findings between 1947 and 1956, nearly 900 manuscripts and thousands of fragments containing biblical text, written on animal skin and papyrus in Hebrew, Aramaic and Greek, have been analyzed by researchers.
Archaeologists believe that the Bedouin people are likely the ones who took the scrolls, based on evidence stemming from two iron pickaxe heads from the mid-20th Century that were found inside the cave tunnel.
"I imagine they came into the tunnel. They found the scroll jars. They took the scrolls," Gutfeld said. "They even opened the scrolls and left everything around, the textiles, the pottery."
Two biblical scholars, Jeremiah J. Johnston, Ph.D., president of Christian Thinkers Society, a Resident Institute at Houston Baptist University where he also serves at associate professor of Early Christianity, and Craig A. Evans, Ph.D., the John Bisagno Distinguished Professor of Christian Origins at Houston Baptist University, explained in an article for Fox News why the discovery shows that the scrolls belong to Israel.
Providing three main reasons for their argument, Johnston and Evans point out that the location where the scrolls were discovered is part of the historic land of Israel, where Jewish people lived.
Next, they noted that the scrolls were written in Hebrew, Aramaic, and Greek, which are the thee languages of the Bible, with the former being the historic language of Israel.
They also argued that Israel has taken great care to protect the artifacts.
"The last time we were in Israel, our friend and fellow Bible scholar, Adlfo Roitman, curator of the Shrine of the Book, gave us a behind-the-scenes-tour of the Dead Sea Scrolls exhibit. What we can divulge is that in the event of a nuclear holocaust, the Dead Sea Scrolls in their collection would survive, so advanced is their security technology and infrastructure," the scholars wrote.
– christian post
Pakistan, February 7, 2017: A 70-year-old Christian grandpa in Pakistan was arrested and beaten by police in an attempt to extract a confession after he was accused of writing letters that were deemed insulting to Islam. Now he could face years in prison or possibly death.
The London-based charity British Pakistani Christian Association has reported that Mukhtar Masih and his family were taken into custody in the village of Lambanwali in the Punjab province on Jan. 28 after police stormed his home around 10 p.m. and informed him that a blasphemy case had been lodged against him.
According to the accusation of local Muslim residents filed at the Rahwali police station, Masih allegedly wrote blasphemous messages with derogatory comments toward the Muslim prophet Muhammad and the Quran.
The BPCA reports that Masih was accused of pinning the notes on Gulzar Mosque. Qadri Shahbaz, the imam of the mosque, claims to have found the note on Jan. 26 and two other local Christians were initially accused of writing the notes. But having been pressured, the two Christian reportedly incriminated Mukhtar and claimed he was the man who penned the note.
Along with Shahbaz, the case was filed by other local Muslim men.
The charges filed against Masih fall under Section 295-A and Section 298 and is punishable by up to 10 years in prison and fines. However, BPCA warns that it is possible that the severity of the charge against Masih could possibly be increased during trial to Section 295-C, which is a blasphemy law against insulting the name of Muhammad and is punishable by death.
As Masih was the only member of his family to be accused, the BPCA participated in long negotiations with police officials to release the other family members. Although Masih's daughter and three grandchildren were released, the police continued to detain Masih's 40-year-old son, Anjum, until Jan. 30 for questioning.
All of Masih's family members have been placed in the BPCA safehouse inside Pakistan to protect them from societal backlash. BPCA will also cover the legal costs for the family.
"These charges are completely false, my father is innocent. We tried explaining this to the police but they still arrested us and they beat my elderly father and I with their lathi trying to force a confession," Anjum told BPCA. "I am sure that if you look at the letters the writing will not match my father's. He would never dare enact such an offensive crime knowing it would endanger his family."
As Pakistan's corrupt blasphemy laws are frequently taken advantage of by Muslims looking to settle personal scores with religious minorities business and property owners, Anjum told BPCA that men have been "chasing us for our property." However, the family was receiving low-ball offers.
"They threatened to kill us if we did not leave and now this has happened," Anjum said. "There is never any peace for Christians in Pakistan. Muslims hate us."
Masih is far from the first Christian to fall victim to Pakistan's blasphemy laws.
Last month, it was reported that a Christian evangelist in Lahore, his wife and daughter were arrested after he was accused of tearing pages out of a Quran.
Last year, a 16-year-old Christian boy named Nabeel Masih was arrested and charged with blasphemy over a post on his Facebook page.
Arguably, Pakistan's most notorious blasphemy victim is Christian mother of five Asia Bibi, who has been sitting on death row for years after local Muslim women accused her of insulting the prophet in 2009. Although she was supposed to have her appeal heard by Pakistan's Supreme Court last year, her hearing has been delayed.
BPCA reports that a new date for her hearing could be set by March.
Pakistan currently ranks as the fourth worst country in the world when it comes to the persecution of Christians, according to Open Doors USA's 2017 World Watch List.
"Now this elderly man Mukhtar Masih will probably die in prison or by hanging for a crime he did not commit," BPCA Chairman Wilson Chowdhry said in a statement. "This dilemma is compounded by the knowledge that Britain and America plough the taxes of their citizens into a nation of extremists, much of which supports security forces including the police whose blind prejudice ferments persecution."
– christian post