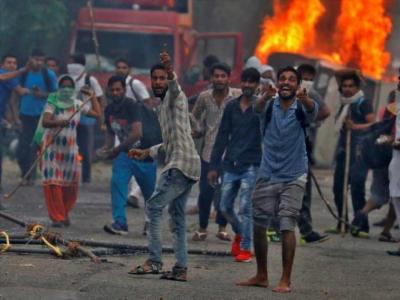 New Delhi, August 28, 2017: Prime Minister Narendra Modi on Sunday expressed concern over happenings in Haryana in which 36 people were killed following conviction of Dera Sacha Sauda chief Gurmeet Ram Rahim Singh, saying violence in the name of faith will not be tolerated and the guilty definitely punished.
In his monthly "Mann ki Baat" programme on All India Radio, Modi called for a 15-day campaign ahead of Gandhi Jayanti to take message of "Cleanliness is service" to every home and said festivals should be transformed into symbols of cleanliness in the new India.
He greeted people on festivals of Samvatsari Parva, Ganesh Chaturthi, Onam and Eid-ul-Zuha.
Modi praised Jamiat Ulema-e-Hind for its contribution in the Gujarat flood relief, particularly for cleaning 22 temples and two mosques after the flood waters receded.
Beginning his speech by referring to the recent violence but did not naming any state, he said: "When on the one hand, a sense of festivity pervades the land, and on the other, news of violence comes in, from a part of the country, it is only natural of be concerned.
"I want to assure my countrymen that people who take law into their own hands and are on the path of violent suppression — whether it is a person or a group — neither this country nor any government will tolerate it. Each and every person will have to abide by the law; the law will fix accountability and the guilty will unquestionably be punished."
"We have been hearing and saying 'Ahimsa Parmo Dharmah' (non-violence is supreme) since our childhood. In my address from the ramparts of the Red Fort, I had said that violence in the name of faith will not be tolerated, whether it is communal belief systems, whether it is subscribing to political ideologies, whether it is allegiance to a person or customs and traditions. No one has the right to take the law into one's own hands in the name of one's beliefs," he said.
At least 30 persons were killed on Friday as security forces fired at rampaging mobs in Panchkula town in Haryana after a CBI court held Gurmeet Ram Rahim Singh guilty of rape and sexual exploitation. Six people died in Sirsa, where the Dera Sacha Sauda headquarters is located.
Modi said the campaign for cleanliness launched by his government will mark its third anniversary on the October 2, the birth anniversary of Mahatma Gandhi, and positive results were being seen.
Noting toilet coverage has increased from 39 percent of population to almost 67 percent and more than 2.3 lakh villages have declared themselves open defecation free, he called for "Swachchata Hi Sewa (Cleanliness is Service) campaign at least 15-20 days prior to Gandhi Jayanti.
He also urged the nation to begin the campaign of "teach to transform, educate to empower and learn to lead" on the occasion of Teachers Day on September 5, while paying tribute to former President S. Radhakrishan whose birth day it is celebrated on.
The Prime Minister said the number of listeners of "Mann Ki Baat" were in crores out of which lakhs of people write letters, send messages, and get their messages recorded on phone and the monthly programme was a great opportunity for him to understand people.
Referring to National Sports Day on August 29, Modi said "sports should become part of our lives", advising the younger generation that "playing field is more important than play station (video game)."
"If we are a young nation, our youth should get manifested in the field sports as well. Sports means physical fitness, mental alertness and personality enhancement. What else does one need?"
He also urged people not to bargain over petty amounts with small shopkeepers and vendors and auto-rickshaw drivers.
The Prime Minister also said that the nation is proud of the six Indian Navy women officers who will embark next month on a mission to circumnavigate the globe.
– ians
Philippines, August 25, 2017: A new video has been released showing ISIS militants in the Philippines threatening to come to Rome as they desecrate a Catholic church.
Filmed in the Philippine city of Marawi, the video shows militants shooting and setting fires within a church, as they destroy a crucifix and statues of Mary and St. Joseph.
One jihadist tears up photos of Pope Francis and Benedict XVI while saying, "Remember this, you kuffar [non-Muslims] – we will be in Rome, we will be in Rome, inshallah [god willing]."
Over the footage, another narrator can be heard saying "after all their efforts, it would be the religion of the cross that would be broken. The crusaders' enmity toward the Muslims only served to embolden a generation of youth."
The video, distributed by the pro-ISIS media organization Al Hayat, also contains graphic footage of fighting in the besieged Philippine city, including dead Philippine soldiers and militants shooting AK-47s as a narrator encourages Muslims in East Asia to come to the city "to perform jihad."
Since May 23, militants of the Maute group, which formed in 2012 and pledged allegiance to the Islamic State in 2015, have been fighting against government forces for control of the city of Marawi on the island of Mindanao.
Violence began after a failed army and police raid to capture Isnilon Hapilon, a local Islamist leader. The initial attack launched by Maute burned several buildings, including the Catholic cathedral and the bishop's residence.
The majority of the city's 200,000 people – mostly Muslim – have fled since its occupation. At least 400 people have been killed in the fighting as of mid-July, though numbers haven't been updated since.
On Aug. 24, government forces recaptured the city's Grand Mosque, where it had been believed that as many as 40 civilian hostages were being held by militants, though no militants or hostages were found.
Armed Forces of the Philippines spokesperson Brig. Gen. Restituto Padilla said in a briefing that the retaking of the Grand Mosque, located in the central area of Marawi, was "a significant development," despite recovering no hostages.
The government has said some of the militants fighting in Marawi appear to be from abroad, including countries like Russia, Indonesia, and Malaysia. Officials say there are also indications that other slain militants have come from the Middle East.
The fighting has fueled fears that the Islamic State is attempting to set up a regional base in Southeast Asia.
– cna
If you've raised your children to believe Christianity is true, you probably want them to continue to believe it's true, especially through their critical university years. There are good reasons to be concerned for young Christians once they leave our care. Statistically, most will walk away from the Church (and their belief in God) during their college years. What can we, as parents, do to address this growing problem? How can we help them know that God exists?
As a cold-case detective, parent, and prior youth pastor, I have a suggestion: master the case for God's existence and start sharing it with your kids at an early age. Sounds simple, right? Maybe, or maybe not. If your kids asked you to defend the existence of God right now, what would say? What evidences would you provide? Are you ready to make the case for what you believe, even as the world around us often makes the case against God's existence? Don't panic, you don't have to be a theologian, philosopher or scientist to defend the truth. All you need to be is interested.
It's not hard to be interested when the spiritual fate of our kids is hanging in the balance. Make a commitment to investigate the case for God's existence so you can communicate it to your kids. The Apostle Paul was correct when he said that God's "invisible attributes, His eternal power and divine nature, have been clearly seen, being understood through what has been made" (Romans 1:20). We've written God's Crime Scene for Kids to help you and your children investigate everything "that has been made." Along the way, you'll discover four truths that will help your kids demonstrate the existence of God:
1. Our Universe Requires a Divine "First Cause"
Scientists have determined that our universe is not infinitely old. In fact, they now believe that everything in the universe, all space, time and matter, had a beginning in the distant past. Everything that begins to exist must have a cause. What could account for the beginning of the universe?
One thing is certain: whatever caused the cosmos must be something other than space, time or matter (since these didn't exist prior to the beginning of the universe). That means we're looking for something non-spatial, non-temporal, non-material, and incredibly powerful. Sounds a lot like God, doesn't it?
2. Life in the Universe Requires a Divine "Author"
Scientists have also determined that life in the universe is formed and guided by information. Biological organisms (like humans) possess deoxyribonucleic acid (DNA) molecules. The nucleotide sequence in DNA is an incredibly long (and sophisticated) code that guides the growth, development, function and reproduction of every living organism.
But where does the information in DNA come from? Did this incredibly complex series of instructions come about by chance? Was it caused by the laws of physics or some process of evolution? No. The best explanation for information is intelligence. The information in DNA requires an intelligent author. Once again, God is the most reasonable explanation.
3. Moral Laws in the Universe Require a Divine "Law Giver"
All of us recognize the existence of moral laws and obligations. While some behaviors (like stealing or lying) may be justified on rare occasion (to save the life of an innocent person, for example), it's never morally acceptable to steal or lie for the fun of it. This is true for all of us, regardless of when we have lived in history or where we have lived on the planet. These objective moral laws also describe obligations between persons. No one, for example, is morally obligated to the laws of physics or chemistry.
All laws such as these require law givers. Objective laws and obligations that transcend all of us require an objective, personal law giver who transcends all of us. Once again, God is the best explanation for the moral laws and obligations we all recognize.
4. Evil in the Universe Requires a Divine "Standard"
Some people point to evil as an evidence against the existence of God. Why would an all-powerful, all-loving God allow bad things to happen? Is He unable to stop them? Is He simply unwilling to prevent them? In either case, the existence of evil seems to invalidate our definition of God as an all-powerful and all-loving Being.
But what defines something as evil in the first place? Is something "evil" simply because we don't personally approve of it, or do we believe some acts are truly evil, regardless of our opinion? If the latter is true, we would need an objective, transcendent standard of good by which to judge any particular act. The existence of God offers such a standard, and God often allows and uses temporal evil to develop our eternal character, draw us to himself, and achieve a greater good (if not immediately, over the course of history). Evil doesn't disprove God's existence, but instead requires a standard of good to be anything more than a matter of opinion. Only God can provide such a standard.
There's much more to examine in the universe, and you can help your kids make the case for God at www.CaseMakersAcademy.com. They'll solve an intriguing mystery, as they also learn how to investigate the truth about the cosmos. They'll also have a chance to become Case Making Cadets and earn a Certificate of Graduation after completing our free Case Makers Academy. It's never too early to master the truth. Help your kids defend with they believe so they can worship God with their hearts, souls, and minds.
– cross walk
Kazakhstan, August 26, 2016: A district court in Merken (Zhambyl, southern Kazakhstan) on Wednesday acquitted Fr Vladimir Vorontsov, an orthodox priest accused of praying in the mountains.
Vorontsov had been accused of violating the law governing religion, which bans religious activities outside designed places of worship. However, the law does not mention nature. Accordingly, Judge Ayman Akhmetova ruled that Vorontsov had not committed any crime, dropping the case against him.
The case had resonated in Kazakhstan and Russia, where the priest found unequivocal support.
The media coverage had surprised Vorontsov who said, "I did not call newspapers. I just told my friends about what happened to me." In his view, "there is no persecution of Orthodox Christians in Kazakhstan. My case is unique."
This was the first case involving an orthodox priest prosecuted under the Law on Religion. By contrast, under the same law, members of religious minorities (Protestants, Krishna followers, various Muslim groups) have been fined and arrested for praying private homes.
The law also allows the authorities to suspend the activities of religious associations.
It is rare for the courts to rule in favour of religious associations or individuals accused of violating the Law on Religion, usually after a complaint is filed with the UN Human Rights Committee, even though the charges are not that much different than those in the Vorontsov case.
For example, a Protestant clergyman from the New Life Church in Ust-Kamengorsk (Kazakhstan's East) has been accused of engaging in religious activities outside the church, at a recreation centre where he was with relatives and friends.
– asia news
Egypt, August 24, 2017: Authorities in Egypt have reportedly closed down a 1,300-member church in the Minya governorate and are preventing Christians from worshiping at another church in the area, according to a report.
Morningstar News, a donor-funded news agency that reports on persecuted Christians worldwide, reported that the Virgin Mary and St. Paula Church in Kedwan village was shut down last month by authorities based on the claim that local Muslims objected to the church.
According to the outlet, the church served Christians from three different villages — Kedwan al-Baharyia, Kedwan al-Keblyia, Masaken Kedwan.
Coptic Orthodox Bishop of Minya Anba Makarios pressured government officials for weeks to re-open the church. But as the bishop's pressure on the government provided no result, Makarios issued a public statement refuting the government's claim that local Muslims opposed the church.
"The security apparatus has prevented Copts from practicing their rites in Kedwan, Minya, claiming that it was because of objections of some opposing factions in the village, and that it was necessary to be considerate of their feelings," Makarios was quoted as saying. "However, this means that there is no consideration for the feelings of the Copts and those who do not ask for anything but to pray, as if the decision belonged to the opposing factions and not to a great state such as Egypt, which should have authority and law."
Makarios stated that the majority of Muslims and Coptic Christians in the area co-exist peacefully and that the only opposition to the church came from a small extremist faction.
"There is actually no disagreements or disputes between the Copts and Muslims," the bishop stated. "He among them who opposes [opening the church], if any is found, gives the excuse of the necessity to obtain a security clearance. Regardless of whether these may be right in their opposition or not, the authorities instead of responding by pointing out that this is the prerogative of the state institutions, or by stating that allowing prayer is a legal right, affirm prevention of prayer! In doing so, they underscore at the same time that the opposing factions are right in their reasoning."
Morningstar News noted that the Virgin Mary and St. Paula Church in Kedwan is just one of at least 15 Christian places of worship that has faced closure in Minya.
"We have more than 15 places [of worship] closed on the order of the security apparatus, despite the existence of formal requests that are imprisoned in [desk] drawers," Makarios said in his statement. "Also, there are 70 villages, farmsteads and hamlets without places for prayers."
In addition to the closure of the worship centers, security officials this past Sunday prevented Christians from worshiping in a private house church in Minya's Ezbat Al-Forn village.
A local resident told Morning Star News that authorities claimed that the congregation lacked a permit to allow them to worship in the home. However, Makarios reportedly refuted the claim that a permit is needed.
The blockading of the church caused Coptic residents of Ezbat Al-Forn Village to write a letter to Egypt's president, Abdel Fattah al-Sisi, titled "We were prevented from prayer like criminals."
"We were surprised to find police forces surrounding and entering the village to prevent the Egyptian Copts from prayer and were prevented from going out of our homes," the letter explains, according to Morning Star News. "We were attacked with inappropriate words … As if we are criminals or outlaws and wanted for justice, accused of performing religious rituals. And is performing religious rituals a crime?"
Egypt currently ranks as the 21st worst nation in the world when it comes to the persecution of Christians, according to Open Doors USA's 2017 World Watch List.
Earlier this summer, it was reported that authorities in Egypt's Beni Suef governorate raided a church in the village of Saft Al-Kharsa, removed all Christian iconography from the building and chained down the doors to prevent Christians in that area from worshiping there.
– christian post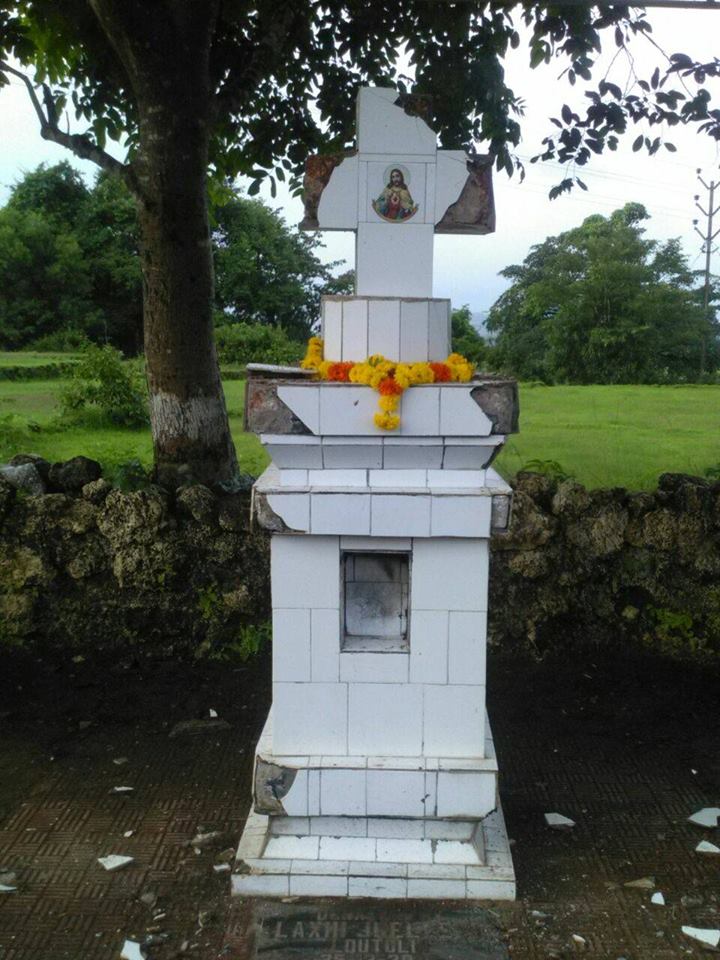 Panaji, August 24, 2017: A fact-finding-team, including members of Goa and Daman Archdiocese, has asked the pro-Hindu Bharatiya Janata Party run government to form a special team to "impartially investigate" a series of cross desecrations in the western Indian state.
The demand comes from the team set up jointly by the archdiocese's Council for Social Justice and Peace and rights group Center of Study of Society and Secularism. The team Aug. 21 released a 24-page report on the desecrations.
The report said state police had conducted a "very lazy investigation" that was "also supported, backed and influenced politically."
Following investigations, police in July arrested 54-year-old Francis Pereira saying he had confessed to the desecrations. Police said he was a lapsed Catholic, radicalized against his religion. They also said he was mentally unstable.
But the leaders of the fact-finding-team Irfan Engineer and Father Savio Fernandes said it was difficult to believe Pereira was behind the crimes or he was the sole culprit.
The team finds it is impossible for a single man of his stature to demolish so many gravestones made of stone, Engineer said adding there was no medical certificate to prove Pereira was mentally ill.
Father Fernandes said Pereira, although a bachelor, was "very much a family man, who supported his family and was on good terms with everyone."
"He never destroyed the altar and statues in his home," the priest said referring to claims made by officials last month that Pereira was radicalized during a stint in jail and had destroyed religious images at his home after his release in 2003.
The report put fingers of suspicion against Hindu radical groups saying extreme hardliner outfits in Goa have been spreading disharmony in the state.
– ucan
Thiruvananthapuram, August 24, 2017: The debate over the destruction of a Cross near Bonacaud tea estate here is getting murkier with the Neyyattinkara Latin Catholic diocese intensifying its protest programmes while, the forest department refutes church's claim that a cross existed on the hill top since 1957.
Five concrete crosses that were installed – two on hill top and three on the trekking path – on March 18 in an area falling under the Palode Forest Reserve were found demolished on the night of August 18, creating unrest among believers.
Chief Minister Pinarayi Vijayan assured a delegation of the Neyyattinkara diocese to favourably consider reinstallation of the crosses.
According to Fr Christudas, vicar general of the diocese, the hilltop has been a pilgrim centre since 1957, though a lesser known pilgrim station until recent times.
"Believers used to visit the hilltop where a small cross was present until it was replaced by a bigger one in March. We used to conduct 'way of the cross' to the hilltop on Good Fridays," he said.
"Except the crosses, we haven't made any constructions there. It is not a dense forest but a meadow. Pilgrims never indulge in activities that pollute the area," he added.
But according to the Forest Department, a small cross was set up by some persons on the hilltop after 2009. "Since the area is connected with the ecologically sensitive Agasthyamala Biosphere, we cannot allow any kind of interventions.
The hilltop is a grassland and moreover it is an elephant corridor where human interventions cannot be allowed," said an official.
The department also opposes Fr Christudas' claims that the first cross was installed in 1957 before the Kerala Forest Act 1961 came into existence. "The area falls under the Palode Reserve which was notified in 1898. Even if the cross was installed in 1957, it was illegal under the provisions of the Travancore Forest Act, 1887," officials said.
Meanwhile, the Forest and Police departments are conducting separate probes to identify the persons who destroyed the cross. The church suspects that the attack was perpetuated by some extreme Hindu right wing organisations.
Fr Christudas said he suspects the Forest Department too had a role in the attack. "I'm not aware whether they were directly involved. But no one can reach the spot without crossing the Kanithadam check post manned by the Forest officials. If they allowed the anti-social elements to visit the place and return after the attack, it is a lapse on the part of the department," he said.
The Forest Department has convened a meeting with the church representatives on Aug 25.
"We will intensify the protest programmes if our demands are not met at the earliest," vicar general said.
– new indian express
New Delhi, August 24, 2017: Maintaining that "gender-equality is a must", the All India Catholic Union has clarified its stand on the contentious issue of uniform civil code (UCC).
A delegation of the Union recently met Chairman and senior officials of the Law Commission which is "examining" the feasibility of implementation of UCC in the country.
The Union, which claims to be one of Asia's oldest and officially recognised body of Catholic Laity in India also submitted a response to the questionnaire framed by Law Commission on the issue.
Putting on record its "commitment to a gender-just society", the Union has also expressed its apprehensions and reservations.
On the issue of having a common civil code in India, the Union citing a Supreme Court judgement has said that "the intended UCC should not be counterproductive to the unity of the Nation".
It has argued that subsuming issues of marriage, divorce, adoption, guardianship, maintenance, inheritance in one comprehensive UCC would "entail a mammoth exercise" like the Constituent Assembly. "Prime facie the Law Commission seems to be biting off more than it can chew," the Union's response reads.
"It seems difficult to evolve one comprehensive code that takes care of the entire range and other contentious issues in an environment aggravated by political, nationalistic, regional and sectarian forces and actors," the reply states.
Suggesting to "identify specific issues that need urgent redress rather than trying to solve all problems in one fell stroke", the Union has said that a "dominating majoritarian and politically strident tone cannot and should not be imposed on unwilling sections of the society".
Stating that "gender equality is a must but the UCC is not the answer", it has contended that "codification with the assent of the respective stakeholders would be the more practical option".
On the issue of equal rights in property for Hindu Women, it has opined that "no special tax benefits should accrue to only one religious group and that too to the males in it".
Underlining immediate need to amend personal laws pertaining marriage, divorce, succession and adoption, the Union has said that "codification of personal laws is desirable and existing codes also need revision".
But, it has added, "reform of religious laws and practices is the better and lasting option".
– economic times
U.S., August 20, 2017: What children read, what they see on the screen, can inspire them toward greater faithfulness. Conversely, Father Robert warns, it can lead them into the sordid world of the occult, even opening them to demonic possession.
Father Robert is not exaggerating. A priest for more than 10 years and an experienced exorcist, he knows firsthand the unintended consequences when children or adults open the door to demonic activity. "Oftentimes," he says, "[demon possession] begins because kids get curious after reading Harry Potter." He explains that kids want the unusual powers that they see depicted on the screen.
One former Satanist whom Father Robert knew personally, a man who has turned away from his past life and embraced the Catholic faith, had begun his descent into Satanism at the age of nine or 10, when he began playing a game called "Bloody Mary." From that simple beginning, he gradually became involved with others who were Satanists.
Respecting Confidentiality
An important part of Father Robert's ministry is training other priests at the Vatican's official Exorcism Institute in America. From across the country and around the world, Catholic priests come to the Institute to learn the secrets of this ancient rite, so that they too can exorcize demons and evil spirits. The nature of the work that Father Robert and the Institute are involved in is so hazardous that he has requested that the National Catholic Register not publish his full name or reveal his location.
A Decidedly "Catholic" Horror Film
I had the opportunity to meet and talk with Father Robert at a recent media preview of New Line Cinema's latest horror production, "Annabelle: Creation," which opens nationwide on August 11. Directed by David F. Sandberg (director of the short film "Lights Out"), "Annabelle: Creation" is actually a prequel to the highly successful 2014 release of "Annabelle" – which is itself a prequel to the 2013 cult favorite "The Conjuring" and the more recent "Conjuring 2" (2016). Father Robert had seen them all, and he agreed that "Annabelle: Creation" was largely faithful to the Catholic Church's teachings with regard to possession and exorcism.
By Invitation Only: Satan Only Goes Where He Is Invited
Father Robert explained that the devil will only go where he is invited. He talked of two cases he knew of personally in which two young women, not realizing the gravity of their request, had invited "any spiritual being" to help them. The consequence was that they exhibited symptoms of demon possession and required an exorcism.
The writers of the film, Father Robert noted, had done their homework – they understood that the demon could only enter the home of dollmaker Samuel Mullins and his wife Esther if it was invited. In "Annabelle: Creation," Esther and Samuel Mullins are mourning the loss of their beloved daughter Bee. Miranda Otto, who portrays the mother Esther in the film, explained,
Like most parents, they are devastated. But unlike most, they decided that they would do anything to have her back…absolutely anything at all. Basically, they prayed, calling out to any kind of power that would allow them to see her or feel her presence in any way. But by doing so, they evoked certain spirits that are not the kind you would welcome into your home.
Twelve years after the tragic accident, the grieving parents seek comfort by opening their home to Sister Charlotte and several girls from an orphanage that has been closed. When one of the girls peers into the closet and sees the possessed doll, Annabelle, the doll sets her sights on the girls and unleashes a storm of terror.
A Few Inaccuracies
Father Robert and I agreed that "Annabelle: Creation" was, for the most part, faithful to the Catholic understanding of exorcism. There were, however, a few scenes which caused us both to raise an eyebrow:
A Sister heard confession? – Most particularly, there was a scene in which Sister Charlotte, played by the talented Stephanie Sigman, listens to the confession of one of her young charges. Granted, there were differences from a regular confession: The Sister and the young girl sat back-to-back, not in a confessional. But the concept of confession was renewed when Sister Charlotte said, "Well, for your penance…." Particularly during the time period of the film, Father Robert considered it highly unlikely that a Sister would ever put herself in the position of appearing to perform a sacramental function that requires a priest.
Sister Charlotte wore a contemporary religious habit. – Based upon the clothing styles, classic automobiles, and the Victorian farmhouse, it would seem that "Annabelle: Creation" is set in the early 20th century. However, Sister Charlotte wears what appears a contemporary religious habit – with a knee-length skirt and a simple headpiece which exposed her hair. When I asked director David Sandberg and actress Stephanie Sigman (Sister Charlotte) about that during our interview, both seemed surprised, explaining that they had looked at photos of nuns in different habits and had chosen a simple costume which would make it easier to act the role.
Disposal of the possessed object – In "Annabelle: Creation," two priests come to the home to bless the doll Annabelle and to sprinkle it with holy water before it is sealed away in a Scripture-lined closet. Good as far as it goes, Father Robert thought, but he was adamant that an exorcist would never leave the possessed object there intact, to be found by someone in the future. "You would take the curse off the object," he explained. "You could burn it or take it apart; but it would be decommissioned somehow."
As an example of a possessed object, Father Robert described a crucifix that hangs in his office which was burned from the bottom during an exorcism, the fire consuming the corpus and leaving only the arms of the crucified Christ. "It had a plastic corpus on it," he explained. "The cross itself was blessed. It was put in the room with a woman who practiced Brujería witchcraft in Mexico. In the middle of the night, the cross caught fire. I decommissioned it. I would never permit anyone else to get near it, because it could be used in the future for something wrong."
The scarecrow scene, and the Tasmanian devil – A scene in which a scarecrow was possessed by the evil spirit and moved from its original position seemed unlikely, according to Father Robert. Similarly, he was unconvinced when the demon began to grow and assumed a physical likeness of what he called a "Tasmanian devil."
Only by invitation! – In one scene, a child becomes possessed when she finds herself in the presence of a demon that manifests itself as a little girl. Father Robert rejected the idea that an evil spirit could inhabit the body of a child who happened to be in its presence – since, as he explained earlier, an evil spirit will only enter a person if he is invited.
Five Signs of Possession
Father Robert listed five signs which may indicate that a person is suffering spiritual attack:
1.Hidden knowledge. If a person has knowledge which he or she should not have, such as private information which is known by only a few people, that may signal demonic possession.
2.Languages. A possessed person may be able to speak in an unfamiliar language which he or she would not normally know.
3.Superhuman strength. Father Robert reported one case in which a young girl who was 5'4" tall and weighed perhaps 110 pounds was able to throw a number of big guys off of her, preventing them from holding her down during the exorcism ritual.
4.Extreme aversion to the sacred. A person who is possessed may be unable to look at a crucifix, or to touch a rosary which has been blessed. Father Robert knew of one woman who couldn't be in the presence of a cross of St. Benedict, or to be in the presence of the Blessed Sacrament.
5.Levitation. Father Robert had personal knowledge of a case in Louisiana, in which a person was seated in a chair and, powered by the evil spirit, was able to levitate with the chair and proceed down the hall.
"Annabelle: Creation" opened in theaters across America on August 11. Despite the small inconsistencies which Father Robert noticed, the film is respectful of faith. The film does an effective job of building tension, and there are repeated "frights"; but it is not really gory and depends on spiritual and psychological effects rather than blood. It's likely to enjoy wide distribution among fans of the horror genre. Rated "R", it seems unsuitable for small children; but others can attend, confident that their faith will not be challenged.
– cna
Rajasthan, August 21, 2017: An Indian Pastor was severely beaten amid a Gospel outreach in Dabli Rathan the largest village in Hanumangarh District, Rajasthan. Amid the attack his better half was additionally slapped and his team were likewise beaten by extremist from Rashtriya Swayamsevak Sangh (RSS) a known Hindu fundamentalist group in India.
India Pastor Naresh Paul talked with Pastor Harjot Sethi of Christ Power Ministry Society is the fundamental focus of the attack. Minister Harjot expains the accident and disclosed that men armed with metal poles and large, thick wooden sticks had joined visitors to the outreach. They wait until Pastor Harjot began to talk and after that launched an attack on the organizing team and Pastor Harjot they additionally slapped his wife Arvinderjot Sethi several times however she figured out how to escape and ran to the local police station.
The men appeared intent to killing the Pastor Harjot and made him the primary concentration of the attack. Pastor Harjot sustained serious wounds to his head and has broken his leg However huge numbers of the men in the church intervened and secured the battered Pastor and even helped Police capture four men who have been arrested and distinguished as member from RSS.Only the quick thinking of his wife prevented a fatality as the hindu extremists who attacked Pastor Harjot seemed intent on murder witnesses have stated. Pastor Harjot's mom addressed, she stated:
"My Son was simply sharing God's message of hope through accepting Christ our Lord and Saviour. The hooligans waited for him to start speaking and rushed to kill him. They were armed with weapons and were beating him hard and any others that tried to stop the violence. I was terrified and had to watch from afar unable to do anything.
"I feared for his life but God protected my son who survived the vicious attack despite being hit on his head with thick metal poles. I praise God for his mercy and protection."
Despite the capture of the attackers and the link with RSS proven few believe that the perpetrators of the violence will be prosecuted. In past comparative incidents RSS radicals have escaped justice through their network of infiltrators into all Government and statutory establishments. Police were even at first uncooperative with Pastor Harjot and needed to just end the fighting and allow the RSS opponents to go free. Minister Harjot, stated:
"I thought I would die these men came rushing at me as soon as I started speaking and I was hit on the head. I passed out temporarily which only excited the RSS goons more I am told. The attackers started beating me more intensely whilst I was on the floor.
Initially the police seemed to only want to restore peace and were reticent to take action against the perpetrators. So my colleagues asked me to produce videos about the attack and we shared them on social media to galvanise support for justice.
"Christian's in India are suffering an increasing amount of animosity since the BJP regime secured victory in the national elections of 2014. Life is becoming increasingly untenable and we pray for change to come."
Concerted pressure by Christian lobbyists and a public demonstration the men to be indicted however has constrained the hand of apathetic police.
Pastor Harjot lives in Jalandhar and was sympathetically was kindly collected from the hospital by the youth team of a local Catholic church from Jalandhar who drove him the 10 hours journey to his home today. The attack has made great outrage on the Christian community across India who are requesting for equity to be served for the beleaguered victims of this unprovoked attack.
Attacks on Christians are led by Hindu nationalists acting largely with impunity a growing concern since the election of President Narendra Modi in 2014. A little more than 2% of the nation's populace is Christian, and almost 80% of Indians are Hindu.
Since the election of Modi national and provincial authorities tacitly permit persecution of a deprived Christians in India. Religious patriots feel enabled under Modi who as a teenager joined Rashtriya Swayamsevak Sangh a known Hindu fascist group whose fundamental point is to transform India into a Hindu superpower and whose most revered alumni is Nathuram Godse the fanatic who assassinated Ghandi.
Mr Modi's political party Bharatiya Janata party (BJP) once called a three-day strike after alleging Pakistan' secret services were responsible for the death of 58 Hindu pilgrims in a burning train carriage – a claim that was unsubstantiated. Religious patriots progressively endeavor to coercively convert non-Hindus to their predominant faith, willing to use violence at the drop of a hat, when community discrimination and non-violent oppression fail to impose their religious beliefs on minority Christians.
Christians confront enormous financial issues an outcome of decades on uninhibited persecution, many came shape lowest social class the Dalits and in that capacity have dependably been a simple focus for Hindu fundamentalists.
– christians in pakistan