For the past five years I've had the unique privilege of speaking to and hearing from parents all over the country. The question I am asked most by parents is how to handle all of the tech gadgets invading their kids' lives and what I would recommend as a dad who has raised three teenagers in the digital age.
Finding a balance of face-to-face and digital connection is the key. As the Apostle John said: "I have much to write to you, but I do not want to use paper and ink. Instead, I hope to visit you and talk with you face to face, so that our joy may be complete" (2 John 1:12).
What John understood was that technology (his being paper and ink) was a substitute for something better: face-to-face interaction and connection. John, and all of the writers of the New Testament, mastered the art of balancing these two connecting opportunities. Just like them, we ought to seek a healthy combination of both.
Here is a three-step plan for managing technology in your home:
First, we are to protect our kids.
Protection involves several layers in today's wired environment. A comprehensive protection plan involves activating parental controls on all digital devices, browsers, specific social media sites and apps. Many parents forget to also protect at the router level. This will help with devices that are brought into our homes by friends of our children who might not have parental controls activated.
Filtering and/or monitoring (aka Internet Accountability) should be part of a comprehensive protection plan. Our family has used Covenant Eyes for both filtering and monitoring for several years and we have found it to be a wonderful piece of our overall protection plan. We used filtering when our kids were young and moved to monitoring when they got a bit older.
I also recommend that technology be used only in common areas in the home, i.e., no technology in bedrooms. Besides the obvious risk of kids viewing porn is the fact that cyber bullying has become all too common in the digital age and a 24/7 possibility.
Second, we are to equip our kids to thrive in a digital world.
If all we do is protect our kids from … we will fail to equip them for … A home strategy should involve lots of equipping when it comes to technology. I would much rather send an equipped child into the world than a protected one. Equipping means that our homes become incubators for healthy learning, healthy growth, healthy correcting and healthy dialogue about the impact and influence of technology. If we want them to make good decisions when they leave the security of our homes, they need to understand why prudent tech use is so important to their spiritual and emotional well being.
Third, and in my opinion most importantly, we need to model wise and healthy technology use for our kids.
It remains true that observational learning is the primary way our kids develop understanding and learn behavior. It also remains true that parents are the primary influence in their kids' lives. Not peers, not media, not celebrities…parents! If we desire for our kids to use technology wisely then we must model this behavior in our own lives, in our own homes. Here are a few things I recommend doing as a family and yes, parents, you need to set the example here!
1) Create a Tech Basket – a place in the home where all technology is placed at a specified time each evening in order to protect valuable family time. We have a rule that family meal times are also tech-free!
2) Tech Sabbath – This could be a night or a weekend of complete rest from technology. Our family loves to go camping together, which provides time to reconnect with each other and disconnect from technology.
3) Model Good Tech Use – As parents we also need to have our own Internet activity monitored in order to model good technology health to our kids. When my oldest son left home for college he received a laptop as a graduation gift. I will never forget him bringing me his laptop prior to moving out and asking me, "Dad, will you install that program (Covenant Eyes) you have on your laptop?" One question to ask yourself: are you modeling the type of behavior you want to see in your kids?
A three-fold strategy involving protecting, equipping and modeling will help our children thrive when it comes to living in this digital age.
– cross walk
Vatican City, October 31, 2017: The Reformation anniversary gives us a renewed impetus to work for reconciliation, said a statement released jointly Tuesday by the Pontifical Council for Promoting Christian Unity and the Lutheran World Federation.
"We recognize that while the past cannot be changed, its influence upon us today can be transformed to become a stimulus for growing communion, and a sign of hope for the world to overcome division and fragmentation," it said Oct. 31.
"Again, it has become clear that what we have in common is far more than that which still divides us."
The statement was released to mark the end of the year of common commemoration of the 500th anniversary of the Reformation.
The Pontifical Council for Promoting Christian Unity is the Roman Curia's office for ecumenism, while the Lutheran World Federation is the largest communion of Lutheran ecclesial communities. In the US, the Lutheran World Federation includes the Evangelical Lutheran Church in America, but neither the Missouri nor Wisconsin Synods.
The common commemoration was opened last year with an ecumenical prayer service between Lutherans and Catholics at the Lutheran cathedral in Lund, Sweden during the Pope's Oct. 31-Nov. 1, 2016 visit.
During the service, Catholics and Lutherans read out five joint ecumenical commitments, including the commitment to always begin from a perspective of unity. Pope Francis and Munib Younan, then-president of the Lutheran World Federation and Lutheran bishop of Jordan and the Holy Land, also signed a joint statement.
Quoting the 2016 declaration between Pope Francis and Younan, this year's statement acknowledged the pain of disunity, particularly that caused by the inability to share in the Eucharist.
"We acknowledge our joint pastoral responsibility to respond to the spiritual thirst and hunger of our people to be one in Christ. We long for this wound in the Body of Christ to be healed. This is the goal of our ecumenical endeavors, which we wish to advance, also by renewing our commitment to theological dialogue," the statement declared.
The new statement also emphasized the commitment to continue this journey toward unity "guided by God's Spirit…according to the will of our Lord Jesus Christ."
With God's help, we hope to continue to seek "substantial consensus" on issues pertaining to the Church, Eucharist, and ministry, it said. "With deep joy and gratitude we trust 'that He who has begun a good work in [us] will complete it until the day of Jesus Christ'."
They gave thanksgiving for the spiritual and theological gifts received through the Reformation, as well as the need to ask forgiveness for failures and the ways in which "Christians have wounded the Body of Christ and offended each other" over the past 500 years.
One positive effect of the past year's common commemoration has been viewing the Reformation with an ecumenical perspective for the first time, it concluded.
"In the face of so many blessings along the way, we raise our hearts in praise of the Triune God for the mercy we receive."
– cna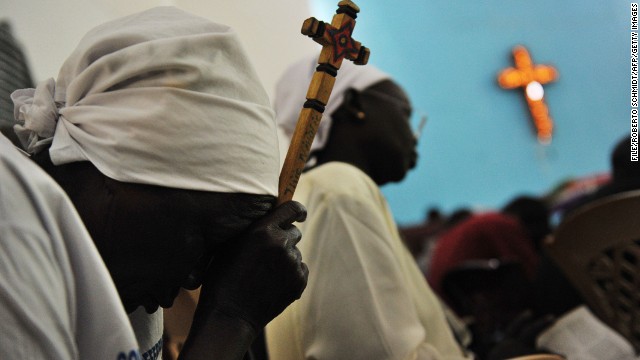 Sudan, October 31, 2017: Pastors in Sudan are speaking out against the arrests of five church leaders last week for allegedly "disturbing the peace," and said that Christians are being punished by the government for preaching to Muslims and living out the New Testament.
"The government is using the court of law to persecute Christians who are peaceful in carrying out their mandate as commissioned in the New Testament. After spending 14 months in a jail in Khartoum, I was released this year in January due to lack of evidence. I was again arrested this Sunday for unfounded reasons," Pastor Kuwa Shamal, who has been arrested on a number of occasions without charge, told International Christian Concern in a statement released on Monday.
ICC, a persecution watchdog group that reports on attacks against Christians worldwide, said that the five church leaders are all from the Sudanese Church of Christ, and includes the Rev. Ayoub Matin, evangelist Habail Abraham, the Rev. Ali Haakim, Pastor Ambrat Hammad, and elder Abdo Elbaya.
"Why is the government coercing us to surrender the leadership of the church to a select committee? What crime have we done?" Shamal asked.
The Rev. Ayoub Tiliyan, chairman of the SCOC, explained that the persecution of Christians has been rising this year in the African country.
"It is very disturbing to see the government that we obey, pray for, and pay taxes to harass members of the society just because they belong to a different faith," Tiliyan said.
"This has become the norm over the years, with threats heightening in the past three years. Several churches have been demolished, pastors arrested, and evangelists warned against preaching the Gospel to Muslims."
The Islamic-majority nation has seen at least four Christian churches closed in Khartoum so far this year, with the government planning to demolish another 20 houses of worship.
SCOC, which is part of a reformed denomination, has been targeted on a number of occasions, with another seven Christian leaders arrested in another incident in August.
The pastors were reportedly held for refusing to comply with an order from a government agency demanding they give up leadership of the church.
The pastors were later released on bail, with Shamal telling Morning Star News at the time that Christians will continue opposing government efforts to impose committees on the church.
Other charities, such as Aid to the Church in Need, have reported that Christian children from South Sudan who are in Sudanese refugee camps are being forced to recite Islamic prayers in exchange for food.
"We have heard stories where children are conditioned to say Islamic prayers before [being] given food. This is not right. These children are Christian. They should be respected for that," the ACN source said in September.
– christian post
Vietnam, October 31, 2017: Violent attacks by Hội Cờ Đỏ (Red Flag) militants against the Catholic community in Nghệ An province continue unabated.
On Sunday, about 700 pro-government hooligans riding motorcycles stormed Sơn Hải, a town in Quỳnh Lưu district.
After sowing terror among residents, they threateningly set up a camp near the Văn Thai chapel in Song Ngọc parish (Vinh diocese), where they shouted insults at the parish priest.
The Red Flag militants also described Fr JB. Nguyễn Đình Thục, vicar in Song Ngọc; Fr Anton Đặng Hữu Nam, vicar in Phú Yên; and Vinh Bishop Mgr Phaolô (Paul) Nguyễn Thái Hợp as "reactionary enemies".
Clergymen and their churches have led the efforts to help fishing communities get compensation from the Formosa Plastics Group, a Taiwanese-based company responsible for Vietnam's worst environmental disaster.
In April 2016, a massive discharge of toxic sewage from a plant in Ha Tinh province killed about 115 tonnes of fish and left millions of people, including fishermen, without a job in the four coastal provinces most affected by the disaster.
The two vicars have taken a stance for the rights of the local residents, backing their protests and legal action against the authorities for failing to deliver compensation to the victims.
Since the start of the year, Vietnam's central government and Quynh Lưu district have mobilised a large number of media in a campaign of false accusations against the two clergymen.
In early May, the authorities in Quỳnh Lưu organised a series of rallies and demonstrations against the two priests. The protesters, recruited by the local government, have even demanded that Fr Nam be sentenced to 20 years in prison or even death.
Ever since it was founded, the Red Flag group has tried with direct action to prevent protests and petitions against the Formosa Group. The group has even slammed the priests who provided legal aid to the victims of the disaster.
"It is possible that they will continue to attack the faithful and damage their property," said Fr JB. Nguyễn Đình Thục. "If they commit such acts of violence, it is clear that they are protected by the local government. This is also the way Communists silence peaceful voices of dissent".
Their goal is to restrain "Catholics from protesting against Formosa and to get rid of 'Catholic enemies,'" Fr Anton Đặng Hữu Nam told Radio Free Asia.
Yesterday, 300 thugs surrounded Fr Dominic Pham Xuan Ke and Fr Joseph Nguyễn Ngọc Ngữ, two priests who went to the Diem My People's Committee to report attacks.
On 4 September, about 20 Red Flag militants in civilian clothes but armed with guns, sticks and pepper spray broke into Thọ Hòa parish church, Xuan Loc district.
They wanted to confront the parish priest, Fr Nguyễn Như Tân, over a Facebook post in which he said he hoped to see political reform in the country.
In the same month, thugs gathered in the town of Diễn Mỹ where they beat up the faithful of Đông Kiều parish. In April, hooligans attacked the Catholic community in Văn Thai.
Red Flags thugs often carry out their attacks at night, throwing stones and shouting at Catholic homes, creating an atmosphere of terror and violence.
They have repeatedly beat up Catholics with sticks, destroying their personal belongings like motorcycles, furniture, and other items. This has caused great hardship for many families, who already live in precarious conditions.
Local police have repeatedly stood idly by watching these actions. Law enforcement have failed to take action to protect people. "Plainclothes police and communist security agents are in the Red Flags group," many Văn Thai residents told AsiaNews.
The group also tried unsuccessfully to isolate the community by preventing exchanges with non-Catholics.
"Attackers act with the utmost impunity," some residents said. "complaints and petitions filed after the attacks have been ignored by local authorities. "
"The [Red Flag] group was set up to fight people and all those who struggled to protect the environment," said Tuyết Lan, a government official. "This is why Vietnamese Catholics fight, protesting against Formosa. By contrast, local authorities persecute and imprison their own people. The provincial government has told these gangsters to behave this way."
"We reiterate that this is a plot to carry out violent provocations and suppress parishioners in the Catholic community of Văn Thai," said Fr JB. Nguyễn Đình Thục, who has repeatedly called on the authorities to investigate the violence. "As a result, we protest all the dangerous plans that are intended to divide Catholics from non-Catholics. "
Finally, the clergyman calls "on the government to respect and enforce Vietnam's laws, as well as protect the lives and properties of its citizens."
Indeed, "Every protest by the faithful against the group's provocations, even if it is in self-defence, is very dangerous. Therefore, the government must be held fully accountable for all the situations that cause damage and disturbance in the area".
– asia news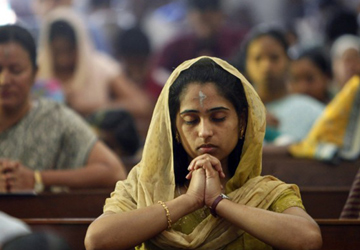 Madhya Pradesh, Octobrt 30, 2017: Two more Christian women have been arrested in the Indian state of Madhya Pradesh on false charges of forced conversion of children and could face up to seven years in prison.
According to the Asia-based Catholic news website ucanews.com, Anita Joseph and Amrit Kumar were arrested last Tuesday in the Madhya Pradesh state, which has been governed by the pro-Hindu Bharatiya Janata Party for the last 14 years. The women were charged with violating a state law barring religious conversions done through force, allurement, appeasement or fraud.
The women were arrested after the Hindu activist group Hindu Jagran Manch complained to police about children being taken to Mumbai by train.
The activist organization reportedly accused the women of trying to take the kids to be forcibly converted. Along with being charged with violating the state's anti-conversion law, the women were also charged with kidnapping.
Kunwarlal Warkade, a local police official, told ucanews.com that the two women were charged with kidnapping four girls and six boys under the age of 14. Warkade also stated that it has been alleged that the women lured the children with the promise of education and toys.
According to ucanews.com, both Joseph and Kumar appeared before the Indore district magistrate in Madhya Pradesh state last Wednesday and were ordered to be held in judicial custody until authorities can investigate the claims.
Bishop Chacko Thottumarickal of Indore argued that the arrests of Joseph and Kumar should be seen as an attempt from Hindu radicals to intimidate Christian missionaries.
"We are always on their radar and it is quite scary," Thottumarickal told ucanews.com.
This is not the first time this year that Christians in the state have been arrested for trying to transport children.
In June, a Catholic nun named Sister Beena Joseph of the Carmelite Sisters of St. Teresa congregation was arrested while traveling with four schoolgirls by train to a church-operated school in Bhopal. Joseph's arrest came after a complaint was received by authorities from another Hindu activist group.
Joseph's arrest marked the third time within a month that Christians were detained on charges of false conversions.
Joseph's arrest followed the detainment of 11 Christian chaperones in two separate incidents in late May in Madhya Pradesh. The 11 chaperones were transporting over 71 Christian children to a Bible camp in Madhya Pradesh.
Although several of the parents rejected the idea that their children were kidnapped, the government maintained that the chaperones were still guilty of trying to convert the children because the kids' parents did not go through the legal process to change their official religion to Christianity. Even though the children grew up as Christians, they were seen as Hindus in the eyes of the government.
"For changing to another religion, one needs to submit a written application to the district collector and only after the stipulated process, a person can change religious identity, which didn't happen in the case of any of the parents claiming to be Christians," a police superintendent told The New Indian Express. "This is why, the children and their parents will be officially treated as Hindu tribals and not Christians."
Sister Anastasia Gill, who is a member of the Delhi Minority Commission, told ucanews.com that the recent arrest of the two Christian women is part of the "conspiracy" by Hindu groups to make the public believe that Christians are engaged in illicit conversions.
Although Hindu radicals have made false claims, Gill stressed that Christian leaders have failed to keep adequate records that could easily be used to refute such claims.
Bishop Thottumarickal told ucanews.com that church leadership has to do a better job of keeping up with documentation.
"We have to be extra cautious in managing our homes for children, women and aged people as even a minor mistake can cause big problems for us," the bishop said.
India ranks as the 15th-worst nation in the world when it comes to Christian persecution, according to Open Doors USA's 2017 World Watch List.
– christian post
Madhya Pradesh, October 2017: The Madhya Pradesh High Court has ordered the state government to return seven Christian children, who were forcibly taken to the police by Hindu Dharm Jagran Manch gangsters, to their parents. The children had been put in state custody in the BJP-ruled state for seven days.
The children, hailing from Pentecostal Christian families, were on their way to Mumbai to attend a Bible-reading session with the consent of their parents. But they were forcibly made to deboard at the Indore railway station by members of the Hindu Dharm Jagran Manch, a right-wing organisation which has vowed to "finish" Christianity and Islam by 2021.
The Manch members claimed that the children were being forcibly taken to Mumbai and later to Kerala for conversion, reported The Indian Express. The gangsters proceeded to beat up two people who were accompanying the children – Anita Joseph who was to accompany the children to Mumbai along with her 19-year old daughter, and Amrit Kumar Matera who had come to drop off the children.
Based on a complaint by the Jagran Manch members, the Government Railway Police booked Anita and Amrita for alleged kidnapping and under the Madhya Pradesh Freedom of Religion Act, and remanded them in police custody. The children were sent to a shelter, while Anita's daughter Sophie was asked to go home because she is an adult.
Amrit was also booked under the Protection of Children from Sexual Offences Act (POCSO) allegedly under pressure from the Manch.
The parents of the children filed a habeas corpus petition for the return of their children. On Monday, when the case came up, the parents of the children told the bench of Justices SC Sharma and Alok Verma that they were concerned about the safety of their children and that the police refused to release them despite requests. "The constitutional rights of the petitioners have been imperilled by illegal detention of their children without any reason," their petition said.
The parents submitted the baptism certificates of their children in the High Court to disprove the allegation that some children were Hindus and were going to be converted to Christianity in Kerala.
The petition for the children's release said that Vinod Sharma, a Jagran Manch member who led the gang to the station, was threatening the petitioners.
Dennis Michael, who filed the petition on behalf of the parents, told The Indian Express that he was brutally beaten up when he reached the police station after hearing the news. The Jagran Manch gangsters beat up and abused the children and their relatives, but the police did not act against them, he said.
Advocate KP Gangore, who appeared for the parents, said that the court asked the children questions and ordered that they be immediately handed over to their parents. "The court asked the home secretary and in-charge of Indore GRP station to file a detailed report," he said.
Gangore said that the girl whose complaint was cited by police to book Amrit under POCSO denied the charge in court. The matter has been listed for hearing on November 6.
John Dayal, Secretary General of the All India Christian Council, told Newsclick that the level of impunity enjoyed by groups such as the Hindu Dharm Jagran Manch ever since Shivraj Singh Chouhan became the Chief Minister is criminal. "There have been instances of pastors being arrested with their families and being forced to spend Christmas in jail for no crime. In the entire central and western MP region, house worships have been disturbed, and groups with connection to the Sangh Parivar are ruling the roost," he said.
"The children in the present case are confirmed Christians. Under what law were they kept in custody? They have been totally traumatised. Strict action should be taken against the police officials who acted at the behest of thugs," Dayal said. "Goons of the Sangh Parivar, encouraged by the state, are trying to frighten the minorities," he added.
"These groups are emboldened by the tacit support of the ruling party, and the social disturbance caused by the fundamentalists upsets the social fabric of society," Archbishop Leo Cornelio of the Catholic Archdiocese of Bhopal told Crux .
Bishop Chacko Thottumarickal of the Catholic Diocese of Indore told ucanews.com that the arrests constitute an attempt by hard-liners to intimidate missionaries. "We are always on their radar and it is quite scary," he said. The Bishop said that the Church people are aware of the dangers. He has asked priests, nuns and lay people engaged in social work to keep all their documentation up to date and to be transparent in their activities.
– newsclick
India, October 28, 2017: Catholic leaders are protesting the arrest of two Pentecostal Christians in the city of Indore, located in central India.
Anita Joseph, 50, and Amrit Kumar, 51, were taken into custody on Oct. 23 by Railway Police as they attempted to escort six children to a prayer meeting in Kerala. The children were handed over to Childline, a child protection organization.
The police were notified by Hindu organizations, who accused the couple of kidnapping the children for the purpose of converting them to Christianity.
Indore is the largest city in Madhya Pradesh state, which has a population of 73 million. The state is over 90 percent Hindu and less than 1 percent Christian, and is ruled by the Hindu-nationalist Bharatiya Janata Party (BJP), which also controls the national government.
The BJP has strong links to the Rashtriya Swayamsevak Sangh (RSS), a militant Hindu nationalist organization.
The police later admitted the children were from a Christian neighborhood, and not only did their parents know about the trip, some of them had dropped their children off at the train station.
Still, the two Pentecostals could face seven years in jail if convicted.
"This type of repeated harassment only on the Christians is very disturbing," said Father Maria Stephen, the Public Relations Officer for the Archdiocese of Bhopal, the capital of Madhya Pradesh.
"The authorities have no patience to find out the reality and framing them as if they are going to convert is to be condemned," the priest said.
"The [Hindu] fundamentalists consider the Christians as easy means to make their presence louder for their ulterior motives. We request the authorities to protect the fundamental rights of every citizen to travel freely with any one and everywhere, to practice and propagate one's own faith and freedom of speech with responsibility," Stephen told Crux.
In June, a religious sister in Madhya Pradesh was charged with human trafficking after being arrested by the Railway Police because she was accompanying four young women on a train to Bhopal.
In two separate incidents in May, groups of Christians in the same state were taken into custody and charged with trying to convert Hindus to Christianity, after being stopped on trains.
"This is a ploy by fringe elements, who for flimsy reasons, harass the Christians," Archbishop Leo Cornelio of Bhopal told Crux.
"These sorts of incidents by these fanatic elements disturb the peace and freedom of people," the archbishop said.
"These groups are emboldened by the tacit support of the ruling party, and the social disturbance caused by the fundamentalists upsets the social fabric of society," Cornelio continued.
Incidents of harassment against Christians have increased over the past few months across India, with various Christians being detained or arrested for "attempted conversion," and places of worship being vandalized.
On October 2, Cornelio led an interfaith rally on the anniversary of Mahatma Gandhi's birth to "respond in a proactive way" to what the archbishop called "the present polarizing tendency by fringe elements in society.
"Good thinking people cannot sit silent," he said.
Cornelio chose to highlight the figure of Gandhi because the "father of India" preached non-violence and constantly spoke about unity, peace and harmony in society.
Although freedom of religion is guaranteed by the country's constitution, several Indian states – including Madhya Pradesh, Orissa, Gujarat, Chhattisgarh, Arunachal Pradesh, Rajasthan, and Himachal Pradesh – have anti-conversion laws aimed at preventing "forced" or "induced" conversions.
Joseph and Kumar were charged under Madhya Pradesh's anti-conversion law.
"We are always on their radar and it is quite scary," Bishop Chacko Thottumarickal of Indore told ucanews.
"We have to be extra cautious in managing our homes for children, women and aged people, as even a minor mistake can cause big problems for us," Thottumarickal said.
A Church-owned youth hostel in Madhya Pradesh was closed by local authorities in September amid accusations of attempted conversion. The hostel had been established in 1997 to help members of India's marginalized tribal community, who often have no access to education.
Cornelio pointed out the media also has a role to play in this, and should make sure they are not manipulated by Hindu nationalist groups seeking to promote sensationalist stories.
"These elements are keen to keep issues alive and publish all their anti-Christian activities in the media with plenty of photographs, however after investigations are done and the allegations are found to be fabricated and baseless, no clarifications are issued in any of the media, which had earlier given publicity to the incident," the archbishop said.
– crux now
Nurturing your child begins and ends in trust.
Trust is the ultimate foundation upon which the parent-child relationship is built. "Attachment" and trust go hand-in-hand—they're really two sides of the same coin!
While the essence of attachment is the mutual delight experienced in the parent-child relationship—the essence of trust is freedom from fear and the child's confident expectation that their needs will be met by Mom and Dad.
The absence of fear crucial for mental, emotional, and spiritual health.
When trust is compromised, the child is stripped of the ability to be a secure, hopeful, optimistic, and a loving individual. Fear robs children of the emotional energy to enjoy life and explore the world and daily life is reduced to mere survival.
Trust and Our Relationship with God
The child who has not learned to trust Mom and Dad will typically struggle to build a trusting relationship with God. Throughout the scriptures God invites us to trust Him. He desires that we live our lives banking on His unconditional love and the fact that He has our best interest at heart. But in order to trust a God that cannot be seen, children must first learn to trust people during early childhood years.
Young children are very concrete thinkers and must experience abstract concepts in tangible ways. A child who lives with the confident expectation Mom and Dad will always be there for them, will typically find it easier to transfer that same trust to their relationship with God. Trust in Mom and Dad's love and availability allows a child to develop the unwavering trust that brings pleasure to the heart of God.
Where is trust developed?
Trust is intended to be developed within the context of the home and family.
Erik Erikson, a leader in the field of child development, identified specific developmental tasks across the life span that he believed formed the foundation of mental and emotional health.
The development of trust is the first developmental task identified by Erikson, and this is hopefully experienced in the infant by 18 months. A newborn and toddler is always looking for the answer to the questions, "Is this world a safe place?" and "Can I trust that my needs will be met?"
Children who successfully develop a strong foundation of trust move out into the world with a sense of optimism and hope. They are able to form healthy relationships with other people, without being clingy or fearful. With a firm foundation of trust, a child's emotional energy can be used to play, learn, and enjoy others—instead of merely trying to cope with life. A foundation of trust gives a child the confidence to be curious, try new things, and be creative.
Three simple ways to nurture trust:
1. Be mindful of your tone of voice. This is especially true when you are stressed or angry. It is always okay to be firm, but never okay to be harsh. A harsh tone of voice evokes fear which undermines trust.
2. Keep your promises. Sometimes in moments of stress or preoccupation we make empty promises. "Sure, we can go to the mall tonight after dinner." When, in fact, your schedule is packed and you can't follow through. Even though our intentions are good, broken promises of all sizes undermine trust.
3. Approach unexpected news and issues through a problem-solving lens. If you blow up when your teen tells you that he flunked a test you will likely shut down future communication, because he doesn't trust you to respond in a helpful manner. Instead, practice what you hope your children will learn to do. Don't react, take a deep breath, and stay focused on solutions.
The beauty of trust is that it can be built—and re-built!
– cross walk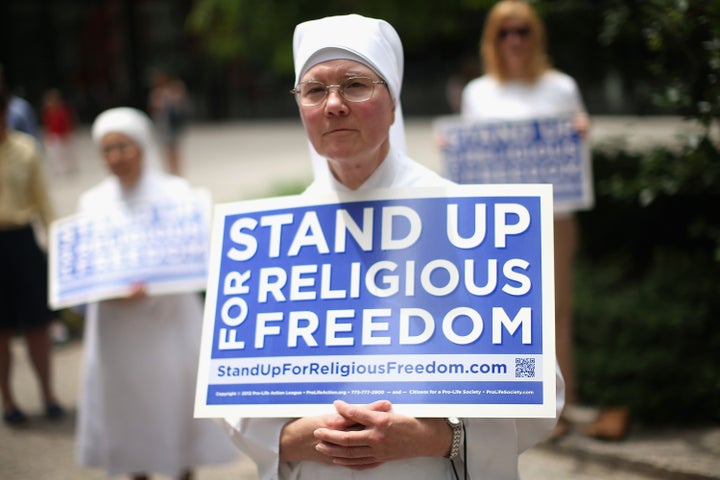 Italy, Oct 28, 2017: In 2003, British Prime Minister Tony Blair was asked about his faith during a magazine interview.  As Blair began to offer an answer, he was interrupted, cut off by Alastair Campbell, the prime minister's director of strategy and communications.
"We don't do God," Campbell said. " I'm sorry."
Campbell seemed to know, in the not-so-distant past of European politics, that any public mention of religion was a serious taboo.
This week, as top ecclesial and political leaders gather in Rome to discuss the future and identity of Europe, Vatican Secretary for Relations with the States Archbishop Paul Gallagher said that religion is no longer a forbidden subject in European politics.
"The days when you could say 'we don't do religion' are over," Gallagher said.
"Many diplomatic services throughout Europe and elsewhere are now running courses, literally accelerated courses to make up time on religion," he said, explaining that political leaders are beginning to recognize that "the world is a very religious place."
Increase in religious affiliation worldwide continues to grow around the world, he said, explaining that this fact "brings with it a very big responsibility for believers."
"I think we have to take that responsibility very seriously, and make sure that religion is making a positive contribution, and that religion, and if you want to say even the Catholic religion, is a part of the solution and not the problem."
Archbishop Gallagher spoke alongside German Cardinal Reinhard Marx at an Oct. 27 press conference on a major conference titled "(Re)Thinking Europe: A Christian Contribution to the Future of the European Project," taking place in Rome this week, drawing hundreds of high-level European Church and political leaders.
Running Oct. 27-29, the conference is organized by the Commission of the Bishops' Conferences of the European Community (COMECE) in partnership with the Holy See, and will consist of a joint, constructive reflection on the challenges facing Europe.
Some 350 participants from 28 delegations representing all E.U. countries are in attendance, including high-level E.U. politicians and Catholic hierarchy, academics, ambassadors, representatives of different Catholic organizations and movements, as well as from other Christian delegations.
Responding to a question posed by CNA on the role religion can play in Europe given its Christian roots, Pope Francis' continuous call to go back to those roots, and the growing presence of Islam, Gallagher said he believes there is a growing awareness and recognition in the world of "the positive things religion does."
Although Europe continues to grapple with a high influx of migrants, Gallagher said,"I think we have to stick to principles.  If we believe in religions freedom, then it is valid for a Hindu, for a Muslim or anybody, as it's valid for a Christian."
The archbishop also said that, in his view, there is "often a great degree of misinformation and 'scaremongering' of the sizes of the Islamic communities around Europe." The Pew Research Center estimates that Muslims constituted 6% of Europe's population in 2010.
While Europe works to carve out a path forward, Gallagher said he believes religions will play "a positive role." This, he said, is first of all because "we do recognize that some of the liberal, secularist thought that was part of much of our societies, is not in good health either."
He said we have to "combat a lot of political correctness that exists within Europe," as well as the tendency "to kick religion into the private sphere and not to allow it to be part of the public debate."
"This is something which we obviously have to work on, and it is a work in progress," he said.
Also weighing in on the issue, Cardinal Marx, Archbishop of Munich, President of the COMECE and Coordinator of the Vatican's Council for the Economy, noted that 20 years ago many people thought "religion would disappear" from society.
"That was the common conviction of many sociologists and politicians, that society will progress and religion will disappear; secularism." However, "that's not the case."
"Religions will be very important for the 21st century," he said, explaining that a key question conference participants will have to ask themselves on the role of religions is: "will they be an instrument of peace and dialogue, or of confrontation?"
For Christians in particular, the Second Vatican Council said the People of God, the Church, are "a sacrament of unity for all human beings," and not just those inside the Church.
"We are not only for us, and the Pope is underlining this," Marx said. "We are not narcissistic, inside ourselves, we are part of a solution for all human beings."
"I do not see that the Church is 'less interesting' in the public world," he said, and stressed the need to continue pursuing a dialogue with Islam, which he noted isn't new to Europe.
"So for the future, I think the Catholic Church has to play a very important role to find ways of dialogue, ways of relating to this religion, which is very important for the 21st century and Europe," he said.
The cardinal said his greatest fear moving forward is not so much that religion will be ignored or eradicated, but that "it will be instrumentalized for other reasons, for political reasons. That will be perhaps the great fear for the 21st century."
– cna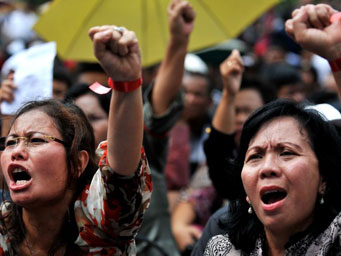 Indonesia, October 24, 2017: Organizers of an open-air prayer service in Indonesia to mark the 500th anniversary of the Protestant Reformation were forced to cancel the event following pressure from Muslim hardliners who accused them of plotting plot to convert Muslims to Christianity.
Observers said the case was another example of growing intolerance in the country.
The service was to be held on Oct. 20 at the Kridosono football stadium in Yogyakarta and to be led by Stephen Tong, head of the Reformed Evangelical Church of Indonesia, whose members are mainly Indonesian Chinese.
However, the event was scrapped after the Forum Ukhuwah Islamiyah (FUI), an arm of the Indonesian Ulema Council, wrote to stadium officials calling on them not to allow the gathering, saying it was an attempt to Christianize Muslims.
They also threatened to disrupt the event if it went ahead.
Organizers later canceled the gathering saying they wanted to avoid unwanted repercussions against Christians.
"For the shake of interreligious harmony … and to avoid acts of intolerance, the committee decided to call off the national prayer service to mark 500 years of Reformation," the Reformed Evangelical Church of Indonesia said in a statement.
Ahmad Mursyidi from the FUI said his organization strictly opposes such events in public places.
"It had the potential to become an arena of apostasy under the guise of mass healing," he told ucanews on Oct. 23.
However, the organizers scoffed at Ahmad's claim, saying that Rev. Tong has never led any healing services, only prayer services.
Police rejected the claim that hardliner pressure forced the cancellation of the service.
Yogyakarta police spokesman Yulianto said it did not go ahead because organizers did not have a permit to stage the event.
Organizers however said approval had been sought and granted in May from local authorities and police.
The service was supposed to be one of 17 major events to be held in Indonesian cities to mark 500 years since the Reformation began in October 1517, which resulted in the split with Rome by Protestants.
The cancellation of the service was the second time a major Christian gathering has been called off in less than a year. In December last year, a Christmas service in Bandung, West Java, also to be led by Rev Tong was stopped by hardliners.
Achmad Nurcholish, a Muslim scholar, said the latest case is proof that intolerance remains a threat to interfaith harmony.
"It's a sign that in our society it is difficult to accept people of different beliefs," he said. He also accused the government of not taking tough action against people who spread hatred against other religions.
"Acts of intolerance will continue unless the government pays serious attention to it," he said.
Bonar Tigor Naipospos, deputy director of the Setara Institute for Democracy and Peace said intolerant groups always use apostasy allegations to prevent activities of minority groups.
"Unfortunately, local governments back them by canceling such events under the pretext of maintaining security," he said.
– ucan