Resolutions are strategic reminders for our repentant hearts. As Christians, they should be set in place to progress of the will of God in our lives. Before compiling a new list of goals, celebrate each step of progress that was made in the last year. Pay homage to the work God has done in our lives, before surging onto the next stage of growth. Giving God glory in worship for the accomplishments we achieve is a necessary element in the Christian attribute of fostering a grateful heart. Taking our failures into account, as well, shines light into the areas of our lives where prayer for clarity is needed.
Through it all, God is guiding us. Jesus is walking with us, promising never to leave us. Prayerful consideration of the counsel of our good Father prevents needless brain-wracking and unreasonable goal-setting. His will is always in our best interest. The Voice paraphrase of Ephesians 3:20 reminds us that He promises to do more than we can ask or imagine in our lives. He can not only help us with our resolutions, but holds the key to the progress that will usher His peace into our lives.
"Now to the God who can do so many awe-inspiring things, immeasurable things, things greater than we ever could ask or imagine through the power at work in us, to Him be all glory…" (Ephesians 3:20-21).
1. Who Were We?
When entertaining the thoughts and dreams of who we want to be, it's helpful to remember who we were. Our past paths are littered with the Father's love, His helping hand, and His guiding light. In looking back, we can recognize the path that we're on much better than straining forward to see the road through the fog ahead. God has been where we are going. He permeates time. We can take comfort in His care for us, and listen steadily through the trials and triumphs of the last year, allowing them illuminate our next surge forward.
A complete hand-off of our lives into Christ's capable hands leads to reasonable resolution. We can goal-set our way to success, riches, fame, mansions, vacations, promotions, and retirement investments without consulting Him. But no vast accumulation of wealth or experience this side of heaven can equate to the soul resting peace of His will for our lives. Prayerfully seek God's request, before laying prayers for plans at His feet. Be careful not to disqualify stirrings and nudges due to feelings of unqualification or unpreparedness, for He will equip and prepare us for the achievements that await us.
2. How Do We Ask God for Guidance?
Praying over our lives in daily chair time with God is not only to seek direction, but to ask that our territory be expanded! We were each purposed with distinction, layered with talents and gifts.
Jabez, who's very name sounds like the Hebrew word for pain, is mentioned amidst a genealogical list in the Old Testament. "Jabez cried out to the God of Israel, 'Oh, that you would bless me and enlarge my territory! Let your hand be with me, and keep me from harm so that I will be free from pain'" (1 Chronicles 4:10). One verse is given to this whole mans's life, putting the fragment of time we're gifted on this earth into godly perspective. "But despite his hard-luck beginning, he was honored because of his relationship with God. This was a valuable lesson for a people struggling with their own identity" (NIV Quest Study Bible Notes).
The path of God's will for our lives is illumined by our quest for wisdom in His Word, and relational knowledge of Him through our prayer life. The joy of the Lord is that He seeks a relationship with us. Jesus was born on earth in human skin, driven by His compassion for us. The glory we give back to God shines through the accomplished path of His will in our lives. Through the obedient work we foster through His gifts and blessings, we get to work in tandem with an our almighty God. "And God did just that" (1 Chronicles 4:10). The last phrase of this verse about Jabez provides a peak inside the joy that it brings God, to bless us with fulfilled prayer requests when according to His great will. His heart is moved by faithful prayer.
3. Keep it Real
New Year's Resolutions can be successfully written and wound into the tapestry of successful steps on our path to the purpose God knit into our souls if we keep them real. Wishing on someone else's star will not do our lives any good, even if the request we yearn for does come true. We want what God wants for our lives, and there are two very important goal-setting steps that can guide us there. Now that we know how important it is to have a relationship with our Savior Jesus, and be prayerfully in dialogue with Him over the will for our lives, we can take our pen to paper and employ these actions.
First, pick one big thing for each new year. Reaching for too many giant life changes at once will set us up for failure. If we have a list of ten resolutions this year, one should be a big life change. The others should compliment this change or maintain changes of past year's resolutions.
Second, seek to see the year in steps. What steps can we make in different areas of our lives that will eventually lead to big change over time? Break life into categories of friendship, parenthood, marriage or relationships, education, career, hobbies, etc, and seek to add a small goal to some of those areas. For example, if my one big goal is to train for a marathon in the next year, some of my smaller goals might be to eat more protein and drink more water each day.
4. Be Open to Adjustments
Human imperfection riddles our lives, and all of life around us. But so does God. He permeates life in an incomprehensible way that reflects His love and goodness. When we run into a frustrating bump in a goal we've been striving for, it's ok to adjust the path of our progress rather than quit and run. Dreams are God-placed goals, but the end goals do not always look like the dreams we run away with. Staying in constant check with the progress we are making helps us to match our feelings to our productivity.
Sometimes, great progress can feel like failure, and vice versa. Paul wrote this to Timothy in a season of discouragement for the young mentee amidst a people losing their center on Christ: "Do your best to present yourself to God as one approved, a worker who does not need to be ashamed and who correctly handles the word of truth" (2 Timothy 2:15). Though we may not all be called to teach the gospel, like Paul and Timothy, we are all called to share and reflect it daily.
When we walk through life allowing ourselves the approval of being loved and accepted by God for who we are right now, we enable His will to flow more freely through our lives. Failures begin to look like U-turns that save us from making dire mistakes. Successes reveal the miracle of persistence that we were able to pull through stages and chapters of hardship laced with miracles. Life is hard. But Jesus has conquered it. With Him, life ends in eternity. Let our resolutions focus on the joyful work we get to do for Him until He calls us home. It will be hard, but it will be joyful, too. We were made in His image, to celebrate when we check a goal off for His glory.
– cross walk
U.S., December 25, 2017: Christmas is celebrated by Christians in different ways around the world — some honor the birth of Jesus Christ on different dates; some observe the holiday by featuring giant Christmas trees, markets, and Nativity plays; while others are forced to celebrate in the deep secrecy under the most oppressive regimes.
It remains one of the holiest of days for believers, marking the birth of Jesus Christ, the Savior of the world, and is a day for faith and family, bringing hope to believers in many corners of the globe where they might not have much cause to celebrate otherwise.
Some traditions, such as the elaborately ornamented Nativity scenes in Italy, go back 800 years, while in other places, like in Russia, Christians have only been able to resume their Christmas celebrations in recent decades after nearly a century of being suppressed.
Here are six countries where Christians mark Christmas in different ways, including the town of Jesus' birth:
1. Egypt
Coptic Christians in Egypt make up only a minority, around 10 percent of the population, but have longstanding Christmas traditions, such as the Feast of the Nativity.
The Copts observe the month of "Kiahk," starting from Nov. 25 through Jan. 6, where they fast and eat a vegan diet, not eating anything made from animals.
As Bishop Angaelos, general bishop of the Coptic Orthodox Church in the United Kingdom, explains, 40 of the 43 days of the Advent fast signify the period of time that Moses waited to receive the Word of God in the form of the Ten Commandments.
The other three days commemorate the number of days Egyptian Christians fasted for the miraculous moving of Muqattam mountain over 1,000 years ago.
Throughout the month of Kiahk, all liturgical and worship hymns lead up to the birth of Christ.
Like other Eastern and Oriental Orthodox Churches, Christmas Day for Copts falls on Jan. 7, with believers going to church for a special liturgy on Coptic Christmas Eve, which is midnight on Jan. 6.
"Family and friends congregate around the Eucharist, the most tangible manifestation of our Lord's sacrifice to, and love for, mankind to fully appreciate and receive the Word Himself," Angaelos explains.
"The liturgical service is then followed by a fellowship meal where the faithful break their fast and continue to rejoice in the Nativity in a spirit of joy and love."
2. Italy
Italy begins its Christmas season with the religious Feast of the Immaculate Conception on Dec. 8, which is also a national holiday where Catholics celebrate the conception of Mary.
The Castel Sant'Angelo museum in Rome fires off a cannon to mark the start of festivities, which includes parades, bonfires and fireworks.
Nativity Scenes, which are used in many Western countries and worldwide as representations of Jesus' birth, are especially popular in cities like Naples. The tradition of the crib scene is believed to have originated in the 13th century when St. Francis of Assisi asked a local villager to create a manger to help re-enact the Nativity. It has played a huge role in Italian Christmas art and decorations ever since.
The Vatican hosts a full Advent and Christmas calendar, lighting its Christmas tree early on in December, with a midnight Mass at in St. Peter's Basilica on Christmas Eve serving as one of the highlights.
After delivering the homily on the meaning of Christmas on Christmas Eve, the pope then delivers his annual Christmas message on Christmas Day at noon, sending out his traditional blessing to Rome and the world.
3. Mexico
Mexican Christmas celebrations are often centered around Las Posadas, with nine days of observance counted down from Dec. 16 through Christmas Eve.
The tradition, which is also popular elsewhere in Latin America, is based on Mary and Joseph's journey to Bethlehem and their search for a place to stay before the birth of Jesus, with "posada" meaning "inn" or "shelter" in Spanish.
The Posadas celebrations include Christmas carols, with people acting out the roles of Mary and Joseph in different homes each night during the nine days.
The get-togethers include Bible reading and prayer, with guests breaking pinatas and children given candy.
In Mexico the holiday continues through Jan. 6, marking El Dia de los Reyes, the day of the kings or the wise men, which is when children receive their gifts.
4. Russia
In accordance with the Julian calendar, the Russian Orthodox Church celebrates Christmas on Jan. 7. While the religious holiday is not as popular as New Year's Eve celebrations, it is growing in a country where it was banned for most of the 20th century due to Communism.
Two important meals are observed by practicing Orthodox Christians, one on Christmas Eve, which consists of 12 meatless dishes, representing the 12 apostles.
"Kutya is a concoction of grains and poppy seeds sweetened with honey, which serves as one of the main dishes of the Christmas feast. Vegetarian-style borsch or solyanka, a salty stew, may also be served along with salads, sauerkraut, dried fruit, potatoes, and beans," Tripsavvy.com explains.
Midnight mass at Christmas Eve is attended by prominent figures, including President Vladimir Putin in recent years.
Meat is allowed to be consumed during the big Christmas Day celebrations, including side dishes such as aspic, stuffed pies, and various deserts.
5. North Korea
Although in total secrecy, Christians find a way to mark the birth of Christ even in North Korea, the country that has been ranked as the most oppressive place for believers in the world for 15 straight years by major watchdog groups, such as Open Doors USA.
As South Korea's National Intelligence Service reported in December, leader Kim Jong Un has prohibited any gatherings involving singing or alcohol in a measure to ban anything that could be suggestive of celebration.
Open Doors explained that despite the heavy oppression and careful monitoring by authorities, in a country where simply owning a Bible could get one sent to a prison camp, Christians do manage to gather and celebrate Christmas in remote areas.
"Christmas is mainly celebrated in the heart of the Christian," said Brother Simon, who coordinates the work of Open Doors in North Korea, in 2007.
"Only if the whole family has turned to Christ is it possible to have something like a real gathering. For fear of retribution it is necessary to keep your faith hidden from the neighbors."
On rare occasions, as many as 60 or 70 North Koreans may gather together at secret locations in the mountains for service, the watchdog group added.
6. Bethlehem, Israel
Some of the biggest Christmas celebrations fittingly take place in the Israeli town of Bethlehem, where the Bible says Jesus was born.
In past years the big influx of tourists to the town has brought in over 100,000 people to mark the birth of Christ.
Multiple services and processions are led by various Christian denominations, including Catholic, Protestant, Greek Orthodox, Ethiopian, Armenian and others. The town's streets are strung with Christmas lights, with Christmas plays, markets and trees adding festivity to the scene.
The main processions pass through the world-famous Basilica of the Nativity, which is believed to be the site of Jesus' birth.
As Abu Batrous Naameh, a priest from the Syrian Orthodox Church, said last year, "celebrating Christmas in Bethlehem allows one not only to reconnect to the time of the birth of Jesus, but also the place."
"We consider this day as if it were the same day, 2016 years ago, and remember Jesus, who sacrificed himself," Naameh said, according to Jerusalem Post, adding that "the new year is an opportunity to make a pledge for peace with all people around the world and in the Holy Land."
– christian post
Egypt, December 29, 2017: Nine people were killed in two terror attacks by gunmen on Coptic Christians Friday in the Egyptian capital Cairo, officials have said.
BBC News initially reported that 10 or 12 people were killed as gunmen on a motorcycle tried to storm a church south of Cairo, opening fire, with at least one of the attackers killed by security forces.
The dead terrorist was found with an explosives belt, suggesting that the assailants could have been planning to carry out a bombing and kill even more people.
A Coptic-owned shop in the same area was attacked an hour later, which left two other people dead.
Mostafa, an auto-rickshaw driver who was near the Marmina church, said that he witnessed the attack.
"Dozens of people ran to the church entrance to see the source of the shooting. I saw the terrorist lying on the floor bleeding as policemen surrounded him. He had a beard and had a big [armor] belt around him," the man said, according to The Guardian.
The Coptic Orthodox church added in a statement: "A terrorist attack has targeted the Church of the Martyr Marmina as unknown assailants fired gunshots, killing a person from the security force guarding the church as well as five of the people of the church, in addition to other injured individuals."
Egypt's health ministry said that at least five other people were wounded, including two women who are in serious condition.
Security forces have put up checkpoints around Cairo in response to the attacks.
Officials are searching for those behind the assault, though the Islamic State terror group has claimed responsibility for a number of similar attacks in Egypt this year, which has led to the deaths of over 100 believers.
Just last week, Egyptian authorities promised that as many as 230,000 security forces would be deployed to guard Christmas celebrations around the country, given the number of church and mosque bombings in recent times.
Omar Ashour, a visiting professor of security studies at the Doha Institute, told Al Jazeera that there is an "ongoing crisis" in the North African country.
"It's more continuity than change, we still need more details to come up, but so far Egypt has witnessed over 2,000 attacks in the last three years," Ashour said.
"There are two issues, one is the political crisis in Egypt which unfolded after 2013. That has not been resolved, and it's creating more and more recruitment and radicalization to armed groups of various forms," he added.
"There is also basically a series of counterinsurgency and counterterrorism blunders which the Egyptian forces have been committing, and that is adding more and more oil to the fire."
Beside the upcoming new year's eve celebrations, Coptic Christians are also preparing to observe Christmas, which on the Julian calendar that many Orthodox believers follow falls Jan. 7.
– christian post
Indonesia, December 28, 2017: Indonesia reduced the sentences of over 9,000 Christian prisoners on Christmas day, including the sentence of a Christian governor jailed on blasphemy charges.
According to the Jakarta Post, Indonesia's Law and Human Rights Ministry has reduced the sentences of 9,333 Christian inmates. As a result, at least 175 inmates were eligible for release.
"Of the total, 175 inmates were freed upon receiving remissions," a Law and Human Rights Ministry official was quoted as saying.
The news outlet notes that the inmates were eligible for remission this year because of administration and substantive considerations on top of consideration for the type of crimes they committed.
"If an embezzler wants a remission, for instance, they must first obtain justice collaborator status," the official said.
The length of sentence reduction inmates received differed depending on how much of the sentence they had already served. The reductions varied from 15 days to a maximum of two months, Jakarta Post reported, stating that a reduction of a month or longer was given to inmates who have already served anywhere from one to three years.
A later Jakarta Post article notes that among the Christians who received sentence reductions is former Jakarta governor Basuki "Ahok" Tjahaja Purnama, who was sentenced to two years in prison earlier this year after he was falsely accused of blasphemy last year.
Purnama was in the midst of a heated re-election campaign in 2016 when a man named Buni Yani posted a doctored video to Facebook that purported to show the Christian governor speaking to residents at the Thousand Islands Regency last September.
The subtitles were edited to make viewers think that Purnama blasphemed the Quran although he he had only issued a warning against politicians who use the Quran for political gain.
The video caused much social uproar among tens of thousands of Muslims in Indonesia, who protested and demanded that Purnama be punished.
Although Yani admitted to editing the video and was even convicted in court of violating Article 32 of the 2011 Information and Electronic Transactions Law, Purnama was sentenced to jail anyway.
According to the Jakarta Post, Purnama's two-year sentence has been reduced by 15 days.
"Pak Ahok has been granted 15 days of remission," Purnama's lawyer, Teguh Samudra, was quoted as saying.
Indonesia ranks as the 46th worst country in the world when it comes to Christian persecution, according to Open Doors USA's 2017 World Watch List. Indonesia is home to the world's largest Muslim population.
According to HeraldMalaysia.com, Indonesia President Joko Widodo issued a message of solidarity for Christians celebrating the Christmas holiday.
In the message, Widodo stated that the "multiculturalism of the Indonesian people is truly a blessing." Widodo added that Christians in Indonesia are often "taken for granted."
– christian post
India, December 29, 2017: Two Christians who were jailed in eastern India earlier this year were reportedly beaten by other inmates after it was discovered that they were accused of defiling Hinduism.
According to Morning Star News, Pastor Ajay Kumar and a Bible college student identified only as Asharya were jailed after Hindu extremists accused them of conducting fraudulent conversions.
In March, the extremists reportedly tried to entrap the two Christians into actions that would serve as the basis for the accusations. The pastor was visiting a church member's house in Begu Sarai District, when he received a call from an anonymous person who asked to meet with him.
"The caller told me that he really wanted to know about Christ and asked us to meet him at Har Har Mahadev Chowk," Kumar narrated.
When he and Asharya went to the meeting place, two men on a motorcycle appeared and introduced themselves. After the brief introduction, the men reportedly started asking questions and told them that a Christian girl and a Hindu boy in their village were in love and needed their help.
"They asked me, 'How much would it cost to convert and marry in Christianity? Tell us your price. We are ready to pay whatever it costs. Please help us.' I refused. Asharya and I understood it's a trap," Kumar told Morning Star News.
The Christians told the men that they would only share the Gospel, and would not convert anyone. Kumar also stressed that they do not perform marriages and did not want to be involved in the matter.
When Kumar said that he could not help them, the men became aggressive and started hitting them. "Then they dragged us both by the collar to the middle of the road and started shouting, 'Look at these people. They do conversions. These are the people who do conversions,' and because of his shouting a crowd, of over 50 people surrounded us," he said.
The police soon arrived at the scene and took the two Christians into custody. Kumar and Asharya were charged with destroying, damaging or defiling a place of worship or sacred object with intent to insult religion. Additionally, they were also charged with maliciously insulting religion or religious beliefs.
The legal team had filed a petition for regular bail as the police have been unable to find any evidence for the allegations against Kumar and Asharya. A judge had also ruled that the case was fit for regular bail but the case was transferred to another judicial magistrate who rejected the petition. As a result, Kumar and Asharya had to spend 28 days in judicial custody.
Kumar said that the first 10 days in jail were the most difficult as the inmates had found out that they were charged with defiling Hindu places of worship .
"They tortured us. In the middle of the night at around 12 a.m., we woke up and prayed till 3:30 a.m., we meditated on the chapters in Revelation and Psalms. We devoted our time for prayer and worship," the pastor said.
He noted that they did not try to convince anyone of their innocence but the other inmates eventually realized that they were framed.
Kumar said that they read the parables of Jesus and Psalms with the inmates every day and some began to turn to Christ. More than 30 out of the 42 members of their ward had converted to Christianity, according to the pastor.
The two Christians were released on bail on Nov. 29 when their case came up for hearing before the judge who had previously stated that the case was fit for regular bail.
Kameshwar Singh, an attorney representing Kumar and Asharya, said that since the charges against them are false, the Christians can either appear before court hearings and ultimately be acquitted, or they can go to the High Court in Patna to submit a petition to quash the First Information Report.
Christian leaders in India have noted that the incidents of Hindu extremists attempting to entrap Christians are increasing at an alarming rate.
Due to the increasing hostility against Christians in India, Open Doors USA has ranked the country in the 2017 World Watch List as the 15th nation where Christians experience the worst persecution.
– christian times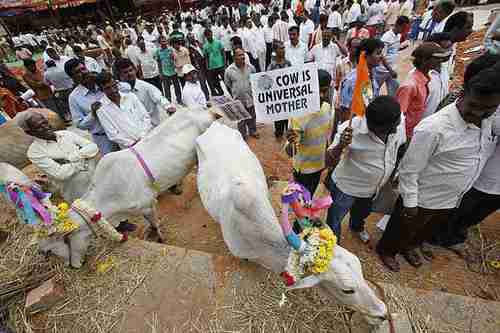 Jaipur, December 25 2017: Gyan Dev Ahuja is not a stranger to controversy, having earlier claimed that the JNU is a hub of sex and drugs with no tangible proof. Rajasthan's ruling Bharatiya Janata Party MLA, Gyan Dev Ahuja, has warned that if anyone indulges in cow smuggling or slaughters a cow, he will be killed.
Ahuja's threat to cow smugglers came as a response to an alleged cow smuggling incident in Alwar district on Saturday.
"Mera to sidha sidha kehna hai ki gau taskari karoge ya gau kashi karoge to yun hi maare jaoge (I say this clearly: if you smuggle or slaughter cows, you will be killed)," he told reporters.
Not a stranger to making controversial and bizarre statements, Ahuja had previously claimed that the premier Jawaharlal Nehru University was a hub of sex and drugs, where 3,000 used condoms and 2,000 liquor bottles were found daily.
On Saturday, an alleged cow smuggler was caught, while two of his associates managed to escape in Ramgarh area of the district, which often sees violence by cow vigilante groups.
The man caught was allegedly beaten by local residents.
However, Ahuja claimed the accused was injured after the vehicle in which he was allegedly smuggling cows overturned.
"Three men were smuggling cows. When police chased them, they tried to escape through narrow lanes of a village and the vehicle overturned leaving one of the smugglers injured. Two others managed to escape," the Ramgarh legislator claimed when contacted.
He said people resent cow smuggling and slaughter.
"There is anger among people against cow smugglers because they smuggle cows; because they open fire at police when police try to prevent them. They also take roads through villages in Alwar to escape to Haryana and pelt stones at the villagers," he said.
Ahuja said there has been a sudden spurt in incidents of cow smuggling of late.
"More than 100 incidents have occurred in the past a few days, which is alarming and unusually high. Police are also doing their job to check such incidents," he said.
Circle Officer Alwar South Anil Kumar said a man – later identified as Zakir – was arrested for smuggling cows on Saturday.
He was beaten by villagers before the police took him into custody. "A police party tried to stop the mini-truck but the accused fled after opening fire at the police. There were 8-10 bovine animals in the truck," Kumar said.
– pta
Karnataka, December 29, 2017: The Karnataka government on Friday said it has rejected the criminalisation of "triple talaq" which was passed by the Lok Sabha on December 28.
Representative of the Karnataka government and minister for minority welfare, Tanveer Sait on Friday said, "The government, at my level, has decided to reject the legislation on criminalising triple talaq."
Sait said that the Centre on December 11 had written to the state government seeking its opinion on the legislation of criminalising triple talaq.
"However, we have not replied to the Centre on this matter which in effect means that we have rejected it," said Sait.
The minister said, despite the Lok Sabha having passed the legislation, it is still not official and that it can always be "legally" challenged. While the legal challenge is at a latter date, as of now it is yet to be ratified by the states.
The minister will be calling for a meeting of Karnataka minority MLAs and the religious heads of the Muslim community in the state early next week.
"Once we hold the meeting and discuss the issue, a detailed reply to the Centre on their effort to seek Karnataka stand will be dispatched," said the minister.
Elaborating on the reasons for rejecting the act, Sait said that the legislation was misleading the people on the tenets and essence of Islam which has been captured in the Muslim personal law.
– times of india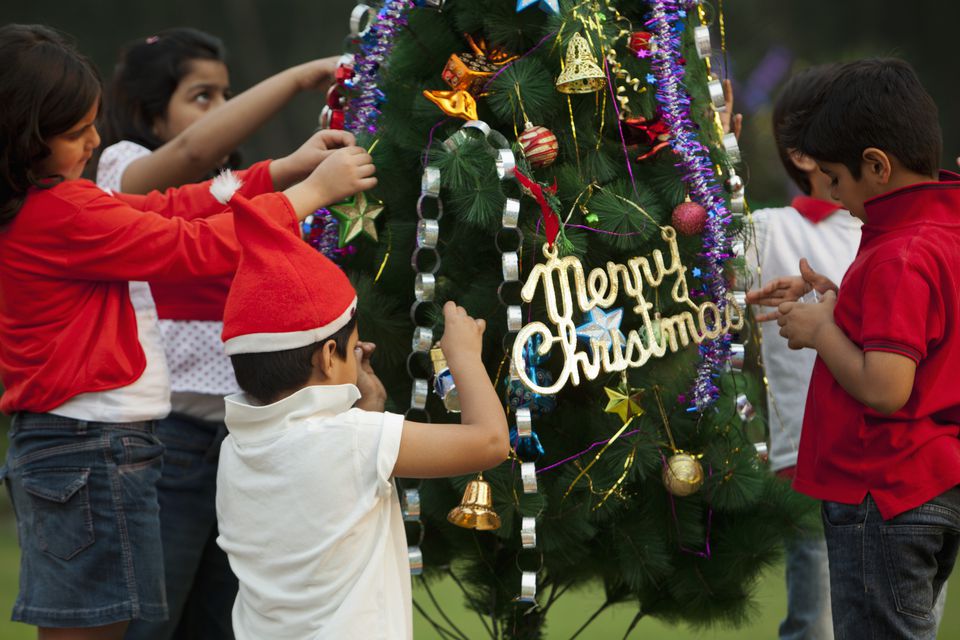 Need a little Christmas spirit that doesn't break the bank? Check out these low-cost and free ways to commemorate the reason for the season.
In these times of economic uncertainty, many of us yearn for a simpler, less stressful holiday season. "There is a universal wish to end the year with a festival of renewal that rekindles our faith, brings us closer to the people we care to ward off the commercial excesses of the season and create an authentic, joyful celebration in tune with our unique needs and desires," write authors Jo Robinson and Jean Coppock Staeheli in Unplug the Christmas Machine.
How can you accomplish this? First, think about what children really want for Christmas, such as time with family, an unhurried holiday and family and cultural traditions. Then keep your focus on the real meaning of Christmas.
Pick a few of the following low-cost and free ways to celebrate the season with our families and friends, or use the ideas as a starting place to create your own unique holiday traditions.
Christmas is More Than One Day
Want to enjoy Christmas all month long? Then check out these ideas for celebrating Dec. 1 through 25 and beyond.
Marking time. Advent calendars are a great way to help children count down to Christmas Day and to interject the true meaning of Christmas in the process. Have your children count off numbers and then rotate those numbers to avoid squabbles over whose turn is it to place the star of Bethlehem in the heavens. Cost: Low-cost or free.
Reading Christmas. Each Dec. 1, we get out our Christmas books and holiday movies. Each day during December, one child picks a book or movie for the entire family to watch or read together. Variations of this include wrapping the books and movies separate and having the kids pick something sight unseen. Rebekah Hammer of Tijunga, Calif., does this with her family. "Books can be gotten free or cheap on eBay, Paperbackswap or used book stores," she says. Also consider a holiday-themed book swap with friends to get an influx of new material or visit your library to snag some books to read. Cost: Low-cost to free.
Deck the Halls
Decorations can bring cheer to any occasion and Christmas is no exception. Check out these fun ideas that revolve around decorating your home.
Decorating party. Get the whole family involved in putting up the tree and other Christmas decorations by planning a specific time. Serve hot chocolate, play Christmas music and turn lose your decorating muse. Cost: Free.
Remembering our animal friends. Pop plain popcorn and string the popped kernels with fresh cranberries. Place the ropes on an outside tree or bush near a window and watch the birds enjoy their Christmas treat. "Paint" pinecones with peanut or other nut butters, attach a string and hang up in a tree for the squirrels to enjoy. Cost: Low-cost.
A Musical Season
Music has a way of lifting hearts and getting everyone into the Christmas spirit. Here are some musical ways to enjoy your holiday season.
Caroling, caroling through the neighborhood. Gather together a group of songbirds from your family and friends for an afternoon or evening spent serenading neighbors. Practice four or five Christmas hymns and end the concert with "We Wish You a Merry Christmas." Consider visiting area nursing or retirement communities, hospitals or hospices and even your local mall (with permission!) to spread some holiday cheer. Cost: Free.
A musical Christmas evening. Sit by the tree and sing Christmas carols, have children or adults play Christmas favorites on instruments and read "The Night Before Christmas" or other holiday poems or short books aloud. Serve holiday cookies and wassail to get into the spirit of the evening. Cost: Free.
Attend a Christmas concert or play. Many churches put on free, beautiful productions of the Christmas story in songs and plays. Call area houses of worship, check local newspaper listings, and ask family and friends for recommendations of performances. Cost: Free.
Bright Lights
Christmas also can cheer up our lives with the many light displays that range from the simple to the eye-popping. Here are some suggestions for enjoying the brightness of the season.
Neighborhood lights. One evening, have everyone get into their pajamas and pile into the family car for a drive around the neighborhood to ogle the handiwork of your neighbors. Wrap up a plate of holiday baked goods to give to the owners of the house voted by your family as the most Christmasy. Cost: Free.
Light shows. Most localities have a light show within easy driving distance. These shows are generally in a park and feature large and innovative light displays. Weekends are peak visiting time, so if you don't like crowds, pick a weekday evening. Our family has a tradition of going to see the local light show after Christmas to avoid the crush. Most venues charge by the car-load. Cost: Low-cost.
Handmade from the Heart
Here are some ideas for spreading Christmas cheer you can make yourself.
Ornaments. Tree ornaments can be made from almost anything, including things you have around the house. Most of the raw materials are inexpensive to purchase and instructions for a variety of homemade ornaments abound on the Internet. (Here's a craft site with dozens of ideas.) Some ideas of things that can become tree decorations include clothespins, Mason jar lids, pine cones, lightweight photo frames, buttons, fabric scraps, etc. Cost: Low-cost.
Holiday cards. Have your little ones get creative and draw festive scenes, scan and print on card stock for handmade Christmas greetings. Using holiday stamps on card stock will work, too. Cost: Low-cost.
Homemade wrapping paper. Turn your kids loose with stamps, glitter, markers and their imagination on a roll of butcher paper and use it for wrapping presents. Cost: Low-cost.
Video cheer. Record an original family Christmas presentation with skits and songs. Make DVD copies and sent to far-off relatives and friends. "We live quite a distance form family," says Deborah Tate of Lake Worth, Fla. "So to compensate, when our children were young, we always starred in our own homemade, family Christmas video production. The grandparents and everyone else always enjoyed seeing our family Christmas show."
Christmas is Giving
At this time of year, it's also important to focus on those who are struggling. Helping others can boost our own holiday spirits.
Adopt a family. If you're able, consider sponsoring a family in need this holiday. Area nonprofit groups like food banks often have programs that link a needy family with a sponsor. Our family does this each year and our children love to go shopping for that family's children. Cost: Low-cost.
Volunteer. Soup kitchens, food banks, and other nonprofit groups have need of extra hands during the holiday season, so consider signing up as a family to help out. Cost: free.
Smile. Just having a cheerful countenance can make someone's day. Try to smile as you go about your errands. Treat each sales clerk and cashier with kindness. Don't be a Scrooge with your face—smile. Cost: free.
Christmas Day
When December 25 finally arrives, here are some ways to keep the true meaning of Christmas front and center.
Read the Christmas story. No matter which Gospel you pick, reading the Christmas story with your family around the tree can be a special time. Hearing the story of God incarnate becoming man sounds as fresh today as when it was new more than two centuries ago.
Birthday of Jesus. Singing "Happy Birthday" to Jesus or baking Jesus a birthday cake can help everyone remember Dec. 25 is celebrated as his birth date. Nancy Swarthout of Kasson, Minn., bakes a cake for Jesus at Christmas. "It reminds my family that Jesus is the reason for Christmas and it is not about Santa. We also say a special prayer before we have the cake thanking God for sending us his son," she says.
No matter how you celebrate Christmas, keep in mind that your family is not like anyone else's—and your holiday traditions don't have to be, either. Use these ideas to develop your own Christmas traditions and cherished holiday memories.
– cross walk
Germany, December 22, 2017: A school in Germany has decided to restrict its Christmas celebrations and stop performing music that contains Christian lyrics after a Muslim student complained that carols are incompatible with Islam.
Headmaster Friedrich Suhr of the Johanneum Gymnasium in Lüneburg said that the school will now be taking a "sensitive approach" to the holiday, Breitbart News reported on Thursday, based on a translation of an NDR.de article.
Suhr clarified initial reports that the school had "canceled" Christmas, by stating the annual Christmas party, which was postponed, will still take place, but will be voluntary.
What is more, music lessons at the school will no longer include religiously-themed lyrics in order not to offend students of non-Christian faiths.
Bianca Schöneich, a spokesperson for the local authority, said that "religious content in schools should be done in moderation," warning that "a Christmas party should not have the character of a church service."
Local church figures have spoken out against the limitation of Christians celebrations, however, with Catholic Bureau of Lower Saxony prelate Felix Bernard stating that religious music in Germany "is part of our cultural heritage."
"The singing of Christmas carols constitutes neither a religious confession nor a service," Bernard told Hannoversche Allgemeine Zeitung.
Auxiliary Bishop Nikolaus Schwerdtfeger added, "The fact that a school Christmas party cannot take place during class time, I find a pity and also a bit absurd."
Germany, which has had to deal with a large influx of refugees — over 1 million — most from Islamic countries, has seen a decline in religious faith in recent years, though the 500th anniversary of the Protestant Reformation has also sparked hope for a Christian revival.
"We really sense there is some move of God," Susanne Schmell, a German native who leads the Youth With A Mission group in Bad Blankenburg, told The Christian Post back in November.
"For the Germans, our prayer is that the Lord will not only visit us again but restore the gift of faith to the Germans because we have lost it," Scmhell said.
Madison Horn, from Gas City, Indiana, and a recent graduate of Ivy Tech Community College, told CP while leading the outreach team in Germany during Reformation week celebrations: "I just feel God's presence here; the Holy spirit is moving here. He's moving into people's hearts and opening up the things that are closed, the walls that are closed. Those are just being torn down."
Christmas celebrations have been challenged and canceled in other places in Western Europe too this year.
A school in Denmark decided to cancel its traditional Christmas service at church, with concerns that it would offend non-Christian children and parents.
Christian critics spoke out against the decision, however, including Graested Mayor Kim Valentin.
"We are a Christian country and we should be proud of it," Valentin wrote on Facebook. "It shouldn't be mandatory, but our church and especially Christmas is an important part of our culture."
– christian post
Lahore, December 21, 2017: Another Church has been attacked in Pakistan, this time by a violent mob amid escalating pre-Christmas tensions.
More than 50 armed men stormed St. Paul's Catholic Church on the night of Dec. 19 night in Sambrial Town of Sialkot district in Punjab Province.
The assailants fired shots into the air and entered the church compound, pulling off its plaque and damaging a window.
Parish priest Father Victor Sawera filed a complaint with police.
According to the priest, the mob was led by Asadullah Randhawa from the purportedly centrist Tehreek-e-Insaf political party of retired Pakistani Muslim cricketer Imran Khan.
Fr. Sawera said some Protestant pastors were trying to apply political pressure to be able to use Catholic premises for small religious gatherings.
"This is our internal matter and Muslims should not get involved," said Fr. Sawera, who has been negotiating with Protestants over the disagreement since his transfer to the parish in July.
Desperate pastors were now trying to close the church, he added.
Fr. Sawera expressed concern for the safety of worshippers in the wake of the Dec. 17 suicide bombing at the Bethel Memorial Methodist Church in Quetta, the capital of Balochistan Province.
Nine, worshipers were killed, including three women, and 57 injured.
So-called Islamic State (IS) terrorists claimed responsibility for the attack.
Church security volunteers in Punjab province have been urged to keep licensed firearms at hand during Christmas services.
"We have a team of security volunteers, but they will not be on duty at Christmas," Fr. Sawera said.
"I do not want another conflict between locals. We shall get a court stay and try to resolve the matter peacefully."
According to media reports, 16 Churches have been attacked by terrorists and violent mobs in Punjab Province since 1997.
This April, the army arrested then released an alleged female suicide bomber planning to attack a Church in Lahore over Easter.
Rwadari Tehreek, a social interfaith movement, has urged government officials to take tough action against terrorists and militant outfits.
The Christian Chairman of Rwadari Tehreek, Samson Salamat, and the Muslim Vice Chairman, Deedar Ahmed Mirani, called for specific measures to combat the financing of terrorist organizations.
And a joint statement sought the destruction of hideouts and training centers used by militants as well as restrictions on their recruiting activities at educational institutions.
And those engaged in "hate speech" should be arrested, the interfaith group said.
– ucan