Bihar, December 20, 2017: Growing up in Darbhanga, a small town in Bihar, during the late 1980s and early 1990s meant power cuts had become part of our lives. It meant living in a small colony full of kids of your age with whom you could play with. We rode our bicycles on rough roads which were full of big holes and were always waterlogged during the monsoons. It also meant that there were only a few good schools where middle class parents with their fascination for English-medium education could send their children to.
In most towns and cities of Bihar, the most prestigious schools were the oldest ones, often run by Jesuit missionaries; sisters, fathers and brothers who became part of our lives. It also meant an introduction to Christmas celebrations and the long Christmas break that followed.
Even as the temperature dropped, Christmas meant that the warmth with which everyone treated us suddenly saw a rise. Our teachers sang carols in Hindi and performed re-enactments of the Christ's birth during the morning school assembly. There was of course, Santa Claus and you were lucky if you received a candy from him. Even if you were unlucky, you ended up with a sweet tooth at the end of the day owing to the generosity of the teachers.
At home, there were plum cakes which my mother used to buy from Christian bakeries and gifts that I made her buy for Christmas. There was happiness, celebration and warmth.
There was and it might come as a surprise to a lot of right-wing folks, no conversion. None of the Hindu students, including me converted to Christianity because we happened to celebrate Christmas. No sir, that happens only in your make-believe world.
These days, all the hullabaloo and hatred for Christmas celebrations and missionary schools on social media is not surprising considering the newly discovered insecurity around our religious identity. What's surprising is how blatantly people hide their vitriolic hatred in the guise of protecting their religious choices. Anyway, as they say, Christmas is about happiness and we will return to that debate some other point of time. (We have to, there is no other choice).
Coming back to festivities, during my higher education in Patna, Christmas became even bigger part of our lives. As adolescents, it became important because of how central it was to the pop culture we all followed ardently. India was open for business now and pop culture was an essential part of it. MTV and Channel V had opened shops. There was Friends on telly. Our rooms were full of English pop cassettes priced at Rs 75. And hence to be part of the "season", we bought little Christmas cards where we wrote notes to each other and exchanged small gifts that made us all happy. It was consumerist, of course, but I am not sure that is what Hindutva elements complain about.
In school, our Christmas celebrations had also become more hip. Now, the Hindi carols were replaced by English ones. "Silent nights" made a silent, but forgettable entry into our lives. There was cake and coffee on offer if you visited school on Christmas day. We celebrated it like we celebrated every other festival in school. I remember Holi celebrations when we would come back from school, completely painted in colors. During Diwali, a cracker would go off right in the middle of father principal's speech. He would get angry but that didn't change anything. The point is, festivals were about festivity and will always be about that. To make out of them an issue about religious identity, is absolutely unnecessary and somewhat idiotic.
But who am I talking to, right?
The thing is, Christmas, like any other festival celebrates humanity. It celebrates the idea of people coming together and sharing happiness. It encourages people to open their hearts and give generously. The giving can be in the form of kind, cash or just love. It tells us stories of courage and mercy, similar to what most of the Hindu festivals teach us. There is no bigger celebration of humanity than giving and sharing happiness, than being good. I realised that when in Class 11 and had to become Santa Claus and since the principal was a Mr Scrooge, he didn't give me any candies to distribute. This was perhaps the first time in life I used my pocket money to buy candies for others and, surprisingly, felt happy after I had done it. It's time the Uncle Scrooges of the world learnt that lesson. It's time the ghost of Christmas past, present and future visited them and showed them their conscience.
And you dear fanatics, it's time you gave celebrations and unity a chance, instead of hate. Because whether you like it or not, in this internet age, your kids will grow up to watch Friends and listen to George Michael's "Last Christmas", watch Santa selling soda and celebrate Christmas because even you can't stop capitalism from celebrating capitalism.
– dailyo
Today is my first son's first day at his first job.
Josh is rarin' to go, but pauses for a hug and a blessing before he leaves. It's a simple but physically demanding job – unloading big brown trucks from a well-known delivery service. After years of sports and workouts, Josh is equipped to handle the muscle power.
But only time will tell if Josh has everything else it takes to succeed on this and all the jobs to come, to sustain his academic momentum in college, and eventually to provide for a family.
While today marks a rite of passage for Josh, it doesn't stand in isolation. It's the day his dad and I have been preparing him for since we first taught him to pick up his clothes, to crush the cans for recycling, or to vacuum out the car. It's what it was all about when we gritted our teeth and took the extra time to make him do something when we could have done it faster and better ourselves.
It's the real life test of our everyday efforts to raise children with a work ethic.
Believe me, it hasn't been easy. In today's culture of plenty, parents who place a premium on teaching children to work may find themselves going against the flow.
The good news is that the flow may be turning. According to a Time magazine poll, 80 percent of Americans think children today are more spoiled than children 10 or 15 years ago, and 75 percent think children today do fewer chores.
Dr. Ruth Peters, a psychology contributor to NBC's Today show and author of Overcoming Underachieving (Broadway), says: "Daily in my practice I see parents who have made the mistake of not taking the time and attention to teach their children to be workers and achievers. These kids have learned to settle for less rather than to face and challenge adversity, to become whiners rather than creative problem solvers, and to blame others for perceived slights and lack of success."
The ability to work hard, to tolerate frustration, and to take responsibility doesn't just happen without a push from parents. To get your children off to the best start, here are seven guidelines:
Start Early
Lay the groundwork early. When our three-year-olds beg to peel carrots, or our four-year-olds plead to sweep the floor, our tendency is to say they're not ready. But teach them when they're eager and they'll be more likely to step up to the plate later on.
Accept What You Get
When faced with less-than-perfect results, graciously praise the effort.
For example, when seven-year-old Madison surprised her family by cleaning the windows, her mom ignored the smudges and smears.
"What hard work!" she said simply, "I love to clean windows too. Next time let's do it together!"
Know Your Children
There's a difference between a 5-year-old who doesn't know that plates have backs and a 10-year-old who neglects to wash them because he's in a hurry to play. One needs teaching, the other needs accountability.
Parents also need to know how to motivate each child. Young children are often motivated by verbal praise. Older children may need more: money or privileges.
Teach Delayed Gratification
Establishing a pattern: we work, and then we play. You might say to your child, "I know you want to play outside. Let's pick up all these blocks and fold the clothes and then we can go together." Or, "Let's get the house cleaned up and then we'll make some popcorn and watch a movie."
Equip Them To Earn
Through the years we've given our kids a base allowance, then awarded bonuses for work done well and cheerfully. We've also encouraged them to find other ways to earn money.
These have included raising rats for pet stores, paper routes, and a wood splitting business. What all these ventures had in common was that they took an enormous amount of time and energy – mine and their dad's!
If your child wants to rake leaves, be ready to knock on doors with him. If she wants to walk dogs, help her place an ad in the paper. Be ready and willing to help your child start working, and you'll be amazed at the life lessons she'll learn.
Encourage Volunteering
Today volunteerism is trendy. Many schools require community work from students each semester. For Christian kids volunteerism holds a special resonance, as it means following Jesus' command to love and serve.
When your children are young, find ways to involve them in your own service projects. Let them help you deliver a meal to a new mom or houseclean for an elderly friend. Pick up trash on your street or on the beach, visit convalescent homes, or pull weeds for a next door neighbor.
Be a Role Model
So much of who our children turn out to be is a reflection not of what we try to pour into them but of what they see in us. It's not the big occasions our kids will remember most, but the everyday stuff that revealed what their parents were really made of – how we handled frustration, whether we were on time and kept commitments, whether we did our own work with a smile or a frown.
Like all good things, building a strong work ethic in your child takes constant effort. But you'll know it's worth it when your child comes home from the first day of his first job looking tired and satisfied and grown-up and says something like Josh says to me:
"My boss said I did a good job, Mom. Thanks for everything."
– cross walk
U.S., December 19, 2017: Online pornography is one of the fastest growing addictions in the United States, on par with cocaine and gambling.
Once confined to the pages of a smuggled Playboy magazine, pornography can now be in the hands of anyone with a smartphone, and is more prolific and anonymous than ever.
PornHub, one of the world's largest sites with porn video streaming, reports that it averages 75 million viewers per day, or about 2.4 million visitors per hour. In 2015 alone, the number of hours streamed from the site was double the amount of time human beings have populated the Earth, according to TIME Magazine.
And while pornography used to be a simpler problem for priests to address in the confessional – consecrate yourself to Mary, go to weekly adoration – the growing level of addiction makes it a much more complex problem for the Church to address.
That's why Fr. Sean Kilcawley, the program directory and theological advisor for pornography ministry Integrity Restored, has started to put on intensive trainings for clergy, providing them resources and practical tips for how to address the growing crisis of pornography addiction.
How the trainings work
For an intensive training, Fr. Kilcawley takes a dozen or so priests for 3-4 days and immerses them in resources and training for the porn-addicted in their fold. He also facilitates shorter, one-day conferences.
"We try to equip the priest to get that person to come talk to them outside of confession, just to bring that into the light, so that the priest can then become the first responder in the field hospital of the church," Fr. Kilcawley told CNA.
Smaller groups work best, he added, because it allows the priests space to process the information and to be more vulnerable with one another.
During these trainings, Fr. Kilcawley tackles the subject from an anthropological and theological standpoint, while Dr. Todd Bowman, a Christian psychologist and director of the SATP Institute, addresses the issue from a psychological viewpoint.
Modeling the relationship between a priest and a sex therapist during the trainings is key, Dr. Bowman said.
"I know that sounds like the start of a joke: a priest and a psychologist walk into a conference," Dr. Bowman told CNA.
"But (it's important) to demonstrate this relationship between soul care and care of the psyche or the mind, this process of healing often requires psychological care," he said.
"So we're trying to give priests the experience that not all psychologists are anti-church, or anti-Catholic. At the same time, not all Christian or Catholic therapists are equipped and qualified for this, so we're trying to…(show them how to be) intentional in selecting therapists who will honor church teaching but who will also have the competence to do this work well with porn or sex addiction."
Preventative action: Stopping porn addictions before they start
Practical things priests can do to address pornography addiction generally fall into two categories: preventative and interventional, Fr. Kilcawley noted.
One of the key things a priest can do to stop pornography addictions is to ensure that the parents of the parish are being provided with education and resources they need for pornography prevention in the home.
"We've always said that it's the parent's job to educate their children, but as a Church we haven't done a great job teaching the parents how to educate their children," Fr. Kilcawley said.
"And we now live in a world where it's no longer optional to have those conversations."
No longer optional, because studies show the average age of first exposure to pornography is 8 years old – and any kid with access to a phone or a tablet could accidentally stumble upon pornography, he said.
One thing he recommends is that parishes hold mandatory meetings for parents of children who are either receiving the sacraments or religious education at the parish, where they can give parents an overview of Theology of the Body, as well as tips and resources for internet safety and how to address pornography.
It can be especially difficult to know how to talk about such a mature topic with such a young age group. However, several books have been written in the past several years to help parents know where to begin, Fr. Kilcawley said, and some parishes hand them out during meetings with parents.
One of his recommendations is "Good Pictures Bad Pictures," a read-aloud picture book that helps parents address the issue with very young children.
Starting at the 4th grade level, Fr. Kilcawley recommends the book "Wonderfully Made! Babies" which puts the content within the context of theology of the body and the sacrament of marriage.
For the junior high and high school level, he recommends "Plunging Pornography," a book to leave in the bathroom for teens to find that can serve as a conversation starter.
Fr. Kilcawley said in some parishes, groups like the Knights of Columbus have paid for some of these books to be handed out to every parent.
He also recommends internet filters like Covenant Eyes, which sponsors a special service for parents, parishes and schools.
Interventional: What to do about those who are already addicted
Probably the most common place a priest will first find out about a pornography addiction is in the confessional.
When someone confesses viewing porn, Fr. Kilcawley said one of the best things a priest can do is to ask a few guiding questions to help them make a good confession.
"Ask questions like, 'How frequently do you fall into porn and masturbation in general?'" Fr. Kilcawley said. The question is not meant to pry – it helps determine whether the person needs additional help.
It's also helpful to ask when the problem started.
"If it started before puberty, which is most common now, almost everyone who started before puberty is going to need extra help stopping, they might need counseling or group support, and spiritual direction," Father said.
A third question to ask would be if they've tried to remove porn from their life – are they already using filtering software? Are they seeing a therapist or going to a 12-step group?
And then finally, Fr. Kilcawley advised priests in the confessional, ask them if they want to stop.
"Just to help them make a good firm purpose of amendment," he said, adding that when they answer yes, that's a good opportunity to offer them more resources.
But it's important that the help be personal. Simply handing the person a flyer and telling them to call a therapist or a group typically doesn't work, Father noted. It should either be the priest, or someone involved in that specific ministry at the parish, who is the first point of contact for that person, and can help them get in touch with additional resources.
Another thing priests can do is start a porn or sex addict support group in their parish. Fr. Kilcawley said he started one in his office once a week, with a small group of men who were all struggling with porn addictions.
"Most people who are stuck in addiction, they need a support group, whether it's a 12-step group like Sexaholics Anonymous or a spiritual support group, where they are open and vulnerable and accountable about their lives. They need that, plus a counselor, plus a spiritual director that they're working with regularly," he said.
Thou shalt not: The don'ts of porn ministry
A mistake often made by untrained clergy in pornography addiction ministry is that they may suggest, explicitly or implicitly, that a pornography addiction is the fault of the spouse.
"It's not the spouse's lack of sexual interest that's to blame for her husband's sexual addiction," Dr. Bowman said. Addicted persons will often try "blame shifting," he added, which creates "a spiritual crisis that compounds the betrayal trauma" of the spouse.
The next mistake clergy could make would be to minimize the impact of the addiction on the spouse. Most people who find out their spouse has a sex addiction will experience varying levels of feelings of betrayal, Dr. Bowman said.
"There's significant trauma in that loss of identity – but the Church can speak about identity as sons and daughters of God into that space," he added. It's when identity is only being informed by brokenness that bigger problems arise.
Another mistake would be to abandon those in recovery. If a priest commits to setting up support groups in his parish, he needs to follow through, Dr. Bowman said.
"If you are setting yourself up as a support that means take the phone call, schedule the meeting, even if it's inconvenient, you're going that measure and not abandoning folks in recovery," he said.
Not a fringe ministry – this is evangelization 101
The biggest cardinal mistake that clergy can make in regards to pornography addiction ministry is never mentioning it, Dr. Bowman said.
It's usually a more "omissive than commissive" problem, he commented. "It's not like (clergy) are actively avoiding talking about this, but they may think, 'My parishioners don't want to hear about this, there are other things that are more relevant and important.'
But, according to Dr. Bowman, "There may be no more pressing topic for parishioners and priests alike…the only mistake would be not to bring it up."
It may be helpful for priests to view this as part of evangelization, and not as a fringe ministry, Fr. Kilcawley said, because very likely, someone who is stuck in addiction is unable to have a good relationship with the Lord.
"Most people who are stuck in addiction believe they're unlovable, and that if people really knew them they would reject them, and they don't trust other people to meet their needs and so they have to meet their own needs, and their addiction is the best way to meet their need," he said. "So if someone has those core beliefs, they can't really know our Lord."
"So anti-pornography work and anti-porn apostolates, they're really the first stage of evangelization."
Both Dr. Bowman and Fr. Kilcawley said they hope that increasingly, priests become aware of the urgent need to reach pornography addicts in their pews.
"We live in a culture where statistically, about half of Christians report looking at porn at least monthly," Fr. Kilcawley said.
"So if that's the case then, yeah we need a lot more (pornography ministry). It's not a ministry for a few people, it's more of a ministry for everyone."
– cna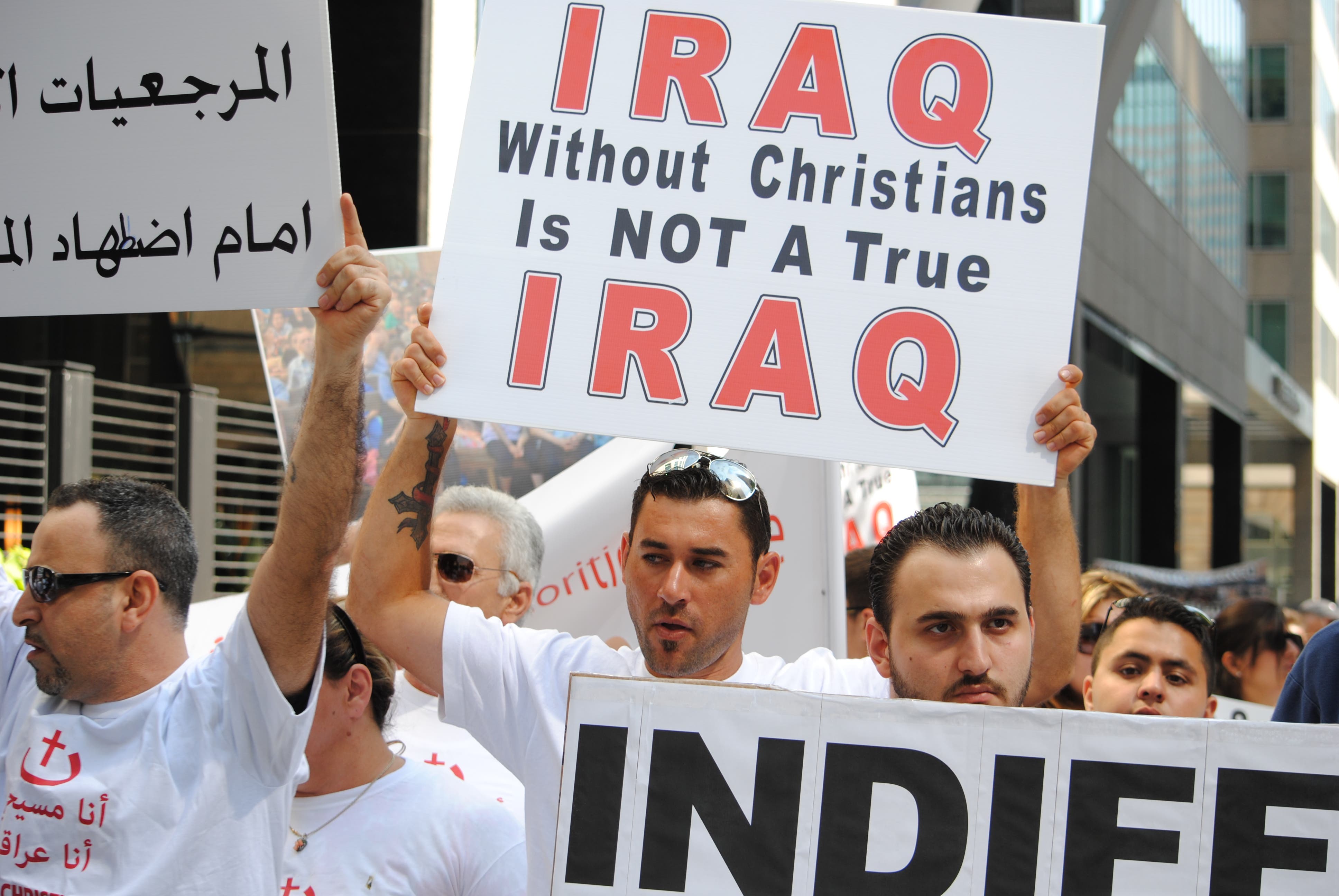 Iraq, December 19, 2017: Although it's been months since the Islamic State was pushed out of towns in Iraq once populated by Christians, about 80,000 Christians have yet to return home and remain displaced inside of the country as winter has arrived, according to a prominent Assyrian humanitarian.
Juliana Taimoorazy, an Assyrian Christian who founded the Iraqi Christian Relief Council and serves as a senior fellow at the Philos Project, told The Christian Post in an interview that as many as 50,000 Christians have returned to their homes in the Nineveh Plains of Iraq now that the region has been liberated from IS (also known as ISIS, ISIL or Daesh).
She warned, however, that most Iraqi Christians who were pushed from their homes and sought shelter in displacement camps in northern Iraq have yet to return because they are waiting on assistance to help them rebuild their destroyed homes, villages and churches.
"Throughout the Nineveh Plains, there are about 55,000 people that have returned," Taimoorazy said, adding that there were between 150,000 to 180,000 Iraqi Christians displaced when IS took over in 2014.
"There are many who left Iraq. They went to Turkey. They went to Lebanon. They went to Jordan. The number of Iraqi Christians that are in Turkey is about 45,000. In Jordan, it is about 20,000. In Northern Iraq, we probably would want to say that there are at least 80,000 to 100,000 are displaced in the Nothern Part of Iraq."
Taimoorazy added: "While those aren't official numbers, as there isn't a way of counting these people with no census system in place, these numbers are provided to Iraqi Christian Relief Council by various aid organizations and officials from Iraq."
While a constant concern from human rights advocates and Iraqi church leaders has been that United States and United Nations aid funding has not been getting to organizations that are directly helping to rebuild religious minority towns and homes, a number of aid groups have been hard at work trying to assist some Christians and religious minorities in their return home.
Along with bigger organizations like Knights of Columbus and Aid to the Church in Need, smaller organizations, such as Taimoorazy's Iraqi Christian Relief Council, have carried out fundraising efforts to not only provide humanitarian assistance to those displaced but to also help restore Iraqi Christian villages.
Taimoorazy told CP that her organization has helped rebuild at least 20 Christian homes in the town of Baghdedeh (also known as Qaraqosh), a town that was once home to as many as 50,000 Christians. According to Taimoorazy, as many as 26,000 Christians have returned to the town since IS was pushed out in late 2016.
"Schools are starting to function a little bit again. There is a hospital there that ISIS did not destroy that is a little bit functional. People have returned to the destroyed churches. They are not flattened. But they are burned," Taimoorazy explained. "People are celebrating mass. For Christmas, they are going to be celebrating Christmas back in their own churches there."
The town is being protected by the only Christian militia recognized by the government in Baghdad, the Nineveh Plain Protection Unit (NPU). Taimoorazy said that it was the NPU who helped Iraqi Security Forces liberate Christian towns like Baghdedeh and Bartella.
Although over 50,000 Christians have returned to the region, there is still much work left to do to ensure that the other displaced Christians are able to return their home villages one day.
Outside of humanitarian aid and rebuilding efforts, there is also a need to help rebuild the infrastructure in Christian towns.
Taimoorazy said that her organization has participated in a partnership that helped restore water infrastructure to Christian towns.
"The wells that we have dug is not drinking water," she said. "Over the summer and the fall, we helped dig three water wells and in Bartella and Baghdeda for hygiene so they can wash and bathe."
As Vice President Mike Pence announced in October that the Trump administration was going to change U.S. policies so that aid could go directly to groups that are working to rebuild religious minority communities in Iraq without having to go through the U.N., Taimoorazy said that she is hopeful that U.S. aid will eventually reach the NGOs in Iraq by early 2018.
"What people don't think about is we deal with bureaucracy in the United States and also in Iraq. NGOs on the ground in Iraq have be vetted by the United States. So that takes some time," Taimoorazy said, adding that the U.S. government has already begun reviewing applications from NGOs. "Winter is upon them right now. They are hungry. They are still displaced and many of them are living without warmth and without heat."
"As we are waiting for money to come in for reconstruction, we are filling the gap where the others are dropping the ball," Taimoorazy continued, adding that her organization is going to provide heaters, space blankets and Kerosene to victims still displaced in Northern Iraq.
The Iraqi Christian Relief Council is now accepting online donations. Taimoorazy encourages people to become monthly donors.
"Even $10 or $20 or $50 per month really does make a difference to us here," she explained. "It takes $100 to feed a family of four to five for a whole month in Iraq. We are desperately in need of help for these people."
Taimoorazy explained that many Christians in the Middle East feel "betrayed by the Church in the West."
In addition to the lack of financial support Christian communities are receiving, they are also threatened by Iranian influence in the region, as advocates have voiced concerns about the presence of Iranian-backed militias in the region and the development of Iranian schools and Shia mosques in towns such as Bartella.
"These Christians are so badly beaten that wherever the help is coming, they will welcome it. They are not very happy. The Christians on the ground are nervous about the Iranian influence because they don't want Iraq to become a second Islamic Republic of Iran," Taimoorazy, who fled Iran as a religious refugee and eventually became a United States citizen, asserted. "I was born there and I know the oppression and I know the devastation that they caused for the Christian community."
"We don't want another oppressive regime taking over. In a very serious way, they are infiltrating," she added. "Christians are not very happy about this but they are so badly beaten that they don't have the energy to put up a fight with them."
In order to combat the Iranian presence in once predominantly Christian towns, Taimoorazy said that Christians need to build their own centers to show that they are a "symbolic power for our community."
– christian post
Indonesia, December 18, 2017: Christians have turned down an invitation by the Governor of Jakarta, Anies Baswedan, to participate in the "Celebration of Christmas" organised at the National Monument (Monumen Nasional, abbreviated Monas), a tower in the centre of Merdeka square, which symbolises Indonesia's fight for independence.
The choice of the location and the suspected ulterior motives of the Islamist governor led to refusal.
Inaugurated in 1975, over the years the monument has become the venue of many Islamic events and celebrations, until the former governor of the capital, Basuki "Ahok" Tjahaja Purnama, decided to make it a "neutral" public space.
His successor Anies Baswedan, who took office last October, changed the regulations that banned religious and cultural ceremonies in the park.
On 29 November, the new governor authorised some Islamic organisations to hold a rally, in which he participated along with some of the country's most important radical leaders (picture).
The rally took place on 2 December, exactly one year after violent protests broke out against his predecessor, an ethnic Chinese and a Christian, whom extremists had accused of blasphemy.
The accusation affected the elections to Anies Baswedan's benefit as well as the controversial trial that led to Ahok's conviction and two-year sentence in prison.
Most civil society groups have strongly criticised the governor's "Christmas initiative" and his attempt to "benefit from it" by using the religious festivity to boost his support among Christian voters, still outraged by how he led his election campaign against Ahok in April.
The Council of Churches of Indonesia (PGI) has made public its opposition to the event in a statement released last Saturday by Manuel Raintung, head of PGI Jakarta.
"We must make sure that Monas remains a national monument where the spirit of unity among the different Indonesian peoples can show itself", said the statement, which condemned the use of religion for political ends.
The Interfaith Commission of the Archdiocese of Jakarta and Mgr Ignatius Suharyo Hardjoatmodjo, archbishop of the capital and president of the Catholic Bishops' Conference of Indonesia (KWI), agree.
"In our meeting with the city administration, I told them that we Catholics of the Archdiocese of Jakarta are called to celebrate Christmas in our respective parish churches. Celebrating Christmas in churches rather than in open public spaces has been our tradition for decades" said Fr Suyadi, head of the Commission, speaking to AsiaNews.
All 67 parishes in Jakarta are currently busy preparing for Christmas celebrations.
"If the 'Celebration of Christmas' should take place it would be organised by city officials and the place would be closed," the clergyman noted. In this case, "The event should not involve any political figure, neither as an organiser nor as a guest."
– asia news
Uttar Pradesh, December 19, 2017: Christian schools in Uttar Pradesh's Aligarh have been warned by the Hindu Jagran Manch, a Hindutva group, against celebrating Christmas, as it "might lure students to Christianity".
According to a report, the city president of Hindu Jagran Manch, Sonu Savita, said Christian schools were asking students to bring toys and gifts to class, which was "an easy way to lure them to Christianity".
The Hindu Jagran Manch is affiliated to the Hindu Yuva Vahini, which was founded by Yogi Adityanath, the chief minister of Uttar Pradesh.
According to Open Doors, a global charity which "monitors the treatment of Christians worldwide", in the first six months of 2017, there were "410 reported incidents of attacks on Indian Christians, almost as many as the total for the whole of 2016 (441)."
A report in The Guardian in January 2017 said India had moved up in a list of countries "where the practice of the faith [Christianity] is a high-risk activity". India rose to No 15 on the 2017 World Watch List, up from 31 in 2013, in the list compiled by Open Doors.
In the first week of December, Mathura police arrested seven Christian preachers for allegedly carrying out a "forcible conversion campaign" in a village in the district.
In April, the police stopped a prayer meeting attended by more than 150 people, including 11 American tourists, at a church after Hindu Yuva Vahini complained that "the event was a cover for religious conversion". The group had filed a complaint against Yohannan Adam, the pastor of the church in Maharajganj district.
In 2014, the head of the Uttar Pradesh Dharm Jagran Samiti had been quoted as saying: "Our target is to make India a Hindu Rashtra by 2021. The Muslims and Christians don't have any right to stay here. So they would either be converted to Hinduism or forced to run away from here."
Uttar Pradesh is not the only state where Christians don't seem to be having achhe din.
On December 14, a group of priests and carol singers was detained in Madhya Pradesh's Satna on a complaint backed by the Bajrang Dal. Eight priests, who went to the police station to inquire about the detained priests, were also held. A vehicle belonging to them was set on fire outside the police station.
On Tuesday, December 12, Maharashtra chief minister Devendra Fadnavis' wife Amruta Fadnavis, was trolled on Twitter for launching the Be Santa campaign for underprivileged children in Mumbai. On Saturday, December 17, Mumbai BJP president Ashish Shelar was trolled for supporting a pre-Christmas event, an annual programme at Mumbai's Girgaum Chowpatty.
On October 23, 2017, Hindu Jagran Manch activists in Indore made seven children alight from a Mumbai-bound train, where they were headed for a Bible reading class, and had them rounded off to the police station along with the adults accompanying them.
In June, a Catholic nun and four tribal girls travelling with her by train were detained, after the Bajrang Dal complained this was an attempt at conversion. The nun said she was escorting the girls, who hailed from Jharkhand, to study in Bhopal.
In April, three Christians were arrested from a village in Khandwa district, also in MP, on charges of converting people.
Similar incidents have been reported from many other parts of the country.
So why is Christianity under attack in India?
While the central government cannot be held responsible for everything that goes wrong in the country, the link between the BJP's ascendance to power and the increase in the number of such incidents is difficult to ignore.
The ruling party can be faulted on two counts – that of casting all minorities as "others" in its bid to consolidate the Hindu vote bank, and for failing to act against the more violent foot-soldiers of its ideology.
Otherising minorities to consolidate Hindu vote
Distrust of Christians is not new among a section of the country. While Right-wing hardliners believe that India should become a Hindu Rashtra, others suspect missionary activities to be a cover for religious conversions.
In a country in which Christian missionaries run some of the most famous educational institutions and hospitals, and those in very remote areas, there has always been a sneaking suspicion that they "lure" people, especially the dispossessed – Dalit Hindus, tribals, et al – to Christianity by promising education, inclusion and other benefits.
However, that has not prevented people of all communities from making a beeline for missionary-run schools, especially as they are reputed, to ensure their children learn "good English".
In an attempt to consolidate its vote bank, the BJP has, for long, sold a narrative that Hinduism is under threat, by the increasing population of Muslims, by the conversion attempts of Islam and Christianity, and by the minority appeasement practised by other politicians.
As the party has become more powerful, the narrative has found more acceptance – the ruling party articulating what people vaguely suspected lends powerful credence to the suspicion.
The simple answer to the increased attacks on the community, and also the absence of outrage over them: bodies such as the Hindu Jagran Manch and the Hindu Yuva Vahini have become emboldened, feeling they can carry out their agenda more openly under a "sympathetic" government, and the general populace feels that unless minorities are kept in check, Hindus will be under threat in their own land.
Hard facts, such as the Census data that Christians comprised 2.3 per cent of the population in 1951 and their numbers have gone up to just 5.84 per cent till now, easily get lost in the face of sustained emotive rhetoric.
Conversion, ghar wapsi and the law
While the BJP has vocally denounced conversions from Hinduism, bodies affiliated to its parent organisation, Rashtritya Swamamsevak Sangh, have openly talked of "ghar wapsi".
Hindu hardliners believe that every Indian was "originally Hindu", and has either "deviated" or was coerced into embracing monotheistic religions such as Islam or Christianity. This scattered flock now needs to be brought back to the Hindusim fold, by way of a ghar wapsi, or homecoming, and various Hindu groups have organised such mass events. One such much-publicised event was to be organised in Aligarh on Christmas Day in 2014, and was called off only after major uproar.
In the cases listed above where Christians were booked, complaints were filed not by common citizens or those being "forced" into changing their religion, but by the many shades of saffron now rampant in India.
Religious conversion, and even seeking to spread one's religion, is not illegal in India. Article 25 of the Constitution grants every one the "freedom of conscience and free profession, practice and propagation of religion".
Six states in India – Arunachal Pradesh, Odisha, Madhya Pradesh, Chhattisgarh, Gujarat, and Himachal Pradesh – have anti-conversion laws. These laws are remarkably similar, and ban conversions through "force, allurement, inducement or fraud".
Jharkhand, in August 2017, passed an anti-conversion Bill, and a similar Bill from Rajasthan was recently returned by the Centre for clarifications.
The problem with the existing laws is that they do not define "force, allurement, inducement or fraud", leaving a lot to interpretation.
Thus, while Christian missionaries are booked and detained over complaints from clearly motivated quarters, proponents of ghar wapsi – where the converts are offered lucrative inducements of marriage or getting to choose their caste – seem to have nothing to fear.
Such selective criminalisation is problematic in a country where the Constitution grants every citizen equality in the eyes of the law.
Government's role
In this scenario, the government needs to speak up, and assure citizens of all faiths that it will protect their rights.
To his credit, Prime Minister Narendra Modi did say, in February 2015, that his "government will ensure that there is complete freedom of faith and that everyone has the undeniable right to retain or adopt the religion of his or her choice without coercion or undue influence. We cannot accept violence against any religion on any pretext and I strongly condemn such violence. My government will act strongly in this regard".
However, the impact of such statements is limited when his government asks schools to stay open on December 25 to mark "Good Governance Day", or tries to justify a ban on an NGO by saying they were using foreign funds to spread Christianity in India.
In 2015, a document released by the BJP to train its cadre had identified religious conversions as a "domestic threat": "For several years, a conspiracy has been on to disturb the demographic structure of the country through Christian and Jihadi activities thriving with the help from funds and force. This is a serious domestic threat for us."
India belongs to every Indian, and it is shameful for the whole country if some Indians are made to feel vulnerable or unwelcome in their own home, their free practising of their faith made dependent on the "largesse" of one community.
It is the government's job to prevent this from happening, and the government at present is run by the BJP. The party needs to realise that it does not polarise votes, it polarises people, and society reaps its dangerous harvest long after elections are over.
No matter how much the BJP otherises minority communities, they will remain a part of India, and achhe din cannot truly be said to have come till they come for every Indian.
– dialyo
Shillong, December 19, 2017: Slamming RSS chief Mohan Bhagwat's remark that "anybody living in India is a Hindu", Meghalaya Chief Minister Mukul Sangma on Tuesday said "India is a secular, democratic country and secularism is part of our constitution".
"Their agenda is only to divide the Indian people on lines of religion and create communal tension. His statement (made in Tripura) is loud and clear that the motive is to that. We really need to ponder," Sangma told IANS.
"It is totally unacceptable to say that anybody living in India is a Hindu. The whole world knows that India is a secular, democratic country and secularism is part of our constitution," the veteran Congress leader said.
Sangma said that the nation must not allow such divisive forces to spread communalism as it is dangerous and pose a threat to India.
"Our secular ideals are under threat because of the ideology of Rashtriya Swayamsevak Sangh (RSS) and Bharatiya Janata Party (BJP). We cannot allow these divisive forces to further penetrate and it is dangerous for any nation to be dictated by such forces," he said.
Charging the BJP-led National Democratic Alliance (NDA) government at the Centre of imposing the RSS agenda, Sangma said: "They (Modi government) have been driven by the RSS agenda and this government is implementing them."
"Ever since they came to power, they have been implementing RSS ideology. It is time for people to be blunt and frank and express their concern," the Congress leader said.
Sangma also said the Congress is firm and ready to defend the secular fabric of India.
"We should not lose focus. One after another, the hidden agenda of the BJP has come out. We should be able to properly articulate… and be ready to defend the future of this nation," Sangma said.
– ians
Agra, December 18, 2017: The Christian community in Agra and Mathura on Sunday alleged police high-handedness over the arrest of seven people in Uttar Pradesh's Mathura district on what it said were "fabricated charges of religious conversion".
The seven accused, now in judicial custody, were picked up by police from a house in a village after locals complained to the police that "outsiders" were fomenting trouble by resorting to forced conversion.
The charge was denied by the accused, who told the police that it was a private family affair involving relatives. But a local activist alleged that the police came under pressure from "Hindutva groups" to act against the Christians.
Ahead of the Christmas celebrations, the community says this was an attempt to hurt their religious sentiments by rounding up people without any investigation and on flimsy grounds.
"We may have to approach the Chief Justice of India to grant us all anticipatory bail as we may be arrested when we go out singing carols," said an agitated Christian leader in Mathura not wanting to be identified.
"Imagine, in the court some lawyers called us terrorists," he added.
Groups of lawyers mounted pressure when the bail application came up for hearing on Saturday, forcing adjournment till Tuesday, some lawyers said.
A C Michael, a community leader, told IANS that he had been trying to mobilize support and explain to police officials and also the local minister the real truth of the case.
"Of the seven arrested persons, two are Hindus. So how could they be involved in religious conversion? Our community is living in fear in Agra and Mathura, ahead of Xmas.
"But we are lining up support and lawyers and have full faith in our judiciary. It was a family programme. Outsiders were provoked and they interfered, making all kinds of charges," he added.
Christian leaders in Agra have met the parish priests, the Archbishop and other officials of different denominations.
Independent lawyers in Mathura indicated that the court had been virtually forced by the slogan-shouting brigade to postpone the decision till Tuesday.
A press conference scheduled for Sunday was called off as some supporters, fearing police action, backed out. A Hindu priest also chickened out, after initially agreeing to come out in their support.
Christian community leaders said their work was confined to providing healthcare and running schools.
"Some vested interests are deliberately trying to create differences and tarnish our image," said one of them who did not want to be identified by name.
The hearing of the bail application of the seven will take place on Tuesday.
On Saturday evening, lawyers headed by Mathura Bar Association President Braj Gopal Sharma and Secretary Trilok Chandra Sharma wanted the District Court to be fully satisfied with the sources of funding for "such religious activities".
The seven accused have been in judicial custody for the past 14 days.
Police officer Baij Nath Singh of Surir where the case was registered told IANS: "The seven were taken into custody after some villagers complained about religious conversion in a house."
According to the complainants, the accused were not only conducting religious ceremonies but also abusing Hindu gods.
Hindutva groups said there have been repeated attempts in Mathura, Hathras and Etmadpur areas to bring poor Hindus into Christian fold.
Superintendent of Police Aditya Shukla in Mathura told IANS: "It is entirely up to the court to decide the bail plea and judge the merits of the charges… The police have no role and we should not be accused of acting unfairly."
– business standard
Have you ever wondered why the most joyful time of year can also be the most stressful? What starts as a celebration can oftentimes lead to bursting budgets, long lines at the post office, and harried moments, stripped of all joy. As parents, we sometimes let all the "planning to celebrate" get in the way of what we are actually supposed to be celebrating; the birth of a Savior! It's easy to do. More than any other time of the year our attention gets pulled in a million different directions and it is easy to forget to look down at the little ones who are watching us wide-eyed at the thought of Christmas, anticipating nothing more than simple joy.
The pressure is on, after all. Our kids will carry the Christmas memories we make with them forever and hopefully want to pass them onto their kids. So, if this time of year is all about helping our children experience the joy of Christmas, then how can we successfully lose the distractions and gain better focus on what really matters? Like the wise men so many years ago in Bethlehem, I think the answer can be found in 3 gifts.
Gift number 1: Time.
Our time may be the greatest gift we can give our children. Truth be told this is the one thing they desire most from us. Never is this more important than during the holidays. Although the days leading up to Christmas can be chaotic, it is important to take a few uninterrupted minutes each day to play a game, watch a Christmas classic with a big bucket of popcorn or, like at my house, make a huge mess baking cookies. This goes a long way in the eyes of a child. If Jesus could make time for the children like we see in Matthew 19:14, then how much more important is it for us as parents? There is no better way for our kids to catch a glimmer of our own joy than to have it on display while spending quality time with them.
Gift number 2: Generosity
Some of my favorite Christmas memories as a child were delivering presents every year to families less fortunate than ours. So many things we take for granted are desired by children and families, even in our own towns and neighborhoods. I can remember seeing the look on other kids' faces as the bottom of their tree began to fill up with presents that they thought they wouldn't be receiving. Looking back now, I understand that my parents had two reasons for this tradition. The first, of course, was to offer whatever help we could to families who might have had a rough year or were going through a difficult time, but also to teach us that Christmas is about giving, not receiving. And when it comes to helping our children experience the joy of Christmas, there may be no better way than to do what we are called to do in Hebrews 13:16, pleasing God by sharing what he has blessed us with.
Gift number 3: Jesus
Never has our calling as Christian parents been as important as it is now. Likely, the only place that our children will be taught the true meaning of the season is in the home. Why do we give presents at Christmas? Why do we sing carols and help those less fortunate? Why do we greet people with "Merry Christmas" when we pass them on the street? There is a one-word answer to all these questions and more—Jesus! In our home we celebrate many different Christmas traditions but at the end of the day if our kids' attention has not been directed to the baby Jesus in some way, then we are robbing them of truly experiencing the joy of Christmas—the kind of joy that Paul talks about in Romans 15:13. This kind of joy goes far beyond the month of December and can impact our children throughout their lifetime.
It is important to remember that joy is contagious! Living joyfully because of what Christ has done in us is the best way to teach our children at Christmas and throughout the year.
– cross walk
Jerusalem, December 14, 2017: A Muslim man who is the official custodian of the keys to the Church of the Holy Sepulchre in Jerusalem, also know as the "tomb of Christ," has said that he will not welcome U.S. Vice President Mike Pence to one of the holiest Christian sites.
"It has come to our attention that Vice President Pence intends to make an official visit to the Church of the Holy Sepulcher, and asked me to receive him officially," said Adeeb Joudeh, the custodian in question, in remarks to Israel's Channel 2 News earlier this week.
"I absolutely refuse to officially welcome the American Vice President Mr. Mike Pence at the Church of the Holy Sepulcher and I will not be physically in church during his visit," he asserted.
In June, the U.S. Senate unanimously passed a resolution declaring that Jerusalem is the capital of Israel.
With a vote of 90–0, both Republicans and Democrats in the upper chamber agreed that: "Jerusalem should remain the undivided capital of Israel in which the rights of every ethnic and religious group are protected."
Joudeh, however, disagrees, and has condemned the United States for its actions. "This is an expression of my condemnation of President Donald Trump's recognition of Jerusalem as the capital of Israel."
Trump's decision last week to announce that the U.S. will be officially moving its embassy from Tel Aviv to Jerusalem was met with widespread condemnation from the Islamic world.
Muslim world leaders, such as Turkish President Recep Tayyip Erdogan, warned that the controversial decision could ignite a "fire" in the Middle East, leading to a "great disaster."
Others, such as Jordan's King Abdullah, argued that Palestinians are looking to establish East Jerusalem as their capital, and that Trump's move seeks to undermine that aspiration.
Joudeh was profiled in a Reuters report earlier in November, where he said that "it's a great honor for a Muslim to hold the key to the Church of the Holy Sepulchre, which is the most important church in Christendom."
The 53-year-old custodian explained that the iron key to the church was entrusted to his family, one of Jerusalem's most prominent clans, back in the time of Saladin, the Muslim conqueror who captured the city in 1187.
As The Times of Israel noted, however, officials at the Church of the Holy Sepulchre have not backed Joudeh's boycott, and clarified that he does not speak for the Church.
What is more, Pence, who is scheduled to visit the city next week, has reportedly not made plans to visit the church.
"We didn't receive any formal or informal request and if there is a request, there is a status quo procedure to respect involving the three communities. Anyway, it is not up to one of the key keepers to decide anything about this kind of issue," explained officials for the church, whose custody is shared by Greek Orthodox, Armenian, and Roman Catholic authorities.
The Church of the Holy Sepulchre is believed to contain the tomb where Jesus Christ was rested after the crucifixion, and has been in the news on a number of occasions this past year as it underwent major reconstruction.
Scientific tests from November found that the tomb dates back to the fourth century, matching historical accounts which state that Romans enshrined it somewhere around 326 A.D.
"While it is archaeologically impossible to say that the tomb is the burial site of an individual Jew known as Jesus of Nazareth, who according to New Testament accounts was crucified in Jerusalem in 30 or 33, new dating results put the original construction of today's tomb complex securely in the time of Constantine, Rome's first Christian emperor," National Geographic reported at the time.
– christian post