*Warning: The following contains minor spoilers to Marvel's Black Panther.
I know what you're thinking, "What could possibly be said about Black Panther which hasn't already been said?" Marvel's latest foray into the Cinematic Universe was easily one of the most anticipated movies of 2018, and since its debut, Black Panther has absolutely mauled the box office competition. The film has been praised by critics and fans of all backgrounds, inspired countless articles about the dangers of inequality, and reminded viewers how great stories can help build bridges. There's so much to take in, and plenty which has already been discussed. For my part though, I'd like to focus on a specific audience which could benefit from the lessons found in Black Panther: the Church.
While there are many valuable takeaways to be found in this Marvel hero, here are just four all Christians should consider:
1. Representation is Important
Even before its release, Black Panther had garnered a huge following thanks to its representation of Africans, woman, and people of color. T'Challa isn't just a superhero, he's also a king and an ambassador for his people. His sister Shuri is brave, intelligent, and funny, while the Dora Milaje are warriors who epitomize power and dedication. Each character is proud of their heritage and of who they are. They're the type of heroes who inspire audiences down to their bones.
While the Church has long championed the virtues of equality and fellowship (Galatians 3:28), our representation of minorities has typically been less than stellar. In recent years we've even drawn criticism for how (ahem) monochromatic our leadership appears. It's not enough for minorities to be present in our congregations, they need to know they have a voice, and they need to know that voice is heard. If the Church cannot provide this, then what right do we have to call each other brothers and sisters?
2. Acknowledge Your Mistakes
One of the central themes of Black Panther is how our actions can have powerful and long-reaching consequences. Early on in the film, viewers witness how the previous Black Panther (T'Challa's father) did something terrible in order to protect his country. He thought he made the right decision, but his mistake ultimately returns to wreak havoc on his family. Rather than admit any fault, those involved continue to make excuses for their actions. Only once T'Challa confronts them is peace finally restored to the kingdom.
The Church is responsible for some of the greatest moments throughout history, be we've also been complicit in some of the worst. Even today, many Christians try to hide their mistakes out of personal embarrassment or fear it will impact our cultural standing. Yet scripture teaches there can be no healing without truth (James 5:16), and a Church that doesn't acknowledge its mistakes is doomed to repeat them. If Christians hope to be meaningful disciples for Christ, we must first have the courage to admit when we're wrong.
3. Beware Idolatry
In the Marvel Universe, a substance called vibranium has allowed humans to achieve super-level feats. Vibranium is what makes Captain America's shield unbreakable, and Black Panther's Wakanda has thrived technologically thanks to an abundance of this rare metal. But the substance has also become an idol to the people of the region. It's the foundation on which their entire society rests, and their greatest fear is losing control of this precious resource. So you can imagine how bad things get when disaster finally strikes.
Idols have a way of infiltrating our lives, and the Church is no exception. In a recent interview on Britain's "This Morning" show, Letitia Wright, who plays Princess Shuri in Black Panther, recalled how acting became an idol for her at one point. After stretching herself too thin, Wright eventually realized she needed to take a break and rediscover her Christian faith. What idols have usurped the place of God in your life? Politics? Money? A specific cause? Beware of building your life on a foundation of sand (Matthew 7:24-27).
4. Do Not Shut Your Doors
The fictional country of Wakanda is certainly a sight to behold in Black Panther. A futuristic metropolis brimming with sound and color, its people have long enjoyed a history of prosperity. However, their thriving society has come at a cost. Throughout the film viewers see how Wakanda has turned its back on the world. Its affluence has made their leaders petty and fearful. Rather than reaching out to help those in need, the country chooses to put itself above others. Ultimately, this decision paves the way for a villain like Killmonger to seize control and bring out the worst in his people.
Christians are frequently told we are, "salt and light to the world" (Matthew 5:13-16). We are the peacemakers, we are the world's spiritual guides, and we are the good guys who will stand up to injustice. See where this is leading? Like Wakanda, we can become so consumed by our own self-interest that we shut the door on those in need. Instead of meeting our neighbors we shun them, and instead of helping those in need, we turn them away in the name of self-protection. That is not the way Christ called us to live.
– cross walk
Pakistan, February 27, 2018: Christians in Lahore and Karachi held demonstrations against police brutality, which drove Sajid Masih, a 24-year-old Christian man, to jump from the fourth floor of the Punjab police headquarters during his interrogation.
The young man is currently at the Lahore government hospital in serious conditions. He is the cousin of another Christian, Patras Masih, who was charged with blasphemy for a comment posted on Facebook.
Rawadari Tehreek (Movement for tolerance) slammed police for the torture inflicted on the injured man whilst in their custody and demand that those responsible be punished.
Some 30 members of the group staged a protest in front of the Lahore Press Club, chanting slogans like "Shame on FIA" and "Justice for Sajid". The FIA is the Federal Investigation Agency.
The rally follows a statement by the 24-year-old Christian man, who in a shocking video said he was forced to jump out of the window because of abuse by the police, who tortured him, forced him to insult his cousin, and wanted him to perform sex oral on the latter.
"We reject the work of the FIA committee," said Munir Ahmad Bhatti, a lawyer for the Rawadari Tehreek, and a Muslim. "We demand an independent commission to oversee his [Sajid's] medical treatment."
"All the proceedings along with the findings of the police interrogation should be made public," he added. "We are here for humanity. Sajid was not even named in the First Information Report of the blasphemy case."
Another protest took place before the Karachi Press Club, where Christians condemned the silence of religious and political leaders.
The case began last week in the village of Dhir, Shahdara district, when Patras Masih was accused and arrested for insulting the Prophet Muhammad.
About 800 Christian families living in the area fled their homes fearing retaliation by radical Muslims. Some have begun going home only now.
On Sunday, some 200 Christians took part in a liturgical service. Rev Sanfia Bashir, pastor at the Bethany Church, near Patras's family home, invited all Christians to "fend off prevailing problems".
"After the incident, my 70-year-old father-in-law suffered a heart attack," he told AsiaNews. "My family has been criticised for helping the [alleged] blasphemer. Locals have also been threatened."
"Yesterday I recorded a video at church in which I explain that the community should not be targeted for an accusation addressed to a single Christian. The majority community will be held responsible for any trouble before the conclusion of the investigation or the trial."
– asia news
Syria, February 27, 2018: The United Nations has been condemned by aid workers who say that men delivering humanitarian aid on behalf of the organization in Syria have routinely demanded sexual acts from women and girls. And the abuse has been ignored for years.
Several aid workers talked about the level of exploitation going on at refugee camps for people affected by the ongoing Syrian civil war, BBC News reported.
One worker, who wasn't named, claimed that humanitarian agencies have turned a blind eye to the sexual abuse carried out by third parties, so that they can continue providing aid in dangerous parts of Syria.
Danielle Spencer, a humanitarian adviser in the charity sector, also spoke of a number of incidents in March 2015 in Jordan, where women shared with her how men had offered aid in exchange for sex.
"I remember one woman crying in the room and she was very upset about what she had experienced. Women and girls need to be protected when they are trying to receive food and soap and basic items to live. The last thing you need is a man who you're supposed to trust and supposed to be receiving aid from, then asking you to have sex with him and withholding aid from you," Spencer recalled.
"It was so endemic that they couldn't actually go without being stigmatized. It was assumed that if you go to these distributions, that you will have performed some kind of sexual act in return for aid."
The International Rescue Committee carried out a survey of 190 women and girls in Dara'a and Quneitra in June 2015, finding that as many as 40 percent pointed to sexual violence that goes on when attempting to access humanitarian aid.
Despite numerous charities attempting to improve their methods in delivering aid following the publication of the accusations, Spencer said that many continue to turn a blind eye to abuses.
"Sexual exploitation and abuse of women and girls has been ignored, it's been known about and ignored for seven years," she continued.
"The U.N. and the system as it currently stands have chosen for women's bodies to be sacrificed.
"Somewhere there has been a decision made that it is OK for women's bodies to continue to be used, abused, violated in order for aid to be delivered for a larger group of people."
Andrej Mahecic, a spokesman for the U.N. High Commissioner for Refugees, said in response that it was "important to understand that in any aid emergency there is a risk of sexual abuse and sexual exploitation, and to abuse somebody who is in need of assistance is despicable."
He explained that allegations against the U.N. made in 2015 were found to be "incomplete, fragmented and unsubstantiated," and claimed that the U.N. had no access to areas in southern Syria where much of the abuse allegedly took place.
"The mere suggestion that the U.N. can somehow control the situation in a war zone is rather simplistic and disconnected from the reality of what an aid operation looks like in an open and fierce conflict," Mahecic stated.
The humanitarian sector, including Christian aid groups, has been engulfed in revelations of mass sexual abuse and harassment scandals.
Oxfam, Christian Aid, Save the Children, and the Red Cross were some of the major British charities that admitted to dealing with sex scandals earlier in February.
Penny Lawrence, the now former deputy chief executive of Oxfam, resigned from her position following revelations that staff members had paid for the use of prostitutes in Haiti and other places.
Evangelical children's charity World Vision denied similar accusations earlier this month, stating that unlike what is being reported in the media, those involved in sexual exploitation in Haiti were "community volunteers and cash-for-work beneficiaries themselves," rather than World Vision staff.
The group also said that it has implemented follow-up protocols and training procedures to cut down on such practices.
– christian post
Israel, February 27, 2018: A worker in the Jezreel Valley community of Moshav Yogev discovered a 700-year-old bronze ring, bearing the image of a bald man with a staff next to him, the Israel Antiquities Authority said Monday. The IAA said the engraving is probably the image of St. Nicholas, an early Greek Bishop known for giving gifts to the needy. The saint eventually became the prototype for the legend of Santa Claus.
The ring, discovered by Dekel Ben-Shitrit, a 26-year-old gardener while performing landscaping work in the garden of a private home in Moshav Yogev, dates to the Mamluk Period (12-15th century) and probably belonged to a pilgrim who had traveled to Galilee along the main road.
"I rubbed it slightly, and saw it was carved with a human image inside a frame," said Ben-Shitrit.
According to Yana Tchekhanovetz, an IAA archaeologist specializing in the Byzantine period, the icon of St. Nicholas was a common patron saint for Christian pilgrims who traveled to the Land of Israel from all over the Byzantine Empire, including from Turkey, the Balkans, Greece, and present-day Russia. The travelers believed he would protect them from harm during the journey.
"This special ring is amazingly well preserved and will contribute a great deal to science," Tchekhanovetz said. "On preliminary examination, this seems to be St. Nicholas holding a bishop's crook — his hallmark. It is probable that the ring belonged to a pilgrim who sought the protection of St. Nicholas on his travels."
The IAA said that Ben-Shitrit will receive a good citizenship certificate for handing the finding to archeology officials. .
"By doing this, he has enriched and deepened archaeological understanding of the past that belongs to all of us," said Nir Distelfeld, the Israel Antiquities Authority anti-theft inspector.
– christian post
Bihar, February 27, 2018: A group of people Tuesday assaulted a pastor and those accompanying him in Bihar's West Champaran district after alleging that he was indulging in religious conversion, the police said.
The pastor and his companions had left for Bettiah from Bagaha in the district in a bus to participate in a special prayer meeting at the Protestant church James Saint Paul's here, Superintendent of Police Jayant Kant said.
After it reached the bus stand here, a person in the vehicle attacked the pastor claiming he converts people.
The accused also rang up others asking them to reach the bus stand, the police said.
These people too assaulted the pastor and his men, Kant said adding the police reached the spot and brought the situation under control.
However, the attackers managed to flee.
An FIR has been registered and further action would be initiated if the pastor or anyone of his group registers a complaint, the police officer said, adding those involved in the attack would not be spared.
– business standard
Meghalaya, February 27, 2018: The BJP filed a complaint to the election commission bringing to its notice some objectionable messages aired on Radio Mirchi on voting day in Meghalaya. Meghalaya voted to elect its legislative assembly today.
The complaint alleged that the advertisements on the Radio Channel asked people not to vote for BJP as it was an 'anti- Christian Party'. The complaint further said that the advertisement was aired at 12:38 PM today. The complaint copy as shared on @airnewsalerts is below.
The complaint asked EC to punish the radio channel and the advertiser for trying to communalise the election on polling day. This is an illegal act as the Supreme Court in its order passed in January 2017 had said that asking for votes on the basis of caste, creed or religion was unacceptable under Representation of People's Act.
This is not the first time Radio Mirchi has run into trouble with their motivated campaigns. In October last year, Radio Mirch had run an ad campaign titled "Mat Aao India" that represented India in a poor light urging foreigners to not travel to the country. They had aired this campaign after a Swiss couple was attacked in Agra. Aakash Bannerjee, the Vice President of Radio Mirch had shared the video addressing foreign tourists visiting India, urging them to not visit us. At first he reached out to Swiss Broadcasting Company and passive aggressively informed them about the attack that took place yesterday. After about 10-12 hours of posting it, he put another tweet in the same thread, addressing same organisation saying how India is not safe for tourists and they should not come.
The I&B ministry had then issued a show cause notice to Radio Mirchi for running the anti-India campaign.
Now that the Vineet Jain owned Radio station has run into trouble again, it remains to be seen if the radio channel and its advertiser will be brought to book as per law.
– opindia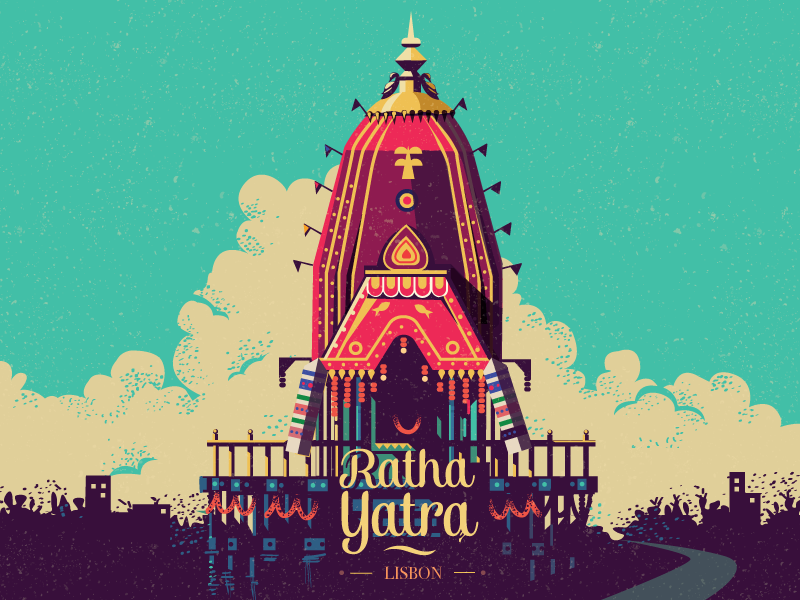 New Delhi, February 26, 2018: Hindu groups who have started a 41-day chariot journey demanding to build a temple on a controversial spot have been accused of raking up an emotive issue for the Hindu masses ahead of the 2019 national election.
The 6,000-kilometer Ram Rajya Rath Yatra (chariot journey for rule of Ram) that started from Ayodhya, a tiny town in Uttar Pradesh state, is due to end in the southern temple town of Rameshwaram on March 25 after passing through six states.
The Vishwa Hindu Parishad (World Hindu Council), which campaigns for a temple dedicated to Hindu lord Ram in Ayodhya, organized the event.
"As polls are slated for 2019, it is gradually becoming clear with each passing day that religion will be the central theme of the Bharatiya Janata Party (BJP) to win elections," said Parveen Mishra, a Gujarat-based rights activist.
The Ram temple has been an emotive issue since 1992 when Hindu zealots demolished a mosque there. Hindus claim Muslim invader Babur built the mosque in the 16th century after demolishing a temple that stood on the birthplace of Ram. The demolition caused nationwide riots resulting in the death of some 2,000 people and destruction of property worth US$3.6 billion.
The frenzy for the Ram temple started with another chariot march in 1990 led by the then leader of the pro-Hindu BJP. It helped the party come to political prominence in 1991 by gaining 120 seats in the 543-seat national parliament. The 1996 election saw the BJP become the largest single party with 160 seats.
The demand for a Ram temple has been revived at every subsequent election as the courts have yet to decide whether Hindus or Muslims own the land on which the mosque-temple structure stood. The next hearing is scheduled for March 14.
Mannady Hari, an organizer of the current campaign, says the aim is to garner support for establishing Ram Rajya (Hindu rule) in India.
"This campaign will make people aware of the concept of Ram Rajya and how it is inclusive and not exclusive. Whenever the politics become erroneous, it is the religion which rectifies the wrongs," he said.
The Ram Rajya concept, developed by Mahatma Gandhi, envisages a government that rules the nation based on eternal values of truth, justice and righteousness — the values with which Ram ruled his land.
But many believe the campaign aims to placate Hindu sectarian feelings ahead of the next general election, due in May 2019.
"It is certainly clear that the BJP will again contest the elections of 2019 in the name of the Ram temple. It came to power in 2014 promising an economic revolution but failed on all fronts. It is finding religious issues an easy way now to grab power once again," said Molvi Gulam Ali, an Islamic scholar in Muslim-majority state Jammu and Kashmir.
Communist Party leader M.A. Babee said the government must step in to prevent the campaign from reaching into other states in India.
"We have seen what happened when the BJP launched the same campaign in 1990 and the worst communal riots broke out in the country, claiming precious lives. We are very apprehensive about what will happen now," he said.
Iqbal Ansari, a member of the Babri Masjid Action Committee that is contesting the BJP's demands in the Supreme Court over constructing a Ram temple in place of the mosque, said the relaunch of the campaign by Hindu groups looks suspicious.
"When the BJP in 1990 held a nationwide rally, we know how people got killed and how the BJP came into existence. Now, when everything is normal, the same party has come out with new formula of divide and rule," Ansari said.
Rights groups have been accusing the BJP, which leads the federal coalition government, of fanning the flames of intolerance by dividing Hindus against religious minorities such as Christians and Muslims.
According to recent government data, 111 persons were killed and at least 2,384 injured in 822 cases of sectarian violence in 2017, the highest figure for three years. In 2016, 86 persons were killed and 2,321 injured in 703 incidents of religion-based violence.
Hindus form 966 million or 80 percent of India's population of 1.3 billion. Muslims account for 172 million or 14 percent while Christians comprise 29 million or 2.3 percent.
– ucan
It has been said that "Music has the power to soothe the savage beast." I don't know much about savage beasts, but I do know that music has an amazing influence on preschoolers. Not only is music soothing to their emotions, but it also seems to enhance young children's developing cognitive abilities. Some researchers even believe that music increases the formation of new neural pathways within preschoolers' brains!
Whether or not this is true, music is a rich, multi-sensory experience that does seem to enhance young children's intelligence, reasoning skills, memory, and language skills. Participating in musical games or moving to music is a great way for preschoolers to "get their energy out." Music integrates the body, mind, and spirit, and is a key to worship; music can draw us into the very presence of God.
In order to receive its wonderful benefits, children simply need to be exposed to quality music—early and often. The more time spent listening to music, moving to music, or playing "rhythm band" or musical games, the more benefits your children will receive and the longer lasting the benefits will be.
What Children Learn From Music
Children learn much more from music than just musical skills. They develop physical skills such as coordination, balance, and physical fitness through moving to music and participating in fingerplays and songs with motions. Cognitive development is mysteriously enhanced by music, including the areas of problem solving, thinking skills, math and spatial skills, and creativity. Singing helps children learn to speak more clearly and develops their phonetic awareness, listening skills, vocabulary, and self-expression. Music also affects children's social development. Through music, children begin to understand the effect music has on our moods and emotions. Participating in group music activities and games develops manners, social skills, and self-confidence.
Besides all these wonderful benefits, there is musical skill itself. The amount of early exposure to quality music in a child's life is often an accurate predictor of future musical ability. This is because young children learn music the same way they learn to speak—through listening, copying, and experimenting. Lots of time spent listening to quality music and participating in "music play" is the key to developing musical skills, a love and appreciation for music, and an ear for music. Those of us who may have musical abilities are not just mysteriously blessed with these skills. While some of our abilities came along with our genes, most of our musical abilities came from early exposure and experience. Without a doubt, we grew up in homes where music was played, listened to, and enjoyed.
Whether or not you grew up in a musical family, you can provide the benefits of a musical upbringing for your children by providing them with simple musical experiences. Keep the following goals in mind when planning musical activities for your children.
Musical Goals
• Learn to appreciate different types of music: Classical, bluegrass, gospel, folk songs, hymns, choral music, opera, etc.
• Distinguish between loud/soft/fast/slow, and act them out through movement or rhythm band.
• Learn fingerplays such as "5 Little Ducks Went Out to Play," "5 Little Monkeys Jumping on the Bed," "Open, Shut Them," etc.
• Learn classic children's songs and folk songs such as "I've Been Working on the Railroad," "On Top of Old Smokey," "B-I-N-G-O," "Head, Shoulders, Knees, and Toes," and so on.
• Learn classic Sunday school songs such as "Jesus Loves Me," "Jesus Loves the Little Children," "Deep and Wide," "The Wise Man Builds His House," etc.
• Learn patriotic songs like "God Bless America," and "My Country 'Tis of Thee"
• Learn favorite hymns/worship songs—at least the choruses.
• Be able to copy/create clapping patterns and notice rhythms.
• Listen to and identify basic instruments visually and by sound.*
• Listen for harmony, counterpoint, and melodies.*
• Begin to match voice pitch to music/singers.
• Move to music.
• Understand that music affects feelings/express feelings through music.
• Be creative with music.
* Many children will not attain these particular goals until age 5 or later.
If you want your children to receive the benefits of a musical upbringing, begin by bringing music into your home. Starting with the classics is a good idea. If you know nothing about classical music, find a good compilation CD that contains the "best of" classical music.
To develop children's vocal abilities, listen to folk songs or hymns, especially those that are sung with multiple parts, such as those sung by vocal quartets. Sing along, and try to pick out all four parts.
You can provide these musical experiences for your children even if you aren't "musically inclined." All children really need is an enthusiastic example. If you can't carry a tune, rely on CDs or parent participation music classes to help you. The most important thing is that you and your children enjoy music and "music play" (fingerplays, silly songs, songs with motions) together. Don't worry about how you sound. No matter how you think you sound, your children love the sound of your voice and need to hear it.
Fingerplays are great fun for all, and a special blessing to the non-musical. Most finger plays don't involve any singing at all—only chanting. If you aren't familiar with fingerplays, look in the resource section at the end of this article for helps.
Suggested Activities
• Set aside a special time of day to listen to music—perhaps during playtime or bath time. Play the same music for a week or two so that your children become familiar with it.
• Play classical music during nap time and at bedtime. (Suggestions: Bach at Bedtime, Baby Need Baroque, G'Night Wolfgang.)
• Listen to music in the car, or try turning off the CD player and singing together unaccompanied.
• Remember your own childhood. What music did you enjoy? Was there any music that was special to your family or any songs your parents sang to you? If so, be sure to share them with your children.
• Play musical games with your children: The Hokey-Pokey, Farmer in the Dell, London Bridge is Falling Down.
• Play with rhythm: With or without music, practice clapping, stomping and moving to rhythms. See if your children can copy simple patterns you make by clapping, stomping, and patting your knees. When your children are older, add snapping your fingers.
• Teach your children hymns! By learning hymns, your children will learn musical skills, scripture passages, and Christian doctrine. Hymns are a great comfort in times of distress, yet many churches are forgoing hymns and opting for simpler, more "seeker-friendly," or "modern" music instead. Don't let your children miss out on the blessings hymns can provide. It is our responsibility to make sure this godly heritage is passed down to our children.
• Purchase rhythm band instruments for your children. Play them with music. Practice playing with the beat, playing loudly then softly, stopping, and then going again.
• Enroll your children in a parent participation music class like Gymboree or Kindermusik. Choose a developmentally appropriate class. Wait for formal music lessons until age 7-10.
Music should be an important part of every child's life. Since music is so vitally important to all areas of child development, it should be a joyous part of your home preschool and later, your homeschool. It is my hope that every homeschooling family will make a conscious effort to expose their children to the best in music from birth. The benefits and joy of music are just too good to be missed.
– cross walk
Uganda, February 24, 2018: Selling everything and moving to Uganda to work with refugees is not likely on many people's to-do list. In fact, it's probably the last thing most would consider, especially young couples hoping to start a family.
But it's exactly what Rachel and Rich Mastrogiacomo did last year.
Their story began when a series of devastating events and realizations would lead the couple to the edge of a war zone in the heart of east Africa, bring them face to face with abject poverty and eventually lead them to the recent adoption of their new daughter.
Though seeds were planted in both of their lives much earlier, the story began when the two got married in 2014. Like any other couple, they were excited about their new life together and eager to start a family.
However, their initial enthusiasm was quickly replaced by pangs of sadness and disappointment as the couple slowly began to realize, after months of trying to become pregnant, that they were facing infertility.
This pain was sharpened in 2017, when three foster children living with the couple were unexpectedly returned to their birth mother.
It was after this that Rachel and Rich began to feel an inkling that they were being called to something specific – something they would discover through a process of prayer and radical openness to God's will and the signs that he provided along the way.
Shortly after their foster children were reunited with their biological mother, Rachel and Rich attended a healing Mass. At the end, as Rachel was praying, a woman tapped her on shoulder, and told her, "I heard Jesus say, 'She will be a mother to many.' You're healed."
Around the same time, Rich – who says he never has dreams – said he had a very vivid dream of his wife standing on brownish-reddish dirt with trees all around. In the dream, Rich said Rachel was holding a baby and was surrounded by children, and as he looked at her, she smiled at him with a peaceful expression.
After the dream, Rich began to research South Sudan, and came across multiple articles detailing the horrors of the country's ongoing conflict and the millions who, having fled war and famine in their homeland, are now living as refugees in neighboring countries. Uganda in particular has been one of the main refugee destinations.
Rich began emailing bishops in the area, and immediately got a response from Bishop Sabino Ocan Odoki of Arua, in northern Uganda, saying Rich's email was an "answer to prayer," as he had more than a million Sudanese refugees in his diocese and had been praying for lay missionaries to come from America.
The contact with Bishop Odoki – whose diocese sits closely along borders with the Democratic Republic of the Congo and South Sudan – was seen as providential by Rachel and Rich, because ever since she was 10-years-old, Rachel had a special love for Sudan – she told CNA that her father put an image of starving Sudanese children her age on the refrigerator in hopes of fostering a sense of gratitude in her.
The image stuck with Rachel and was in many ways the spark of her desire to be a missionary, and when they got married, both Rachel and Rich felt a strong call to live a missionary life.
When Bishop Odoki said he wanted them to come and serve for a month-long "trial run," the choice was obvious. The couple sold everything and went to Arua in the spring of 2017 with the Family Missions Company.
"There are no words to describe the intense human suffering that we saw among the refugees," Rachel told CNA Feb. 22.
"It was unlike anything we've ever seen, unlike slum poverty. Never have we seen such a vast amount of people living in such poor conditions," she continued.
South Sudan has been split by a brutal civil war for the past three-and-a-half years. The conflict has so far prompted some 4 million citizens to flee the country in search of peace, food and work. In August 2017, shortly before Rachel and Rich traveled to Uganda, the African nation had taken in their one-millionth refugee, and the number has continued to climb.
Roughly 85 percent of the refugee settlements Rachel and Rich served are made up of women and children, they said, and while many humanitarian organizations on the ground try to help meet basic needs, "the overall need is absolutely overwhelming."
They specifically visited the Palorinya refugee settlement in Uganda's Moyo region, which is the second biggest camp in northern Uganda and as of November 2017 housed some 185,000 refugees, according to Reuters.
While in Arua, Rachel and Rich were able to tour the diocese and participate in the centenary celebration of Moyo Catholic parish, which is the first parish of the diocese of Arua. They also spent time visiting orphans, schoolchildren and youth in prison, and distributed both gifts and donations.
"[We] just loved on the kids," Rachel said, and recalled what she said is one of her favorite memories of the trip. As they were visiting a school, Rachel and Rich entered one classroom and the children immediately began singing: "The Lord is calling you. You are welcome to lead us all into His kingdom."
The song "touched our hearts deeply," she said, explaining that throughout the entire month "we experienced the joy of the Gospel in a fresh and new way. The faith of the people is vibrant; God is their treasure."
While the basic needs of those living in the camps are many, Rachel said that spiritually speaking, "the greatest need we found was the need to be heard."
"Pope Francis speaks about a ministry of listening, and this concept came alive for us while we were in the refugee camps," she said, explaining that when they eventually return to Uganda, they plan to help with spiritual formation, since general catechesis and sacramental preparation are often lacking.
"The people are hungry for more than just food; they truly are hungry for God," she said.
As the month drew to a close, Rachel said she, her husband and Bishop Odoki all experienced an "overwhelming confirmation" that God was inviting the couple to serve there as full time lay missionaries and live as spiritual parents to the many children and orphans in need.
So while they already see Uganda as their new home, Rachel and Rich headed back to the United States to get things in order. But the story doesn't end there.
Just three days after returning to the U.S., Rich got a phone call from a lawyer who helps facilitate private adoption, saying a woman had selected him and Rachel to adopt her baby.
"The phone call came out of left field, when we least expected it! Truly, it was wild," Rachel said.
Rich and Rachel had been in touch with the lawyer several years before, but hadn't spoken to her since.
However, she had saved their profile, and as the mother was looking through the stack of possible adoptive parents for her unborn child, she was "moved" when she saw Rachel and Rich's profile and wanted to know more about them.
According to Rachel, when it was explained to the mother that the couple were missionaries living in Uganda, "it struck a deep chord," as the woman herself was an orphan who had been adopted from Guatemala.
The mother had initially scheduled an abortion during the time that Rachel and Rich were in Uganda, but decided against it and reached out to a crisis pregnancy center. When she heard about Rachel and Rich, she wanted her unborn daughter to be with them, as she had fond memories of the Catholic nuns who raised her until she was adopted.
"We always felt open to adoption, but trusted that God would make it happen in His time," Rachel said. "It's a blessing to have received this unbelievable gift when we least expected it; God's fingerprints are all over it."
The little girl, who Rachel and Rich named Chiara Maria de Guadalupe Mastrogiacomo, was born Feb. 18.
Both Rachel and Rich were present when their daughter was born. "We wept tears of joy and continue to do so. She has taken our breath away," Rachel said, adding, "truly, God has turned our mourning into dancing!"
Once the adoption is finalized and little Chiara Maria gets her passport, Rachel and Rich will return to Uganda with their new daughter and continue to serve as lay missionaries in the Arua diocese under the guidance of Bishop Odoki.
While they will wait for Odoki to give them instructions when they arrive, Rachel said she believes they will travel to the refugee settlements in order to provide catechesis, sacramental preparation and trauma counseling.
Rachel, who graduated from the Franciscan University of Steubenville in Ohio, holds degrees in theology and religious education, while Rich holds a graduate degree in theology.
Overall, Rachel said she sees their role as a "funnel of resources" from the U.S. to help this particular group and to raise awareness and funds to address the current humanitarian crisis in the area, which is "one of the most serious in the world right now."
Pope Francis himself recently put a spotlight on the crisis by declaring Feb. 23, the Friday of the first full week of Lent, as a day of prayer and fasting for the DRC, South Sudan and Syria, all three of which have been ravaged by internal conflict for years.
Though they can cease being missionaries at any time, Rachel said she and Rich feel that their call to be missionaries is a "lifelong vocation," and don't see themselves leaving it.
"Pope Francis dreams of a poor Church for the poor and a missionary impulse capable of transforming everything; this has become our dream," she said. "We want to give everything for Christ in the disguise of the poor and marginalized of society. We want to be on the margins, with the marginalized."
"That is where Jesus is," she said, adding, "we cannot wait to return and see see how the Lord will work."
– cna
Russia, February 25, 2018: A week after a deadly attack on an Orthodox church in the Dagestan region of Russia which killed at least five people, Islamic State is inciting its followers to kill and kidnap Christians in "Russian-occupied Muslim areas," according to a report.
The website of the SITE Intelligence Group, which monitors online communications by terrorist groups, carries a letter, titled "Strike Their Necks and Strike Each One of Their Sons," in which Islamic State is urging supporters to kill and kidnap Christians in Russia's Muslim-majority republics, including Chechnya, Ingushetia and Dagestan.
The letter cites last Sunday's church attack in Dagestan, calling the killer an "extraordinary mujtahid" and suggesting he needs to be seen as an example.
"Allah permitting, this will be the spark for more bloody attacks that will destroy a larger number of the Christian combatants in all the Russian-occupied Muslim areas," the letter reads, according to Newsweek. "Many of them will be killed as a punishment for their disbelief in Allah the Great, and it will plant fear and horror inside the hearts of hundreds of thousands of their brothers and make them flee with fear."
The Dagestan attack was carried out by a bearded man who used a knife and a hunting rifle to kill five people and injure several others during the worship service at the Orthodox church in Kizlyar, which is located in the mostly Muslim region of Dagestan where Russians reportedly account for only about 40 percent of the population.
Islamic State, also known as IS, ISIS, ISIL or Daesh, claimed responsibility for the attack, calling the killer a "soldier of the caliphate," who yelled "Allah Akbar," which means "God is great" in Arabic, while attacking.
The letter then urges Muslims to kidnap and kill Christians as well as to use extortion in Russia, which is helping Syrian President Bashar al-Assad to fight IS. "Let every Muslim know that the blood of those combatant Christians and their money is permissible and that taking any of them as hostages for ransom or to swap with a Muslim prisoner is also permissible. So let the good deed be for everybody."
The Orthodox Church has in the past declared that Russia is fighting a "holy battle" in Syria against the jihadists.
However, Christian foreign policy experts have warned that despite Russian President Vladimir Putin's stated mutual interest in combating radical Islamic extremism, he cannot be regarded as a defender of Christians amid his country's crackdown on non-Russian Orthodox denominations.
In 2016, Putin signed the Yarovaya law that bans all missionary activities in residential areas and requires Christians who want to share their faith with others, even on the internet, to obtain authorization documents from a religious association. It also imposes a fine of $75 to $765 if the violator is a Russian citizen, and a fine of up to $15,265 in case of organizations, while foreigners would be deported.
– christian post