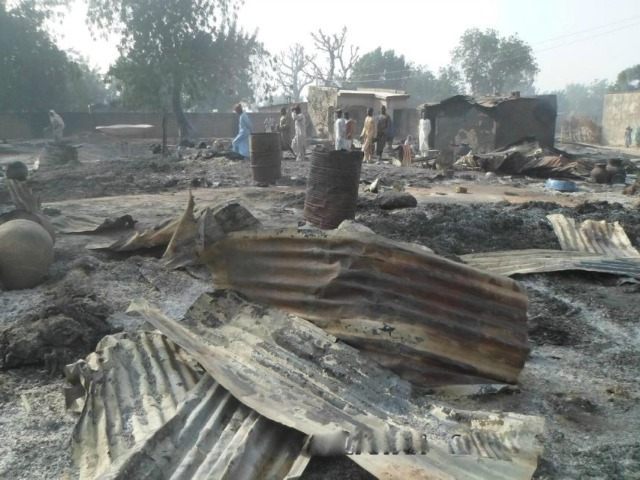 Nigeria, February 23, 2018: Radical Muslim Fulani herdsmen set on fire the homes of at least a dozen Christian families in Central Nigeria and killed a handful of people in the village, an evangelical pastor has reported.
The Rev. Biri Gado Sunday recently told the United States-based NGO International Christian Concern that Fulani herdsman attacked Zanwra village in the Plateau state in late January and damaged at least 17 homes.
Although Gado only knew of 17 homes that were burned, he indicated that even more homes could have been damaged. Of those 17 homes, 12 of them belonged to members of Gado's church and one belonged to Gado.
Morning Star News reports the total of houses burned in Zanwra village is 50 and also reports that the communities' church building was partially burned down.
The attack on the village came just one day after herdsman killed a member of Gado's church. Gado is a preacher affiliated with the Evangelical Church Winning All denomination.
On the day of the attack, Gado explained that the herdsman also killed a bus driver and two others who were just passing through.
The attack occurred right after the burial ceremony for the church member who was killed the previous day.
The Fulani militants began gathering in groups around the village at 2 p.m., which caused a group of youth from the community to form a line of defense.
"Then, later on, they started exchanging gunshots, Fulanis and the youth. When it was around 4 to 5 p.m., it got worse," Gado told ICC. "It was getting scary so I had to leave. … At about 5:20 p.m., I saw the Fulani chasing these youth in my direction. I even called the youth chairman, telling him that we need security people."
Gado said that he told the chairman that if the community did not receive help, buildings would burn down. Although there is a military checkpoint located no more than a mile from Zanwra village, no military help was provided.
"He tried to get to the security, but there was no response," he said.
According to Gado, the security agents claimed that they were "kept there for the checkpoint." Additionally, the security team did not call for help to stop the Fulani attack on the town.
"In what is proving to be a common problem, the military is either told not to assist or simply don't care enough to do so," ICC noted.
According to Morning Star News, eight people were killed by Fulani herdsman in Zanwra village between Jan. 22 and 25. A 60-year-old elder from Gado's church, named James Nengwe, is one of the slain victims.
"He was on his way to the military camp just about two kilometers from his house when he was ambushed, shot and killed by the herdsmen," Gado told the news outlet. "In fact, he was just a few hundred meters from the military camp. He decided to take refuge at the military base camp when he saw the herdsmen attacking and burning houses close to his house."
The troubles didn't end there for the community. Gado explained that on Feb. 11, Fulani herdsmen killed three more members of the village.
"The government must really do something," Gado said. "[T]he government hasn't come here with any relief. They have not visited to see the people to ask what their problems are."
Fulani attacks are not uncommon in Nigeria.
Along with the presence of Boko Haram in the Borno state, the violence of Fulani herdsmen is a large reason why Nigeria is ranked as the 14th-worst nation in the world for Christian persecution, according to Open Doors USA.
According to previous ICC reporting, Fulani herdsmen attacked over 100 Christian villages in 2017, which led to the deaths over 200 people.
– christian post
We've all heard it said, "There's a time for everything." Or "You're just in a season; it will pass." In fact, it's scriptural—
"There is a time for everything, and a season for every activity under the heavens: a time to be born and a time to die, a time to plant and a time to uproot, a time to kill and a time to heal, a time to tear down and a time to build, a time to weep and a time to laugh, a time to mourn and a time to dance, a time to scatter stones and a time to gather them, a time to embrace and a time to refrain from embracing, a time to search and a time to give up, a time to keep and a time to throw away, a time to tear and a time to mend, a time to be silent and a time to speak, a time to love and a time to hate, a time for war and a time for peace" (Ecclesiastes 3:1-8).
The good and pleasant seasons sound wonderful and exactly what God wants for us, right? It's so easy to think that God couldn't possibly want for us what we perceive as a bad or unpleasant season. And yet this Scripture passage tells us that God made both, and we're going to experience every season—the good and the bad—under heaven.
We try so hard to hold onto those feel-good seasons, and there's nothing wrong with that—we should have times of joy, dancing, laughing, loving, and peace. But when the not-so good times roll, we need to remember that God has not left us. He's walking right beside us through the mourning, weeping, uprooting, and war seasons.
Reasons You Might Not Like Your Life Season
It's painful or uncomfortable.
We've received devastating or tragic news.
We're jealous and like what someone else's life looks like more than our own life.
We're living with the consequences of our, or someone else's, behavior or decisions.
We're discontent or discouraged.
We're not sure if God still cares about us.
We all have difficult seasons we want to end. Or maybe we're in a wonderful season that we never want to end. Many life seasons we have no control over, even though advertisers and the culture would try to make us believe differently. They set us up to fail either way by thinking if we just drink the right cola, take the right pill, own the right car, use the right cosmetics and anti-aging products, eat the right food, reach success… every season of our life will be heavenly. The aging clock is going to stop and somehow God made our life to be different from everyone else's life.
What to Do When We Don't Like Our Life Season
1. Pray and listen. The first thing we need to do when we don't like our life season is to ask God how He wants us to deal with it, and then listen carefully to how the Holy Spirit speaks to us. It's that small voice we hear guiding us when we cry out to God. We might not know how to get through the season, but God does. It didn't catch Him by surprise. Someone asked a Christian on social media how he knew what God wanted for him. Did he have a direct line to God? I thought, Yes he does! Every Christian has a direct line to God the world doesn't understand, and one we don't use nearly enough: praying to Jesus who hears every word and the Holy Spirit who intercedes for us even when all we can do is groan (Romans 8:26-27).
2. Remember God's goodness. The focus of Forsaken God?: Remembering the Goodness of God Our Culture has Forgotten reminds us how good God has been in all seasons of our life. He never abandons His children. We need to share this with each other and the culture, especially during today's challenging times.
3. Ask, receive, and offer help. Recently, a woman shared with me about her husband's cancer. As she talked, I heard in my mind hug her and pray for her. We had just met, and I had already told her I would be praying for her husband and their family since I could empathize having had breast cancer three times myself. But I knew I was to pray for her now. So I said, "Let me pray for you," and stepped forward to hug her. She didn't realize I meant right now. I knew God meant right now! She was so grateful.
Many times is God trying to tell us what to do "right now," but we're dismissing His words of wisdom to help us, or someone else, through this season and into the next one.
4. Find a mentor who has experienced your season—a Christian who has experienced a life season and can share how she or he made it through like only someone who has been-there-done-that can. A mentor reminds us that he or she made it through a similar tough season and we will too. God doesn't want us going through any season alone, but He also doesn't want us listening to anyone who isn't giving us biblical wisdom. Incredible comfort comes from spending time with a mentor who understands your painful season!
Being a mentor or reaching out to encourage someone doesn't mean you have all the answers or the Bible memorized. It simply means you're willing to search God's Word and pray together for God to tell you what to do in the life seasons you might not like right now; then, you reach back and help someone else going through something similar.
And that's exactly what Ecclesiastes 4:9-10 tells us we need to do when we're going through a life season we don't like:
"Two are better than one, because they have a good return for their labor: If either of them falls down, one can help the other up. But pity anyone who falls and has no one to help them up."
– cross walk
Hungary, February 21, 2018: Hungary's Prime Minister Viktor Orbán has called Christianity the "last hope" for Europe as the continent struggles to integrate millions of Muslim migrants who've fled their countries of origin.
Orbán also accuses some Western European governments of facilitating the "decline of Christian culture," and paving the way for Islam's advance.
In his annual state of the nation speech Sunday, Orbán issued warnings to Western European nations, arguing that they will be overwhelmed with Muslim migrants and their culture will drastically change for the worse.
"We are those who think that Europe's last hope is Christianity," Orbán said.
"If hundreds of millions of young people are allowed to move North, there will be enormous pressure on Europe. If all this continues, in the big cities of Europe there will be a Muslim majority."
Such governments have "opened the way to the decline of Christian culture and the advance of Islam," he said, arguing that immigration is no more useful for a nation's development than the flu is to a human body's health.
The prime minister is presently favored to win re-election, a third term, when Hungarians go to the polls in April.
Orbán believes that Islam will soon "knock on Central Europe's door" from Western European nations that have accepted millions of Muslim immigrants and said that Hungary prevented the Islamic world "from flooding us from the South."
Fences along Hungary's southern border were constructed in 2015 in an attempt to divert the flow of people coming from the Middle East who are trying to reach Western Europe. The country has also closed refugee camps and very few people who are seeking asylum are being processed at what are called "transit zones" made of shipping containers which are stationed at the border.
His words express the sentiment of many Eastern Europeans and others who think it is necessary to resist globalist influences as a tide of populist nationalism rises around the world.
Billionaire George Soros — who is himself Hungarian and whose vast resources fuel many left-wing and globalist causes around the world — and the Hungarian prime minister were once in partnership but now stand in bitter opposition to each other.
As LifeSiteNews noted earlier this week, Orbán began his public life as an anti-Communist crusader and attended Oxford University on a Soros scholarship. Soros also funded the Alliance for Young Democrats, Orbán's political organization.
"But Orbán's defense of conservative values has led to breaking ties with Soros, whom he now criticizes as a foreigner meddling in his country's affairs," the pro-life news outlet reported.
In Sunday's speech, Orbán accused the billionaire of using his mammoth wealth to buy influence in government bodies around the world, including at the United Nations. He also pledged solidarity with western European leaders and people who "want to save their country and their Christian culture."
Last week, the Hungarian government proposed legislation requiring civic groups which organize, support or finance migration to seek permission to operate in the nation, and pay 25 percent levy on funds received from sources outside of Hungary.
When President Obama was in office, the U.S. State Department criticized Orbán's government, as did the European Parliament, because of Hungary's insistence that unborn children have human rights and that marriage ought to be defined as between a man and a woman.
During the 11th conference of the World Congress of Families last year, Orbán criticized liberals and encouraged citizens to have more children.
Three thousand "natural family" advocates who were present at that conference heard the Hungarian prime minister blast the European Union for its "relativizing liberal ideology that's an insult to families."
Orbán assumed office in May 2010 and is the leader of the of the national conservative Fidesz party. He also served as prime minister from 1998 to 2002.
– christian post
Pakistan, February 21, 2018: Patras Masih, a 16-year-old Christian from Lahore, has been arrested and charged with "blasphemy" by Pakistani police, after an allegedly insulting post appeared on a Facebook group page under his name.
He was charged after a twelve-hour mob protest, which forced the local Christian community to flee their homes.
A Facebook post of a photoshopped image depicting Patras standing on the dome of a mosque appeared online in his name on 16 January. There was no initial response from authorities.
On 19 February hundreds of Muslim protestors blocked roads in the Shahdara district, which is home to 400 Christian families, and began setting tyres alight and throwing stones at Christian properties. According to press reports, crowds swelled after an announcement was made in local mosques. Although police intervened to protect the Christians' homes, the Christian families fled.
CLAAS (Centre for Legal Aid, Assistance and Settlement) report that Patras Masih is now under arrest and his family have had to go into hiding.
In their rush to press charges, police registered Patras' case under section 295-C of the Pakistan penal code, which outlaws "defiling the name of Muhammad" and officially carries the death penalty (although no one has yet been executed under the law).
However, Patras is not accused of insulting Muhammad, but of "hurting religious sentiment", which would normally legally fall under a different "blasphemy" law (285-A), for which the penalty is up to ten years' imprisonment and a fine.
In 2013, a Muslim mob torched 170 homes in the Christian community of Joseph Colony in Lahore, following an unsubstantiated "blasphemy" allegation.
– global christian news
Kochi, February 20, 2018: A second petition has been filed in the Kerala High Court, seeking criminal proceedings against Cardinal George Alencherry, the Major Archbishop of Syro-Malabar Church, over alleged irregularities in land deals, causing loss to his Ernakulam-Angamaly archdiocese.
The court, when taking up the petition Feb. 19 asked for the state government's its views on the cases..
It will now be heard on Feb. 22, the New Indian Express reported.
This is the second petition against the Cardinal on the issue in the same case.
The petitions are based on the compliant and reports of the presbyteral council, a canonical representative body of priests in the archdiocese. The priests hold two senior priests and Cardinal Alencherry responsible for the deals, which they say bypassed canonical bodies and financial advisors in the archdiocese.
They allege in a series of transactions over the past two years the Ernakulam-Angamaly Archdiocese has incurred a liability of about 800 million Indian rupees in terms of missing money and bank loans.
The second petitioner Shine Varghese said the property belonged to a trust.
Cardinal Alencherry claimed that the land belonged to the archdiocese and a third party cannot complain against loss in the sale of private property.
The Cardinal cannot be charged with breach of trust, his counsel submitted.
The court had last week issued notice to the Cardinal and three others on a petition seeking a police probe into alleged irregularities in the land deals involving the Ernakulam-Angamaly archdiocese.
The Syro-Malabar Church has over 30 dioceses in the country and four outside – in the US, Canada, Australia and Britain – serving over 5 million faithful.
– ucan
New Delhi, February 22, 2018: Refusing to grant a visa to a Protestant leader wanting to visit northeastern India may negatively affect the prospects of the pro-Hindu Bharatiya Janata Party (BJP) in next week's state election, a leading political figure in Christian-dominated Meghalaya state says.
Vincent H. Pala, a Catholic and the state's ruling Congress party leader was commenting on the BJP-led federal government earlier this month refusing a visa for Baptist World Alliance chief Reverend Paul Msiza to attend a celebration marking 150 years of Christianity in Meghalaya's Garo Hills region.
"This could cost the BJP and its allies dearly" in the Feb. 27 state election Pala said, Feb. 21.
More than 75 percent of the state's 3 million people are Christians.
The BJP holds just two seats in the 60-seat state legislature and is working with the local National People's Party to try and garner Christian votes to defeat the Congress government, which is facing allegations of corruption.
When Reverend Msiza last visited the region he was under surveillance and was accused of violating visa guidelines and blacklisted, Pala said.
The Garo Baptist Convention was celebrating the 150-year anniversary at Rajasimla in Meghalaya's East Garo Hills from Feb. 8-11. The Baptist Church first arrived in the Garo Hills in Rajasimla in 1867.
Another leading Catholic figure in the state who requested anonymity said the "visa denial has hurt the feelings of people who now question whether the BJP is for inclusion of all the people."
– ucan
Dimapur, February 22, 2018: Two affiliates of the Nagaland Baptist Church Council (NBCC), the Angami Baptist Church Council (ABCC) and the Chakhesang Baptist Church Council (CBCC), have issued statements reiterating support to the NBCC's call for clean election.
The Angami Baptist Church Council (ABCC) has appealed to the people of Nagaland to listen to God's voice and have the courage to do the right thing.
ABCC executive director Rev. Dr V. Atsi Dolie, in a communiqué, said the church for some years has been trying its best to educate the people for a clean election.
The NBCC has asked voters to elect "god-fearing" leaders.
"…it is a time to choose our future with Christian and Naga identity and encourages its members to have allegiance towards one's faith, rather than by going with any communal party," the statement read. It also advised the candidates "not to buttress the voters by money power nor to be threatened by development".The CBCC stated that clean election campaign was not only "against buying or selling of votes, proxy voting, drinking and distribution of liquor" but also about being cautious with words, "for with words we hurt each other".
Responding to the allegations that NDPP-BJP alliance was a threat to the Christian faith, Neiphiu Rio thanked the church leaders for being the watchdog of the Naga society and said there was nothing to worry about as the NDPP elected legislators will not compromise on any issue concerning the Christian faith.
"We are happy that the church leaders have come up their concerns. However, there is nothing to worry about. Our rights to freedom of religion have been enshrined in the Constitution," Rio said.
– telegraph india
U.S., February 21, 2018: Billy Graham died Wednesday at the age of 99. The world renowned evangelist, who has been listed on Gallup's most admired list 61 times since 1955 — more than any other person — passed away peacefully at his home in Montreat, North Carolina, after struggling with various health problems linked to his advanced age.
In a statement to The Christian Post, Will Graham, the grandson of Billy Graham (whose full name is William Franklin Graham Jr.) and the son of Franklin Graham, said:
"My grandfather once said, 'One day you'll hear that Billy Graham has died. Don't you believe it. On that day I'll be more alive than ever before! I've just changed addresses.' My friends, today my grandfather moved from the land of the dead to the land of the living," Will Graham declared.
"We mourn that he is no longer with us physically here on earth, but we don't grieve as those who have no hope. My grandfather invested his entire life in sharing the promise of eternity through Jesus Christ, and today he had the opportunity to realize that hope himself, kneeling before his Savior and hearing the words, 'Well done, good and faithful servant.' My family appreciates your prayers now and in the days ahead."
Last week, Graham's daughter, Anne Graham Lotz, gave an update on her father's health during a conference at Moody Bible Institute.
"I'm not sure he knows that I'm here. He doesn't track like he used to, but his mind is still clear," she said.
"He can't see; he has a hard time seeing because of macular degeneration," she continued. "He's fairly deaf, I have to use a microphone and he wears a headset for me to speak to him. He's not mobile."
Since Billy Graham preached his last sermon on Nov. 7, 2013, for "My Hope America With Billy Graham," a nationwide movement to expose Americans to the message of salvation in Jesus Christ, he appeared to have let go of life and be more ready than ever to go to Heaven, his family observed.
"On November 7, he (Billy Graham) finished his race and up until that time, God had protected his health and gave him supernatural strength, and now, the only thing left is for him to come home," said Will Graham to Assist News in December 2013. "God has removed his hand of protection and old age has set in."
Meanwhile, Franklin Graham told The Christian Post that he had "never seen him (Billy Graham) this weak in all of my life, so I know he'd appreciate your prayers."
Despite his weakened state, Graham was working on a book up until the time of his death. Graham's last book was published in October 2013 and titled, The Reason for My Hope: Salvation. In total, Graham had written 32 books, including his autobiography Just As I Am (1997), Nearing Home (2011), and Angels: God's Secret Agents (1975), which sold 1 million copies within 90 days.
Billy Graham was born Nov. 7, 1918, in Charlotte, N.C., and raised on a dairy farm. He graduated from Wheaton College in Wheaton, Ill. – home of the Billy Graham Center Museum and where he met his wife, Ruth McCue Bell, the daughter of a missionary surgeon to China. They were married for over 60 years until Ruth's death in 2007.
Graham, a Southern Baptist, has preached the Gospel to more people in live audiences than anyone else in history. The Billy Graham Evangelistic Association estimates that he has preached live to nearly 215 million people in more than 185 countries and territories, and hundreds of millions of more people through television, video, film and webcasts. He has led hundreds of thousands of individuals to make personal decisions to commit their lives to Jesus Christ, according to BGEA.
He is also known as the "pastor to presidents," having met every U.S. president since World War II through Barack Obama. For his 95th birthday celebration, President Bill Clinton was among the 700 guests that included Sarah Palin, Donald Trump, Rupert Murdoch and Rick Warren. And for the dedication of the Billy Graham Library in Charlotte, N.C., in 2007, three former U.S. presidents came to share the momentous event with him: George H.W. Bush, Jimmy Carter and Bill Clinton.
"Every life Billy Graham ever touched – including people who never became president, never spoke at a crusade – is better because he was a good and faithful servant of the two most important commandments (to love God with all your heart and to love your neighbor as yourself)," said Clinton in his speech during the dedication ceremony on May 31, 2007.
Clinton, who has shared that he attended Graham's 1959 Little Rock, Ark., crusade, also had said during the 2007 dedication ceremony, "When he (Graham) prays with you in the Oval Office or the upstairs of the White House, you feel that he's praying for you, not the president."
For Graham's 95th birthday in 2013, several megachurch pastors gave tributes to the evangelist during interviews with The Christian Post at the Resurgence conference.
Rick Warren of Saddleback Church in Southern California and author of the bestseller The Purpose Driven Life, had told CP that Billy Graham was among his mentors.
"One of the things that a lot of people don't know about Billy Graham is that he was also an encouragers to pastors," Warren shared. "One time in Amsterdam he brought in 12,000 evangelists from all around the world. I had written a Bible study methods and Billy had brought a book for every one of those evangelists and had me come in and teach it.
"He was first and foremost an encourager," Warren remembers fondly.
Billy Graham is survived by his five children – Virginia, Anne Morrow, Ruth Bell, William Franklin, III, and Nelson Edman – 19 grandchildren and numerous great-grandchildren.
– christian post
It's a sad reality that children today are being innocent victims of the anger and frustration of other kids their age. The Internet, and new smartphones apps, have become new platforms for bullies to abuse and harass others, and it's no surprise, due to the anonymity of many applications, that many bullies are never identified. Cyberbullying is a form of bullying that is almost invisible to parents, as no form of physical abuse is displayed. Regardless, the effects it can have on a child's mental health can be devastating.
In most cases, children who are not prepared to confront such behavior feel threatened and helpless by a bully's malicious behavior, especially when they protect themselves with the anonymity of the Internet. Help your children combat cyberbullying and its dramatic effects by teaching them easy safety measures and tactics.
1. Don't pay attention.
Even though your kids may not understand this at first, explain to them that often it is best to do nothing when a cyberbully attacks. Online bullies, or 'trolls,' like the attention they receive from their target, and in many cases the bully only wants to create pain and conflict, no matter what the responses are. Close the conversation before it increases the troll's attention.
2. Build a barrier.
Bullies can be very persistent, depending on their objective. While a single message can be ignored, multiple unpleasant texts can't. Social media sites and cellphones all have block options that can be activated in a few seconds. The Bully is never notified that they have been blocked. If a bully creates multiple accounts to fight this, it is still faster to block accounts than to create a new one.
3. Save the messages.
Unfortunately, many bullying cases start small and then become worse over time. It is important that you keep records of all offending content in case the abuse becomes worse and you want authorities to get involved. When malicious behavior is demonstrated with evidence, it is easier for authorities to respond.
4. Play with passwords.
There is one type of cyberbullying that involves stealing your child's account passwords and posting embarrassing content with their identity. You can fight this together with your child by periodically changing the passwords of their accounts, deleting any offending content, and posting in the hacked account an explanation of what happened in case that others were offended.
Please note that a bully may have altered the contact information in the account, including the email address where a new password can be reset. Be very careful when helping your child protect their personal information to avoid repeated hackings.
5. Report the event.
When the bully has already changed the password and you have no way of recovering access to the account, you can report the incidentdirectly to the website and they will disable it or restore your child's access. Many social sites are putting up a fight against cyberbullying and have easy tools and links to help you do this.
6. Follow them.
You are responsible for your child's safety. Being as informed as possible of your child's online activity can prevent many unfortunate events. If you are 'friends' with their accounts, you can follow their posts and see what others post to their site. If you see something unpleasant, contain your impulse to address the bully, as this can make the situation worse for your kid. Talk to your child about the situation privately and in a calm matter.
– cross walk
Italy, February 14, 2018: A major rocket launch by entrepreneur Elon Musk's aerospace company, SpaceX, on Feb. 6 has been hailed as a major step toward cheaper and more frequent spaceflight – and the eventual population of Mars.
In the face of such unexplored terrain, how should Catholics respond?
While "this kind of expansion is in its infancy, and full exploration of space is a long way off… this is the time to start thinking about and planning for these things," Jesuit Br. Robert Macke told CNA.
Curator of the meteorite collection at the Vatican Observatory, and holding a PhD in physics, Br. Macke said technological progressions such as the SpaceX rocket do not change how we relate to God, but "as with any new development in technology or the way things are done, the main question for persons of faith regards how it is to be used."
The question we need to ask is if the technology is being used "in a way that is just, and compatible with moral theology and ethics," he said, raising the importance of Catholic social teaching in the future of space travel.
While it is still too early to see how it will be used, "one aspect to keep an eye on is whether such technology, accessible to the private sector, further divides the rich and the poor; those who can go to and exploit the resources of space, and those who will never have that chance."
According to the SpaceX website, the Falcon Heavy is the most powerful operational rocket by a factor of two. It lifted off from the Kennedy Space Center in Florida on Feb. 6 at 3:45 p.m. ET and has the capacity to lift into orbit nearly 64 metric tons (141,000 lbs) – a mass greater than a 737 jetliner loaded with passengers, crew, luggage and fuel, the website says.
The rocket carried and released into orbit a Tesla Roadster, complete with a mannequin driver called "Starman," decked out in astronaut gear.
The luxury sports car is worth $100,000, and according to the website whereisroadster.com – which is tracking the convertible's up-to-the-second location – on Feb. 13 at 5:50:14 it was 1,245,8587 miles from earth (and quickly increasing).
The same website tracks that at that time, the car had exceeded its 36,000-mile warranty 231.4 times "while driving around the Sun" at a speed of approximately 55,479 miles/hour.
The development of commercial enterprises, such as the Falcon Heavy, is a necessary first step to "widespread space travel and colonization," Br. Macke said, but he stressed that whether they are on earth or Mars, human nature remains the same.
"As more people are in space, they will not cease to be people. They will form a complex society with all of the good and bad aspects of any modern culture," he said. This includes good things, such as economic growth and new technologies.
But it could also have some negative consequences, he noted, especially environmental ones.
"As we have learned from the age of exploration on Earth, when we introduce invasive species in a new environment, they often take over and overwhelm the area. Microbes and bacteria that hitch a ride on spacecraft may become invasive on Mars or other planets, and if there is any native life, it may be overwhelmed and lost."
Governmental space programs have protocols in place to minimize the number of microbes and other earth-based contaminants that could reach other planets on spacecraft, he said, and there are international laws in place to which private corporations must adhere.
But increasing the amount of space travel will also increase the risk of contamination. For example, the Tesla Roadster wasn't fully sterilized, Macke said. Because it won't land on Mars, it is not subject to the same laws.
– cna