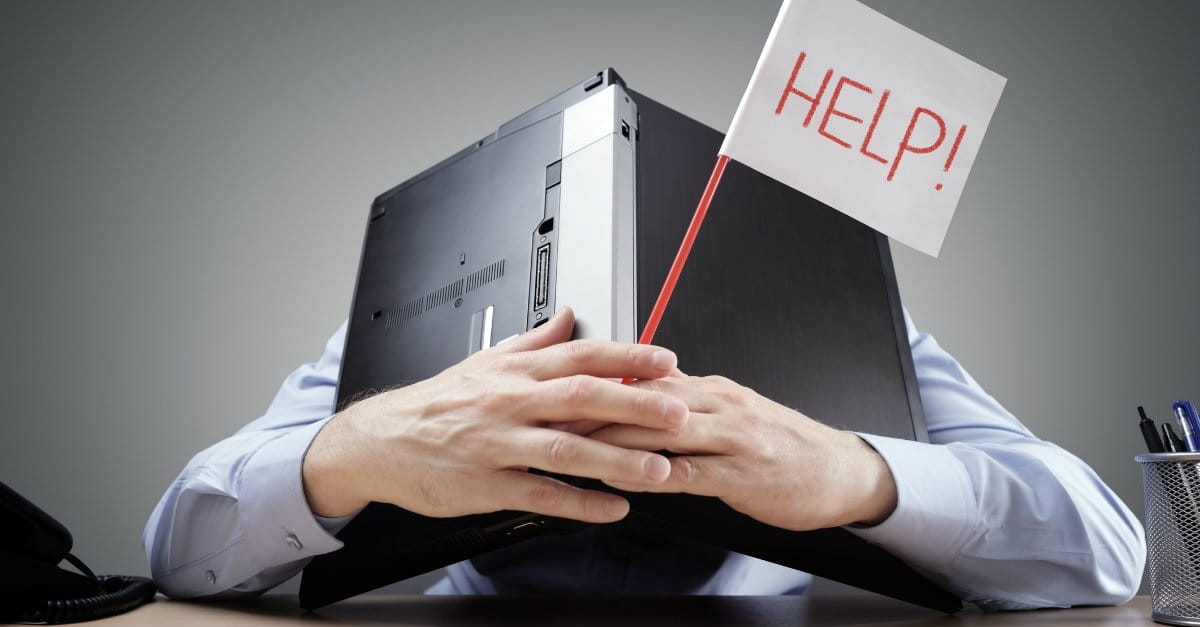 Working in a dream environment is a goal for most of us. But when the dream turns into a toxic nightmare, how do we climb out of bed every morning and make ourselves go to work? What are some practical tools we can use in the workforce? And what is the Christian's responsibility when dealing with difficult co-workers? Here are 10 ways to deal with difficult co-workers.
1. Try to understand what's happening.
The Native American proverb is still a good principle, "Don't judge people until you've walked a mile in their moccasins."
In today's work environment, everyone is dealing with some type of stress. A co-worker whose fibromyalgia flares every morning will not be a cheery person. The same goes for a mother whose son is facing prison time or a wife who is struggling to keep her marriage together. A deadly prognosis from the doctor. Depression, mounting debt, a parent with Alzheimer's disease. All these issues and more can be festering in a nearby cubicle. Try to understand what's at the root of the difficult relationship.
My experience underscores this principle. A manager piled extra work on me even when I told her I was already overwhelmed. But when I heard about the pressure she was facing from the board of directors, it helped me understand her reaction. By mentally walking in her shoes, I was able to more fully comprehend what was happening and not take it personally.
2. Examine expectations.
Every time we start a new job, we hope it will be a place filled with wonderful people. We want to be appreciated for our work and we want to be an asset to the company. But today's workforce is not the same as Grandpa's lifelong job with a pension and faithful friends. Many of us move from job to job, depending on life's circumstances. Most of us won't stay in the same office or warehouse for more than five years.
The Pew Research Group reported, "About six-in-ten adults (63%) say the average working person in the U.S. has less job security now than they did 20 or 30 years ago."
With that type of insecurity hounding us, the workplace is no longer a "family" atmosphere. We cannot expect it to be filled with happy people or contented workers.
3. Reread the original contract.
Another way to underscore our expectations is to check out the original contract we signed. When interviewing for a job, many of us focus on the questions at hand and the bottom line of pay and benefits. Sometimes we need to reread the fine print and remind ourselves what we signed up for. Maybe some of the toxic environment just goes along with the job requirements.
My son accepted a job that required 10-hour days. He knew going in it was going to be tough work, but he liked the place and the pay met his needs.
We cannot defend ourselves with management if the job calls for certain requirements we didn't expect. Difficult co-workers are unfortunately everywhere. We need to accept that fact and make sure we are part of the solution and not the problem.
4. Humility wins.
The balance between standing up for ourselves and showing humility is a delicate line. But in the long run, we need to ask ourselves, "How can I sleep tonight if I respond to this co-worker with the same bad attitude? What does God require of me in this situation?"
One of my friends worked in a toxic environment for several years. He was treated unfairly by management and assigned a menial job although he had more experience and training than other workers. Yet he showed up at his post day after day because he felt God wanted him to be an example of humility. Eventually, management changed and he was promoted to a higher, more comfortable position.
The biblical example is Joseph, who was mistreated, betrayed, and misunderstood. Yet he humbly continued to serve even while imprisoned. "God granted him favor in the eyes of the prison warden" (Genesis 39:21) and eventually Joseph was released and promoted.
Joseph also knew when to set a boundary and stand up for his rights. "Remember me," Joseph said to Pharaoh's cupbearer, "and show me kindness. Mention me to Pharaoh and get me out of this prison" (Genesis 40:14).
5. Set healthy boundaries.
Even if we understand the motivation of difficult co-workers, we still need to take care of ourselves. If we don't set limits around our personal space, we can be trounced on or move into co-dependency. No one in today's workforce should put up with ongoing harassment. A toxic environment quickly affects productivity and efficiency. We can't do our best work if we're bombarded by anger, by the fear of losing a job, or by unfair expectations.
In her signature work Codependent No More, Melody Beattie writes, "People who feel responsible for the entire world refuse to take responsibility for leading and living their own lives."
She goes on to point out how codependents feel better when they can control their entire world, yet they soon reach exhaustion from the effort. We need to love ourselves before we can truly care about others and setting our personal boundaries is the first place to start.
Beattie says, "Your most important and probably most neglected responsibility is to take care of yourself."
6. Show kindness.
Is there something special you can do for a difficult co-worker? Bring him a specialty coffee from Starbucks. Give her a pretty greeting card with handwritten encouragement. Offer to carpool together to save expenses. Fix his printer when it jams.
On the mission field–yes, even missionaries sometimes struggle to get along–I faced a terrible situation where I was blamed and shamed. Earlier that week, I had received a box of goodies from my family, including several packages of chocolate chips – a luxury in the country where I served.
So I spent several hours one night making baskets of chocolate chip cookies which I delivered to each of my tormentors. It didn't solve the problem but it was better than wallowing in bitterness. Besides, I make a mean chocolate chip cookie!
7. Check your motivation.
Why are you working at this job? Is it just for the pay and the benefits or do you genuinely love the work? Do you long to climb the corporate ladder and reach the pinnacle where you can be the boss? If so, you're going to have to step on some ugly rungs on that upward climb.
Or is your motivation more passionate? Are you hoping to impact the world, beginning with the people you work with each week? The Apostle Paul reminds us, "Whatever you do, work at it with all your heart, as working for the Lord, not for men" (Colossians 3:23). If we believe God has truly given us this job, it helps us stay motivated to work through whatever problems we face.
Sometimes in life, we have to work with difficult people because they come with the territory. It has helped me to imagine Jesus standing in the next cubicle or angels surrounding me. That visual has helped me to endure some ugliness that I could do nothing to relieve.
8. Stay connected with available resources.
Many corporations have human resources and/or workforce advocates who are available for any type of difficulty. They cannot help you if you don't let them know the problem. Sometimes this is a sticky wicket, but for the most part, unions and human resources are supposed to help their workers. Sometimes, we just need to state the problem to a supervisor instead of trying to fix it ourselves or swallow our disappointment.
For several years, I worked for an organization that supplied chaplains in the marketplace. When toxic situations occurred, the chaplains were available to pray with employees, to be the friendly hand on the shoulder, and to keep someone from going postal.
Use whatever resources you have available. They should be part of your benefits and you have every right to demand those resources.
9. Pray for them.
It may feel as if you are betraying your authenticity when you truly pray God's blessings for others, but it does help. Even if your prayers don't release you from the situation, they can strengthen your resolve "to act justly, love mercy and walk humbly with your God" (Micah 6:8).
A whispered prayer after an unkind remark can release resentment that might have festered into bitterness. An honest petition to the Holy Spirit to comfort the hardened places in difficult co-workers might become the salve of their salvation. We rarely understand the full scope and power of prayer. What it can accomplish is a mystery. Sometimes just repeating the name, "Jesus," has helped me past the struggle of the moment.
While raising my son, I used this principle. His biology teacher in junior high was a real piece of work. She seemed to hate her job and took it out on the kids, primarily my son. Although we followed protocol and met with the administrator, nothing improved. Then we started praying for her each night. She never changed, but my son was able to gather enough strength from the prayers to make it through that difficult semester.
10. Resign and start over somewhere else.
With some toxic work environments, the only solution is to pull ourselves out of the situation and start over. It's not an easy choice. But sometimes just quitting your job becomes the catalyst for a start over in life.
Last year, I resigned from a ministry position that was killing me. The stress, the over-work, and truthfully, some of my own codependency overwhelmed any of the good I was doing. It took me a year to work through that decision, to become a full time writer and writing coach. But it was one of the best choices I have ever made.
Sometimes life or even God himself moves us into another arena where we can feel more passionate about what we do. It's important to pay attention to those inner nudges, to set our personal boundaries, yet do our best to work in peace with others.
As one of my encouraging friends says, "Do your best and surrender the rest."
– cross walk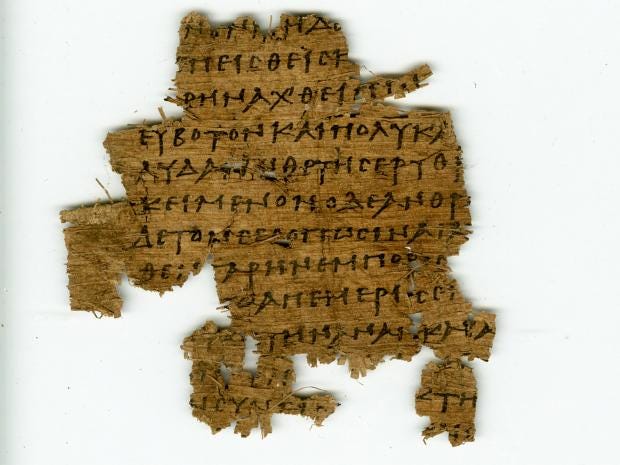 Egypt, May 29, 2018: While some scholars have speculated for the past few years about the possible existence of a first century fragment from the New Testament Gospel of Mark, experts announced last week that the fragment found in an Egyptian garbage dump likely dates back to either the late second or early third centuries.
The Egypt Exploration Society, a British nonprofit excavation organization that works in Egypt and Sudan, reported that a late second or early third century fragment of the first chapter of the Gospel of Mark was published in the most recent volume of the Oxyrhynchus Papyri.
The Oxyrhynchus Papyri is a group of manuscripts that were discovered during the late 19th and early 20th centuries at a spot where ancient inhabitants of the city of Oxyrhynchus dumped their garbage of over 1,000 years.
"The two sides of the papyrus each preserve brief traces of a passage, both of which come from the Gospel of Mark," a statement released last Thursday by the Society explains. "After rigorous comparison with other objectively dated texts, the hand of this papyrus is now assigned to the late second to early third century AD."
Although the publication of the Mark fragment was just announced last week, there has been much conversation about the fragment stemming from the fact that Oxford University papyrologist Dirk Obbink showed the fragment to visitors between 2011 and 2012.
One visitor, Dan Wallace of Dallas Theological Seminary, announced in a debate with agnostic scholar Bart Ehrman in 2012 that he had seen a copy of what could likely be a first century Gospel of Mark papyrus fragment.
Wallace later took to his blog to write about the fragment, saying that "a world-class paleographer had dated this manuscript and that he was pretty darn sure that it belonged to the first century." Wallace's post provided a sense of hope that this particular fragment could be the oldest New Testament fragment ever discovered.
In its statement, the Egypt Exploration Society confirmed that the fragment that was published is the same one discussed in the media in recent years.
"This is the same text that professor Obbink showed to some visitors to Oxford in 2011–'12, which some of them reported in talks and on social media as possibly dating to the late first century AD on the basis of a provisional dating when the text was catalogued many years ago," the statement reads.
The society's statement adds that no other New Testament texts in its collection have been identified as earlier than the third century.
Despite the fact that the fragment is not from the first century, the Daily Beast notes that the fragment found in Oxyrhynchus is still one of the earliest discovered fragments from the Gospel of Mark, which some believe to be the earliest of the canonical Gospels.
Wallace took to his blog last week to offer an apology.
"In my debate with Bart, I mentioned that I had it on good authority that this was definitely a first century fragment of Mark," Wallace wrote. "A representative for who I understood was the owner of FCM urged me to make the announcement at the debate, which they realized would make this go viral."
"However, the information I received and was assured to have been vetted was incorrect," Wallace continued. "It was my fault for being naïve enough to trust that the data I got was unquestionable, as it was presented to me. So I must first apologize to Bart Ehrman, and to everyone else, for giving misleading information about this discovery."
Although Wallace states that he did not knowingly announce inaccurate facts, he admits that he should have been more careful than to trust sources without personal verification.
Excavation at Oxyrhynchus began in 1897 with archaeologists Bernard Grenfell and Arthur Hunt. Thanks to Grenfell and Hunt, over 500,000 fragments of have been discovered and many of them housed in the Egypt Exploration Society Sackler Library in Oxford.
According to The Independent, scholars were able to transcribe just about 5,000 of those texts between 1898 and 2012.
In 2014, The Ancient Lives project was launched to give people across the world who have knowledge of the ancient Greek alphabet to look at the fragments online to try and transcribe what is written on them.
One of the pieces of text discovered through The Ancient Lives project is a long-lost rendition of the Book of Exodus, according to The Independent. The book was written in the second century in Alexandria.
– christian post
China, May 31, 2018: The Patriotic Association of Chinese Catholics (PA) and the Council of Chinese Bishops (BCCC) have launched a "Five-Year Plan of Development for the Sinicization of the Catholic Church in China". The plan was approved by acclamation in the Fourth Joint Meeting of the two national bodies, held last week, attended by the leaders of the two organizations, neither of which are recognized by the Holy See.
In his address to the gathering, Yu Bo, vice director of the State Administration for Religious Affairs, explained that " The 4th coalition meeting is to implement deeper the spirit of the Ninteenh National Congress of the Communist Party in October 2017 and the spirit of the National Conference on Religious Work in April 2016, and to focus on the deliberations of a five-year plan to advance sinicization of the China Catholic Church".
The "sinicization" of religions and of the Chinese Catholic Church has been a constant theme since 2015, when President Xi Jinping took part in a meeting of the United Front (the body that should oversee all the non-communist realities of China) . It involves:
a) increasing assimilation of Chinese culture into religious expression, eliminating "foreign influences";
b) "independence from foreign influence" (which means to do without the mandate of the Holy See for episcopal ordinations);
c) submission to the Party because it must "guide" religions and must "hold firmly the role of leadership in all religious activities".
No details of the 5-Year Outline were mentioned in the May 22 news release of the CCPA-BCCCC website. Even in the previous three coalition meetings, which have been devising contents for the Sinicization of the China Catholic Church, the CCPA-BCCCC website also gave no details. Some Catholic observers believed it was perhaps not to offend the Vatican, as China and the Vatican is undergoing negotiations and some illicit bishops in the national Church bodies are waiting for the Pope to absolve them.
However, a news report of the "Minzu Bao" (the official journal on religious and ethnic topics) of July 25 2017 on the first coalition meeting offered glimpses. It said the plan will be undertaken through five aspects. Based on a sincized Catholicism, it will
1. take unified action to link up the development of the China Church;
2. understand the history of the China Church;
3. drive theological research of the China Church;
4. pay emphasis on implementation in advancing evangelization and pastoral work;
5. focus on the manifestation of a sinicized China Church in architecture, arts, and liturgy.
The Fourth Common Meeting took place just as ecclesial sources in China and outside the country say that next week there will be a new round of negotiations between China and the Vatican. Last February, rumors had spread that there would be a meeting between the Chinese and Vatican delegations in March, but none took place. It was even rumored that if everything gets set in this early June meeting, another round would take place in late June for the signing of the accord.
In general, Chinese Catholics do not seem optimistic about the signing of the agreement. Violence against the Church has emerged in recent months (ban on minors going to church in Henan, destruction in Xinjiang, etc. …). In addition, on the internet, anonymous bloggers revealed a name list of about 20 bishops that the Holy See appointed before and after the China-Vatican negotiations resumed in 2014, implying the Holy See breached consensus in the negotiations.
In an interview with the South China Morning Post on May 18, Msgr. John Hung Shan-chuan, Archbishop of Taipei, said that the Pope told him that he would not compromise Catholic principles for the negotiations and that the power to appoint bishops must remain in the hands of the pontiff. For this, concludes Msgr. Hung, there is still no final agreement on the dialogue.
The "Sinicization" plan also involves the Protestant Church and was approved last April. Rumors have spread that the Communist Party would like to "rewrite the Bible". In fact, according to Protestant scholars, this idea is ridiculous, but Christians should pay attention to attempts to re-interpret the Bible, as happened in the recent past in Latin America, when the "Pastoral Bibles", which tried to re – interpret the Gospel message by bringing it closer to the communist ideology.
– asianews
Mozambique, May 30, 2018: Ten people, including women and children, were decapitated in the East African nation of Mozambique by suspected Islamic jihadis, government officials have said.
The attack came Sunday in the Monjane village in the Cabo Delgado province, which has large oil and gas reserves and ruby and sapphire deposits.
Government officials have declared that at least two children and four women were among those beheaded. AFP reports that the children killed were boys ages 15 and 16.
National police spokesman Inacio Dina told a news conference in Maputo that the suspects used machetes and have not yet been arrested. However, a manhunt is underway.
"There are 10 citizens who have been hideously killed," Dina said. "[W]e will hunt and find them and take them to the court as happened with others."
Although there has been no definitive confirmation, the attack is believed to have been carried out by a radical Islamic faction that has carried out an insurgency and other attacks in the province in the last year.
The group is called Ansar al-Sunna but is also known locally as al-Shabab. The group has no relation to the Somalia-based terror group that has the same name.
A local resident of Manjane village told AFP that the village leader was one of the victims of the attack.
"They targeted the chief as he had been providing information to the police about the location of al-Shabab in forests," the unnamed resident said.
Al-Shabab is believed to be responsible for attacks on police stations and a military post in the town of Mocimboa da Praia in October. Last October's attacks were believed to be the first terrorist attacks in the country and lead to the death of two police officers.
According to BBC, police have arrested over 200 people connected with the string of terror attacks since last October.
"A number of independent assessments of the situation in Cabo Delgado conducted over the last three months have concluded that the security situation (there) remains fragile and continued attacks probable," Alex Vines, an analyst on Mozambique who works for the London-based NGO Chatham House, told AFP.
The BBC notes that recent academic research has shown that early members of al-Shabab were followers of a radical Kenyan cleric killed in 2012.
The attack comes after the Mozambique Parliament passed a new anti-terrorism law earlier this month making punishments of terror-related time stiffer.
"This attack is a worrying sign of the deterioration of the situation," Eric Morier-Genoud, a lecturer in African history at the Queen's University Belfast, told the Nigerian news outlet Vanguard. "On the one hand the rate of attacks appears to intensify, on the other hand, the methods seem to be radicalized, with decapitations becoming more and more common."
– christian post
Kochi, May 29, 2018: Honor killings, unheard in Kerala, have made their way into the southern Indian state with the National Crime Records Bureau (NCRB) recording as many as five cases in since 2014.
Barely two months after the murder of a girl by her father, another gruesome case of honor killing has rattled the state. A newly wed youth, who was abducted by his wife's family from Kottayam, was found dead further south in Kollam.
Kevin Joseph, a Dalit Christian, got married to a girl of an affluent Christian family on May 24. Kevin's lower economic status reportedly came in the way of the love marriage. He was abducted by an armed group led by the girl's brother Shanu Chacko on May 27 morning. Kevin's body was found near a canal at Thenmala in Kollam district on May 28
The youth, who had gone to a relative's home immediately after his marriage , was dragged out of the house early Sunday morning and taken away. Although Neenu and Kevin's parents reached the Gandhi Nagar police station, Kottayam, pleading for quick action to trace him, the police refused to respond.
Neenu's statement that the police had cited Chief Minister Pinarayi Vijayan's impending public programme as an excuse not to trace her husband became a poll issue on Chengannur by-election day. The police attempted a fire-fighting operation by suspending Sub Inspector, Gandhi Nagar station, M.S. Shibu. They also removed V.M. Muhammad Rafik, District Police Chief of Kottayam.
Senior officials said the police appeared not to have pursued an active kidnapping case in which the complainant was the hostage's wife.
They did not immediately register a case nor sound a Statewide alert for the vehicles carrying the abductors. Officials said it was not clear whether the Sub Inspector of Police had informed his superiors of the gravity of the case and its societal implications. The law required officers to give high priority to social crimes such as honour killings and dowry murders. However, the police appeared not to have followed the rule in the case of the hapless couple in Kottayam.
The incident has triggered massive protests against the police. The image of the Kerala police has taken yet another severe beating with the abduction and killing of Kevin. The incident has triggered massive protests against the police.
Earlier this month, the police lost face over the delay to prosecute a child abuse case in Edappal in Malappuram despite receiving visual evidence. Last month, a mistaken arrest in a armed trespass case at Varappuzha in Ernakulam resulted in the death of a blameless youth in police custody, with allegations that an illegally constituted special team of the Aluva Rural police had beaten up the youth. He breathed his last the following day due to fatal injuries to his intestines.
According to the NCRB records, there have been five honour killing cases — three murders and two cases of culpable homicide not amounting to murder — registered in Kerala between 2014 and 2016.
Psychiatrist C J John said these instances are also a warning sign of the communal divide existing in the socio-political scenario of the state.
– matters india
Bhopal, May 30, 2018: A hard-line Hindu group has called on Christians to be thrown out of India and stamped on images of Pope Francis while accusing him of promoting terrorism in a video being circulated on social media since May 25.
The video shows controversial Hindu leader Om Swami Maharaj with a group of about 20 people carrying placards and banners with pictures of Pope Francis not far from Sacred Heart Cathedral in New Delhi.
Maharaj made a speech before members of the group began stamping on the pope's image. During his speech, he accused Indian Christians of promoting terrorism and Maoism in the country and demanded they should leave India.
If Christians don't leave India, Maharaj said, they will use force to expel them.
Maharaj spread a banner featuring a picture of the pope on the road and then, with several others, stamped on it. Slogans of "Pope Francis murdabad" (Down with Pope Francis) were shouted.
The video has caught the attention of Christian groups in central India, prompting them to approach the police to stop the video's circulation.
Richard James, spokesman for the Rashtriya Isai Mahasangh, the ecumenical national Christian forum based in Madhya Pradesh, said the police have been alerted to the video.
"This kind of public display of hate toward any religious group or leader would not be allowed in a civilized society," James told ucanews.com.
Jaideep Prasad, inspector general of Police in state capital Bhopal, told ucanews.com that his officers "will not allow anyone to spread discord among people with such videos."
Madhya Pradesh is among states governed by the pro-Hindu Bharatiya Janata Party (BJP).
"I have already instructed officials to do what is necessary to ensure peace," said Prasad on May 29.
Bishop Theodore Mascarenhas, secretary-general of the Indian Bishops' Conference, believes the timing of the video is connected to a pastoral letter issued by Archbishop Anil Couto of Delhi which BJP leaders have condemned as anti-national.
The letter sought for Catholics to pray ahead of the 2019 general elections because India was facing "a turbulent political future that threatens the country's democracy." BJP leaders said the letter was part of a Vatican game to tarnish India and the BJP government led by Prime Minister Narendra Modi.
"The video is an aberration and not expected," said Bishop Mascarenhas, who asserted that it in no way does it represent the opinion of the majority of India's Hindus.
Politics and religion
Christian and Muslim leaders say the BJP, which officially adopted Hindutva or Hindu cultural nationalism as its ideology 25 years ago, supports hard-line Hindu groups who seek to make India a Hindu-only nation.
Although the BJP says its idea of nation is based on Indian culture and not on religion, its leaders favor policies that support Hindu religious practices and concepts which challenge India's cultural and religious diversity.
In one example, Subramanian Swami, a BJP parliamentarian, moved a bill last year seeking capital punishment for cow slaughter since the animal is revered by a section of Hindus. He has continued to argue that cow slaughter should be tried as murder.
In a May 23 Twitter message, he urged Modi to cease all diplomatic relations with the Vatican. He also said the Vatican embassy in New Delhi should be sealed as the Delhi archbishop is "a formal nominee of the Vatican."
Christian leaders like Bishop Cajetan Francis Osta of Muzaffarpur in Bihar said such controversies are "political gimmicks to divert the attention of the people from burning issues" such as inflation and unemployment.
– ucan
New Delhi, May 31, 2018: India's pro-Hindu government has appointed Kummanam Rajasekharan, an active member of the ruling Bharatiya Janta Party (BJP), to serve as the 18th governor of Christian-majority Mizoram state.
The federal government nominated Rajasekharan while he was serving as president of the party's Kerala state unit, eliciting mixed reactions from Christian leaders on the fairness of slotting an ideologically biased politician into what is supposed to be an apolitical role.
He was sworn in on May 29 to effectively run the hilly state in India's northeast, one of three Christian-majority states along with Meghalaya and Nagaland.
He succeeded (retired) Lt. Gen. Nirbhay Sharma whose three-year tenure ended on May 28.
He is also a known activist who belongs to the Rashtriya Swayamsevak Sangh (RSS), a hard-line Hindu nationalist paramilitary organization made up of volunteers.
Bishop Stephen Rotluanga of Aizawl, the state capital of Mizoram, told ucanews.com that he attended the oath-taking ceremony along with other Christian leaders.
He said he did not "see the appointment as pushing any Hindu agenda."
State governors are seen as representatives of India's president, a role currently filled by ex-Bihar governor Ram Nath Kovind.
They are empowered to ensure their respective state is run in such a way that protects the core values of the charter, notably by guaranteeing human rights and religious freedom, and working beyond the interests of any particular party.
But Rajasekharan's appointment comes amid criticism that the BJP has been influencing state governors to make "favorable" decisions that ultimately serve its agenda.
Mizoram is expected to see assembly elections by December as the current government's term will draw to a close.
"We can't predict if his appointment will have any say in the outcome of the state election. People here have lived in harmony for years regardless of caste or creed," Bishop Rotluanga said.
"Everyone must abide by the constitution of India, including the president of this country and all the state governors, so we hope Gov. Rajasekharan will respect that, too," the prelate said.
Some Christian organizations have criticized the decision to elevate Rajasekharan to his new role as they fear it could compromise their struggle for equal rights for Christians in the region.
The People's Representation for Identity and Status of Mizoram (PRISM), a Christian-backed political party, and the Global Council of Indian Christians (GCIC) both issued statements describing him as a "radical Hindu."
GCIC President Sajan K George told ucanews.com that the appointment "surprised and shocked" him given Rajasekharan's track record of leading Hindu groups when conflict broke out between them and Christians in the southern state of Kerala in 1983.
Rajasekharan served as the BJP's unit chief of Kerala for three years.
In his statement, George appealed to President Ram Nath Kovind to replace Rajasekharan with a more "sober and fair-minded person."
PRISM's objections were chiefly based on Rajasekharan's recent role in Kerala. The group said it was unprecedented to have an active politician as a governor in Mizoram, a tiny state sandwiched between Bangladesh and Myanmar.
Christians represent around 87 percent of the state's 1.1 million people. Another 8 percent are Buddhists, leaving Hindus with just 2.7 percent.
These demographics contrast with the national average which sees India composed of 80 percent Hindus and 2.3 percent Christians.
In Meghalaya and Nagaland, Christians also make up close to 90 percent of their respective populations.
The BJP consolidated its power in the northeast during the elections in March, winning a landslide in Tripura to overturn a quarter-century of communist rule in the state, but the nomination of Rajasekharan is seen as a more controversial development.
– ucan
I never saw it coming. A group of us were sipping coffee together, just before a meeting, when out of the blue my friend made a cutting remark that sliced deep into my heart.
I stood there for a few minutes, paralyzed, realizing firsthand why a wound from a friend hurts more than a wound from an enemy (Ps. 55:12-14). That hurtful, stinging comment left me staggering, wondering what provoked such a fierce blow.
Had I misunderstood our friendship? Were we friends or enemies? What do you do when a friend hurts you?
Receiving "friendly wounds" from people who are supposed to love us can break our hearts. Shut us down. Damage our trust. Jesus experienced the same thing with His friends, too. And yet somehow, He continued to love past it.
Since neglected, buried wounds do not heal, it's important to deal with them. God promises to help us (Ps. 147:3). When we bring our wounds to Him, He can mend our hearts and teach us how to love past our pain. In fact, Scripture provides a lot of Godly wisdom for emotional healing.
5 things to do if you've been hurt by a friend:
1. Be patient in prayer.
I'm learning to apply prayer to my emotional wounds often, like medicine. It helps to say this truth out loud: "I believe God can heal every wound." Since healing occurs gradually, I'm trying to be patient as I pray for my friend and for my attitude.
"Be joyful in hope, patient in affliction, faithful in prayer." Rom. 12:12 NIV
2. Forgive.
Since I've been a less-than-perfect friend at times, I need to extend grace. Remembering thatthe one who holds a grudge hurts the most, helps me let it go. Since God overlooks a lot to stay in a relationship with me, I must overlook the faults of my friends, too.
"Bear with each other and forgive one another . . . Forgive as the Lord forgave you." Col. 3:13 NIV
3. Extend an olive branch.
It isn't necessary to rehash details in order to make peace and move on. Seeking peace may include going to my friend and saying, "Lately, I've sensed that there is hurt between us, how can I make it right?" Making the effort to reconcile opens the door for communication and healing.
". . . First be reconciled to your brother, and then come and offer your gift [of worship]." Mt. 5:24 ESV
4. Don't gang up.
When we're wounded, it's tempting to recruit others to be on "our side." Regrettably, I've done this, and it does not help. I've learned to seek counsel only from someone who isn't involved. Since Satan loves to pit us against each other, I don't want to let him break my friendships apart.
"Do not seek revenge or bear a grudge against anyone among your people, but love your neighbor as yourself. . ." Lev. 19:18 NI
5. Expect occasional friendly fire.
The more we care about someone, the more he or she can hurt us. Even in the best friendships, there will always be a little pain—I must accept this as truth. Being shocked by friendly fire only makes it hurt worse. Resisting the temptation to strike back or get even may save the friendship.
"The Lord will fight for you; you need only to be still." Ex. 14:14 NIV
Maybe you have been hurt by a friend recently, too.
A thoughtless remark was made. A friend was selfish. Irritable. Downright mean. You can view it as something terrible that will always hurt you or as something that God can somehow use for good.
I know how badly wounds from a friend can hurt! Seek God's face; spend time in His presence. Let His love heal you. Remember, God can create something beautiful out of every wound—even the wound of a friend.
– cross walk
Egypt, May 28, 2018: A Christian mother of six children who survived an attack by Islamic State terrorists as her family was traveling to a monastery in Egypt's Minya region last year but lost her son-in-law, who refused to deny his faith, says she prays the attackers "will be touched by God."
"We weren't worried about our security at all," says the mother, Nadia, in an interview with the Open Doors ministry in her house in the rural Egyptian town of Buni Suef, recalling the killing of 28 Egyptian Christians for their faith as they were on their way on a bus to a monastery in Minya to celebrate the Feast of the Ascension on May 26, 2017.
The men from Islamic State, also known as IS, ISIS, ISIL or Daesh, were in military clothing, standing on the road. The masked men shot the wheels of the bus, and first went to her son-in-law, Sameh, who was sitting at the front, and asked him to convert to Islam, she says.
He refused. And was shot. The ISIS men then came to his son, Hany. Nadia heard him say, "No, I am a Christian," and a gunshot.
"Maybe you think I would rather have seen my son make a different choice," she says. "And of course, as a mother, I am terribly sad and angry. But I am happy that I witnessed the faith I raised him in. I am thankful that he wouldn't deny Christ even with his life in danger. He made the right choice, and that has been a huge comfort to me."
After killing all the men in the bus, the attackers turned to the women and children. They grabbed Nadia's 3-year-old grandson, Mina, and said they'd kill him, too, if the girls on the bus wouldn't come with them.
However, they got distracted by an approaching pick-up truck and left to attack a father traveling to the monastery with his two sons. "I still thank God that He prevented the girls from being taken," Nadia says. "The men would have abused them terribly."
Nadia received a critical injury in her arm caused by random gunfire and can no longer use it. But her faith remains strong.
She says had it not been for "God's comfort," she "would have gone crazy." She says she is comforted by the assurance that Hany is in Heaven and that she would see her son-in-law again.
And she has not turned bitter against ISIS.
"If I meet the attackers of my son and they kill me for my faith, I'd be happy," she adds. "Then I would join my son in Heaven."
And if given the chance, she would say to her son's attackers, "I pray that they will be touched by God so they will change their ways."
Egypt has roughly 10 million Christians, mostly Copts.
An affiliate of ISIS in North Sinai started an insurgency after the military's ouster in 2013 of Mohamed Morsi from the Muslim Brotherhood. More than 100 Christians have been killed in attacks by Islamist groups inspired by ISIS since December 2016.
On Palm Sunday this year, twin suicide bombings killed 47 people and injured 126 others at churches in Tanta and Alexandria.
IS earlier released a video of the 2015 beheadings of 21 Egyptian Christians in Libya, titled "A Message Signed With Blood to the Nation of the Cross." Despite the horrific actions of the jihadists, the minority Coptic community in Egypt has been emboldened by the example the 21 men in the video for their refusal to deny Christ.
According to Open Doors USA's 2017 World Watch List, Egypt ranks as the 21st worst country in the world when it comes to Christian persecution. Additionally, the Congressionally mandated United States Commission on International Religious Freedom has recommended that the U.S. State Department list Egypt as a "Tier 2" country, a designation that singles out countries where religious freedom violations are tolerated.
Last November, a delegation of evangelical leaders from the United States met with Egyptian President Abdel Fattah al-Sisi for nearly three hours at the presidential palace in Cairo. The leaders addressed their concerns about the plight of the Christian community there.
– christian post
Europe, May 27, 2018: Churches in the U.K. and Ireland held their services in the open air on Sunday to stand in solidarity with persecuted Christians around the world and to pray for them.
"Choosing to meet outside come rain or shine really brings home how precious our freedoms are," said Paul Robinson, the CEO of the U.K.-based Release International, which is behind the annual campaign called Great Outdoors Church Service. "Taking time out to pray for the persecuted can spur us on to use our freedom to the full."
Charity's spokesperson Andrew Boyd told Premier Christian Radio that Christians in the U.K. have "amazing freedom in this country to do whatever we like really without the risk of persecution."
"It's ever so easy to take that freedom for granted, so why don't we just take a very small risk; the really small risk is that it's probably going to rain but never mind," he said.
Not all churches participating in the campaign held outdoor services this Sunday, as the charity has encouraged them to set aside any date that would be suitable while just suggesting that it could be held May 27.
The charity said Christians around the world continue to be persecuted under Islam, militant Hinduism, authoritarian regimes and communism.
Last month, Nigeria witnessed a mass wave of slaughter of Christians at the hands of radical Muslim Fulani herdsmen. At least 58 Christians were slaughtered in April, according to a statement by the Catholic Bishops' Conference in Nigeria, which called for President Muhammadu Buhari to resign.
"We are sad. We are angry. We feel totally exposed and most vulnerable. Faced with these dark clouds of fear and anxiety, our people are daily being told by some to defend themselves. But defend themselves with what?" the statement said.
In China, authorities are demolishing churches, tearing down crosses and seizing properties used for worship.
ChinaAid said earlier this month the local governments of Wenzhou and Shaoxing had banned all religious gatherings under the guise of fire safety inspections.
Wenzhou, which is known as "China's Jerusalem" due to its large Christian community, has been especially targeted by the atheistic Communist government, which has banned Sunday School for Christian children.
In India in April, the state of Uttarakhand became the eighth state in the country to pass legislation that is officially named the "Freedom of Religion Act" but has the allegedly hidden intent to punish those who facilitate religious conversions, especially conversions from Hinduism to Christianity. The law carries a jail term of up to two years.
Christian persecution, which includes violent attacks, destruction of Christian property and false accusations, has risen in India since the Hindu nationalist Bharatiya Janata Party won the general election in 2014. A report by an evangelical group in India described the year 2017 as "one of the most traumatic for the Christian community" in 10 years.
North Korea also continues to be the most hostile place in the world to be a Christian, and in Islamic countries such as Pakistan, Christians are being accused of blasphemy as a way of settling scores and driving out Christian minorities, Release International said.
– christian post