Heat filled my cheeks as she spoke. Her words pressed harder and harder until my heart felt trapped beneath them. What had I done to deserve such criticism? I sat in silent astonishment without a clue how to respond. I just wanted the conversation to be over.
We have all experienced times when a friend, co-worker, or relative offered harsh judgments. But there are also times when the words spoken, though hurtful at first, are exactly what we need to hear. So how do you discern between the two? How do you know if this person is giving constructive feedback or condemning your actions?
"When Cephas came to Antioch, I opposed him to his face, because he stood condemned. For before certain men came from James, he used to eat with the Gentiles. But when they arrived, he began to draw back and separate himself from the Gentiles because he was afraid of those who belonged to the circumcision group" (Galatians 2:11-12 NIV).
In Paul's instruction to the Galatian church, he tells about a time he corrected Cephas (also known as Peter.)
Paul noticed Peter acting one way around Jews and another way when he was only with the Gentiles. I can imagine how difficult it was for Paul to address this matter with Peter. After all, Peter was one of the twelve disciples. He was a bold proclaimer of the gospel before Paul became a believer. Yet Paul followed God's instruction and tackled this difficult topic with Peter.
So how do we handle these situations when they come up? Paul's story gives us valuable insight into these often uncomfortable moments. The following three tips will help us determine a course of action when someone we know offers opinions we don't want to hear.
1. Listen up, and listen well.
I was stunned that day by the unexpected turn in the conversation with my friend. For that reason, I missed part of what was said. Certain phrases stood out louder than the rest. You hold on to control… let other people help… more communication. I focused on the negative and blocked out most everything else.
So often we miss the message in its entirety because we don't hear everything. As the discussion begins, let's determine to focus our attention. Ask questions. Create open dialogue and keep the exchange going. Above all, we must resist getting defensive. Like Peter, God uses people of like faith to teach us valuable lessons. But we could miss the opportunity if we don't listen.
2. Consider the source.
After the exchange, let's ask ourselves these questions. Is she coming to me with her concerns for the right reasons? Is she someone I trust to give wise counsel? If the answer to these two questions is yes, then we should allow our hearts to be open to her words.
Paul demonstrated his leadership ability and his devotion to God's call on his life through years of commitment to ministry. No doubt he was someone Peter could trust. Peter knew Paul, and he knew the Holy Spirit guided Paul's heart and actions. For this reason Peter could accept Paul's concern with confidence.
3. Be receptive and appreciative.
As co-laborers for one cause, we must remain united with other believers. Whatever action steps you decide to take or not to take, reassure her. Renew your commitment to the common goal. Let her know you appreciate her. Gratitude eases tension and builds relationships.
The bold woman who challenged me to evaluate myself and seek God's direction took a risk. She risked hurting my feelings to bring about change that would ultimately improve our relationship. She became a trusted voice and gentle admonisher. After taking the matter to God in prayer, I resolved to work toward bettering myself as a servant and a listener.
As women we are called to love. And let's face it – confrontation creates discomfort! But we can find wisdom in Paul's exchange with Peter today. Criticism can hurt if we allow ourselves to be offended, but we can grow in Christ by making the most of it. Paul and Peter worked through many obstacles in ministry, and we can too. Sometimes submitting to God's plan means daring to listen.
– cross walk
India, December 8, 2018: Thousands of brides are being burned alive in India despite the practice being illegal, a Christian ministry has warned.
India Partners, a Christian organization that works alonside indigenous Christian grassroots agencies in India, told Mission Network News on Thursday that there are still as many as 8,000 bride burning cases a year in the Hindu-majority country.
A representative with India Partners, identified only as John, said the low view of women is spread through parts of India's society.
"This is true both of men and women. It's not just of men itself. Most women see the other woman as in an inferior position and not able to recognize her rights as a human being," he said.
The burning attacks, some of which have resulted in deaths, are tied to dowry and marriage disputes in rural districts.
"Horrible things like this happen, and many times they happen because of dowry deaths. Before marriage, the families will agree upon a dowry that the bride's family generally will pay to the groom's family," John explained.
"After marriage, the groom's family sees the leverage of threatening the girl and asking for more money. So they will begin threats, they will begin beatings, and the rule of thumb is something like the more money you want, the more you need to beat her."
Women are often beaten when the groom's family demands more money, which then sometimes escalates in dousing them with flammable liquid and setting them on fire.
John said that bride burning is more common in rural districts like Uttar Pradesh because the perpetrators are less likely to be prosecuted.
"But the harassment happens everywhere. In the harassment of women, your caste doesn't make any difference. How much education you have doesn't make any difference," he added.
Women in India continue to suffer from a widespread rape epidemic, with many stories of extreme violence, sexual assaults, and murder making international news.
Dalits, members of the so-called "untouchables" lowest caste class in India, are also subject to discrimination, especially those who choose to convert to Christianity.
Earlier this week, some 2,000 Christian Dalits marched in New Delhi, demanding that the government does not stop their social benefits due to their new faith.
The fears are based on government regulations that argue that Dalit Christians and Muslims who leave the Hindu faith can no longer be considered part of the caste, UCA News.com reported.
"Government comes and goes, and we get only false promises. Several protest rallies and marches in the past were useless. Now we play our drums to wake up the sleeping government," said Father A. Arputharaj, a protest organizer in the march.
– christian post
Ranchi, December 9, 2018: Catholic tribal leaders in India are worried over a move by Jharkhand's government to take away tribal status from people who have left their traditional Sarna religion to join other faiths.
The eastern state's move will deprive thousands of tribal people of social benefits meant for their advancement.
"It is a deliberate attempt to divide tribal people on grounds of religion ahead of the state and national elections next year," said Bishop Vincent Barwa of Simdega, who is based in a tribal Christian stronghold.
A state election is due at the end of next year, while national elections are due in April.
The state government, run by the pro-Hindu Bharatiya Janata Party (BJP), wants the BJP-led federal government of Prime Minister Narendra Modi to declassify the tribal status of tribal people who have adopted other religions, media reports said.
"The government move is disastrous and we are keeping a close watch on all developments," Bishop Barva, chairman of the Indian bishops' office for indigenous people, told ucanews.
Secular leaders like Dev Kumar Dhan, who leads a pan-India group of tribal people following the Sarna religion, told ucanews that the government is looking for political gains.
On Dec. 3, he presented a memorandum to state governor Draupadi Murmu, a representative the of the federal government, asking her to stop the move "to divide tribal people on religious grounds."
Dhan said the declassification of tribal people would help non-tribal people to contest and win elections in tribal-majority constituencies that are now reserved for tribal candidates.
The state has 28 constituencies reserved for tribal candidates based on the population of tribal voters. If the proposed declassification happens, the number of seats will come down to 10 as tribal people in the other 18 seats will become non-tribal people overnight, he said.
Officially, 26 percent of Jharkhand's 32 million people are tribal people, but declassification would reduce the tribal population to 12 percent, Dhan said.
Since the move needs federal approval and would have to be effective across the country, the representation of tribal people in India's parliament would also be reduced.
Currently 47 of 543 parliamentary constituencies are reserved for tribal people.
Jharkhand has some 8.6 million tribal people, of whom 3.24 million have become Hindus and 1.33 million have become Christians, according to census records. Much smaller numbers have become Muslims, Buddhists, Sikhs and Jains.
"The move has far-reaching implications because it will affect not only the social benefits of the people but also the policy decisions of governments in the use of natural resources like land, water and forests," Dhan said.
Supporters of the move are shortsighted, he said.
Megha Oraon, who leads Sarna Vikas Samiti (forum for Sarna development), supported the plan and said it would end conversion to other religions and bring back those who had left the Sarna religion.
Tribal leader Babulal Munda agreed that government benefits meant for tribal people such as financial assistance for education and reservations in jobs should not be given to people who joined other religions.
However, tribal leaders maintain that those who converted to Hinduism should not be deprived benefits as the Sarna religion is broadly part of Hinduism.
Declassification of tribal people would violate the constitutional stipulation that citizens should not face discrimination over religion, said Catholic priest and lawyer Father Peter Martin.
In a federal system, a state alone cannot decide on something that could be applied across India, he said, as the consensus of other states is necessary. "That would not be an easy task," he said.
The move will result in a massive uprising in the state as it will adversely affect millions, Father Martin said.
– ucan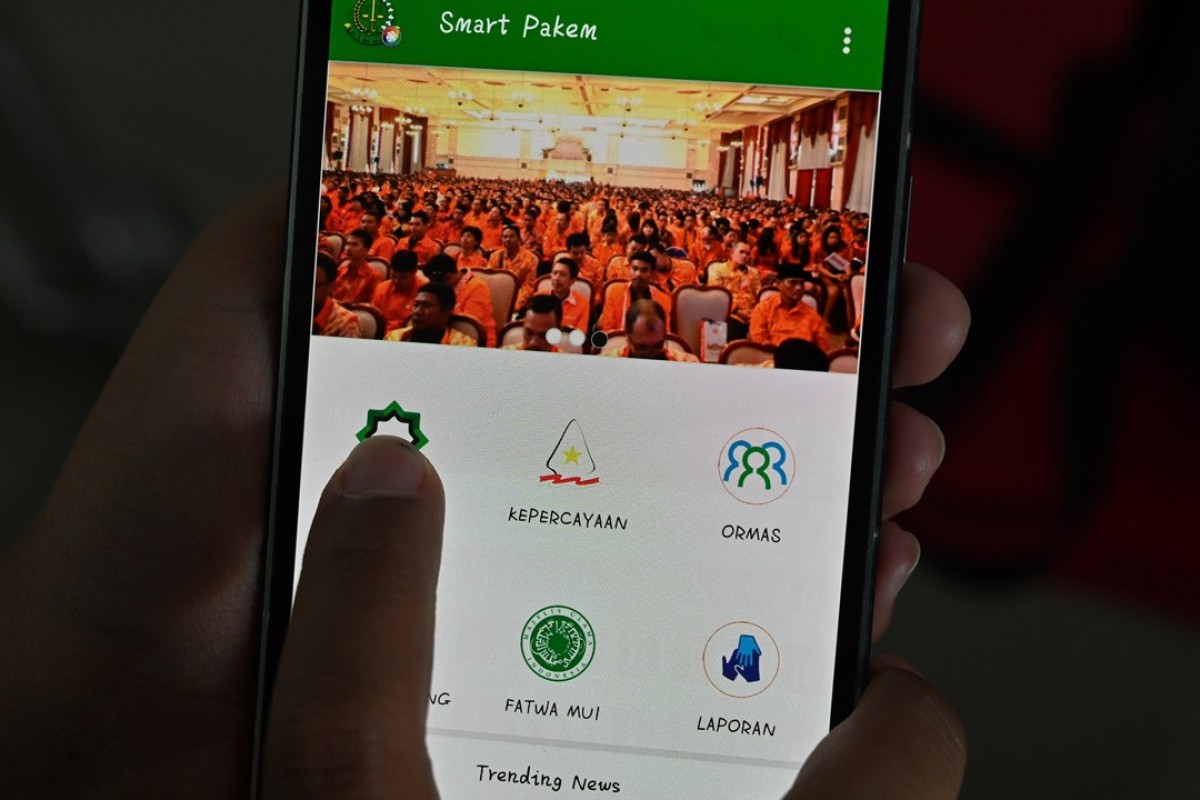 Indonesia, December 6, 2018: Misguided or "heretical" beliefs can be reported instantly in a new mobile phone app, "Smart Pakam", created by the Indonesia government.
The App is described as a tool to educate Muslims on misguided beliefs and enable them to instantly report possible violations. Users are encouraged to report beliefs ambiguously described as "harmful," and can upload photos as evidence.
The app was created by the government body Bakor Pakem – The Coordinating Board for Monitoring Mystical Beliefs in Society – a powerful influence in the Indonesian legal system. According to Human Rights Watch, 100 per cent of those reported to the body have been convicted of "blasphemy", "defamation" or other charges.
The country's minority faith communities, particularly Christians and Ahmadiyyah Muslims have raised concerns that the app could violate religious freedoms and cause profound divisions in society.
­Amiruddin Al-Rahab, a commissioner at Indonesia's National Commission on Human Rights commented in local news sources, "It is contradictory to the government's desire to create a culture of mutual respect and tolerance, which is why I have asked the government and the attorney general to take it down."
Mr ­Al-Rahab warned of serious potential consequences including social disintegration, persecution, violence and discrimination.
Christians make up at least 15 per cent of the population of Indonesia. Until a generation ago, Muslims and Christians lived peaceably as equals, but since the 1980s the role of Islam in public life has dramatically increased. The Christian former governor of Jakarta, "Ahok" Tjahaha Purnama, was sentenced to two years in jail for blasphemy following accusations by Islamists in 2016.
– global christian news
U.K., December 5, 2018: Prince Charles has praised the "extraordinary grace and capacity for forgiveness" of Middle Eastern Christians enduring persecution.
Speaking at a special Advent service for persecuted Christians at Westminster Abbey on 4 December, the Prince said he had been "deeply humbled" by meeting Christians from the Middle East "who, with such inspiring faith and courage, are battling oppression and persecution."
He claimed that, "Coexistence and understanding are not just possible … they are confirmed by hundreds of years of shared experience. Extremism and division are by no means inevitable …
"In this season of Advent, as we celebrate the birth of our Lord Jesus Christ, who himself knew exile, injustice and suffering, I can only assure you of our steadfast support and most heartfelt prayers as you take forward your works of restoration, justice and healing, so that God's will might be done on earth as it is in heaven."
His words of encouragement for Middle Eastern Christians came days after the Archbishop of Canterbury called on the UK government to do more to aid Christian communities in the region facing "imminent extinction".
– global christian news
New Delhi, December 9, 2018: Mohammad Shafiq, 55, remembers hurriedly packing his bags on Nov. 26 and dragging his children from their home in Ayodhya town in India's Uttar Pradesh as they sought safe refuge while fearing for their lives.
Trouble was brewing in his hometown as the days fast approached the 26-year anniversary on Dec. 6 of the demolition of a mosque there by Hindu hardliners, sparking Hindu-Muslim riots.
Expecting a repeat of the violence seen after the demolition, Shafiq and his wife and three children raced away in a rickshaw bound for the nearest interstate bus station as they began making their way to West Bengal state.
He said he plans to "stay away for at least a month" fearing more riots as thousands of Hindus began to converge there on Nov. 25 reviving their demand the government build a Hindu temple on the controversial site. Hundreds of Muslims have already moved out of the town.
In the end, Dec. 6 passed peacefully. But Muslims in Ayodhya say they still feel unsafe as communal tensions between them and the thousands of Hindus who live there remain precarious.
The tearing down of the mosque triggered month-long riots across India that claimed an estimated 1,000 lives, driving a wedge between communities and instilling a strong sense of fear among Muslims, as Shafiq can attest.
Its demolition capped a nationwide campaign by the pro-Hindu Bharatiya Janata Party (BJP), which claimed the mosque had been built in the 15th century by the Muslim invader Babur after he had ordered the destruction of a Hindu temple in the same spot.
Hindus consider Ayodhya the birthplace of their lord Ram. Scholars are still debating which century this took place in.
The BJP's campaign presented the mosque as an affront to Hindu pride and exhorted the party's followers to regain their "lost honor" by reversing this historical wrong and slight to their religion by resurrecting the former temple.
In the ensuing riots, Shafiq's brother and several relatives and friends were killed.
For the BJP, the campaign was a resounding success as it propelled the party to political prominence and finally helped it rise to power in New Delhi.
However, the new temple has still not been built as litigation drags on over who owns the land.
Shafiq believes the BJP used the temple issue as "a live wire to electrify" the Hindu masses and attract more votes at the expense of Muslims like himself.
As India faces national elections in May 2019, Hindu groups have begun to revive their calls for the temple to be established.
But many Muslims, who make up just 6 percent of Ayodhya's population of 55,000, have already fled in search of safer abodes elsewhere until things cool down.
No one knows exactly how many have upped and left as they do not report their departure to the police.
"We have nothing to tell you except that we are moving to Kolkata, where my sister lives. We hope a state of normalcy returns soon so that we can go home. If not, we may never go back," said Shafiq, an electrician by trade.
Idrees Hussain, a university student in Ayodhya, recalls the terror that struck the heart of the community when the riots broke out. At the time, Idrees was just 5 years old.
He remembers seeing angry mobs of Muslims attack Hindu homes and bludgeon people to death as both sides went on the rampage.
"When these large mobs gather, anything can happen," he said. "Rumors of a Muslim attack can easily trigger clashes. And we don't want to die for no reason. It would be insane to live here any longer. Better to stay away until the issue gets resolved amicably and we can restart our loves afresh."
Fatima Bano, 43, remains haunted by the violence, death and pillaging that tore through the town when the mosque was demolished.
"I haven't seen this level of suffering that we Muslims face anywhere else in the world, even on TV," she said.
"Our family spent days without food and water locked down inside our houses. I lost my uncle in the riots but no one has ever been arrested for his murder," she told ucanews.com, adding that she is taking her two sons and moving to stay with some relatives in New Delhi as tensions resurface.
"We won't come back here until this mess gets sorted out," she said.
Meanwhile, some Hindu organizations are asking Muslims not to leave and saying their fears are overblown.
Sharad Sharma serves as a spokesman for the Vishwa Hindu Parshad, or World Hindu Council, which is spearheading the calls to rebuild the temple honoring Rama. He said Muslims have nothing to fear.
He even invited local Muslims to move to Hindu temples temporarily if they feel unsafe in their own homes.
The crowds are not angry mobs but "just a congregation" of Hindus who have assembled to "discuss the construction of the temple. Muslims have no reason to feel scared," Sharma said.
– ucan
Brazil, December 5, 2018: Researchers from Brazil announced Tuesday that a baby had been born to a mother who had received a transplanted uterus from a deceased woman.
While uterine transplant is ethical, the use of in-vitro fertilization to produce a child, as was done in this case, is morally illicit.
Though 11 babies have been born worldwide to mothers who received a transplanted uterus from a living donor, this is thought to be the first baby born alive from a uterus taken from a deceased woman.
This follows at least 10 other attempted uterus transplants from deceased donors in the United States, Turkey, and the Czech Republic.
The 32-year-old mother, who has a condition called Mayer-Rokitansky-Küster-Hauser syndrome, was born without a uterus. In September 2016, she underwent uterine transplantation at the Hospital das Clínicas at the University of São Paulo in Brazil.
The deceased donor of the uterus, a 45-year-old mother of three, had died of bleeding in her brain.
The mother's doctors gave her drugs to suppress her immune system so her body would not reject the new uterus. She began to menstruate 37 days after the operation, and after seven months her doctors implanted a single embryo. The doctors had previously removed the mother's eggs and fertilized them artificially.
The healthy baby girl was born by cesarean section Dec. 15, 2017, near gestational week 36. In the same procedure, the doctors removed the woman's uterus.
"The results establish proof-of-concept for treating uterine infertility by transplantation from a deceased donor, opening a path to healthy pregnancy for all women with uterine factor infertility, without need of living donors or live donor surgery," the researchers wrote.
The first successful womb transplant from a living donor raised questions among Catholic bioethicists when it took place in 2014.
Fr. Tadeusz Pacholczyk, Ph.D., director of education for the National Catholic Bioethics Center, told CNA in 2014 that the transplantation of a healthy womb to a woman who lacks a womb because of birth defects or disease can be licit, and "would be analogous to a situation where a kidney fails to function" and a donor provides a healthy organ to someone in need.
Transplanting the uterus alone could be morally acceptable, he said, as long as the transplant of ovaries and sex cells were not also done, respecting the uniqueness of each person's genetic information.
For such a womb transplant to be completely licit, Pacholczyk said, in-vitro fertilization could not be used, and children would need to be conceived naturally, "through the marital act."
The use of IVF, as was done in the case of the mother who received the deceased donor's uterus, violates Catholic teaching because it separates the creation of life from the marital act, Pacholczyk explained.
Despite this, he said the transplant itself opens the possibility for a new morally acceptable therapy, especially since the use of uteri from deceased women does not prevent the donor from being able to bear life while she is still biologically capable of doing so.
– cna
Uttar Pradesh, December 5, 2018: Over 150 mobsters broke into a private Christian worship service in Kanpur, located in India's state of Uttar Pradesh, persecution watchdog International Christian Concern reported (ICC).
On December 2, the protestors forced themselves into the private hall, threatening Christian worshippers and disrupting Pastor A. B. Singh's morning service.
Pastor Singh's wife was brutally beaten by members of the mob, after she tried to protect her husband and other women in the church who were being attacked.
The mob then chased all the Christians from the service, warning Pastor Singh to stop leading Christian worship services in Kanpur.
Police were called to the scene, but according to ICC, no action has been taken so far.
Pastor Vijay Gupta, a Christian leader from Kanpur, told ICC: "The attacks on places of worship have picked up in the last two to three months in the Kanpur region.
"What we hear in the news is the tip of the ice-berg. Pastors and evangelists are constantly being harassed and [threatened]."
Pastor Sam P. Jacob, also from Kanpur, told ICC: "We had to completely shut down our Christmas programs and activities due to the prevalence of anti-Christian sentiments.
"Christians are terrified over the situation. We are not sure if we are even going to conduct a Christmas service on Christmas day."
The India state of Uttar Pradesh has witnessed a major crackdown against Christianity in recent months.
Earlier in September this year, 10 Christian pastors in Uttar Pradesh in India were arrested for holding a Sunday service.
Police reportedly stormed the church in Karibayar and arrested the Pastor Bahavan Ram, a United Nations religion watchdog Christian Solidarity Worldwide (CSW) reported.
Mervyn Thomas, chief executive of CSW, told International Christian Concern (ICC): "Recent events in Uttar Pradesh are deeply worrying and indicative of a concerning increase in religious intolerance in India.
"The arbitrary arrests by the police go against the rule of law and we call on the government of India to ensure the release of all pastors currently held in detention, and to work to protect the right to freedom of religion of belief for all Indians, as guaranteed by the Constitution of India and the International Covenant on Civil and Political Rights, to which India is a party."
– express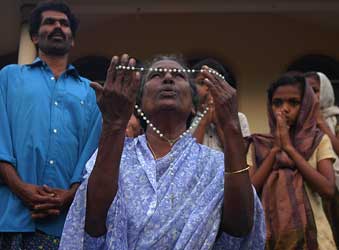 India, December 6, 2018: Beating their drums, some 200 socially poor Dalit people marched through the streets of Indian capital New Delhi on Dec. 4 in a novel form of protest to demand that they be given social benefits denied to them because of their Christian faith.
Participants in the "the drum, dance, demonstration" played their drums near parliament to demand that the government withdraw a 1950 presidential order that said only Dalits of Hindu religion should be given social security benefits meant for Dalit people's advancement.
"Government comes and goes, and we get only false promises. Several protest rallies and marches in the past were useless. Now we play our drums to wake up the sleeping government," said Father A. Arputharaj, a protest organizer from Pondicherry and Cuddalore Archdiocese in Tamil Nadu.
The Indian constitution has special provisions to assist Dalit people's educational and social advancement with financial aid and reserved seats in jobs and educational institutions. But Dalit Christians and Muslims are denied these rights on grounds that their religions are caste-free.
The 1950 order was twice amended to include Dalit people of Sikh and Buddhist religions for these benefits. "But Dalit Christians and Muslims continue to suffer because of discrimination based on religion," Father Arputharaj said. "The government refuses to hear us, so we chose a louder medium to make them hear us."
An estimated 30 percent of India's 28 million Christians come from Dalit backgrounds but they speak different languages as they are scattered across India.
"We are united and will fight until we get our rights. It is the best time to raise our voices as the general elections are due next year and the winter session of parliament is scheduled to start on Dec. 11," said Father Arputharaj.
The protest was organized by the Dalit Christian Artists Coordination Committee from Tamil Nadu in collaboration with the Catholic Bishops' Conference of India.
A case challenging the constitutional validity of the 1950 order has been pending in the Supreme Court of India since 2004.
Dalit leaders say different government commissions that studied the issue have recommended enlisting Dalit Christians and Muslims for statutory benefits.
Some Christian leaders like A.C. Michael have told ucanews.com that governments fear that allowing reservations for Dalit Christians and Muslims will make them unpopular as the move would reduce the share of majority Hindus.
Pro-Hindu groups are opposed to allowing benefits to Dalit Christians as it might encourage Hindu Dalits to become Christians. Many suspect what blocks Dalit people from becoming Christians is the fear of losing the benefits, Michael said.
Dalits, or the former untouchables, are the lowest caste within Hindu society. Although large numbers of Dalits have converted to Christianity and Islam to escape the rigid caste system, social prejudice against them continues in their new religions too, Father Arputharaj said.
"They are doubly oppressed now. They continue to suffer social neglect and government neglect," said Father Z. Devasagaya Raj, secretary of the Indian bishops' Office for Dalits and Indigenous People.
"We are also trying to contact regional political parties to put our demand in their election manifestos."
– ucan
New Delhi, December 4, 2018: The Shiv Sena has advocated a compulsory family planning program for Muslims to ensure stability in the country and maintain national security.
In an editorial in its mouthpiece Saamana on Dec. 4, the party linked a rise in Muslim population to "unrest in the country and challenges to national security".
The editorial cited a Border Security Force report to the Union Home Ministry that allegedly expresses concerns about an unexpected rise in Muslim population along the border with Pakistan in Rajasthan's Jaisalmer.
"The population of Indian Muslims is burgeoning at the speed of the bullet train, and enforcing family planning [on them] is the only solution," the Bharatiya Janata Party ally claimed.
The Saamana editorial also dismissed the stance of "some Hindutva groups" that want Hindus to abandon the "Ham do hamare do [two-child]" policy to counter the alleged increase in Muslim population.
The Shiv Sena's statement follows media reports about the paramilitary force's report that purportedly highlights "the presence of radical elements who are suspected to be luring local people to pass on information relating to military movements", The Telegraph quoted an unidentified official as saying.
The Shiv Sena claimed the Muslim population in Pokhran "is exploding" and criticized the BJP-led governments at the Center and state for failing to restrict the rise in number of Muslims. The Shiv Sena claimed that BJP-led states were no different from states such as Assam and West Bengal, where the community's numbers were significantly high allegedly because of the policies of the Congress, the Communist Party of India (Marxist) and the Trinamool Congress.
"The national president of the BJP keeps making speeches about how he will remove illegal citizens from India and drive out intruders, but what about the 'green invaders' at the border in Rajasthan?" the Shiv Sena asked.
– scroll