Air China apologises for 'racist' London guide warning of 'Indians, Pakistanis & black people'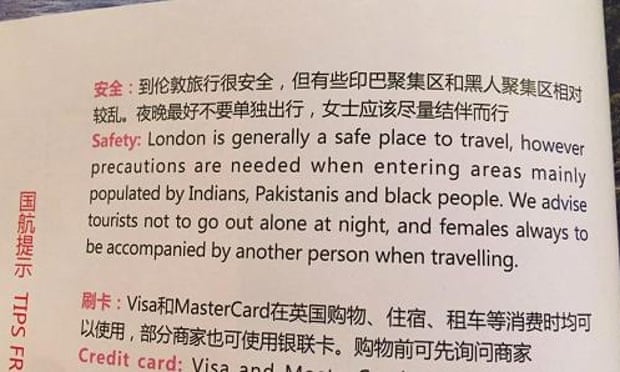 China, September 8, 2016: The publisher of an in-flight magazine for Air China has apologised after becoming embroiled in a racism row. The magazine, Wings of China, carried an article advising passengers to take "precautions" when visiting parts of London "populated by Indians, Pakistanis and black people".
The article, distributed on flights run by Air China, Asia's third-largest airline, was condemned by London politicians as "offensive" and "outrageous," with one MP saying she would write to the Chinese Ambassador to complain.
The Wings of China publisher has apologised, saying the piece contained "some improper expressions".
While partly blaming the row on "misinterpretations among media and readers", it admitted the article was "at odds with our original purpose of promoting the beautiful scenery of London". It said the article suffered from "mistakes made by the editors," and promised to "carefully learn this lesson".
"We also would like to send sincere apologies via Air China to all the readers and passengers who felt uncomfortable because of this."
The magazine had carried a feature on what tourist attractions to visit in London and what cultural and lifestyle activities are on offer in the city. In a section entitled Tips from Air China, passengers were told: "London is generally a safe place to travel, however precautions are needed when entering areas mainly populated by Indians, Pakistanis and black people.
"We advise tourists not to go out alone at night, and females always to be accompanied by another person when travelling."
The article was spotted by Chinese journalist Haze Fan, a producer for CNBC, while on a flight to China, who was so shocked she tweeted a picture of it to Mayor of London Sadiq Khan asking him what he thought.
One London MP with a high population of people of Indian and Pakistani heritage in her constituency demanded the "offensive" tips be removed from the publication, saying she would be writing to the Chinese Ambassador, Liu Xiaoming.
"My initial thoughts were that the comments were outrageous," Dr Rosena Allin-Khan, Labour MP for Tooting, told the Evening Standard.
"I think that it is offensive to Londoners, and I would like to see it removed. I would also like to ask the airline why they thought these precautions needed to be taken. Why they feel they needed to warn people of something that is not reflective of London at all?"
She added: "I am going to be writing to the Chinese Ambassador to invite him to visit Tooting in London, where all races live side by side. Then they can see how we live and our wonderfully diverse community."
Virendra Sharma, the Labor Member of Parliament for Ealing Southall, which has a large British Indian population, also condemned the "blatantly untrue and racist statements" in the article.
Air China said it has since removed the magazine from all its flights.
The official twitter handle for Air China's North America business tweeted an apology hours after news of the row broke on Wednesday (7 September 2016), but it was subsequently deleted in apparent confusion over who was to blame.
It was seen by CNBC before being removed, with the statement reportedly saying: "We at Air China Limited do not condone discrimination in any shape or form. We regret and apologise for the offensive language contained in the current issue of our in-flight magazine."
– ib times