Another cross desecrated in Mumbai, Catholics protest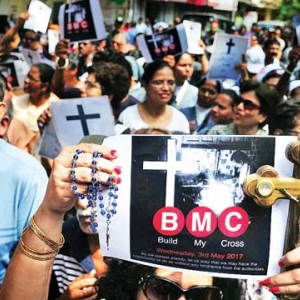 Mumbai, May 3, 2017: A cross was desecrated in Mumbai's Vakola suburb on May 3 morning, even as the city's Catholic community held a silent protest outside the H/West Ward in Bandra over the desecration of Holy Crosses across the city.
The desecration of the cross took place in Kalina Big Gaothan in Kalina village. Vandals had used paver blocks and damaged the statue of Jesus Christ.
A number of Holy Crosses in the city have been vandalised for several years.
Here's the list put out by Mumbai's Catholics to the Commissioner of Police:
Dec15, 2013: Holy Cross near LIC Building, Vile Parle West.
July 14, 2014: Holy Cross near LIC Building, Vile Parle West.
September 4, 2016: Holy Cross near Juhu. There was also gold theft reported at Juhu Koliwada Mother Mary statue.
January 27, 2017: Holy Cross situated at Carter Road, Bandra (West) was found damaged.
April 12, 2017: Holy Cross situated below the Skywalk on Santacruz (W) station road.
Police officials told DNA that the Cross was vandalised with the intent of theft, adding that one person had already been arrested. "We are getting more details," said Mahadev Wavale, senior police inspector, Vakola police station.
Agitated community members have written to Mumbai Police Commisssioner Dattatray Padsalgikar, highlighting the number of desecrations in the city.
Anil Joseph, a community member, said desecration was nothing but an act of vandalism. "We need to install CCTVs near all religious structures across Mumbai," he said.
– dna