Asia's second largest church is a Baptist church in Nagaland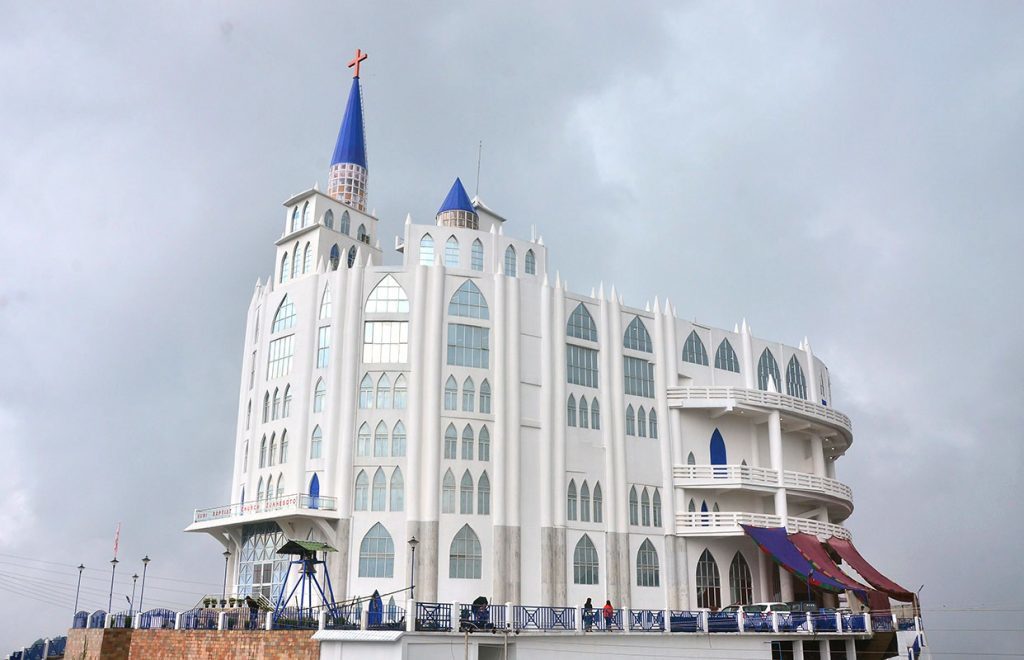 Nagaland, April 24th, 2017: Situated in Zunheboto town of Nagaland, The Sumi Baptist Church Zunheboto (SBCZ), is said to be the second largest church in Asia.
The church, which was inaugurated on April 22, 2017, stands tall at 1864.9 m above sea level and measures 23,73,476 sq ft in the plinth area.
The construction of the church took 10 years and is reportedly built on a budget of Rs 36 crore. According to reports, with a seating capacity of 8,5000 people, the church houses 27 rooms for the sick, bride and groom dressing, cafeteria, offices, conferences, training, baptism pool, etc.
The actual structure measures 203 ft in length, 153 ft in breadth, and 166 ft in height equal to an 8-storey building. Painted in blue and white, the church is said to be the only Baptist Church in the town. The bell of the church, which weighs 500 kg (93 per cent brass and 7 per cent tin), has been reportedly imported from Poland and has a 1.5 km radial sound outreach. The bell costs Rs 15 lakh, DNA reported.
It took 10 long years to complete the construction of the majestic church building at a cost of Rs 36 crore which was generated through a donation from the members, in addition to the existing funds of the church, North East Today reported. It is the only Baptist Church in Zunheboto town which has a population of over 15,000.
Sé Catedral de Santa Catarina, known as Se Cathedral, is said to be the largest in Goa and one of the best in the world.
Saint John the Baptist is the oldest church in North India and still houses a huge but non-functioning pipe organ.
The Christ Church of Shimla is the second oldest church in North India. It was built in neo-Gothic style in 1857 and is situated on The Ridge.
– christian messenger