Asia Bibi's plight blamed on Pakistan's Islamists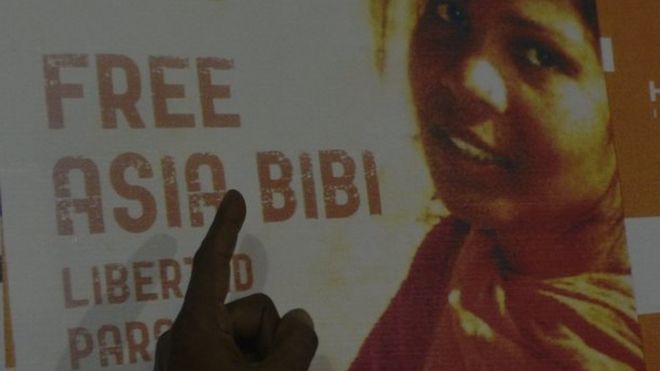 Lahore, April 28, 2017: The Supreme Court of Pakistan has once again delayed the case of a Catholic mother sentenced to death for blasphemy that church and human rights activists hold hard-line Islamic lobbyists responsible for.
On April 26, Chief Justice of Pakistan Mian Saqib Nisar declined a request for an early hearing for Asia Bibi. The application was made two weeks earlier requesting that Bibi's case be fixed for the first week of June, Saiful Malook, her Muslim lawyer, told local media.
In 2016, a hearing of the final appeal against her execution was adjourned after one of a three-judge bench exited the case. The judge cited his involvement in the case of former Governor of Punjab Salmaan Taseer who was assassinated in 2011 while lobbying for a presidential pardon for Bibi.
"This is very unfortunate. Her husband became quiet when he heard the latest developments. We shall again apply for the hearing and keep struggling for justice," Joseph Nadeem, executive director of the Renaissance Education Foundation told ucanews.com.
"There are many factors at work behind the slow pace of judiciary. Her case has been in the doldrums due to huge pressure. There will be a strong reaction if Bibi is freed, opposing groups have made it matter of honor and ego."
The Renaissance Education Foundation has been supporting Bibi's family in Lahore since she was imprisoned for allegedly defaming Prophet Mohammed in 2009. The first woman in Pakistan who might be put to death for blasphemy became famous after Catholic minister Shahbaz Bhatti was killed.
In 2011, Judge Pervez Ali Shah fled to Saudi Arabia along with his family after getting death threats for convicting Malik Mumtaz Hussein Qadri who confessed to murdering Taseer. Analysts consider Qadri's 2016 execution a litmus test for processing blasphemy-related killings.
Now, in the view of Bibi's former attorney, the current environment in the country is not conducive for the dispensation of justice in her case.
"Our plight is that the socio-political atmosphere of the country has no space for discussion on blasphemy laws. The judges know what is happening outside as non-state actors show their strength on the roads demanding death for Bibi," said Naeem Shakir, a Christian lawyer.
The sensitivity surrounding blasphemy laws has made it a political tool to threaten and put down others. The state has a weak narrative regarding this law and its functionaries usually try to evade questions regarding its misuse," he said.
Meanwhile, several Islamic clerics have renewed calls for the execution of Bibi after the recent lynching of a university student in Khyber Pakhtunkhwa province, also for blasphemy.
The National Assembly adopted a resolution condemning the student's murder and resolved to insert safeguards into the blasphemy law but religious parties opposed the idea.
Since the passage of blasphemy laws in the early 1980s, religious minorities including Shia, Ahmadi, Hindu and Christians have often been attacked and persecuted for their faith.
"Such atrocities have become routine. The plight of Bibi has had a dampening effect on minorities. Their grief cannot be addressed because of religious retrogressive and extremist groups. Islamists consider her freedom a defeat for their movement," added Shakir.
– ucan