Benedict's resignation 'a lesson for the Church,' says Francis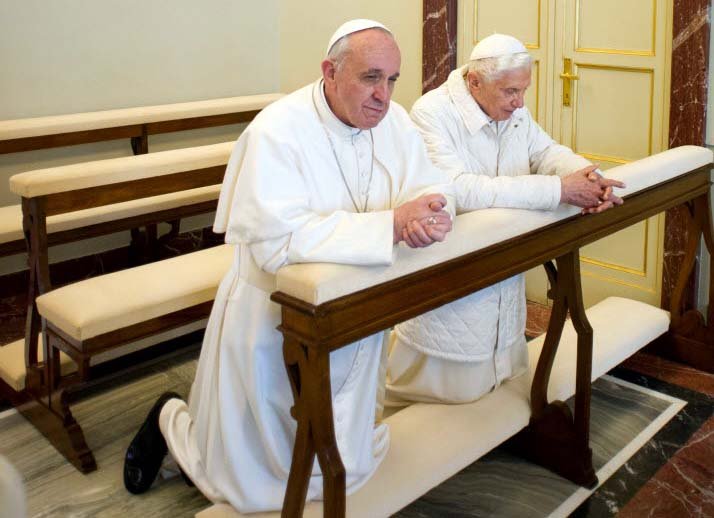 Vatican, June 24, 2016: Benedict XVI's resignation and withdrawal into a life of prayer has taught the Church a lesson of doing "theology on its knees", Pope Francis has said, reports The Tablet.
Writing in the preface of a new book by the Pope Emeritus, Francis says his predecessor embodies that "constant relationship with the Lord Jesus" without which clergy end up becoming like salaried employees and bishops' bureaucrats.
The book's release comes as Benedict XVI marks the 65th anniversary of his ordination to the priesthood next week. He will also be joined by Francis in a celebration at the Vatican's Sala Clementina to mark the occasion.
"Every time I read the works of Joseph Ratzinger/Benedict XVI it is increasingly clear that he has done and is doing a 'kneeling theology,'" the Pope writes in the book – a collection of writings on the priesthood – titled Teaching and Learning the Love of God.
But Francis explains that it is from the Mater Ecclesiae monastery in the Vatican, the place Benedict XVI moved to following his resignation, that the Pope Emeritus delivers his "greatest lesson" in this kneeling theology.
This is the first time that the Pope has written down a reflection on his predecessor's resignation although he has repeatedly welcomed Benedict XVI's presence in the Vatican, likening it to having a "wise grandfather" living nearby.
In the book's preface – an excerpt of which was printed on Wednesday in Italy's La Repubblica newspaper – Francis quotes Benedict XVI's reflection on his resignation.
"The Lord has called me to 'scale the mountain', to dedicate myself still more to prayer and meditation," he said on February 24, 2013. "But this does not mean abandoning the Church. If God asks me this, it is precisely so that I might continue to serve her with the same dedication and the same love with which I have tried to give up to now, but in a way more suitable to my age and my strength."
Benedict XVI's resignation, which was the first by a Pope in 900 years, has sparked debate over the role of a "retired Pope," including whether he should still wear white and use the title "Pope."
– cns