BJP's 'Christian appeasement' 'forced' formation of GSM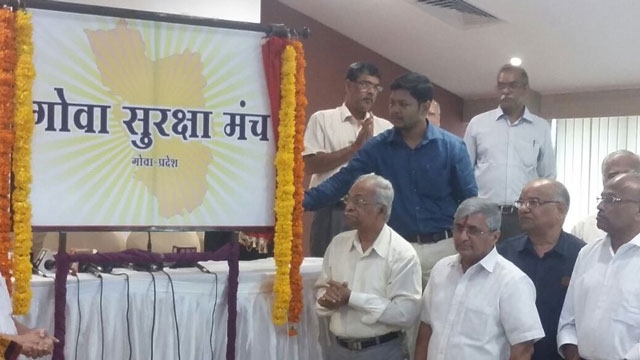 Panjim, October 5, 2016: The newly-formed Goa Suraksha Manch (GSM), backed by rebel RSS leader Subhash Velingkar, said the BJP's increasing bent towards Christian appeasement and westernisation of culture and education are prominent factors that drove them into forming the political party to defeat the saffron party.GSM, a political front of the Bharatiya Bhasha Suraksha Manch (BBSM) is backed by the rebel RSS Goa Prant and is opposing the BJP-led government's policy on medium of instruction (MoI) that gives grants to English medium primary schools.
GSM President Anand Shirodkar said that after initially supporting and working for BJP to bring it to power in 2012, the workers feel betrayed by the saffron party and hence want to bring an end to their government."It is not that we are new to the politics. The activists who are currently with BBSM have played a major role in the success of BJP in the 2012 polls. We were playing the role of kingmaker but now realised that there is much dirt at the political level," Shirodkar said.
"BJP is doing exactly what Congress did. The party is involved in Christian appeasement and westernisation of the education system. We can foresee that Indian culture would be eroded and education would be westernized, if BJP is voted to power again in Goa," the GSM chief said."We had high hopes and expectations from BJP but they backstabbed us. We thought BJP would represent Indian culture and play pure and ideological politics. BJP has completely failed us. We feel disgusted.
They let us down completely. Hence we decided to take up the responsibility," the former RSS state executive member said.Having an organizational structure in 35 constituencies, GSM has decided to go alone in the polls if MGP doesn't break ties with the BJP. "We are making our base so strong that we can win even 21 seats," Shirodkar said adding, "One thing is clear that GSM will play a great role in forming the next government in 2017."
– goacom