BJP chief meets bishops in Kerala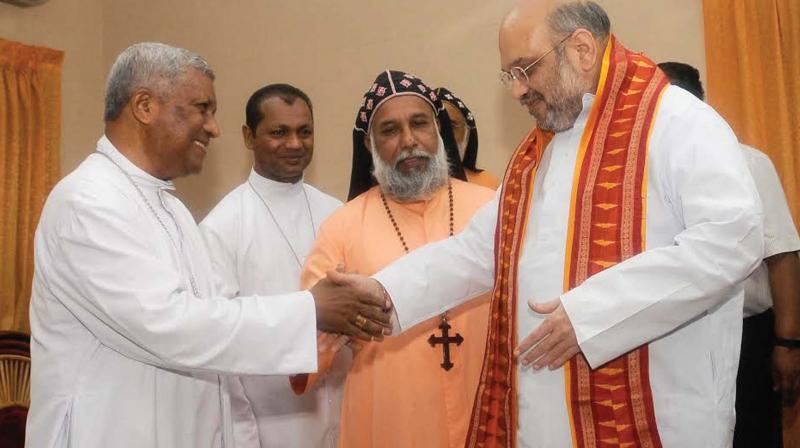 Kochi, June 4, 2017: Bharatiya Janata Party (BJP) President Amit Shah, who arrived here on Friday on a three-day visit to the state, held a meeting with senior bishops from various sections of the Christian churches.
The bishops, whom Shah met at the local Renewal Centre, were from the Catholics, Latin, Mar Thoma and the Orthodox churches.
After the meeting, spokesperson of the Syro Malabar Church Father Jimmy said there was nothing political in the meeting.
"This was a casual visit, and him being the chief of the party that rules the country, he was briefed about the various issues that Kerala faces in respect of agriculture and other related areas," Jimmy told the media.
Earlier in the day, Shah was given a rousing welcome by BJP workers.
Chairing a meeting of the core committee of Kerala unit of the party, Shah asked them to ensure more representation in the assembly and also to open the party's account in the Lok Sabha polls.
At present, the BJP has just one legislator in the 140-member Kerala Assembly.
Shah is scheduled to lay the foundation stone for a Rs 10-crore party headquarters building in the capital city Thiruvananthapuram on Saturday.
He will also meet a select list of invitees drawn from various sections of the society besides party workers and other party functionaries.
– ians