BJP leader claims famed Kerala Basilica was once Siva temple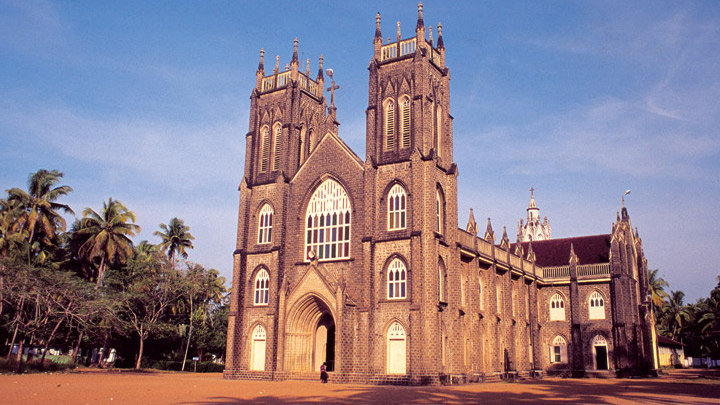 Thiruvananthapuram, August 29, 2017: The convener of the BJP's intellectual cell, T.G. Mohandas, has claimed that the St. Andrew's Basilica in Arthunkal in Alappuzha district was once a Siva temple and that the Hindus should reclaim it.
Originally built by the Portuguese missionaries in the 16th century, Arthunkal church is one of the most important Catholic pilgrim centres in Kerala. Devotees from all across the state visit the church during January for a grand two-week celebration of the feast of St. Sebastian.
The village, synonymous for the church, considers St. Sebastian as its guardian.
Mohandas' claim has set alarm bells ringing not only among the Christians in Kerala, but also the BJP leadership which has been trying to woo the Christian groups to its fold, reports Deccan Chronicle.
Mohandas, who is also an RSS pracharak, had tweeted on Aug 26 that if excavations were conducted at the church, the remains of the temple could be found.
"The altar of the church kept falling during construction and the clergymen approached an astrologer who advised them to build it a little away from where the original sanctum sanctorum of the temple stood.
It's the responsibility of each Hindu to reclaim this temple," tweeted Mr Mohandas.
The BJP leaders criticised him for triggering an unwarranted controversy. "It is his personal opinion and the BJP has nothing to do with it. The issue has never been discussed in any of the party forums and he is living in a fool's paradise," said a former state BJP president.
Another former BJP president said people like Mohandas were bringing shame to the party. "Mohandas is not an official spokesperson of the party," he said.
The Mararikulam police, as instructed by Alappuzha police chief S. Surendran, registered a case against Mohandas for provoking communal tension.
AIYF district secretary T. T. Jismon had filed a complaint with Surendran against the tweet. Surendran also asked the Cherthala DySP to register a case under CrPC 153 (A) for creating communal hatred and ordered to give protection to Arthunkal, the third Basilica of the Roman Catholic (Latin Rite) Church in Kerala.
– deccan chronicle