Lamb ad insensitive and disrespectful, say Hindus and Anglicans: https://www.theguardian.com/media/2017/sep/06/lamb-ad-insensitive-and-disrespectful-say-hindus-and-anglicans#img-1
CSF Memo for Urgent Action Required on Offensive Meat and Livestock Australia (MLA) Advertisement
A Diplomatic Row – CSF Writes to External Affairs Minister, Sushma Swaraj for Intervention
CSF Call for Boycott of Australian Meat & Potential Implications for Tourism & Trade
CSF for Australian Diplomats to Get the Meat Ad Withdrawn & an Apology
Catholic Forum Protests Religiously Offensive Australian Advertisement
Its Not About Eating meat – Its About Being Insensitive to Sell Meat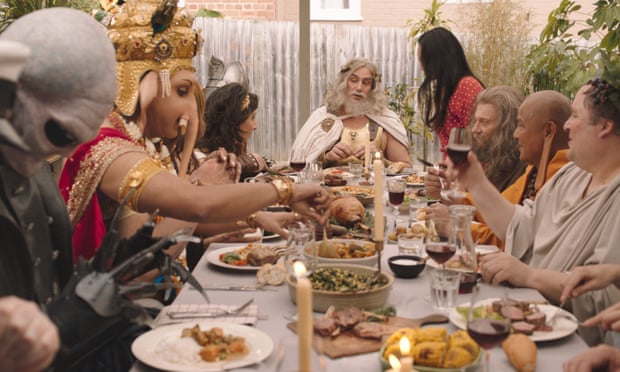 The Catholic Secular Forum (CSF) has taken strong exception to the Meat and Livestock Australia (MLA) advertisement featuring Lord Ganesha, Buddha, Jesus, Scientology founder L. Ron Hubbard, Thor, Zeus and other religious figures and complained to the Australian Ambassador in India and the Consul General in Mumbai about it. According the Joseph Dias, the CSF founder and general secretary, " the community NGO has always protested against commercial exploitation of religious figures for profit, irrespective of which religion the figures belong to. In this particular case, the MLA ad not only hurt the sentiments of different religious, but also atheists and agnostics, who may not be believers, but respect world religions.  According to our sources, MLA thrives in marketing its red meat products through controversial advertising. What hurts a Christian is that the caricature of Jesus Christ performs what he calls a "reverse miracle" by turning wine into water so a Grecian goddess who is a "designated driver" can safely drive home. It is also culturally insensitive to vegans and other vegetarian communities like Jains, Hindus or Buddhists, and factually incorrect, as Lord Ganesha is a vegetarian and meat is never offer or presented to him. "
Mr. Joseph Dias also criticized the oblique reference to the Islamic Prophet Mohammed, who though not pictured, comes in through a mobile phone call as excusing himself from the dinner because he has a child to pick up a child from daycare. The CSF has also called upon MLA Board Chairman Dr. Michele Allan and Managing Director Richard Norton to apologize and immediately withdraw the advertisement as it not only hurts religious sentiments, but is also racist / anti-Asian and is likely to hurt Australian tourism and business in India and elsewhere. Failing which the CSF would give a call to boycott Australian meat, as there are a number of alternatives in a competitive world market. The CSF also thanked the High Commission of India in Australia for taking up the issue as it made a "démarche" to the Department of Foreign Affairs and Trade, the Department of Communication and Arts and the Department of Agriculture over the "insensitive" ad.
For More Info:
Joseph Dias, MA (Economics) +91 9769555657
Founder & General Secretary, Catholic Secular Forum
Ex-Special Executive Magistrate, Govt of Maharashtra
Representations made to:
Smt. Sushma Swaraj
External Affairs Minister
Ms Harinder Sidhu.
Australia's High Commissioner
Mr.  MARTIN HUBER
Consu General in Mumbai
Dr. A. M. Gondane
High Commissioner Canberra
Dr. Michele Allan
MLA Board Chair
Richard Norton
MLA Managing Director
& Many Others
Comments Off on Mumbai: Our Lady of Valankanni Statue Vandalised.
Mumbai, February 16, 2013: The CSF and community groups have condemned the vandalisation of a statue of Our Our Lady of Valankanni at Nikamwadi in Dadar West, Mumbai. It seems to be an attempt to disturb the communal peace in the area and Catholics have therefore urged to maintain restraint. It is indeed surprising that the police have assumed that it was a case of attempt to rob and as a result, the statute fell down, as mentioned in the police report. One can expect more provocation of such kind in the run-up to the elections due next year. There seems to be a pattern to the madness, which could be to polarize the voters on majority-minority lines, making Christians the soft target.
According to the groups (MCYF, AOCC, CPF, etc.), if the police do not bring to book the culprits, who desecrated the statue, it will be a signal to fundamentalist forces that they could target the community with impunity. Joseph Dias said that the CSF would approach the home minister to increase police protection and surveillance around religious places.
According to Joseph Dias, " what is even more shocking is that the vandalization occurred near the Anusaya co-operative housing society, which reportedly has only two Catholic families residing there. The police have filed a case under sections 379, 511, 295 and 427 of the IPC for offenses relating to hurting religious sentiments. The CSF also put out a hotline for community members to alert the NGO for preventing and dealing with such communal emergencies. The statue was handed over to the Our Lady of Salvation (Portuguese) Church authorities and we would keep you informed of developments in the case.
– the csf
Comments Off on Evangelist arrested in Mandya, Karnataka
Karnataka, Febuary 08, 2013: Evangelist Pradeep, 30, and his mother, Chowdamma, 60, are the latest victims of persecution of Christians in Karnataka by the fundamentalist Hindus.
They were attacked and then arrested and finally put behind bars for firmly sticking to their faith and fearlessly demonstrating their faith in Christ's teachings.
Pradeep and Chowdamma belong to the Karnataka Evangelical Ministry of Mysore, and they live in Mandya District of Karnataka. On Friday, 8th February 2013, both of them visited the house of Ms Jyothi and Ms Lakshmi at Bellahalli village in Pandavpura in Mandya District, on a request from them for a prayer in their house. While Evangelist Pradeep and Mrs Chowdamma were praying in their house, a group of about 20 Hindu fundamentalists belonging to RSS, barged into the house and started intimidating and physically attacking both Pradeep and his mother Chowdamma, accusing them of forced conversion of Hindus to Christianity. Both of them were injured in the attack and Evangelist Pradeep sustained injuries on his lips as well as a number of bruises on his face.
The Hindu radicals then forcibly took both the mother and the son by bus to the Pandavpura Police Station and handed them over to the police falsely alleging that the two were fraudulently and forcibly converting Hindus to Christianity by offering them money.
The police who took them to the Pandavpura Government Hospital for treatment, subsequently also filed an FIR against them based on the false complaint and charge-sheeted them under section 295A of IPC and produced them before the local Magistrate who sent them to the Mandya Sub Jail. Please pray for their early release.
–  persecution.in
Comments Off on Hate speech: Uma Bharti defends Togadia
Maharashtra, February 08, 2013: BJP leader Uma Bharti Friday defended Vishwa Hindu Parishad (VHP) leader Praveen Togadia, who has been booked in a hate speech case.
Bharti urged the Maharashtra government to first consider Togadia's comments and compare these with MIM legislator Akbaruddin Owaisi's only if the manner in which both spoke was similar. Owaisi has also booked for hate speech in Andhra Pradesh.
A case was registered against Togadia after he allegedly made a hate speech at a public meeting in Nanded district Jan 22. The VHP leader allegedly took potshots at Owaisi.
"I would like to tell the Maharashtra government that just because there was an investigation against Owaisi, an investigation should be conducted on Togadia-ji as well is not right (approach). We should first see as what Togadia-ji said," Uma Bharti said.
"His comments should be considered. His comment should be compared with Akbaruddin Owaisi only if the two of them have spoken in the same manner."
"It should not be… that an action has been initiated against Owaisi, so action should be taken against Togadia too," she said.
She said she was sure the government would take appropriate action since everybody was equal in the eyes of law.
Togadia has been charged under Section 295A (deliberate and malicious acts intended to outrage religious feelings or any class by insulting its religion or religious beliefs), Section 505 (statements conducing public mischief) and Section 153A (promoting enmity between different groups on grounds of religion, race, place of birth, residence and language).
– ians
Comments Off on Pastor Attacked in Tamil Nadu
Tamil Nadu, February 07, 2013: On 28 January in Kottur, Tamil Nadu, alleged Hindu extremists attacked a pastor on his way to visit a member of the church.
Dr. Sam Abraham, President of the Youth Wing of The Synod of Pentecostal Church, Tamil Nadu, said that about six anti-Christian people stopped Pastor Emmanuel from the Indian Pentecostal Church as he was distributing Gospel tracts, hurled verbal abuse at him, snatched his bag which had a Bible, some Gospel tracts and money.
The extremists threatened the pastor not to distribute tracts and never to come back in the area. Pastor Emmanuel received bruises all over his body and he also complained of internal pain. He received treatment in a private hospital.
After the intervention of Christian leaders, the police registered an FIR against the attackers which however was withdrawn after local politicians and the Hindu extremists urged them for a compromise. The attackers promise not to disturb the Christians again. The pastor got his Bible back after he pleaded with the police.
–  efi
Comments Off on Cardinal Toppo: The faith of India's Christians a model for the world
In his message for the 64th Republic Day (26 January), the Archbishop of Ranchi reflects on the role of the Church for the future of India. The country can defeat violence, corruption, poverty, hunger and discrimination if it accepts the peace of God as the universal experience of love and justice. The Indian people must live "consistent lives " in the faith.
Jharkhand, January 24, 2013: India can become a model for the world only if its people and Christians live a life consistent with the faith. This is the reflection of Card. Telesphore Toppo, Archbishop of Ranchi (Jharkand) and former president of the Catholic Bishops' Conference of India (CBCI), on the occasion of the 64th Republic Day (on 26 January). The cardinal – the first cardinal of tribal origin – notes that these celebrations fall in the context of the Year of Faith, the 50th anniversary of the Second Vatican Council, when the pope emphasized the importance of the new evangelization. To respond to India's problems – violence, corruption, hunger and malnutrition – Card. Toppo invites Christians to conversion and Indians to follow the teachings of Gandhi.
The Church in India has to play an important role in shaping the future of our beloved country. This is our responsibility.  We have to rediscover the Beauty of the Truth, and in this context, our national emblem has the words, 'Satyameva Jayate Truth Alone Triumphs.
It is significant that our celebrations of  our 64th Republic Day is in the  context  of this Year of Faith, New Evangelisation, 50th Anniversary of Second Vatican Council -and also the Holy Father's World Day of Peace Message, Blessed are the Peace Makes – as instruments gifted to the Church to fulfil our obligation to the Church in the world.
The Church is a sign of sacrament of salvation..India can become a model for the world, when we live coherent lives of faith, which  means a deep coherence between knowing our Catholic teaching with our minds, truly believing it in our hearts, practicing it with our lives and passing it along to our family and friends. This is our faith, and each of us have a responsibility to fulfil.It is through coherent lives of faith in which we share the responsibility in our efforts to transform the world in and around us.
Corruption and violence may take the form of a crime against humanity itself and they are corroding our nation's character – the New Delhi rape case is a challenge to our conscience. . It is vital and urgent, for a transformation from a culture of Corruption and violence to a culture of justice and peace.
The Pope Benedict XVI Message for World Day of Peace, – "Blessed are the Peacemakers," reminds  us that God's peace is the universal experience of justice and love.
Pope Benedict's message addresses the personal and structural evils of greed, inequality and violence. The Father of the Nation, Mahatma Gandhi understood that violence was linked to poverty and injustice.
The Church has to be the light of the world, and as Christians, even as a minority of (2.3%) as per census 2011, we have to live our vocation through witness of our lives.  Regrettably too often, we live our faith with spiritual inertnia, tepidness, routine.  This Year of Faith is a time of Grace to rediscover the original purity of faith which we received in Baptism.
The beauty of Christ, has to be visible in the lives of Christians, the testimony of life will attract people to Christ, the way of beauty is about the culture in the broadest sense of the word. It is therefore, about how we live our lives in every aspect.  Each of us are called to bear witness to the world of the beauty of Christ
There can be no peace without justice and development; Pope Paul VI had already stated that development is another name for peace. Peace is the prerequisite for development, human rights, and Justice especially in the face of growing marginalisation of weaker sections like tribals, women and dalits.   It is only in peace and through peace can respect for human dignity and its inalienable rights be guaranteed.
Hunger and malnourishment are serious problem, a result of poverty in general. Our country has seen over a quarter of a million farmers' suicides between 1995 and 2010.  Over a third of India's population lives below the poverty line and about half the country's 350 million children are chronically malnourished.  Gandhi concept of development is Sarvodaya through Antyodaya, implying the welfare of all through the weakest of the society
The Holy Father writes, "Peace is an order enlivened and integrated by love- in such a way that we feel the needs of others as our own, share our goods with others  Love for God and Love for Neighbour are inextricably intertwined.  Only love is capable of radically transforming the relationships, urging us to have sensibility, or sensitivity for other.
As we Indians celebrate our 64th Republic Day, may we citizens of this great Republic India, take to heart Pope Benedict  message, "Blessed are the Peace makers, be committed to the truth that "Evil is in fact overcome by good."
"Blessed are the peacemakers, for they will be called children of God"
God Bless India !
– Card. Telesphore Toppo
Comments Off on TN Minorities Commission seeks exclusive dept to handle issues
Tamil Nadu, October 04, 2012: The best thing is to have a separate department to run Minority affairs or related works. In the present system, there is a Secretary and Commissioner (in Tamil Nadu), who function in different departments. If a single agency is set up, they may function better," Commission Vice-Chairman Dr H T Sangliana told reporters. He said Manipur was the only state to have set up such an exclusive department.
Sangliana said special programmes for minority students could be fully implemented if there is such a department. He said various posts in the state minorities commission, including that of its chairman, are lying vacant since the AIADMK government came to power and should be filled as early as possible.
Sangliana said he had interacted with Additional Director General of Police to hold an exclusive recruitment for minority students in Tamil Nadu as part of a scheme to provide more job opportunities to them. He said he had also met minority community students and had a brief interaction with them yesterday. Sangliana said one of the major issues faced by these students in Tamil Nadu was lack of awareness on various scholarships and government schemes.
To a query on recent incidents of North East students leaving cities in South India to their home towns following rumours of attacks, he termed it as an "unnecessary exodus".
– pti
Comments Off on Over 200 temples in Kashmir have suffered damage: Govt
Jammu & Kashmir, October 4, 2012: Jammu and Kashmir government today said over 200 temples in the Valley have suffered damage over the years but there were no encroachments on any of the temple lands.
In a written reply to MLA Chaman Lal Gupta's question in the state Assembly, the government said 208 of the 438 temples in the Valley had been damaged over the years. The government said the highest number of 57 temples have been damaged in Srinagar, the summer capital of the state, followed by south Kashmir's Anantnag district where 56 temples have suffered damage.
However, the government, in its reply, did not elaborate as to how the temples were damaged. The rest of the eight districts in the Valley account for the other damaged temples with Bandipora having only one such instance. The government said while a total of 63 hectares of land were under the 436 temples in the Valley, there was no case of encroachment on these lands so far.
Various Kashmiri Pandit organisations have been demanding passing of the bill for protection of Hindu Temples and Shrines in Kashmir. Giving details of the damage to the private properties of migrants in the Valley, the government said nearly 75 per cent of the 1,234 structures in Srinagar district have been gutted while in south Kashmir Kulgam district nearly 85 per cent of the 754 structures have been damaged.
"In Srinagar district…most of the migrants have sold their property. However, the unsold properties have been protected in light of provisions of the J&K Migrant Immovable Property Preservation, Protection and Restrain on Distress Sale Act 1997," the government said.
– pti
October 2, 2012 by admin
Filed under Christian, Christians, Church, Dalit, Dalits, Human Rights, India, India, Issues, Karnataka, Minorities, National, newsletter-lead, Orissa, Persecution
Comments Off on EFI calls upon India to observe international obligations on human rights
New Delhi, October 1, 2012: EFI calls upon India to observe international obligations on human rights; regrets India's negative stance at UNHRC Universal Periodic review on Communal Violence Prevention legislation, Dalit Christians, and recalling so called "Freedom of Religion Acts" by States.
The Evangelical Fellowship of India welcomes the Indian Government's assurances of its commitment to Human Rights and specially the Rights of Religious and other minorities, reiterated its Universal Periodic Review under the auspices of the United Nations Human Rights Council at its sessions from March to September 2012 at Geneva. The EFI however deeply regrets that the Government has deliberately ignored urgent international and entreaties for an early enactment of laws against communal and targetted violence, an abrogation of the so called Freedom of Religion legislation several states, and accepting the long-pending demand of Dalit Christians for their Constitutional rights.
The Indian and global human rights activists' community has noted that the Government of India's response to the 169 recommendations of the UNHRC reflected a pattern of only accepting recommendations that were generalized and broadly worded, lacking a targeted course of action directed to tackle discrimination and specific human rights challenges. Recommendations pertaining to specific as well as serious human rights issues were rejected, despite the Council's expressed concern.
It is widely regretted that India has not accepted recommendations asking to create a comprehensive framework to deal effectively with the particular circumstances of communal or targeted violence. The government says communal violence is only a sporadic problem. We religious minorities contest this argument as we continue to be violently attacked in a number of states. As we have seen in Kandhamal and Karnataka specially, victims are also not able to access justice. And this situation, we fear, will continue to be repeated in future unless some immediate steps are taken by the government to prevent and pre-empt acts of communal violence.
The Evangelical Fellowship of India therefore most respectfully urges the government to bring forth the Bill on prevention of Communal and Targetted Violence, including issues of compensation rehabilitation, and reparation, at the earliest. We note that such a Bill was drafted by the National Advisory Council in 2011 and given to the government. This Bill should be taken out of cold storage, refined in consonance with principles of federalism, and enacted as law to effectively bring an end to communal strife which has ravaged this country in the last six decades.
The EFI also urges the Government to take necessary legislative and legal steps to recall the so called Freedom of Religion Acts promulgated in several states. These Acts are being used to harass and intimidate religious minorities, and in particular the Christian Community and their pastors, house churches and community gatherings.
Above all, the EFI calls upon the government to grant Scheduled Caste status to Dalit Christians as recommended by the Justice Rangnath Misra Commission, the National Commission of Minorities and the National Commission for Scheduled Castes. Not giving Dalit Christians this status amounts to discrimination on grounds of religion and denial of Freedom of religion to India's Dalits.
Ending such discrimination and taking steps to pre-empt communal violence will go a long way in burnishing India's image internationally as a secular democracy which is a haven for religious minorities, dreamt of by Nobel laureate Rabindra Nath Tagore, Mahatma Gandhi, Jawaharlal Nehru and Baba Saheb Ambedkar.
– rev. dr. richard
Comments Off on TDP's 'Muslim declaration' has placed the community on cloud nine
`Andhra Pradesh, September 29, 2012: 10% quota in job and education; 8% quota in assembly; Rs. 2,500 Crores in annual budget

Perks for Andhra Pradesh Muslims were driven high in the Minority convention of Telugu Desam Party. Promises which sound highly tempting are being laid for Muslims by the largest regional party in Andhra Pradesh.
Party's Chief and former chief minister N. Chandra Babu Naidu wearing a 'Rumi topi' flanked by other senior TDP leaders in skull caps, addressed the convention at N.T.R. Bhavan, party's headquarters and caught every participant in enthusiasm with the raining sops for Muslims 'if voted back to power'. Although Mr. Naidu seemed more than confident that he will be the next CM of the state, he asked Muslims to vote for him and the reasons he gave was not one.
His list of promises was so extensive that his whole speech started and ended on assurances. However, he managed to slam Congress govt. in between. He held Congress party responsible for the condition of Muslims not only in A.P. but all over India. 'For decades Congress has used Muslims only as their vote bank, they don't have any serious concern for Muslim community' charged Mr. Naidu. TDP chief was also candid enough to term his past alliance with BJP as 'biggest mistake of my life', and assured that situation will never arise again.
The first promise he made is to expand the annual Budget for Muslims from Rs 480cr to Rs 2500cr, almost five times bigger than the present budget in a separate sub plan as provided for SC and ST. He promised on the lines of Sachar Committee and Ranganath Misra Commission recommendations 5 lakh rupees loan will be provided without interest to the Muslim youths to start businesses, Rs. 50,000 loan will be provided to develop an existing business. Special self-help groups for Muslim women will be formed with a govt. grant of Rs. 20,000, for marriages of poor Muslim girls Rs. 50,000 will be provided as subsidy.
The foremost promise made by TDP chief was regarding reservation. He assured Muslim community that if voted back to power, his govt. will provide 10% reservation in educational and employment sector. However, he failed to explain how his govt. will provide such a major percentage, when Congress govt. has to fight legal battles to implement even less than half of it i.e. 4%. Mr. Naidu didn't stop here in the reservation game. He batted strongly for political reservation for Muslims, and he assured them he will take steps to assure at least 8% reservation in A.P. legislative assembly and will pressurize central govt. for the same in the parliament.
Mr. Naidu also assured Muslims that his party will not interfere in Muslim personal law and will make endeavors to provide Rs. 5,000 for Imams and Rs. 3,000 for Muazzin of the mosques which are financially weak. He also promised if voted back to power he will change the face of AP. Wakf board which according to him is being transformed as most corrupt institution, and land allotting agency for politicians by Congress govt. and to straighten wakf board he planned to form wakf tribunals in all three regions of Andhra Pradesh.
Mr. Naidu also made an unexpected promise. TDP which is known for its long hostility for Urdu language promised that in any school in village, town or city if at least 20 students are ready to study Urdu govt. will provide facilities for the same in order to promote the language.
The major promise and might be the most decisive one which can change the course of the state elections, TDP chief promised that his party will allot 25 tickets to Muslims for Assembly and parliament and will ensure victory of at least 15 of the candidates.
Mr. Chandra Babu Naidu termed his party's promises for Muslims as 'Muslim empowerment policy', and he designated 2012 TDP minority convention as 'Muslim declaration of TDP'. The convention was also addressed by Ahmed Shariff, general secretary of the party, Zahid Ali Khan, polit bureau member and editor of Siasat Urdu daily, former M.P. Lal Jaan Basha, former minister N.M.D. Saleem, former chairman of wakf board Mohammed Saleem and others.
– tcn