New Delhi, December 24, 2018: Greeting people on the eve of Christmas on Monday, President Ram Nath Kovind said Jesus Christ symbolised peace, harmony and hope.
On the occasion of Christmas, I extend my warm greetings and best wishes to all fellow citizens in India and abroad, especially to my Christian brothers and sisters,'' he said here in a message.
Christmas is a celebration of human values that nurture mutual caring and sharing and transform life itself into a festival,'' he said.
May this Christmas inspire us to promote fraternity and humaneness in our nation and across our planet,'' he said.
– uni
Assam, December 24, 2018: The Christmas festivity gripped Assam on Monday with Churches decorated with nativity scenes, brightly lit X-mas trees, colourful lights and singing of carols to commemorate the birth of Jesus Christ.
With a festive atmosphere prevailing in the state where Christianity is the third largest religion, private homes belonging to both Christians and other people were lit up with decorative lights and stars adding to the happy festival.
Shops selling Christmas trees, bright tree ornaments, colourful bubbles, lanterns, stars, Santa clauses, red caps have sprang up along roads.
People have started thronging the 175-year old Christ Church founded in 1844, Guwahati Baptist Church established in 1845 as well as Don Bosco Church along with other churches in the state.
Besides thronging the churches to attend special prayers and soak in the festive atmosphere, people are also visiting various public halls where Christmas celebrations and carols were sung spreading the message of peace among all.
Christmas cheer also gripped the hill district of Dima Hasao where the Christian population is nearly 30 per cent and Karbi Anglong where the faithfuls comprise 16.5 per cent of the population as per the 2011 census.
As per records, two Portuguese Jesuit missionaries – Cabral and Cacella – were the first Christian Missionaries to set foot in Assam followed by missionary work by Nathan Brown and Oliver Cutter from USA in 1836.
– india.com
India, December 24, 2018: Celebrated across the world on December 25 every year, the day marks the birth of Jesus Christ, the Son of God, and the second of the Holy Trinity of Christianity (the Father, the Son and the Holy Spirit).
According to the Bible, Christ was born in a stable in Bethlehem to Mother Mary and Saint Joseph. The virgin Mother Mary was engaged to Joseph when she miraculously conceived through the Holy Spirit. She was foretold about this by an angel of God, who further said she will name the child Jesus and he will be known as the Messiah, or saviour. The shepherds were the first to see the newborn, following them, three kings from far away lands, guided by the star of David, visited the baby and offered him precious gifts.
In 336 A.D., Emperor Constantine or Constantine the Great, a Christian Roman Emperor, declared that December 25 will be celebrated as Christmas to mark the birth of Christ. Over the centuries, it has become one of the biggest festivals to be observed all over the world. Celebrations start from December 24 (Christmas Eve) and continue till December 26 (Boxing Day).
The birth of Christ is an event of utmost importance to the followers of Christianity as it is believed that God had sent his Son on earth as a sacrifice to redeem the people of the world from their sins. This sacrifice denotes crucifixion of Christ.
Many attend the midnight mass at churches followed by an elaborate Christmas feast on this day. Christmas carols and Santa Claus are important part of the festivity too.
During this time, pine trees are decorated with colourful bells, candles, candies, stars and gift stockings. Most of the Christmas decorations consist of four colours — red, green, golden and white, and they have their significance as well. While green denotes eternal life, red signifies the blood Christ shed, golden denotes royalty (he was known as the Son of David, the King of Israel) and white denotes peace.
The Christmas feast is a delicious spread that the entire family enjoys together. The traditional Christmas meal comprises of delicacies such as roasted turkey, gingerbread, roasted chicken, mince-pie, Christmas cake, pudding, eggnog, mashed potatoes and mulled wine.
– indian express
Assam, December 16, 2018: Unidentified miscreants have vandalized St Thomas Catholic Church and its grotto in Chapatoli village near Duliajan in Assam.
The incident came to light on the morning of December 15 when villagers were going for their works through the church area. They noticed the church door open and spotted the statue of Mother Mary dislodged from the grotto.
The miscreants also damaged a crucifix after resorting to vandalism inside the church, Johan Lugun, a local resident said.
As the news spread, thousands of people flocked to the village from nearby areas. Police immediately picked up two suspects from the area for questioning.
Local legislator Terosh Gowala, who visited the area, has expressed solidarity with the Christian community. He promised to reinstate the damaged crucifix, Marian statue and other damages in the church.
Meanwhile, Bishop Joseph Aind of Dibrugarh while condemning the attack demanded a high-level inquiry into the incident. The Salesian prelate lamented that certain forces with ulterior motives were seeking to sow seeds of hatred and discord among the peace loving people living in the tea garden enclaves and its periphery areas.
The bishop also said people of all religions have co-existed in peace and harmony in the plantations from pre-independence era. "Only outside forces with vested interests can perpetrate such anti-social acts inside the tea garden area," he added.
The prelate also demanded that the government set up a high-level inquiry into the incident and guarantee that the culprits, particularly the mastermind, is booked and punished and that peace is restored in the area.
"The government must also ensure security for the Christians especially during the Christmas season," he demanded.
The incident has revived memories of earlier attacks on the community.
On Jun 20 this year, unidentified miscreants vandalized the Catholic Cathedral Church at Chapaguri in Chirang district and decamped with some valuables.
In June 2016, a parish priest and principal of a missionary school, Fr Sushil John Soren, was attacked by an unidentified person with a machete in Udalguri district's Bhairabkunda village.
In August 2015, a statue Saint John Bosco, which was to be unveiled by then Assam chief minister Tarun Gogoi at the Bharalumukh riverfront, was partially damaged and pushed into the Bharalu by a mob.
According to the Assam religious census of 2011, Christians make up 3.74 percent of the state's population.
– assam tribune and telegraph kolkata
Mumbai, December 18, 2018: To woo the Christian community in the run-up to the elections next year, the BJP minority morcha has reached out to the members of the religious minority in the city ahead of Christmas.
At a meeting attended by around 200 community members on Saturday, the BJP assured the group that its grievances would be addressed.
"There is a misconception that the BJP is anti-minorities," said Waseem Khan, BJP minority morcha chief. "Our governments, both at the Centre and state, have created many schemes for the welfare of the minorities. Christians form an important group among the minorities and our leaders like MLA and Mumbai BJP chief Ashish Shelar and Maulana Azad Minorities Financial Development Corporation chairman Haji Haider Azam assured them that injustice would not be done to the Christians or any other minority."
Christian leader Alexander D'Souza said the community in the city might think of backing the BJP if its grievances are addressed. "We will hold meetings with senior clerics and community leaders. The BJP is not harassing us and the time has come to show our solidarity with the party," said D'Souza.
– times of india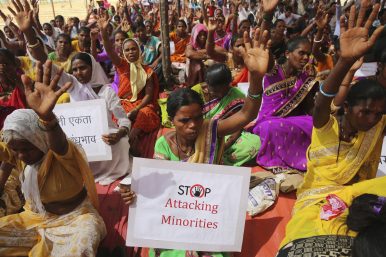 New Delhi, December 17, 2018: Indians will protect the nation's religious and cultural diversity against intolerance, former Indian president Pranab Kumar Mukherjee told a Christmas gathering organized by Catholic bishops.
There were more than 500 invited guests at the Dec. 13 program in the capital, New Deli, including ministers from incumbent Prime Minister Narendra Modi's government, parliamentarians, bureaucrats and Christian leaders.
"We are definitely going through troubled times," the former president said in a veiled reference to allegations that Modi's pro-Hindu Bharatiya Janata Party (BJP) tacitly supports violent Hindu fanatics.
"Divisive tendencies, intolerance and prejudiced 'fear of the other' seem to be defining us today, but it is a temporary phase and the idea of India will prevail."
He noted that an historically composite and yet diverse nation had emerged during 5,000 years of co-existence, acceptance, adaptation and assimilation.
"Indians will tenaciously fight this in order to once again establish our unique national identity, which has emerged out of our civilizational values and remains etched ever so clearly in our Magna Carta – the Constitution of India," said the 13th president of India.
Mukherjee, whose five-year term ended 2017, noted that aberrations such as crusades, jihads and violent struggles between sects would always be defeated in the favor of brotherhood, peace and prosperity.
He expressed appreciation for the Catholic Church's good work in the fields of education, health care and social services.
The most enduring image of the Catholic Church in India were the millions of children, irrespective of religion, educated in Church institutions as well as millions who received medical help in Catholic hospitals.
Mukherjee also said that the Church in India was personified by Missionaries of Charity nuns, founded by St. Mother Teresa, tending to the most marginalized of society.
Cardinal Oswald Gracias, president of the Catholic Bishops' Conference of India, said conflicts between people and nations arose "because we don't practice peace, love and fellowship."
Christmas was an appropriate time for Christians and non-Christians alike to reflect on such issues, Cardinal Gracias said.
Hindu spiritual Guru Goswami Sushil Ji Maharaj agreed with Mukherjee that an atmosphere of hate and intolerance now exists in India.
"There is no doubt that we are in a bit of a difficult situation, but soon that will vanish because our age-old tradition of co-existence still exists in our country," he said.
India has been witnessing increased incidents of violence against religious minorities such as Christians and Muslims since Modi's BJP came to power nationally in 2014.
At least 10 Muslim men have been lynched and many injured by Hindu vigilante cow protection groups.
Rights group Amnesty India said in a report early this year that many such extremist groups seemed to operate with the support of the BJP.
Persecution Relief, an ecumenical Christian forum that monitors persecution, says it recorded 600 incidents in 2017 of violence against Christians in India, including the destruction of churches, threats and harassment, social boycotts, hate campaigns, abductions and murders as well as other physical violence.
– ucan
India, December 8, 2018: Thousands of brides are being burned alive in India despite the practice being illegal, a Christian ministry has warned.
India Partners, a Christian organization that works alonside indigenous Christian grassroots agencies in India, told Mission Network News on Thursday that there are still as many as 8,000 bride burning cases a year in the Hindu-majority country.
A representative with India Partners, identified only as John, said the low view of women is spread through parts of India's society.
"This is true both of men and women. It's not just of men itself. Most women see the other woman as in an inferior position and not able to recognize her rights as a human being," he said.
The burning attacks, some of which have resulted in deaths, are tied to dowry and marriage disputes in rural districts.
"Horrible things like this happen, and many times they happen because of dowry deaths. Before marriage, the families will agree upon a dowry that the bride's family generally will pay to the groom's family," John explained.
"After marriage, the groom's family sees the leverage of threatening the girl and asking for more money. So they will begin threats, they will begin beatings, and the rule of thumb is something like the more money you want, the more you need to beat her."
Women are often beaten when the groom's family demands more money, which then sometimes escalates in dousing them with flammable liquid and setting them on fire.
John said that bride burning is more common in rural districts like Uttar Pradesh because the perpetrators are less likely to be prosecuted.
"But the harassment happens everywhere. In the harassment of women, your caste doesn't make any difference. How much education you have doesn't make any difference," he added.
Women in India continue to suffer from a widespread rape epidemic, with many stories of extreme violence, sexual assaults, and murder making international news.
Dalits, members of the so-called "untouchables" lowest caste class in India, are also subject to discrimination, especially those who choose to convert to Christianity.
Earlier this week, some 2,000 Christian Dalits marched in New Delhi, demanding that the government does not stop their social benefits due to their new faith.
The fears are based on government regulations that argue that Dalit Christians and Muslims who leave the Hindu faith can no longer be considered part of the caste, UCA News.com reported.
"Government comes and goes, and we get only false promises. Several protest rallies and marches in the past were useless. Now we play our drums to wake up the sleeping government," said Father A. Arputharaj, a protest organizer in the march.
– christian post
Ranchi, December 9, 2018: Catholic tribal leaders in India are worried over a move by Jharkhand's government to take away tribal status from people who have left their traditional Sarna religion to join other faiths.
The eastern state's move will deprive thousands of tribal people of social benefits meant for their advancement.
"It is a deliberate attempt to divide tribal people on grounds of religion ahead of the state and national elections next year," said Bishop Vincent Barwa of Simdega, who is based in a tribal Christian stronghold.
A state election is due at the end of next year, while national elections are due in April.
The state government, run by the pro-Hindu Bharatiya Janata Party (BJP), wants the BJP-led federal government of Prime Minister Narendra Modi to declassify the tribal status of tribal people who have adopted other religions, media reports said.
"The government move is disastrous and we are keeping a close watch on all developments," Bishop Barva, chairman of the Indian bishops' office for indigenous people, told ucanews.
Secular leaders like Dev Kumar Dhan, who leads a pan-India group of tribal people following the Sarna religion, told ucanews that the government is looking for political gains.
On Dec. 3, he presented a memorandum to state governor Draupadi Murmu, a representative the of the federal government, asking her to stop the move "to divide tribal people on religious grounds."
Dhan said the declassification of tribal people would help non-tribal people to contest and win elections in tribal-majority constituencies that are now reserved for tribal candidates.
The state has 28 constituencies reserved for tribal candidates based on the population of tribal voters. If the proposed declassification happens, the number of seats will come down to 10 as tribal people in the other 18 seats will become non-tribal people overnight, he said.
Officially, 26 percent of Jharkhand's 32 million people are tribal people, but declassification would reduce the tribal population to 12 percent, Dhan said.
Since the move needs federal approval and would have to be effective across the country, the representation of tribal people in India's parliament would also be reduced.
Currently 47 of 543 parliamentary constituencies are reserved for tribal people.
Jharkhand has some 8.6 million tribal people, of whom 3.24 million have become Hindus and 1.33 million have become Christians, according to census records. Much smaller numbers have become Muslims, Buddhists, Sikhs and Jains.
"The move has far-reaching implications because it will affect not only the social benefits of the people but also the policy decisions of governments in the use of natural resources like land, water and forests," Dhan said.
Supporters of the move are shortsighted, he said.
Megha Oraon, who leads Sarna Vikas Samiti (forum for Sarna development), supported the plan and said it would end conversion to other religions and bring back those who had left the Sarna religion.
Tribal leader Babulal Munda agreed that government benefits meant for tribal people such as financial assistance for education and reservations in jobs should not be given to people who joined other religions.
However, tribal leaders maintain that those who converted to Hinduism should not be deprived benefits as the Sarna religion is broadly part of Hinduism.
Declassification of tribal people would violate the constitutional stipulation that citizens should not face discrimination over religion, said Catholic priest and lawyer Father Peter Martin.
In a federal system, a state alone cannot decide on something that could be applied across India, he said, as the consensus of other states is necessary. "That would not be an easy task," he said.
The move will result in a massive uprising in the state as it will adversely affect millions, Father Martin said.
– ucan
New Delhi, December 9, 2018: Mohammad Shafiq, 55, remembers hurriedly packing his bags on Nov. 26 and dragging his children from their home in Ayodhya town in India's Uttar Pradesh as they sought safe refuge while fearing for their lives.
Trouble was brewing in his hometown as the days fast approached the 26-year anniversary on Dec. 6 of the demolition of a mosque there by Hindu hardliners, sparking Hindu-Muslim riots.
Expecting a repeat of the violence seen after the demolition, Shafiq and his wife and three children raced away in a rickshaw bound for the nearest interstate bus station as they began making their way to West Bengal state.
He said he plans to "stay away for at least a month" fearing more riots as thousands of Hindus began to converge there on Nov. 25 reviving their demand the government build a Hindu temple on the controversial site. Hundreds of Muslims have already moved out of the town.
In the end, Dec. 6 passed peacefully. But Muslims in Ayodhya say they still feel unsafe as communal tensions between them and the thousands of Hindus who live there remain precarious.
The tearing down of the mosque triggered month-long riots across India that claimed an estimated 1,000 lives, driving a wedge between communities and instilling a strong sense of fear among Muslims, as Shafiq can attest.
Its demolition capped a nationwide campaign by the pro-Hindu Bharatiya Janata Party (BJP), which claimed the mosque had been built in the 15th century by the Muslim invader Babur after he had ordered the destruction of a Hindu temple in the same spot.
Hindus consider Ayodhya the birthplace of their lord Ram. Scholars are still debating which century this took place in.
The BJP's campaign presented the mosque as an affront to Hindu pride and exhorted the party's followers to regain their "lost honor" by reversing this historical wrong and slight to their religion by resurrecting the former temple.
In the ensuing riots, Shafiq's brother and several relatives and friends were killed.
For the BJP, the campaign was a resounding success as it propelled the party to political prominence and finally helped it rise to power in New Delhi.
However, the new temple has still not been built as litigation drags on over who owns the land.
Shafiq believes the BJP used the temple issue as "a live wire to electrify" the Hindu masses and attract more votes at the expense of Muslims like himself.
As India faces national elections in May 2019, Hindu groups have begun to revive their calls for the temple to be established.
But many Muslims, who make up just 6 percent of Ayodhya's population of 55,000, have already fled in search of safer abodes elsewhere until things cool down.
No one knows exactly how many have upped and left as they do not report their departure to the police.
"We have nothing to tell you except that we are moving to Kolkata, where my sister lives. We hope a state of normalcy returns soon so that we can go home. If not, we may never go back," said Shafiq, an electrician by trade.
Idrees Hussain, a university student in Ayodhya, recalls the terror that struck the heart of the community when the riots broke out. At the time, Idrees was just 5 years old.
He remembers seeing angry mobs of Muslims attack Hindu homes and bludgeon people to death as both sides went on the rampage.
"When these large mobs gather, anything can happen," he said. "Rumors of a Muslim attack can easily trigger clashes. And we don't want to die for no reason. It would be insane to live here any longer. Better to stay away until the issue gets resolved amicably and we can restart our loves afresh."
Fatima Bano, 43, remains haunted by the violence, death and pillaging that tore through the town when the mosque was demolished.
"I haven't seen this level of suffering that we Muslims face anywhere else in the world, even on TV," she said.
"Our family spent days without food and water locked down inside our houses. I lost my uncle in the riots but no one has ever been arrested for his murder," she told ucanews.com, adding that she is taking her two sons and moving to stay with some relatives in New Delhi as tensions resurface.
"We won't come back here until this mess gets sorted out," she said.
Meanwhile, some Hindu organizations are asking Muslims not to leave and saying their fears are overblown.
Sharad Sharma serves as a spokesman for the Vishwa Hindu Parshad, or World Hindu Council, which is spearheading the calls to rebuild the temple honoring Rama. He said Muslims have nothing to fear.
He even invited local Muslims to move to Hindu temples temporarily if they feel unsafe in their own homes.
The crowds are not angry mobs but "just a congregation" of Hindus who have assembled to "discuss the construction of the temple. Muslims have no reason to feel scared," Sharma said.
– ucan
Uttar Pradesh, December 5, 2018: Over 150 mobsters broke into a private Christian worship service in Kanpur, located in India's state of Uttar Pradesh, persecution watchdog International Christian Concern reported (ICC).
On December 2, the protestors forced themselves into the private hall, threatening Christian worshippers and disrupting Pastor A. B. Singh's morning service.
Pastor Singh's wife was brutally beaten by members of the mob, after she tried to protect her husband and other women in the church who were being attacked.
The mob then chased all the Christians from the service, warning Pastor Singh to stop leading Christian worship services in Kanpur.
Police were called to the scene, but according to ICC, no action has been taken so far.
Pastor Vijay Gupta, a Christian leader from Kanpur, told ICC: "The attacks on places of worship have picked up in the last two to three months in the Kanpur region.
"What we hear in the news is the tip of the ice-berg. Pastors and evangelists are constantly being harassed and [threatened]."
Pastor Sam P. Jacob, also from Kanpur, told ICC: "We had to completely shut down our Christmas programs and activities due to the prevalence of anti-Christian sentiments.
"Christians are terrified over the situation. We are not sure if we are even going to conduct a Christmas service on Christmas day."
The India state of Uttar Pradesh has witnessed a major crackdown against Christianity in recent months.
Earlier in September this year, 10 Christian pastors in Uttar Pradesh in India were arrested for holding a Sunday service.
Police reportedly stormed the church in Karibayar and arrested the Pastor Bahavan Ram, a United Nations religion watchdog Christian Solidarity Worldwide (CSW) reported.
Mervyn Thomas, chief executive of CSW, told International Christian Concern (ICC): "Recent events in Uttar Pradesh are deeply worrying and indicative of a concerning increase in religious intolerance in India.
"The arbitrary arrests by the police go against the rule of law and we call on the government of India to ensure the release of all pastors currently held in detention, and to work to protect the right to freedom of religion of belief for all Indians, as guaranteed by the Constitution of India and the International Covenant on Civil and Political Rights, to which India is a party."
– express