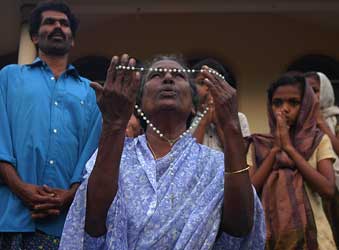 India, December 6, 2018: Beating their drums, some 200 socially poor Dalit people marched through the streets of Indian capital New Delhi on Dec. 4 in a novel form of protest to demand that they be given social benefits denied to them because of their Christian faith.
Participants in the "the drum, dance, demonstration" played their drums near parliament to demand that the government withdraw a 1950 presidential order that said only Dalits of Hindu religion should be given social security benefits meant for Dalit people's advancement.
"Government comes and goes, and we get only false promises. Several protest rallies and marches in the past were useless. Now we play our drums to wake up the sleeping government," said Father A. Arputharaj, a protest organizer from Pondicherry and Cuddalore Archdiocese in Tamil Nadu.
The Indian constitution has special provisions to assist Dalit people's educational and social advancement with financial aid and reserved seats in jobs and educational institutions. But Dalit Christians and Muslims are denied these rights on grounds that their religions are caste-free.
The 1950 order was twice amended to include Dalit people of Sikh and Buddhist religions for these benefits. "But Dalit Christians and Muslims continue to suffer because of discrimination based on religion," Father Arputharaj said. "The government refuses to hear us, so we chose a louder medium to make them hear us."
An estimated 30 percent of India's 28 million Christians come from Dalit backgrounds but they speak different languages as they are scattered across India.
"We are united and will fight until we get our rights. It is the best time to raise our voices as the general elections are due next year and the winter session of parliament is scheduled to start on Dec. 11," said Father Arputharaj.
The protest was organized by the Dalit Christian Artists Coordination Committee from Tamil Nadu in collaboration with the Catholic Bishops' Conference of India.
A case challenging the constitutional validity of the 1950 order has been pending in the Supreme Court of India since 2004.
Dalit leaders say different government commissions that studied the issue have recommended enlisting Dalit Christians and Muslims for statutory benefits.
Some Christian leaders like A.C. Michael have told ucanews.com that governments fear that allowing reservations for Dalit Christians and Muslims will make them unpopular as the move would reduce the share of majority Hindus.
Pro-Hindu groups are opposed to allowing benefits to Dalit Christians as it might encourage Hindu Dalits to become Christians. Many suspect what blocks Dalit people from becoming Christians is the fear of losing the benefits, Michael said.
Dalits, or the former untouchables, are the lowest caste within Hindu society. Although large numbers of Dalits have converted to Christianity and Islam to escape the rigid caste system, social prejudice against them continues in their new religions too, Father Arputharaj said.
"They are doubly oppressed now. They continue to suffer social neglect and government neglect," said Father Z. Devasagaya Raj, secretary of the Indian bishops' Office for Dalits and Indigenous People.
"We are also trying to contact regional political parties to put our demand in their election manifestos."
– ucan
New Delhi, December 4, 2018: The Shiv Sena has advocated a compulsory family planning program for Muslims to ensure stability in the country and maintain national security.
In an editorial in its mouthpiece Saamana on Dec. 4, the party linked a rise in Muslim population to "unrest in the country and challenges to national security".
The editorial cited a Border Security Force report to the Union Home Ministry that allegedly expresses concerns about an unexpected rise in Muslim population along the border with Pakistan in Rajasthan's Jaisalmer.
"The population of Indian Muslims is burgeoning at the speed of the bullet train, and enforcing family planning [on them] is the only solution," the Bharatiya Janata Party ally claimed.
The Saamana editorial also dismissed the stance of "some Hindutva groups" that want Hindus to abandon the "Ham do hamare do [two-child]" policy to counter the alleged increase in Muslim population.
The Shiv Sena's statement follows media reports about the paramilitary force's report that purportedly highlights "the presence of radical elements who are suspected to be luring local people to pass on information relating to military movements", The Telegraph quoted an unidentified official as saying.
The Shiv Sena claimed the Muslim population in Pokhran "is exploding" and criticized the BJP-led governments at the Center and state for failing to restrict the rise in number of Muslims. The Shiv Sena claimed that BJP-led states were no different from states such as Assam and West Bengal, where the community's numbers were significantly high allegedly because of the policies of the Congress, the Communist Party of India (Marxist) and the Trinamool Congress.
"The national president of the BJP keeps making speeches about how he will remove illegal citizens from India and drive out intruders, but what about the 'green invaders' at the border in Rajasthan?" the Shiv Sena asked.
– scroll
Tamil Nadu, December 4, 2018: A private children's home in Tamil Nadu was shut down by authorities and its directors and others were arrested for sexually abusing minor orphan girls.
According to reports, the Mercy Adaikalapuram Missionary Home in Tiruvannamalai housed 50 minor children, aged between 5 and 17. The director Luban Kumar, his wife Mercy Rani, and her brother Justin Manavalan were arrested and booked under POCSO act. The abuse came to light after Thiruvannamalai district collector received a tip-off that the house was being run illegally and the house was raided.
The director's family resided in the same building where the children's home was operating. The victim girls said that Luban used to call them to his room late in the night and sexually abuse them. He threatened the girls not to complain about the same with anyone. When the girls complained about the abuse to Luban's wife, her brother Justin came to their room and repeatedly thrashed them until they promised that they will not tell it to anyone else.
The district collector said that the children were targeted because they had nowhere to go or complain. He also said that the children's home lacked basic amenities, the girls had no privacy. The bathrooms in the home had no doors, and the girls had to change in one common hall. In addition to this, they were supervised by a male security guard.
When the children in the home were shifted to a government-run children's home, three of the girls told the warden that they wanted to talk with the collector privately. That is when the girls narrated their story of sexual abuse and intimidation they faced. They told him that the bathroom stalls originally had doors but Luban had removed them on purpose. His room was attached to the bathroom and he used to see the girls showering through a window.
They also said that the director has installed a CCTV camera in the hall where they were forced to change and he would watch them on the screen in his room. Moreover, the girls were forced to go to his room to give him a massage, where he sexually abused them.
The girls were also made to household chores for the Luban's family, including scrubbing toilets, cooking and cleaning.
Luban Kumar is a retired teacher who used to teach in Danish Mission Higher Secondary School in Tiruvannamalai. He is also the finance coordinator of Arcot Lutheran Church and the founder of Jeeva Thaneer Ministry.
The accused persons have been arrested by the local police, and the private children's home was sealed by authorities.
– op india
India, December 03, 2018: In 2011, the Gujarat High Court decided a case which reveals interesting insights into the nature of the secular state in India. In May 2010, the Gujarat High Court held a Hindu ritual, a bhoomi pujan, at a ceremony for laying the foundation stone of its new building. Rajesh Solanki filed a public interest case and argued that the use of Hindu pandits to chant Sanskrit slokas at the event suggested that the State had identified itself with Hinduism, which conflicted with the idea of secularism embedded in our Constitution.
While dismissing the Rajesh Himmatlal Solanki v. Union of India case, the court held that "[s]ecularism…is not [the] antithesis of religious devoutness", and that since the prayer ceremony was "noble" and meant to benefit everyone who used the court's building regardless of their religion, it was secular. The court's judgment is one example of how secularism in India has oddly been considered to be consistent with state endorsement of Hinduism.
Solanki challenged the foundation stone ceremony primarily on the grounds that the High Court, as part of the state, should not identify itself with any religion, in this case Hinduism. His lawyer argued that by doing so, the court had created an "adverse feeling" among those who were not Hindus and had "shake[n] [their] confidence" in the secular character of the state.
Speaking for the court, Justice Jayant Patel emphatically rejected these arguments. He began with the innocuous premise that a celebration for laying the foundation stone of a new building was a secular activity. However, he went further and held that offering a Hindu prayer to the earth at that ceremony would be secular too since it was moved by a "noble desire to achieve [the] successful construction of [the] new building".
Going further still, the court called Solanki's argument, that other religious groups would feel hurt by the foundation ceremony, a "pervert view" of the matter. Oddly, the court also found that offering prayers at a foundation stone ceremony was not an "essential and integral part of a particular religion".
The court then imposed costs on the petitioner because it found that the petition had been filed at the instance of an organisation which was not impleaded in the case.
Benign Intent, Implicit Endorsement
The court's reasoning is problematic. Justice Patel found that a Hindu prayer at the foundation ceremony was secular because it was meant for the greater good – the prayer was offered to ensure the successful construction of a public building that would be used by Hindus and non-Hindus.
However, what about those who did not believe in the power of those prayers?
Though the intent behind the prayers might have been harmless, the High Court lost sight of the fact that in offering only Hindu prayers, it had publicly identified itself with Hinduism to the exclusion of other religions.
After all, equally well-meaning prayers could have been offered by Christian, Muslim, Sikh, Jain or Buddhist priests – all of which are major religions in India. Even so, this would still have offended atheists, who are also entitled to their belief system under our Constitution.
No State Religion, But…
In the U.S., the first amendment to the Constitution contains the famous "establishment clause", which says that there can be no official state religion.
There, in the case of Lemon v. Kurtzman (1971), the Supreme Court laid down a three-pronged test—popularly referred to as the 'Lemon Test'—and held that an activity is secular when:
It pursues a secular purpose;
Its effect does not advance or inhibit religion; and
It does not foster an excessive government entanglement with religion.
However, despite the establishment clause, in Marsh v. Chambers (1983), the U.S. Supreme Court upheld the Nebraska state legislature's practice of starting each day with a prayer conducted by a Presbyterian minister paid by the government. Chief Justice Burger held that such practices were "deeply embedded in the history and tradition" of the U.S., that even in American courtrooms, proceedings commence with the announcement, "God save the United States and this Honorable Court."
However, in another case, McCreary County v. ACLU (2005), the U.S. Supreme Court held that a public display of the ten commandments in a courthouse violated the establishment clause.
Laws That Favour Hindus
Article 48 of the Constitution calls upon the state to prevent the slaughter of cows. Though this provision was ostensibly enacted because of the usefulness of the cow to India's agrarian economy, the Supreme Court upheld a ban on cow slaughter enacted in some states by taking into account the fact that "Hindus in general hold the cow in great reverence and the idea of the slaughter of cows for food is repugnant to their notions" [Mohd. Hanif Quareshi v. State of Bihar (1958)].
Despite the fact that our Constitution confers a right to "propagate" religion, statutes enacted in several states, which make it difficult for preachers to proselytise and convert Hindus to religions like Christianity, have been upheld on the grounds that propagating religion does not include conversion.
Enacted in 1955-56, the Hindu Code contains provisions which disincentivise Hindu conversion to other religions.
For instance, a Hindu's conversion to another religion furnishes a ground for divorce.
Children born after a Hindu converts to another religion cannot inherit the property of their Hindu family members unless they convert to Hinduism.
Of course, secularism itself is a term which has no fixed meaning. It could be argued that despite all of the above, India is still secular, especially when it is compared to countries like Pakistan where blasphemy attracts the death penalty and public officials are required to satisfy religious tests for assuming office. Under Pakistan's Constitution, the President has to solemnly swear that he is a Muslim.
However, in upholding a Hindu religious ceremony performed at an official event, the Gujarat High Court's judgment contributes to the tacit state endorsement of Hinduism in India's secular state.
– bloomberg quint
Bulandshahr, December 3, 2018: A police officer and a civilian were killed in violence that rocked Bulandshahr district in Uttar Pradesh on Monday after Hindu activists went berserk alleging that a cow had been slaughtered, police said.
A Special Investigation Team (SIT) has been constituted to probe the matter and submit a report to the Uttar Pradesh government at the earliest, an official spokesman said.
Additional Director General of Police Anand Kumar said the station house officer of Syana, Subodh Kumar Singh, was attacked and injured critically as Hindu activists brought the alleged carcass of the cow on to the road, jammed traffic and stoned police personnel.
The police officer and some constables were rushed to a medical facility where he was declared dead, District Magistrate Anuj Jha said.
In the police firing that followed, a youth, Sumit Anand, was shot. He succumbed to the gunshot wounds in a hospital.
Senior police officials have reached the crime scene to ensure that the tension abates.
– ians
India, December 2, 2018: Religious freedom activists from across the U.S. have criticised Prime Minister Narendra Modi for his failure to stop the violence carried out by Hindutva groups against religious minorities, including Muslims and Christians. At an event titled 'Religious Freedom in India: A Briefing on Capitol Hill', organised by the Indian American Muslim Council (IAMC) on the Capitol Hill in Washington D.C., the activists urged the Indian prime minister to condemn such violence against religious minorities as well as take all necessary measures to curb the rise of Hindutva extremism and punish those involved in violence.
"The failure of Prime Minister Modi to definitively condemn and to definitively distance himself from the extreme elements of his party has played a substantial and significant role in bringing about the situation that we see today," said Dr Katrina Lantos Swett, former Chair of the United States Commission on International Religious Freedom (USCIRF), an independent bipartisan federal commission tasked with defending religious freedom outside the US.
"Inflammatory rhetoric and a conception of India's national identity increasingly based on religion have contributed to an atmosphere of intimidation, exclusion, and even violence directed at non-Hindus," she added, saying Muslims and Christians are the "primary victims".
Dr Lantos Swett, who is the daughter Tom Lantos, the only Holocaust survivor to have ever been elected to US Congress and who founded the Congressional Human Rights Caucus, said India's religious freedom violation had a "long-standing pattern of impunity and immunity". "We see it in the lack of accountability for large-scale communal violence such as the horrors we know took place in Uttar Pradesh and Gujarat, and in the more individualized crimes committed against members of minorities faiths," she said.
The briefing was held in a Senate Building before an audience that also included Congressional staffs, officials from the Department of State and USCIRF, and civil society members.
Jeff King, President of International Christian Concern (ICC), quoted a survey saying 82% of Indian Christians were "very concerned" for their safety, 73% experienced discrimination "at least once" last year, 85% saw an "increase in aggression" by Hindu nationalists, and 84% said minorities were "less protected" under Modi.
King urged the Indian Government to allow a team of USCIRF to visit India on a fact-finding mission. Matthew Bulger, Legislative Director of the American Humanist Association, a US organisation promoting theism and agnosticism since 1941, said that compared to global religious freedom standards, "India is failing". He criticised Section 295A of the Indian Penal Code as a "relic" of British colonial law and "essentially a blasphemy and anti-religious incitement law "inconsistent with the pluralistic and democratic values India publicly accepts.
Bulger noted that although Pehlu Khan, a Muslim dairy farmer murdered by cow vigilantes in April 2017, named six suspects in his "death-bed statement" criminal charges against them were dismissed. "Sadly, this is not an isolated case, as over a dozen similar murders have happened in the last two years alone."
Rev Sarah C Anderson-Rajarigam, a Dalit Christian Lutheran church priest from Philadelphia, said the status of Dalits had worsened under the Modi government. "Modi's government has deliberately and openly made violence against Dalits a non-issue by offering impunity." The perpetrators of violence against Dalits were not only free but "elevated to the status of a hero", she said, adding: "The patter of violence continues unabated… But there is no shame experienced either by the perpetrators or by Prime Minister Modi and other ministers."
Pawan Singh, a Sikh representing the Organisation for Minorities of India, said the "fascist ideology" of the RSS that "a small group of people are born superior to others… needs to be checked." He said: "There is the curtain of democracy that they use, and then go on with their business of killing individuals of dissenting opinion, or because they do not like them." Singh said the "pseudo institutions" connected with the RSS, such as the Hindu Swayamsevak Sangh, the Bajrang Dal and the Hindu American Foundation "were a threat to our freedom".
Citing the World Hindu Congress organised in Chicago in September, Singh said the spread of Hindutva was "not just India's problem any more… That is what gives me the shivers: these right-wing saffron terrorists [are] roaming in the free world, threatening our free institutions." He criticised the US government for giving a visa to RSS Chief Mohan Bhagwat, who, he said, "should be tried for crimes against humanity", and slammed Democratic Congressman Raja Krishnamurthy for speaking at the Hindu Congress.
Sunita Viswanath, Co-founder of Sadhana: Coalition of Progressive Hindus, a New York-based nonprofit, said the "chilling repression of open debate and political expression" in India and the violence against Muslims and Christians was alarming. "This repression and violence is taking place in the name of Hinduism, one that we do not recognise and cannot accept".
Viswanath noted that the police had named the Sanatan Sanstha, an extremist right-wing Hindutva organisation, for the September 2017 killing of Gauri Lankesh, a Bangalore-based activist and journalist. "The Sanatan Sanstha was also involved in the killing of other activists," she said. "Despite this, it has not yet been banned or classified as a terrorist organization." Vishavjit Singh, a cartoonist and performance artist from New York, and a survivor of the mass violence against Sikhs in the aftermath of Prime Minister Indira Gandhi's assassination in 1984, said that violence targeting Sikhs "set the stage for the powers to be — doesn't matter, BJP, Congress, anybody else — to know [that] you can kill with impunity, as many people as you like, in a democracy, and get away with it."
– national herald india
Indore, December 2, 2018: Nehal Patel used to shy away from people with HIV/AIDS who visit a care center that shares space on her high school campus, but now she is no longer afraid to sit near them and exchange pleasantries.
"I could not have imagined doing this some years ago, as I thought it was dangerous even to go near an HIV person," said the Hindu teenager, who completed 12th grade last spring in a Catholic school in central India.
Patel, 17, credits the change in her attitude to the Sisters of the Holy Spirit, who run St. Raphael's Higher Secondary School in Indore. The congregation also manages Vishwas (meaning "trust"), a medical and counseling support center for people living with HIV/AIDS. It operates from a corner of the school campus.
"When I saw sisters, volunteers and workers in Vishwas interacting freely with HIV patients, I realized the disease did not spread the way I thought," Patel told Global Sisters Report. Those with the virus "are like us and have every right to live in society," she asserted.
Such gradual change in popular perception about HIV/AIDS is one of the achievements of Vishwas, says Sr. Jaisa Antony, founder of the center, which was opened in 2003. In the past 15 years, she says, it has helped more than 5,000 people with HIV lead normal lives.
Sr. Preethi Thomas, the school principal who was congregation provincial when the center started, said Vishwas was the outcome of their congregation's general chapter earlier that year, during which its members were encouraged to reach out to frontier areas.
However, implementing the decision had some practical problems.
"We were forced to open Vishwas on the school campus because the local people refused to rent us a place to accommodate HIV people," Thomas said.
Their trouble did not end there. Even teachers, students and parents opposed the center's presence on the campus. The nuns overcame those fears after several rounds of talks with individuals and groups, Thomas added.
Now parents and teachers support their work among people with HIV/AIDS, she said.
Patel said many students forgo their birthdays and other celebrations to donate money to Vishwas. However, some still avoid contact with HIV patients, she added.
Antony, who now works in neighboring Rajasthan state, says Vishwas was their province's response to the alarming HIV situation in Indore, the commercial capital of Madhya Pradesh state, and its surrounding areas. "We had no choice but to open the center in Indore somehow," she said.
Preliminary studies by the sisters (known formally as the Missionary Sisters Servants of the Holy Spirit) revealed that many people in Indore had contracted the disease because the city is a busy hub of goods transportation to various parts of India. Truck drivers are identified as major carriers of HIV in India.
In 2017, India had an estimated 2.14 million people living with HIV/AIDS, according to the latest report of the National AIDS Control Organization.
The nuns also found that many auto-rickshaw drivers, handcart pullers and others in Indore had contracted the virus.
The nuns initially found the infected people were reluctant to admit their health condition or go for treatment. "We had a tough time to convince them," Antony recalled.
The reluctance stems from society's fear of the disease. Even relatives of people with HIV are treated as outcasts, Antony said. "No one would share space, food and water with an HIV-infected person."
The nuns began by visiting the families of the infected regularly to counsel them. "In some cases, we had to take more than 10 sessions to build confidence among the affected," Antony said.
Sr. Mary Stella, current director of Vishwas, says the center now gets 50-70 new cases every month. Some come even several hundred miles from Rajasthan and Maharashtra states, she told GSR.
Vishwas distributes free medicines and nutrition to those infected and regularly monitors their progress.
The center also helps those with HIV find jobs, educates their children, arranges marriages and settles them in life, the director explained.
One person helped by Vishwas is Divya Singh (not her real name), wife of a truck driver and mother of three. The 35-year-old Hindu woman says her family is alive now because of the nuns. She said she had contemplated suicide twice because of the HIV impact on her family.
"My husband was the first to be detected after he complained of uneasiness," she said. That was in 2011 and she wanted to end life because "I had heard HIV people would die soon." Hindus consider widowhood a curse.
Singh mustered courage to reveal her husband's condition to some close family members. One of them suggested she go to Vishwas.
At Vishwas, Singh's husband regained strength with regular medication and nutritious food.
But the family suffered another jolt in 2013 when Singh and the children tested HIV-positive, after the nuns suggested they undergo the test at the government-run medical college in Indore.
Singh said the suicidal thoughts returned to her as she worried about her children's future. "They would not be able to marry or raise families, for no fault of theirs," she added.
However, the sisters "took special care of us until we reconciled with the reality," Singh said, adding that they now lead a happy life.
Singh's husband said they take their medicines and follow a nutritious diet without fail. "We are healthy now," said the 45-year-old man, sitting inside their two-room house on the outskirts of Indore.
Singh has also found a purpose in life after Vishwas employed her as a counselor. She visits the medical college and homes in the area to spot people susceptible to HIV.
"Whenever I find someone suffering from weakness and uneasiness, I encourage them to undergo an HIV test and, if proved positive, come to Vishwas," she said.
To the reluctant, she tells her story to convince them that HIV infection does not lead to instant death. "I tell them they can live longer like a normal person, if treated well."
However, the Singh family keeps its health condition quiet to avoid social discrimination. "We will keep it as a secret until our death," she said.
Their children also know that it would be the end of their studies and life as they know it if they reveal their illness to anyone.
They now attend a school close to their house. "We take part in all school activities," said the eldest daughter, a 10th-grader. The younger girl is in the eighth grade and the youngest, a boy, is in sixth.
The children today worry less about their health.
"I want to become an air hostess," the eldest girl told GSR, whereas her younger sister aspires to join India's civil service.
Like Singh, Priya (not her real name), who works in Vishwas as a coordinator, keeps her HIV status secret. She became a widow in 2010, three months after marrying a truck driver.
"My in-laws blamed me for my husband's death and drove me out of the home. Later, I found I, too, was infected," she told GSR.
She also thought of committing suicide, but her brother brought her to Vishwas, where she found many in similar straits.
"However, I still could not accept that I was an HIV patient," she added.
She accepted the reality after several counseling sessions with the nuns, who also provided legal assistance for her to fight a case her in-laws filed, accusing her of infecting their son.
Such efforts by the sisters have rekindled hope in many infected with HIV, says Seema Mishra, a social worker.
"The sisters' sustained campaigns have also inspired people to do something for these unfortunate people," said Mishra, who is based at Khandwa, some 80 miles south of Indore, where the nuns have another center.
The nuns' admirers include Bishop Chacko Thottumarickal of Indore. "Their success in rebuilding shattered lives of HIV people is remarkable," the Divine Word prelate told GSR. "They have given respect and confidence to people who are not accepted in society."
The nuns have also inspired other nongovernmental organizations to join the HIV mission. "Even the government has started caring for HIV-infected after seeing the sisters' work," the bishop said.
Mishra says what distinguishes Vishwas from other organizations working among people with HIV is its constant touch with its patients. "The sisters have helped people believe that, if treated well, one can live a full life," she said.
Stella says Vishwas maintains a call center to follow up with outside patients.
"Every day, our center calls more than 100 patients to monitor their health condition. Unless we do this, they will tend to lose track, and it will harm them," the director explained.
Raju Mudgal (not his real name), HIV-positive for 15 years, says he follows instructions from the office strictly and leads "a comfortable life without any difficulty."
Vishwas has also found recognition.
In 2012, it received the best community care center award from the Madhya Pradesh State AIDS Control Society for its humanitarian service to people living with HIV. The society functions under the government of Madhya Pradesh, a state ruled by the Bharatiya Janata Party (Indian People's Party), the political arm of right-wing Hindu groups who oppose Christians elsewhere in the country.
Stella says they get public grant money from the federal and state governments to support their work serving people with HIV.
Vishwas also encourages HIV-positive persons to get married. Stella says she is looking for a match for Priya. "Some couples have children who are HIV-negative. This has emboldened them to think of a life beyond HIV," the nun added.
– matters india
India, November 30, 2018: The Sentinelese are strong — one middle-aged Sentinelese man can take down five young men — and have rebuffed outsiders for centuries. John Allen Chau, the 'missionary', went to the North Sentinelese Island illegally and was allegedly killed. He unethically bribed fishermen to take him to the North Sentinel Island. And he wasn't the first Christian missionary to do so.
Many foreigners have tried to approach the Sentinelese — some even from nearby Myanmar and Indonesia. And the local fishermen are always ready to take them to these no-contact islands in exchange for money. But these trips have either ended fatally or with no success.
I visited the Sentinelese tribe in the Andamans years ago as a researcher with the Anthropological Survey of India. Official tours to the Sentinel islands have been closed for years now because of their small population and their hostility towards outsiders.
When we first reached out, we exchanged fruits like raw bananas (which the Jarawas love roasting) and coconuts (which the Sentinelese used) for hours at an end to gain their trust. It's an exercise in patience.
The Sentinelese see no difference between a journalist, researcher, police or missionaries approaching them. In fact, when police personnel went with our contact-teams to these islands, they would have to be dressed in plain clothes. The retrieval of John Allen Chau's body is up to the police, Indian and US administrations. I don't know whether the Sentinelese will even allow them to come to the island — they are angry. But it's not like they attack first-off, they show warning signs — through facial gestures, knives, bows and arrows — and then take action if those are disrespected. John Allen Chau must have faced a similar situation.
Most of the tribes in the Andamans, including the Sentinelese, are animists. They worship nature. I saw their practices when I lived with them, months at an end. Those who pray to the sky, water, and land — what's Christianity or Hinduism to them? When I visited the Great Nicobar Islands, I saw that most of them had been forcefully converted to Christianity. But they do not adhere to that religion— when the time for prayer comes, some sit on chairs and protest. Unlike Christians, they make wooden replicas of those who die and leave out food and water for them.
When the British ruled India, they tried to contact the 10 tribes in the Andamans, whose population was over 3,000 at the time. Angered at British attempts to set up a penal colony, the tribes attacked the British in 1859. The battle of Aberdeen or Andaman was fought between two groups— one with bows and arrows, another with guns. Many tribes were wiped out. The remaining tribal people were segregated into 'Andaman Homes' where diseases like measles claimed lives. Later, syphilis and other venereal diseases started spreading after the British exploited tribal women, killing off more chunks of the population.
Considering their dwindling population and vulnerability, it was decided that the Indian government would not interfere in their lives. These tribes will anyway die out because of their small numbers as well as their limited gene pool. But if we interfere, they will die out sooner. Many rules and regulations are now in place to keep these tribes isolated.
If you are Indian by birth, you may still get permissions to study the tribal people, but if your child is born abroad, he/she will not be given access. Similarly, if you work in the Anthropological Survey of India, you will be allowed to work only in the region you have been posted to, even if you want to go to the Andamans to study.
Except for natural calamities, we should not contact them. And if we do contact, as we did after the tsunami in 2004. it should be through the government only – that way they will start accepting and trusting a small group to help them in times of crisis.
The Sentinelese and other tribes don't need to be oppressed with religion, because doing so will make them more hostile. They understand nature, and that's all they need. For instance, when I was with the Jarawas, I was travelling one day from one village to another, but they asked me not to go since it was going to rain. This was a bright sunny day! But it did rain within half an hour, such is their understanding of nature.
If I got the opportunity to visit the Andamans again now, I would. I last visited in 1999, after Union minister Maneka Gandhi urged me to go. The Jarawas there recognised me and called out, "milale milale", their term for 'friend'. They always remember.
– the print
Bihar, November 28, 2018: An Indian pastor who was severely beaten alongside members of his congregation earlier this month in Bihar state has vowed to continue preaching the Gospel just like the heroic figures of the Bible did.
"Since I am working for the Lord, I have always prepared myself for any kind of eventuality, persecution, or danger. I am prepared to pay the price for serving my God," said Pastor Bangali Das in an interview with International Christian Concern while wrapped in bandages and breathing heavily due to injuries he sustained during the attack.
"Great men of God in the Bible like Shedrach, Meshach, and Abednego, and their friend Daniel were persecuted. So I feel that it's an occasion for me to glorify God, like them. I will continue to work for the Lord in spite of all such obstacles and pain," he added.
Das, who has been a pastor for the last 12 years, was accused by others in the village of Tetua of carrying out forceful conversions, which is a charge often used against Christians in villages across the Hindu-majority country.
With his congregation having increased to over 200 worshipers, for months he also faced issues with local police. In February, they evicted him from the premises that he rented for church services, due to noise complaints.
But Das refused to give up on ministering to people in Tetua and explained that he had to carry out services at an open place.
He said that a number of men and women from the local Manjhi caste "accepted Jesus and they offered me an open place to conduct worship."
As many as 150 non-Christian Manjhi attacked a worship service on Nov. 4, however, accusing the pastor of forcefully converting people, and demanding that he stop preaching.
"When our believers requested them to give some time to buy a place and build a worship hall, they surrounded us and started beating us," Das explained.
"Two men caught me and began to rain blows on me with their hands. I got hurt in my chest very badly and my arm was injured. They threw me on the ground and beat me until I became unconscious."
Christians have been under a wave of persecution in several Indian states this year, which has resulted in pastors being beaten and churches being destroyed.
Pastor Singh, who leads a congregation in India's Madhya Pradesh State, shared of how Christians are being threatened to stop following their faith back in September.
Hindu radicals threatened to beat and kill Christians, leading to 15 families becoming too reluctant to go to church.
"The reason for this drop in the attendance is the threats from Hindu radicals," Singh told ICC at the time. "The radicals say they will beat and kill my church members if they continue to attend the services."
"Prior to May this year, around 200 people used to worship regularly in my church," he added. "But now only 50 to 60 people attend my church on Sunday. They are under tremendous pressure from Hindu radicals."
– christian post
Madhya Pradesh, November 29, 2018: Hundreds of Christians, including a Catholic archbishop, were turned away from polling booths in India's Madhya Pradesh state because their names were not on the voter list.
Christian leaders claimed there was foul play in the Nov. 28 poll.
Archbishop Leo Cornelio of Bhopal, the state capital, and hundreds of other Christians, had to return home without exercising their franchise to elect 230 legislators.
This was despite them having election identity cards and other relevant documents.
Christian leader Saji Abraham flagged a petition to election authorities seeking an investigation of what he branded as a conspiracy.
He and other Christian leaders suspect that the Bharatiya Janata Party (BJP), which has ruled the state for 15 years, influenced officials to remove from voter eligibility lists the names of Christians traditionally considered supporters of the BJP's archrival, the Congress Party.
"I'm sure my name was deliberately deleted from the voter list, which is unjust and not a good sign for the democracy," Archbishop Cornelio told ucanews.
The prelate said he was denied the right to vote, even though he showed his election identity card, on the basis of an incomplete voters' list.
"This is a stern message to the Christian community that they are no more in the reckoning," Archbishop Cornelio said.
"The message is subtly conveyed through deletion of names of senior community leaders."
Indira Iyengar, a 78-year-old Christian former member of the Madhya Pradesh State Minorities Commission, said there had been a BJP-supported move to lower the number of votes for the Congress Party. She was also denied the right to vote.
"It is a well known fact that I am a member of the Congress Party and my vote will never go to any other party," she said.
"Therefore, my name was struck out."
She added, in reference to the BJP; "It is a ploy of the Hindu party."
Christians comprise 0.29 percent, or some 211,000 of the state's 73 million people, with 91 percent of them Hindu.
Muslims, the largest religious minority, make about seven percent of Madhya Pradesh's population.
The BJP, which also runs the federal government, has been accused of providing politically motivated support to hard-line Hindu nationalist groups.
– ucan