U.S., November 13, 2018: No matter when someone writes to Ashish Gadnis, there is almost no chance he will answer from Austin, Texas, where he lives. He will spend a Wednesday in Rwanda and on Friday he is already in Brazil, before taking a flight to Myanmar on a Sunday.
He's not a coffee grower, but he will talk about fair trade, and with a huge Benedictine cross on his chest, he will speak to you about Catholic Social Teaching providing a clear goal for his company – taking 100 million people out of poverty by 2026.
And Gadnis knows what poverty is.
He grew up in Mumbai, India, in the 1970s when there wasn't "much options those days in India to get out of poverty."
"I did not want to stay in that ration line and I realized that I could break the cycle of poverty if I could get a job as a software programmer," he recalled.
But for a 20-year-old Indian it wasn't really about education- it was about getting out of the country: "That's the dogma – if you want a better life, you gotta go."
That's how his second life started. He immigrated first to Colombia and then, in 1994, landed in the United States. Ten years later, he was a founder and CEO of a successful IT company.
But he never forgot the poverty he left behind and wanted to do what he could to end it.
"I hated being poor in India, but I also never saw a long-term impact in terms of ending poverty with what I was doing," he said
In 2012, Gadnis sold his company and went to Congo with the United States Agency for International Development (US AID).
"I always like to tell people that for me my first was where I was born and raised in India; and the second life was where I traveled the world, built a business, got out of poverty; and then my third life started after I sold my last company," he said.
Congolese poverty was shocking even for someone who grew up standing in food lines.
For Gadnis, just as shocking was to see that big aid agencies – "even if they help a lot" – are not changing the situation for people living there.
"It was more like someone had hit me in the head with a massive brick and said: You are doing exactly what everybody does because you look at people in poverty from pity and the minute you look at people in poverty from pity you lose the ability to provide dignity, and for me that changed everything," he said.
But before setting on a new professional path, he started a new spiritual one.
Gadnis carries a huge, blue Benedictine cross on his chest.
He received it from the monks on the day of his baptism in 2015 in Minnesota, having converted after seeing the faith of the Congolese people.
"I could see that their faith was their anchor, it was not their religion, but the faith in Christ and Mary that just love them unconditionally – and in spite of all the horrors they still believed in God," he said.
He started his new venture – BanQu – after going with a Congolese woman to open a new account.
"I went to the bank agent with a woman farmer and the agent said – I can't bank her, but I can bank you. He couldn't bank her because she didn't have an economic record," he said.
The point of BanQu is to provide an economic identity for people using the same blockchain coding that is the basis for virtual currencies such as bitcoin.
When using blockchain for a transaction, everyone who participates gets an equal and secured copy of the transaction.
The clients of BanQu are large companies that are buying and sourcing their coffee, cacao or jeans from people that live in extreme poverty. Before, the farmer or jean sewer was anonymous, but by using blockchain they are given an economic identity. If there is a transaction, the virtual ID of the farmer is notified, and he gets a message on a phone allowing the farmer the ability to prove he is "bankable" – even if he never used a computer in his life.
"So when the mother sells her crop to the large brand she is receiving a receipt, she is receiving dignity and payment and most importantly through this SMS message she can prove that she is bankable, she can prove that she exists." Gadnis said BanQu works mostly with farmers, but is also providing refugees with records of their education or work history. Gadnis has even started working to provide proof of identity for the homeless people in Austin.
BanQu was shortlisted in the Laudato Si' Challenge – a list of startups developing sustainable ways to solve the "challenges of humanity" – all inspired by Pope Francis.
On Dec. 4-5, the organization is hosting a global event at the Vatican to celebrate the social economy and "showcase groundbreaking business solutions addressing forced displacement and climate disruption."
Gadnis had a chance to meet Francis a year ago during a private audience.
He said the pontiff is "the poorest human being I've ever met."
"His poverty in Christ. It's his biggest strength. You can see it in his eyes," he said.
Gadnis said what's crucial in his business is humility.
"We don't say 'we pulled people out of poverty' – that is very arrogant for me – we just say we are enabling paths out of extreme poverty."
So far, at least 30,000 people have been helped by BanQu, and the hope is to help 200,000 in the next year. Ultimately, Gadnis would like to increase that number to the millions within the next seven years.
Gadnis emphasized the importance of faith in every aspect of his work.
"It doesn't matter where I am – I can be in Indonesia, Africa, Syria. I can be in Costa Rica. There is a singular uniting factor in the deepest darkness of refugee camps, slums and warzones – the undying faith of the people in whoever they pray to. it is something to learn from them and that is where I started seeing the value of disconnecting from the religious aspect and going towards the faith aspect. Which by the way the Holy Father Pope Francis is all about: The faith," he said.
– crux now
U.S., November 5, 2018: Ahead of the 2018 midterm elections, a new advertisement picturing the face of President Donald Trump with "The Word Became Flesh" and "Make the Gospel Great Again" has reportedly popped up on billboards in Missouri and Texas.
Over the weekend, photos were posted to Twitter showing a billboard displayed on I-170 near St. Charles Rock Road in St. Louis County, Missouri.
The billboard in question shows a picture of Trump speaking at a rally with the words of John 1:14 displayed below the picture: "The Word became Flesh." In the top right-hand corner of the billboard are the words "Make the Gospel Great Again" and an American flag displayed overtop of a cross.
According to KMOV, the billboard is owned by DDI Media but it is not clear who sponsored the advertisement.
The Christian Post reached out to DDI Media for information on who sponsored the billboard. A response is pending.
Responding to a picture of the billboard posted to Twitter, one user explained that a similar billboard was erected on I-35 about 5 miles north of Waco, Texas.
Patheos.com's "Friendly Atheist" reports that a Facebook group called "Make the Gospel Great Again" has taken credit for the billboards. However, the group's Facebook page appears to have been taken down.
"This is one of our efforts, yes! We are nationwide, bringing the good news of God re-taking his country, and making it a stronger, more Christian place. … We are a group of evangelicals from both Baptist and non-denominational backgrounds who love Jesus and the Bible," Patheos quoted the group as stating on Facebook. "We don't have an office or website other than this facebook page. It's sparse, but we moved up our plans for the election this year."
The post reportedly explained that the group expected "liberals and other non-Christians" to attack their efforts because "they will stop at nothing to deceive believers and overthrow our president."
"MGGA exists to help spread the truth of God's great champion on earth — President Donald Trump," the group's mission statement read, according to the "Friendly Atheist." "The Lord anointed Mr. Trump to bless America, and we live out our faith by following him. Donald Trump has already won many victories for Jesus by stopping abortions, telling the truth, proving that the real racists are not white, and fighting against the liberal media and their War on Christians!"
The mission statement goes on to criticize progressive Christians and asserts that "we will not stand for their disgusting witch hunts and fake news about porn stars, nazis and Russians and raping."
With voters going to the polls on Tuesday, conservatives are hopeful that conservative evangelical voters show as much in enthusiasm as they did in the 2016 presidential election when 81 percent of them cast their votes for Trump.
Conservative evangelicals have become one of Trump's most loyal voting bases as he has fulfilled a number of different campaign promises related to abortion, LGBT issues, religious freedom, and court nominations and appointees.
In calling on evangelicals to go to the polls to support Republicans on Tuesday, Trump declared in a recent interview that no president has done more to benefit the political agenda of evangelicals than he has.
"Well [evangelicals are] going to show up for me because nobody's done more for Christians or evangelicals or frankly religion than I have," Trump told Christian Broadcasting Network's David Brody. "You've seen all the things that we've passed including the Johnson Amendment and so many things we've nullified. Nobody's done more than we have."
"Mexico City, take a look at that. Things that frankly until Ronald Reagan, nobody did anything," he continued. "So, I know they're very happy with me. We've seen they're very happy. The question is whether or not they're going to go out and vote when I'm not running. I have no doubt they're going to be there in '20. I hope they're going to be there now because it'll be a lot easier if they are, a lot better."
Although many conservative evangelical leaders have voiced their staunch support for Trump's policies, other evangelicals have been critical of his policies and rhetoric on immigration and refugees.
Although midterm elections usually draw out more of an older-white electorate, Democrats are hopeful that the the younger generation of voters will be more inspired to vote because of their dislike for Trump.
Additionally, a recent Los Angeles Times op-ed asked the question: "Will doubting evangelicals show up at the polls on Tuesday?" The op-ed also asked: "Could it be that white evangelicals are beginning to see how far outside their own faith tradition the president stands?"
Leading evangelist and Trump supporter Franklin Graham, president of the Billy Graham Evangelistic Association, responded to that op-ed by Dartmouth College religion professor Randall Balmer in an interview with Fox News.
Graham argued that evangelicals are "going to do everything they can" to ensure that Trump is supported by a Republican-led Congress because "his protection of Christian values is very important."
"I think the media wants to try to put a divide with evangelicals to try and divide this community if they can. They are putting thoughts and doubts in people's minds and I just don't think that is true," Graham said. "The evangelical community is not united politically. There are a difference of opinions. Those have always been there. I just don't see this wave of doubt coming into the picture at this point. I think most people that voted for president Trump — probably everyone who voted for him last election — would vote for him again today."
– christian post
Iran, June 28, 2018: A 19-year-old Christian convert in Iran has described the abusive way in which she was treated by authorities as she was interrogated, with the questioning intently focused on trying to make her admit to "illicit" sexual relations with men.
Fatemeh Mohammadi, who served six months in the notorious Evin Prison for her faith, described how she was treated in a letter on Monday to the Human Rights Activists News Agency.
Mohammadi, who was sentenced by the Revolutionary Court in Tehran earlier this year on charges of "membership in evangelical groups," "engaging in Christian activities," and "acting against national security through propagating against the regime," says that she was repeatedly asked about sexual relations by officials.
She replied to them, "I have never been involved in any relationship; you are slandering me. What you are doing is not right or moral."
The young woman says that officials insisted they have evidence to prove their charges of sexual relations, but did not present any.
"No matter how much I insisted that I have never had a sexual relationship, they would not accept it," she said.
She was moved in and out of solitary confinement while multiple interrogators mocked her and continued questioning her about perceived immorality.
"I was feeling very sick during that session, and felt an excruciating pain in my chest; I could barely breathe and started to cough incessantly," Mohammadi shared.
"They attempted to force me to [falsely] confess to illicit sexual relations with men. At times, they pursued a line of questioning that would lead them to that conclusion. Their entire objective was to make this accusation stick and force me to make up a story about sexual relations for them to read and enjoy," she added.
"I could not imagine any other motivation for their actions, because sexual relations had nothing to do with my case."
Recalling her later experience in prison, Mohammadi said that she launched a dry hunger strike in order to be allowed to have a copy of the Bible, but despite her weakening condition, her request was rejected.
Although the Iranian government insists that it offers religious freedom, persecution watchdog groups and human rights agencies have said the Islamic regime is very hostile toward minorities, including Christians, Baha'is, and others.
Back in May, an Iranian court upheld the 10-year prison sentences of four Christians who were accused of "Zionist Christianity."
One of the Christians included Pastor Yousef Nadarkhani, who was previously sentenced to death for apostasy, before seeing the punishment overturned.
"The international community must press the government of Iran to uphold its constitutional and international obligation to ensure the full enjoyment of the right to freedom religion or belief for all of its citizens, regardless of their creed," warned at the time Christian Solidarity Worldwide's Chief Executive Mervyn Thomas, who said that Iran criminalizes Christian practice.
– christian post
U.S., June 22, 2018: New research reveals that religious hostility is on the rise globally, as government-sponsored restrictions and non-state actor assaults on religious practice have grown for the second year in a row.
The Pew Research Center's ninth annual study, which was released Thursday, on restrictions on religion around the world charted the direction of religious freedom in 198 countries in 2016, and found a notable overall increase from 2015. Whether from government decrees hostile to religious faith or terror groups committing atrocities against religious minorities in their societies, antagonism toward people because of their religion is trending upward.
"More than a quarter (28%) of countries had 'high' or 'very high' levels of government restrictions on religion in 2016, an increase from 25% the year before. This is the largest share of countries in these categories since 2013," the report reads.
Nations in these categories scored at least a 4.5 on the Government Restrictions Index, a 10-point scale based on 20 indicators of state policies against religious expression ranging from everything like bans on evangelism to outright physical assaults on religious communities. The landlocked Southeast Asian nation of Laos moved into the "very high" ranking in 2016, for example, because of a new policy that allows the government to halt any religious activity it deems as a threat to its customs or laws.
The percentage of nations who had "high" or "very high" social hostilities involving religion stayed about the same at 27 percent, according to the study. Like the Government Restrictions Index, the Social Hostilities Index the researchers used is a 10-point scale measuring over a dozen social hostilities like inter-religious tension and religion-related terrorism. Countries who scored at least a 3.6 on this scale were classified as "high" or "very high" depending on how they ranked in the other categories measured.
In approximately 10 percent of countries where growing religious hostility and restrictions could be found, the sponsors of it employed overtly nationalist rhetoric, where one's religion was regarded as somehow detrimental to the nation as a whole.
"[Sixteen percent] of countries in the report had organized social groups that used nationalist rhetoric against religious minorities in the country, an increase from 14% in 2015," Pew's Katayoung Kishi noted.
The most targeted religious groups for harassment by government or social groups were Christians and Muslims, the two largest religious groups in the world. Christians faced an uptick in overall social hostility and governemt restrictions in 144 nations in 2016, Muslims in 142 countries.
Egypt, Russia, India, Indonesia and Turkey had the highest overall levels of religious restrictions among the 25 most populous nations on earth. China, which as of 2016 is home to approximately 1.38 billion people, had the highest levels of government restrictions on religion. India, which has a population of 1.32 billion, had the highest levels of social hostilities involving religion.
"Both countries had the highest levels of restrictions in these respective categories, not only among the 25 most populous countries but also in the world at large."
– christian post
Vatican City, June 16, 2018: In a speech to a family association Saturday, Pope Francis again stressed that God's vision of the family is between a man and a woman, and compared the abortion of children who are sick or disabled to a Nazi mentality.
"I've heard that it's fashionable, or at least usual, that when in the first few months of pregnancy they do studies to see if the child is healthy or has something, the first offer is: let's send it away," the pope said June 16, referring to the trend of aborting sick or disabled children.
This, he said, is "the murder of children…to get a peaceful life an innocent [person] is sent away…We do the same as the Nazis to maintain the purity of the race, but with white gloves."
"It's an atrocity but we do the same thing," he said, according to Italian media.
Pope Francis spoke to members of the Forum of Family Associations, which is celebrating its 25th anniversary this year.
His words on abortion come just days after his home country of Argentina voted June 14 in favor of a bill that would legalize abortion as early as the first 14 weeks of pregnancy. The comments also come just over a month ahead of his Aug. 25-26 trip to Ireland for the World Meeting of Families, which will feature Jesuit Fr. James Martin as a keynote speaker on how to be welcoming to the LGBT community.
During his speech, Francis tossed his prepared remarks, telling participants that a prepared text "seems a bit cold," according to Italian newspaper La Stampa.
The pope, the paper reported, said it is "painful" to think that society would accept the killing of children simply because they are sick or disabled, but this is the current mentality.
On the family, he noted that in modern society "one speaks of different types of family," defining the term in different ways.
"Yes, it's true that family is an analogous word, yes one can also say 'the family of stars,' 'the family of trees,' 'the family of animals,'" he said, but stressed that "the family in the image of God is only one, that of man and woman…marriage is a wonderful sacrament."
Turning to his 2016 post-synodal apostolic exhortation Amoris Laetitia, Pope Francis said that some have reduced the document to "you can, you can't," referring to the debate surrounding access to the sacraments for the divorced and remarried in the document's eighth chapter.
"They have understood nothing," he said, explaining that his exhortation "does not hide problems," but goes beyond mere case studies. To understand the text, he said, one must read chapter four on the spirituality of everyday life, which he said is the "is the core" of the document.
Francis then pointed to the emphasis placed on marriage preparation in Amoris Laetitia, saying the family "is a beautiful adventure and today, I say it with pain, we see that many times we think of starting a family, getting married, as if it were a lottery. We go and if it works, it works, if not we end it and start again."
What is needed, he said, is "a catechumenate for marriage…men and women are needed who help young people to mature."
And this begins with small things, such as marriage preparation, he said, adding that "it's important to love each other and receive the sacrament, and then have the party you want." However, it is never acceptable for "the second to take the place of the most important."
He also spoke about the importance of educating one's children, but noted that this is not easy for parents, especially in a virtual world, which "they know better than us."
The pope also pointed to the increasing difficulty for families to spend time with their children, especially in times of social and economic crisis.
"To earn money today one has to have two jobs, the family is not considered," he said, and encouraged parents to take up this "cross" and the excessive hours of work, while also spending time playing with their children.
"Children are the greatest gift," he said, even when they are sick. Children, he said, must be "received as they come, as God sends them."
However, alluding to the growing trend to be "childless by choice," Francis noted that there are people who simply don't want children, and pointed to a couple who did not want to have kids, but who instead had three dogs and two cats.
Francis closed his speech talking about the need for patience in married life, saying "there are life situations of strong crisis, terrible, and even times of infidelity come."
"There are many women – but also at times men – who in silence wait, looking the other way, waiting for their husband to return to being faithful." This, he said, is "the holiness that forgives because it loves."
– cna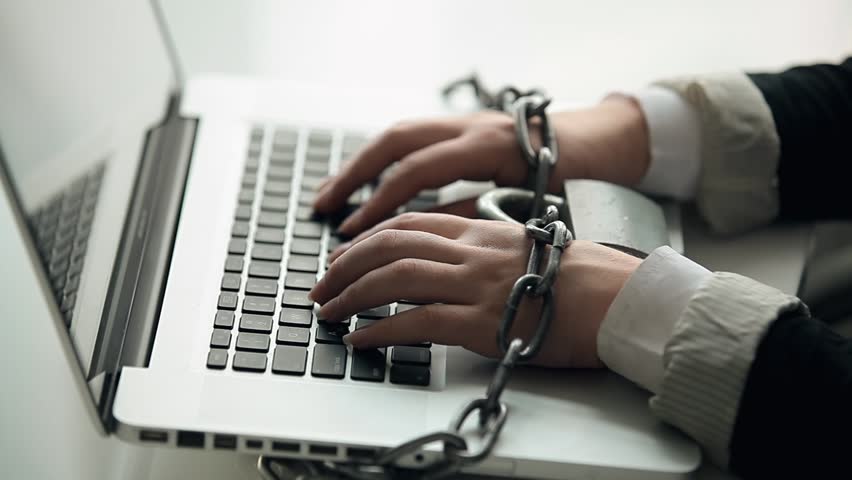 U.S., June 13, 2018: American conservative group the Family Research Council has released an analysis examining the harmful effects that pornography has on women who watch it, with addicts opening up about the downward-spiral such material sends them on.
"I'm not being dramatic when I say that one wrong click changed my life … I was instantly taken to a world of seeing men and women treating each other like animals, depicting abusive sex," one unnamed female addict from Alaska says in the recently released FRC analysis.
"What I saw shocked me, but I couldn't bring myself to click away from the site because of how the images made me feel. I started going back to it again and again and it quickly started to twist my perception of what was supposed to be love. The images were burned into my mind and I couldn't get them out."
The woman says that she was only 15 years old at the time and became scared of herself.
"I felt nothing; I felt like I couldn't fully care for people, for my body, for my mind, or for my heart. I just felt numb and hollow all the time. I viewed everyone around me, including myself, as objects. Nobody really mattered except for what I saw in porn," she says.
"I just want to let anyone else who is struggling with porn to know that you don't have to cry because you failed last night or today."
Patrina Mosley, director of Life, Culture and Women's Advocacy at FRC, who authored the analysis, warns that the influence of pornography is everywhere in society, with the internet allowing all kinds of material to be read and viewed in seconds.
According to her report, porn sites get more visitors each month than Netflix, Amazon, and Twitter combined. And 76 percent of 18- to 30-year-old American women report that they watch porn at least once a month.
Among Christian women, 15 percent admit to viewing porn at least once per month.
She also pointed to a study by the Journal of Adolescent Research, which found that close to half, or 49 percent of young adult women, believe that porn is an acceptable way of expressing sexuality.
What is more, a popular porn site found that search terms for porn tailored specifically for women have grown by 359 percent between 2016 and 2017.
Mosley argued that scientific research shows that porn has a negative impact on the brain, however, and pointed to other dangers, such as the abuse of women at the hands of traffickers and pimps.
"The pornography industry is highly unregulated, and often performers feel pressure to perform without condoms to remain employed, leaving them and others vulnerable to STD's and infections," she noted.
The FRC director positioned that as porn continues to become the go-to source for learning about sex for young people, more and more people are being given distorted views that promote "deviant sexual behaviors and attitudes."
"As Christians, we are the community that can turn against the tide of pornography and renew our sexual culture. If you have allowed porn to become a part of your life, today can be the start of a new life — the day you decide to purify your heart and mind by refusing to watch another second of it," she wrote.
"As more and more Christians are set free from porn and are transformed in our hearts and minds, the more we become a community that is able to set the standard for the culture at large.
"We have the power to determine whether or not pornography will have a market in our homes. If more and more people refuse to view porn, it will decrease the demand not only for pornography, but also for sex trafficking and prostitution."
Michael Tummillo, author, pastoral counselor and teacher, has also urged women and men to stay away from pornography.
"Why wouldn't a Christian run to her Christ and, instead, run into the arms of another lover like pornography? The answer is obvious: She doesn't know Him," Tummillo wrote in an article for MannaEXPRESS.
He said that such women "expect that sitting in a pew each time the door is opened and attending conferences, even reading Christian books, will all make their problem go away."
"It won't," he added. "Only Jesus has the power to do that."
– christian post
Cameroon, June 12, 2018: A Bible translator has been killed, with Christians seeing their houses burned down and major disruptions to Bible projects in Cameroon, which has recently been gripped by wide-spread violence in clashes between French and English-speaking populations.
Bruce Smith, president and CEO of Wycliffe Associates, told Mission Network News last week that at least one local translator, named Anka Terence, was killed by soldiers in the Ngwo region on May 23rd.
"There has been a number of people that have had their homes burned," Smith said. "They have had to flee into the bush. … The problem is the violence just seems to continue to be escalating with no end in sight. We're concerned, naturally, for the people of the country, but also for the progress of Bible translation there as well."
He added that a number of the 85 Bible translation projects taking place in Cameroon have had to be put on hold as the violence has worsened over the past few months, with 17 of the projects located in the dangerous western region of the country.
"There is just a huge disruption to the whole family of Bible translation projects that are going on. Even though it's only affecting 20 percent of them, 20 percent is a pretty large number when it's your brothers and sisters in Christ," Smith said.
Amnesty International separately reported that English speakers in the country have been attacked by the Cameroon military and armed Anglophone separatists. The human rights group shared of victims beating beaten, tortured and electrocuted by soldiers.
The crisis has grown out of longstanding grievances the English-speaking provinces in the country, which make up around 20 percent of the population, have with the Francophone central government.
So far, more than 160,000 people have been displaced by the violence, with close to 21,000 having to flee as refugees to Nigeria.
Wycliffe Associated clarified that it is not so much a religious war and that the Church has not specifically been targeted, but Christians are still caught in the crossfire.
"Unfortunately as the Church leaders have tried to mediate this disagreement between different parts of the country, they have also been targeted in lawsuits by the government and basically intimidated in order to back down so that they wouldn't continue to influence the process," Smith said.
He explained that his group has been trying to help other Bible translation partners that have gone missing.
"We're trying, first of all, to secure the people's safety, the translators that are part of the teams that have been driven out of their homes. Most of them have lost their fields, they have lost their herds, their animals, things like that as well as their physical homes," he continued.
"They're basically just surviving [by] hunting and gathering in the bush. So we're trying to locate them, we're trying to get them to safe places, trying to help them reconsider resuming their Bible translation work, but they really have to go through some counseling and some adaptation in between now and then in order to make that possible."
Wycliffe Associates has launched projects in some of the most dangerous places in Africa, including recently in the Democratic Republic of the Congo, where people have seen shocking forms of violence.
"It grabs at my throat to think about what the people have gone through in the DRC," Smith said in April.
"Generations of tribal violence … people hunted like animals … torture, mutilation, kidnapping, executions … fear and anger and utter, total despair that anything can ever be different."
– christian post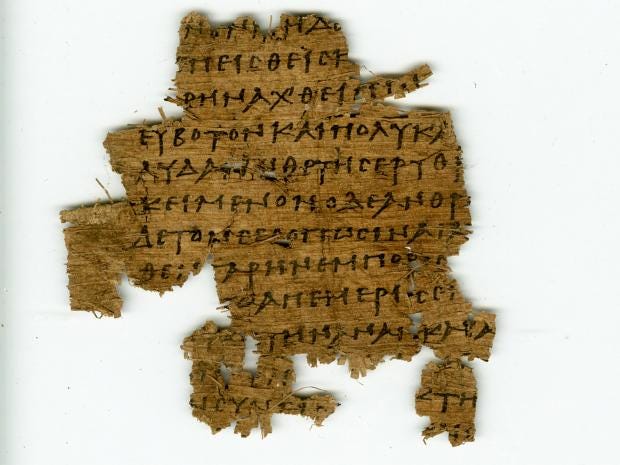 Egypt, May 29, 2018: While some scholars have speculated for the past few years about the possible existence of a first century fragment from the New Testament Gospel of Mark, experts announced last week that the fragment found in an Egyptian garbage dump likely dates back to either the late second or early third centuries.
The Egypt Exploration Society, a British nonprofit excavation organization that works in Egypt and Sudan, reported that a late second or early third century fragment of the first chapter of the Gospel of Mark was published in the most recent volume of the Oxyrhynchus Papyri.
The Oxyrhynchus Papyri is a group of manuscripts that were discovered during the late 19th and early 20th centuries at a spot where ancient inhabitants of the city of Oxyrhynchus dumped their garbage of over 1,000 years.
"The two sides of the papyrus each preserve brief traces of a passage, both of which come from the Gospel of Mark," a statement released last Thursday by the Society explains. "After rigorous comparison with other objectively dated texts, the hand of this papyrus is now assigned to the late second to early third century AD."
Although the publication of the Mark fragment was just announced last week, there has been much conversation about the fragment stemming from the fact that Oxford University papyrologist Dirk Obbink showed the fragment to visitors between 2011 and 2012.
One visitor, Dan Wallace of Dallas Theological Seminary, announced in a debate with agnostic scholar Bart Ehrman in 2012 that he had seen a copy of what could likely be a first century Gospel of Mark papyrus fragment.
Wallace later took to his blog to write about the fragment, saying that "a world-class paleographer had dated this manuscript and that he was pretty darn sure that it belonged to the first century." Wallace's post provided a sense of hope that this particular fragment could be the oldest New Testament fragment ever discovered.
In its statement, the Egypt Exploration Society confirmed that the fragment that was published is the same one discussed in the media in recent years.
"This is the same text that professor Obbink showed to some visitors to Oxford in 2011–'12, which some of them reported in talks and on social media as possibly dating to the late first century AD on the basis of a provisional dating when the text was catalogued many years ago," the statement reads.
The society's statement adds that no other New Testament texts in its collection have been identified as earlier than the third century.
Despite the fact that the fragment is not from the first century, the Daily Beast notes that the fragment found in Oxyrhynchus is still one of the earliest discovered fragments from the Gospel of Mark, which some believe to be the earliest of the canonical Gospels.
Wallace took to his blog last week to offer an apology.
"In my debate with Bart, I mentioned that I had it on good authority that this was definitely a first century fragment of Mark," Wallace wrote. "A representative for who I understood was the owner of FCM urged me to make the announcement at the debate, which they realized would make this go viral."
"However, the information I received and was assured to have been vetted was incorrect," Wallace continued. "It was my fault for being naïve enough to trust that the data I got was unquestionable, as it was presented to me. So I must first apologize to Bart Ehrman, and to everyone else, for giving misleading information about this discovery."
Although Wallace states that he did not knowingly announce inaccurate facts, he admits that he should have been more careful than to trust sources without personal verification.
Excavation at Oxyrhynchus began in 1897 with archaeologists Bernard Grenfell and Arthur Hunt. Thanks to Grenfell and Hunt, over 500,000 fragments of have been discovered and many of them housed in the Egypt Exploration Society Sackler Library in Oxford.
According to The Independent, scholars were able to transcribe just about 5,000 of those texts between 1898 and 2012.
In 2014, The Ancient Lives project was launched to give people across the world who have knowledge of the ancient Greek alphabet to look at the fragments online to try and transcribe what is written on them.
One of the pieces of text discovered through The Ancient Lives project is a long-lost rendition of the Book of Exodus, according to The Independent. The book was written in the second century in Alexandria.
– christian post
Europe, May 27, 2018: Churches in the U.K. and Ireland held their services in the open air on Sunday to stand in solidarity with persecuted Christians around the world and to pray for them.
"Choosing to meet outside come rain or shine really brings home how precious our freedoms are," said Paul Robinson, the CEO of the U.K.-based Release International, which is behind the annual campaign called Great Outdoors Church Service. "Taking time out to pray for the persecuted can spur us on to use our freedom to the full."
Charity's spokesperson Andrew Boyd told Premier Christian Radio that Christians in the U.K. have "amazing freedom in this country to do whatever we like really without the risk of persecution."
"It's ever so easy to take that freedom for granted, so why don't we just take a very small risk; the really small risk is that it's probably going to rain but never mind," he said.
Not all churches participating in the campaign held outdoor services this Sunday, as the charity has encouraged them to set aside any date that would be suitable while just suggesting that it could be held May 27.
The charity said Christians around the world continue to be persecuted under Islam, militant Hinduism, authoritarian regimes and communism.
Last month, Nigeria witnessed a mass wave of slaughter of Christians at the hands of radical Muslim Fulani herdsmen. At least 58 Christians were slaughtered in April, according to a statement by the Catholic Bishops' Conference in Nigeria, which called for President Muhammadu Buhari to resign.
"We are sad. We are angry. We feel totally exposed and most vulnerable. Faced with these dark clouds of fear and anxiety, our people are daily being told by some to defend themselves. But defend themselves with what?" the statement said.
In China, authorities are demolishing churches, tearing down crosses and seizing properties used for worship.
ChinaAid said earlier this month the local governments of Wenzhou and Shaoxing had banned all religious gatherings under the guise of fire safety inspections.
Wenzhou, which is known as "China's Jerusalem" due to its large Christian community, has been especially targeted by the atheistic Communist government, which has banned Sunday School for Christian children.
In India in April, the state of Uttarakhand became the eighth state in the country to pass legislation that is officially named the "Freedom of Religion Act" but has the allegedly hidden intent to punish those who facilitate religious conversions, especially conversions from Hinduism to Christianity. The law carries a jail term of up to two years.
Christian persecution, which includes violent attacks, destruction of Christian property and false accusations, has risen in India since the Hindu nationalist Bharatiya Janata Party won the general election in 2014. A report by an evangelical group in India described the year 2017 as "one of the most traumatic for the Christian community" in 10 years.
North Korea also continues to be the most hostile place in the world to be a Christian, and in Islamic countries such as Pakistan, Christians are being accused of blasphemy as a way of settling scores and driving out Christian minorities, Release International said.
– christian post
England, May 19, 2018: A Northern Ireland lawmaker has accused the BBC of attacking Christians in a broadcast covering the wedding of Prince Henry "Harry" of Wales and former American actress Meghan Markle.
A two-and-a-half-hour show, "Good Morning Ulster," aired by BBC Northern Ireland on Friday discussed the royal wedding and featured, among others, Belfast comedian Nuala McKeever, who asked what would "right-wing Christians" make of Prince Harry marrying a "black divorcee?"
"I do laugh to think, 'I wonder how a lot of right-wing Christians are coping with fact he is marrying a black divorcee.' Other than that I wish them well of course. I am just not a particular fan of the idea of us paying for the monarchy and money always being available for their things," she said on the show, according to Belfast Telegraph.
A lawmaker from Northern Ireland's Democratic Unionist Party, Ian Paisley, called BBC "biased."
"Once again the biased BBC @BBCgmu broadcast an attack on 'Christians' and the Royal wedding a contributor who couldn't help using it as a platform to make racest [sic] and anti-Christian comments. Another new low!" Paisley wrote on Twitter.
"It was a disgrace and an unacceptable attack on people — think if she had made an attack on people of a different faith," he added.
The DUP was founded by Paisley, a Protestant preacher-politician, four-and-a-half decades ago. It's pro-life, against same-sex marriage and supports a nuclear deterrent.
Meanwhile, the U.K.'s Express newspaper reported that during the royal wedding Saturday, Prince Harry will also wear a ring, and Markle will not promise to obey him.
The wording of the service will be more contemporary than traditional, it said, adding that the couple will use the Marriage Service from Common Worship (2000), which uses "you" rather than "thee" or "thou."
Karen Gibson and The Kingdom Choir will perform "Stand By Me" by Ben E. King during the ceremony at the 15th century St George's chapel, according to the Order of Service.
Bishop Michael Curry, the first African-American to preside over the Episcopal Church and who defends same-sex marriage, will deliver a sermon at the wedding.
– christian post