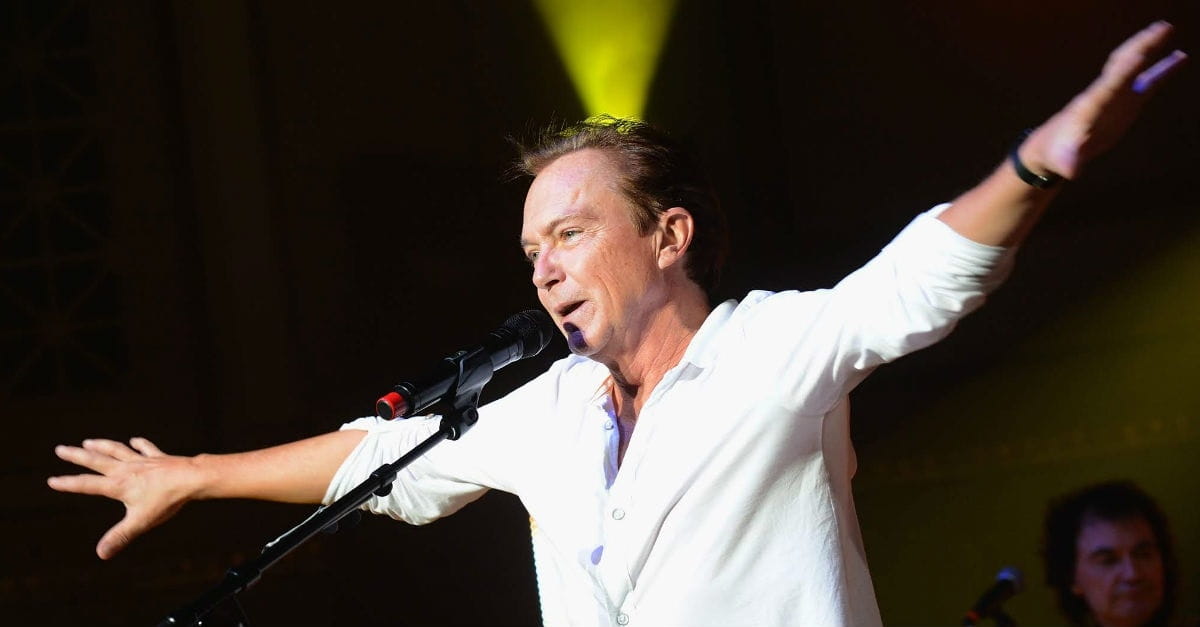 I recently watched a documentary on the life of David Cassidy titled David Cassidy: The Last Session, and let me tell you, it was just absolutely heartbreaking.
To me, the story could be summed up this way: David had a deep longing for a father.
He had one, of course, in Jack Cassidy, who was a Broadway star and celebrity in his own right. But Jack divorced David's mother, and in many ways, he walked out of his son's life. For the rest of David's life, he seemed to live in his father's shadow.
I can relate, to a certain degree, with the difference being that I never knew my biological father, and I had a string of so-called stepfathers walk in and out of my life. Jack Cassidy, according to David, was also an alcoholic.
Even when David had his all-too-brief interactions with Jack, they never connected on the level David longed for. David was a struggling actor and musician when lightning suddenly struck: he was cast as Keith Partridge on the massive hit TV show The Partridge Family. Ironically, the woman casted as his mother on the show was David's step-mom, Shirley Jones, who was married to David's father, Jack.
As David's stardom was rising, his father's career was declining. Jealous of his son's sudden rise, Jack's pride kept him from having any significant conversations with his son. He couldn't even bring himself to tell David he was proud of him. Tragically, Jack died one night in a raging fire after falling asleep with a cigarette. And although David had become a global teen heartthrob and had everything the world could offer at his fingertips—money, fame, sold-out stadiums, and adoring fan girls—he was still absolutely devastated and longing for more. His face graced the cover of every teen magazine—not to mention the lunchboxes, comic books, and anything else that could be merchandised. Yet, he still longed for the one thing money and fame couldn't give him: a deep, meaningful relationship with his father.
At the peak of his fame, David hit rock bottom and wanted out of his hit TV show. He longed to be taken seriously as an artist, but that never actually came to fruition for him. David turned to alcohol, and it left an extremely devastating effect on his health. By 2017, he was in a fast and sharp decline.
His fans became troubled when he could not remember the lyrics to many of his older songs, and it was especially worrisome when he began to slur his words. He was arrested three times for drunk driving, the last two arrests coming within only six months of each other.
Originally thought to have dementia, Cassidy finally admitted all of his issues were actually due to his alcoholism. It was a shocking confession, and the fact is, David had followed in his father's very footsteps. David Cassidy finally admitted, "There is no sign of my having dementia at this stage of my life. It was complete alcohol poisoning."
In the documentary David Cassidy: The Last Session, David said, "I did this to myself to cover up the sadness and emptiness." Cassidy died of liver failure in November of last year.
According to his daughter, David's last words were, "So much wasted time!" In one of the most poignant scenes from the documentary, David is struggling to finish a vocal for a new project he was working on, called Songs My Father Taught Me. Unable to hit the notes, he asks the producer to play his father's recorded version of the same song. Breaking out in tears, David cries out, "Dad, I miss you!"
It broke my heart to watch it.
How I wish I could have told David about how I never had a father growing up either. I wish I could have also told him that there is a Father in Heaven who could be the Dad his earthly father never was.
If you are a dad this Father's Day, make sure you let your son or daughter know that you love them. It really does matter. Even if they are adults, they still long for your approval; they need to hear it. If you are a child estranged from your father, reach out to him today—not because he deserves it necessarily, but because it's the right thing to do.
Jesus wanted to show us what God in Heaven is like, so he told a story of a boy who ran away from his father and dragged his family name through the mud. The young man finally came to his senses, and reluctantly decided to return home. According to Jesus, when the boy was a long way away, the father ran to his wayward son, threw his arms around him, and welcomed him home. This is how the Father embraces us—without hesitation, without a tally of what we've done wrong. His arms are always wide open, waiting to invite us back into fellowship with Him.
Maybe your heart is heavy this Father's Day because you are estranged from your father, or perhaps your dad has passed on. Remember this: there is a Father in Heaven who loves you. He will welcome you home to a loving relationship with Him. He is always near you, even on days—like today—that may make you feel isolated and alone. Run to His arms.
Accept His open invitation. It made all of the difference in my life, and I know it will do the same for you.
Happy Father's Day.
– cross walk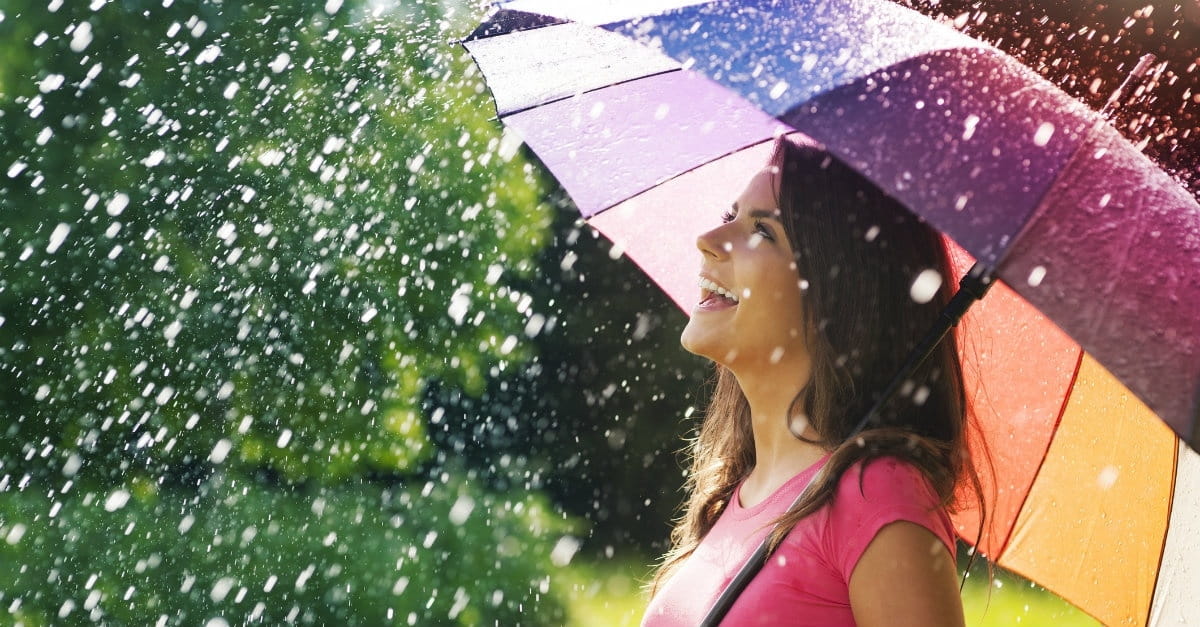 In her new book, Love Your Life, Not Theirs: 7 Money Habits for Living the Life You Want (released October 3), Rachel Cruze spotlights the danger of comparison living. It's a trap that leads nowhere worth going.
The Cure for Comparisons
Too many people allow cultural expectations—that is, other people—to dictate their own values and family priorities. I've been there too. I know it's an empty and endless battle to try to keep up. You feel like a hamster on a wheel, running as hard and fast as you can and ultimately going nowhere. Doing that for a lifetime will leave you completely exhausted. But your life doesn't have to look like that. There is hope; there is an antidote. There is one and only one cure to comparison living, and that is contentment.
What Contentment Looks Like
In our book Smart Money Smart Kids, my dad and I make the point that content people don't always have the best of everything, but they make the best of everything. Contentment isn't a place you get to financially; it's a place you get to emotionally and spiritually. It's a peace in your spirit that knows what you have, no matter how much or how little, is enough. Contentment is the inner determination to be happy and fulfilled wherever you are with whatever you have. The Apostle Paul put it like this: "I have learned to be content whatever the circumstances" (Philippians 4:11 NIV). And, yes, I know this is a lot easier said than done.
I wish I could give you specific steps to take to guarantee your contentment, but I can't. I will tell you the two big secrets to living a contented life, but before we get there, let's take a look at what a content person looks like. You may realize that you have some of these people around you already. You may even realize that you are one yourself!
Content People Are Satisfied
Contentment allows you to be in a state of joy and satisfaction. You are happy with where you are in life. That doesn't mean you don't have goals for the future or that you aren't working toward being a better person tomorrow than you are today. It definitely doesn't mean that you're stagnant or apathetic, or that you're choosing to sit around and do nothing new, exciting, and challenging with your life. It just means that you have a peace about your life and a sincere enjoyment about what you have today without basing all your happiness on what you hope to achieve tomorrow.
Since we're talking about comparisons, I will give you one big tip here: It's almost impossible to be satisfied with your own life if you're constantly looking at what someone else has. If you're struggling to appreciate the blessings in your life and if you're constantly distracted by the #blessings of other people, it may be time to put some blinders on for a little while.
Shut off the social networks. Stop strolling through the mall. Spend that time and energy focusing on how much you truly have. Look at your family, your friends, your home, your job, and all the things in your life that really matter. Then rejoice in all you have.
– cross walk
One awe-inspiring privilege of parenting teens is you get to see a work of art in progress. You can take part in mentoring a young person as he grows and develops.
God calls us to cherish and encourage our children, yet parenting teens is a hard job; sometimes we experience stress, anger, and frustration. In the heat of a crazy moment, we might say things without thinking that tear our kids down. We need to remember our words hold tremendous power over them.
As I write this article, I realize how many times I've said things I shouldn't to my teens. As you read these words, you may see some things you've said too.
Proverbs 12:18 offers us an admonition and a hope: "The words of the reckless pierce like swords, but the tongue of the wise brings healing."
Here's one way our words can bring healing: when we say something we shouldn't, let's admit it and ask for forgiveness. I've discovered this improves my relationship with my kids almost more than anything. Remember that as you read these 10 statements.
1. I don't have time for you.
Of course, most parents wouldn't say, "I don't have time for you" point blank, but let's think about the message we communicate to our teens when we look at our phones while they're talking to us, work in the evenings during their free time, or cancel plans we've made with them.
Our kids will ask us to take them to the mall, help them with a project, or watch a silly YouTube video. They might ask to talk while we're on the verge of finishing an important project or falling into bed exhausted at 11:00 p.m. Whenever possible, let's show interest in them by making time to talk, attend their sports events, or listen to a song together.
An important message our teens need from us is "You're important to me, and I love spending time with you."
2. I'm disappointed in you.
Sometimes you'll feel let down when your teen makes mistakes. However, the words, "I'm disappointed in you" place a heavy burden over our young people's shoulders because more than anything, they want love and affirmation from us. They need to know we still approve of them as people even though we don't like what they did.
Here are alternative things to say:
"I wish you hadn't done that."
"How do you feel about this?"
"What might have been a better way to handle it?"
"What do you think is a good way forward?"
3. I told you so.
Our kids sometimes ask for advice and then do the opposite of what we recommend. Remember how you did that with your parents? I'd be the first to admit this drives me stark raving mad, but I'm learning to let go of control. Remembering what it was like to be a teen myself helps me be more gracious when my kids apparently need to learn things by making mistakes for themselves.
The words "I told you so" sound just as self-righteous to our kids as they do to us. I'm trying instead to breathe deep, bite my lips, and say, "Hey, I'm sorry about that" when my kids experience negative consequences after throwing my advice out the window.
4. Do you think you are _______ enough for that?
Sometimes our kids will set goals that seem unrealistic, and we want to protect them from disappointment. For example, a young woman who sings beautifully told me she once dreamed of applying to a Fine Arts Conservatory. Yet her father discouraged her by asking, "Do you think your voice is good enough for that?" Years later, she remembers his words and wonders what might have happened if she'd tried. Perhaps her dad could have offered to pay for a few voice lessons instead. She might have gotten accepted, but even if not, today she'd have the memory of her dad's support.
Ultimately, we have no way of knowing what our teens can accomplish until they try. Let's seek to help them achieve their goals when they aim high, instead of discouraging them from trying.
5. Have you gained weight?
Teens are ultra-sensitive about their appearance. The simple question "Have you gained weight?" can send a young woman on a spiral of insecurity. She'll look in the mirror and see 20 pounds more than she actually weighs.
Eating disorders are rampant among teens, especially girls. If you notice your teen gaining weight, you'd be wise to stress exercise and healthy eating without emphasizing the fact that you've noticed she's gained weight.
6. Just trust God.
My kids will tell you I've said this. When someone's going through a hard time, of course we want to encourage them to trust God, but we can't use these words as a Band-aid to slap on our teens' hurts and make them go away.
If we say, "Let's trust God" too soon, before taking time to really listen to their struggles, our kids might feel we think their problems aren't valid. They may even feel guilty for struggling. Let's make sure we listen well before attempting to share spiritual truth or encouragement.
7. You're driving me crazy.
Let's face it: our kids will drive us crazy. They'll run out of gas, lose their keys, skip class, take our makeup, wear our clothes, track mud in the house, break the microwave, and spill Coca-Cola all over the carpet. Sometimes the question, "Are you trying to drive me crazy?" comes to mind, followed by "Can't you do anything right?"
Such questions and statements are better left unsaid. Take a deep breath. Relax. Say things like:
"It was just a mistake."
"How can we fix this?"
"Could you help?"
8. This is just a phase you're going through.
My teen daughter finds this phrase exasperating. When older kids are depressed, discouraged, or struggling with school, parents try to help them gain perspective on their problems. We want them to know their problems won't last forever, but saying "This is just a phase" might communicate that we don't take them or their challenges seriously.
If your teen tells you He doesn't believe in God anymore, or he's decided he's gay, seek to listen first, show your love for him as a person, and gently communicate your views.
9. Why can't you be more like your brother?
Any parent with more than one child has no doubt discovered they can be as different from each other as day and night. We need to give our kids the freedom to be themselves without living under the shadow of a sibling. Sometimes we can inadvertently communicate that we're comparing our kids by saying things like:
"Your sister never did that."
"Your brother always did his homework on Sundays."
"You're the creative one of the family. She's good with numbers."
10. Don't say anything you won't follow through on.
Our teens need to know they can rely on us, so let's not say we'll take them somewhere and then change our minds. We can't plan a family date and then say yes when our boss or friend proposes an alternate plan. This means looking at our schedules and thinking carefully before committing to something. Of course emergencies can change our plans, but let's make those the exception rather than the rule.
We want our kids to trust us, so let's be careful not to say anything we won't follow through on.
– cross walk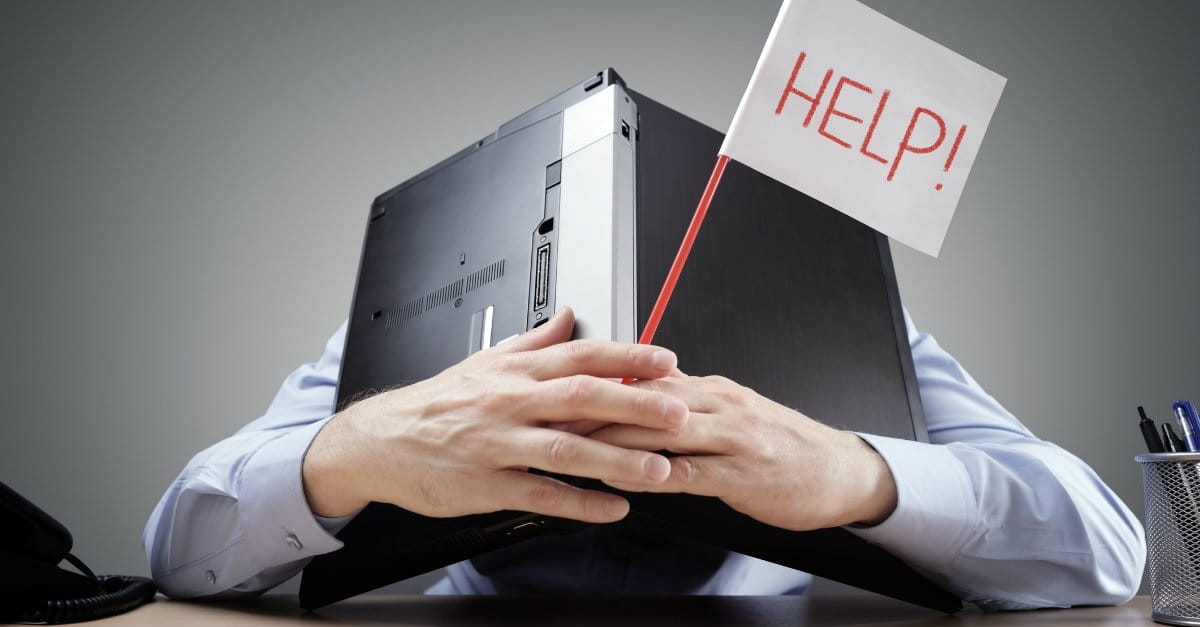 Working in a dream environment is a goal for most of us. But when the dream turns into a toxic nightmare, how do we climb out of bed every morning and make ourselves go to work? What are some practical tools we can use in the workforce? And what is the Christian's responsibility when dealing with difficult co-workers? Here are 10 ways to deal with difficult co-workers.
1. Try to understand what's happening.
The Native American proverb is still a good principle, "Don't judge people until you've walked a mile in their moccasins."
In today's work environment, everyone is dealing with some type of stress. A co-worker whose fibromyalgia flares every morning will not be a cheery person. The same goes for a mother whose son is facing prison time or a wife who is struggling to keep her marriage together. A deadly prognosis from the doctor. Depression, mounting debt, a parent with Alzheimer's disease. All these issues and more can be festering in a nearby cubicle. Try to understand what's at the root of the difficult relationship.
My experience underscores this principle. A manager piled extra work on me even when I told her I was already overwhelmed. But when I heard about the pressure she was facing from the board of directors, it helped me understand her reaction. By mentally walking in her shoes, I was able to more fully comprehend what was happening and not take it personally.
2. Examine expectations.
Every time we start a new job, we hope it will be a place filled with wonderful people. We want to be appreciated for our work and we want to be an asset to the company. But today's workforce is not the same as Grandpa's lifelong job with a pension and faithful friends. Many of us move from job to job, depending on life's circumstances. Most of us won't stay in the same office or warehouse for more than five years.
The Pew Research Group reported, "About six-in-ten adults (63%) say the average working person in the U.S. has less job security now than they did 20 or 30 years ago."
With that type of insecurity hounding us, the workplace is no longer a "family" atmosphere. We cannot expect it to be filled with happy people or contented workers.
3. Reread the original contract.
Another way to underscore our expectations is to check out the original contract we signed. When interviewing for a job, many of us focus on the questions at hand and the bottom line of pay and benefits. Sometimes we need to reread the fine print and remind ourselves what we signed up for. Maybe some of the toxic environment just goes along with the job requirements.
My son accepted a job that required 10-hour days. He knew going in it was going to be tough work, but he liked the place and the pay met his needs.
We cannot defend ourselves with management if the job calls for certain requirements we didn't expect. Difficult co-workers are unfortunately everywhere. We need to accept that fact and make sure we are part of the solution and not the problem.
4. Humility wins.
The balance between standing up for ourselves and showing humility is a delicate line. But in the long run, we need to ask ourselves, "How can I sleep tonight if I respond to this co-worker with the same bad attitude? What does God require of me in this situation?"
One of my friends worked in a toxic environment for several years. He was treated unfairly by management and assigned a menial job although he had more experience and training than other workers. Yet he showed up at his post day after day because he felt God wanted him to be an example of humility. Eventually, management changed and he was promoted to a higher, more comfortable position.
The biblical example is Joseph, who was mistreated, betrayed, and misunderstood. Yet he humbly continued to serve even while imprisoned. "God granted him favor in the eyes of the prison warden" (Genesis 39:21) and eventually Joseph was released and promoted.
Joseph also knew when to set a boundary and stand up for his rights. "Remember me," Joseph said to Pharaoh's cupbearer, "and show me kindness. Mention me to Pharaoh and get me out of this prison" (Genesis 40:14).
5. Set healthy boundaries.
Even if we understand the motivation of difficult co-workers, we still need to take care of ourselves. If we don't set limits around our personal space, we can be trounced on or move into co-dependency. No one in today's workforce should put up with ongoing harassment. A toxic environment quickly affects productivity and efficiency. We can't do our best work if we're bombarded by anger, by the fear of losing a job, or by unfair expectations.
In her signature work Codependent No More, Melody Beattie writes, "People who feel responsible for the entire world refuse to take responsibility for leading and living their own lives."
She goes on to point out how codependents feel better when they can control their entire world, yet they soon reach exhaustion from the effort. We need to love ourselves before we can truly care about others and setting our personal boundaries is the first place to start.
Beattie says, "Your most important and probably most neglected responsibility is to take care of yourself."
6. Show kindness.
Is there something special you can do for a difficult co-worker? Bring him a specialty coffee from Starbucks. Give her a pretty greeting card with handwritten encouragement. Offer to carpool together to save expenses. Fix his printer when it jams.
On the mission field–yes, even missionaries sometimes struggle to get along–I faced a terrible situation where I was blamed and shamed. Earlier that week, I had received a box of goodies from my family, including several packages of chocolate chips – a luxury in the country where I served.
So I spent several hours one night making baskets of chocolate chip cookies which I delivered to each of my tormentors. It didn't solve the problem but it was better than wallowing in bitterness. Besides, I make a mean chocolate chip cookie!
7. Check your motivation.
Why are you working at this job? Is it just for the pay and the benefits or do you genuinely love the work? Do you long to climb the corporate ladder and reach the pinnacle where you can be the boss? If so, you're going to have to step on some ugly rungs on that upward climb.
Or is your motivation more passionate? Are you hoping to impact the world, beginning with the people you work with each week? The Apostle Paul reminds us, "Whatever you do, work at it with all your heart, as working for the Lord, not for men" (Colossians 3:23). If we believe God has truly given us this job, it helps us stay motivated to work through whatever problems we face.
Sometimes in life, we have to work with difficult people because they come with the territory. It has helped me to imagine Jesus standing in the next cubicle or angels surrounding me. That visual has helped me to endure some ugliness that I could do nothing to relieve.
8. Stay connected with available resources.
Many corporations have human resources and/or workforce advocates who are available for any type of difficulty. They cannot help you if you don't let them know the problem. Sometimes this is a sticky wicket, but for the most part, unions and human resources are supposed to help their workers. Sometimes, we just need to state the problem to a supervisor instead of trying to fix it ourselves or swallow our disappointment.
For several years, I worked for an organization that supplied chaplains in the marketplace. When toxic situations occurred, the chaplains were available to pray with employees, to be the friendly hand on the shoulder, and to keep someone from going postal.
Use whatever resources you have available. They should be part of your benefits and you have every right to demand those resources.
9. Pray for them.
It may feel as if you are betraying your authenticity when you truly pray God's blessings for others, but it does help. Even if your prayers don't release you from the situation, they can strengthen your resolve "to act justly, love mercy and walk humbly with your God" (Micah 6:8).
A whispered prayer after an unkind remark can release resentment that might have festered into bitterness. An honest petition to the Holy Spirit to comfort the hardened places in difficult co-workers might become the salve of their salvation. We rarely understand the full scope and power of prayer. What it can accomplish is a mystery. Sometimes just repeating the name, "Jesus," has helped me past the struggle of the moment.
While raising my son, I used this principle. His biology teacher in junior high was a real piece of work. She seemed to hate her job and took it out on the kids, primarily my son. Although we followed protocol and met with the administrator, nothing improved. Then we started praying for her each night. She never changed, but my son was able to gather enough strength from the prayers to make it through that difficult semester.
10. Resign and start over somewhere else.
With some toxic work environments, the only solution is to pull ourselves out of the situation and start over. It's not an easy choice. But sometimes just quitting your job becomes the catalyst for a start over in life.
Last year, I resigned from a ministry position that was killing me. The stress, the over-work, and truthfully, some of my own codependency overwhelmed any of the good I was doing. It took me a year to work through that decision, to become a full time writer and writing coach. But it was one of the best choices I have ever made.
Sometimes life or even God himself moves us into another arena where we can feel more passionate about what we do. It's important to pay attention to those inner nudges, to set our personal boundaries, yet do our best to work in peace with others.
As one of my encouraging friends says, "Do your best and surrender the rest."
– cross walk
I never saw it coming. A group of us were sipping coffee together, just before a meeting, when out of the blue my friend made a cutting remark that sliced deep into my heart.
I stood there for a few minutes, paralyzed, realizing firsthand why a wound from a friend hurts more than a wound from an enemy (Ps. 55:12-14). That hurtful, stinging comment left me staggering, wondering what provoked such a fierce blow.
Had I misunderstood our friendship? Were we friends or enemies? What do you do when a friend hurts you?
Receiving "friendly wounds" from people who are supposed to love us can break our hearts. Shut us down. Damage our trust. Jesus experienced the same thing with His friends, too. And yet somehow, He continued to love past it.
Since neglected, buried wounds do not heal, it's important to deal with them. God promises to help us (Ps. 147:3). When we bring our wounds to Him, He can mend our hearts and teach us how to love past our pain. In fact, Scripture provides a lot of Godly wisdom for emotional healing.
5 things to do if you've been hurt by a friend:
1. Be patient in prayer.
I'm learning to apply prayer to my emotional wounds often, like medicine. It helps to say this truth out loud: "I believe God can heal every wound." Since healing occurs gradually, I'm trying to be patient as I pray for my friend and for my attitude.
"Be joyful in hope, patient in affliction, faithful in prayer." Rom. 12:12 NIV
2. Forgive.
Since I've been a less-than-perfect friend at times, I need to extend grace. Remembering thatthe one who holds a grudge hurts the most, helps me let it go. Since God overlooks a lot to stay in a relationship with me, I must overlook the faults of my friends, too.
"Bear with each other and forgive one another . . . Forgive as the Lord forgave you." Col. 3:13 NIV
3. Extend an olive branch.
It isn't necessary to rehash details in order to make peace and move on. Seeking peace may include going to my friend and saying, "Lately, I've sensed that there is hurt between us, how can I make it right?" Making the effort to reconcile opens the door for communication and healing.
". . . First be reconciled to your brother, and then come and offer your gift [of worship]." Mt. 5:24 ESV
4. Don't gang up.
When we're wounded, it's tempting to recruit others to be on "our side." Regrettably, I've done this, and it does not help. I've learned to seek counsel only from someone who isn't involved. Since Satan loves to pit us against each other, I don't want to let him break my friendships apart.
"Do not seek revenge or bear a grudge against anyone among your people, but love your neighbor as yourself. . ." Lev. 19:18 NI
5. Expect occasional friendly fire.
The more we care about someone, the more he or she can hurt us. Even in the best friendships, there will always be a little pain—I must accept this as truth. Being shocked by friendly fire only makes it hurt worse. Resisting the temptation to strike back or get even may save the friendship.
"The Lord will fight for you; you need only to be still." Ex. 14:14 NIV
Maybe you have been hurt by a friend recently, too.
A thoughtless remark was made. A friend was selfish. Irritable. Downright mean. You can view it as something terrible that will always hurt you or as something that God can somehow use for good.
I know how badly wounds from a friend can hurt! Seek God's face; spend time in His presence. Let His love heal you. Remember, God can create something beautiful out of every wound—even the wound of a friend.
– cross walk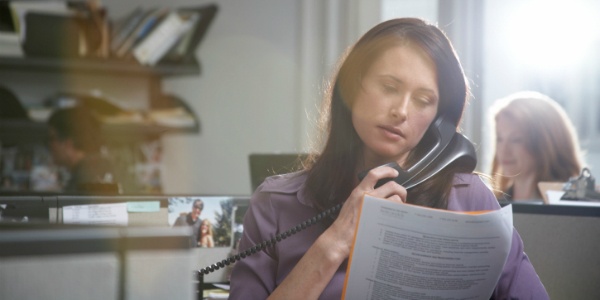 The year I lived just outside of Washington D.C. was one of the most stressful periods of my life. In large part it was due to the culture of the area—everyone was busy, all of the time. Seeing anyone outside of work required several weeks' notice; no one had time for anything that wasn't already on their calendar. I felt a lot of pressure to do as everyone else did and pack my week with activities. Doing so left little time for the relationships that mattered most to me—particularly my relationship with God.
Thankfully, I've since moved and settled into a slower pace of life. But the habit of busyness that I picked up still lingers, and every once and awhile I'm forced to do a reality check and ask—am I overcommitting again?
Brady Boyd, senior pastor of New Life Church in Colorado Springs, just wrote a fantastic piece called Signs You May be Addicted to Busyness, offering some great insights into what drives us to be busy. In it, he bravely shares the tipping point for his addiction to being busy—the afternoon his wife packed her bags, ready to leave him unless he changed. 24 hours later he had resigned from every role he held—a drastic step that helped him see just how deeply his addiction to busyness ran.
Since that day, Boyd has thought a lot about some of the warning signs of being too busy. Here are 4 red flags he found are often prevalent with those who lean toward being over-scheduled.
1. You feel like you're in your glory when you're busiest. "I like how success feels," Boyd writes. "I don't want to unplug." If you fear any whitespace on your calendar, your priorities may need refocused.
2. You're more fascinated with gadgets than with God. Ever leave your phone at home and feel like a part of your body has been disconnected? Or sit down to read your Bible and pray, but can't seem to focus because your phone is dinging and your computer keeps alerting you to another email in your inbox? Huge red flag! Satan would love nothing more than for you to be so consumed with technology that you find time with God dull in comparison.
3. Your favorite compliment has become, "Wow, you're so busy." Boyd writes, "I have a theory on this, which is that busyness is our means to impress. If I'm busy, then I'm important, and if I'm important, then you'll be impressed. That's the reason I spend so much time being busy: to impress you, so perhaps I'll feel like I matter." Everyone wants to be needed and feel useful, but when it becomes your identity, that's a problem.
4. You don't have time for the ones you love. This may be the worst sign of all, Boyd writes. Don't let it get to bags packed at the door—if you're struggling with busyness, start taking steps to slow down and find rest today.
"God is not merely a peaceful person; God, in fact, is peace," Boyd says. "When you and I sit in God's presence, we're sitting in the presence of peace. And when we sit there—actually stay there, quiet, still—we come away breathing differently." If we're to be more conformed to God's image, that means desiring to live out the values and priorities that God embraces, including rest.
If you're looking for a few helpful ways to find rest, particularly if you're in the midst of back-to-school activities and other commitments that fall can bring, check out Bonnie Gray's post, Beat Back-to-School Stress with These 9 Tips for Rest. She shares some fantastic, practical ideas for carving out time in your schedule for God and family.
As Christians, our identity hinges not on what we do but on what Christ has done for us. Check your heart—are you finding your worth in a busy calendar and people depending on you? It may be time to reevaluate why you're so busy. Ask God to help you move away from glorying in your busyness and instead toward glorying in His rest.
– cross walk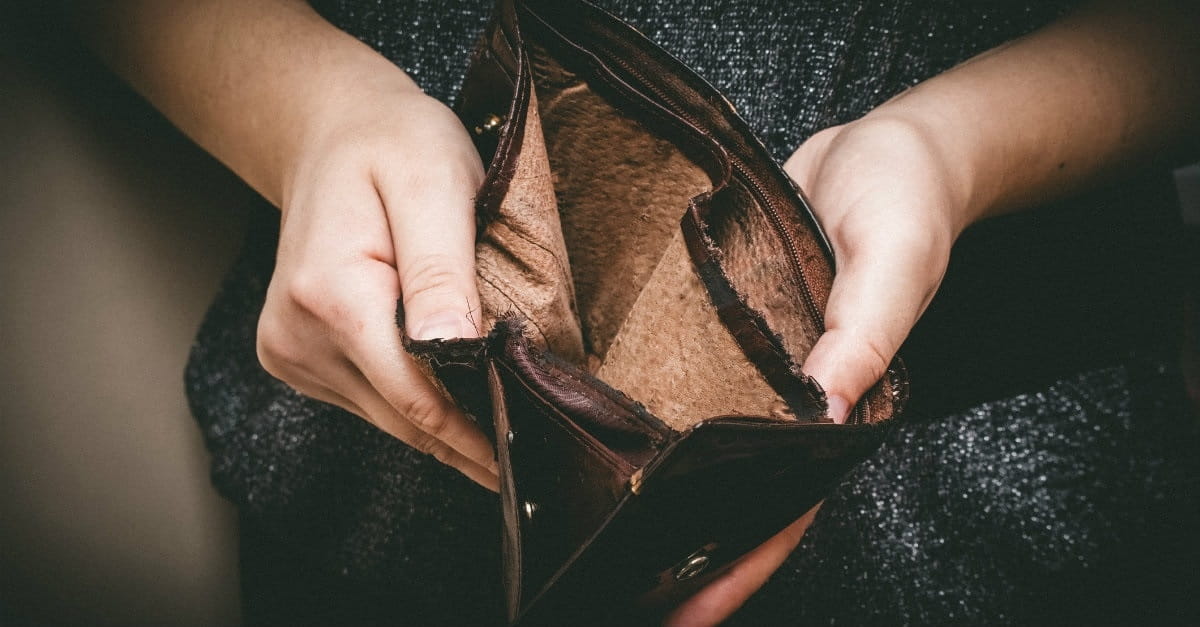 Most people are in debt. Maybe you're one of them.
Being in debt has gotten to be so normal that many people never question it. So many of us believe that debt is just a normal part of life and there is not much you can do about it.
In fact, some people even believe that having debt is a good thing.
Seriously, do you really need a ton of debt weighing you down to have everything you need in life?
No, you don't.
In fact, I think it's ridiculous to believe that debt is just a necessary part of life.
Being In Debt Drains You
Think about it. What does debt actually do to you financially? It unnecessarily drains away your hard earned money by making you pay much more for those things you buy with it.
When you're in debt, you are paying money in interest and fees that could be used for things that are much more useful. Debt causes you to spend much more than you otherwise would on the things you want and need (read about how we overpaid for our car).
Ultimately, it sucks you dry financially while giving you a false sense of prosperity.
Being In Debt is a Choice, Not a Necessity
Most Americans, if given the choice, would probably tell you that it's better to have no debt.
So why is it that the majority of Americans are swimming in debt?
Why are most people not making the choice that they know is best for them in the long run?
There are plenty of reasons why, a few of which I'll cover here:
Marketing. Every one of us is barraged with over 3,000 marketing messages every day, and that number is growing. Most of those messages are trying to get you to spend money by turning wants into needs.
Wanting to Fit In. You want what other people have in order to be like them or to fit in with a group. So you spend money you don't have to be part of the crowd.
Lack of Control. Some people just don't know how to control themselves well. They don't know how to say "no" when it comes to spending. So they spend on whatever they want, whenever they want it, which results in a lot of debt and the consequences that come along with it.
Lack of Education. Some people think that having debt is just as normal as breathing. Some even think it's good to have debt so they can maintain a good credit score or get tax breaks. Those numbers just don't add up.
Here's the deal: when you have debt, you are wasting hundreds, even thousands of dollars a year in interest and fees.
In the long run you are poorer because of it. You could use that wasted money for other things that create much more value in your life than helping to keep a finance company or credit card company in business.
Being In Debt Stresses You Out
When you have debt, you also have more stress and worry in your life.
You worry about making the payments. You need to make more money to meet your obligations. You're having trouble saving for the future because your present debt is eating you alive.
Life is stressful enough without having to worry about debt and the emotional unrest it brings to your life.
If you can't sleep at night and have that constant gnawing in the pit of your stomach because of stress, it's very likely that at least some of that stress is being caused by debt if you sit down and take an honest look at your situation.
Don't let debt rob you of your present, your future, or your peace of mind.
It's just not worth it!
Debt Freedom Is Achievable
I've been out of debt (except for my house) for 7 years now. I can honestly tell you beyond a shadow of a doubt that debt freedom is achievable, and that life is exponentially better without that bondage tying you down.
Debt is called "bondage" for a reason.
I can help you do that same thing I've done to get out of debt and stay debt free for life.
It's not an extraordinarily complicated process, but it does take time and dedication.
– cross walk
When I graduated from college, I felt overwhelmed with questions.
"What am I going to do for work?"
"Where am I going to live?"
"How am I going to pay rent, all the bills, and somehow also pay off my college degree that isn't exactly flinging open the bank vault for me right now?"
Then the real kicker question — "Where do I even start? What are the questions I should be asking?"
That final question was the real punch in the gut, making me feel more nauseous than the three pieces of graduation cake I consumed with the green icing that had encouraged me to "Catch the wind in my sails," right before it was journeying down into my stomach.
I'd spent four years and thousands of dollars preparing for this moment, and yet as I climbed all those steps and flung open to the doors to the rest of my life, I didn't even know where to start.
I quickly realized I wasn't alone.
The statistics about twentysomethings right now are pretty startling; with around 25-30 million twentysomethings living back at home with their parents, the highest percentage ever recorded in the United States. (US Census Bureau) Plus, Millennials are earning less in their twenties than any generation before, and 88 percent of minimum-wage workers are 20 years or older, with 4 in 10 of those workers college graduates. (Pew Research and NPR)
So for the last decade I've dedicated my life, through my website allgroanup.com, publishing three books, and adding onto my tab with a Masters degree, to figuring out what questions we should be asking as we graduate college and journey through our twenties.
5 Purposeful Questions Every Graduate Needs to Ask:
1. What's the best way to break-up with myself?
Life transitions, in general, are much more difficult than we give them credit for. Just like breaking up with someone you thought was "The One", when you graduate college you're breaking up with many different things at once — a place, a time, a season of life, friends you thought you'd have forever, and in a way, you're breaking up with a version of yourself.
Yet, there's something of strange significance that happens to us when we're stripped of everything we used to depend on.
Maybe transitions aren't something to fly through, but something to marinate in.
Don't just make it through a transition—make the transition matter.
Transitions are not simply a bridge to the next important season of your life. Transitions are the most important seasons of your life.
You learn the most when you're the most uncomfortable. Your senses are the most alive when you feel the most lost. As I write in my new book 101 Questions You Need to Ask in Your Twenties,"your twenties aren't about them going as you planned. But how you adapt, change, and grow when they don't."
2. If I'm going to pursue a big dream, am I willing to drive a 1993 Honda Civic Hatch back with no power steering, no air conditioning, and no right mirror for 15 years?
Pursuing something bigger than yourself will cost you something.
Thus, why I posed this question in Honda Civic Hatchback terms because I've been driving it since I was a senior in high school. And let me just admit that I'm just a few years north of high school graduation. And that Honda is currently running north of 240,000 miles!
So if you're going to pursue a big dream, what are you willing to sacrifice? What are you willing to give up, and what are you going to cling tight to?
If you're going to dream big, are you also going to be faithful in the small?
In your career, your relationships, your life—what's going to be your Honda Civic Hatchback? Functional, yet not exactly something you're pulling up to valet parking.
3. How do I stop networking and start "relationshipping"?
Networking events feel like going to prom all over again, except you didn't even come with a date this time. And you might be feeling even more self-conscious than you did at seventeen. (I didn't believe this was possible either!)
Yet, there's nothing more important to invest in after college than your relationships. But let's stop networking to make it happen. Let's start relationshipping instead.
Let's stop networking like a machine and start "relationshipping" like a person.
Some of the ways I define "relationshipping" is building relationships when you don't "need" them. Meeting another person and being more focused on asking them good questions than you giving profound answers. Checking in on people and giving real, meaningful, compliments.
Basically, networking often feels like asking, "what can these people do for me?" Instead, relationshipping asks, "What can I do for them?"
4. Where's the future of work headed, and what does having a successful career look like today?
A successful career path looks much different today than it did in the past. The days of climbing the corporate ladder to get to the top is now filled with broken rungs. I created a full diagram in 101 Questions You Need to Ask in Your Twenties of what a successful career path looks like now — a strategic journey from island to island, picking up specific resources and skills along the way.
If you're not changing your expectations of what today's new career path looks like, then you might end up stranded on an island you never wanted to be on.
5. How do I make a choice when I don't know what to choose?
Graduates today more than ever are overwhelmed with information. With research. With a million different sources, reviews, and searches we could do to find the perfect answer.
Yet, there is no perfect choice. No perfect path. Sometimes the most perfect path is the imperfect one that you're willing to walk down.
So if you're not sure what to do with the rest of your life, that's normal. You're not really supposed to. So instead of figuring out the rest of your life, let's just focus on what you need to do tomorrow.
As Oprah once stated as her key advice for young people to ask themselves, "What's my next right move?"
Make a choice that you're going to make a choice.
Find your "I'm 77% sure" and give it a try. You won't know how it's all going to work out until you start doing the work.
Don't worry about everyone's "success" on social media. There's an ugly side to every amazing picture they're posting. Don't let, what I call, Obsessive "Comparison" Disorder take over. Focus on writing your own story instead of trying to live someone else's.
Climbing through your twenties can feel like being a pug trying to scale a mountain. It's loud, ungraceful, and it feels like all eyes are on your slow climb.
But one tiny step after another, you'll make it to the view you forgot you were climbing for. To everyone's disbelief, including your own. I promise.
– cross walk
Spring is in the air.
The birds are chirping, the flowers are blooming, and the temperatures are warming. Who doesn't love this time of year? Not only does spring remind us of the beauty of the outdoors, but it also reminds us to get our homes organized—in other words, to do a little spring cleaning.
This year, though, while you are cleaning out the garage, shampooing carpet, and organizing closets, we suggest that you do a little spring cleaning in another area of your life—your money. Regardless of where you are on your journey to financial peace, you've got to stay organized to win with money.
Centuries ago, Solomon said, "Be diligent to know the state of your flocks, and attend to your herds" (Proverbs 27:23). In other words, it's important to know where things stand—and that takes organization. After all, if you don't know where your stuff is, how in the world can you use it most effectively?
So what exactly does a financial spring cleaning look like? We have some suggestions:
Clean out file drawers
Do you really still need that cable bill from August 1999? Seriously? You need to keep old bills, bank statements, tax documents and other important papers for varying lengths of time. But utility bills, sales receipts for minor purchases, and ATM and bank deposit slips can be shredded after a few months.
Organize all of your financial files into one easily accessible place. Then determine what to shred and what to save. You'll be amazed at how much you've been holding on to.
Prune unnecessary expenses
Are you really getting your money's worth with that gym membership? Do you really need 250 cable channels? Is it necessary to have a landline and a cell phone? While you're organizing your file drawer this spring, take an in-depth look at your finances and see where you can cut back costs. This is especially important—and should be a top priority—if you are still working your way out of debt.
Update important documents
When was the last time you checked your car insurance? Your home insurance? Tax withholdings? Your will, 401(k) or Roth IRA? If it's been awhile, then now is the time to make sure you have all the coverages and investments you need. What made sense two years ago might not work for you today. In the middle of all this spring cleaning, make sure you are protecting yourself, your family and your future!
You may not have flocks and herds, but God has given you some incredible financial and material blessings to manage. Don't fall behind by letting them fall into a disorganized mess.
Spring is a great time to get re-energized and refocused on your financial situation before summer arrives with all its distractions. The small amount of time you spend now getting your financial house in order will pay off for you in the long run.
How will you apply these tips to your life?
– cross walk
Recently, I read an article about a growing trend among mothers: they regret ever having children. It's not that these mothers are sad or overwhelmed from time to time because of the commitment it takes to raise children, nor are they simply fearful because of the responsibility. No, these particular mothers mourn having their already birthed children. They feel trapped. They hate it with everything within them. Their children aren't seen only as a burden and interruption from life, their children are a mistake. Most of us, thankfully, aren't where these mothers are, I'd imagine for many of us we fall somewhere in between worshipping our children and thinking they are the center of our lives and desiring more free time and rest for ourselves. We can empathize with the women in the article in regards to those moments of feeling overwhelmed, but most of us aren't likely mourning our children. But, what if I said that our children are for our joy? Could we accept that? Do we believe that?
I remember a time I dropped my son off at his school and yelled my usual through the rolled down window, "I love you. Make good choices. Obey your teacher." As I began to roll up the window and drive away, my little first grader took his small hand to his mouth and blew me a kiss.
It was like everything stopped at that moment.
I realized how quickly this season would pass. Would he blow me a kiss when he's 16 years old? I don't know. I blew him a kiss back and he waved to me, mouthing the words "Bye, Mom." I was overwhelmed. I wished I could freeze that point in time.
Sweet Ragamuffins
I like to call my children sweet ragamuffins. Motherhood is challenging. My kids don't obey me every time I ask them to do something. They are rambunctious, loud, and messy. And they are also sweet. They are gifts. Like many moms, I wouldn't trade motherhood for anything. What I think we can so often forget, though, is that motherhood isn't a task to be checked off like the laundry. It is a calling.
Maybe the word "calling" makes you want to run and hide. For many, "calling" can sound as if motherhood is your only identity, that it's all encompassing and you will never get a break from your endless responsibilities. This is not true. You are likely called to be a wife and church member and friend as well (and the list could go on). So motherhood is not your only identity; it is, however, a part of your identity. And there is a weight to that. Mothers are more than just mothers, but we are never less. God's word instructs us to train up our children in the way they should go (Proverbs 22:6). I can't think of a greater challenge given to us as parents. As one who is in the throes of raising and teaching young children, I am regularly reminded of my desperate need for Jesus.
Gifts to Enjoy
But I don't think remembering the responsibility that we have to train our children is the best way we embrace and savor the short days we have with them. Remember that, "every good and every perfect gift is from above, coming down from the Father of lights…" (James 1:17). Our children are not tasks to complete, but gifts to enjoy. And we enjoy them by remembering that they are truly gifts from God. Yes, even when they stand in the hall refusing to put away their socks, or when they throw their cereal on the floor, or when they make it almost impossible to complete a trip to the grocery store. Those are trials mothers and fathers face weekly and yes, even these things are gifts.
Paul, instructing Timothy to challenge the rich to put their hope in God instead of their wealth, reminds us that it is God who provides all things for our enjoyment (1 Timothy 6:17). Our children aren't meant to be checked off a list, they are to be delighted in. And as with every gift we receive and enjoy, we must be careful not to idolize our children. Only God should be worshipped. But what if we began to think of our kids as true gifts from God aimed at our enjoyment? Both in enjoyment of our kids and in God at work through them.
A Call to Treasure
It might seem like a funny connection, but I think of how much I enjoy looking at colorful birds at the zoo. They are exotic creatures, each with their unique beaks and a beautiful mosaic of feathers. The birds are a wonder of God's creation, and he cares for them. But not more than he cares for us: "Look at the birds of the air: they neither sow nor gather into barns, and yet your heavenly Father feeds them. Are you not of more value than they?" (Matthew 6:26).
In a similar way, I can think of many things I enjoy, but I value my kids more. I love looking into my kids' precious eyes. I want to get into the world of their God-given personalities and take in their laughs and answer their questions. I want to enjoy them.
Maybe that's precisely what the main thing of this parenting calling is all about. Maybe it's not as much a call to train your kids as it is a call to train and treasure them.
Our children won't be our little children forever. So, let's enjoy and savor these days that God has given us. Our kids are his gifts to us, glimmers of his goodness, which leads us to say with C.S. Lewis, "What must be the quality of that Being whose far-off and momentary sparkles are like this!"
– cross walk