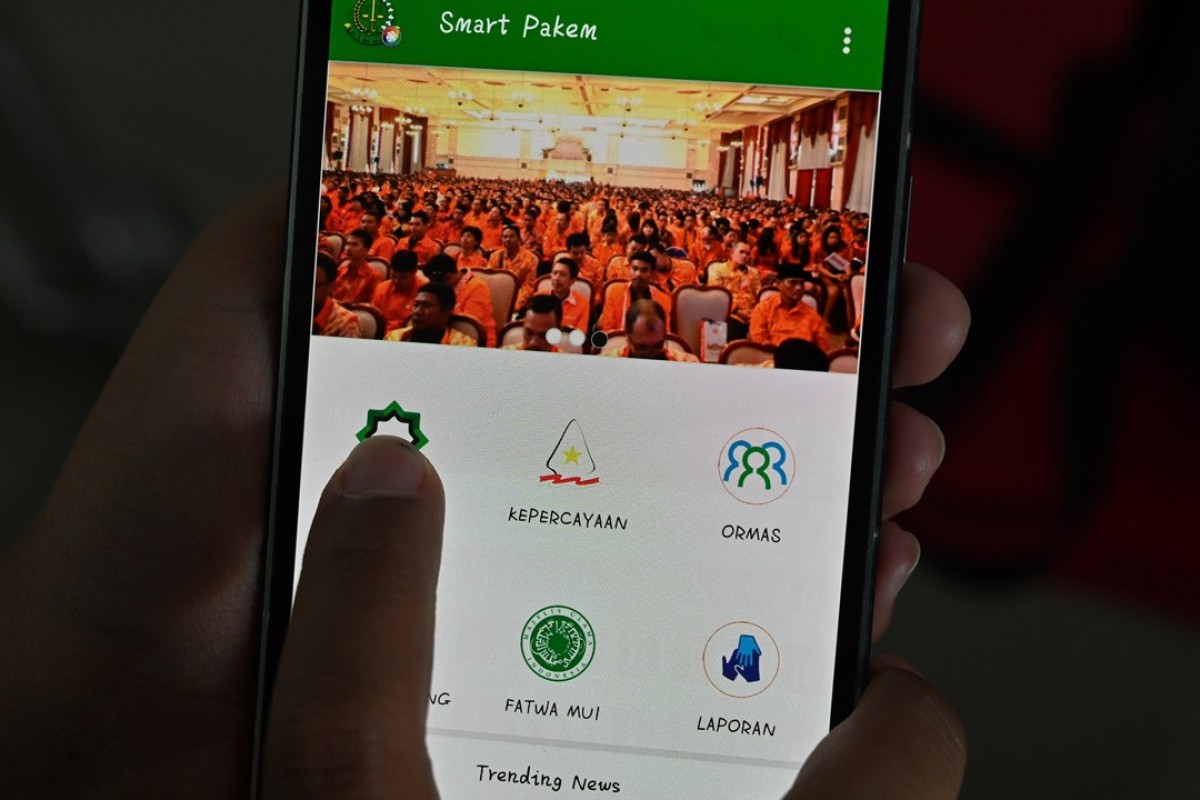 Indonesia, December 6, 2018: Misguided or "heretical" beliefs can be reported instantly in a new mobile phone app, "Smart Pakam", created by the Indonesia government.
The App is described as a tool to educate Muslims on misguided beliefs and enable them to instantly report possible violations. Users are encouraged to report beliefs ambiguously described as "harmful," and can upload photos as evidence.
The app was created by the government body Bakor Pakem – The Coordinating Board for Monitoring Mystical Beliefs in Society – a powerful influence in the Indonesian legal system. According to Human Rights Watch, 100 per cent of those reported to the body have been convicted of "blasphemy", "defamation" or other charges.
The country's minority faith communities, particularly Christians and Ahmadiyyah Muslims have raised concerns that the app could violate religious freedoms and cause profound divisions in society.
­Amiruddin Al-Rahab, a commissioner at Indonesia's National Commission on Human Rights commented in local news sources, "It is contradictory to the government's desire to create a culture of mutual respect and tolerance, which is why I have asked the government and the attorney general to take it down."
Mr ­Al-Rahab warned of serious potential consequences including social disintegration, persecution, violence and discrimination.
Christians make up at least 15 per cent of the population of Indonesia. Until a generation ago, Muslims and Christians lived peaceably as equals, but since the 1980s the role of Islam in public life has dramatically increased. The Christian former governor of Jakarta, "Ahok" Tjahaha Purnama, was sentenced to two years in jail for blasphemy following accusations by Islamists in 2016.
– global christian news
New Delhi, December 9, 2018: Mohammad Shafiq, 55, remembers hurriedly packing his bags on Nov. 26 and dragging his children from their home in Ayodhya town in India's Uttar Pradesh as they sought safe refuge while fearing for their lives.
Trouble was brewing in his hometown as the days fast approached the 26-year anniversary on Dec. 6 of the demolition of a mosque there by Hindu hardliners, sparking Hindu-Muslim riots.
Expecting a repeat of the violence seen after the demolition, Shafiq and his wife and three children raced away in a rickshaw bound for the nearest interstate bus station as they began making their way to West Bengal state.
He said he plans to "stay away for at least a month" fearing more riots as thousands of Hindus began to converge there on Nov. 25 reviving their demand the government build a Hindu temple on the controversial site. Hundreds of Muslims have already moved out of the town.
In the end, Dec. 6 passed peacefully. But Muslims in Ayodhya say they still feel unsafe as communal tensions between them and the thousands of Hindus who live there remain precarious.
The tearing down of the mosque triggered month-long riots across India that claimed an estimated 1,000 lives, driving a wedge between communities and instilling a strong sense of fear among Muslims, as Shafiq can attest.
Its demolition capped a nationwide campaign by the pro-Hindu Bharatiya Janata Party (BJP), which claimed the mosque had been built in the 15th century by the Muslim invader Babur after he had ordered the destruction of a Hindu temple in the same spot.
Hindus consider Ayodhya the birthplace of their lord Ram. Scholars are still debating which century this took place in.
The BJP's campaign presented the mosque as an affront to Hindu pride and exhorted the party's followers to regain their "lost honor" by reversing this historical wrong and slight to their religion by resurrecting the former temple.
In the ensuing riots, Shafiq's brother and several relatives and friends were killed.
For the BJP, the campaign was a resounding success as it propelled the party to political prominence and finally helped it rise to power in New Delhi.
However, the new temple has still not been built as litigation drags on over who owns the land.
Shafiq believes the BJP used the temple issue as "a live wire to electrify" the Hindu masses and attract more votes at the expense of Muslims like himself.
As India faces national elections in May 2019, Hindu groups have begun to revive their calls for the temple to be established.
But many Muslims, who make up just 6 percent of Ayodhya's population of 55,000, have already fled in search of safer abodes elsewhere until things cool down.
No one knows exactly how many have upped and left as they do not report their departure to the police.
"We have nothing to tell you except that we are moving to Kolkata, where my sister lives. We hope a state of normalcy returns soon so that we can go home. If not, we may never go back," said Shafiq, an electrician by trade.
Idrees Hussain, a university student in Ayodhya, recalls the terror that struck the heart of the community when the riots broke out. At the time, Idrees was just 5 years old.
He remembers seeing angry mobs of Muslims attack Hindu homes and bludgeon people to death as both sides went on the rampage.
"When these large mobs gather, anything can happen," he said. "Rumors of a Muslim attack can easily trigger clashes. And we don't want to die for no reason. It would be insane to live here any longer. Better to stay away until the issue gets resolved amicably and we can restart our loves afresh."
Fatima Bano, 43, remains haunted by the violence, death and pillaging that tore through the town when the mosque was demolished.
"I haven't seen this level of suffering that we Muslims face anywhere else in the world, even on TV," she said.
"Our family spent days without food and water locked down inside our houses. I lost my uncle in the riots but no one has ever been arrested for his murder," she told ucanews.com, adding that she is taking her two sons and moving to stay with some relatives in New Delhi as tensions resurface.
"We won't come back here until this mess gets sorted out," she said.
Meanwhile, some Hindu organizations are asking Muslims not to leave and saying their fears are overblown.
Sharad Sharma serves as a spokesman for the Vishwa Hindu Parshad, or World Hindu Council, which is spearheading the calls to rebuild the temple honoring Rama. He said Muslims have nothing to fear.
He even invited local Muslims to move to Hindu temples temporarily if they feel unsafe in their own homes.
The crowds are not angry mobs but "just a congregation" of Hindus who have assembled to "discuss the construction of the temple. Muslims have no reason to feel scared," Sharma said.
– ucan
Uttar Pradesh, December 5, 2018: Over 150 mobsters broke into a private Christian worship service in Kanpur, located in India's state of Uttar Pradesh, persecution watchdog International Christian Concern reported (ICC).
On December 2, the protestors forced themselves into the private hall, threatening Christian worshippers and disrupting Pastor A. B. Singh's morning service.
Pastor Singh's wife was brutally beaten by members of the mob, after she tried to protect her husband and other women in the church who were being attacked.
The mob then chased all the Christians from the service, warning Pastor Singh to stop leading Christian worship services in Kanpur.
Police were called to the scene, but according to ICC, no action has been taken so far.
Pastor Vijay Gupta, a Christian leader from Kanpur, told ICC: "The attacks on places of worship have picked up in the last two to three months in the Kanpur region.
"What we hear in the news is the tip of the ice-berg. Pastors and evangelists are constantly being harassed and [threatened]."
Pastor Sam P. Jacob, also from Kanpur, told ICC: "We had to completely shut down our Christmas programs and activities due to the prevalence of anti-Christian sentiments.
"Christians are terrified over the situation. We are not sure if we are even going to conduct a Christmas service on Christmas day."
The India state of Uttar Pradesh has witnessed a major crackdown against Christianity in recent months.
Earlier in September this year, 10 Christian pastors in Uttar Pradesh in India were arrested for holding a Sunday service.
Police reportedly stormed the church in Karibayar and arrested the Pastor Bahavan Ram, a United Nations religion watchdog Christian Solidarity Worldwide (CSW) reported.
Mervyn Thomas, chief executive of CSW, told International Christian Concern (ICC): "Recent events in Uttar Pradesh are deeply worrying and indicative of a concerning increase in religious intolerance in India.
"The arbitrary arrests by the police go against the rule of law and we call on the government of India to ensure the release of all pastors currently held in detention, and to work to protect the right to freedom of religion of belief for all Indians, as guaranteed by the Constitution of India and the International Covenant on Civil and Political Rights, to which India is a party."
– express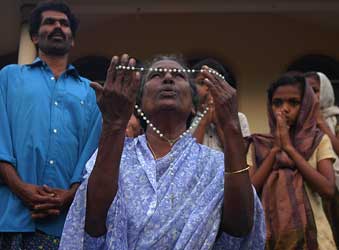 India, December 6, 2018: Beating their drums, some 200 socially poor Dalit people marched through the streets of Indian capital New Delhi on Dec. 4 in a novel form of protest to demand that they be given social benefits denied to them because of their Christian faith.
Participants in the "the drum, dance, demonstration" played their drums near parliament to demand that the government withdraw a 1950 presidential order that said only Dalits of Hindu religion should be given social security benefits meant for Dalit people's advancement.
"Government comes and goes, and we get only false promises. Several protest rallies and marches in the past were useless. Now we play our drums to wake up the sleeping government," said Father A. Arputharaj, a protest organizer from Pondicherry and Cuddalore Archdiocese in Tamil Nadu.
The Indian constitution has special provisions to assist Dalit people's educational and social advancement with financial aid and reserved seats in jobs and educational institutions. But Dalit Christians and Muslims are denied these rights on grounds that their religions are caste-free.
The 1950 order was twice amended to include Dalit people of Sikh and Buddhist religions for these benefits. "But Dalit Christians and Muslims continue to suffer because of discrimination based on religion," Father Arputharaj said. "The government refuses to hear us, so we chose a louder medium to make them hear us."
An estimated 30 percent of India's 28 million Christians come from Dalit backgrounds but they speak different languages as they are scattered across India.
"We are united and will fight until we get our rights. It is the best time to raise our voices as the general elections are due next year and the winter session of parliament is scheduled to start on Dec. 11," said Father Arputharaj.
The protest was organized by the Dalit Christian Artists Coordination Committee from Tamil Nadu in collaboration with the Catholic Bishops' Conference of India.
A case challenging the constitutional validity of the 1950 order has been pending in the Supreme Court of India since 2004.
Dalit leaders say different government commissions that studied the issue have recommended enlisting Dalit Christians and Muslims for statutory benefits.
Some Christian leaders like A.C. Michael have told ucanews.com that governments fear that allowing reservations for Dalit Christians and Muslims will make them unpopular as the move would reduce the share of majority Hindus.
Pro-Hindu groups are opposed to allowing benefits to Dalit Christians as it might encourage Hindu Dalits to become Christians. Many suspect what blocks Dalit people from becoming Christians is the fear of losing the benefits, Michael said.
Dalits, or the former untouchables, are the lowest caste within Hindu society. Although large numbers of Dalits have converted to Christianity and Islam to escape the rigid caste system, social prejudice against them continues in their new religions too, Father Arputharaj said.
"They are doubly oppressed now. They continue to suffer social neglect and government neglect," said Father Z. Devasagaya Raj, secretary of the Indian bishops' Office for Dalits and Indigenous People.
"We are also trying to contact regional political parties to put our demand in their election manifestos."
– ucan
New Delhi, December 4, 2018: The Shiv Sena has advocated a compulsory family planning program for Muslims to ensure stability in the country and maintain national security.
In an editorial in its mouthpiece Saamana on Dec. 4, the party linked a rise in Muslim population to "unrest in the country and challenges to national security".
The editorial cited a Border Security Force report to the Union Home Ministry that allegedly expresses concerns about an unexpected rise in Muslim population along the border with Pakistan in Rajasthan's Jaisalmer.
"The population of Indian Muslims is burgeoning at the speed of the bullet train, and enforcing family planning [on them] is the only solution," the Bharatiya Janata Party ally claimed.
The Saamana editorial also dismissed the stance of "some Hindutva groups" that want Hindus to abandon the "Ham do hamare do [two-child]" policy to counter the alleged increase in Muslim population.
The Shiv Sena's statement follows media reports about the paramilitary force's report that purportedly highlights "the presence of radical elements who are suspected to be luring local people to pass on information relating to military movements", The Telegraph quoted an unidentified official as saying.
The Shiv Sena claimed the Muslim population in Pokhran "is exploding" and criticized the BJP-led governments at the Center and state for failing to restrict the rise in number of Muslims. The Shiv Sena claimed that BJP-led states were no different from states such as Assam and West Bengal, where the community's numbers were significantly high allegedly because of the policies of the Congress, the Communist Party of India (Marxist) and the Trinamool Congress.
"The national president of the BJP keeps making speeches about how he will remove illegal citizens from India and drive out intruders, but what about the 'green invaders' at the border in Rajasthan?" the Shiv Sena asked.
– scroll
Tamil Nadu, December 4, 2018: A private children's home in Tamil Nadu was shut down by authorities and its directors and others were arrested for sexually abusing minor orphan girls.
According to reports, the Mercy Adaikalapuram Missionary Home in Tiruvannamalai housed 50 minor children, aged between 5 and 17. The director Luban Kumar, his wife Mercy Rani, and her brother Justin Manavalan were arrested and booked under POCSO act. The abuse came to light after Thiruvannamalai district collector received a tip-off that the house was being run illegally and the house was raided.
The director's family resided in the same building where the children's home was operating. The victim girls said that Luban used to call them to his room late in the night and sexually abuse them. He threatened the girls not to complain about the same with anyone. When the girls complained about the abuse to Luban's wife, her brother Justin came to their room and repeatedly thrashed them until they promised that they will not tell it to anyone else.
The district collector said that the children were targeted because they had nowhere to go or complain. He also said that the children's home lacked basic amenities, the girls had no privacy. The bathrooms in the home had no doors, and the girls had to change in one common hall. In addition to this, they were supervised by a male security guard.
When the children in the home were shifted to a government-run children's home, three of the girls told the warden that they wanted to talk with the collector privately. That is when the girls narrated their story of sexual abuse and intimidation they faced. They told him that the bathroom stalls originally had doors but Luban had removed them on purpose. His room was attached to the bathroom and he used to see the girls showering through a window.
They also said that the director has installed a CCTV camera in the hall where they were forced to change and he would watch them on the screen in his room. Moreover, the girls were forced to go to his room to give him a massage, where he sexually abused them.
The girls were also made to household chores for the Luban's family, including scrubbing toilets, cooking and cleaning.
Luban Kumar is a retired teacher who used to teach in Danish Mission Higher Secondary School in Tiruvannamalai. He is also the finance coordinator of Arcot Lutheran Church and the founder of Jeeva Thaneer Ministry.
The accused persons have been arrested by the local police, and the private children's home was sealed by authorities.
– op india
Pakistan, December 3, 2018: A group of advocates for religious freedom have formed a commission for the protection of minorities' rights in Pakistan, amid growing fears of intolerance toward religious minorities in the majority-Muslim country.
Local media reported that the new commission is comprised of professionals in human rights, law, and academics from various religious communities. Its aim is to encourage federal and provincial governments to honor constitutional religious freedom rights.
The Pakistani constitution establishes Islam as the state religion, but includes articles to protect the rights of freedom of religion and religious education. It also prohibits discrimination based on religion in relation to access to public places and provision of public services.
Despite this, "the government of Pakistan has not addressed the spread of sectarian or religiously motivated intolerant speech and has not prosecuted perpetrators of violent crimes against religious minorities," according to the U.S. Commission on International Religious Freedom.
Human rights activist Ibn Abdur Rehman, patron-in-chief of the new commission, said the body will be committed "to upholding rights of those people treated or declared as the minorities," but that it would be "all-inclusive in pursuing equality" in terms of religious freedom.
Chairman of the new body Peter Jacob told local media that with "rising intolerance in society, there was an urgent need of such a commission to protect minorities' rights." He said the Pakistani Supreme Court ordered the creation of a National Council for Minorities in June 2014, but successive governments had ignored this order.
In July, Pakistan elected Imran Kahn as it new president, a politician who has publicly supported laws imposing strict penalties for blasphemy against Islam – including desecrating a Quran or insulting Muhammad. Penalties for insulting Islam's chief prophet include fines, prison, and even the death penalty.
As CNA has previously reported, accusations of blasphemy are disproportionately leveled against religious minorities, and the laws are seen as a vehicle for religious intolerance or persecution. While Pakistan is 97 percent Muslim, 14 percent of blasphemy cases are brought against non-Muslims.
While no one has been formally executed for the crime in Pakistan, mob violence and killings have accompanied public accusations of blasphemy. This includes Servant of God Shahbaz Bhatti, a Catholic politician from Pakistan who was killed by the Taliban in 2011.
Bhatti, who served as Pakistan's Federal Minister for Minorities Affairs from 2008 until his death, was at the time the only Christian member of Pakistan's cabinet, and said he had dedicated his life to the "struggle for human equality, social justice, religious freedom, and to uplift and empower the religious minorities' communities," and that he accepted the post for the sake of the "oppressed, down-trodden and marginalized."
Bhatti had begun to receive death threats in 2009, but they increased in 2010, after he showed support for Asia Bibi, a Pakistani Christian woman who was sentenced to death for blasphemy in 2010, and who remained on death row until her acquittal by Pakistan's Supreme Court in October 2018.
– cna
India, December 03, 2018: In 2011, the Gujarat High Court decided a case which reveals interesting insights into the nature of the secular state in India. In May 2010, the Gujarat High Court held a Hindu ritual, a bhoomi pujan, at a ceremony for laying the foundation stone of its new building. Rajesh Solanki filed a public interest case and argued that the use of Hindu pandits to chant Sanskrit slokas at the event suggested that the State had identified itself with Hinduism, which conflicted with the idea of secularism embedded in our Constitution.
While dismissing the Rajesh Himmatlal Solanki v. Union of India case, the court held that "[s]ecularism…is not [the] antithesis of religious devoutness", and that since the prayer ceremony was "noble" and meant to benefit everyone who used the court's building regardless of their religion, it was secular. The court's judgment is one example of how secularism in India has oddly been considered to be consistent with state endorsement of Hinduism.
Solanki challenged the foundation stone ceremony primarily on the grounds that the High Court, as part of the state, should not identify itself with any religion, in this case Hinduism. His lawyer argued that by doing so, the court had created an "adverse feeling" among those who were not Hindus and had "shake[n] [their] confidence" in the secular character of the state.
Speaking for the court, Justice Jayant Patel emphatically rejected these arguments. He began with the innocuous premise that a celebration for laying the foundation stone of a new building was a secular activity. However, he went further and held that offering a Hindu prayer to the earth at that ceremony would be secular too since it was moved by a "noble desire to achieve [the] successful construction of [the] new building".
Going further still, the court called Solanki's argument, that other religious groups would feel hurt by the foundation ceremony, a "pervert view" of the matter. Oddly, the court also found that offering prayers at a foundation stone ceremony was not an "essential and integral part of a particular religion".
The court then imposed costs on the petitioner because it found that the petition had been filed at the instance of an organisation which was not impleaded in the case.
Benign Intent, Implicit Endorsement
The court's reasoning is problematic. Justice Patel found that a Hindu prayer at the foundation ceremony was secular because it was meant for the greater good – the prayer was offered to ensure the successful construction of a public building that would be used by Hindus and non-Hindus.
However, what about those who did not believe in the power of those prayers?
Though the intent behind the prayers might have been harmless, the High Court lost sight of the fact that in offering only Hindu prayers, it had publicly identified itself with Hinduism to the exclusion of other religions.
After all, equally well-meaning prayers could have been offered by Christian, Muslim, Sikh, Jain or Buddhist priests – all of which are major religions in India. Even so, this would still have offended atheists, who are also entitled to their belief system under our Constitution.
No State Religion, But…
In the U.S., the first amendment to the Constitution contains the famous "establishment clause", which says that there can be no official state religion.
There, in the case of Lemon v. Kurtzman (1971), the Supreme Court laid down a three-pronged test—popularly referred to as the 'Lemon Test'—and held that an activity is secular when:
It pursues a secular purpose;
Its effect does not advance or inhibit religion; and
It does not foster an excessive government entanglement with religion.
However, despite the establishment clause, in Marsh v. Chambers (1983), the U.S. Supreme Court upheld the Nebraska state legislature's practice of starting each day with a prayer conducted by a Presbyterian minister paid by the government. Chief Justice Burger held that such practices were "deeply embedded in the history and tradition" of the U.S., that even in American courtrooms, proceedings commence with the announcement, "God save the United States and this Honorable Court."
However, in another case, McCreary County v. ACLU (2005), the U.S. Supreme Court held that a public display of the ten commandments in a courthouse violated the establishment clause.
Laws That Favour Hindus
Article 48 of the Constitution calls upon the state to prevent the slaughter of cows. Though this provision was ostensibly enacted because of the usefulness of the cow to India's agrarian economy, the Supreme Court upheld a ban on cow slaughter enacted in some states by taking into account the fact that "Hindus in general hold the cow in great reverence and the idea of the slaughter of cows for food is repugnant to their notions" [Mohd. Hanif Quareshi v. State of Bihar (1958)].
Despite the fact that our Constitution confers a right to "propagate" religion, statutes enacted in several states, which make it difficult for preachers to proselytise and convert Hindus to religions like Christianity, have been upheld on the grounds that propagating religion does not include conversion.
Enacted in 1955-56, the Hindu Code contains provisions which disincentivise Hindu conversion to other religions.
For instance, a Hindu's conversion to another religion furnishes a ground for divorce.
Children born after a Hindu converts to another religion cannot inherit the property of their Hindu family members unless they convert to Hinduism.
Of course, secularism itself is a term which has no fixed meaning. It could be argued that despite all of the above, India is still secular, especially when it is compared to countries like Pakistan where blasphemy attracts the death penalty and public officials are required to satisfy religious tests for assuming office. Under Pakistan's Constitution, the President has to solemnly swear that he is a Muslim.
However, in upholding a Hindu religious ceremony performed at an official event, the Gujarat High Court's judgment contributes to the tacit state endorsement of Hinduism in India's secular state.
– bloomberg quint
Bulandshahr, December 3, 2018: A police officer and a civilian were killed in violence that rocked Bulandshahr district in Uttar Pradesh on Monday after Hindu activists went berserk alleging that a cow had been slaughtered, police said.
A Special Investigation Team (SIT) has been constituted to probe the matter and submit a report to the Uttar Pradesh government at the earliest, an official spokesman said.
Additional Director General of Police Anand Kumar said the station house officer of Syana, Subodh Kumar Singh, was attacked and injured critically as Hindu activists brought the alleged carcass of the cow on to the road, jammed traffic and stoned police personnel.
The police officer and some constables were rushed to a medical facility where he was declared dead, District Magistrate Anuj Jha said.
In the police firing that followed, a youth, Sumit Anand, was shot. He succumbed to the gunshot wounds in a hospital.
Senior police officials have reached the crime scene to ensure that the tension abates.
– ians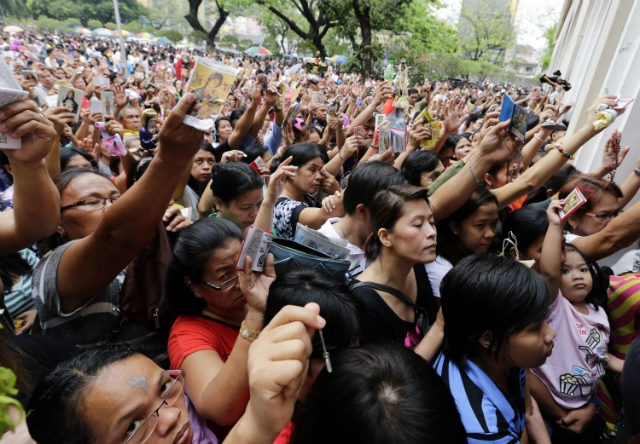 Manila, December 2, 2018: Philippine authorities have filed charges of kidnapping and human trafficking against 19 people, including four Protestant pastors, a congresswoman and a former legislator, for trying to rescue tribal children who were fleeing from a village that has been a target of military operations.
Among those accused of "transporting minors without parental permission" were pastors Edgar Ugal, Ryan Magpayo,and Jurie Jaime, of the United Church of Christ in the Philippines, and Eller Ordeza of the United Methodist Church.
Charges were also filed on Nov. 30 against Congresswoman France Castro of the ACT Teachers Party and former Congress member Saturnino Ocampo, both of whom were part of a "national solidarity mission" that aimed to investigate alleged military harassment of a tribal school.
The accused, who were all booked at Davao Police Regional Office in the southern city of Davao, were arrested on Nov. 29 after allegedly transporting 14 minors from the town of Talaingod in Davao del Norte province.
Reports reaching ucanews.com in Manila said the solidarity mission was stopped at a roadblock by men believed to be members of a paramilitary group known as Alamara that has been linked to attacks on tribal communities in the province.
Jeffrey Lozano, a Redemptorist missionary who was with those arrested, said the solidarity mission "only acted to rescue" tribal students and teachers who were forced to flee after members of the paramilitary group tried to close a tribal school.
"We came to aid the children and teachers who walked for five hours in heavy rain because the military attacked their school and tried to lock it down," Lozano told ucanews.
Police reports indicated that the group on board five vehicles were transporting the children to Compostela Valley province "without authority to do so."
Police added that the "successful rescue of 14 minors" was a result of its "continuous effort to implement" the anti-trafficking in persons law.
The minors were later placed under the custody of the local social welfare department while awaiting to be claimed by their parents.
The United Church of Christ condemned the "illegal arrest and trumped-up cases" filed against the pastors and other individuals "who were answering an emergency situation."
"This is very alarming and a call to all Christian churches to act," said Michael Salem, program coordinator of the church in Mindanao.
He said the church leadership is already conducting consultations "to determine the proper legal actions that we should take."
Human rights group Karapatan called on the government to immediately release all those arrested and drop the "trumped-up charges" against them.
In a statement, the group accused the government of using its "seeming endless arsenal of dirty tricks" against rights defenders and poor communities.
– ucan