Christian Forum Urges Australian Diplomats to Withdraw Ganesha & other Religious Figures advt.
Lamb ad insensitive and disrespectful, say Hindus and Anglicans: https://www.theguardian.com/media/2017/sep/06/lamb-ad-insensitive-and-disrespectful-say-hindus-and-anglicans#img-1
CSF Memo for Urgent Action Required on Offensive Meat and Livestock Australia (MLA) Advertisement
A Diplomatic Row – CSF Writes to External Affairs Minister, Sushma Swaraj for Intervention
CSF Call for Boycott of Australian Meat & Potential Implications for Tourism & Trade
CSF for Australian Diplomats to Get the Meat Ad Withdrawn & an Apology
Catholic Forum Protests Religiously Offensive Australian Advertisement
Its Not About Eating meat – Its About Being Insensitive to Sell Meat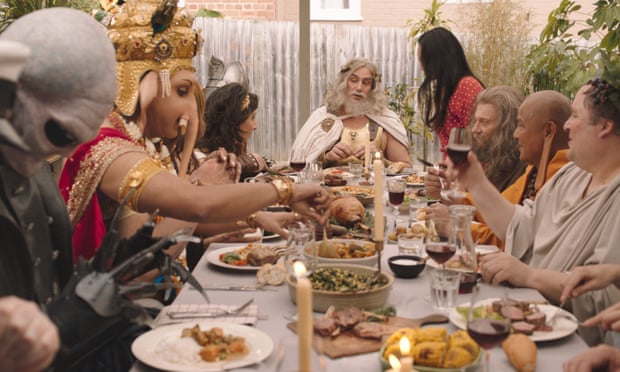 The Catholic Secular Forum (CSF) has taken strong exception to the Meat and Livestock Australia (MLA) advertisement featuring Lord Ganesha, Buddha, Jesus, Scientology founder L. Ron Hubbard, Thor, Zeus and other religious figures and complained to the Australian Ambassador in India and the Consul General in Mumbai about it. According the Joseph Dias, the CSF founder and general secretary, " the community NGO has always protested against commercial exploitation of religious figures for profit, irrespective of which religion the figures belong to. In this particular case, the MLA ad not only hurt the sentiments of different religious, but also atheists and agnostics, who may not be believers, but respect world religions.  According to our sources, MLA thrives in marketing its red meat products through controversial advertising. What hurts a Christian is that the caricature of Jesus Christ performs what he calls a "reverse miracle" by turning wine into water so a Grecian goddess who is a "designated driver" can safely drive home. It is also culturally insensitive to vegans and other vegetarian communities like Jains, Hindus or Buddhists, and factually incorrect, as Lord Ganesha is a vegetarian and meat is never offer or presented to him. "
Mr. Joseph Dias also criticized the oblique reference to the Islamic Prophet Mohammed, who though not pictured, comes in through a mobile phone call as excusing himself from the dinner because he has a child to pick up a child from daycare. The CSF has also called upon MLA Board Chairman Dr. Michele Allan and Managing Director Richard Norton to apologize and immediately withdraw the advertisement as it not only hurts religious sentiments, but is also racist / anti-Asian and is likely to hurt Australian tourism and business in India and elsewhere. Failing which the CSF would give a call to boycott Australian meat, as there are a number of alternatives in a competitive world market. The CSF also thanked the High Commission of India in Australia for taking up the issue as it made a "démarche" to the Department of Foreign Affairs and Trade, the Department of Communication and Arts and the Department of Agriculture over the "insensitive" ad.
For More Info:
Joseph Dias, MA (Economics) +91 9769555657
Founder & General Secretary, Catholic Secular Forum
Ex-Special Executive Magistrate, Govt of Maharashtra
Representations made to:
Smt. Sushma Swaraj
External Affairs Minister
Ms Harinder Sidhu.
Australia's High Commissioner
Mr.  MARTIN HUBER
Consu General in Mumbai
Dr. A. M. Gondane
High Commissioner Canberra
Dr. Michele Allan
MLA Board Chair
Richard Norton
MLA Managing Director
& Many Others