Christian park in China sparks outrage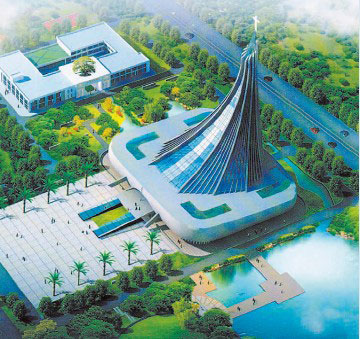 China, February 6, 2017: Chinese netizens have expressed outrage over a large Christian theme park allegedly sponsored by the local Changsha government, in central China's Hunan province, claiming that the government should not encourage religious practices in a secular country that separates religion and politics.
The park in Changsha Xingsha Ecological Park, which covers an area of 150,000 square metres, is the largest Christian theme park in central and south China, Global Times said citing a local TV station report.
A Christian Church and Bible institute were built in the park, Chen Zhi, president of the Christian Council of Hunan Province, was quoted as saying by the TV station. The church will begin operations in June 2017, said the report.
Dai Rihong, the representative of the ecological park's construction team, was quoted by Changsha Evening News as saying that the park was designed as a romantic wedding park for citizens to shoot wedding photos.
The Changsha government website said the Xingsha Ecological Park was a government-sponsored project, and was subcontracted to the Huashun Construction Project Management Co.
Neither the Church nor Huashun could be reached for comment.
A resident who lives nearby said that the park opened during the 2017 Spring Festival and welcomed some tourists, mostly families.
Meanwhile, netizens expressed their outrage over the Christian-themed park, especially after learning that the local government subsidized the project.
A user on Sina Weibo — China's Twitter — said the government should be alert to the penetration of religious ideas that contradict China's mainstream ideology, which might pose a threat to political security.
Another Weibo user named "Sanxiaren" said Hunan is the birthplace of Chairman Mao Zedong and a sacred place like this would never tolerate the overflowing of religion.
A report released during the 9th National Chinese Christian Congress in 2013 showed that more than 2.4 million Protestants in the Chinese mainland were baptized from 2007-12, with experts saying that more people are turning to religion for help and spiritual consolation.
The report also said that 5,195 churches were built or renovated from 2007-12.
However, cities such as Wenzhou and Hangzhou in east China's Zhejiang province have demolished Christian churches during the province's campaign to renovate the region.
– ians