Christian protest: 4 held from Tarn Taran for allegedly making abusive viral whatsApp video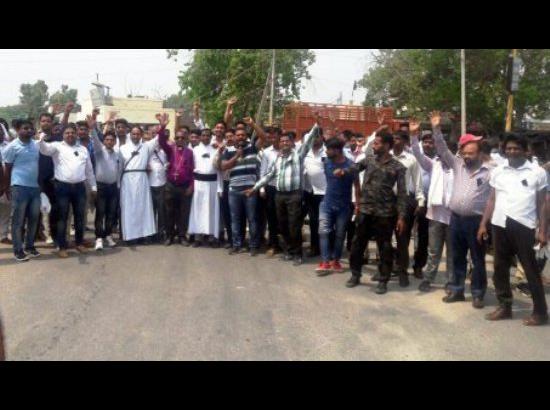 Punjab, Jun 27, 2017: The district police on Monday claimed to have arrested four people, identified as Paramjit Singh of Amritsar, Simarjit Singh and Jaspal Singh of Sanghe village, 5km from here, and Manavdeep Singh of Deenewale village, for their alleged involvement in making a blasphemous video, in which a Sikh man is seen uttering derogatory remarks against Jesus Christ.
The video had gone viral on WhatsApp. The four other unidentified persons, who were also booked in the case, are still at large.
The incident is reported to have occurred at Sanghe village.
CHRISTIAN FRONT'S MEMO TO SSP
In a memorandum to senior superintendent of police (SSP) of Tarn Taran on Sunday,, All India United Christian Front's state president, Stephen Bhatti, said, "On Saturday, I received a video message through a WhatsApp group on my mobile phone, in which a man among a group of people was heard uttering some derogatory and blasphemous remarks about Jesus Christ, which is not tolerable." He said, "Due to the blasphemy, Christians across the globe are filled with anger."
"A strict action should be taken against the persons, who are visible in the video, so that peace and communal harmony of Punjab is maintained," said Stephen Bhatti in his memorandum.
In the video, while some were seen threatening Nirvail Singh and his son Baljinder Singh of Sanghe village for allegedly making some people of the village to adopt Christianity, a Sikh man uttered some derogatory remarks about Jesus Christ.
Nirvail Singh, who is a registered medical practitioner (RMP) at Sanghe village, said, "I and my family members were baptised as Christians a year ago in Amritsar. The accused called me to the village's gurdwara on the pretext of checking a patient, but when I and my son went there, some Sikh people threatened us and also uttered blasphemous remarks about Jesus Christ."
SECTION 506 ADDED TO CASE
The city police on Sunday registered a case under sections 295A (outraging religious feelings), 505 (for rumours) and 153A (promoting enmity between different groups) of the Indian Penal Code (IPC) against eight people.
On Monday, the police added section 506 (punishment for criminal intimidation) and 120 B (punishment of criminal conspiracy) in the case.
4 DUTY MAGISTRATES DEPLOYED
Concerned over the volatile situation, district magistrate (DM) DPS Kharbanda on Monday issued an order for deputing four duty magistrates in four police subdivisions of the district. The duty magistrates would endeavour to maintain law and order in the district, said the order.
The officials, who have been deployed duty magistrates at subdivisions, include Seema Singh, tehsildar, Goindwal Sahib subdivision; Gurdeep Singh, naib tehsildar, Patti police subdivision; Ashok Kumar, naib tehsildar, in Tarn Taran subdivision and Inderjit Singh Dhanoa, naib tehsildar, at Bhikhiwind.
The DM also directed SSP Harjit Singh to take proper security measures in the district along with deputing one police officer for each duty magistrate.
– hindustan times