Christians fear referendum vote will bring more violence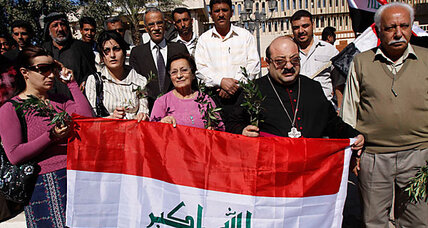 Iraq, September 25, 2017: Less than a year after Mosul and the Nineveh Plains were liberated from self-proclaimed Islamic State (IS), Christians in Iraq fear a new wave of violence might be about to begin.
The cause of their anxiety is the highly controversial independence referendum in the Kurdistan Region of Iraq which takes place today (25 September). Iraq's prime minister has called the referendum 'unconstitutional', while a 'no for now' movement says it's wrong given the current fight against IS.
For their part, Christians in the disputed Nineveh Plains fear that the referendum will spark new violence in the recently liberated area.
"The Nineveh Plains are a disputed area. So in the case of a civil war this might become one of the most affected areas," says Hannah*, a local Christian. "The Iraqi government is being very fierce in their threats against this referendum, as well as neighbouring countries."
Iraq's prime minister has warned he will take 'necessary measures to preserve the unity of the country'. "My prayer is that God will turn the current situation for good and that people will not lose their trust. That there may be peace here," says Hannah.
PLANS To RETURN ON HOLD
Although churches are continuing with their rebuilding activities and some Christians are back in their homes in the Nineveh Plain, uncertainty is making other families put their plans to return on hold.
"I hear from people that were about to return that they are awaiting the result and consequences of the referendum and remain at their place of refuge until then," says Hannah.
The referendum for Kurdish independence comes after a long struggle for a Kurdish independent state. A 'yes' result is widely expected although the result is not binding.
The opinions of Christians in the region differ, "There are Christians who are in favour of the independence, they are found mostly among those living in the Kurdish area," says Hannah. "But others are against it."
The stances of the Christian political parties in the Kurdish parliament are also divided. Some are voting 'no' because they don't agree with the inclusion of the Nineveh Plains. They fear it will only bring more conflict to the Christians who have already suffered a great deal at the hands of IS.
*Name changed for security reasons
– open doors