Communal tension in Uttar Pradesh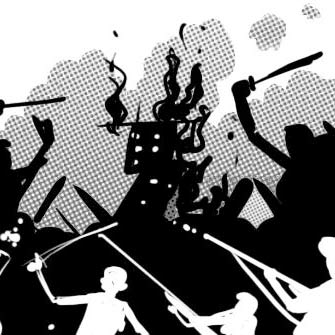 Lucknow, October 01, 2016: Communal tension was reported from Uttar Pradesh's Bulandshahr district after dirty water was thrown at a temple on the first day of the Hindu festival of Navratri, police said.
More than a dozen people were injured in stone-pelting from both the sides as according to locals, when the priest was cleaning the temple for Navratri puja, a person from a neighbouring house threw dirty water and spilled garbage around it.
Senior officials including the district magistrate (DM) and the senior superintendent of police (SSP) reached the site of the clash and pacified the irked mobs.
Thereafter, both the sides have retreated but tension continues in the area, an official informed IANS, adding that the incident took place at Deoli village in the morning.
The officials said that a verbal spat broke out between the two sides who came to blows sooner and pelted stones at each other. The priest of the temple was injured in the incident.
The DM has asked the officials to ensure that there was no escalation of hostilities and the prayers at the temple were conducted in a peaceful manner.
Additional security was also deployed in the locality.
– tcn