Communist party threatens to punish members if they are religious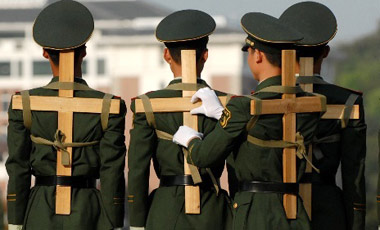 China, July 21, 2017: "Party members should not have religious beliefs," but follow atheist Marxism; otherwise, they will be punished, said Wang Zuoan, director of the State Administration for Religious Affairs (SARA), in an article cited by the Global Times, an English-language communist newspaper.
The statement shows that, despite threats, the issue is still a problem. Wang's article essentially reiterates what the Party had said in 2014 on the incompatibility between party membership and religious beliefs, which have always been seen with suspicion and fear.
"Party members should not have religious beliefs, which is a red line for all members," Wang wrote in an article published in the Qiushi Journal on Saturday, the flagship magazine of the Communist Party Central Committee. Instead, they "should be firm Marxist atheists, obey Party rules and stick to the Party's faith" because "they are not allowed to seek value and belief in religion".
Wang goes on to say that party officials who hold religious beliefs should be persuaded to give them up, and those who resist should be punished by the Party organisation. In addition, party members are forbidden from supporting or getting involved in religious affairs in the name of developing the economy or diversifying culture.
"It is important that Wang constantly reminds Party members not to have religious beliefs. Some people who claim to be scholars support religious beliefs in the Party, which has undermined the Party's values based on dialectical materialism," Zhu Weiqun, chairman of the Ethnic and Religious Committee of the Chinese People's Political Consultative Conference, told the Global Times.
Once the Party's values are damaged, Party unity as well as the Party's basic policy to regulate religions would be sabotaged, Zhu added.
In his article, Wang also stressed the need for a firm political direction in managing religious affairs. "Religions should be sinicised," he wrote. "We should guide religious groups and individuals with socialist core values and excellent traditional Chinese culture and support religious groups to dig into their doctrines to find parts that are beneficial to social harmony and development".
Going further, Wang notes that "Some foreign forces have used religion to infiltrate China, and extremism and illegal religious activities are spreading in some places, which have threatened national security and social stability".
Su Wei, a professor at the Party School of the Communist Party of China Chongqing Committee, agrees.
In his view, foreign forces have used religions, including Christianity and Islam, two non-local religions, to deliberately spread their political views in China, he told the Global Times. Religious doctrines should instead be adjusted to match Chinese ethics and customs, he added.
Lastly, the regulation banning Party members from having religious beliefs is permanent, and may involve more work in Northwest China's Ningxia Hui Autonomous Region, Xinjiang Uyghur Autonomous Region and Gansu Province as well as Southwest China's Tibet Autonomous Region.
– asia news