Federal minister upsets Christians, Muslims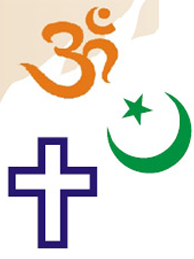 New Delhi, February 16, 2017: Christian and Muslim leaders in India were dismayed when a junior federal minister said that religious minorities were increasing at the expense of Hindus because the latter does not seek converts.
Junior Minister of Home Affairs Kiren Rijiju tweeted on Feb. 13 that Hindus are decreasing in India because "they never convert people. Minorities in India are flourishing unlike some countries around."
He was reacting to the Congress party's accusation that Rijiju's Bharatiya Janata Party (BJP) was trying to turn the northeastern Indian state of Arunachal Pradesh into a Hindu state.
Refuting the allegations, Rijiju said, "India is a secular country. All religious groups enjoy freedom and live peacefully."
However, Father Savari Muthu, spokesman of Delhi Archdiocese, said that the minister was being "irresponsible."
"I do not know where he gets his statistics from. The Christian population is not increasing," Father Muthu, told ucanews.com.
Echoing the same views, Samuel Jayakumar of the National Council of Churches in India, told ucanews.com that the statement was not in very good taste. "He is a minister for all Indians and does not represent just one community," he said.
The minister's comments were, however, supported by BJP leader, Subramanian Swamy who said that the country has democracy only because Hindus are the majority.
"As we see in Islamic countries where Muslims are the majority, there is no democracy. For the sake of democracy, we have to make sure the overwhelming majority of the population remains Hindu and the question is how to do it," he was quoted as saying by news agency ANI.
According to media reports, the Hindu nationalist BJP government has strengthened extremist Hindu groups who want to make India a Hindu-nation. The BJP is heavily criticized for violence against Christian and Muslim religious minorities.
Christian leaders have consistently blamed these attacks on religious hard-liners, who are said to have become emboldened since the BJP came to power in 2014 to head the federal government. The BJP also has also faced flak for remaining silent about a spate of mass re-conversions of Christians and Muslims to Hinduism.
Catholic leader, A.C. Michael, a former member of the Delhi Minorities Commission, said that the minister's statement was factually wrong. He said Hindu group, Vishwa Hindu Parishad (world Hindu council) periodically claimed to convert thousands of Christians and Muslims.
The group, which works to make India a Hindu nation claimed last year that it re-converted over 700,000 Christians and Muslims back to Hinduism over ten years.
Hafeez Ahmed Hawari, a Delhi-based Muslim leader, said that, instead of flourishing, minorities are suppressed under the BJP regime.
"We are denied our rights. The Hindu groups have the agenda to promote Hindu nationhood," he said.
During the first 100 days of the BJP government, more than 600 incidents of targeted violence against religious minorities took place in different parts of India, according to the "Minority Report on 100 days of Modi Governance," released in September 2014.
Statistics from the 2011 census show that India has 1.2 billion people. The percentage of Hindus has slightly dipped from 80.5 percent in 2001 to 79.8 percent 2011. While Christians remained at 2.3 percent during that period, Muslims have increased by just over one percent, to 14.2.
– ucan