Goa RSS rebel faction dissolved, merged with parent organisation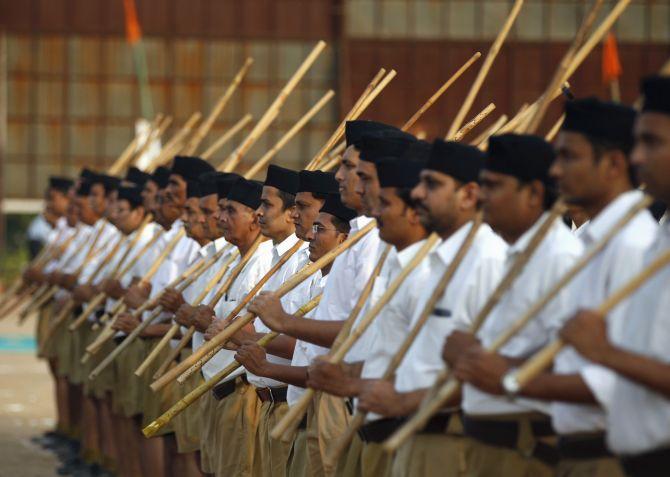 Panaji, March 7, 2017: Nearly six months after he led a revolt against the Rashtriya Swayamsevak Sangh and formed his own 'vibhag', Subhash Velingkar rejoined his parent organization on Mar 6 and promised "never to leave the sangh again".
"We have officially dissolved the RSS prant with immediate effect and swayamsevaks will attend shakhas being held under the RSS vibhag.
We have joined mainstream RSS," Velingkar told reporters here, adding the decision to dissolve the rebel faction was taken after long consultations with the taluka, district and state-level functionaries of RSS Goa prant.
But Velingkar made it clear that they would continue to support Bharatiya Bhasha Suraksha Manch (BBSM) and its demand to stop grant-in-aid to church-run English medium primary schools, which was the main bone of contention between the rebel faction and the BJP.
He also assured full support to BBSM's political wing, Goa Suraksha Manch (GSM)."Though we have dissolved RSS Goa prant, our members will support BBSM's demand and GSM till the end. Swayamsevaks will continue on BBSM committees," he said, appealing to all members to return to the parent Goa RSS vibhag.
Velingkar, who was the RSS Goa chief, had formed the RSS Goa prant in September last year after he was relieved of his post following differences with the BJP. Around 90% of the swayamsevaks had moved out to form the RSS Goa prant under Velingkar.
When asked if they will follow RSS instructions and work for the BJP in the upcoming panchayat elections or whether they will leave the sangh again, Velingkar said the move will never be repeated, adding one cannot leave sangh again and again. "We have guarantee that after learning their lessons, both the BJP and the sangh will not repeat the same actions."
Velingkar said he revolted against the Parivar to send a clear message to the BJP that sangh members should not be taken for granted. "BJP used to take the sangh for granted. They have now realised that if the sangh decides to succumb to BJP pressure, all sangh members will not stand behind them. Some may leave the sangh," Velingkar said, adding that BJP will learn from the assembly results not to grow arrogant when in power.
Velingkar and other top rebels have been associated with the RSS since 1962, when Goa RSS vibhag started in the state.
– times of india