Hindus oppose Muslims praying in India's public places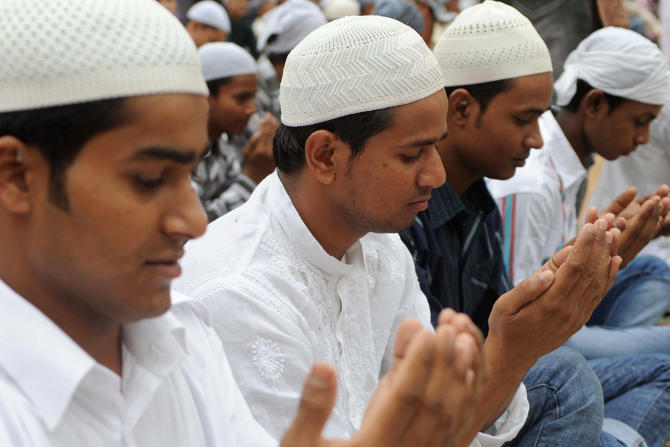 Srinagar, May 16, 2018: Hindu groups' opposition to Muslims using public places for congregational prayers is creating tension in India, with some suspecting there is a hidden agenda afoot linked to the national elections expected early next year.
An amalgam of 22 leading pro-Hindu groups have intensified their calls for a total ban on the country's 172 million Muslims conducting congregational prayers on public grounds and some roads.
Muslims have traditionally used public places for prayers if their mosques were too small to accommodate large congregations on Fridays at noon and during feast days.
The push back began on April 20 in northern Haryana state when some Hindu groups disrupted Friday prayers at a vacant plot.
Police arrested six people over the incident but released them on bail the next day, stoking concerns that the groups enjoy government patronage as India is governed by the pro-Hindu Bharatiya Janata Party (BJP).
Now the United Hindu Forum for Resistance (Sanyukt Hindu Sangharsh Samiti) are accusing Muslims of encroaching on public land to facilitate their prayers and converting the land into mosques.
But Muslims say they have no other option due to widespread poverty.
"Either they have no mosques or the mosques are too small," said Zubair Ahmad, an engineer from Gurugram where the controversy erupted.
He said offering Friday prayers in congregation is a binding principle of Islam and imposing curbs on it was tantamount to interfering in the religious affairs of Muslims.
However, some civic groups argue much more is at stake.
Ankita Das, a rights activist based in New Delhi, told ucanews.com the controversy seems to be connected with the 2019 elections as the practice has been going on for decades and no one has objected to it until now.
"This should not be looked at as something that is happening in one single states. The other states could also be targeted by this campaign, potentially creating further divisions and episodes of violence between Hindus and Muslims," Das said.
Some Muslim leaders including Ishfaq Hameed, member of a Muslim organization called Dawat-e-Islami, echoed similar sentiments.
"The BJP already proposed building a Ram temple at a controversial site [Ayodhya, said to be the birthplace of the Hindu deity] a few years ago. Now they want curbs on Friday prayers. This is as bad as things have ever got," Hameed told ucanews.com.
He said Hindu groups have increasingly harassed and attacked Muslims since BJP came to power in 2014.
"Fanatical organizations operate with full impunity. A sense of lawlessness prevails and emotive issues are being raised to settle political goals," Hameed said.
Recently, the United States Commission on International Religious Freedom accused the Indian government of doing little to prevent violence against religious minorities and the Dalit people, long considered social outcasts.
Meanwhile, a report published on April 25 indicated that sectarian violence has increased sharply over the last two years.
"In 2017, religious freedom continued its downward trend in India. India's history as a multicultural and multi-religious society remained threatened by an increasing exclusionary conception of national identity based on religion," the report stated.
Hindus form 966 million or 80 percent of India's 1.3-billion population. Muslims make up 14 percent (172 million) and Christians just 2.3 percent (29 million).
– ucan