Historic church in Vietnam destroyed by fire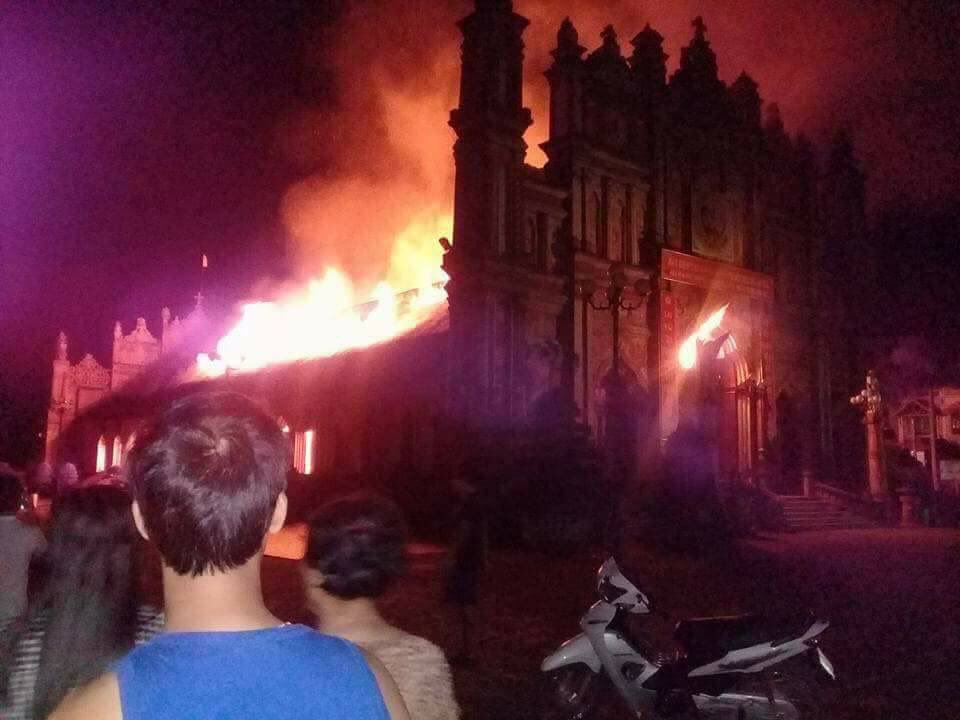 Vietnam, August 8, 2017: Catholics in a northern diocese of Vietnam were shocked to see a fire destroying one of the oldest churches in the country.
In the early hours of Aug. 6, firefighters failed to put out the fire, which devastated the wooden interior and the tiled roof of the Trung Lao Church, leaving only the walls intact. Nobody was injured.
The church, designated as Mary Mother of God in Bui Chu Diocese, is based at Trung Dong Commune in Nam Dinh Province.
Dominican Sister Doan Thi Chuyen said local Catholics discovered the fire, which started in the sanctuary, at about 11 pm on Aug. 5. The fire quickly swept through the whole church. Sister Chuyen said four fire engines from the district only came to the scene after the church had been on fire for several hours. The nun said local people were very sad about the loss.
The 800-square-meter church, completed in the late 1890s, has Gothic, Spanish and Vietnamese architectural influences. Its walls and wooden roof were carved with floral patterns.
Father Joseph Nguyen Van Toanh, head of Bui Chu Diocese's Communications Committee, said the old church was precious. He said an electrical short circuit was a possible cause of the blaze. Local Catholics needed to console one another at a difficult time, he added.
Sister Chuyen said the diocese is seen as the cradle of Catholicism in northern Vietnam. Most old churches have interiors, including altars, made of wood, so they are highly flammable. She warned that other churches would be vulnerable if they did not have adequate firefighting equipment and fire prevention measures.
– ucan