'I'll skin you alive': Chinese official threatens Christian farmer after land grab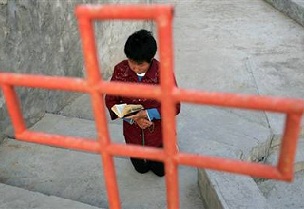 China, July 01, 2016: After Chinese authorities seized a three-acre soybean field from a Chinese farmer on June 12, an official warned the poor farmer: "I'll skin you alive if you dare to complain again," the non-profit Christian human rights organisation China Aid reports.
Bai Fengju, the Christian farmer, said he was told that his property would be used to build a Buddhist temple on the site in Nanyang, Henan province.
A week earlier, the authorities forcibly took his land but returned it later, even offering him 2,000 yuan (U.S.4) in compensation and personally apologising for his property's seizure after another Christian posted pictures of his bulldozed field on social media.
Bai thought the matter was settled. But to his surprise and utter dismay, a gang hired by local authorities returned to his property the following week and resumed destroying crops, digging trenches and building walls for the temple.
When Bai confronted an official, the latter warned him: "Go home and wait in your room. I'll find you and skin you."
China Aid said the latest wave of Christian persecution in China is ongoing. In an earlier report, a member of Huoshi Church in China's central Guizhou province described the current Chinese campaign against his church.
The report says a church source who requested anonymity leaked a confidential document that revealed the existence of a State-run command and control centre dedicated to persecuting the church.
"At the beginning, I just thought it was just at the city-level, but this document suggests that there must be some provincial level [government body] or an even higher on the operation. It's not just a single case," the anonymous church member said. "There's a big plan, and our church is just part of the plan".
– asianews