Indian Muslim woman among UN "champions and pioneers"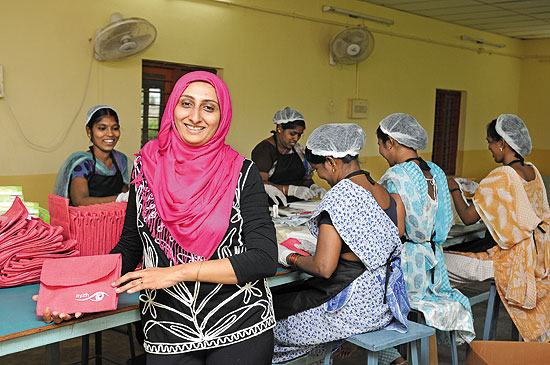 New York, June 25, 2016: A woman from a conservative Muslim family is among 10 "champions and pioneers" named by UN chief Ban Ki-moon under the world's largest corporate sustainability initiative.
Zubaida Bai is the founder of 'ayzh', a for-profit social venture providing health and livelihood solutions to impoverished women worldwide.
The '2016 Global Compact SDG Pioneers' is an initiative launched by UN to search for "entrepreneurs" who can play a pivotal role. It calls on companies to align with universal principles of human rights, environment and anti-corruption.
The UN Global Compact, the world's largest corporate sustainability initiative, supports companies to do business responsibly by aligning their strategies and operations with ten principles of human rights, labor, environment and anti-corruption; and to take strategic actions to advance broader societal goals, such as the UN Sustainable Development Goals (SDGs), with an emphasis on collaboration and innovation.
Ban announced the 10 pioneers at the Global Compact Leaders Summit this week.
From mundane struggles with a traditional Muslim family to being a successful innovator, Zubaida Bai's journey has been one about exercising the right to free choice although that involved selling her jewellery to get ayzh off the ground.
Growing up in Chennai, Zubaida Bai wanted to study further after completing twelfth grade. A reasonable request, except that in her family, nobody—male or female—had made it to college. The women in her family were usually married in their teens. Plus, Zubaida's father did not have the finances to put her through college.
Undeterred, she decided to fight fate.
She studied at Dalarna University graduating with a Master's in Engineering in product development and design, and received an MBA from Colorado State University.
Bai developed an infection after giving birth to her first of her three sons because of unsanitary birth conditions. Since the disease "caused her to suffer for years," Bai decided to help rural women who needed access to healthcare.
Bai was only 33 in 2010when she founded Ayzh, (pronounced "eyes"), a low-cost women's healthcare company based in Chennai and Colorado, US. Her biggest achievement: Janma, a birthing kit sold and distributed through non-governmental organizations and healthcare companies.
Janma (birth) kits comprise an apron, a sheet, a hand sanitizer, an antiseptic soap, a cord clip and a surgical blade. They meet the World Health Organization (WHO) guidelines of "six cleans" during childbirth—clean hands of the attendant, clean surface, clean blade, clean cord tie, clean towels to dry the baby and wrap it, and clean cloth to wrap the mother. A jute purse in five colors contains the kit and it can be used as a purse after delivery.
Sometime in 2009, as part of a master's in business administration in global social and sustainable enterprises at the University of Colorado, US, Zubaida came to India to research ideas that could be developed into products. She worked with Chennai-based non-profit Rural Innovations Network (RIN), making the JS Milker, a vacuum-driven cow-milking machine, low-cost and commercially viable. In Rajasthan, she met a village dai (midwife) who had just delivered a baby with a grass-cutting sickle.
This was her a-ha moment. She started reading up on institutional childbirth. She stumbled upon a clean birth kit while attending a tech event in Denver, US, promoted by the non-profit healthcare organization PATH. The kit had a plastic sheet, a Topaz blade, a piece of thread, a small square of soap, and a plastic coin. All this was wrapped in a box with instructions. She then travelled halfway across the world to Nepal, where a group of women was assembling the kit.
Unimpressed with the quality of the kit, she searched for more samples, but found none that matched her expectations. But she knew she was on to something, and started building her own improved version, using off-the-shelf components and assembling them.
By 2010, she had put together a rudimentary clean birthing kit called it Janma, which she tested in Bangalore, through her gynecologist. The innovation won the Global Social Venture Competition for business plans at the Indian School of Business, Hyderabad in March 2010, and followed it up by topping the Camino Real Venture Competition at the University of Texas at El Paso, US, later that month.
Zubaida Bai also received a 2010-2011 fellowship related to maternal health from Ashoka, an organization which identifies and invests in social entrepreneurs. At one event, she met the who's who of the world of maternal health.
"They were folks who were shaping the future of maternal health. These are people I would have found impossible to meet, especially Wendy Graham, who does research on how clean birth kits prevent infections," she says. Her interactions confirmed her belief that a product such as JANMA would have a market.
Zubaida's goal for ayzh is three-pronged. She wants women to have power over their health by introducing new products for post-partum hemorrhage, a new-born kit, maternity pad and other innovations in reproductive health and family planning. Instead of creating products from scratch she wants to leverage the ayzh distribution platform to aggregate and sell products already available in the market. And, finally, she wants to launch an innovation lab for low-cost healthcare products, so that an entrepreneur with an idea does not have to go through the same grind that they did.
To realize this ambition they are currently in the process of raising US$3 million in funding—a huge sum for a social enterprise selling low-cost products to bottom-of-the-pyramid customers—from social impact investors.
– matters india